It's raining money! Money may not grow on trees but there are a lot of it here. Catch the best money drawings for kids on this list.
Teach the kids about the importance of saving, proper spending, and the difference between wants and needs while doing these sketches. It's essential to teach kids all about money at a very young age.
From stacks of money, bags of money, and money keepers, this list has got it all (and more) for the children.
Relax and spend the day with these kids crochet kits.
Amazing Art Supplies for Your Little Artist
5 Stack of Money Drawings
1. Cartoon Money Drawing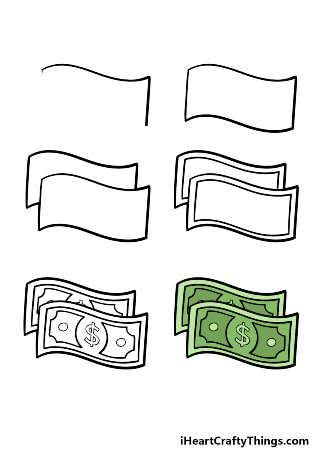 Use this cartoon money drawing from I Heart Crafty Things for their imaginary transactions.
It's a straightforward project that can be finished in under an hour.
Your child will thank you for this creative thanksgiving sensory bin.
2. Bundle of Cash Drawing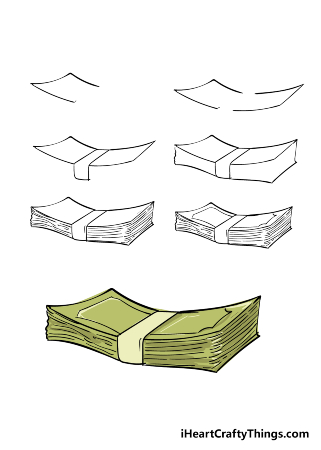 A wad of cash drawing will come in handy for the kids' future sketches, too.
Let I Heart Crafty Things teach you how it's done simply by following this step-by-step tutorial.
Become a superhero for the day with these Marvel perler beads patterns.
3. Sack of Money Drawing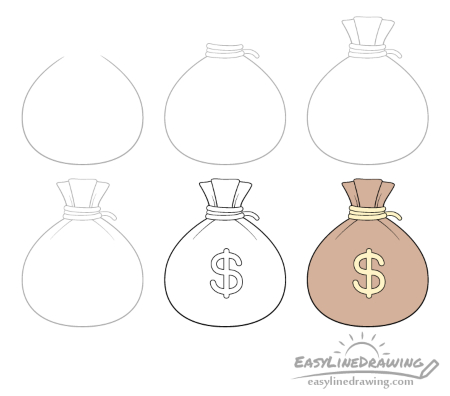 It's no secret what's inside this brown sack. It's filled with dollar bills, coins, and even more dollar bills!
Easy Line Drawing has perfected the technique of how to draw a money sack so I'm sure the kids will get a lot of tips from them.
Be sporty for the day by doing these fun football perler beads.
4. Brown Money Sack Drawing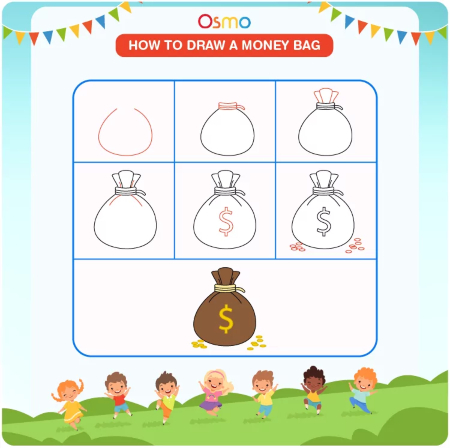 Here's another money sack drawing from Play Osmo to add variation to the kid's sketchbook drawings.
The element that makes this sketch stand out from the rest is the shadowing technique which makes the drawing look more realistic.
Enjoy these Mickey Mouse cupcakes with your little ones.
5. Realistic Money Bag Drawing
Cha-ching! We've hit the jackpot with this cool money bag drawing from I Heart Crafty Things.
This drawing will be a little challenging for the kids but will be a whole lot of fun as well.
Tuesday or not, these easy taco drawings will always be a great idea.
5 Easy Money Drawings
6. Flowing Cash Drawing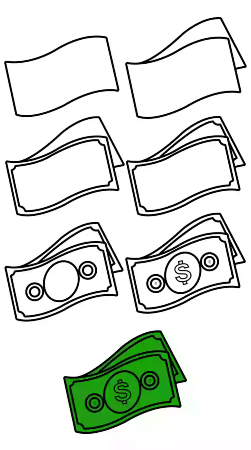 Who wouldn't want some money to flow right into them?
Stories Pub will make that fantasy come true with this flowy drawing of money.
Getting hungry from all these projects? Try out these cute food drawings.
7. 100 Dollar Bill Sketch
The best kind of dollar bill is of course the one with Benjamin Franklin on it (aka the 100-dollar bill).
Watch this video tutorial from Art for Kids Hub to learn how to draw it with the kids.
Pikachu, I choose you! Catch the cutest Pikachu perler beads patterns on this list.
8. Dollar Bill Drawing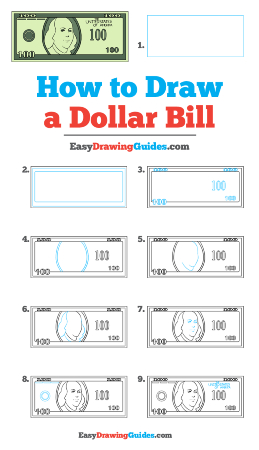 Don't forget to include this crisp dollar bill from Easy Drawing Guides the kids' money collection as well.
Drawing this will enhance the artistic skills of the kids one pencil stroke at a time.
Lion King fans will enjoy these easy Lion King drawings for kids.
9. Money Tree Drawing
Have a laugh at this drawing from Azz Easy Drawing. It's a tree that literally grows money.
Even though there's no real money tree, it will still be a nice project that will also unleash your child's wild imagination.
Play pretend and be a doctor with these stethoscope drawings.
10. Cheeky Money Drawing
The face that we make every time we receive money is exactly the face this money sketch from Learn step by step is doing.
This video tutorial gives us a new perspective on money where it's cute, cheeky, and playful.
There's no need to search the ocean because we've got the best Finding Nemo character drawings here.
11 Items to Place Money In
11. Happy Wallet Drawing
Adding a couple of bills and coins makes this little wallet drawing from Learn step by step extremely happy.
Get your hands on this adorable wallet drawing which I'm sure the kids will like and enjoy sketching.
Fly away and create something beautiful with these incredible butterfly drawings.
12. Simple Brown Wallet Drawing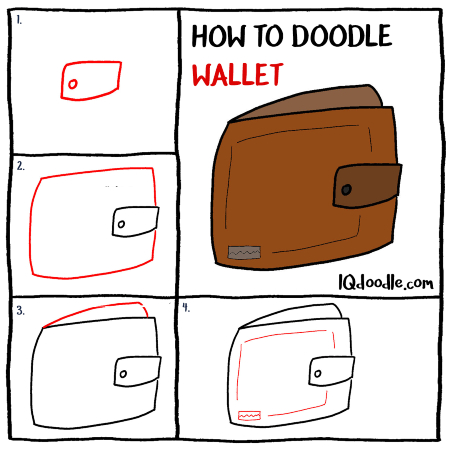 Warm up their drawing skills with this simple yet artistic sketch from IQ Doodle.
It's an easy project that even those who are just beginning to draw will find enjoyable to do.
Waddle with us as we make these penguin perler bead patterns.
13. Open Wallet Drawing
Knowing how to draw a wallet from different views will come in handy for the kid's future projects.
Look at this cool open wallet drawing from Azz Easy Drawing and get tips and ideas on how to do it effortlessly.
Meow! Get the purfect cat perler bead projects on this list.
14. Adorable Piggy Bank Drawing
Saving is fun especially if you have a cool piggy bank just like this one from YoKidz.
The video will be a helpful tool in assisting the kids achieve the best piggy bank drawing they're thinking of.
An educational and fun time is guaranteed while you make this homemade playdough.
15. Cool Piggy Bank Sketch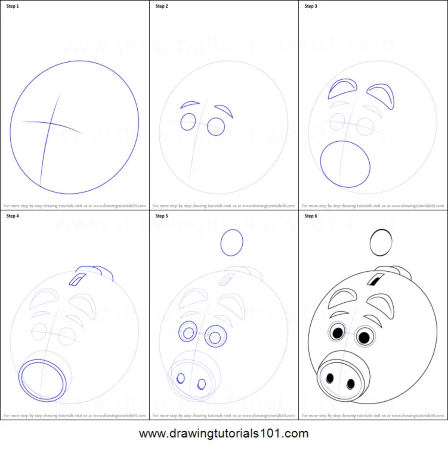 Drawing Tutorials 101 is here to give us another great variation of a piggy bank drawing.
You can't miss out on this incredible drawing especially with its big round eyes and floating coin.
Check out these amazing spring crafts for kids.
16. Piggy Bank with Coins Drawing
Make their drawings more interactive with the help of this tutorial from Draw So Cute.
Adding coins to their sketches will also encourage the kids to save money in real life.
Oink! Learn how to draw a pig that will complete your farm animal drawings here.
17. Prestigious Bank Drawing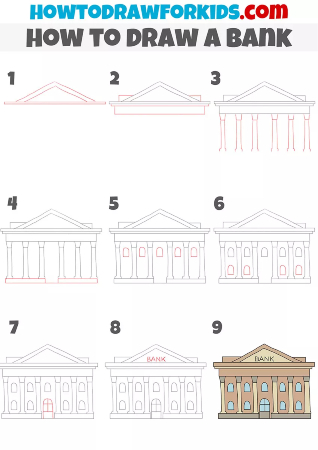 Drawing different structures such as this bank building from How to Draw for Kids will be a great way to widen the kid's artistic capabilities.
Plus, the architectural design of this building is unique and creative at the same time.
Feel the cool breeze and hear the birds singing with this awesome nature collage.
18. Magnificent Bank Sketch
A mighty and big bank may be the only thing that's missing in your kid's sketchbook.
Check out this comprehensive video tutorial from Moshley Drawing to complete the collection.
The cool thing about this bank is the big dollar sign on the front.
19. Beautiful Coin Pouch
Keep the dollar bills and coins in this handy blue coin pouch from Learn To Draw.
The kids can also customize it and draw different designs and use different colors to add a more personal touch.
A DIY Mickey ears will make your visit to the happiest place on Earth more memorable.
20. Pretty Purse Drawing
Get more ideas on how to draw a coin purse through this video from @Athaya Drawing.
The shape of this is different from the previous one which will benefit the kids because they'll have more choices and inspiration for their sketches.
21. Bank Vault Drawing
Keep the money, coins, and jewelry safe by placing them in think massive bank vault courtesy of Easy Drawing Guides.
Recycle some household items and turn them into a work of art like this egg carton crafts.
Cha-ching! Take Home the Coolest Money Drawings
Each of the items on the list will be a fun and educational activity for the kids. From wads of cash to handy wallets, this list of money drawings has got it all.
Prepare for more fun projects for the kids by checking out the lists below: