We all have fond memories of Pikachu. We grew up watching the Pokemon cartoon series, played with Pokemon cards, and even had Pokemon-themed birthday parties.
Let's go on a trip down memory lane before we say goodbye to Ash and his beloved pokemon through these Pikachu perler beads. Stay with us till the end for an awesome surprise.
P is for Pikachu! Find more letter P crafts here.
Be the Very Best Crafter with These Materials
14 Pikachu Perler Beads
1. Glowing Pikachu Pattern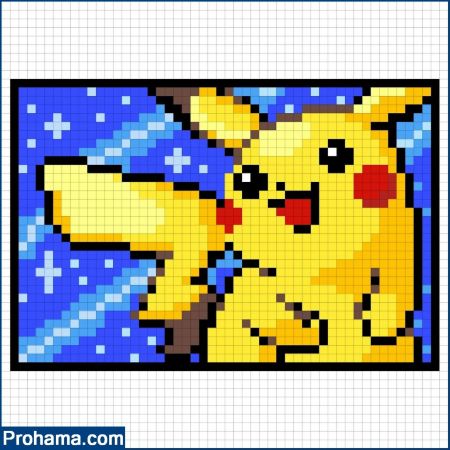 Fans of Pikachu would love to get their hands on these super adorable Pikachu pattern from Prohama.
It perfectly captures the essence of the pokemon: it's extraordinary, special, and beautiful.
This will be an awesome addition to their room once it's done.
2. Cute Pikachu Perler Bead Pattern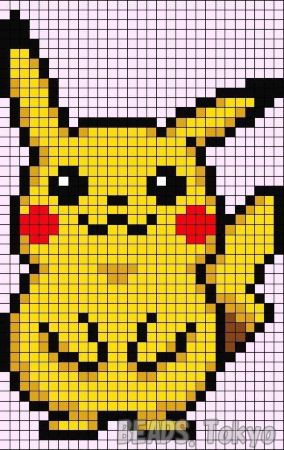 Get ready for cuteness overload courtesy of this pattern from Hilâl Ateş on Pinterest.
The dazzling eyes, expressive ears, and red cheeks of Pikachu can easily melt hearts.
Unleash your child's artistic skills and make these Paw Patrol perler beads patterns together.
3. Mini Pikachu Perler Beads
Take the ever-reliable Pikachu on your quest for more pokemon.
This video tutorial by Pudding lion shows how to create a mini Pikachu that's easy to carry everywhere.
Pin it in their bags, tumblers, or pouches.
4. Crouching Pikachu Perler Bead Pattern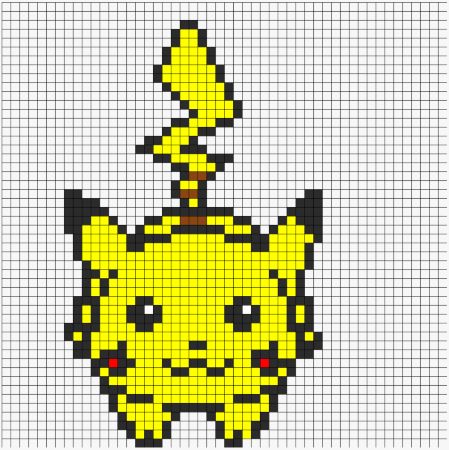 Pikachu is always prepared to battle with his trainer to become the very best pokemon ever.
In this pattern from PNG Item, Pikachu is wearing his game face on and is ready for action.
Enter the Mushroom Kingdom when you make these Mario character drawings.
5. Pikachu as a Bread Loaf Perler Bead Pattern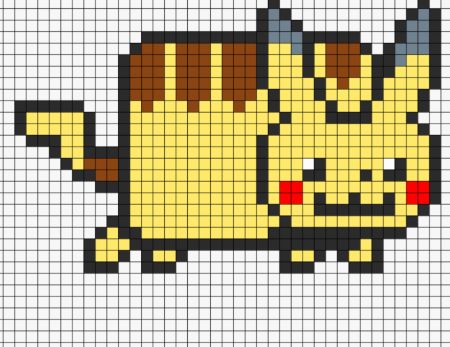 Combine Pikachu and a loaf of bread to get this unique pattern from Kind PNG.
It will be a fun project to do with the kids because I'll bet that they haven't seen or done anything like this pattern.
This cute character even looks like a whole different pokemon!
6. Happy Pikachu Perler Bead Pattern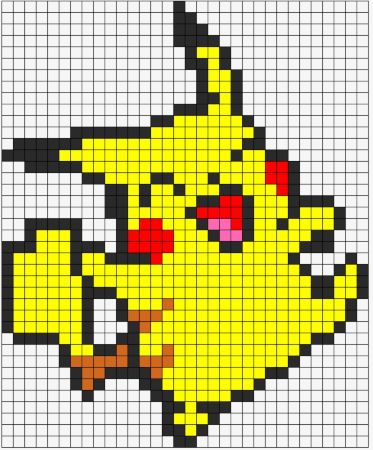 Pikachu is a ball of sunshine. He's always happy and energetic even when they face challenges along their quest.
Make this Pikachu pattern from Nice PNG to have the same energy in your child's play area.
7. Sleepy Pikachu Perler Bead Pattern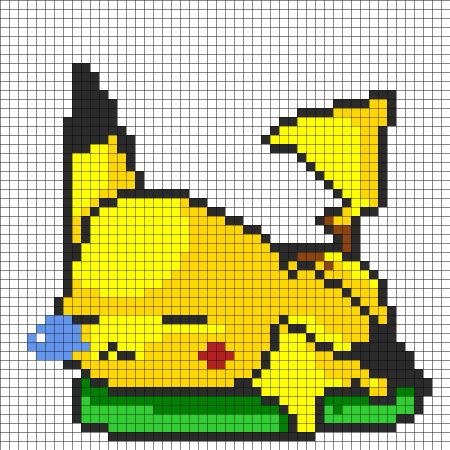 Pikachu is no Snorlax but he still appreciates a good night's sleep.
Battling can be tiring even for pokemons which can be seen in this adorable sleeping Pikachu pattern from Killer on Kandi Patterns.
Take a break from work and school and create this pattern together.
8. Flying Pikachu Perler Bead Pattern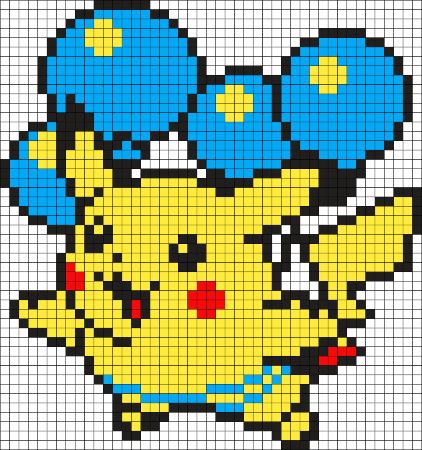 Look out because a flying Pikachu is heading your way!
Don't miss out on this cool pattern from iconstantlytired on Kandi Patterns which shows Pikachu flying through the sky.
You can also opt to change the balloons to your child's favorite colors to add a personal touch to them.
9. 3D Pikachu Perler Beads
Dreaming of becoming the very best perler bead maker?
You'll be one step closer to the goal when you finish this 3D Pikachu pattern from FiloPixie.
10. Sleeping Pikachu Perler Beads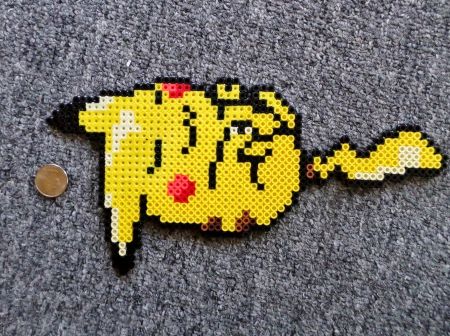 A sleeping Pikachu is irresistibly cute so we can't pass on the opportunity to make another pattern of it.
This pattern from Long Black Fingers shows Pikachu sleeping with a big smile on his face.
What do you think is he dreaming about?
11. Detective Pikachu Perler Pattern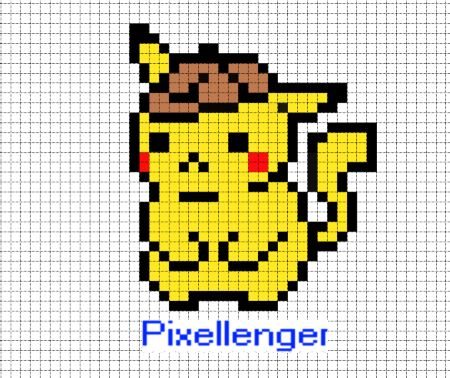 Pikachu is a pokemon that wears many hats (literally and figuratively).
And now we get a glimpse of Detective Pikachu thanks to this pattern from For Kids Land.
Complete this pattern with the kids to have a different version of Pikachu in their perler collection.
12. Pikachu in a Cup Pattern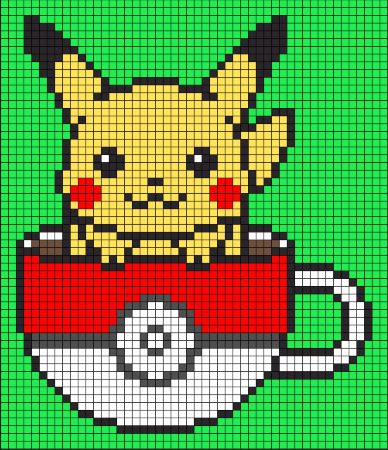 Congratulations, you caught a rare Pikachu in your Pokeball mug!
This pattern from Bracelet Book will make the kids feel like certified Pokemon trainers.
It would be super cool if their first catch would be a Pikachu so I highly recommend prioritizing this pattern.
13. Pikachu in Christmas Lights Perler Beads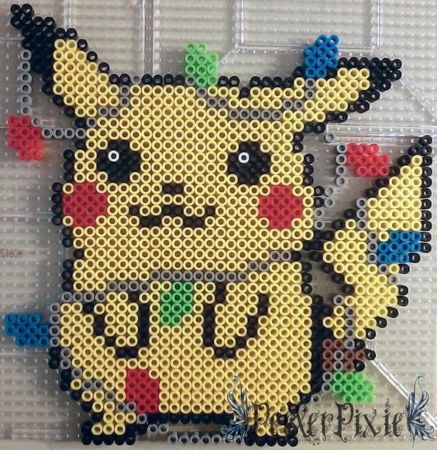 Pikachu is very excited about the upcoming holiday season and got tangled up in a bunch of Christmas lights.
Get your kids in the spirit of giving through this adorable pattern from Deviant Art.
The fun never ends! Here are Nightmare Before Christmas perler beads patterns that we've compiled for the season, too.
14. Pikachu with Ash's Cap Perler Beads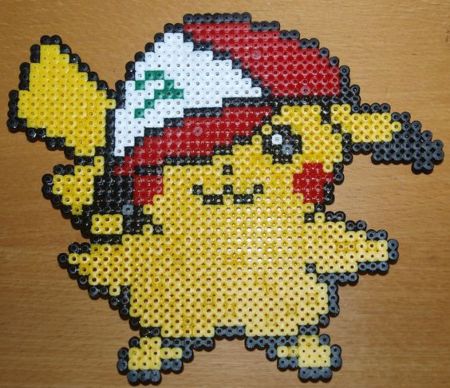 The iconic hat of Ash may be too big for Pikachu but he looks adorable while wearing it nonetheless.
Save this pattern from Deviant Art and add it to the projects that your little trainer will be doing during their next art session.
6 Pokemon Perler Beads
15. Pokemon Logo Bead Pattern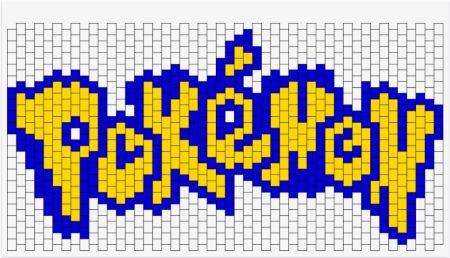 Having this Pokemon logo pattern from Seek PNG will be excellent for the kid's collection.
Here's an accurate and straightforward pattern that you'll find useful in making the iconic logo.
16. Pokeball Perler Bead Pattern
Trainers need pokeballs to capture pokemons in the wild.
That's why this pokeball pattern from Bracelet Book is a must-have for all pokemon fans.
Create more Pokemon artwork by doing these easy Pokemon drawings.
17. Charmander Perler Bead Pattern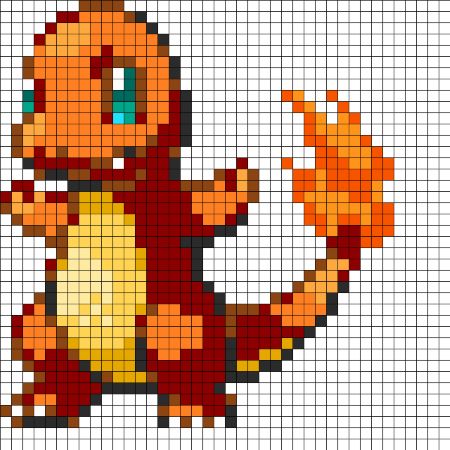 Biodigital on Kandi Patterns is serving us up with the hottest Charmander perler bead pattern.
Capture the fire and glow of Charmander through this pattern.
Beat the heat and check out these fire truck crafts.
18. Squirtle Face Perler Bead Pattern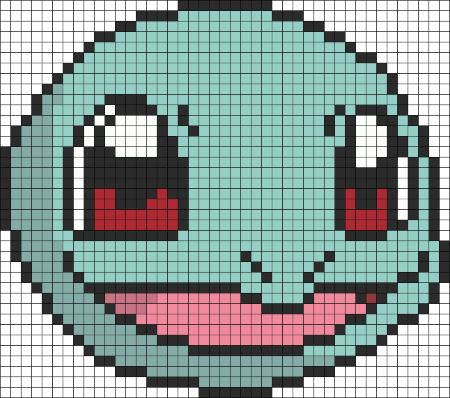 This adorable pattern from EmilyGotScared on Kandi Patterns will wash the blues of the kids away.
Reserve this Squirtle pattern for when your child is feeling down because this will effectively turn their frowns upside down.
Get in touch with nature and make these camping crafts for preschoolers.
19. Psyduck Perler Bead Pattern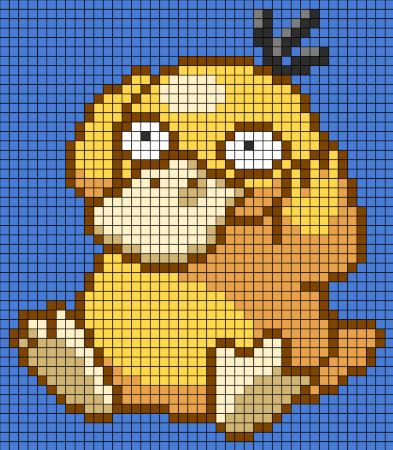 I think it's crystal clear why this Psyduck pattern from Bracelet Book is included in the list.
Aside from being adorable pokemons, Pysducks are also very powerful especially because of their Psychic-type moves.
Learn how to draw a football helmet here.
20. Jigglypuff Perler Bead Pattern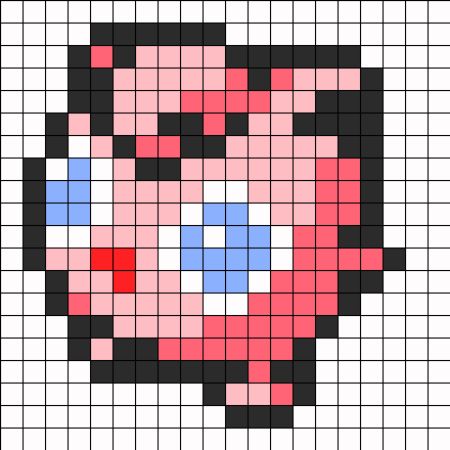 We've come to the end of the list and what better way to finish it than by doing this pattern of a Jigglypuff from Purpl3Sag3 on Kandi Patterns.
Never underestimate a Jigglypuff because they may look cute and tiny but their voices will make even the most powerful pokemons sleep.
Be Halloween-ready with these paper mache pumpkin crafts.
I Choose You, Pikachu!
We caught all the best Pikachu perler beads out there and compiled them all just for you!
Create these Pikachu and pokemon patterns with the kids to help them be the very best crafter and trainer in the Kanto region.
These patterns will be a nice way to reminisce and end a Pokemon chapter as we prepare to welcome new adventures, trainers, and friends.
Head on to the lists below for more exciting crafts and projects for the kids: