Pigs are one of the most prominent farm animals that children encounter while watching TV shows or during school activities.
It's no surprise that there are many ways to draw this lovable animal, ranging from a simple pig drawing made with just circles to more complex and realistic versions.
To inspire and give you an idea of how to draw this sociable animal, I've compiled 19 pig drawings and designs that will teach you how to draw a pig, step-by-step.
A lot of these drawings are for older kids and teens, so check out these farm animal crafts that are a little easier for toddlers and preschoolers to do.
4 Step-by-Step "How to Draw a Pig" Guides Using Letters
1. How to Draw a Pig From the Word "Pig"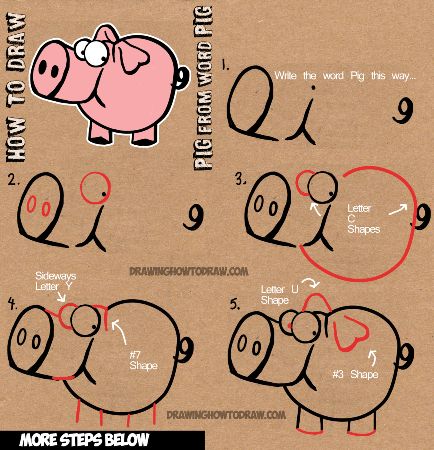 I was aware that you could draw a pig using letters and numbers, but I was surprised to learn you could actually draw the animal from its own name!
How To Draw Step by Step Drawing Tutorials provides both written step-by-step instructions and a video tutorial for you to follow.
2. Simple Pig Drawing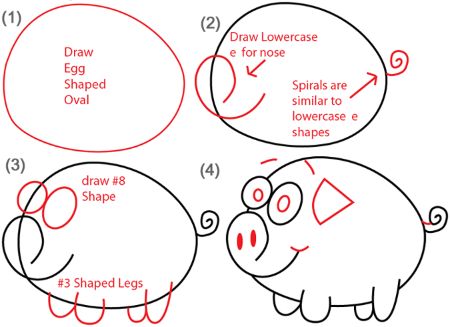 Sometimes the most memorable thing about pigs isn't their shape, but their iconic snout. Take a lowercase "E" and use it to draw this pig's snout.
How To Draw Step by Step Drawing Tutorials also incorporates some numbers within the design to make it even easier to draw.
Help reinforce the importance of this letter of the alphabet on your preschooler by making other letter "e" crafts.
3. "P is for Pig" Drawing: Easy for Gradeschoolers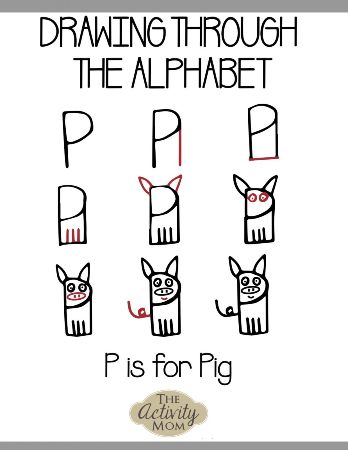 The Activity Mom designs a simple 2-D pig drawing that shouldn't take more than 5 minutes to draw for older kids (think 2nd through 5th grade).
And here's a nifty compilation of letter P crafts that you might find useful for your preschooler who is just learning how to write and read the alphabet!
4. How to Draw a Pig With Letters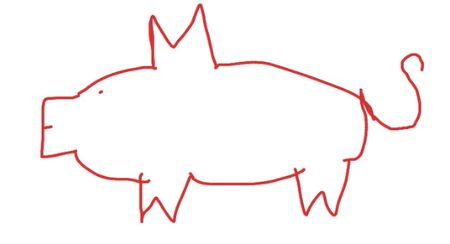 Help your toddlers develop their hand-eye coordination and fine motor skills through this pig drawing.
This pig drawing from Show Me is an easy design that involves connecting the ends of several letters: E, M, W, and S. Check out the website where there's a short video tutorial on how to draw this simple pig.
9 Realistic and Cartoon Pig Drawings
The next 9 how-to pig drawing guides have different difficulty levels, ranging from designs that toddlers can imitate to more realistic concepts for older kids.
Here you'll find pig cartoon drawings as well as realistic pig drawings.
5. Pig Drawing for Kids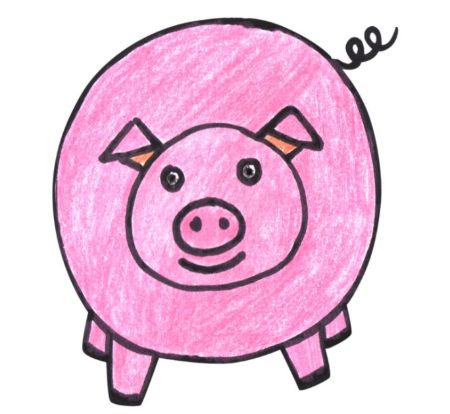 Time to prepare circle-shaped objects (like a plastic cup) for your kids so they can make this very round pig.
If they feel confident in their circle-drawing skills, then challenge them to draw this pig free-hand. Besides, Drawing Tutorials 101 provides an easy-to-follow written guide on how to draw this adorable pig.
6. Pig Cartoon Drawing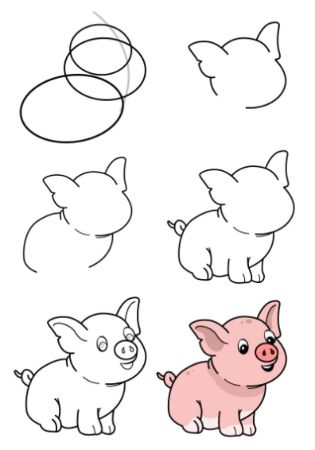 The easiest place for novice artists to begin developing their drawing skills is by drawing cartoon humans and animals, like this sweet cartoon pig.
I Heart Crafty Things includes a detailed step-by-step guide on their website to walk your aspiring artist through how to draw a cartoon pig.
7. How to Draw the Three Little Pigs
If your kids aren't acquainted with the Three Little Pigs, drawing these pigs from Art for Kids Hub is a great opportunity to introduce them to this classic tale of wits.
Drawing multiple pigs takes a lot of work, but if your children have learned the moral of the story, they'll know that hard work pays off.
8. How to Draw a Pig: Step-by-Step Guide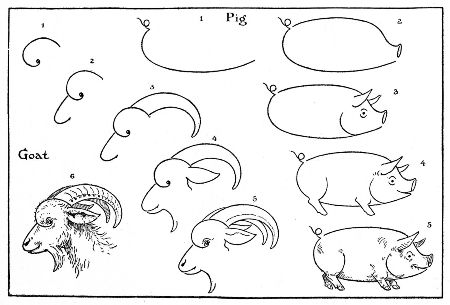 Here's an interesting and realistic pig drawing designed by The Graphics Fairy. Initially, both designs look simple enough, but each sketch involves a fair amount of detail.
Here's a compilation of easy animals to draw for toddlers or preschoolers who aren't quite ready for sketching.
9. Easy Minecraft Pig Drawing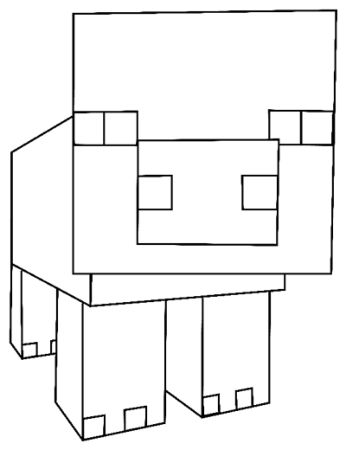 Fans of the Minecraft universe will immediately recognize this iconic figure.
Some of you might know how incredibly difficult it is to produce straight lines, let alone draw shapes that need to precisely connect and align with each other.
Don't let that discourage you, though, because How To Draw Step By Step Drawing Tutorials has created a step-by-step guide.
Looking for a fun craft for your little ones that doesn't involve drawing? Check out these Minecraft Perler bead patterns.
Don't know what Perler beads are? Then take some time to look through these other easy perler bead patterns and learn all about this simple kids craft.
10. Realistic Pig Drawing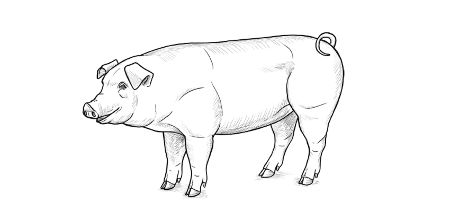 Encourage your teen to take their drawing skills up a notch by drawing this realistic pig design. Even Envato Tuts+ claims that pigs are very easy to draw!
Don't worry if this pig design looks daunting because Envato Tuts+ practically holds your hand through the entire drawing process with their detailed written tutorial.
11. How to Draw a Cute Pig: Step-by-Step Video Guide
Did you know that pigs have the incredible ability to smell and dig up food from underground?
The YouTube channel Scribble perfectly captures the expression I believe a pig would have after it found a bunch of prized truffles.
12. How to Draw a Pig: Easy for a Grade Schooler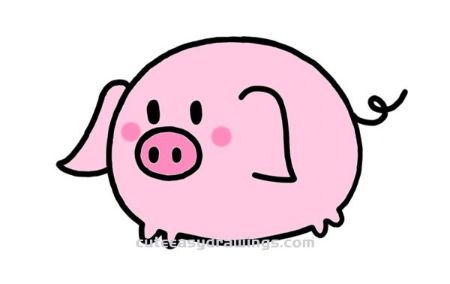 This cute pig looks so squishy, I'm sure your kids will find this design too adorable not to draw.
Check out Cute Easy Drawings's easy 4-step tutorial for drawing this cartoon pig.
13. Pig Face Drawing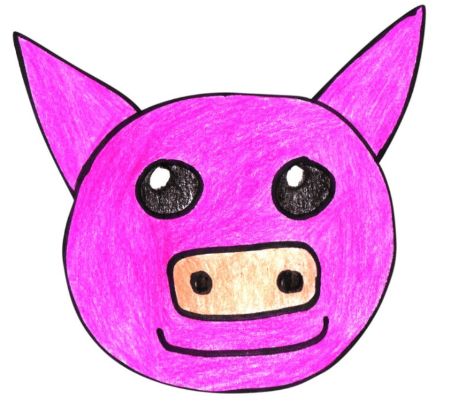 If you think the previous pig designs are too complicated for younger children, then go back to the basics by letting your preschoolers or toddlers draw and color this pig face drawing from Drawing Tutorials 101.
If their written guide is not enough, then check out the video tutorial as well.
3 Simple Pig Drawings from Numbers
14. How to Draw a Pig Using the Number 6
This is the pig drawing that I was familiar with as a kid. Although it's slightly different from what I used to draw, Creative TV incorporates the number 6 in the same, clever manner.
15. How to Draw a Pig Using the Number 10
Though we know that pigs are quadrupeds (standing on four feet), that can't stop kids from imagining that they can stand on two feet.
That's exactly what Drawing With Steve Harper has designed in his video tutorial – a pig on two legs! They creatively use the number 10 to complete their drawing.
16. Draw a Pig with a Number 9 Shaped Snout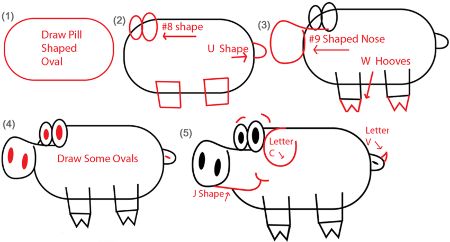 Do you ever get overwhelmed when you look at drawing tutorials? Do you think to yourself, "How in the world am I going to imitate that?"
Well, don't worry because drawing an impressive pig isn't too hard at all thanks to this guide from How To Draw Step By Step Drawing Tutorials.
Their pig design uses the number 9 to serve as the pig's snout.
2 Bonus "How to Draw a Pig" Step-by-Step Video Tutorials
Here are a couple of pig designs and sketches suited for the more experienced artists out there.
18. How to Sketch a Pig
If you're really looking to perfect your drawing skills, try your hand at this realistic pig face sketch.
Whereas other designs have completely omitted the hair in their pig drawings, EdgarsArt has made sure to include them for a more realistic and detailed approach.
19. How to Draw a Realistic Pig
Pigs are known to have even-toed hooves, and that is accurately depicted in this realistic drawing shared by KidArtX – Cute Simple Art.
It's drawings such as these that make you want to put your drawing skill to the test and bring it to the next level.
Pig Drawings for Kids and Adults
These 19 designs demonstrate the variety of ways that you can draw the pig. Choose one (or several) that's appropriate to your or your kid's ability.
Did you enjoy these pig designs? Which style are you most likely to try? Share in the comments section below!
Don't stop the fun. Check out these other popular animal craft compilations: