Let's explore the Pride Lands and learn how to do these easy Lion King drawings. This list has all the great characters from the iconic film, including the protagonists and villains.
Your child's drawing skills will be enhanced by following the simple drawing tutorials provided below, so let's get into it!
Add these fun pine cone crafts for kids to your to-do list while you're in craft mode.
Get Ready Because We're About to Enter the Wilderness
Have these materials handy for your kid's next drawing session:
17 Easy Lion King Drawings
1. Smiling Young Simba Drawing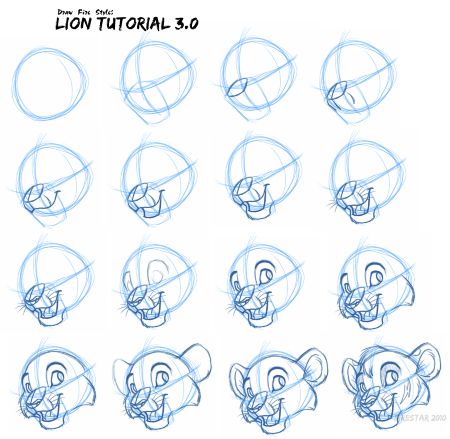 Start off on the right foot on your journey into the Pride Lands by this lion cub drawing guide by My Lion King.
By making this your first project, your child will get familiarized with a lion's facial features. This will be useful for the drawings below.
Find the hidden Mickey in these Mickey Mouse perler bead patterns.
2. Mighty Simba Drawing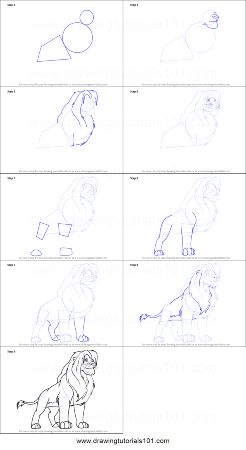 Simba is a good role model for the youngsters. He overcame all of the challenges thrown at him and turned out to be an admirable ruler of the kingdom.
Drawing Tutorials 101 sets a good example of how to draw Simba standing proud and tall.
Follow this step-by-step tutorial to successfully imitate the fierceness of the king.
3. Mufasa Drawing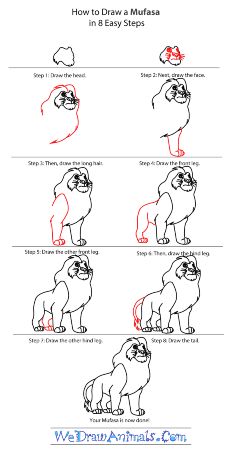 Knowing how to draw one lion king is enough. It will also be cool to know how to draw Simba's father, Mufasa.
Make this tutorial from We Draw Animals your reference while drawing Mufasa.
In eight easy steps, you'll see King Mufasa come to life.
4. Chibi Mufasa Drawing
It will be hard to get scared of lions if they're this cute in real life! We'll just want to cuddle with them all day long.
Watch the video tutorial of Draw So Cute to revamp the looks of Mufasa and turn him into an irresistibly adorable character.
Making this will also teach kids other styles and techniques of drawing.
5. Cute Simba Drawing Guide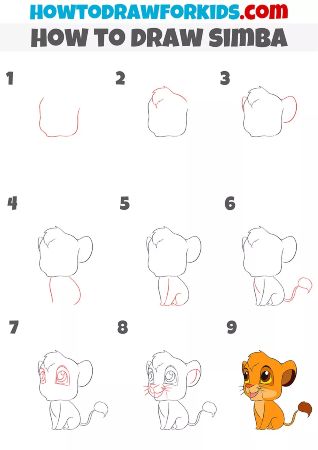 Here's a cute lion cub drawing for your equally adorable little one.
How to Draw for Kids captured the innocence of the young Simba in this drawing with its big eyes, chubby cheeks, and twirly tail.
This will be a fantastic teaching material for those kids who are just starting to learn how to draw.
6. Curious Simba Drawing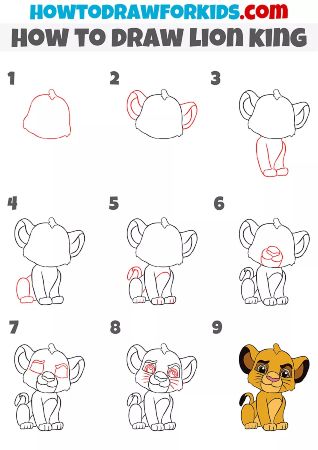 Kids are naturally curious and the young Simba is no exception.
This guide from How to Draw for Kids proves that the eyebrows play an important part in portraying the emotions of the characters.
The right eyebrow drawing can make the character look sad, mad, or surprised.
7. How to Draw Simba and Nala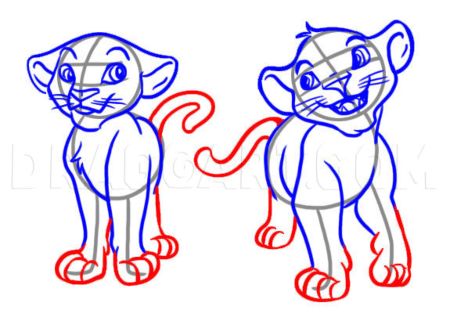 Simba and Nala have a deep bond that roots back to their childhood. This will be a nice activity for your kid and their best friend.
Learn how to draw the future rulers of the Pride Lands in their youth one step at a time starting with four circles and four curved lines.
Head on to Drago Art to get the full drawing tutorial.
8. Simba and Nala Christmas Drawing
M.Y. Life created a festive drawing featuring young Simba and Nala geared up for the holidays.
The matching Santa hats add a nice touch to it and make this activity ideal for the upcoming holiday season.
Get into the spirit of Christmas by making these perler bead Christmas ornaments with the kids.
9. Nala Drawing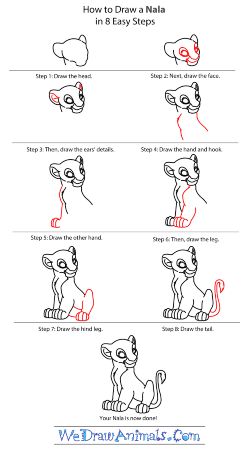 Nala is a phenomenal character that's beautiful inside and out.
Capture her beauty and elegance through this drawing from We Draw Animals.
This drawing guide provides a full picture of how you can draw Nala in just eight easy steps.
10. Zazu Drawing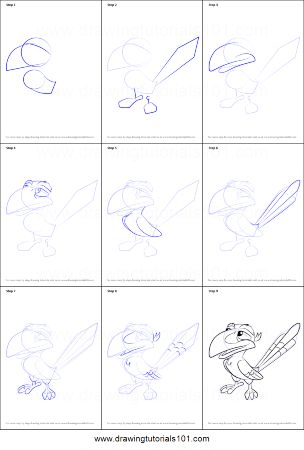 The beauty of the film Lion King is that the story doesn't only revolve around one animal species but features other creatures from the animal kingdom, too (like the royal advisor, Zazu).
This item from Drawing Tutorials 101 will teach the kids to draw a red-billed hornbill aside from the mighty lions.
Having this Zazu drawing will add variation to their sketchbook illustrations.
11. Scar Drawing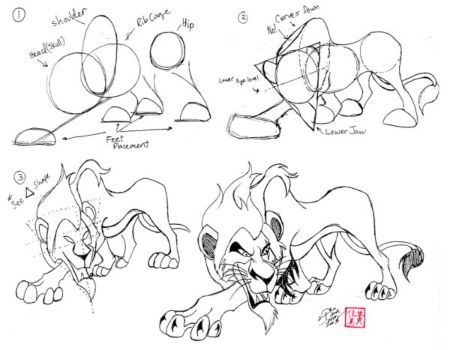 I know that Scar wasn't a nice character and you probably wouldn't want to draw him but hear me out when I say that kids will learn a lot from drawing this villain.
This in-depth drawing of Scar from Papik.Pro will show how to illustrate a lion's ferocity and viciousness which will give their drawings variety.
12. Menacing Scar Drawing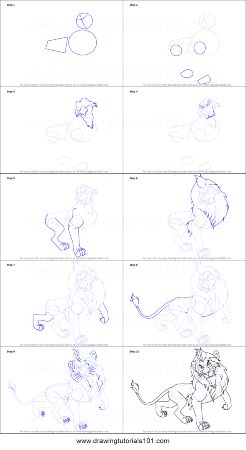 This drawing of Scar from Drawing Tutorials 101 gives another angle of the most cunning lion of the Pride Lands.
Kids will find this guide useful for drawing animated characters because it depicts a walking Scar.
They'll learn how to animate their future drawings once they've accomplished this project.
13. How to Draw Pumbaa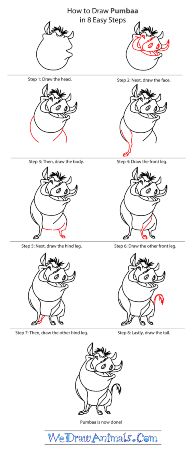 Wouldn't it be nice to have a friend like Pumbaa? He's fun, loyal, and thoughtful.
I'm sure that Pumbaa is one of the most loved characters from the film so I've included this tutorial from We Draw Animals to the list.
14. Timon Drawing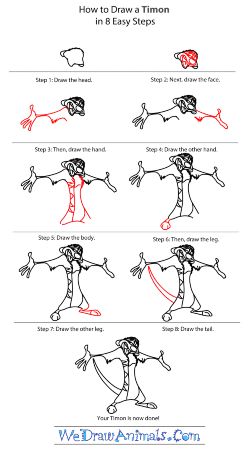 The fantastic trio won't be complete with just Simba and Pumbaa. We've got to have Timon, too!
This Timon drawing from We Draw Animals perfectly captures his carefree personality through his outstretched arms.
Feel like a superhero while doing these epic Batman perler beads projects.
15. Kion the Lion Guard Drawing
Cute Drawing * DogCatToys's drawing of Kion is an excellent example of how to draw a lion with his game face on.
This tutorial shows how to effectively draw their sharp teeth and scrunched-up face.
Learning this technique will give their future sketches diversity in terms of how they want their lion drawings to be portrayed: will it be a friendly or vicious one?
16. Vitani Drawing
Another notable female character in the Lion King franchise is Vitani. Although she started out as a villain, she eventually had a change of heart and joined Simba's pride.
This video tutorial from Rainbow Eyes Art will teach the kids how to draw and color their drawings of Vitani properly.
They also shared some tips on how to blend colors to add more depth to the drawings.
17. Shenzi Drawing Video Tutorial
We already know how to draw a lion, bird, and meerkat thanks to the tutorials above. Now, it's time for us to expand our portfolio and learn how to draw a hyena.
Check out this video tutorial from Love to Draw Digital Art exhibiting how to draw the ruthless Shenzi.
Enjoy making these wolf perler beads with the kids.
BONUS
18. Cool Simba Drawing Using Oil Pastel
Your kid will feel like the mighty king of the jungle once they've completed this awesome artwork by Art Arena.
Watch this video tutorial to know how a masking tape, tissue paper, and oil pastels could make this cool jungle artwork.
Hakuna Matata!
It means no worries! Your kids will have a blast creating their own versions of these easy Lion King drawings. The list is complete with the most beloved (and loathed) characters from the iconic film from Mufasa, Simba, and even Scar.
Not only are the instructions simple and easy to follow, but doing these together will give them great core memories to remember when they're older.
Don't keep your pencils just yet because we've got more projects to do starting with the ones below: