Here are 24 awesome Marvel Perler beads for kids who would love to reminisce their beloved superhero characters from Marvel, or for the geeky parents who want to find a good reason to introduce the amazing world of superheroes.
Marvel fans couldn't have received a better closure for their favorite superhero characters in the 2019 film Avengers: Endgame. The legacy and bittersweet ending of the blockbuster movie is still felt today, and will perhaps resound for years and even decades to come.
Check out our easy Perler bead patterns for kids! There's a beginner's comprehensive guide that details the materials needed for Perler bead activities.
9 Avengers Perler Bead Patterns
1. The Invincible Iron Man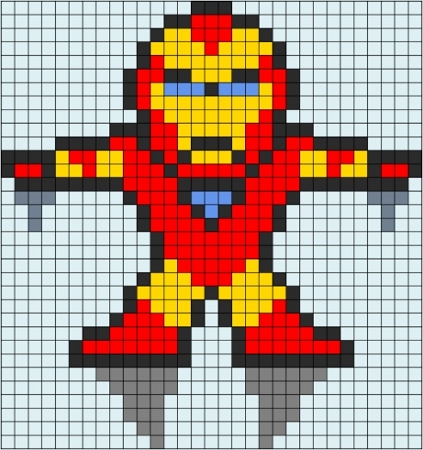 We can't start our list with anyone other than Iron Man, who started and propelled the Marvel Cinematic Universe (MCU) into a global phenomenon. beadmaster7 shares Iron Man who appears to be flying in his classic red and yellow armor.
2. Captain America, The First Avenger
Captain America's costume looks very anachronistic, which is an appropriate theme for his character who's living in the present yet stuck in his World War II past.
However, this old-fashioned costume won't stop children from admiring the timeless and noble values that Steve Rogers embraces.
inkedbeneath5 shares exactly Captain America's patriotic costume that he wore during the war and as depicted in the comics. The red, blue, and white colors on this pattern will help improve children's color recognition.
3. Thor Odinson, The God of Thunder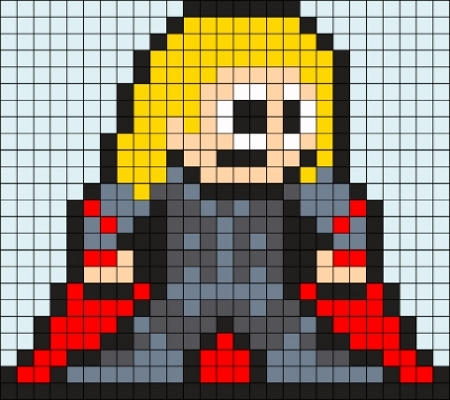 Which kid wouldn't love having the power to wield Thor's hammer, Mjolnir? Not only that but they'll also get the ability to call upon bolts of lightning and fly wherever they want!
However, only the worthy can wield such power, and tell your kids that they will be after they've made this pixelated-style Thor from tashar_h. Indeed, a sense of accomplishment is achieved after little children are done with such rewarding projects.
4. A More Sophisticated Thor Design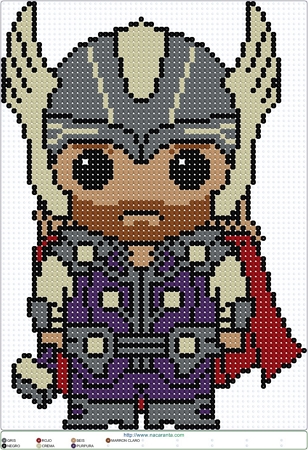 Nacaranta has something more sophisticated for longtime God of Thunder fans.
Older kids will have this amazing Thor to display or to serve as a small companion on their desk.
5. The Incredible Hulk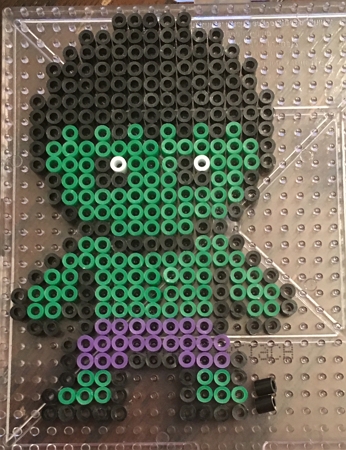 Can't decide between brains versus brawn? Teacher Scout Mom tells us that children can get both those qualities with the Incredible Hulk.
Dr. Bruce Banner is one of the smartest men in the MCU, who acquired 7 PhDs and he can also transform into the strongest Avenger!
6. The Amazing Spider-Man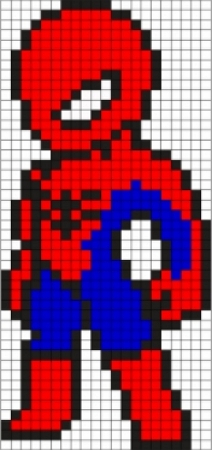 Clipart Library shares a simple design of our friendly neighborhood Spider-Man. Kids, especially teens, relate completely to the struggles of this high school superhero, so it's no surprise that Spider-Man is super popular among that age group.
We know children love Spidey, so here are other amazing Spider-Man crafts!
7. World's Mightiest Heroes for Preschoolers
Here's an easier Perler bead pattern for the World's Mightiest Heroes, the Avengers. Getting Crafty With Kerns understands that these activities have to be simple for toddlers and preschoolers, who are still developing their skills to recognize colors and faces.
Though these designs are simple, each Avenger has distinct aspects that make them very recognizable even for young kids. For example, Hawkeye on the left has three simple beads that represent his quiver.
8. Avengers Perler Bead Patterns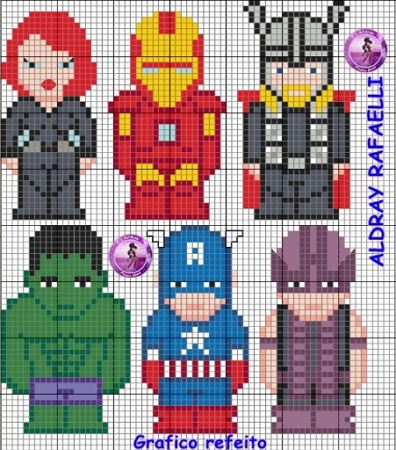 We Know How To Do It shares a more detailed Perler bead pattern of the Avengers. This is perfect for older kids who find the previous design too simple.
This is a great activity to stimulate the imagination of kids because the size of these Avengers is perfect to play pretend with.
Kids could simulate Loki's attack on Earth, or they could imagine a contagious virus that turns people into zombies! The sky is the limit when using the power of imagination.
4 Other Marvel Superhero Patterns
9. Gamora from Guardians of the Galaxy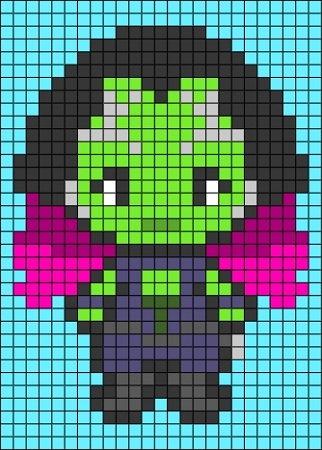 Little girls who admire superheroes will have a new superhero to look up to with this pattern of Gamora from Guardians of the Galaxy by Lizziecorn.
Imagine being the protector of a galaxy, where there are millions of planets and stars floating in space, and even billions of people to protect!
That's a huge responsibility, one that will inspire little ones to achieve a greater good for everyone.
10. Baby Groot from Guardians of the Galaxy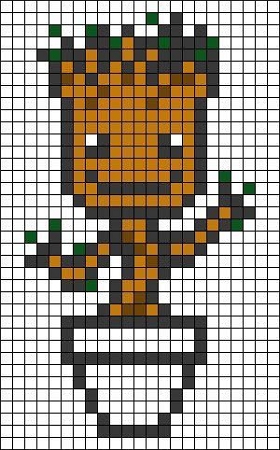 Talks about Guardian of the Galaxy can't exclude a baby Groot pattern like this from SupportIvy.
One of the team's cutest and clumsiest members, this sentient tree is loved by everyone. And even though he can only utter his name, everyone can empathize with Groot.
Like baby Groot, children are still trying to discover their surroundings, so it's okay to make mistakes and even encouraged to do so because, as they say, experience is the best teacher.
11. Doctor Strange, Master of the Mystic Arts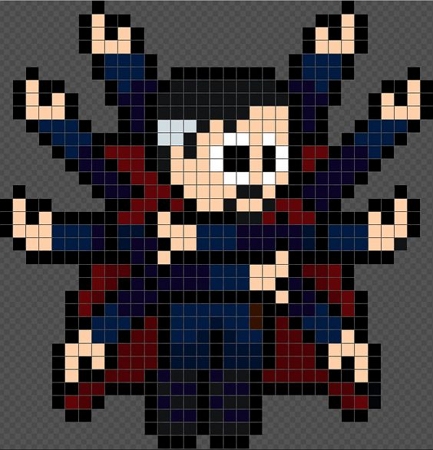 While younger kids might have some difficulty comprehending what's happening, those familiar with Doctor Strange know that he can conjure up magic spells to protect the Earth from evil beings from other dimensions.
But I don't blame younger kids, since I, too, have no idea what he's doing most of the time!
PeteBits provides an interesting pattern where we see Doctor Strange casting some unique spell, multiplying his arms to cast more powerful magic.
12. Deadpool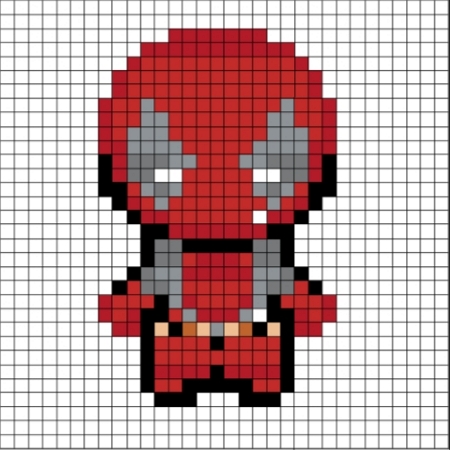 I'm sure older kids can appreciate Deadpool's humor more than younger kids. But younger kids aren't completely unfamiliar with characters breaking the "fourth wall", with shows like Blues Clues, Mickey Mouse Clubhouse, and Dora the Explorer constantly engaging children across the screen.
Plus, they can't deny how awesome Deadpool is by wielding two katanas. Pixel Real doesn't show them here, but I'm sure creative kids can conjure them up.
4 Superhero Symbols Perler Bead Patterns
13. Avengers Superhero Symbols
Sometimes it's the values that each represents that attract fans towards their favorite superhero.
Pixel Art Shop shares patterns for each Avenger's paraphernalia that serves as their identity, and symbols of the Avengers and S.H.I.E.L.D.
I really enjoy the details of each design, especially the shading. Thor's hammer looks absolutely amazing with that light blue outline acting as lightning.  Check out Pixel Art Shop to see all the patterns.
14. Captain Marvel Symbol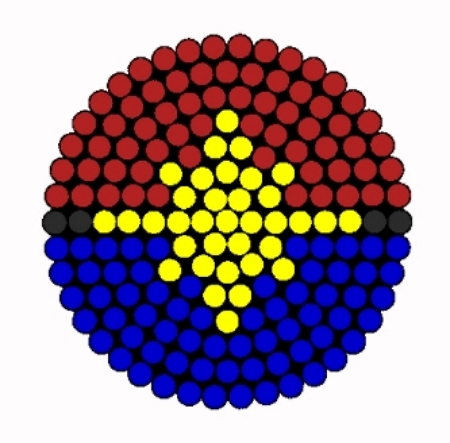 If you're simply looking to develop the little fingers, their hand-eye coordination, and their color recognition, bettemcd has this simple Captain Marvel symbol that will take your toddlers no more than 20 minutes.
You need a circular pegboard for this one, like the ones you see in these circle Perler bead patterns.
15. Spidey & Deadpool Symbol
If you've got plenty of red, black, and white bead leftovers from previous crafts and your kids really love Spider-Man and Deadpool, then Tsukinin has this amazing circular symbol of this duo.
Both characters share the same color, so you won't have a problem counting beads with different shades.
16. Captain America & The Winter Soldier Symbol
Teach your kids the value of friendship by making this Captain America and the Winter Soldier symbol by pranamya.
As seen in the movie Captain America: Civil War, Steve is determined to protect his childhood friend, Bucky, even if it means becoming a fugitive.
2 Marvel Supervillains Perler Bead Patterns
17. Iron Monger
Heroes don't achieve heroic status unless they defeat threats in the world. In a way, supervillains help our favorite heroes discover more of their potential, so they are critical for the heroes' journey.
Here's an Iron Monger pattern from Pinterest, a villain who scavenged Iron Man's first suit of armor and tried to sabotage his company. But in the end, our protagonist was able to conquer his demons and become a better man because of it.
18. Loki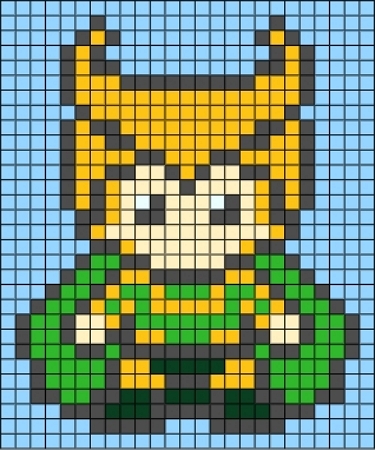 Help achieve your little one's "glorious purpose" by making this cute Loki pattern by ArialeMv.
By "glorious purpose" I mean giving them enough playtime to promote their creative skills.
This Loki pattern pairs well with Thor Perler bead patterns since they have a deep, brotherly relationship.
19. Thanos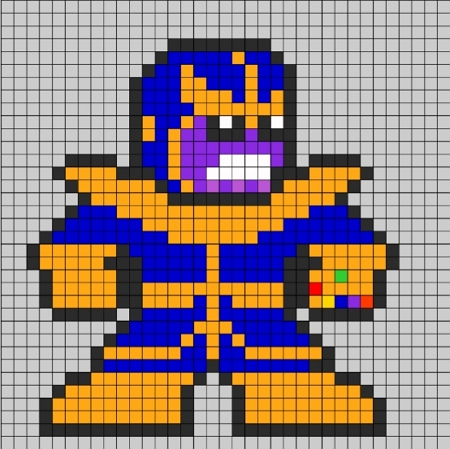 Every child is pretty much familiar with this big, bad, purple Titan, Thanos. Create this pattern by groundhog7s so you can let your children defeat him 14,000,605 ways.
3 Supervillain Symbols Patterns
20. Hydra Symbol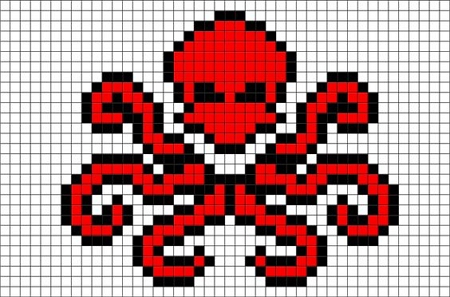 "Cut off one head and two more shall take its place" is the motto of one of Marvel's notorious terrorist organizations, Hydra. Their symbol is a red skull with tentacles, which looks almost like an octopus.
Brik Book shares a pattern that trains younger kids with curved designs.
21. Loki Symbol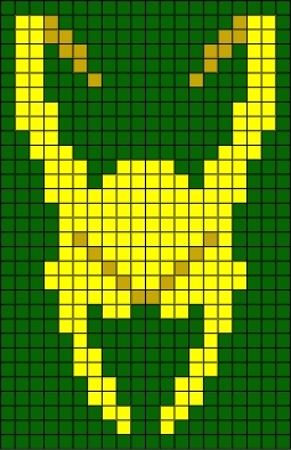 If symbols are more your children's thing and they care less about the characters themselves, then keeliaswaf has got you covered with a simple Loki symbol pattern.
Perler bead activities like this are educational since they allow kids to learn how to count as well as improve their ability to distinguish shapes and colors.
22. Infinity Gauntlet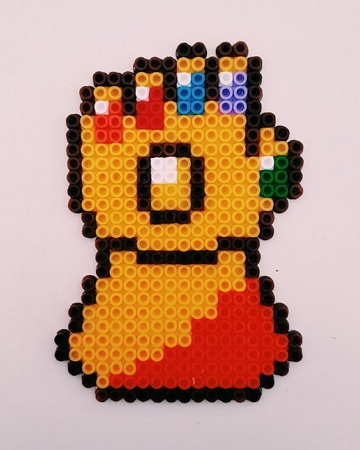 Be unstoppable with the power of the Infinity Gauntlet filled with all six stones at your children's disposal.
Instruct your children to use this Perler bead Gauntlet found on Pinterest for the greater good of all living things.
2 Marvel Perler Bead Art
23. Iron Man Bead Artwork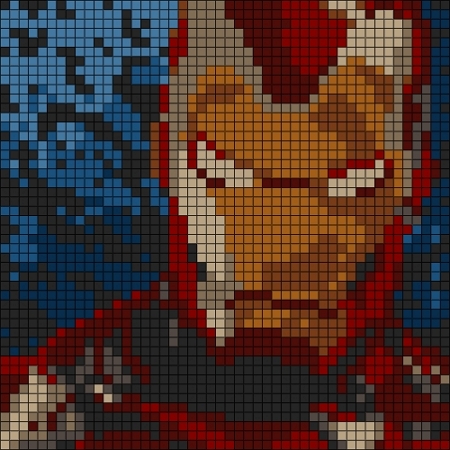 For teens who love a handmade Perler bead decor to display in their room, ClaireMe_3 has got them covered with an amazing Iron Man artwork. The great thing about Perler beads is that you don't have to mix primary colors to achieve the shades you want.
Simply place the beads in the correct order and you'll make wonderful creation such as this.
24. Venom & Spider-Man Perler Bead Art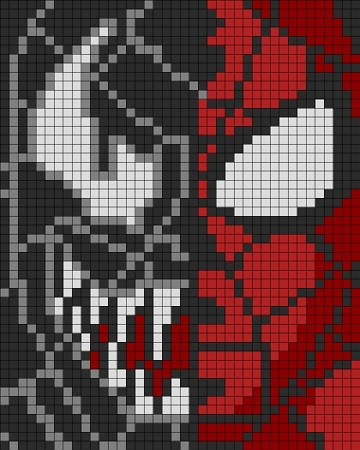 We don't know when we'll see the awaited on-screen crossover between the symbiote Venom and our webhead Spider-Man. In the meantime, xXxemo_angelxXx shares a stunning Perler bead pattern that shows the symbiotic relationship between these two characters.
This project will take a day or two to complete, so make sure to allot time during the weekend!
Go and Save the World!
Superheroes are truly inspiring, so it's not surprising that plenty of young kids keep on idolizing such marvelous characters. They help teach children important life lessons, so keep on making these Marvel Perler beads!
Check out our other kids' crafts: