The fall season has arrived and that means it's the perfect time to take a nature walk and look for fall foliage to create fun fall crafts, like nature collages.
Here are 16 inspirational nature collage crafts that you and your little ones can make to welcome the autumn season!
Tips for Preparing Materials for Leaf and Flower Collages
I have several tips before you go out and start foraging for nature's treasures, such as autumn leaves, twigs, and flower petals.
Tip 1: Plan ahead of time what you want to craft so you know exactly what to pick up.
Tip 2: If you need to travel to collect fall foliage, bring a basket or container with a lid to store collected items so nothing gets blown away by strong winds.
Tip 3: Wait until you get home to make your nature collage. It could prove difficult to do your crafts outdoors where there are no flat surfaces and your leaves can easily be blown away by winds.
8 Traditional Nature Collage Ideas
The materials needed for the collages will be listed with each craft.
Since some of the crafts depend on what you find, I'll write "nature's treasure" for crafts that don't need specific foraged materials.
1. Autumn Tree Nature Collage for Kids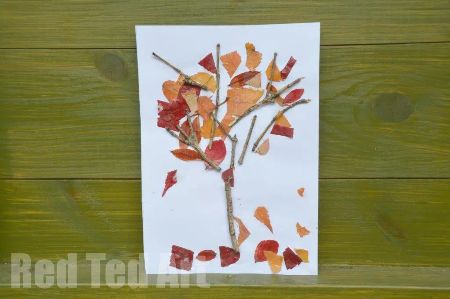 Materials needed: Autumn leaves, sticks, liquid glue
Start with the essentials by making this straightforward autumn tree nature collage. You can use any shade of autumn leaves you find during your nature walk.
Just spread some liquid glue onto construction paper and paste your leaves and sticks onto it to form the tree!
This autumn nature tree is part of Red Ted Art's Four Season's crafts series.
2. Nature Collage Art Idea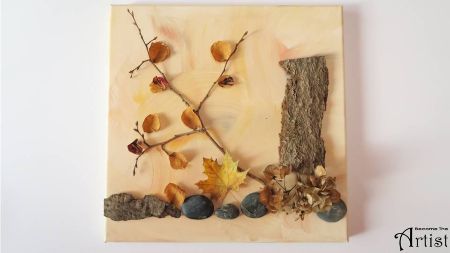 Materials needed: leaves, sticks, stones, tree bark
Take inspiration from this nature collage by Steemit that's a perfect way to welcome the new season.
They've applied beige paint onto a canvas, but you don't need to go out your way and buy a painting canvas since you can just paste your foraged items onto construction paper.
I recommend a hot glue gun to secure heavier things, like stones and bark, and liquid glue for everything else.
3. Nature Collage Art With Tape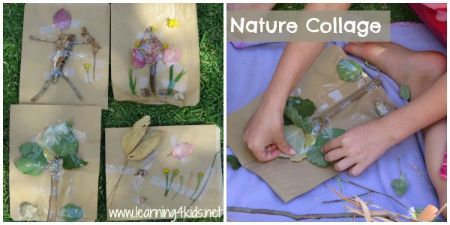 Materials needed: nature's treasures, tape
If your children don't like the sticky feeling of working with liquid glue, then try this nature collage by Learning 4 Kids that makes use of regular tape to attach collected nature items.
This activity will enhance your children's creativity – the only limit is their imagination.
4. Double-Sided Tape Nature Collage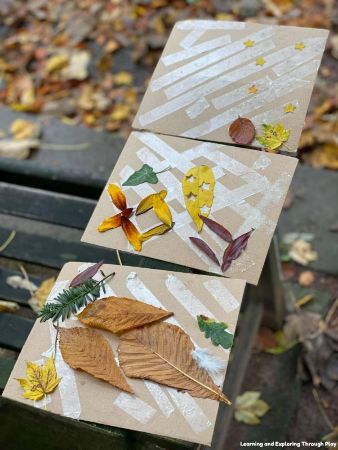 Materials needed: nature's treasure, double-sided tape
If you like the convenience of tape, but don't like regular tape ruining the aesthetic of your craft, then this double-sided tape craft is for you!
Attach the tape onto a cardboard, just like Learning and Exploring Through Play does, and let your kids have fun pulling the backing to expose the sticky side.
Kids can add all the details they want, like stars or hearts cut outs from the leaves.
5. Leaf And Flower Collage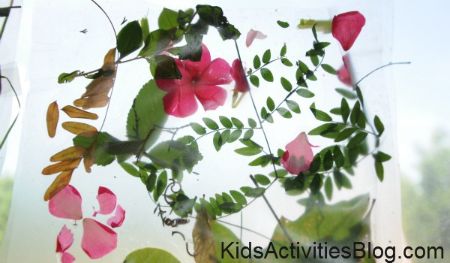 Materials needed: nature's treasures, Con-tact paper
Decorate your windows with this leaf and flower collage by Kids Activities Blog. This craft makes decorating windows super easy because of the Con-tact paper!
Just like the previous crafts, you can take any type of foliage you've collected and attach it to the contact paper.
6. 3D Nature Collage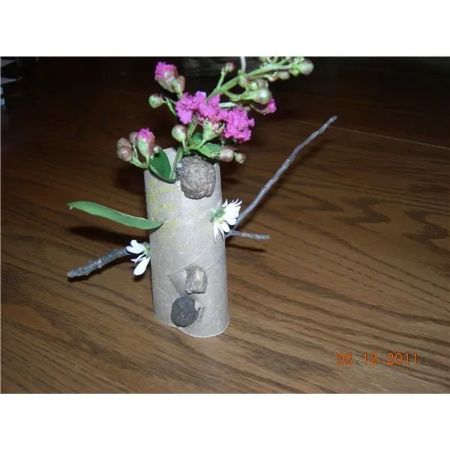 Materials needed: nature's treasure, toilet paper roll
Here's a collage that you and your children can make together that uses upcycled materials, just like these toilet paper roll crafts.
Bright Hub Education instructs us to add slits on the toilet paper to allow the kids to insert their found treasure.
This one is easy and simple to do with toddlers and preschoolers!
7. Nature Collage Insect Idea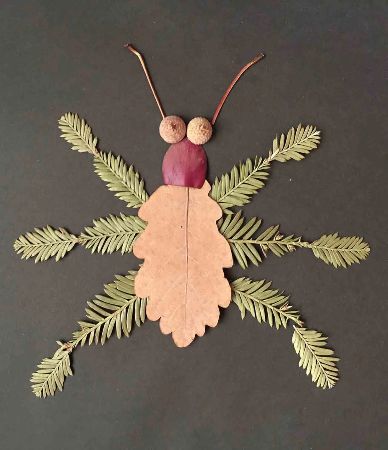 Materials needed: leaves, sticks, acorn caps
Time to get super creative by making this nature collage insect. This craft idea will surprise you with how ingenious you and your kids can get!
Nature Crafts for Kids draw inspiration from the stunning insect flower arrangements by artist Raku Inoue. I highly recommend you check them out for inspiration, too!
8. Nature Rainbow Collage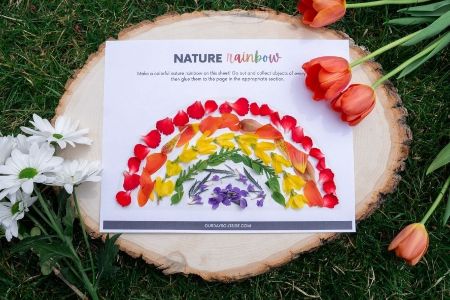 Materials needed: petals of various colors
If you and your little ones are up for the challenge of searching for petals of each color of the rainbow, then you should create this wonderful nature collage idea by Our Days Outside.
It's so rewarding to find the colored petals you'll need, but don't be pressured to find all the colors of the rainbow, and any shade of the color you need is more than sufficient!
Our Days Outside has a free printable template of the rainbow.
6 Nature Collage Art Ideas With Drawings
9. Nature Collage Placemats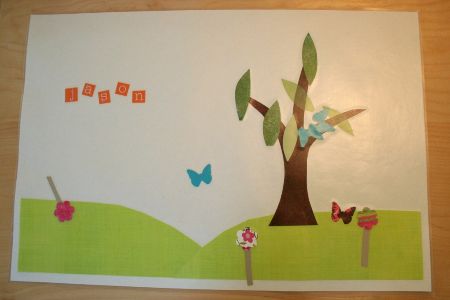 Materials needed: leaves, construction paper, glue, laminator
This is a perfect nature collage for growing toddlers who are still learning and developing their fine motor skills.
Warm Hot Chocolate suggests you aid your little ones with "starter placemats" such as a cutout of the grass and tree bark. Then allow them to paste their collected leaves onto the tree.
The development of toddlers is very important, so make sure they have a good foundation by trying out these toddler painting ideas.
10. Leaf Collage Ideas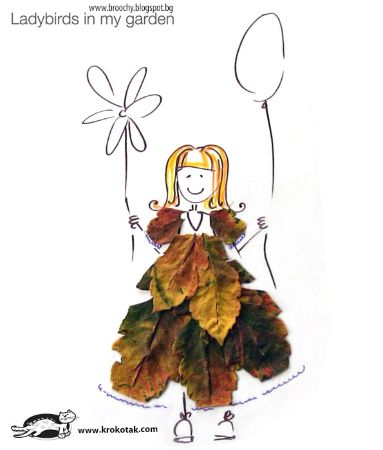 Materials needed: mostly leaves
These ideas from Krokotak allow your children to do as much as their imagination allows. Of course, you can help them design and draw some of these ideas, too.
Expand your children's minds with Krokotak's other ideas for nature collages (there are no specific instructions for these crafts – they merely serve as an inspiration for parents, teachers, and kids):
Fish and Chicken Leaf Collage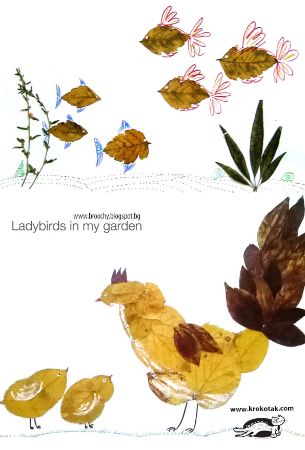 Spaceship Leaf Collage
Leaves Animal Collage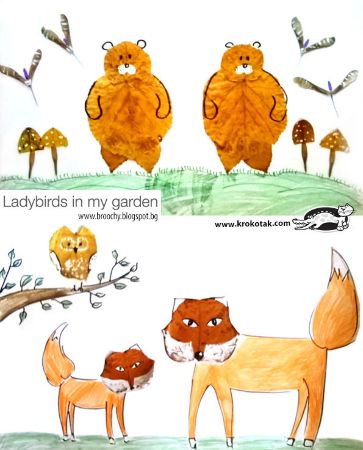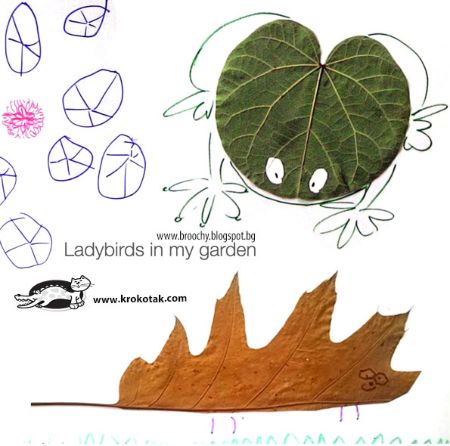 11. Habitat Nature Collage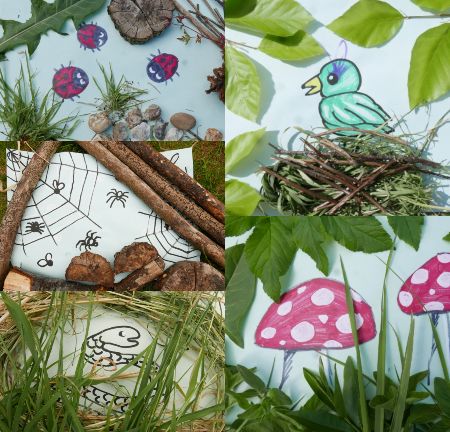 Materials needed: nature's treasure, construction paper, markers, glue
Here are a few other nature collage art ideas that can stimulate you and your kids' imaginations.
These ideas from Child's Play ABC introduce habitats to children in a fun and exciting way.
Broaden your horizons by looking at some of the designs on their website, such as:
Mushrooms
A bird's nest
Adorable ladybugs roaming in a garden (check out these other ladybugs crafts for kids)
An underwater ecosystem
Bees pollinating flowers, and so many more!
As you can see, there are endless possibilities for these kinds of nature collages.
12. Nature Tree Collage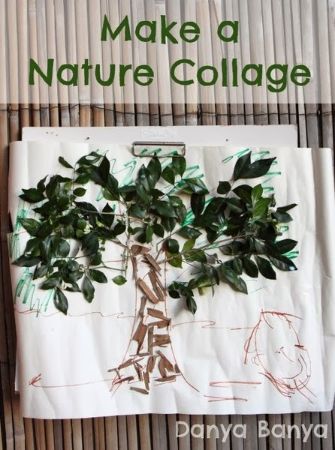 Materials needed: leaves, bark, construction paper, markers
Here's a very simple and easy nature collage for toddlers and preschoolers shared by Danya Banya.
It's so easy that all your children have to do is draw the outline of a tree and attach leaves and bark to add texture – that's it!
Here's another variation of a nature tree collage from Tinker Lab that has a more "autumn season" vibe to it.
13. Nature Painting Collage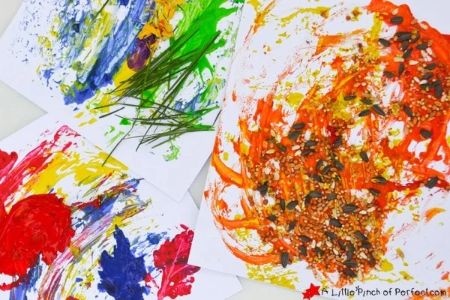 Materials needed: nature's treasure, paper, paint
Your toddler's visual skills and ability to recognize colors will develop with this nature painting collage because it's bursting with vibrant colors.
A Little Pinch of Perfect sprinkles a little bit of everything on this one. Indeed, it looks like there's grass, birdseed, flowers, sticks, and feathers on this collage!
14. Hairstyle Nature Collage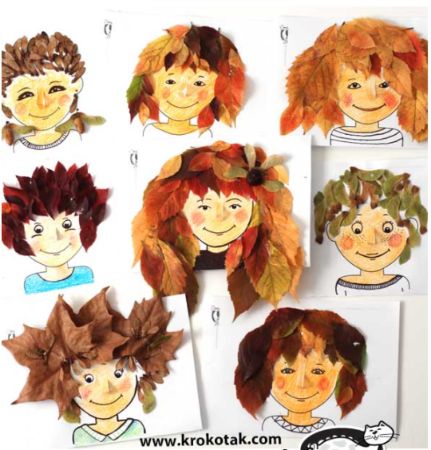 Materials needed: leaves, printable template
Is your child interested in styling hair? If so, bring out their inner stylist by making these autumn hairstyles with them.
Not only does Krokotak provide a free printable template, they also have an easy-to-follow video tutorial.
2 Bonus Nature-Related Activities
If you went out of your way to gather those foraged materials, you might as well engage your kids in these bonus nature-related activities so nothing goes to waste.
15. Wax Paper Leaf Prints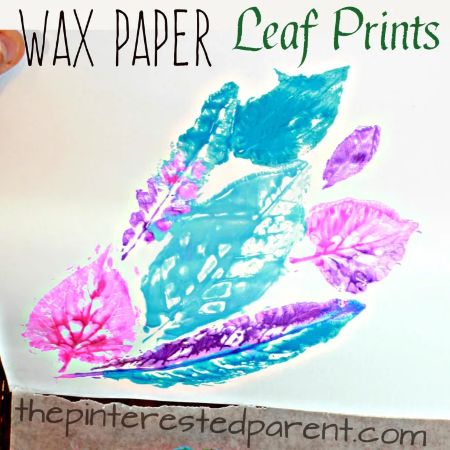 Materials needed: leaves, paint, wax paper
Leaves don't necessarily have to be green, yellow, or red. Just ask The Pinterested Parent – they show us how to create wax paper leaf prints.
This nature collage is created by attaching leaves to wax paper. Simply paint the leaves with your favorite colors and firmly press down on a piece of white paper to create colorful leaf prints.
16. Painting Leaves Art Activity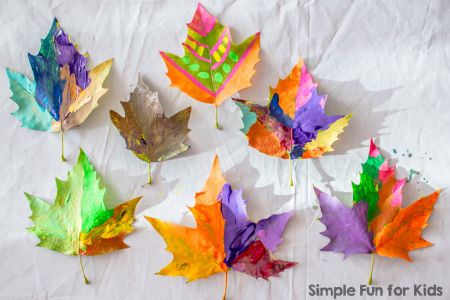 Materials needed: leaves, paint
These maple leaves look incredible! If you live in areas where there's a lot of maple trees, then great! If not, no worries because this painting craft is doable with any type of leaf.
There's no pattern to follow; you can make your leaf any color or design you desire with pretty results!
Exciting and Engaging Nature Walks for Kids
These nature collages and activities give your children an opportunity to stretch their legs and get in touch with nature, which is perfect in a time when children are glued to screens.
Which of these nature collages did you enjoy making with your kids? Share your experience in the comments section below!
For other seasonal activities, check out these other crafts for kids: