Ahh, springtime – a welcome relief after a bitter winter.
With the scent of flowers lingering in the air, the warm sun rays hitting your face, and the garden in full bloom, it's hard to imagine a world without spring.
Is there a better way to welcome its arrival and shake off the last remnants of snow than by making spring crafts with the kids?
In this list you'll find 15 fun and easy spring crafts for kids. These are categorized into three different difficulty levels: easy, moderate, and hard.
So grab the kids, the necessary materials, and get to crafting in 3, 2, 1!
Easy-Peasy: Spring Craft for Kids Even Toddlers Can Do
The following spring crafts for kids are so fun and easy, even toddlers can do them – with appropriate adult supervision, of course.
If you're looking for easy spring arts and crafts ideas for toddlers to make on a rainy day, or as a bonding activity, these are for you.
1. Paper Plate Flowers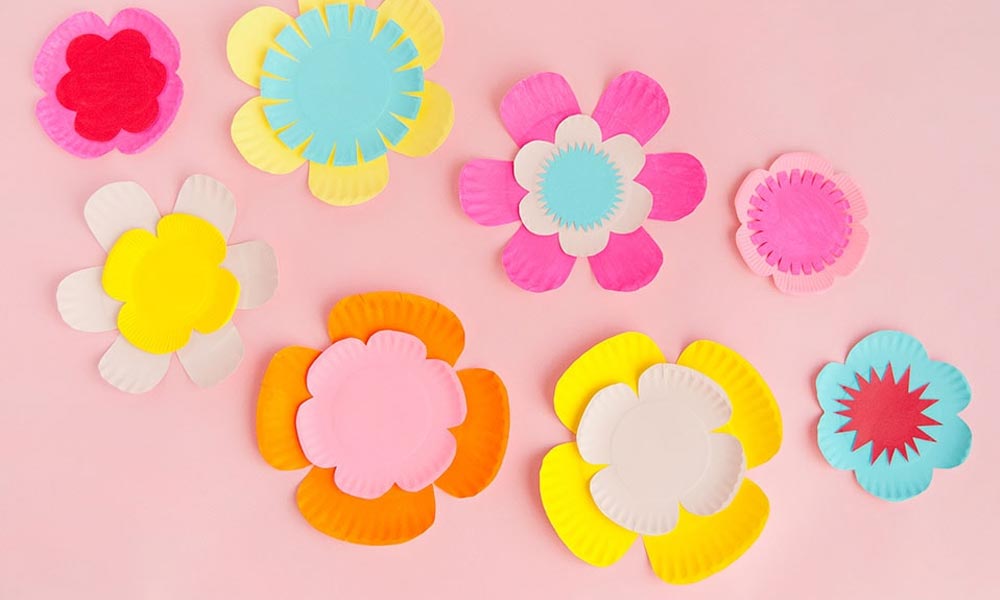 "April showers bring May flowers," but why wait? Make your own flowers with this paper plate flower kid's craft.
Paper plates are versatile as there are a lot of crafts you can do with them. They're especially popular for spring arts and crafts projects.
Check out this easy tutorial for paper plate flowers from Handmade Charlotte.
2. Paper Straw Tulips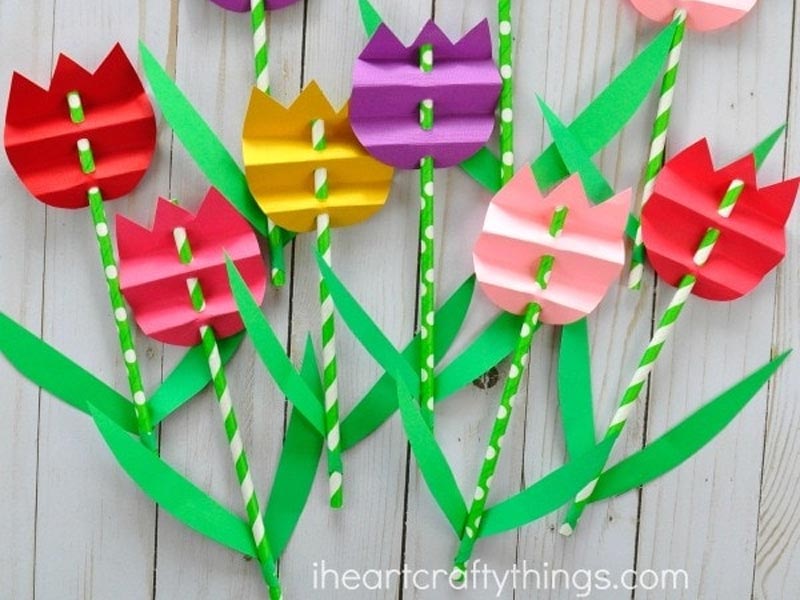 Get year-round access to tulips, one of the most beautiful and coveted flowers, by making these paper straw tulips.
This straw craft is one of the simplest spring crafts for toddlers I've ever seen. I Heart Crafty Things shares a detailed and easy-to-follow tutorial that will make you fall in love with tulips all over again.
3. Pom Pom Caterpillar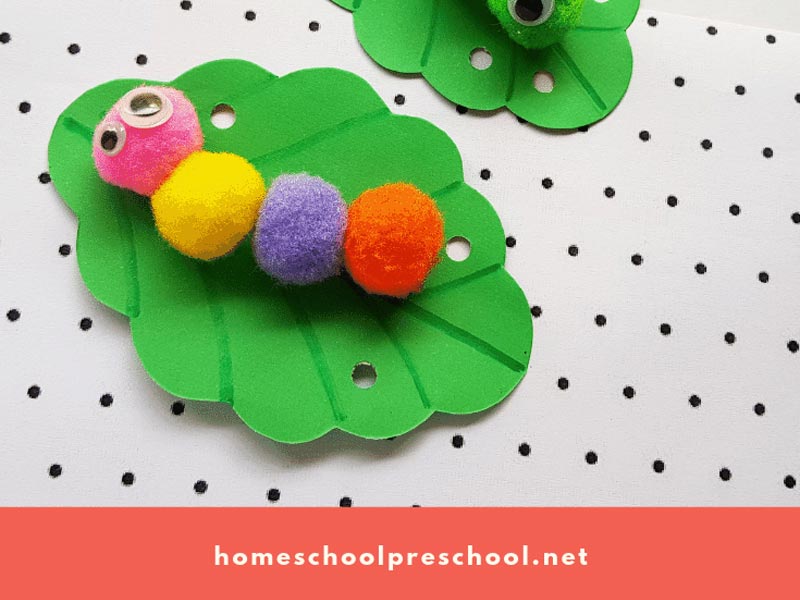 Caterpillars may sometimes be an unwelcome sight for adults, but kids are fascinated with these plump, soft, and squishy creatures.
This pom pom caterpillar craft project is a nice way to introduce kids to the life cycle of a butterfly. Turn making a fuzzy little caterpillar into a teaching moment!
Learn how to make a pom pom caterpillar by reading this tutorial.
4. Paper Plate Turtle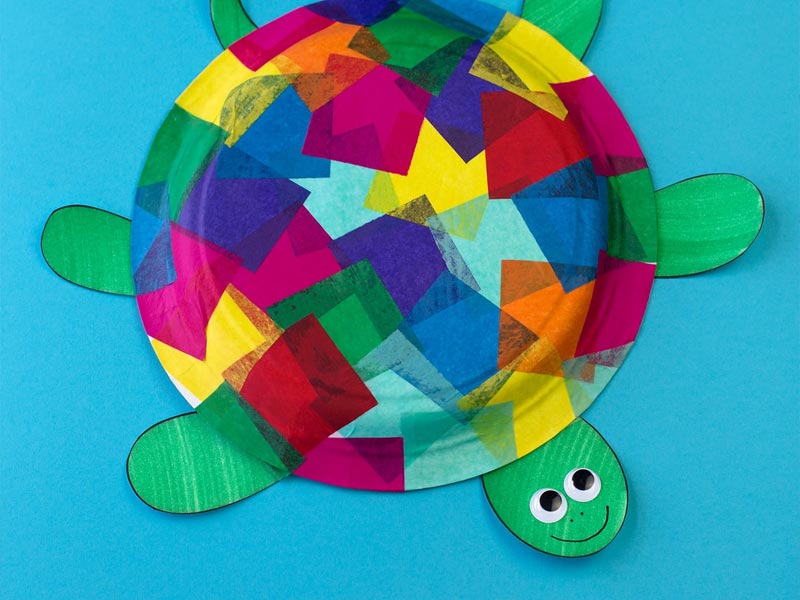 Remember when I said paper plates are a favorite when it comes to arts and crafts projects? This time, your toddler can transform a paper plate into a turtle!
This kid's craft requires a paper plate, colored tissue paper, construction paper, googly eyes, glue, scissors, and a black marker. These step-by-step instructions show how to make a turtle using a paper plate and tissue paper.
5. St. Patrick's Day Edible Rainbows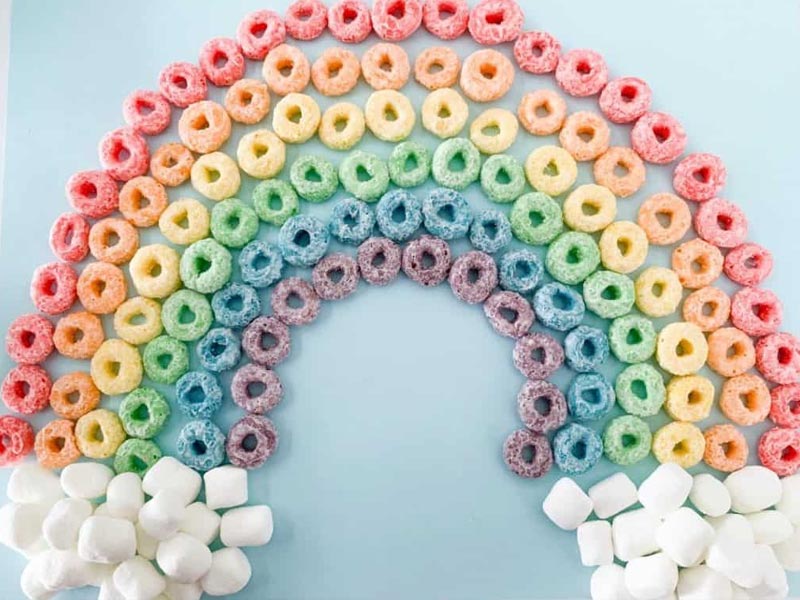 This cute and easy spring craft involves food. This means your kids will have a tasty treat to munch on afterwards!
This edible rainbow is made out of Fruit Loops and marshmallows, with each loop grouped according to a different color to represent the colors of the rainbow. The marshmallows are used to create the white, fluffy clouds at the end of the rainbow.
Tania at Lola Lambchops shows us exactly how an edible rainbow is made.
Moderate Level: Spring Craft Projects for a Preschooler
It's time to challenge your kids a bit by taking spring crafts up a notch..
Below is a compilation of spring crafts for kids that are of moderate difficulty and ideal for preschoolers. Each requires a little more effort than the previous crafts, but don't worry – they're not difficult.
6. Bow-Tie Noodle Butterflies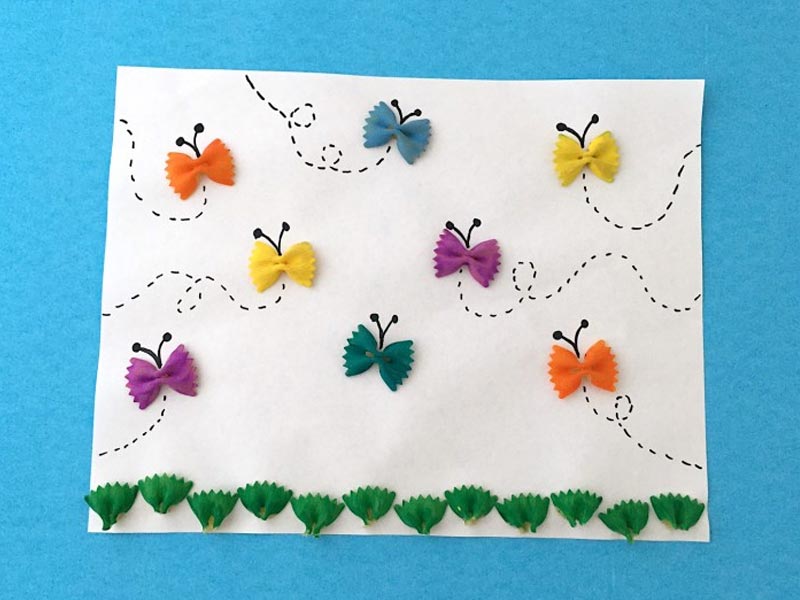 Transform a pantry staple into adorable flying creatures with the help of your imagination and some paint.
These bow-tie noodle butterflies will get your kid's hands messy ( something we know they'll love). Even if you have to open a new pack of noodles, take out 8-10 pieces for this project and cook the rest for dinner. Sounds fun and yummy, right?
Check out this tutorial to learn how to turn bow-tie noodles into butterflies.
7. Q-Tip Flowers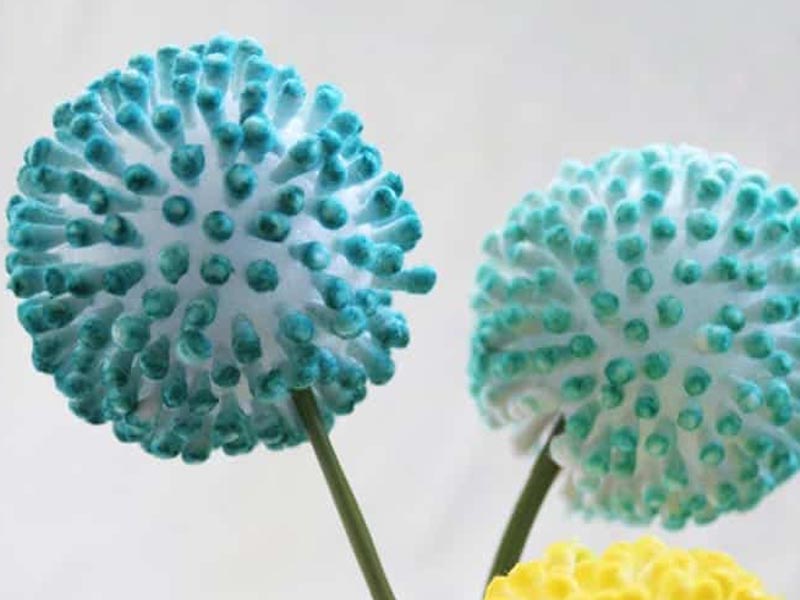 These beautiful Q-Tip flowers look good enough to be home and party decor and can easily be customized by simply changing the colors.
These Q-Tip flowers are inspired by a display at Anthropologie. This DIY version by Homemade Ginger gives you the same result for a lesser price. Who doesn't love a good deal?
8. Cherry Blossom Popcorn Tree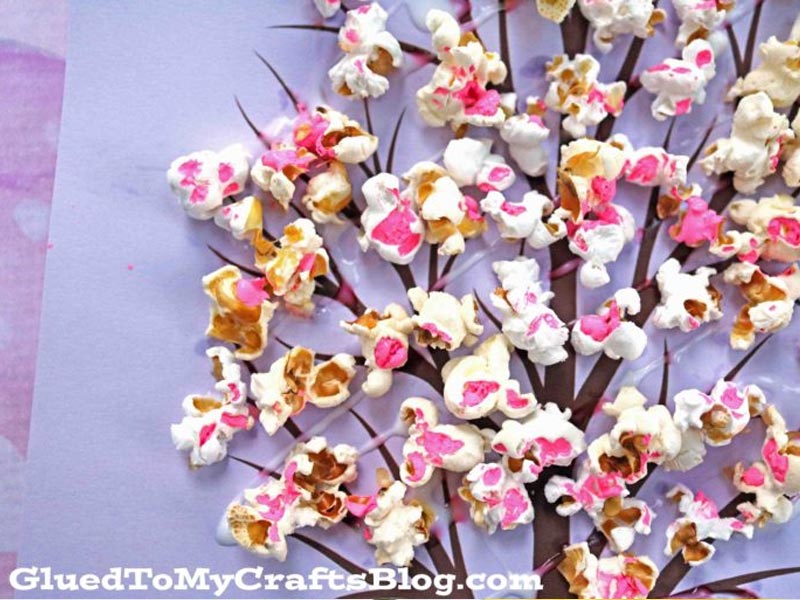 A cherry blossom tree is to spring as snow is to winter, and a cherry blossom tree in full bloom is like an announcement that springtime has finally arrived. This cherry blossom popcorn tree is a great way to honor this breathtaking annual display.
Pop some popcorn, paint them pink, and glue them on paper pre-drawn with the trunk and branches of a cherry blossom tree. It's so easy and simple your preschooler will want to make it over and over again!
Here's a nice little tutorial to get you started.
9. Egg Carton Spring Chicks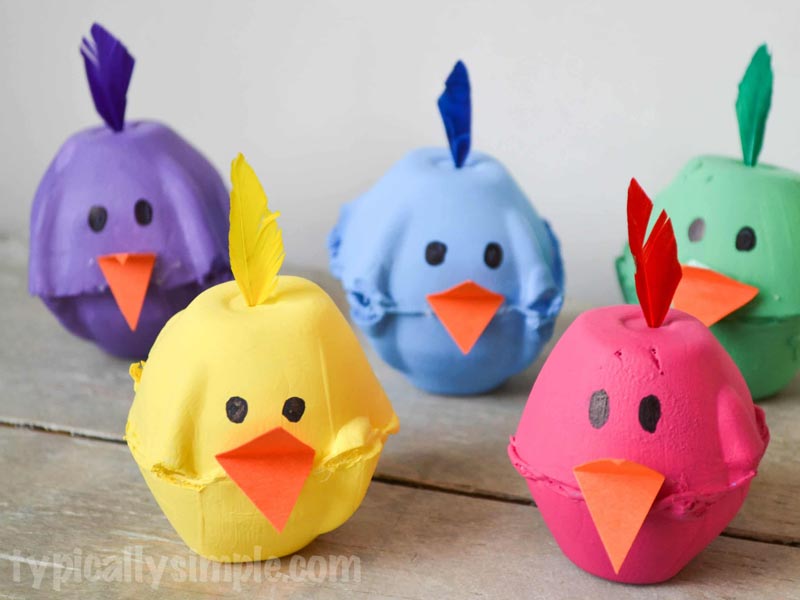 You won't be able to stop gushing over these adorable spring chicks made from egg cartons! It's a fun and easy activity for the kids that requires no money. All you need is an egg carton, paint and brush, construction paper, glue, scissors, and a sharpie.
This easy-to-follow tutorial by Typically Simple outlines everything you need to know to bring these chicks to life.
10. Ladybird Pebbles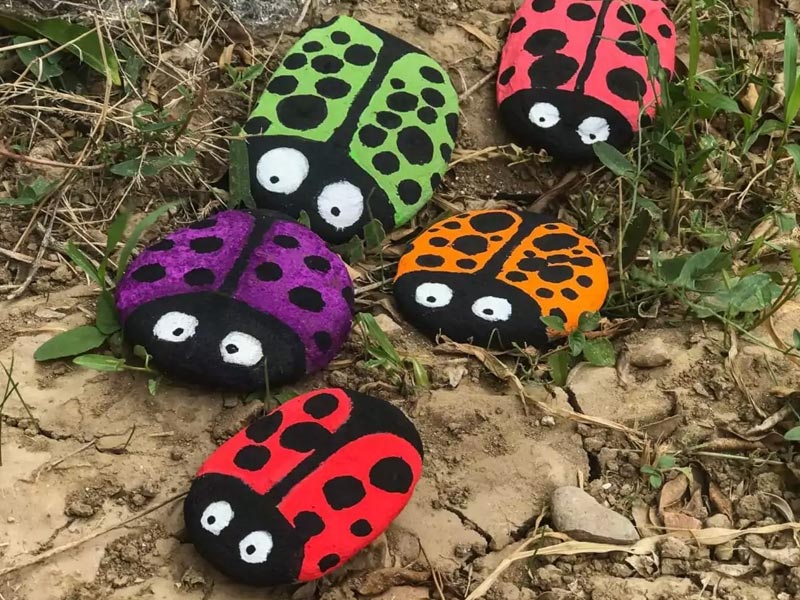 Your kids will have lots of fun hunting for the right pebble to use for these ladybird (most commonly known as "ladybugs") pebbles. This spring craft only requires two steps: cleaning the pebble and painting – that's it!
Kids have fun with this craft because they can use their imagination and go crazy on the colors.
Start creating ladybird pebbles with this tutorial.
Hard – But Not Impossible Spring Crafts!
When it comes to arts and crafts, we all love a good challenge, and there's nothing more satisfying for a kid than finishing a difficult task.
Below are some spring crafts for kindergarteners that are somewhat difficult to do, but worth the results.
11. Curled Paper Spring Flowers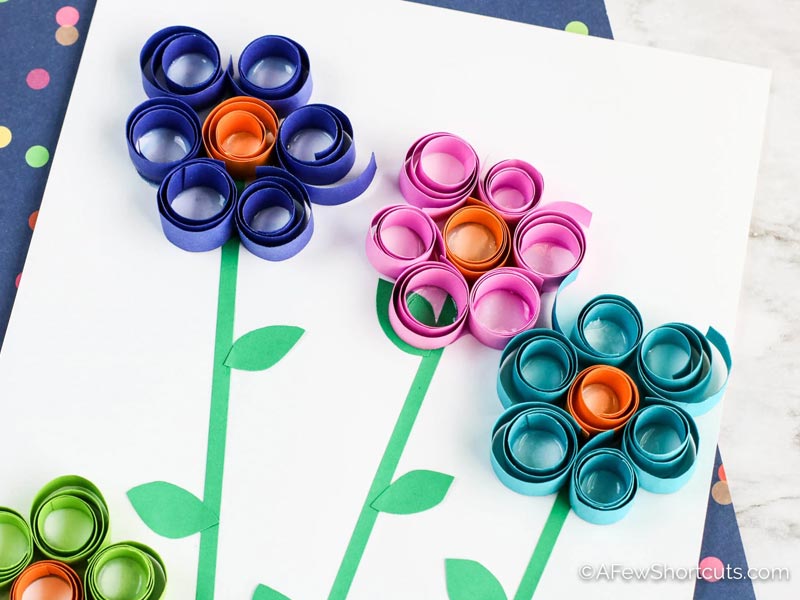 Flowers are abundant in spring – and there's no such thing as having too many flowers, especially something as uniquely beautiful as these curled paper spring flowers.
Kids will enjoy this project because they'll feel more involved, and parents will enjoy this project because it keeps the kids busy!
12. Tissue Paper Flower Bracelet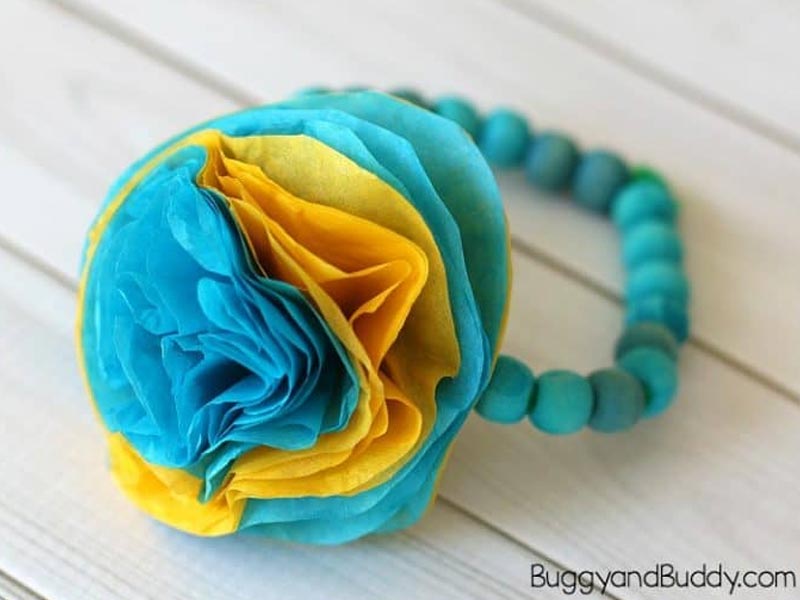 This tissue paper flower bracelet is a great way for your kids to carry a memento of spring everywhere they go. It's an easy project that may also be used as a Mother's Day gift.
Young kids will need help making the flowers
Make tissue paper flower bracelets in no time with this step-by-step guide.
13. Bug Rings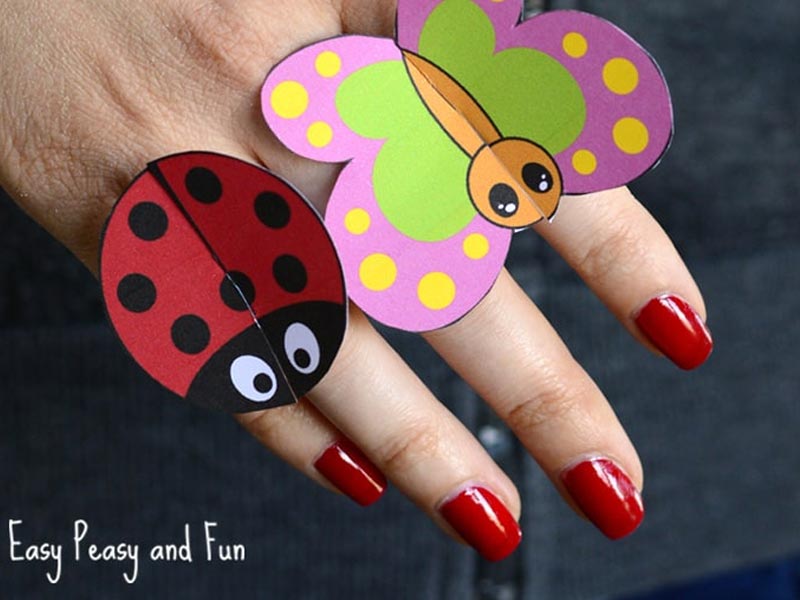 This bug ring project can be made using a printable that features a ladybug, butterfly, and a bumblebee. Or, have your kids color the bugs themselves to make this activity more personal.
The template may be downloaded at the end of this easy-to-follow tutorial on how to make printable bug rings. Have fun!
14. Yarn-Wrapped Bird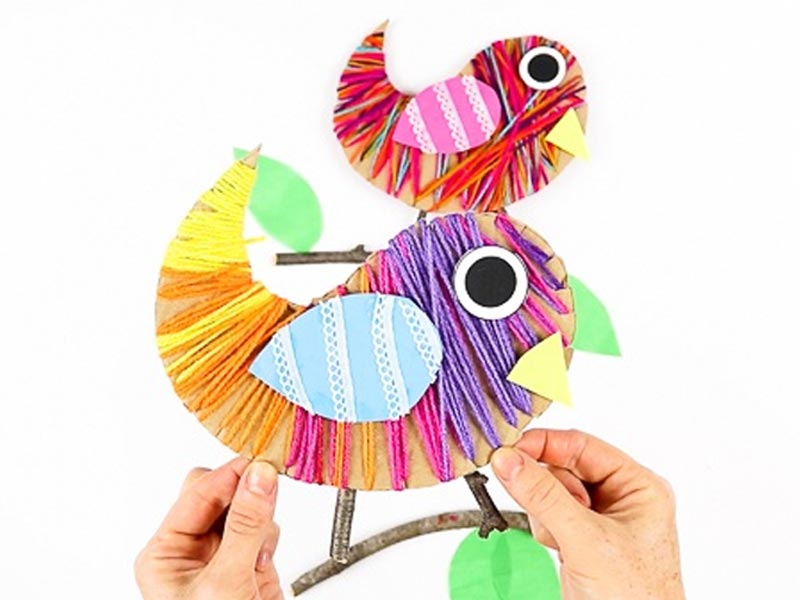 This yarn-wrapped bird craft is perfect for bird lovers. With the birds' cute little bodies wrapped in colorful yarn, it's hard for kids not to fall in love with these small winged creatures.
Let your kids go crazy and make as many of these yarn-wrapped birds as they can to create their very own aviary!
15. Cardboard Tube Rainbow Blowers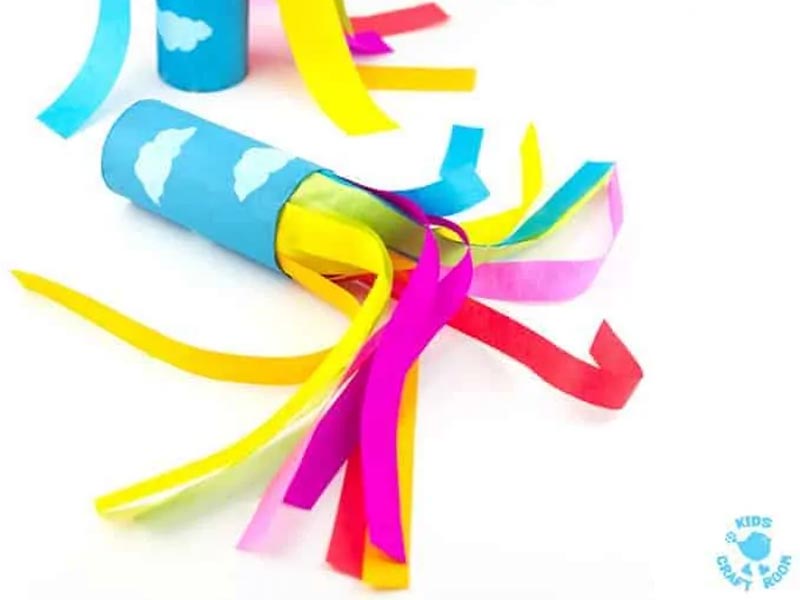 Last, but certainly not the least, in this list of spring crafts for kids is a personal favorite. Don't throw out those empty paper and toilet roll tubes just yet.
This could be a great bonding activity for the family. Have a grand time huffing and puffing through these colorful cardboard tube rainbow blowers.
To Spring Crafts and New Beginnings
There's something new for kids to work on and look forward to every day with this list of 15 fun and easy spring crafts for kids.
When your kids are done with these spring crafts, check out the other crafts on our site for all the other seasons of the year!
Fun doesn't end in spring – but it's a great place to start.
Keep an eye here at Cool Kids Crafts for even more ideas for your next craft project!