Egg cartons have a lot of potential to be transformed into beautiful, and even useful, things.
Since most of us consume plenty of eggs every week, there's probably an egg carton or two waiting to be thrown away. Why not repurpose them into fun and meaningful crafts?
These 25 egg carton crafts will prove to you just how versatile this material can be, whether the carton is made out of plastic or styrofoam.
Let's get started!
13 Egg Carton Animal Crafts
These first 14 egg carton crafts will be very enjoyable to children because they involve cute animals. And we know how much kids love animal crafts.
You'll be surprised by the amazing animals you can make from a singular egg carton cup!
1. Egg Carton Turkey Craft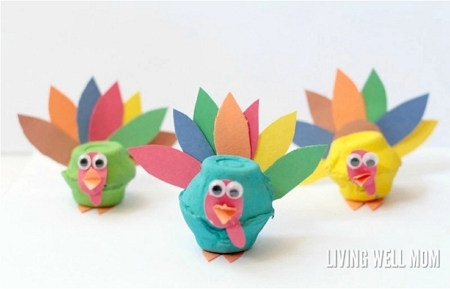 The first project is among the most colorful egg carton crafts you'll see on this list.
This vibrant egg carton turkey craft from Living Well Mom does a really great job of creating a diversified group of colorful turkeys.
We've got a bunch of turkey handprints crafts for your kids to enjoy as well!
2. Egg Carton Chicken Craft
I found this chicken craft by Red Ted Art to be a fun craft to make with egg cartons!
This interesting little decoration is actually quite easy to make for your next Easter celebration.
3. Crocodile Egg Carton Craft
The ridges of an egg carton act as the perfect replica for scales on an animal's back, like the crocodile.
This 17-minute video from Alison Clark provides a thorough walkthrough that teaches you how to make this amazing crocodile toy, step-by-step.
This is one impressive crocodile egg carton craft that children can really sink their teeth into.
Don't miss out on these cool crocodile drawings, either!
4. Cute Egg Carton Turtles
Save the turtles by transforming those egg cartons into these cute little toys for your kids!
Allow your children to participate in this mindful activity by letting them color each egg carton cup (that you've pre-cut, of course) and attach the pompoms and googly eyes.
This is a great activity to teach your littles ones about the importance of every animal on the planet.
5. Adorable Egg Carton Penguins
What's not to love about penguins? They're plump birds that slide on ice with their bellies.
If your children would love to have a little penguin of their own, then this video tutorial of egg carton penguins shared by Make-Film-Plays is just for you.
Besides the googly eyes, each component of the penguin comes from an egg carton, so that's all you need!
6. Simple Jellyfish Egg Carton Craft
The shape of an egg carton cup makes it easy to create animals, like these jellyfish from Ey-to-Zee Creative.
They simply cut out the cups and apply the paint color of their choice. Try mixing and matching the paint colors to create some interesting color patterns.
Try some of these other jellyfish crafts with your kids when you're done with this one!
7. Egg Carton Dancing Fish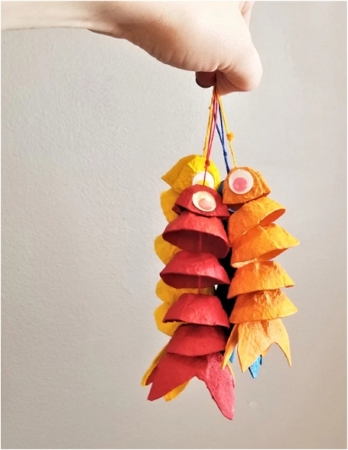 This astonishing dancing fish made from an egg carton is truly captivating. These will look so good you won't even mind hanging them around your home.
Brainy Beginnings Network does a great job not only on the design, but also on their step-by-step instructions.
8. Oceanscape Egg Carton Craft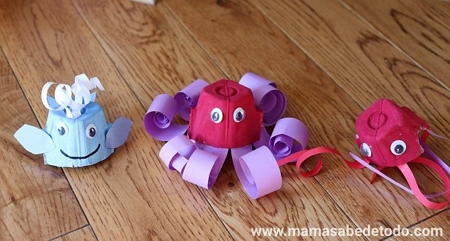 Mama Sabe De Todo brings the ocean ocean floor to life with their oceanscape egg carton craft that gives kids a chance to create mysterious creatures, like the octopus and whale.
Try these other ocean-related activities, such as ocean crafts and octopus drawings, to teach your kids all about the mysterious under-water world.
9. Egg Carton Snails with Googly Eyes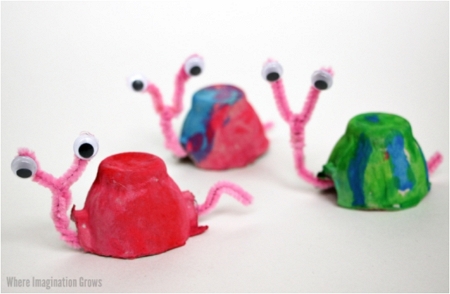 This snail craft by Where Imagination Grows caught my attention because these misunderstood animals don't get enough of the spotlight.
All you need is an egg carton, some paint, and pipe cleaners to bring these cute snails to life.
I mean, just look at how adorable they are!
10. Egg Carton Spiders for Halloween
I realized that Halloween may have just passed, but there's always an opportunity to prank siblings or friends with this traditional black spider craft.
Make them more fun by painting the spiders different colors and using colorful pipe cleaners for the legs.
Try making these Halloween painted rocks if you want to celebrate this spooky holiday year-round.
11. Egg Carton Caterpillars
Caterpillars are small creatures that, like most insects, fascinate children.
So here's a craft that makes sense to see on this list. The egg carton cups are perfect for creating this cute and colorful caterpillar craft by Easy Kids Craft.
12. Lovely Egg Carton Ladybugs
Ladybugs are just too stinking cute. Its combination of small spots and size simply melts kids' hearts.
Make several of these egg carton ladybugs to spread throughout the garden to see if they'll attract actual ladybugs.
Cant' get enough of these adorable insects? I've compiled a list of ladybug crafts should you need more!
13. Magical Egg Carton Dragon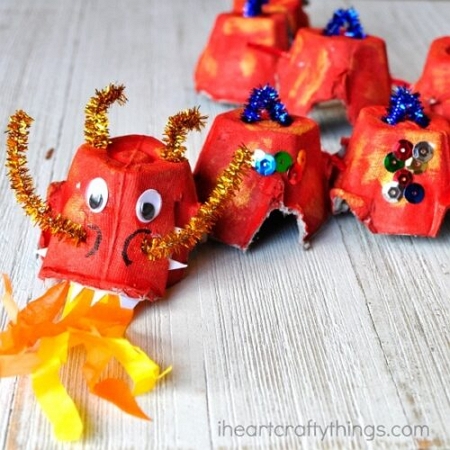 Although dragons are fictional (or are they?), I've decided to include this majestic dragon egg carton craft by I Heart Crafty Things.
This impressive egg carton dragon "breathes" fire and is adorned with precious gems. A highly recommended craft if your kids are into fantastical beasts.
Since dragons are such a hot topic, we've compiled more dragon crafts for you to do with your kids.
7 Arts & Crafts Projects with Egg Cartons
The next 7 items feature arts and crafts activities that are relatively easy to do and will stimulate imaginations.
14. Egg Carton Snowman for Winter
Is it too cold and windy to make snowmen outside? Animaplates gives us the perfect reason to stay indoors and make snowmen out of egg cartons.
I thoroughly enjoyed the video tutorial because, even though it's sped up, they still manage to explain the process clearly.
Keep little hands busy during those boring winter days with these winter sensory bin activities and ideas.
15. Egg Carton & Cotton Ball Ice Cream Cones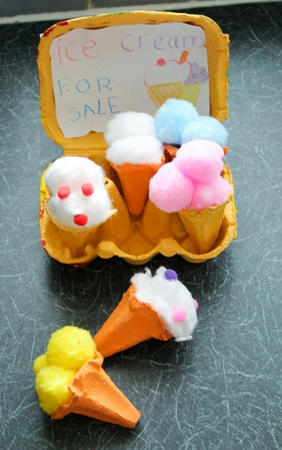 Playing pretend is most children's favorite pastime, so level up their pay-pretend game by helping your kids to "sell" artisanal ice cream cones with this ice cream craft from In The Playroom.
Create different flavors by coloring the cotton balls.
And for even more fun with cotton balls, try these other cotton ball crafts that are great for toddlers and preschoolers.
16. Recycled Crafts Egg Carton Activity
Little Bins for Little Hands is doing respectable work out there, providing an avenue to do amazing crafts as well as teach children about the science behind the crafts they do.
For this egg carton activity, they point out the importance of recycling materials as well as the chemistry behind the craft, which is an idea I can get behind.
17. Flower Painting with Egg Carton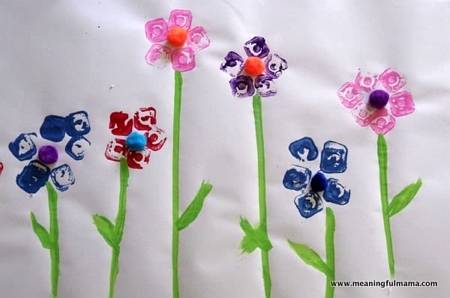 This flower painting is not made out of an egg carton per se, but it does involve dipping egg carton cups and stamping them on a piece of paper.
I love the idea that Meaningful Mama has come up with here – it's perfect for toddlers who are starting to gain control of their fine finger movements.
Make use of leftover paint with these cute toddler painting ideas.
18. Another Ocean Habitat Craft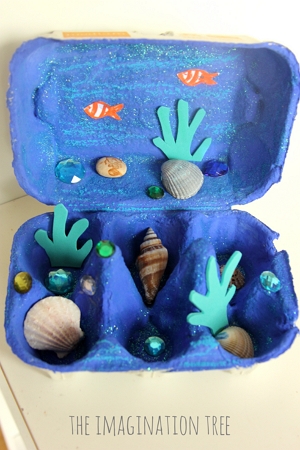 Here's an ocean habitat in which you can store other ocean creatures you've made with egg cartons.
The Imagination Tree has made this environment look as realistic as possible, adding details such as clams, rocks, and even fish!
19. Stunning Egg Carton Boat
Try making this original egg carton boat craft that will provide your children a sea of enjoyment.
Does it pass the test of floating on water, though? There's only one way to find out. Try it out yourself by following the video tutorial that The Bear and The Fox has provided.
20. Egg Carton Train Craft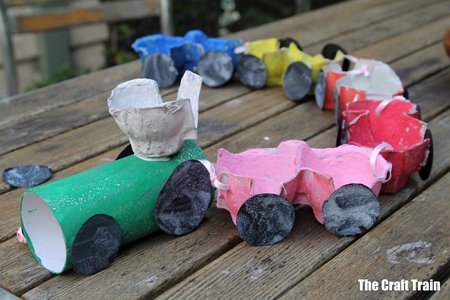 All aboard the egg carton train that The Craft Train has shared. Your children will have tons of fun making their small toys board this DIY train.
Check out their tutorial to learn how to attach the different passenger cars and wheels.
4 Other Egg Carton Ideas
21. Easter Basket Egg Carton Craft
Since Easter is coming sooner than you think, it's best to set aside not just those eggs, but the egg cartons as well to make this Easter egg basket from Creative Family Fun.
It's simple to make and only requires pipe cleaners and paint. Follow the full instructions on their website.
22. DIY Egg Carton Basket
Who knew an egg carton could turn into such a beautiful craft with the appropriate materials and effort?
This project is definitely one for the adults (or older kids), but the end results makes for a great playtime toy.
23. Dinosaur Helmet Made with an Egg Carton
Make-Film-Play shares a tutorial for a cute and silly egg carton dinosaur hat your children can wear to a dinosaur-themed party or just for fun.
24. Egg Carton Goggles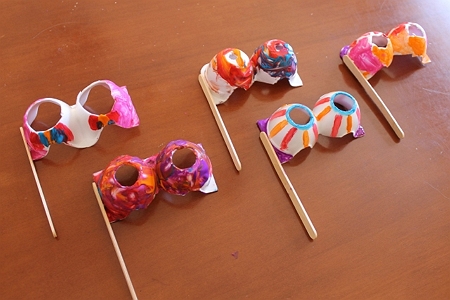 Lastly, we have these unique egg carton masks from Teaching Everyday to take your children's role-playing to the next level.
Your children will be able to hide their identity while battling bad guys and protecting their loved ones like their favorite superheroes.
What kid doesn't love superheroes? Check out these Spider-Man crafts that will keep your little ones entertained for hours.
Environmentally-Friendly Egg Carton Crafts
I hope these crafts have made you realize the versatility of egg cartons, so set some aside for future crafts.
Which of these egg carton crafts did you enjoy making? Let me know in the comments section below.
When you're done with these, try recycling other materials into crafts like these toilet paper crafts and popsicle stick crafts.