We all have a mouse to thank for making our childhood awesome. Most of our fondest memories growing up happened in the happiest place on Earth. Recreate the magic with your kids without leaving the house (or spending a ton of money) with these Mickey Mouse cupcakes.
"Oh Toodles!"
These items will make your cupcakes stand out. It will add a touch of nostalgia and happiness that will be a hit for both kids and adults.
10 Easy Mickey Mouse Cupcakes
1. Mickey Mouse Truffle Cupcakes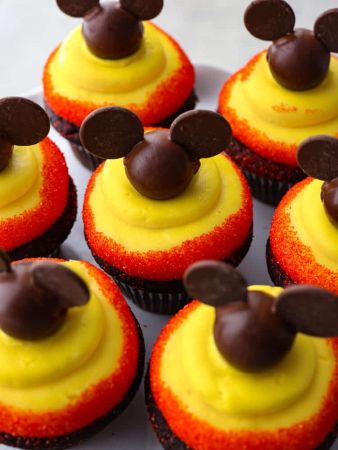 Walt Disney is an advocate for thinking out of the box.
A circle plus two smaller ones will give you Mickey Mouse. Use circular objects in your kitchen to create the famous mouse.
Using chocolates such as this one from The Recipe Critic will be a fantastic idea.
2. Oreo Mickey Mouse Cupcake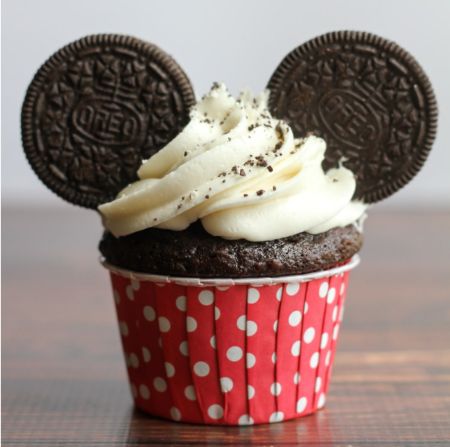 Create magical moments with this cute Mickey cupcake from Lil Luna.
Swirl some white frosting and top it off with two Oreo cookies for the best Mickey-themed cupcake.
It's two treats in one. You'll also have the perfect milk dunk with the Oreo ears after eating the cupcake.
3. Big-Eyed Mickey Cupcakes
Hidden Mickeys are everywhere if you train your eyes to look for them.
These big-eyed cupcakes are on the lookout for the three circles, too. Adding the eyes will make the cupcakes look more expressive and alive as well.
Nauty Little Treats has got all the secrets of how to make these eye-catching cupcakes.
4. Trio Mickey Mouse Cupcakes
Mickey Mouse is famous for his big ears, white gloves, and red pants.
But let's not forget his yellow shoes because they help him in all of his adventures.
These fancy cupcakes from eceberkin on Instagram will do the trick in emphasizing them.
5. Mickey Mouse Cupcakes with Cherries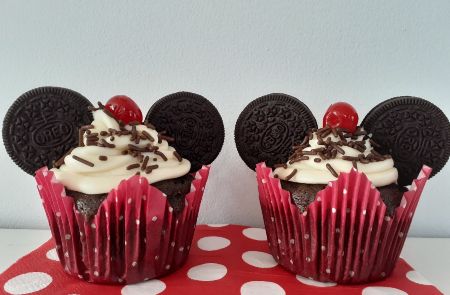 Consider adding some cherries to your creations, too.
They'll not only add color to your cupcakes but will also add a burst of flavor just like this delicious treat from Le Monde de Disney.
Be busy as a bee with these fun bee perler beads patterns.
6. Yummy Mickey Cupcakes
Let the pros teach you how it's properly done.
This Disney Parks' video tutorial shows the steps on how to make these adorable Mickey cupcakes.
Plus, the cupcakes are decorated by none other than Minnie Mouse herself!
7. Safari Mickey Mouse Cupcakes
Keep Mickey in your pocket (or tummy) in all of your adventures through these Mickey cupcakes from sweetsbysabii on Instagram.
These cupcakes will tickle the imagination of your kids because of the different colors and shapes they show.
8. Personalized Mickey Cupcakes
Making these cupcakes for a special occasion? Get ideas from this cupcake design from wondrousgastronomy on Instagram.
Your recipient will feel extra loved on their special day if you add their favorite character and name to the cupcakes.
Here's another Mickey Mouse topper that's fully customizable.
9. Sorcerer Mickey Cupcake
Fantasia is a blockbuster hit and your sorcerer Mickey-inspired cupcakes will be, too.
Reimagine the classic film that touched the hearts of millions of people with this video by Disney Family.
Create more magical projects like these unicorn crafts.
10. Mickey Mouse with Buttons Cupcake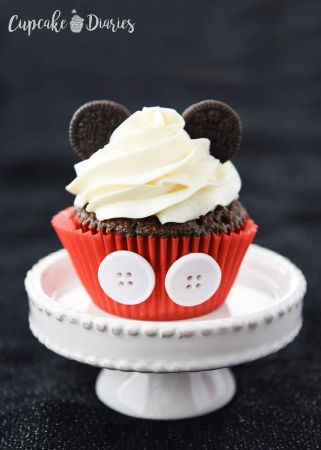 Have a couple of buttons lying around the house?
Breathe a new life into them by using them as decorations for your cupcakes as inspired by the cupcake creation of Cupcake Diaries Blog.
Brownie points for making the cupcakes look 3D as well.
6 Cute Mickey Mouse Cupcakes
11. Sparkly Mickey Mouse Cupcakes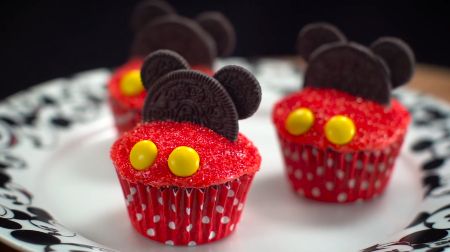 Sparkles make anything fancier and cooler (and cupcakes are no exception as seen in this treats by Recipes).
Give your cupcakes a shine like no other by adding these sparkling red sprinkles.
Learn the art of paper folding with the help of these origami kits.
12. Adorable Mickey and Minnie Cupcakes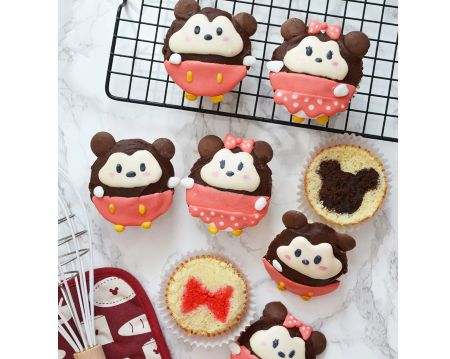 What's Mickey without his Minnie? These two lovebirds (or love mice) will brighten up your cupcakes with their positive aura.
Get inspired by the adorableness of these cupcakes from Disney.
13. Mickey Mouse Inside-Out Cupcakes
We love Mickey through and through which is why these Mickey Mouse inside-out cupcakes are amazing.
Watch How To Cook That's video to get your very own unique Mickey cupcakes.
14. Mickey Mouse Cupcake Party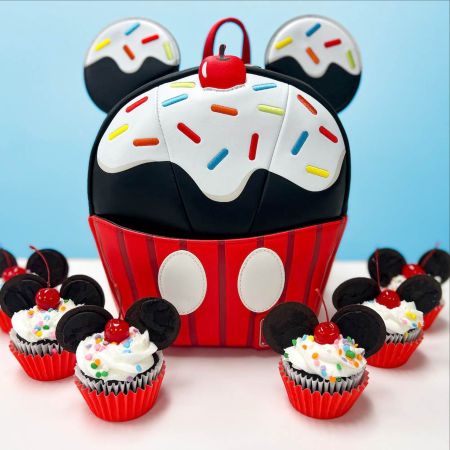 Look around the house and you might find your next Mickey Mouse-themed cupcakes inspiration.
This cute lunch bag inspired these Mickey Mouse cupcakes from the Laughing Plac.
The colorful sprinkles, chocolate biscuits, and cherry on top are on point.
15. Cute Mickey and Minne Cupcakes
I don't know about you but Oreos make any food a whole lot better.
They complement the taste of the food, especially cupcakes. Don't forget to add some strawberries for Minnie's bow, too.
Watch this video by MyCupcakeAddiction to learn the step-by-step instructions.
16. Mickey Mouse Ghost Cupcakes
Mickey Mouse is a mouse with many talents. He's a sorcerer, a magician, and now a ghost!
These Mickey cupcakes from Disney Fanatic will be fantastic for Halloween parties.
Are you ready for the spookiest day of the year? These Halloween perler beads patterns will make you feel like it's the 31st of October all year long.
5 Mickey Mouse Clubhouse Cupcakes
17. The OG Gang Cupcakes
Do you know what would make these Mickey Mouse cupcakes better? Making cupcakes of the whole gang!
Create these Mickey, Minnie, Goofy, and Donald cupcakes from piiece.of.cake on Instagram to share with your friends.
These ocean crafts will be a fun activity for you and your friends.
18. All Edible Mickey and Minnie Cupcakes
These cupcakes are almost too cute to be eaten. Mickey and Minnie take the center stage for these cupcakes by Furty's Cake & Sugar Art.
The sprinkles make them look fancier as well.
19. Goofy Cupcakes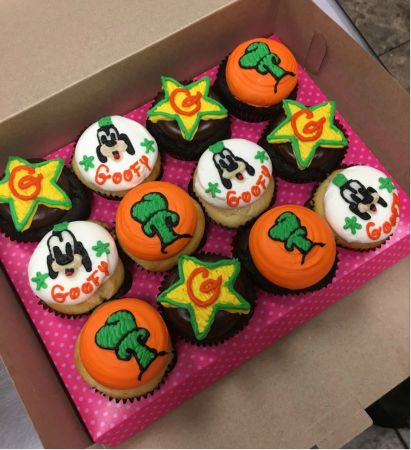 Goofy is well…goofy. He's a character that anyone can't help but love.
Create these Goofy cupcakes from Small Cakes or Land Park to go with the Mickey cupcakes.
This cupcake inspiration shows three designs that you can choose from or like me, create them all.
20. Donald and Daisy Duck Cupcakes
Let's not forget the two characters that are also head over heels for each other— Donald and Daisy.
These two complement and bring out the best in each other.
Just like these blue and pink cupcake designs from mima_s_kitchen on Instagram.
21. Pluto Cupcake
Calling all the Pluto lovers out there. This one is for you!
Itsy Bitsy Foodies perfectly captured Pluto in this cupcake with his jellybeans eyes, pretzel ears, and gold coin dog collar charm.
Oh Boy!
Oh boy! This list went by as quickly as a flash. We had a lot of fun making these Mickey Mouse cupcakes so time flew by swiftly. Making these cupcakes will make new memories and connect you with your kids just like how Mickey Mouse connects people.
More magic awaits you in these exciting projects: