These easy seashell drawings will teach children how to create beautiful and unique artworks inspired by the natural beauty of seashells. We've gathered the prettiest, most unique, and most elegant seashells that kids will love.
Whether you're looking for fun sea-themed activities for the kids in time for a trip, or just want to introduce them to the underwater world, this list will be great for you.
Explore our world with these beautiful nature collages.
Before We Proceed…
Make sure you've got these art materials for the best possible outcome of the projects:
12 How to Draw a Seashell (Step-by-step Guides)
1. Classic Shell Drawing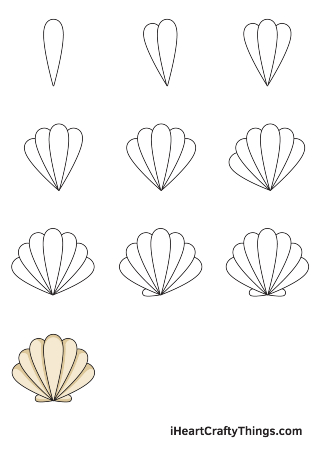 You can't miss out on this pretty seashell drawing from I Heart Crafty Things.
The great thing about this is that the process is repetitive. Once you've mastered drawing the petal-like shape, then drawing the whole thing will be a piece of cake.
2. Seashell Doodles
Watch this short clip from @faiiryliite to learn how to draw three different seashells in under 10 seconds.
It will be the perfect activity to entertain the kids while at the airport, bus stop, or school.
Have the spookiest house during the spookiest time of the year by displaying these Halloween painted rocks.
3. Group of Seashells Sketch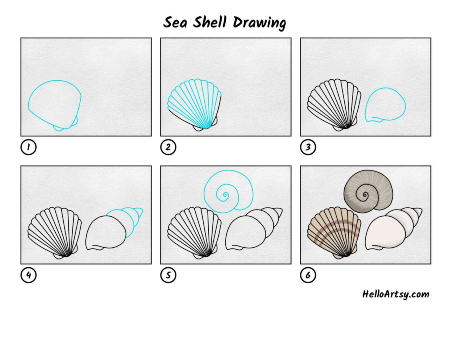 Can't decide which seashell to draw first? Your child won't have to make this tough decision thanks to this trio shell drawing by Hello Artsy.
Drawing these three shells will be a nice addition to their sketchbook.
4. Cute Seashell Drawing
This drawing from EasyPicturesToDraw shows that seashell sketches will look perfect with a touch of cuteness.
The best way to do that is by adding a smile and eyes to their drawing just like this one.
Check out this list filled with cute food drawings as well.
5. Unique Seashell Drawing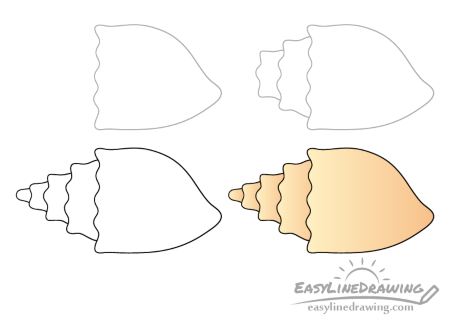 Add this unique seashell drawing from Easy Line Drawing.
It will stand out from the rest of their drawings because of how exquisite and one-of-a-kind it is.
6. Beautiful Seashell Drawing
Watch this video tutorial from Art for Kids Hub with the children and have fun recreating this beautiful seashell drawing.
From the outline of the shell to how to color it best, this video has everything you need to know the sketch an amazing seashell.
7. Cool Seashell Drawing

Level it up by trying out this drawing tutorial from Easy Drawing Guides.
They share the best tips on how to draw this realistic shell in nine doable steps for the kids.
Grab some honey and pencils because we're about to do these easy Winnie the Pooh drawings.
8. Epic Seashell Drawing
Unleash the creative and artistic side of the little ones with this awesome seashell drawing from @artist2674.
The video offers a unique take on how to draw these underwater gems that the kids will find delightful.
9. Shell Under the Sea Sketch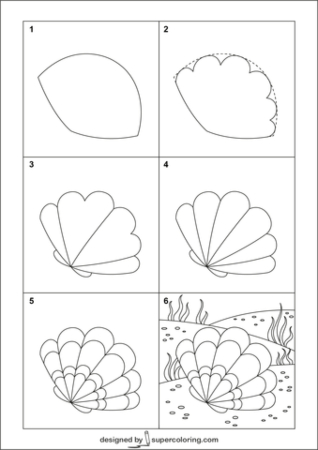 Capture the beauty of seashells in their natural habitat with this sketch from Super Coloring.
Aside from the pretty shell tutorial, the kids will also learn how to draw some aquatic plants and sand.
10. Colorful Seashell Drawing
Toys Kids found a way to make our drawings look even more fun and colorful.
Check out the full video tutorial to get the best techniques on how to draw this rainbow shell.
Learn about the different colors with these amazing rainbow crafts for kids.
11. Spiral Seashell Drawing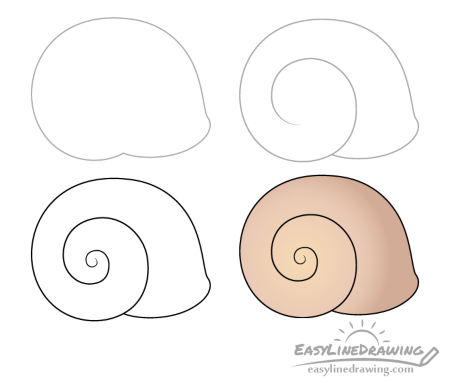 The ocean offers different kinds of beautiful shells that are yet to be known.
Adding this cool drawing from Easy Line Drawing will add variety to their collection and sketchbook.
12. Pink Seashell Drawing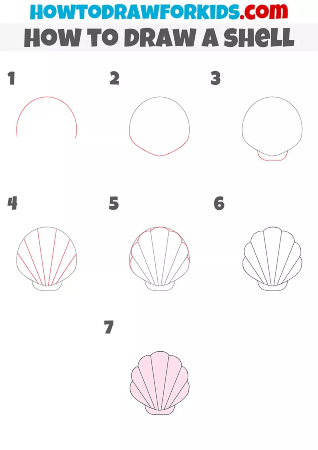 Love everything and anything pink?
This adorable pink seashell from How to Draw for Kids will be a fantastic project.
Enter the land of rainbows and sparkles through these My Little Pony perler beads patterns.
10 Ocean Drawings
13. Beautiful Beach Scenery Drawing
Drawing this beautiful beach scene from Rongdhonu Art and Drawing with the kids will be a great way to spend the afternoon.
It's relaxing and fun which makes this a great bonding activity with them.
More beautiful ocean crafts await you on this list.
14. Ocean Waves Drawing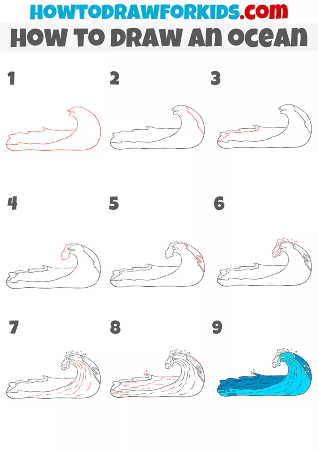 Ride the waves and create this epic sketch from How to Draw for Kids.
The kids will feel the ocean breeze while doing this project even if they're at the beach, park, or at home.
15. Easy Shrimp Drawing
Your under the sea experience and drawing collection won't be complete without this easy shrimp sketch from Sherry Drawings.
Check out the whole video to learn the step-by-step procedure on how to draw this little sea animal.
Go on an adventure in Bikini Bottom while doing these Spongebob perler beads.
16. Cute Fish Drawing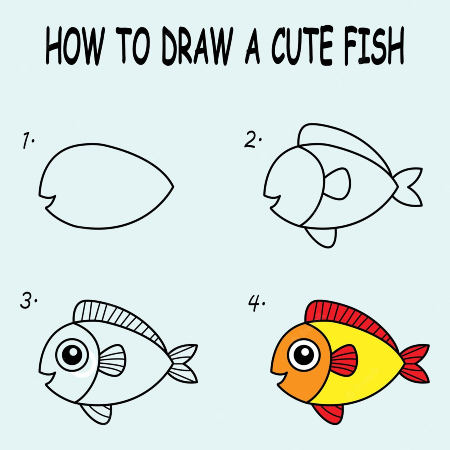 The fishes in the oceans come in different sizes, shapes, and colors.
This multicolored fish drawing from Freepik comes in three colors— red, orange, and yellow.
The kids will love how fun and easy it is to draw this fish.
17. How to Draw a Seahorse
A seahorse is another beautiful aquatic animal that also looks unique so you can't miss out on this drawing tutorial from Art for Kids Hub.
Get ideas on how to draw its trunk, snout, and head like a pro with this video guide.
18. Adorable Crab Drawing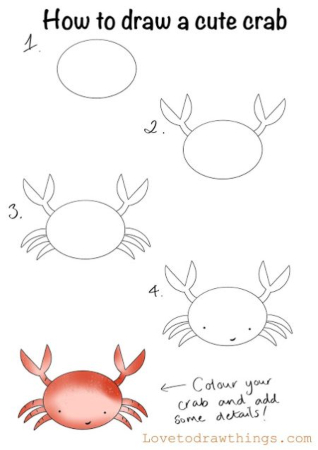 Snippety snap! This crab came to say hi!
For fans of Sebastian from The Little Mermaid, Mr. Krabs from Spongebob, and Crab Princess from Adventure Time, this sketch from Love to Draw Things is a must-try.
19. Starfish Drawing
Want more activities that will foster your child's creativity?
This sketch from HAPPY ART  will be a fantastic choice.
20. Sea Turtle Drawing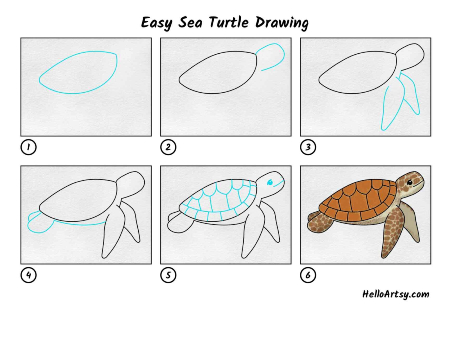 One of the many endangered species in the ocean is sea turtles.
Doing this activity from Hello Artsy will not only teach the kids more about them but will also encourage an open discussion on how to protect the environment, especially the open seas.
21. Great White Shark Drawing
For your courageous child who fears nothing (even the terrifying great white sharks), this project from Art for Kids Hub will be a nice choice.
This video will be helpful in practicing how to draw their gills, fins, and tail.
22. Big Whale Drawing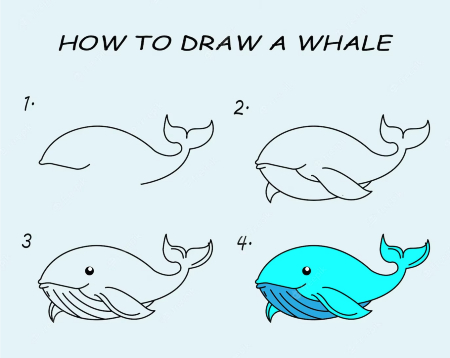 Our last project from Freepik is here to make a huge splash.
Have a blast sketching one of the biggest marine mammals of all time with this guide.
We've got more whale drawings just for you so head on to this list.
Easy Seashell Drawings
These easy seashell drawings will be a great opportunity for the kids to learn more about the ocean and the creatures that inhabit it.
Plus, they will also develop their artistic skills and expand their creativity along the way.
Seashell drawings are a wonderful way for kids to connect with nature and express themselves through art.
We've got more amazing crafts lined up for the children. Check them out below: