"It's a me, Mario!"
Join us as we go on an epic adventure with the most famous and fearless plumber on the planet.
These Mario character drawings also include memorable characters from the franchise like Luigi, Bowser, and Princess Peach.
Can't get enough of the Mario brothers? You'll find more amazing crafts and Mario perler bead patterns here.
Here we go!
Your little artists will reach their full potential with the right guidance and tools. These are some items that will help hone their drawing and coloring skills.
6 Easy Mario Drawing
1. Running Mario Drawing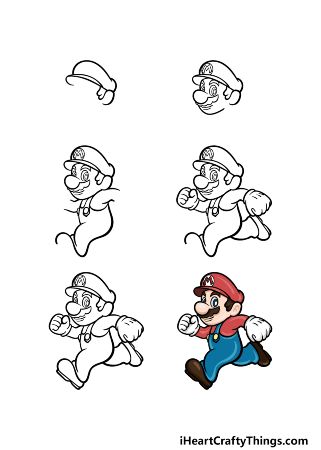 Mario is always on the run to save Princess Peach from the vicious Bowser.
He's ready to kick some butt while wearing his red cap and blue overalls.
Draw Mario in action with the help of this guide.
Spread the love by making these adorable Valentine's day crafts for toddlers.
2. Mario vs Bowser Drawing
Mario's size never stopped him from fighting the fire-breathing monster, Bowser.
He'll do everything to save Princess Peach. This simple tutorial by Art Land teaches how to draw a battle scene between the two.
3. Cute Mario Drawing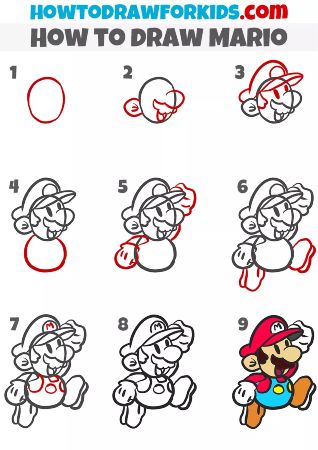 Jumping is the most commonly used move of Mario. He jumps to evade monsters, get mushrooms to grow, and defeat the deadly Goombas.
Learn how to draw a jumping Mario through this illustration.
4. Mario Kart Drawing
Raise your hand if you've got kids who love playing Mario Kart!
Playing the game is fun, but drawing their favorite characters in real life will be more exhilarating.
Get some tips and tricks on how to draw the best Mario Kart in this video by Giuseppedraw_.
5. Mario Kart Drawing
No Super Bell is needed to draw a Cat Mario in our next tutorial.
Cartooning Cute Drawings' video shows how you can transform Mario into this adorable version using pens, markers, and pencils.
6. Easy Mario Drawing Tutorial
Learn how to draw Mario in just 11 easy steps.
This tutorial will guide you through the process of drawing his face as well as his body effortlessly. Kids will have an easy time following these steps.
16 Mario Character Drawings
7. Luigi Drawing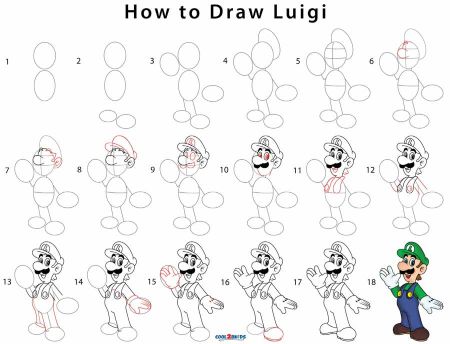 The list of Mario character drawings won't be complete without Mario's loyal twin.
Drawing the face of Luigi will be easy if you've already mastered drawing Mario since they're similar. The difference lies in their height and body structure.
8. Princess Peach Drawing

Discover how to achieve Princess Peach's gorgeous locks and pretty dress in this tutorial.
Start with the face of Princess Peach followed by her arm and torso.
This step-by-step tutorial will make anyone a pro at drawing this pretty character.
Check out these kawaii perler bead patterns.
9. How To Draw Donkey Kong
Did you know that Mario first appeared as a character in Donkey Kong way back in 1981? Now, they appear in each other's games.
Master the skill of drawing the humongous Donkey Kong with this helpful tutorial by Easy Drawing For Kids.
10. Bowser Drawing
Bowser has thorns and claws that may seem intimidating to draw at first but this tutorial simplified drawing Mario's frightening enemy.
You'll get an idea of how to draw Bowser from top to bottom with this guide.
11. How to Draw Wario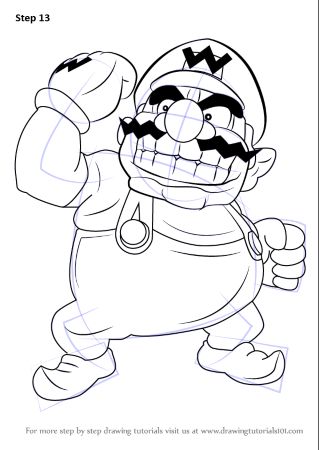 Mario and Wario are childhood rivals.
He's cunning, evil, and mean—the complete opposite of our protagonist. Capture Wario's menacing smile and vicious stance with this tutorial.
Visit Drawing Tutorials 101 to get the full step-by-step guide.
12. Waluigi Drawing Tutorial
If Mario has Wario, then Luigi has Waluigi.
Sketch one of the most notorious enemies of the Mario Brothers with the guidance of this video by Cartooning Club How to Draw.
Touchdown! Learn how to draw a football helmet here.
13. How to Draw Rosalina & Luma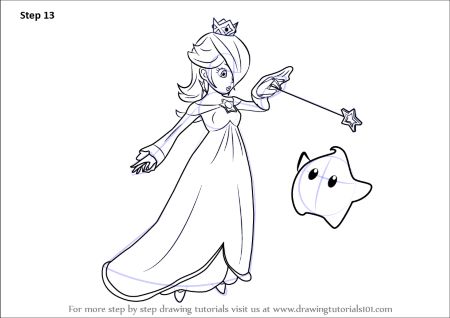 Players of the Super Mario Galaxy video game will be psyched to know that there's a simple way to draw Rosalina and her loyal sidekick Luma.
Head on to Drawing Tutorials 101 to get the full step-by-step instructions.
14. How to Draw Yoshi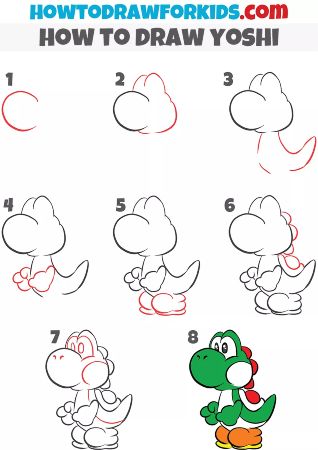 Yoshi and Mario have a strong bond which is why this dinosaur made it to this list.
Draw Yoshi in eight simple steps focusing on its nose first followed by the head and then the tail.
15. Toad Drawing Tutorial
You won't be able to resist the cuteness of Toad.
His big mushroom-like head and chubby arms make him one of the most adorable characters in the franchise. Good thing that they also come in different colors like blue and yellow!
Watch the video of Feel Facedrawer – How to Draw and be mesmerized by the cuteness of the humanoid mushroom.
16. How to Draw Toadette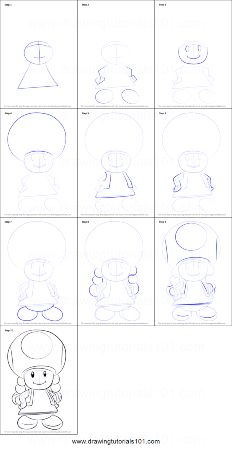 Your little girl will be psyched to draw the Toadette.
It's easy to mistake her for the Toad but one thing that makes her different is her hair tied up in pigtails.
Practice your artistic skills by doing these cute food drawings.
17. Birdo Drawing Guide
Birdo has an outgoing and lovable personality.
Including her in your kid's Mario sketches will be a great idea. Her big red bow and bright color will make their sketchbooks look more diverse and unique.
Follow the step-by-step tutorial of Kids Drawing * DogCatToys to make it easier for the kids.
18. Koopa Troopa Drawing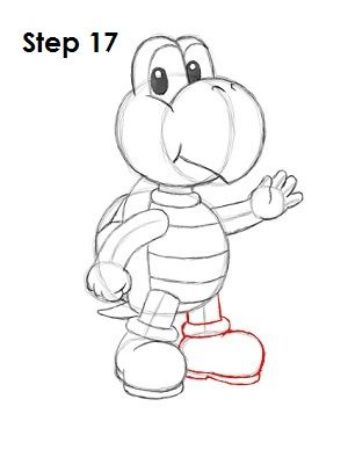 Koopa says hi!
Learn the proper and easy way of drawing Koopa by checking the full tutorial of Easy Drawing Tutorials.
They will share the technique on how to draw the yellow and green character one step at a time.
19. How to Draw Goomba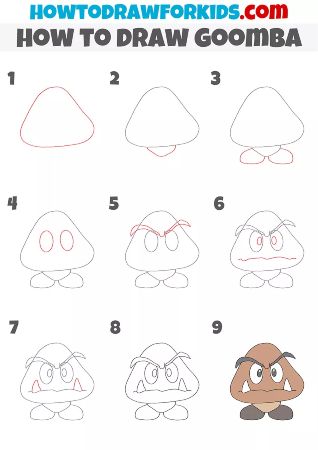 Look in front of you a wild Goomba is heading our way!
Goomba is cute and scary at the same time.
Find the right mixture of cuteness and spookiness in drawing Goomba by following this nine-step guide.
20. Mario Mushroom Drawing Tutorial
The mushrooms in Mario have different functions. The red mushrooms make him taller, the gold ones turn him into gold, while the blue mushrooms make him tiny. Try drawing this cute red mushroom first before moving on to the next level of mushrooms.
Art for Kids Hub knows what it takes to draw the best red mushrooms out there.
21. How to Draw Boo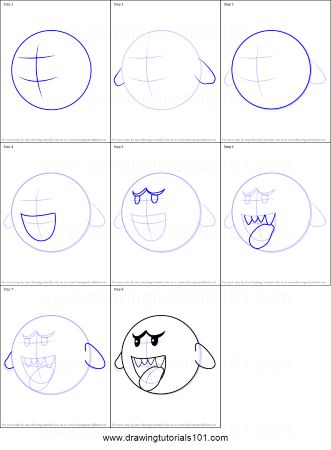 Boo!
Copy Boo's distinctive eyebrows, sharp teeth, and stubby arms in this drawing tutorial.
The good thing about this is that even beginners will feel like a pro because of how easy it is to draw.
22. Super Mario World Drawing
The more the merrier! If you've got the time, then I highly suggest drawing the most famous character in Mario.
This tutorial includes both protagonists and villains like Mario, Luigi, and Bowser.
Watch the full tutorial of Kids Drawing * DogCatToys here.
Enter the World of Mario!
Everybody loves Mario! We all got some stories and memories that tie back to this famous plumber. These Mario character drawings will create new fond memories that you and your kids will cherish.
A lot of cool crafts and projects await you in the lists below: