Let children discover the cutest creatures that live in Antarctica with these penguin Perler bead designs! Penguins are rarely seen in real life (except when visiting zoos) but children are undoubtedly familiar with these adorable flightless birds.
Besides providing an opportunity for kids to develop fine motor skills, visual skills, and imaginative play the penguin melting beads listed below will also introduce them to interesting facts about penguins.
3 Penguin Perler Bead Kits
If you want to develop their artistic skills instead, allow kids to try their hand at these easy animals to draw for kids.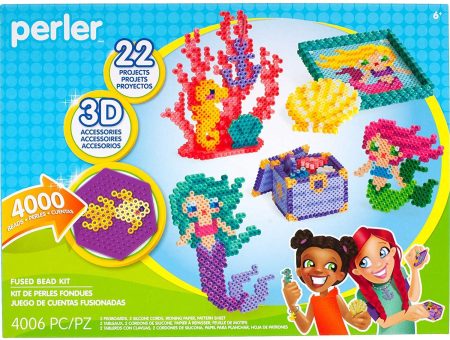 Don't allow your children to create their penguins without other ocean companions. The imaginative play of your little ones will be stimulated with this Perler bead ocean buddies kit, which includes over 4,000 pieces of fuse beads, and a pattern sheet containing mermaids, seahorses, and even a 3D treasure chest.
If your children love the sea, then they'll love these ocean crafts and Moana crafts.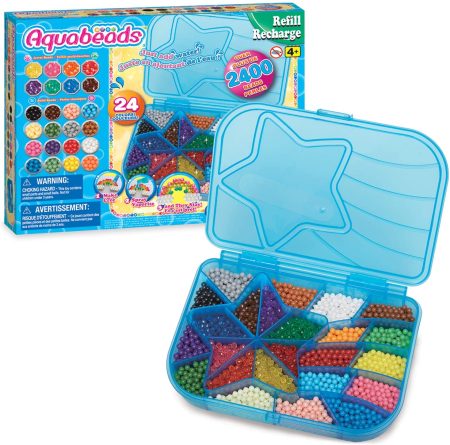 If you want to try something new while keeping an aquatic theme, then this Aquabeads kit is for you! Unlike traditional fuse beads that are activated with heat, these beads connect together almost magically by just spraying water on them!
The kit contains 2,400 Aquabeads, a sprayer, and a layout tray, and is a great option for those who don't want the hassle and danger of ironing beads.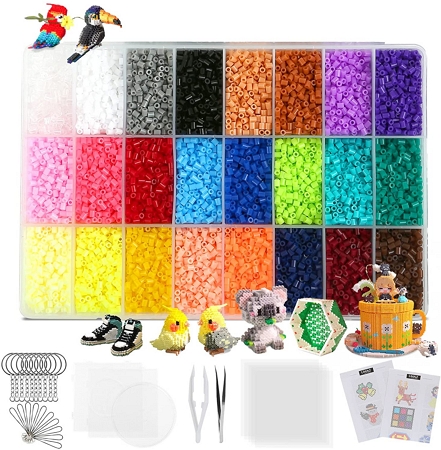 If you've already checked out our easy Perler bead patterns, you'll know how fast it is to run out of these addicting fuse beads. Here's a kit to replenish your stock, as well as some tweezers and pegboards with various shapes.
5 Small Penguin Patterns for Preschoolers
Younger children will benefit the most from making Perler beads because picking up small beads and assembling them on a pegboard not only promotes fine motor skills, but the activity also teaches them basic counting skills and patterns.
4. Quick and Easy Penguin Pattern
No shame in starting small, like this baby penguin pattern by lyds402. Even though it's small, preschoolers will recognize the general shape of this little bird and know that it's a penguin.
Penguin fact #1: the smallest penguin is called a little blue penguin (or fairy penguin) and stands at around 12 inches and weighs a little over 2 lbs. How cute is that?
5. Super Easy Penguin Pattern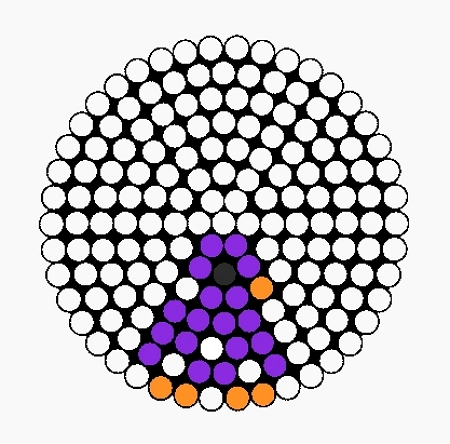 Help children increase their visual skills with this purple penguin pattern from neonsprinkles that should be done on a round pegboard.
For more patterns that require a circle pegboard, be sure to check out these circle Perler bead patterns.
6. Lovely Penguin Perler Bead Pattern
This lovely penguin pattern by xXRikkeXx teaches us to spread our love for our closest friends and family members.
Penguin fact #2: did you know that the emperor penguin — the biggest type of penguin – can locate its mate in a large colony after leaving it for a long time?
Create other love-filled crafts with these heart Perler beads or Valentine's day craft for toddlers.
7. Square Penguin Perler Pattern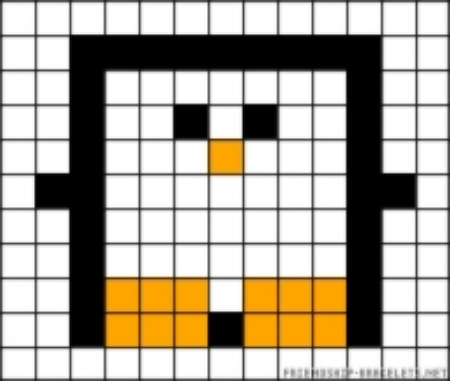 Introduce your little ones to some basic geometry with penguingirl's pattern of a square-shaped penguin.
8. Easy Adult Penguin Design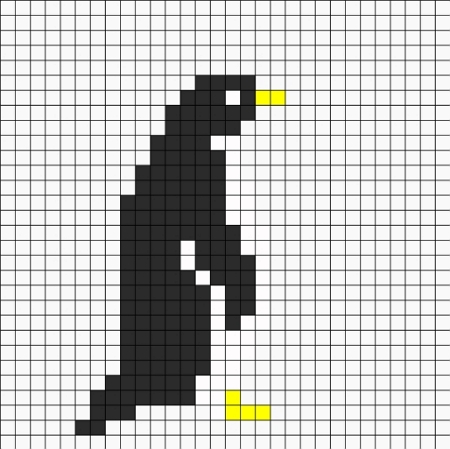 Here's a regular adult penguin pattern by swity_poohbear18. The pattern is quite simple, consisting only of three colors: black, white, and yellow.
6 Large Penguin Patterns for Experienced Perler Fans
These next penguin patterns will melt your heart. Even though they're large and more suitable for experienced Perler fanatics, they're actually quite simple!
9. Penguin in a Cone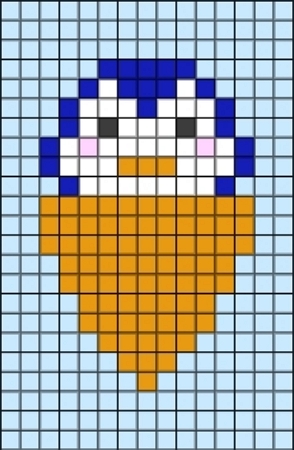 Check out this design of an adorable penguin in an ice cream cone shared by Hazelm. Encourage your little ones to change the color of their penguin according to their favorite ice cream flavor!
Hot days will make you wish that you live in colder regions with the penguins. Fortunately, these ice cream crafts may provide relief from the heat.
10. Baby Penguin Pattern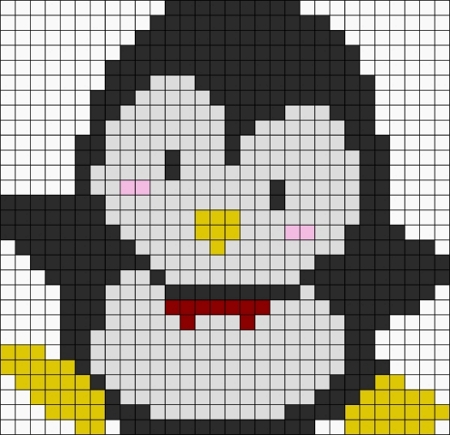 LittlePenguinRaver shares a cute and fluffy baby penguin Perler pattern that's made even cuter by the heart-shaped face and stubby arms.
11. Charming Penguin Perler Bead Pattern
Here's another charming penguin pattern shared by Crafty K. Even though it's made on a square pegboard, they still manage to make it seem like the penguin is round and chubby.
12. Chubby Penguin Pattern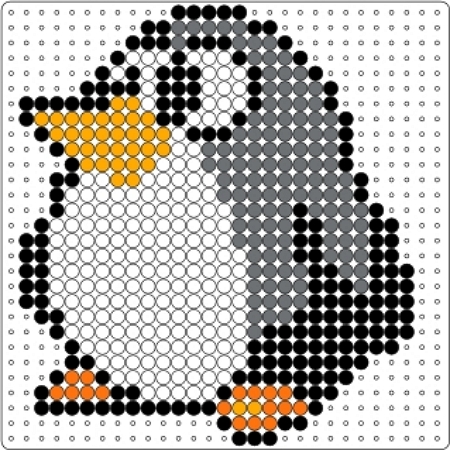 Enhance your child's visual skills by creating this penguin pattern shared by Perler Bead Patterns.
Penguin fact #3: Even though penguins have a thick layer of fat, their bodies are adapted for swimming.
13. Winter Penguin Melting Beads
Perhaps the layer of fat that penguins have isn't enough to protect them from the cold, harsh weather. Volcanin shares this pattern of a penguin dressed in a beanie and scarf.
Customize this penguin with different colors!
14. Adorable Kawaii Penguin Design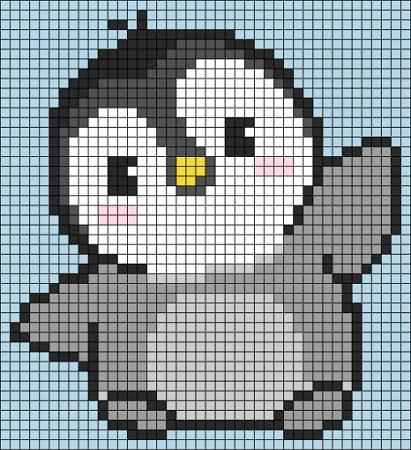 I believe no penguin will beat this one in terms of cuteness. Created by King789, this kawaii penguin is capable of melting your little one's heart.
Create more adorable melting beads designs by following these kawaii Perler bead patterns.
5 Challenging Penguin Perler Bead Patterns
Looking for a bit of a challenge? Try one of the following patterns that will test your skills and patience.
15. Adorable Penguin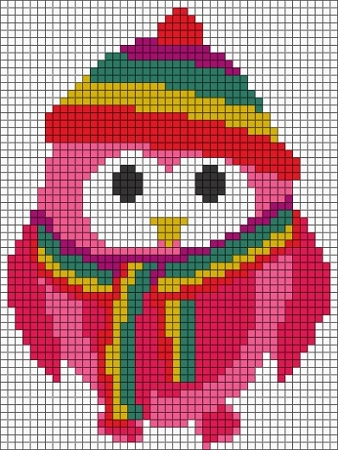 You'll be stunned when you complete this charming penguin pattern by ariana7 that includes a colorful scarf and beanie.
These peacock crafts are just as colorful as this penguin's clothing.
16. How to Make a 3D Penguin with Melting Beads
Take it to the next level by creating this 3D penguin pattern shared by Lacey's Crafts. While this pattern might seem difficult, the video tutorial guides the viewer through each step, from assembling the Perler beads to gluing the components together.
Since 3D things are cool, we've compiled some 3D paper flowers for your little ones to enjoy!
17. Christmas Penguin Pattern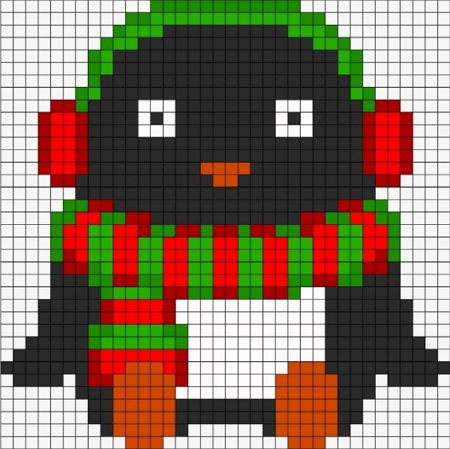 Here's another fun penguin pattern from PNGKey. This time it's wearing Christmas-themed earmuffs and a scarf.
18. Emperor Penguin in Antarctica Design
This incredible pattern shared by fallingbee shows the Emperor penguin in its natural habitat.
Penguin fact #4: It's a common misconception that most penguins live in Antarctica.
Simulate this snowy environment by making winter sensory bins and activities.
5 Perler Patterns of Famous Penguins
Penguins are often depicted in movies, games, and more. Step up your Perler beads game with one of the following designs of iconic pop culture penguins.
19. Skipper from Penguins of Madagascar
Brik shares a pattern of none other than the leader of the Penguins of Madagascar, Skipper. The Penguins of Madagascar is a fictional group of four highly intelligent penguins who have their own TV show and have been featured in major animated films.
Another animated film that children love is Toy Story, so be sure to check out these Toy Story crafts!
20. Penguin Patrol from Paper Mario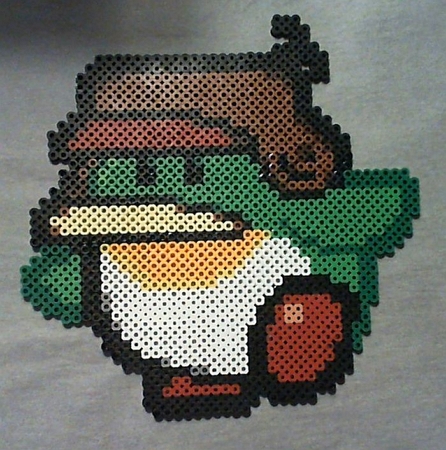 Penguin Patrol is a character who has appeared in the game Paper Mario. He acts as the chief police in Shiver City.
Penguin fact #5: Most penguins are black and white, but some may have shades of yellow, orange, and blue!
Mario still remains so popular today that we've made a list of Mario Perler bead patterns.
21. Pingu Perler Pattern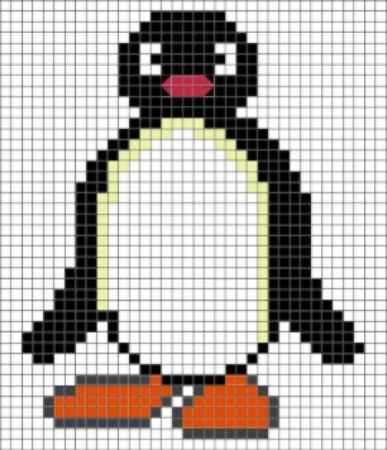 Children today may not be familiar with this very relatable figure, but there are adults who might recognize Pingu, the main character of the classic clay-animated show with the same name.
Allow children to be acquainted with this playful penguin by following this design by My Cross Stitch Patterns.
22. Piplup from Pokemon
Although there are plenty of Pokemon in existence, there are only a few penguin-types that have been discovered.
For that reason, Piplups, like this one by Hama-Girl, are rarely seen – just like penguins in the real world.
23. Starbound Penguin King Perler Beads Pattern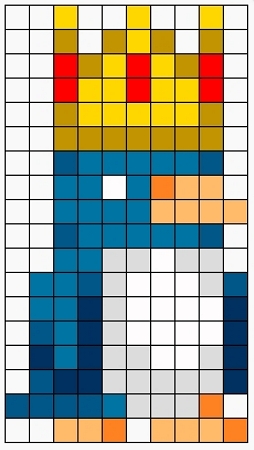 Starbound is an action-adventure game that allows the player to choose their own destiny. Along the way, the main character will encounter several animals and monsters, such as this King Penguin (pattern provided by _Sandwich_).
Penguin fact #6: King penguins, which were named because of their size, were believed to be the largest species until the emperor penguin was discovered.
Penguin Perler Beads for Everyone
These Perler bead activities provide plenty of benefits for children, including improved fine motor movements, enhanced creativity, and just having plaid old fun in general.
Allow your little ones to become acquainted with more animals by trying some of these other crafts: