Thanksgiving is that time of year where turkeys (among other dishes) are king on and off the table, but it can be challenging to find thanksgiving activities for preschoolers and toddlers that aren't simple crafts.
While the adults are busy preparing the food, keep little hands busy with these 21 Thanksgiving sensory bin ideas and activities.
12 Thanksgiving Sensory Bin Activities
These sensory bins require the need for a large container and various sensory and fine motor accessories or tools for kids.
Don't have the right tools? Here's a neat set of tools to help you get started!
1. Simple Thanksgiving Dinner Sensory Bin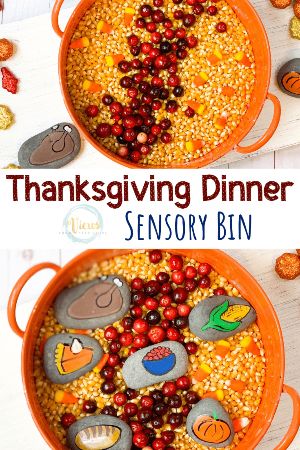 Turkeys aren't the only thing that's prepared during Thanksgiving. Views from a Step Stool shows kids how to make this Thanksgiving dinner sensory bin that uses things found in your home during this time of year, such as cranberries and candy corn.
Turn this sensory bin activity into a full-blown sensory craft by making these Thanksgiving painted rocks as well!
2. Thanksgiving Harvest Sensory Bin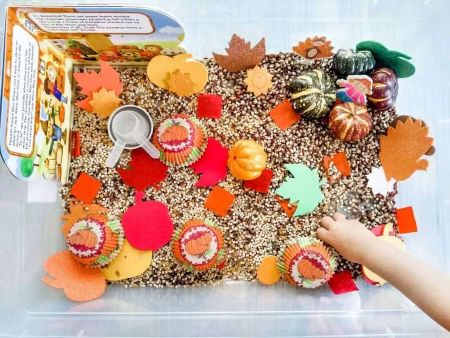 Because I Said So, Baby shares this beautiful and pumpkin-themed Thanksgiving sensory bin that's perfect for preschoolers.
All that's needed for this simple sensory bin (besides typical craft materials) are harvest grains, popcorn kernels, pumpkin cupcake liners, mini pumpkins, and a set of sensory tools for kids.
3. Paper Shreds Thanksgiving Sensory Bin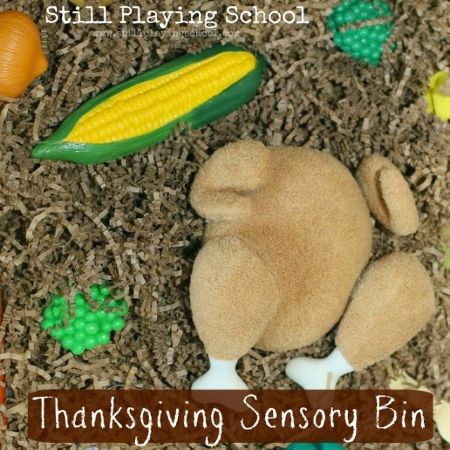 Paper shreds can also be used for Thanksgiving sensory bins, as seen here by Still Playing School.
Besides paper shreds, you'll need plastic veggies and a pull-apart plush turkey as for this sensory bin activity for toddlers.
4. Beads Thanksgiving Sensory Bin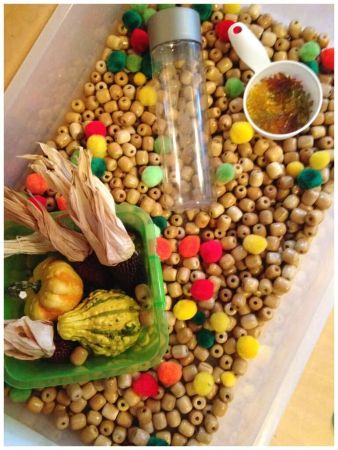 Another sensory material that's great to use for Thanksgiving sensory bins is beads because they have a similar feel to seeds.
This particular sensory bin uses other materials that have interesting or different textures, such as pom poms, acrylic leaves, and mini gourds or pumpkins.
5. Pasta Thanksgiving Sorting Activity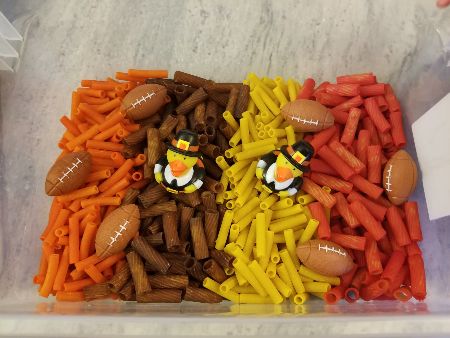 Colored pasta also makes for great sensory play because it targets sight, sound, and sound. Not Quite Super Mom colors rigatoni and ziti pasta shells with food coloring to use in this Thanksgiving sorting activity that brings together two of America's pastimes: Thanksgiving and football!
6. Cooked Spaghetti Fall Sensory Activity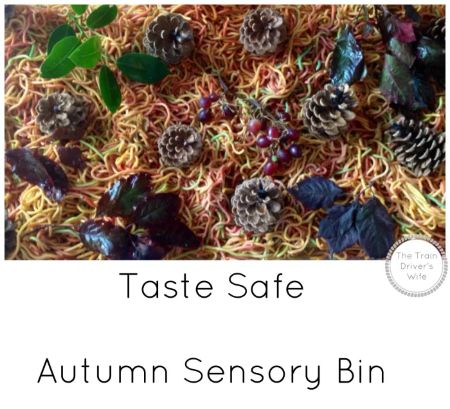 I hope no one is squeamish for this next sensory bin activity! This cool cooked spaghetti sensory bin from The Train Driver's Wife uses cooked spaghetti as the main sensory ingredient in this bin.
Add some pine cones, cranberries, and leave (faux or real) for a "wormy" touch experience.
7. Pine Cone Thanksgiving Sensory Bin
Here's a cool pine cone Thanksgiving sensory bin by Mom. Wife. Busy Life. You can easily make one for your kids by using pine cones, faux leaves and pumpkins (or real ones!), other fall-themed items, and sensory tools.
8. Wooden Chips Thanksgiving Sensory Bin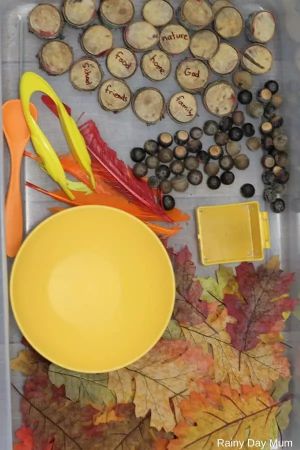 Do you prefer to use natural materials? Then try this wooden chips Thanksgiving sensory bin by Rainy Day Mum that also includes nuts and leaves for an exploration of what nature has to offer.
9. Watery Thanksgiving Sensory Bin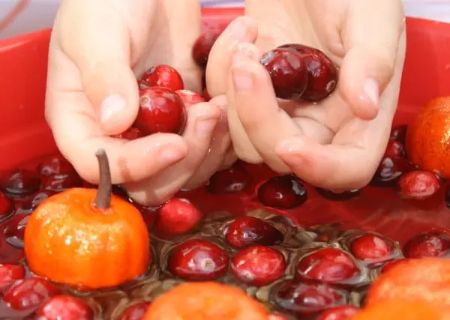 Don't mind making a bit of a mess? Then kids will love this watery Thanksgiving sensory bin by Fantastic Fun and Learning.
This sensory bin activity uses water, cranberries, Indian corn, and plastic pumpkins to help kids understand not just how things feel, but also how they interact with other natural elements!
10. All Natural Fall Sensory Activity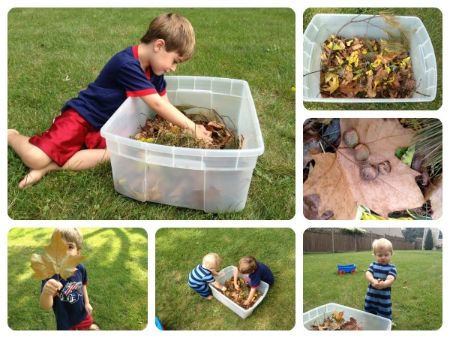 Time to forage in the great outdoors with this all natural sensory activity from Simple Play Ideas. Fall sensory materials, such as leaves, berries, grass, twigs, acorns, pine cones, and even just some rocks, will make for simple sensory play for the kiddos.
11. Turkey Sensory Bin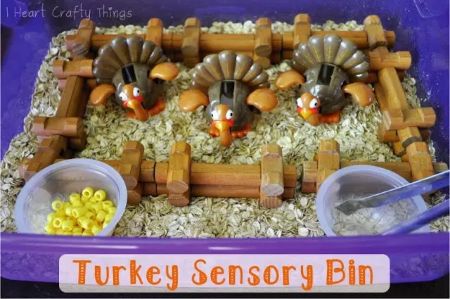 Here's a really easy-to-do Thanksgiving turkey sensory bin by I Heart Crafty Things. This cute turkey coop is made using oatmeal, Lincoln Logs, small empty containers, opaque beads, and toy or decorative turkeys.
12. Colorful Rice Turkey Sensory Bin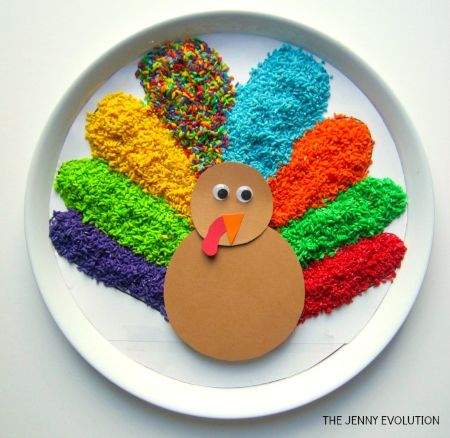 Rice is also an excellent material for sensory play. Mommy Evolution uses rice, a Ziploc, and food coloring to show kids how to make their own colored rice. This sensory activity also includes instructions on how to make a paper turkey!
Additional tools that are needed to complete this fun and unique sensory bin activity are sensory tools for kids and a pair of training chopsticks.
4 Thanksgiving Sensory Bottle Crafts
Nothing makes for great Thanksgiving sensory activities for preschoolers like sensory bottles! These four sensory activities may not require bins, but that doesn't mean they're any less engaging.
13. Small Turkey Sensory Bottle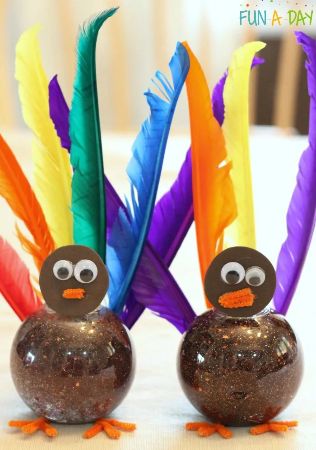 Sensory jars, such as these turkey sensory bottles from Fun-A-Day, are really easy to make and fun for all ages. Besides the usual craft materials, this particular craft requires some materials that are less commonly found in most households, such as:
Colorful glitter
Light corn syrup
Googly eyes
Pipe cleaners
14. Large Turkey Sensory Bottle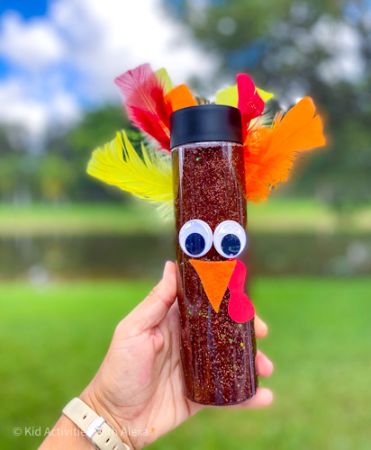 For a large Turkey sensory bottle, Kid Activities with Alexa has got you covered.
Because sensory bottles are a different and unique type of kids craft, there are a few materials you'll need to gather (outside of the usual crafting materials) in order to do this really neat activity:
15. Autumn Sensory Bottle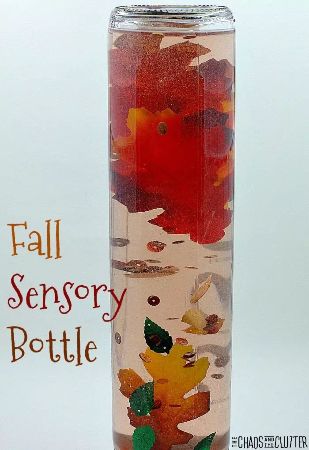 This is a really simple sensory bottle craft featuring autumn colors and leaves by The Chaos and Clutter. To make one that will help provide a calm experience for kids you'll need a water bottle, confetti, faux autumn leaves, autumn colored sequins, and glitter.
16. Dry Fall Sensory Bottle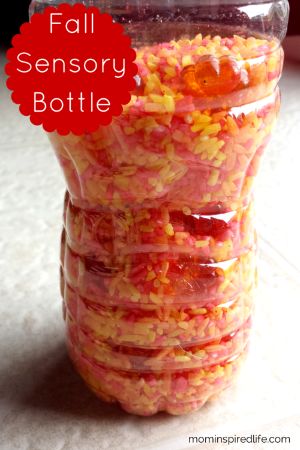 Sensory bottles usually require water, but dry ingredients make for a whole new sensory play experience.
Fun Learning for Kids has a dry fall sensory bottle kids can make and enjoy with any empty water bottle, differently colored rice, pumpkin table scatter gems, and a glue gun.
Wondering where in the world you're going to find different colored rice? Make your own by mixing rice and food coloring together in a ziplock bag.
5 Other Fall and Thanksgiving Activities
17. Turkey Sensory Bag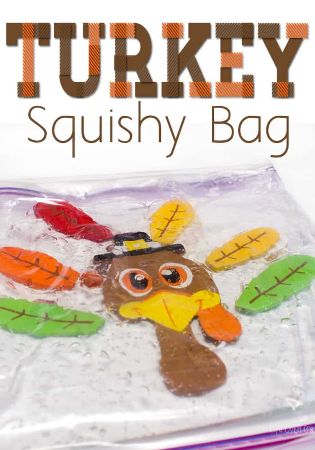 Plastic bags are also a great tool for sensory activities. This squishy turkey sensory bag from Life Over C's requires hair gel, a gallon-sized Ziploc bag, duct tape, and a turkey making kit.
Sensory bags make for great sensory activities for toddlers because they're entertaining and safe to play with.
18. Play Dough Turkey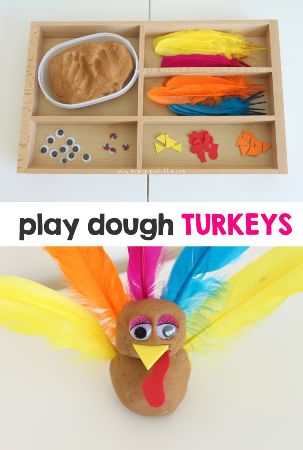 Mama.Papa.Bubba shares this really easy turkey sensory craft that uses playdough or clay, craft feathers, googly eyes, and craft foam to make cute little clay turkeys for Thanksgiving!
Want to learn how to make homemade playdough? Check out our step-by-step guide on how to make your very own playdough at home with a few simple ingredients.
19. Gobbling Turkey Craft
"Gobble gobble" goes the turkey, and this turkey craft by Jodi will have kids gobbling to their heart's content.
This sensory activity is a really neat auditory craft, but it does require quite a few things that you probably don't already have at home, like:
Want more auditory sensory crafts? Then let kids try their hands at making their own musical instruments!
20. Where's Waldo? Pumpkin Playdough Sensory Activity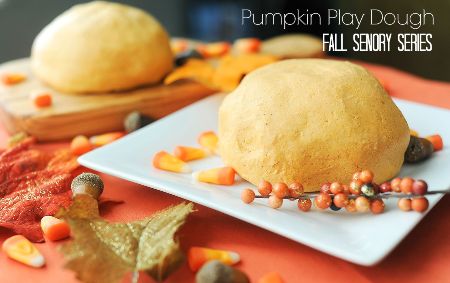 Spice up your sensory play with this pumpkin playdough activity from Integrated Learning Strategies that doubles as a Where's Waldo-inspired game.
This activity requires making the pumpkin playdough first, then hiding things like leaves, acorns, and candy corn within the playdough for kids to look for.
I love this sensory craft because not only does it stimulate your kid's senses, it also helps to refine those important fine motor skills!
21. Fall Sensory Oobleck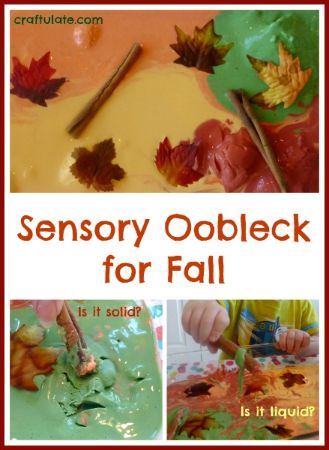 It's slime time with this fall sensory oobleck from Craftulate. If you read the word "oobleck" for the first time in your life (like I did when I discovered this sensory craft), let me fill you in.
Oobleck refers to a substance that pours like a liquid but acts like a solid when pressure is applied to it. It's a pretty simple substance to make and really, really cool for kids to play with.
With just cornstarch, water, food coloring, and a dash of cinnamon, kids can easily make their own oobleck. Add in some fall sensory items like faux fall leaves and cinnamon sticks for a Thanksgiving-themed sensory activity.
Thanksgiving Activities for Preschoolers and Even Toddlers!
Let kids discover the fall season using their senses with these 21 Thanksgiving sensory bin ideas and activities!
Then, teach them about the classic holiday hobby of crocheting with our selection of crochet kits for kids!
Did we miss some other materials kids can play with for fall themed sensory bins? What items do you recommend? I'm eager to know, so please share in the comments section.