Fans of this iconic cat will rejoice when they see this list of Hello Kitty Perler beads. Produced by the Japanese company Sanrio, Hello Kitty has been attracting fans globally since 1973.
Just like how Hello Kitty products range from school supplies to home appliances, the Hello Kitty patterns I've included below will feature different versions of Hello Kitty, varying from simple patterns to more unique designs, as well as a couple of other famous Sanrio characters.
3 Hello Kitty Perler Bead Accessories
Save yourself from the hassle and disappointment of starting a new Hello Kitty project, only to find out that you're out of materials! Thankfully, there are already Hello Kitty Perler kits and bead packs at your convenience.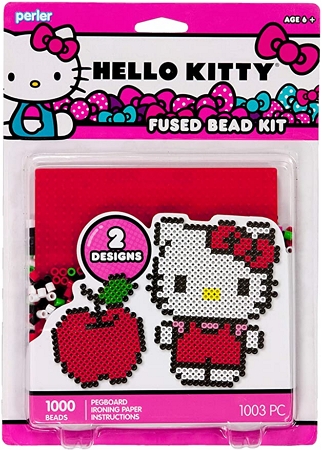 True beginners will find out just how exciting Perler bead activities are by getting a small Hello Kitty Perler bead kit. This small pack is not a big kit and doesn't require a huge commitment, so it's perfect for people who are simply trying out the Perler bead craze.
It includes an instruction sheet with Hello Kitty and the apple, a pegboard, an ironing paper, and enough Perler beads to create the pattern on the sheet.
Beginners trying to find their way into the Perler bead world will find this guide of easy Perler bead patterns handy.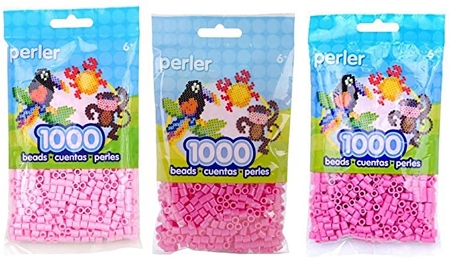 Hello Kitty is famous for her iconic pink (sometimes red) ribbon that she wears on her head. When you see that ribbon, you know that it's Hello Kitty's.
Here are some pink Perler beads of different varieties, which will allow users to recreate Hello Kitty's ribbon in various ways.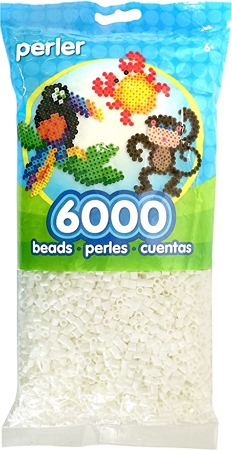 Hello Kitty, whose full name is Kitty White, is clearly a white cat, so it's a no-brainer to stock up on white Perler beads.
You might think that this pack is too big, containing 6,000 pieces. But I guarantee you that anyone who does Perler bead projects regularly always finds themselves out of Perler beads sooner than they think.
10 Classic Hello Kitty Perler Bead Patterns
There may have been countless different variations of Hello Kitty since 1973, but these ten Hello Kitty patterns remain one of the most beloved by fans.
Most Hello Kitty fans are cat lovers or owners. If you are one of those, you'll enjoy making these cat Perler beads.
4. Hello Kitty Face Pattern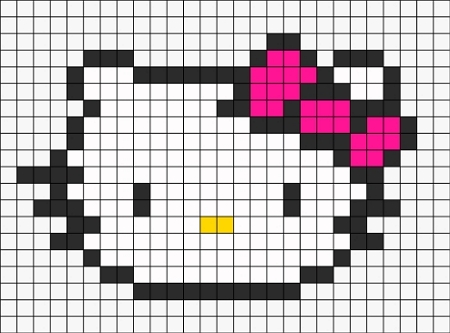 For a simple pattern that even children will enjoy, PNGItem has got you covered with a Hello Kitty face pattern.
5. Easy Hello Kitty Perler Bead Pattern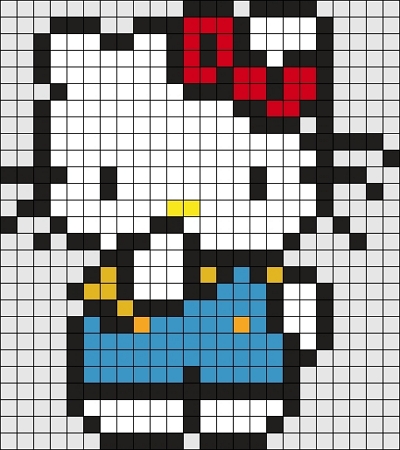 Hello Kitty has a simple character design, and that's why she's very popular. You can put any type of clothing, dress, or costume on her, and it would be perfect.
For those looking for a classic Hello Kitty look, however, tricked_nyx is here to share a casual Hello Kitty pattern wearing overalls.
6. Simple Hello Kitty Perler Bead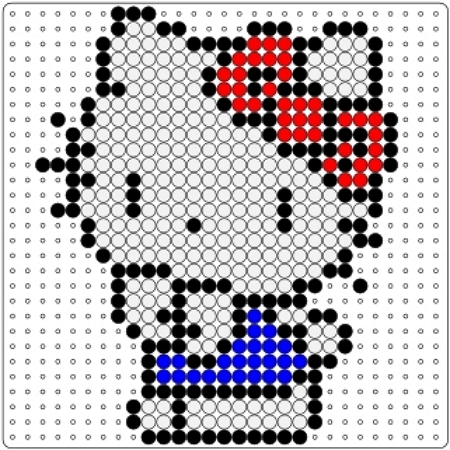 Perler Bead Patterns shows another straightforward Hello Kitty design, in which she's wearing her traditional ribbon and blue clothing.
7. Hello Kitty Nerd Perler Bead Design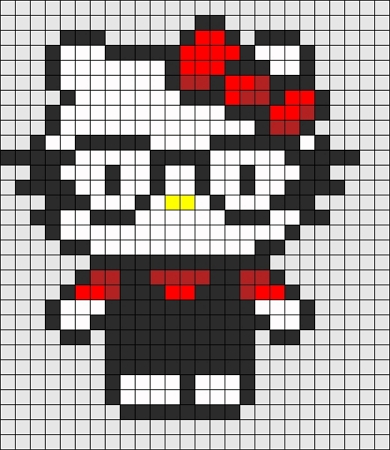 It's not only the clothing that can be customized with Hello Kitty. As Panicking4Fun demonstrates, you can give her a pair of glasses to give her a smart look.
8. Pretty Hello Kitty Design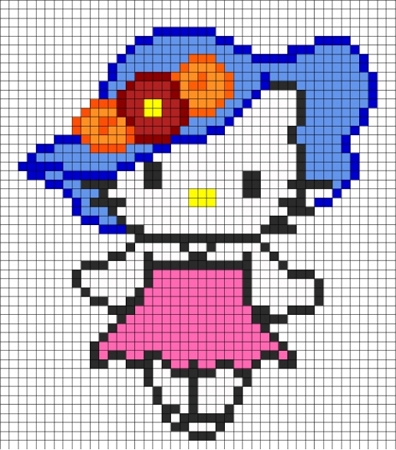 For those who are looking for a pattern with a little bit more elegance, PikPNG shares a Hello Kitty who wears a dress and carries it with confidence.
On her hat seems to be a flower instead of the classic red ribbon, which I find a refreshing take.
If you love flowers, then look no further than these Perler bead flowers!
9. Hello Kitty in A Car Perler Bead Pattern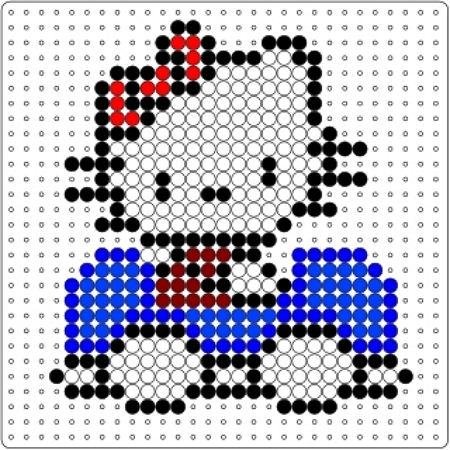 Here's another pattern from Perler Bead Patterns, showing that Hello Kitty is an independent cat who doesn't need anyone to drive her.
10. Hello Kitty Princess Perler Beads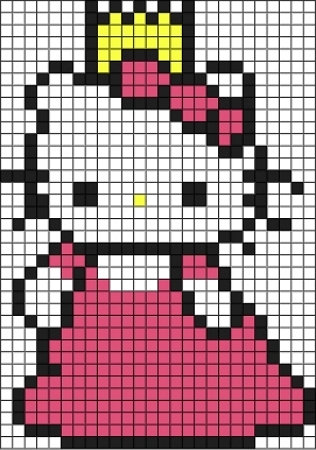 This princess Hello Kitty pattern by nanii98 is an impressive pattern that's quite hard to beat, on par almost with the Disney princesses.
Speaking of Disney princesses, don't miss out on these Moana crafts for children who love princesses and the ocean!
11. Hello Kitty's Iconic Ribbon Perler Beads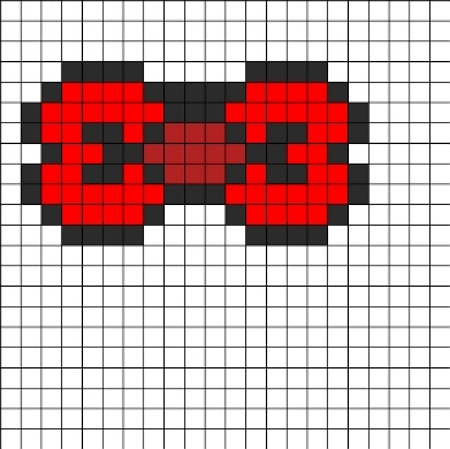 Sometimes a symbol carries a lot of meaning behind it. And it's true for Hello Kitty's ribbon, which is a symbol of everything Hello Kitty represents: simplicity, innocence, and creative flexibility.
Here's SeekPNG sharing a pattern of the iconic ribbon.
12. Hello Kitty Dreamcatcher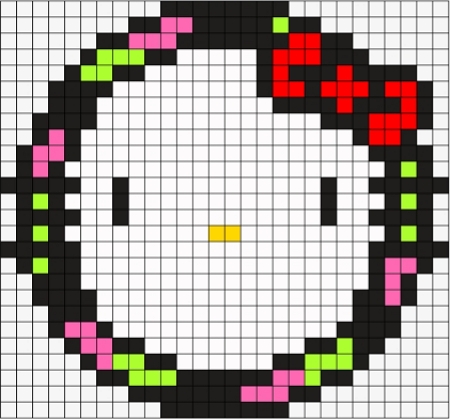 It wouldn't be hard for children to fall asleep when Hello Kitty is nearby. Even more so when you have a dreamcatcher version, like this pattern shared by PNGKit.
Comfort your little ones by making with them these DIY dream catcher crafts for kids!
13. How to Make a 3D Hello Kitty Project
For many Hello Kitty fans, it's a dream to have a Hello Kitty figure to play with and be by their side. The wait is over with this video tutorial from Wolleplanet, which teaches us how to make a 3D Hello Kitty Perler bead.
Prepare a glue gun for this one because the project requires one to be completed.
Excited for more 3D projects? Head on to our list of 3D Perler bead patterns!
5 Cute Sanrio Perler Bead Patterns
Since Sanrio's success with Hello Kitty, they've made many more characters that children will enjoy and find relatable. Here are a couple of Perler bead designs of the more popular Sanrio characters.
14. My Melody Perler Bead Pattern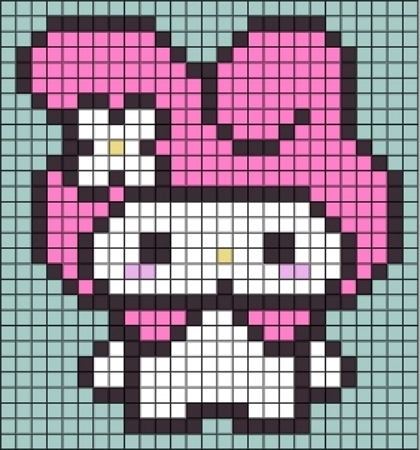 My Melody, popularly known as My Melo, is Hello Kitty's best friend, so she deserves a spot on this list. Thanks to loveyfries, you're one step closer to completing the list of Sanrio characters!
Try more bunny projects with these Easter Bunny crafts!
15. Cute Cinamoroll Perler Bead Pattern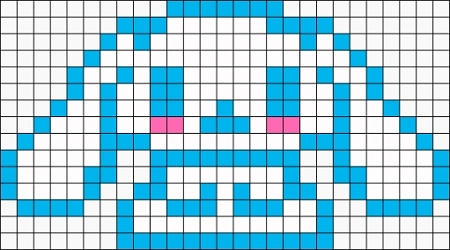 Cinnamoroll is possibly one of the cutest characters out there. You wouldn't be blamed for thinking Cinnamoroll is a bunny, but he's actually a white puppy. Here's 3Anjie3 sharing a pattern of Cinnamoroll.
For other species of dogs, here are some dog Perler beads for dog lovers!
16. Hello Kitty Onigiri Perler Bead Pattern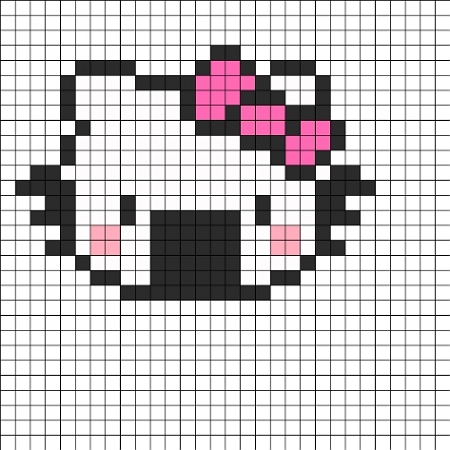 PikPNG shows creative freedom with the Hello Kitty designs through this onigiri pattern.
For similar patterns like this one, head on to our food Perler bead patterns!
17. Hello Kitty Key Perler Bead Pattern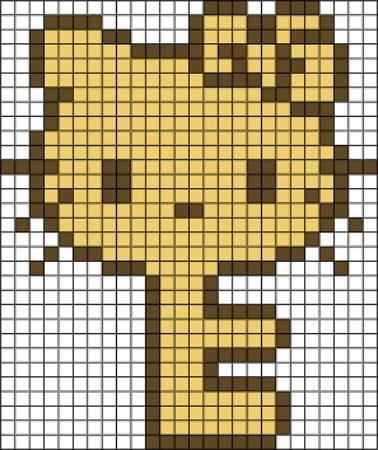 Here's another unique Hello Kitty pattern, shared by nanii98.
Hyrule has a lot of keys and chests. Perhaps this Hello Kitty pattern can unlock one of the chests in these Legend of Zelda Perler beads.
18. Hello Kitty Band-Aid Perler Bead Pattern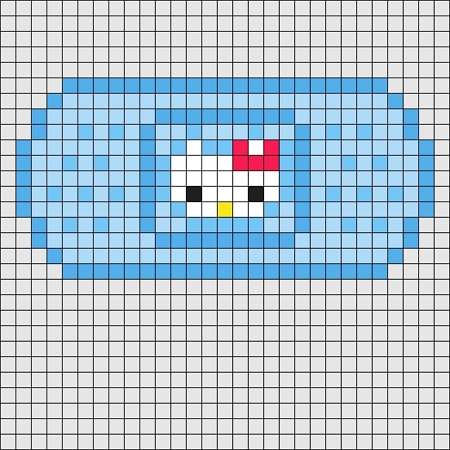 As mentioned before, Hello Kitty products range from toys to home appliances. Here's bruh_moment sharing a Hello Kitty Band-Aid pattern.
3 Patterns of Hello Kitty in Costumes
Hello Kitty is well known for wearing costumes. These next three are just a couple of them.
19. Hello Kitty in a Keroppi Costume Pattern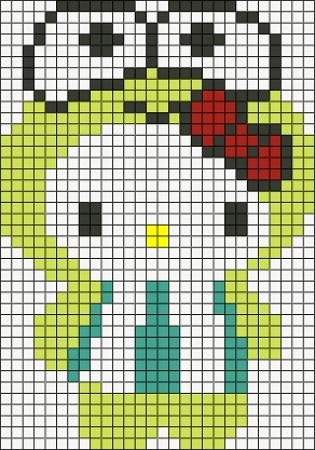 Here's nanii98 sharing a pattern of Hello Kitty wearing a frog costume. This costume is not your typical frog, though, because it's Keroppi, another famous Sanrio character.
Learn all about frogs with this list of frog Perler Beads!
20. Hello Kitty in a Chicken Costume Design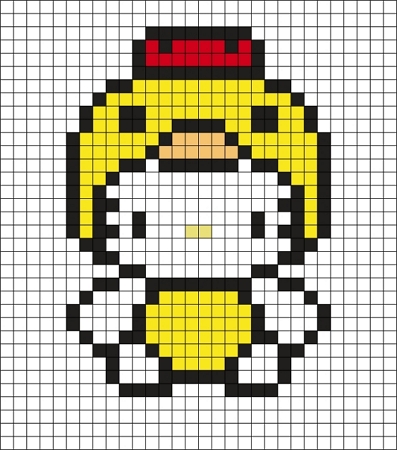 Idk_0 shares a small and adorable Hello Kitty in a chick costume.
These chicken crafts will make your little ones wonder: which came first, the chicken or the egg?
21. Hello Kitty Bee Perler Beads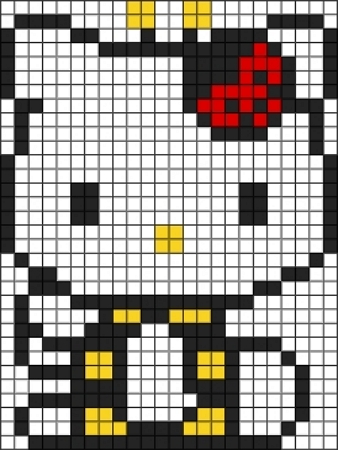 Here's another endearing pattern of Hello Kitty pretending to be a bee. To make it even more perfect — if that even is possible — instead of her ribbon, she wears a ladybug on her head.
Keep the children busy with these bee Perler Beads and ladybug crafts.
3 Seasonal Hello Kitty Perler Beads
Throughout the year, Hello Kitty will be there with you through the various seasons. The next three Hello Kitty patterns have a seasonal design.
22. Hello Kitty Christmas Pattern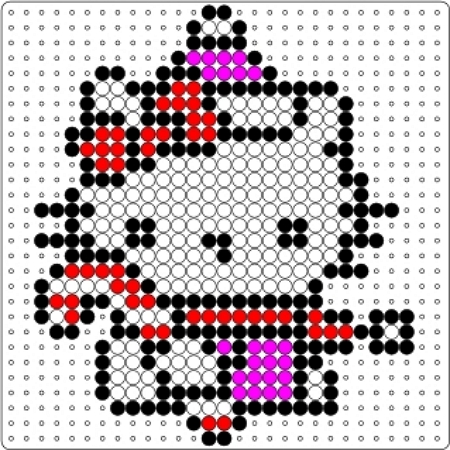 For a Christmas design, here is a pattern shared by Perler Bead Patterns, which shows Hello Kitty in her winter outfit!
If the weather is too harsh to go outside, these snowman crafts for kids and snowmen handprint ornaments will help your little ones' fingers stay warm!
23. Santa Claus Hello Kitty Perler Bead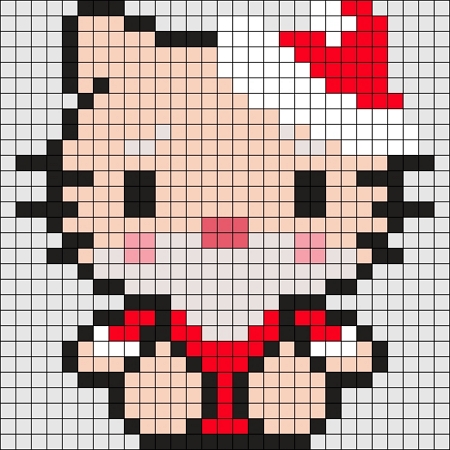 It is often said that naughty children will be punished by Santa Claus. Kids won't have to be terrified of this pattern by gelflingelf, though, as it is cute and forgiving.
For more winter crafts, try out these winter sensory bins to simulate the cold weather indoors.
24. How to Make a Perler Bead Hello Kitty (Halloween)
FiloPixie is here with their Hello Kitty video tutorial to comfort the children who detest the spookiness of the Halloween season. While most kids are terrified of witches, they won't be anymore once they make this Hello Kitty witch pattern.
For some stunning decoration to put on display, here are some amazing paper-mache pumpkin ideas that you could make.
6 Patterns of Hello Kitty in Other Media
As mentioned before, Hello Kitty is widely for her flexibility in design. She is able to pull off many different cosplays of characters from popular media with ease, as these next six Hello Kitty patterns will demonstrate.
25. Mario Mushroom Hello Kitty Pattern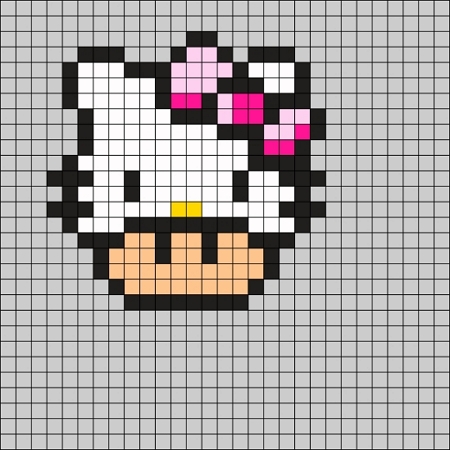 Kya917 is inspired by Mario and shares this Hello Kitty Mario Mushroom pattern.
Here are Super Mario Perler bead patterns for hardcore fans!
26. Iron Man Hello Kitty Pattern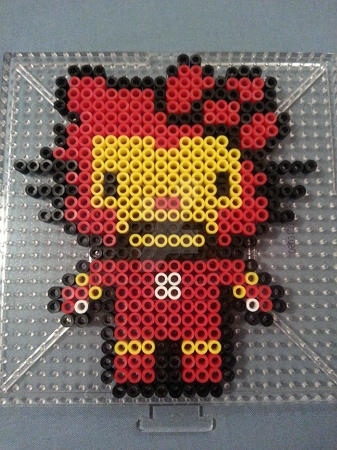 Hello Kitty rides the wave of the Marvel craze by cosplaying as one of the most iconic heroes today, Iron Man, a pattern shared by AshMoonDesigns.
Allow your little ones to pretend to be a superhero with these superhero crafts.
27. Jedi Hello Kitty Perler Bead Pattern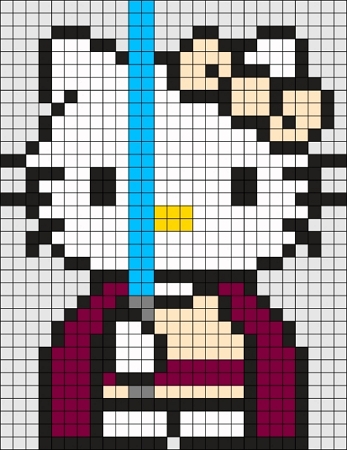 May the Force be with you with this Jedi Hello Kitty pattern, provided to us by Ninie.
Make more Star Wars Perler beads and baby Yoda Perler beads to train your Padawans!
28. Deadpool Hello Kitty Pattern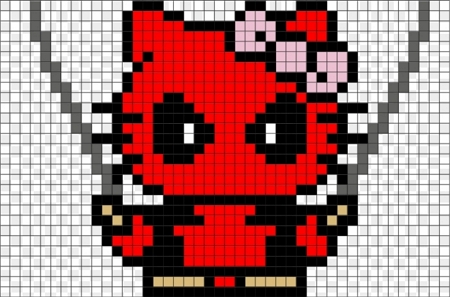 While Deadpool is a violent mercenary in the Marvel Universe, Hello Kitty cosplaying as him cancels all that and transforms into an adorable figure, as PNGFind demonstrates with their pattern.
Create more Marvel Perler beads for your little ones!
29. Dracula and Zombie Hello Kitty Patterns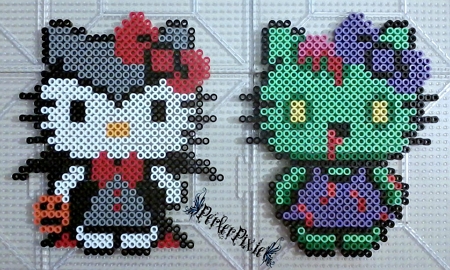 No amount of horror or terrifying elements can take away the cuteness and innocence of Hello Kitty. PerlerPixie proves that with their Hello Kitty dressed as Dracula and a zombie.
If your intention is to spook or train your little ones, try your hand with these Halloween painted rocks!
Hello Kitty Perler Beads for Everyone!
These patterns show just how versatile Hello Kitty can be. Any clothing, cosplay, or accessory you put on Hello Kitty work as well as the next one.
Here are more Perler bead patterns that will enhance your children's creativity and fine motor skills: