Children admire watching superheroes anywhere, whether they see them fly around on screen or in children's books.
Kids will try to imitate their favorite characters any chance they get, so I've compiled 21 superhero crafts that toddlers and preschoolers to make it easier for them to (safely) live out their dreams.
Just like their favorite heroes who tackle challenging situations, kids will learn plenty of valuable lessons through making these awesome crafts. Don't worry, though, since most of these crafts can be done by younger kids with the help of an adult.
8 Superhero Crafts for Preschoolers
While all the crafts listed improve children's creativity in some way, these first 8 superhero crafts encourage role-playing and their verbal skills in particular.
1. DC Superheroes Popsicle Stick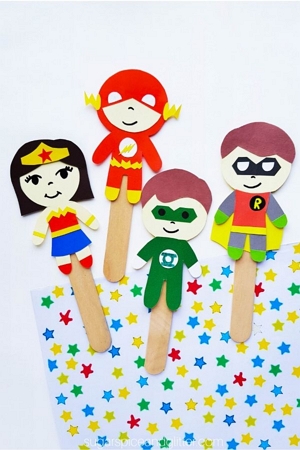 Sugar, Spice And Glitter shares some wonderful superheroes made with popsicle sticks. Toddlers won't have a hard time making these since they also share a template of each of these characters on their website.
Simply cut out the superhero template they provide and glue it onto the popsicle stick.
There are so many things to make out of this material, so we've compiled a list of popsicle stick crafts!
2. Easy Superhero Popsicle Stick Crafts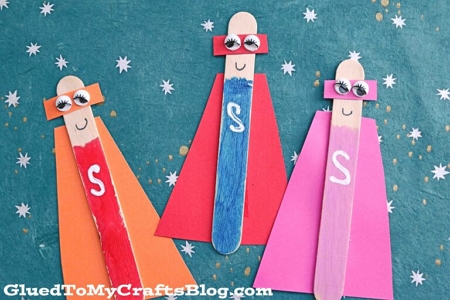 Not all heroes need to be popular to be adored by children as Glued To My Crafts Blog demonstrates. By following this popsicle stick guide children can customize their hero according to their preference.
Mixing and matching the colors will enhance their creativity, but using a single color for their hero is perfectly fine as well.
3. Toilet Paper Roll Superheroes
Odds are, you have a spare toilet paper roll at home. Even if you don't at the moment, you will in the next few days. So, there's no excuse not to make these superhero paper roll crafts by Oh Partyland!
Their easy-to-follow video tutorial shows how to make Batman, Superman, and the Hulk, providing a printable template for each on their website.
4. Superhero Handprint Paper Craft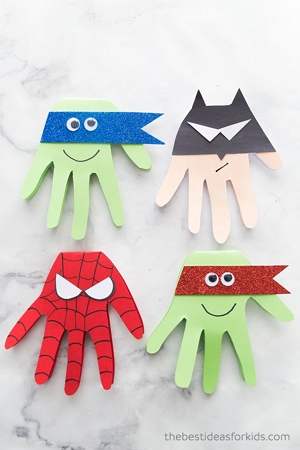 I enjoy handprint crafts because they provide an opportunity for kids to be as focused as possible on the crafts. The Best Ideas For Kids knows exactly that crafts like these are the most engaging for children.
They include characters from the Teenage Mutant Ninja Turtles, Spider-Man, and Batman, so there are plenty of choices for the kids. Additionally, the handprint crafts can serve as a card in which kids can write any message.
5. Paper Bag Superhero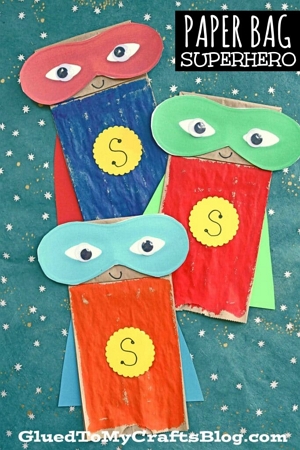 Here's another craft by Glued To My Crafts Blog that will fuel the kids' imagination. Children should be encouraged to be as creative as possible with these paper bag puppets since their design is completely up to them.
The kids will finally be able to save their imaginary world after creating their unique characters!
6. Superhero Clothespin Craft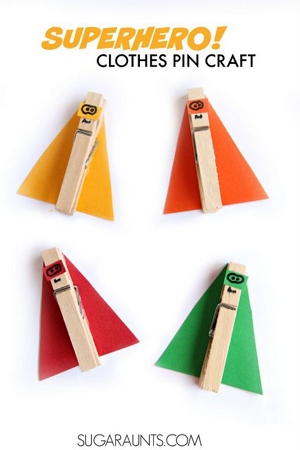 As our Toy Story crafts have shown, toys shouldn't have to be expensive for kids to get emotionally attached (no pun intended), just like these DIY clothespin superheroes.
Thanks to The OT Toolbox's resourcefulness, toddlers will have an awesome superhero to save them from their boredom.
7. Avengers Corner Bookmark
Here are some amazing bookmark corner crafts by Art Reloaded for preschoolers who are starting to level up from their basic alphabet and move to more sophisticated sentences in children's books.
While origami crafts aren't the easiest to make, with the proper guidance from adults, kids can have a fun time folding and designing these cool Marvel crafts.
8. Batman Corner Bookmark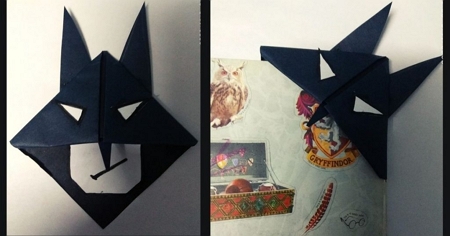 Here's another bookmark idea from School My Kids to encourage kids to read more.
With plenty of movies and shows under his belt, Batman is one of the more popular superheroes for kids and adults alike.
4 Cool Superhero Mask Crafts
The 4 next crafts feature wearable superhero masks to hide the alter ego of your children.
9. Egg Carton Mask Goggles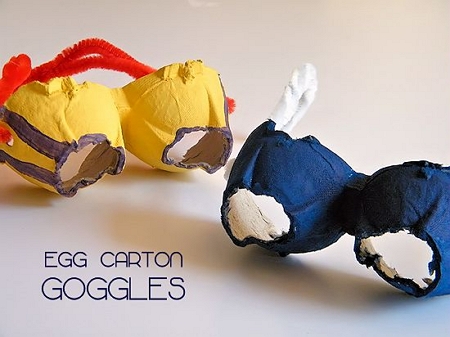 Our Kid Things teaches us the value of upcycling through these egg carton goggles. Egg cartons have the perfect shape for goggles, so kids will only have to worry about painting them and attaching the pipe cleaners that act as straps for when they wear them.
Kids need superhero goggles when they're running around at lightning speeds or to protect their vision from any dangerous gas!
If you didn't know, there's a lot of things to make with egg carton crafts!
10. Superhero Felt Masks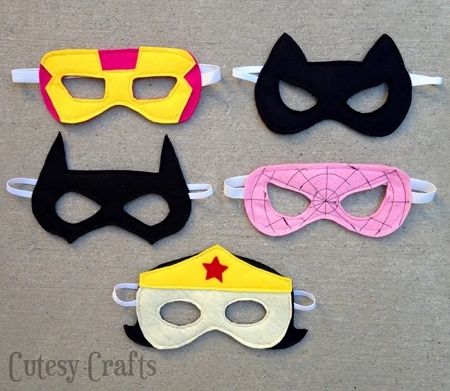 Cutesy Crafts provides an excellent guide for superb superhero masks. These masks are made of felt and an elastic band so they're comfortable to wear for kids when they're fighting against supervillains.
There are plenty of mask options for both boys and girls. Simply follow the patterns that they provide on their website.
11. Handheld Paper Mask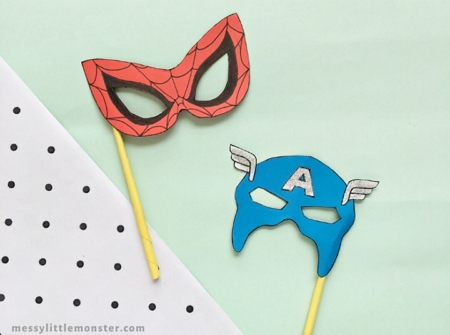 Messy Little Monster provides a pair of superhero masks, this time made with paper and a straw.
While it's not wearable, kids will still have tons of fun saving the town with just a couple of resources and a little creativity.
12. Paper Plate Mask with Templates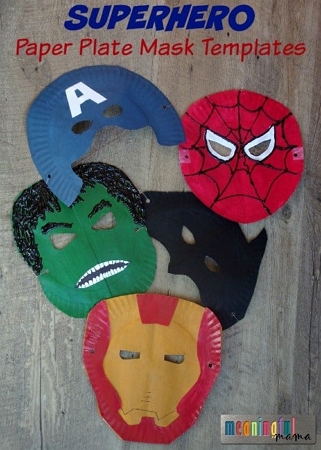 Meaningful Mama assembled the Earth's Mightiest Heroes by creating these awesome Avengers paper plate masks. Each of the masks has specific instructions on their website so little ones won't have any trouble making their favorite Avenger.
What makes these crafts easier is the fact that Meaningful Mama also included templates for kids who aren't old enough to draw their own designs. They simply have to print out these masks and start painting!
Check out other awesome Marvel characters through these Marvel Perler beads!
6 Awesome Superhero Craft Ideas
From superhero capes to pencil holders, kids will find some use for these next awesome superhero craft ideas!
13. Superhero Capes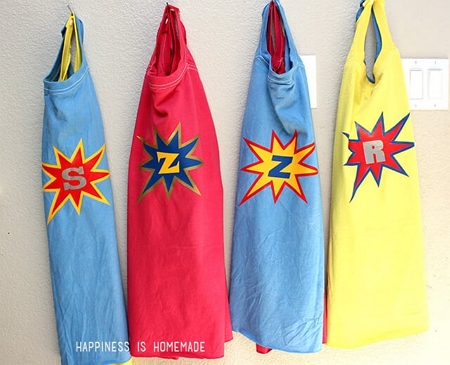 Kids love to make up their personal superhero identity that possesses unique powers and abilities. Make a unique superhero cape for the kids by following Happiness Is Homemade's DIY guide.
While following their excellent guide, try experimenting with different colors and designs that the kids prefer. After all, this is a "make your own superhero" type of craft.
14. Superhero Money Jar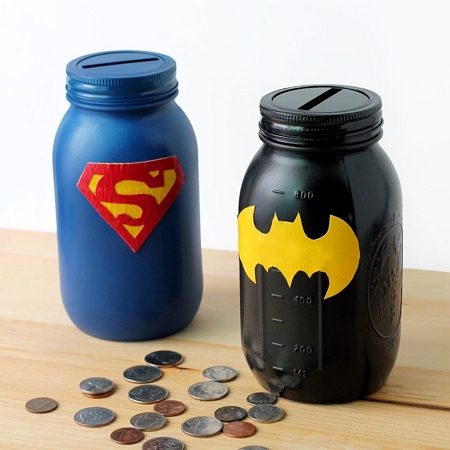 The first step to becoming a billionaire like Batman is to start learning the importance of money. Fireflies and Mudpies's written guide will teach children about saving money while having an awesome superhero jar that kids will enjoy.
For young kids with little experience with drawing, they suggest printing out a superhero symbol that they admire and cutting it out with an Exacto knife. The kids can easily contribute by painting the jar and putting the first couple of dollars in it.
15. Iron Man Gloves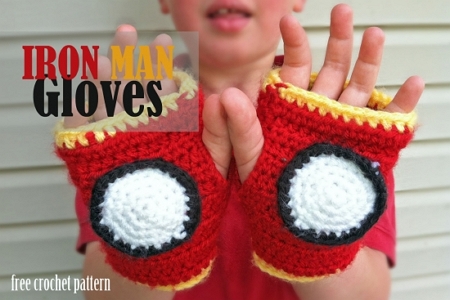 Kids who adore Iron Man can't miss out on these crochet gloves from Craftown. Even those unfamiliar with crochet but are willing to learn will make these gloves in no time.
16. DIY Superhero Cuffs
Nothing will get the kids into character more than a pair of DIY superhero cuffs. Kids Activities' video tutorial provides a simple guide on how to create any kind of superhero cuffs just from a couple of toilet paper rolls, whether it's from DC, Marvel, or from the kids' imagination.
Toilet paper rolls are so versatile, so don't throw them away, and remember that there are plenty of toilet paper roll crafts for kids to make!
17. Mason Jar Lid Coaster with Any Superhero Design
Here's a great craft to make when you're forced to stay indoors during the rainy days and would love to make a cup of hot cocoa or lemonade. This mason jar lid coaster from Kicking It With Kelly lets the kids choose whatever superhero design they prefer.
The complete materials needed are listed on their website, along with the instructions on how to craft them.
18. DIY Batman Coaster
Here's another coaster craft made by CraftKlatch. This excellent video tutorial shows to make a Batman-inspired coaster made of resin, which makes it a durable keepsake for kids.
The craft is so easy that even children can participate in pouring the ingredients in the mold and gluing the symbol they prefer.
19. Superhero Bottle Pencil Holder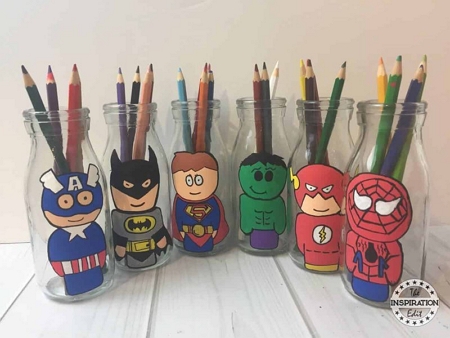 The Inspiration Edit brings the best of both DC and Marvel to life by making these superhero bottle pencil holders.
Preschoolers who love to draw will undoubtedly enjoy making these crafts since it practices their artistic skills as well as create a container for their art materials.
Alternatively, adults can trace the outlines of their kids' favorite superheroes and instruct the little ones to fill up the colors.
2 Superhero Art Projects
These last two superhero art projects will expand children's creativity and allow them to think outside the box.
20. Superhero Handprint Art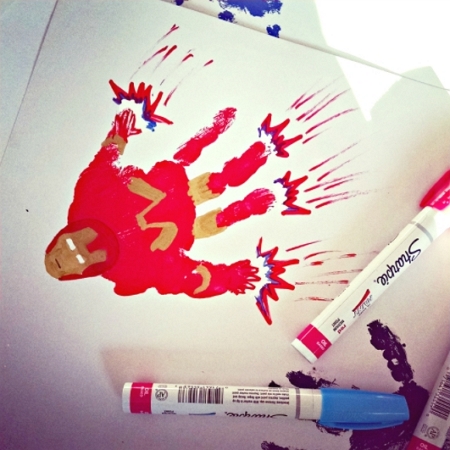 C'mon Get Crafty takes handprint arts to another level by detailing the handprint art after they've been stamped by the kids. Don't worry about the messiness of handprints because that's exactly the right learning experience that kids need.
Besides Iron Man, C'mon Get Crafty included other Marvel superheroes like Captain America and the Hulk to widen the variety of superhero art.
Handprints are awesome, and so are these handprint turkey crafts!
21. Superhero Rock Painting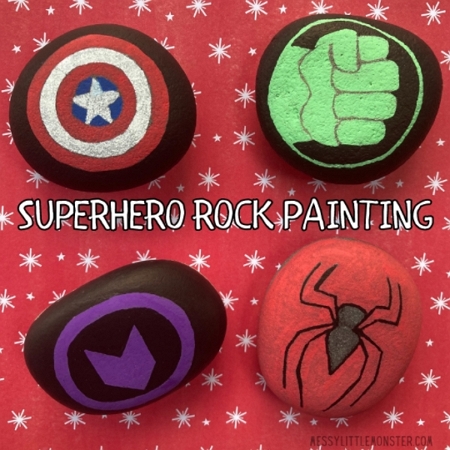 Rock painting is the perfect activity to draw the symbols of kids' favorite superheroes. Messy Little Monster has a superb guide on all of the symbols that you see on the image above, including symbols of Captain America, Hawkeye, the Hulk, and Spider-Man!
If you wish to test your little one's artistic capability, try looking at superhero symbols on the internet as a reference and see what amazing rock painting results they achieve!
With Great Power Comes Great Responsibility!
There are plenty of lessons to be learned from these amazing superhero crafts, and I hope you enjoyed all of them.
Check out other awesome crafts here: