Meet interesting characters, fight evil monsters, and explore the fantastical lands of Hyrule with these Legend of Zelda Perler beads patterns.
The franchise began in 1987 when the first installment, The Legend of Zelda, was released, but with the most recent installment, Breath of the Wild, the franchise remains more popular than ever even after 25 years.
Fans who can't wait for the next installment can keep themselves busy with this list of Perler bead patterns that includes favorite characters such as Link and Zelda, as well as important objects and notable symbols from the games.
3 Legend of Zelda Perler Bead Kits
Similar to the patterns below are these easy Perler bead patterns that will introduce kids to plenty of other designs.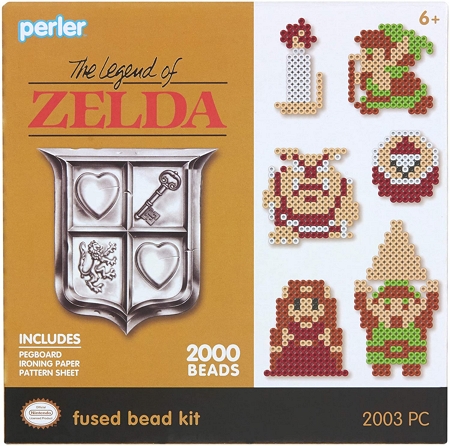 Adults who played the original game will feel a strong sense of nostalgia after buying this The Legend of Zelda Perler fused bead kit. It's a great bundle to introduce your kids to the franchise.
The set contains 2,000 pieces of beads, a pegboard, reusable ironing paper, and a sheet with Legend of Zelda patterns.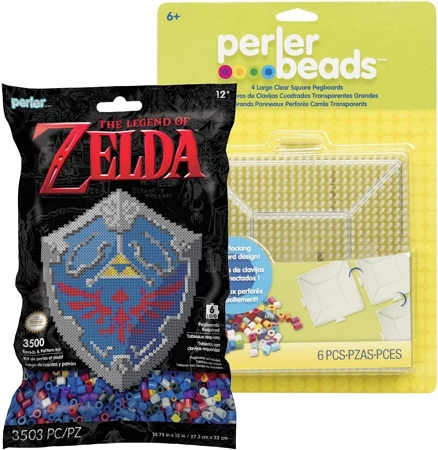 Children who love to display their personal Perler bead creations will adore this Legend of Zelda Hylian shield kit which contains the necessary materials, including fuse beads, pegboards, and a sheet of ironing paper to complete the project.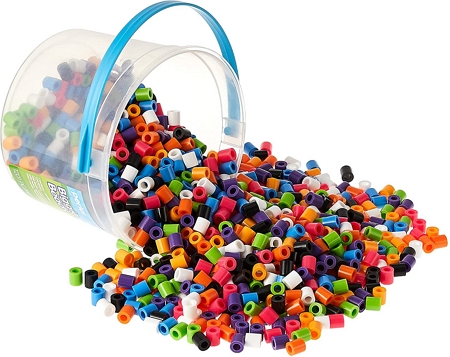 Small Perler beads can sometimes be a little too small for toddlers, so here are some Perler "Biggie" beads. They're just like normal Perler beads but bigger for little hands to manipulate easily!
14 Perler Patterns of Legend of Zelda Characters
The 14 Perler bead designs below feature different versions of Link, Princess Zelda, and more.
4. Pixelated Link Perler Bead Pattern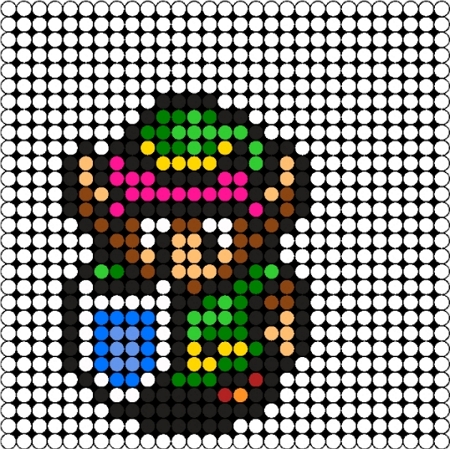 Start with a basic Link design. Many people unfamiliar with the game mistake Link as Zelda.
SeekPNG created this pixelated Link that reminds us of the original games in 8-bit.
5. Easy Link Design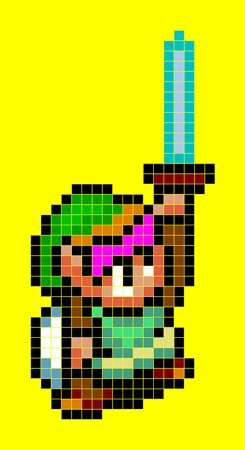 The satisfying feeling of obtaining the Master Sword is incomparable. Yaku-Zan helps your children get that fulfillment after making this Link depicted after securing the legendary sword that will defeat his enemies.
It's important for kids to attain a sense of achievement, so try these exciting and challenging paper mache pumpkins as well.
6. Zelda Perler Bead Pattern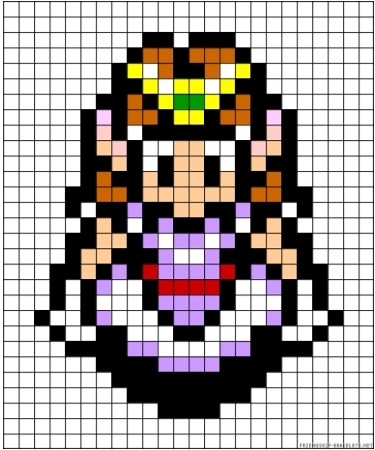 Analias creates a pixelated yet beautiful Perler bead pattern of Princess Zelda. She possesses multiple abilities, such as telepathy, clairvoyance, and wielding weapons.
For more crafts involving strong female figures, check out our compilations of mermaid crafts and mermaid drawings!
7. Cute Link Perler Pattern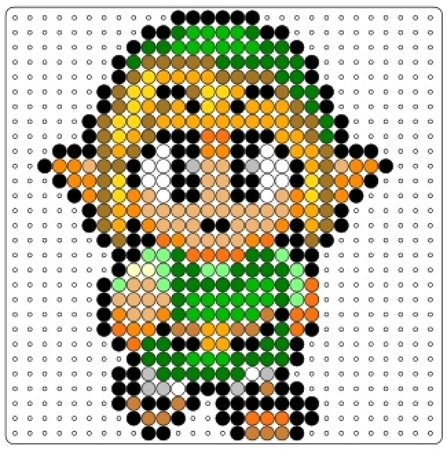 While Link is a fierce warrior who will do everything in his power to save the Princess, a cute version of Link like this one from Perler Bead Patterns is always welcome.
Speaking of cute things, don't forget to check out these kawaii Perler bead patterns, too!
8. "I Love You" Link Perler Beads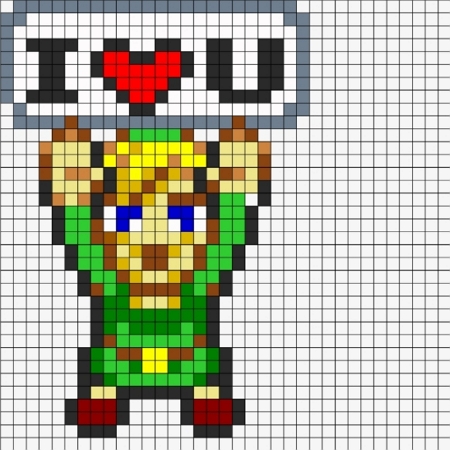 PNGKey helps children express their feelings with this lovely pattern of Link saying, "I Love U."
9. Simple Cartoon Link Perler Design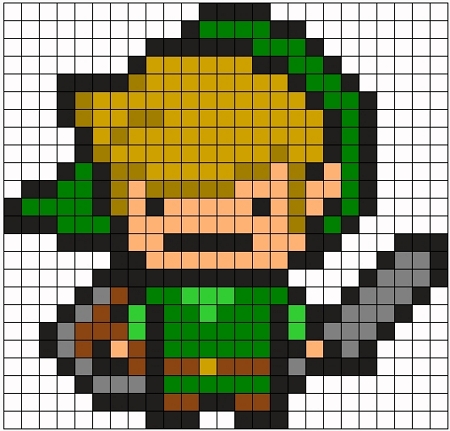 AntiAri lifts our mood with their silly but cute Link fused bead pattern.
10. Princess Zelda Detailed Perler Design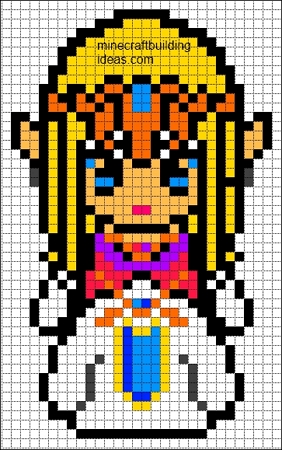 Princess Zelda, although sometimes a damsel in distress, plays an important role in each game: the keeper of the Triforce of Wisdom.
It's important for children to feel a sense of responsibility, just like Princess Zelda, so entrust your little ones with making this Zelda pattern shared by Minecraft Pixel Art Templates.
11. Advanced Link in Action Perler Bead Pattern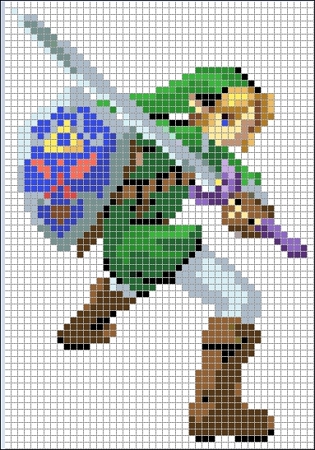 Similar to drawing, Perler bead activities can also enhance artistic skills through practice. Making this awesome design by Jormel, for example, will enhance your spatial awareness because it's really, really big.
Is this pattern a little too advanced for your little ones? Try these easy animals to draw for kids instead.
12. 8-Bit Zelda Perler Pattern
QDCrafts's video tutorial show us how to create an 8-bit version of Princess Zelda.
The tutorial not only guides the viewer on how to make the Princess, it also included a heart pattern to share.
13. Another Link Design with Shield and Sword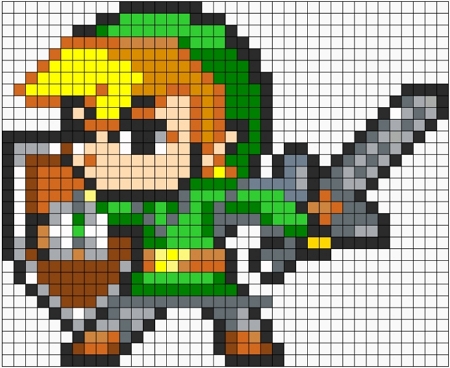 Link is always alert and ready to defend himself from any danger that lurks in the shadows. Lesprouxcross shows just how aware he is with this Perler bead design.
The dogs on Paw Patrol are just as ready as this Link for any plan of action.
14. Detailed Link Perler Pattern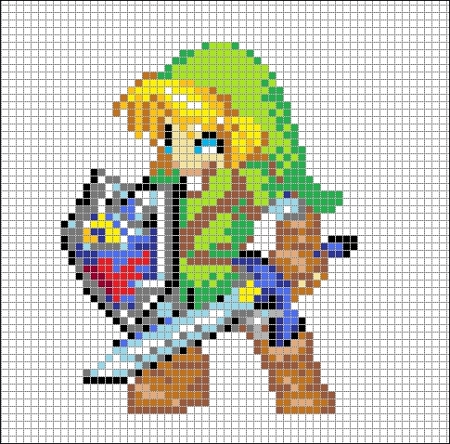 Here's another detailed Link pattern provided by Hama-Girl, who equipped Link with both the legendary Master Sword and the sturdy Hylian Shield.
15. Realistic Link Perler Bead Design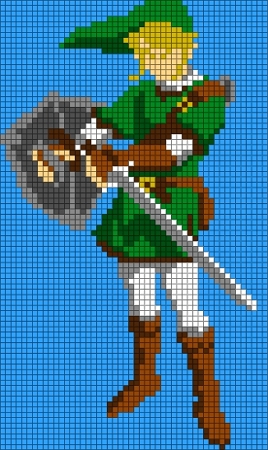 For a more realistic version of Link, older children should try making this design by Jiggygemin, who creates an awesome Link pattern that can serve as an impressive display.
For more awesome patterns like this one, check out our compilation of Fortnite Perler beads.
16. 8-Bit Legend of Zelda Characters and Items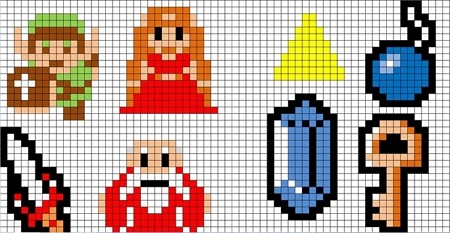 People who played the original game will feel nostalgic with these 8-bit patterns by Cutesy Crafts that include Link, Zelda, a bomb, key, and crystal.
Here are some Mario Perler bead patterns, another popular franchise that reminds us of the good ol' days.
17. Navi Fairy Perler Bead Pattern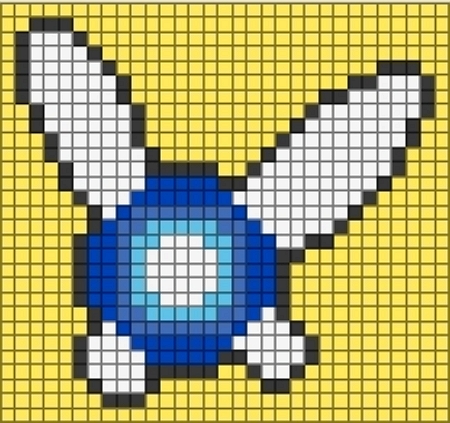 Navi is a supporting fairy character that aids Link on his journey to save the Princess. Here's an easy version of Navi created by mimzy00.
5 Perler Patterns of Zelda Weapons and Objects
There are plenty of hidden objects and legendary weapons in the lands of Hyrule. Try to get them all by making these next five patterns.
18. Legend of Zelda Master Sword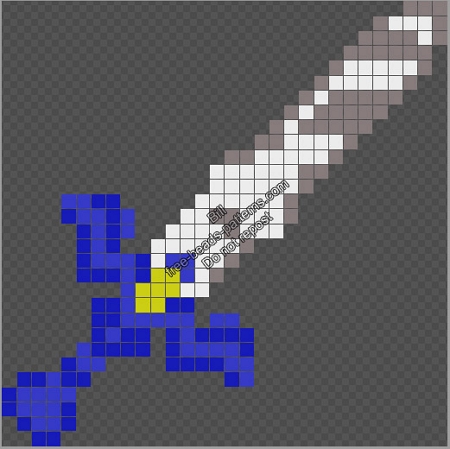 Free Beads Patterns shares the very powerful sword wielded by Link, the Master Sword.
19. Majora's Mask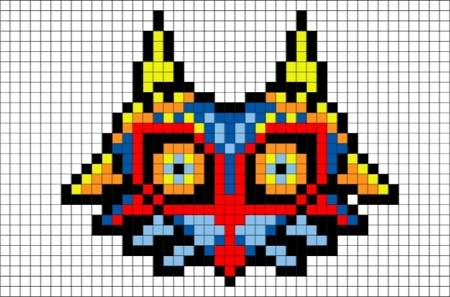 Majora's Mask is such an important item that it's featured in the title of one of the installments. SeekPNG shares a pattern of this mysterious and scary-looking artifact.
If your children love scary stuff, try these Halloween painted rocks.
20. Ocarina of Time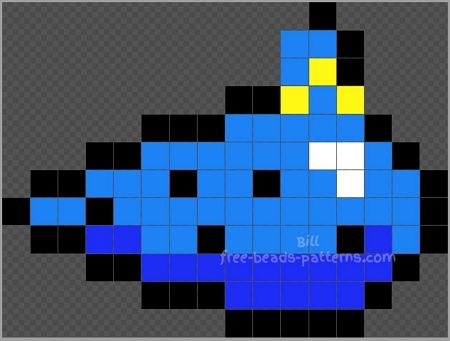 Here's another important item shared by Free Beads Patterns. While there are many Ocarinas (or flutes) in Hyrule, this one is a special instrument because it's the key to open the Door of Time, which contains the Master Sword.
21. Legend of Zelda Big Key Pattern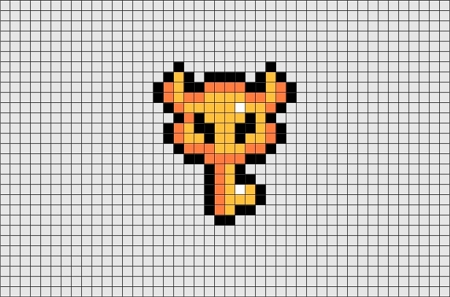 Brik shares one of the most common yet treasured items in Hyrule. Who knows what rewards await your little ones after creating this key?
22. Miscellaneous Legend of Zelda Items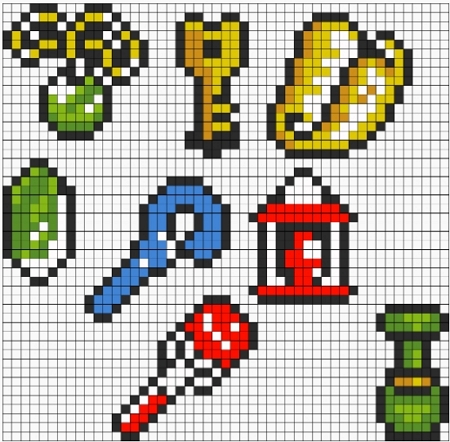 To complete the set of items for your children's Legend of Zelda Perler bead collection, Soggy_Enderman has you covered with their assorted items and objects, including keys, a staff, gems, glass bottles, and more.
6 Legend of Zelda Symbols
These last six Legend of Zelda patterns feature symbols and logos that are important for many fans.
23. Triforce Symbol Perler Design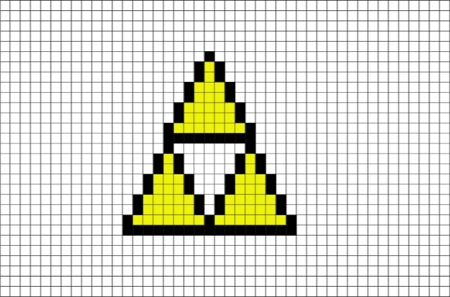 Anyone who holds the Triforce will wield immense power. SeekPNG creates this simple Triforce pattern, which consists of three triangles, representing each Triforce component.
Wielding the Triforce is similar to obtaining the Infinity Gems in Marvel Comics. Check out these Marvel Perler beads!
24. Legend of Zelda Heart Meter Pattern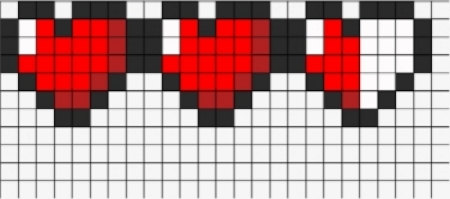 Any game, in some form or another, has a health point system that allows the protagonist to keep moving forward. The Legends of Zelda franchise is no different, and PNGKit shows it with their heart meter pattern.
Spread the love with these heart Perler beads.
25. Link's Shield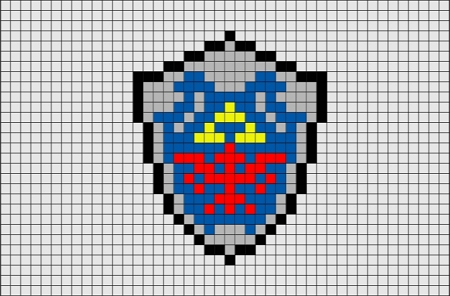 More than a defensive item, the Hylian Shield is a symbol of hope that inspires Hylian soldiers. Create this important symbol by following Brik's pattern.
26. Sheikah's Slate Pattern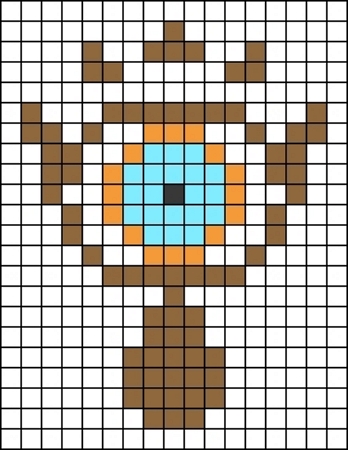 The Sheikah's Eye is another prominent symbol found throughout Hyrule. Also known as the Crest of Sheikah, it symbolizes the truth and perseverance of those willing to go to great lengths to achieve their goals.
TESTERBEN shares a simple pattern that even kids can easily replicate.
27. Golden Royal Crest Pattern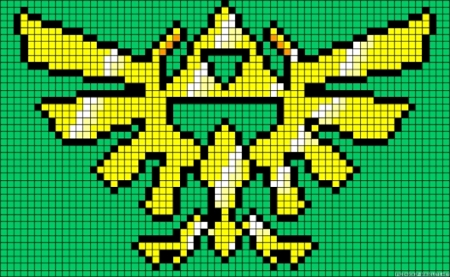 The Triforce is usually included in the Royal Crest, also known as Wingcrest, which is the official symbol of the royal family in Hyrule.
Barbra offers their version of the Royal Crest.
28. Legend of Zelda Logo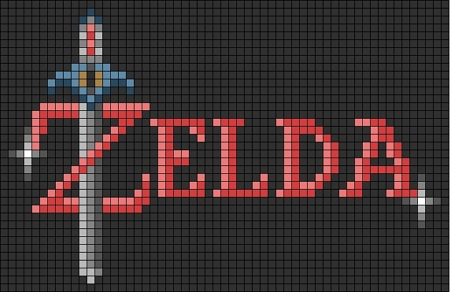 The list wouldn't be complete without including a Perler pattern of the super awesome Legends of Zelda logo created by Konakat1.
Legendary Zelda Perler Beads Patterns
Exploring Hyrule and making these Perler beads are beneficial for your little ones' experience and skills. Each monster defeated (or Perler bead pattern created) takes them one step closer to achieving their goals.
Keep gaining those experience points by making these other Perler beads designs: