It's almost Easter again, and that means our little ones have a chance to hunt for chocolate and make some Easter bunny crafts.
Kids can prepare for this spring festivity by making the craft shared below. Toddlers and preschoolers will have loads of creating them, so let's hop right in!
Check these awesome spring crafts for more fun Easter craft ideas.
3 Easter Bunny Craft Kits for the Busy Parent
If your family is just too dang busy to find all the materials necessary for Easter bunny activities, here are some easy craft kits to get you started.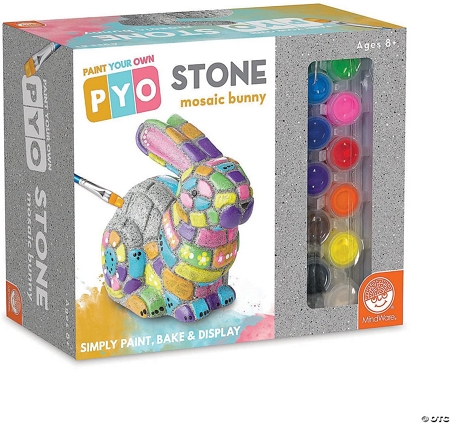 Unleash your children's creativity by getting them this mosaic bunny painting kit activity. A kit like this will help with developing fine motor skills and color recognition.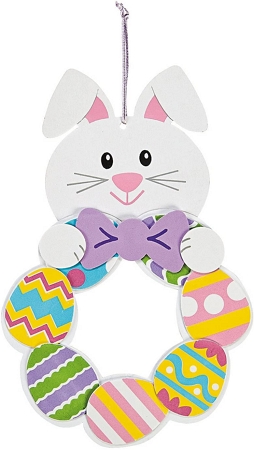 This kit will give you the Easter motif you need while providing a project that kids can work on leading up to the holiday.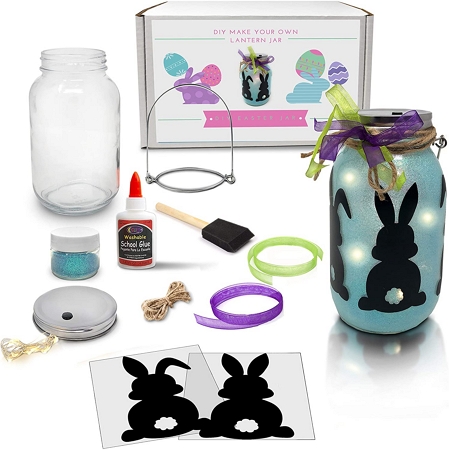 If you'd rather create something a little bit more special than just a plain paper Easter bunny craft, here's a DIY lantern kit that will embellish and illuminate any room once completed.
8 Easter Bunny Craft Ideas for Toddlers
4. Paper Bunny Easter Craft for Kids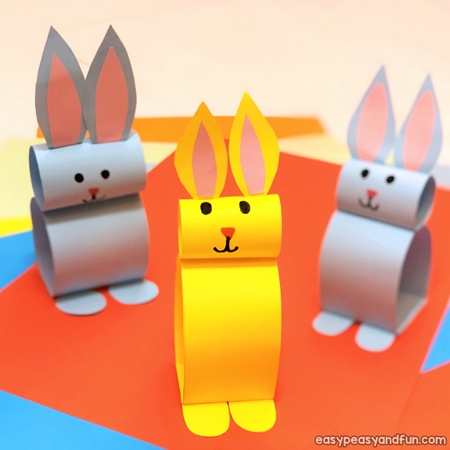 Train your children's folding and cutting skills by following this guide made by Easy, Peasy, and Fun. They suggest using colored construction paper with Easter tones, but your little ones should ultimately decide what color they prefer.
To make the craft livelier, attach a pair of googly eyes to the bunnies!
5. Easy Toilet Paper Easter Bunnies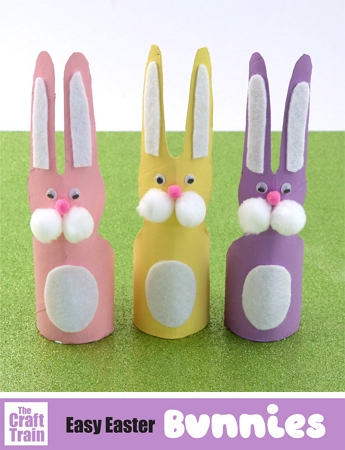 The Craft Train teaches us how to be more resourceful by repurposing paper towel rolls into these easy Easter bunnies crafts.
Add a pair of pom poms (or cotton balls) to make the bunnies' cheeks puffier.
Keep your crafts fluffy by checking out these other cotton ball crafts.
6. DIY Easter Bunny Cards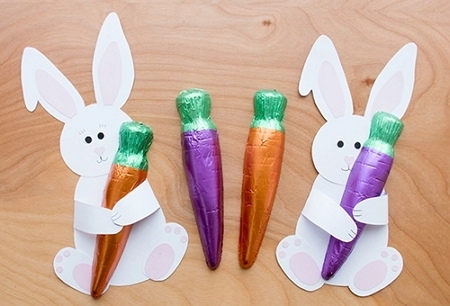 Lake Champlain Chocolates knows exactly how to convince children to make Easter bunny crafts, and that's by including chocolate.
Providing a template for the Easter bunny is the cherry on top of this simple bunny craft.
7. "B is for Bunny" Craft for Preschoolers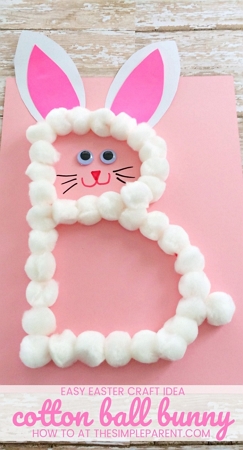 At some point, preschoolers will have to learn their ABCs. The Simple Parent provides the perfect opportunity by sharing this "B is for bunny" Easter craft idea.
Cotton balls are soft to the touch and provide a unique sensory experience for little boys and girls.
Practice the second letter of the alphabet by making these other letter "B" crafts.
8. Easter Bunny Paper Mask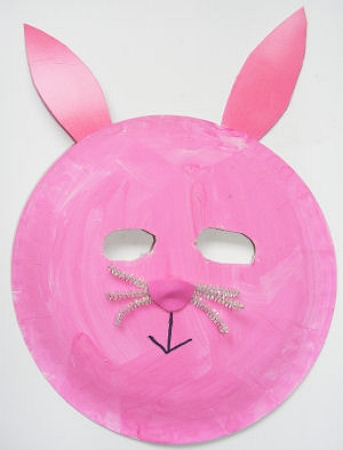 Doing impressions and pretend play can be a fun learning experience for children, so here's Activity Village providing an Easter bunny mask for kids who love making DIY masks.
Help your little ones role-play by doing these paper bag puppets!
9. Q-Tip Easter Bunny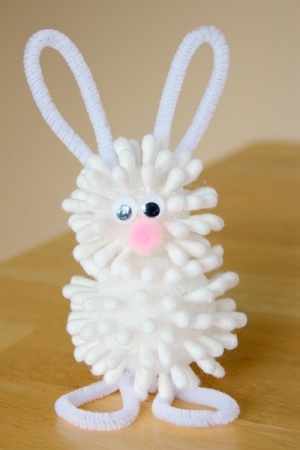 Be resourceful like Make And Takes who creates an Easter bunny out of q-tips and pipe cleaners. The kids can also change the color of the bunny by dipping the q-tips in paint before attaching them to the styrofoam body.
Get more ideas for simple craft activities following these pipe cleaner crafts.
10. Small Pom Pom Easter Bunny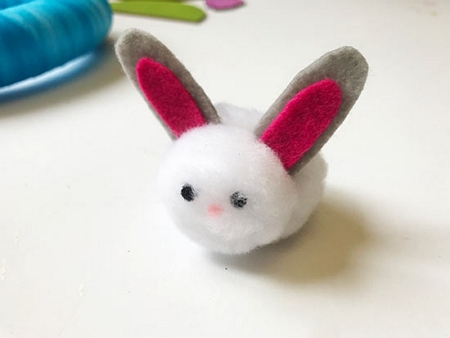 Factory Direct Craft makes it easy for toddlers to create an adorable bunny on their own. It's simply done by connecting two pieces of pom poms and adding some pre-cut felt ears. It's truly no-fuss!
For more no-fuss projects, check out this compilation of pom pom crafts that don't require a pom pom maker.
9 Cute Easter Bunny Crafts for Preschoolers
11. Egg Carton Easter Bunnies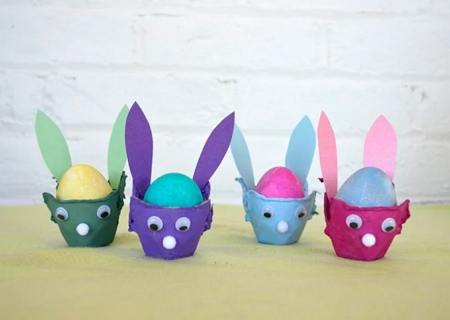 Momtastic shares an egg carton Easter bunny craft which involves the very simple process of painting the individual egg cartons.
What else can you make with egg cartons? Look through these egg carton crafts to find out.
12. Easter Egg Painting Activity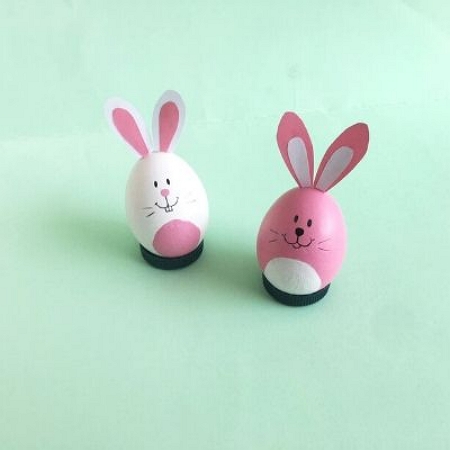 Easy Crafts for Kids shares a simple Easter bunny egg painting activity.
If you're using real eggs, then I suggest boiling them first before painting because they're prone to cracking and making a mess at the hands of small children.
Painting activities develop fine motor skills and creativity, so don't miss out on these owl rock paintings.
13. DIY Easter Paper Bag Craft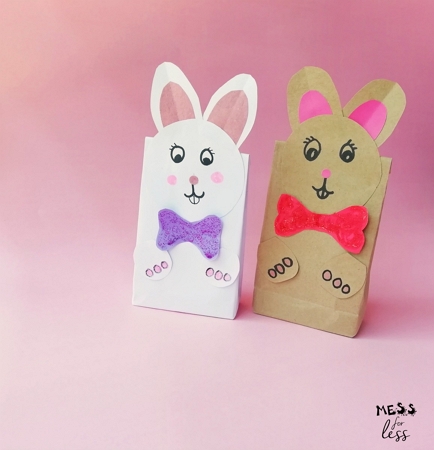 Here's a guide to make your very own Easter paper bag shared by Mess For Less. This project is actually made from just ONE piece of paper, providing a test of skill for your little ones' folding abilities.
14. The Easter Bunny's House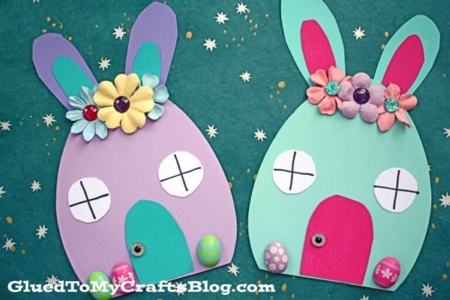 Glued To My Crafts Blog shares their version of the Easter Bunny's house. Embellish this art project with flowers, eggs, glitter, and anything that your imaginative children can come up with.
15. Yarn-Wrapped Bunnies for Preschoolers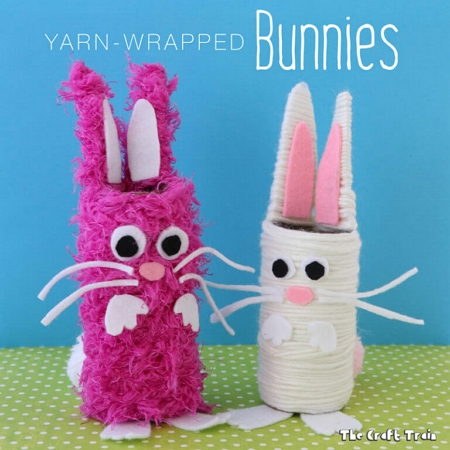 Most toilet paper roll crafts have a simple design, but The Craft Train takes it to the next level with these yarn-wrapped Easter bunnies.
It's not a complicated craft, either, since it simply involves wrapping a long yarn around a toilet paper roll.
16. Bouncing Paper Bunny
Easy Kids Craft's video tutorial of a DIY paper bunny includes one of the animal's cutest aspects: its ability to hop. Watch their paper folding technique to recreate this incredible bunny craft.
17. DIY No-Sew Sock Bunny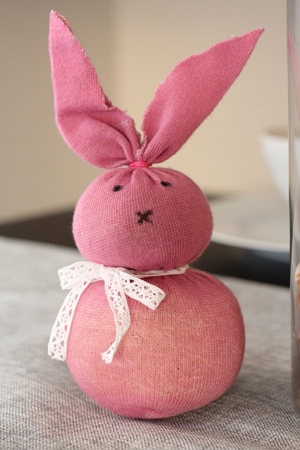 Would your kids love an adorable bunny doll to join them in their imaginary adventures? Feeling Nifty has you covered with their DIY and no-sew sock bunny that requires no sewing so that children can take part in the entire craft experience.
18. DIY Pom Pom Easter Bunny
Here's another cute Easter bunny project made by Art IDEA. The video tutorial shows the materials required to make this pom pom bunny and guides the viewer on how to transform yarn into an adorable pom pom, which provides the best texture for this animal.
5 Easter Bunny Painting Activities for Kids
Painting, either with hands or a paintbrush, can be a relaxing activity for children.
Maybe drawing is more of their thing, so try out these easy animals to draw as well.
19. Easter Bunny Handprint Craft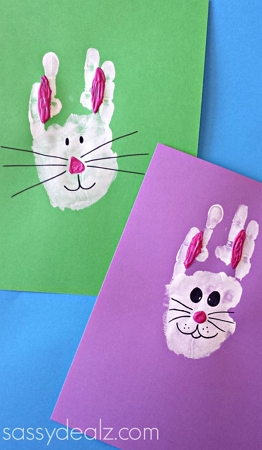 Crafty Morning shows us a simple Easter bunny handprint activity.
Handprint activities are more engaging than your typical craft because it involves dipping those tiny hands into paint and getting messy, which is not a bad thing at all for a developing toddler.
If you'd like to take these handprints to the next level, I've got just the thing for you: snowman handprint ornaments.
20. Bunny Paper Plate Painting Activity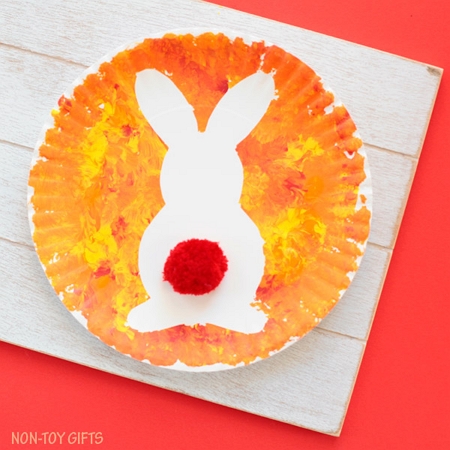 I love crafts that simple materials, just like this one by Non-Toy Gifts that involves a paper plate and paint.
21. Popsicle Stick Easter Bunny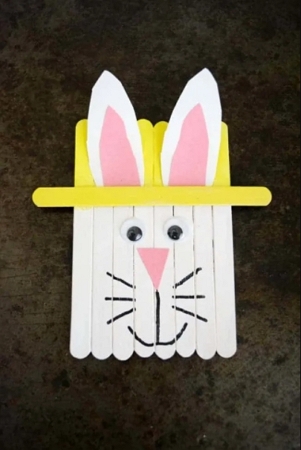 Try another painting idea by following this Easter Bunny popsicle craft from Today's Creative Ideas.
Encourage your little ones to try different colors or even add spring patterns to it, like flowers.
What other popsicle sticks crafts can you make?
22. Stamped Bunny Shirt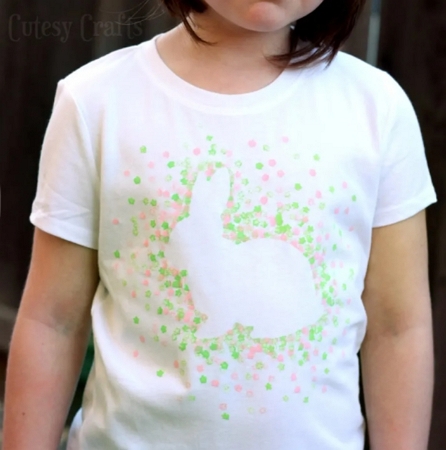 Cutesy Crafts adds flavor to a plain white t-shirt by sharing this Easter-themed painting project. The process is quite simple and involves using the eraser end of a pencil as the "paintbrush."
To transform your other plain white tees, here's a guide on how to tie dye a shirt.
23. Easter Bunny Footprint Art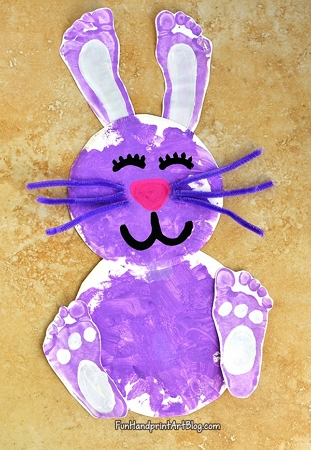 Footprint art can be messy, but the excitement your children experience is invaluable. Fun Handprintart Blog shows us how to paint an Easter bunny using your children's feet.
4 Useful Easter Bunny Crafts
These next few Easter bunny crafts serve an additional purpose other than being purely decorative.
25. DIY Easter Bunny Bookmarks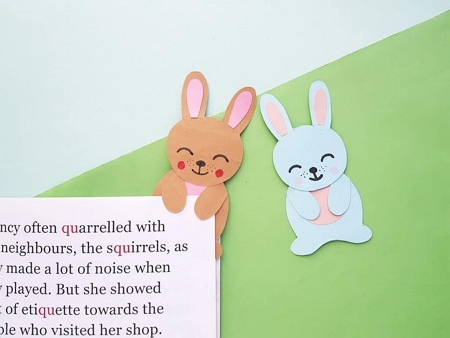 Stimulate the minds of your little children by creating these tiny bookmark bunnies by Big Family Blessings, which share a fantastic guide detailing how to make these adorable creatures.
26. Cute Easter Bunny and Easter Egg Bookmarks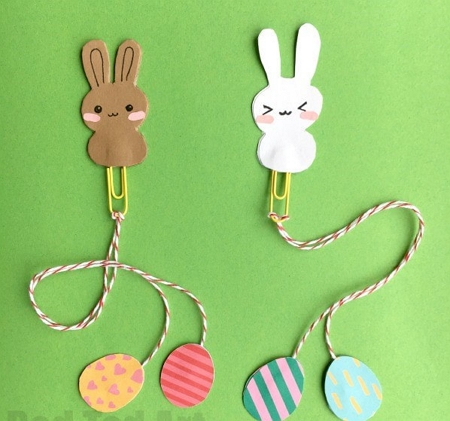 Wombwell Park Street makes their bookmark more unique by attaching a couple of Easter eggs with a string.
27. DIY Easter Bunny Gift Boxes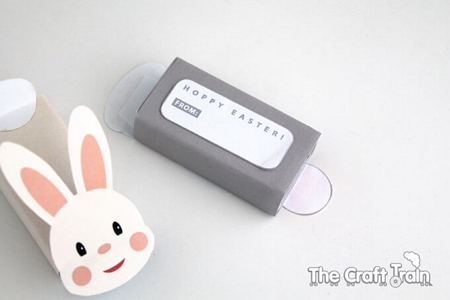 The Craft Train shares their blessing by providing a simple DIY Easter bunny gift box which can be filled with small chocolate bars and other tiny presents.
The Craft Train also provides a template.
Every-Bunny is Excited for Easter
I hope these Easter bunny crafts will make children look forward to one of the most exciting and important festivities of the year!
If you're looking for more fun Easter activities, try making these Easter Perler bead patterns.
Here are more exciting crafts and activities on the site: