Kawaii Perler bead patterns are such a fun craft for your kids to enjoy. The term kawaii is a Japanese word that means 'cute', and which kid doesn't like cute faces?
Though it directly translates to cute, kawaii is a description that refers to things such as objects, characters, food, etc., that have distinct features, such as big eyes and blushing cheeks.
Yes, you've read that right, you can put eyes and blush on food or objects and it becomes kawaii, even Perler bead crafts.
For those unfamiliar with Perler bead creations, I'll direct you to our post on easy Perler beads for kids, where you can learn more about them through a comprehensive beginner's tutorial.
To get you started, you'll need these materials and tools:
6 Animal Kawaii Perler Bead Patterns
The first 6 patterns include potentially scary creatures that have been transformed into kawaii animals.
1. Narwhal Kawaii Perler Bead Pattern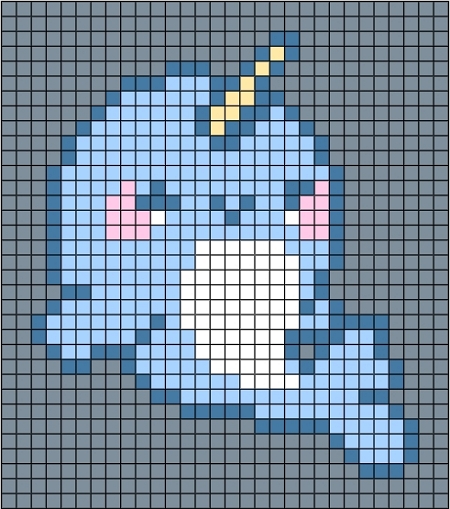 The narwhal and unicorn would be best friends if the unicorn existed in real life.
Bracelet Book provides us with this super cute narwhal baby that you and your kids can create.
Narwhal starts with the letter N, so reinforce your toddler's alphabet by introducing them to these letter N crafts!
2. Small Alpaca Kawaii Perler Bead Pattern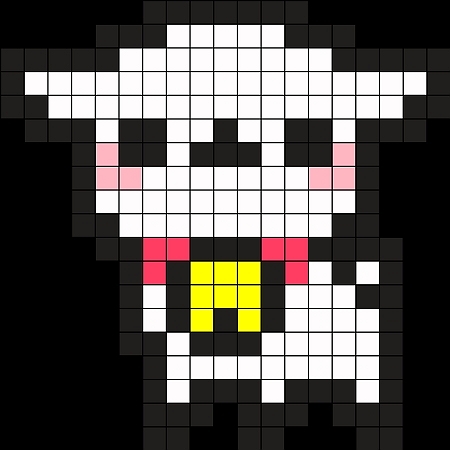 If your kid is looking for a small animal toy, try this small kawaii alpaca Perler bead from Kandi Patterns.
Did you know the llama is a distant cousin of the camel? Think of it as the camels of South America. If you wanna know more about camels, head over to camel crafts.
3. Kawaii Snake Perler Bead Pattern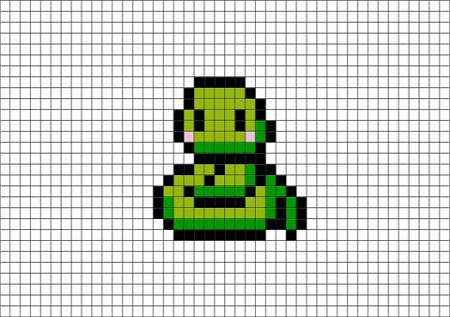 Snakes can be sneaky and deadly predators. But this pattern from Pinterest makes snakes look very non-threatening.
I love how two single pink Perler beads can change your view on this snake entirely.
If you like Harry Potter crafts, you'll know that the snake is the official symbol of the Slytherin house.
4. Kawaii Seal Perler Bead Pattern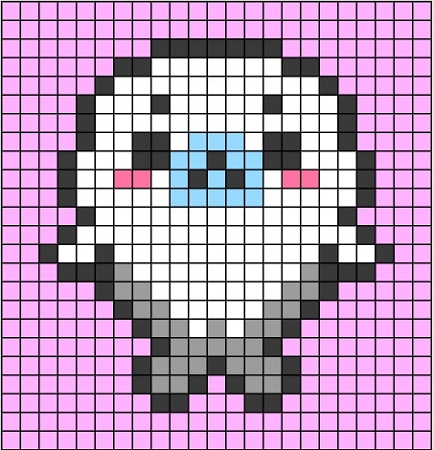 Is it possible to make the seal even cuter? Why, yes, just look at this kawaii seal Perler bead pattern from Bracelet Book.
This craft doesn't require too many beads. I just love how they included the shadow at the lower body of the seal.
5. Dinosaur Kawaii Perler Bead Pattern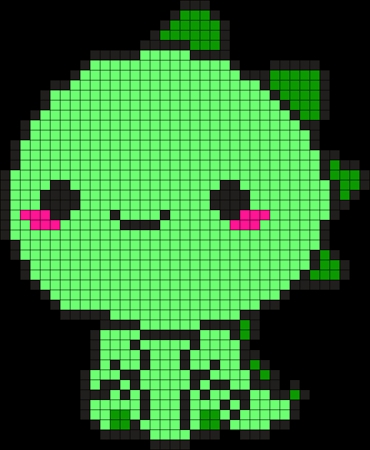 We've been told that the Tyrannosaurus Rex is a nasty and terrifying predator of the past. Well, this adorable Perler bead pattern from Kandi Patterns will prove otherwise.
That large head and blushing cheeks will bring a smile to any dino-lover's face.
6. Corgi Kawaii Perler Bead Pattern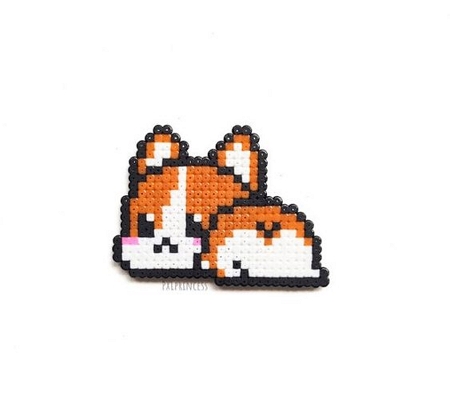 The Welsh Corgi is easily recognizable through its short stature. They are great models for Kawaii Perler bead patterns because they're naturally very cute!
Try to recreate this Corgi from Pinterest with your kids.
8 Kawaii Food Perler Bead Patterns
When speaking of kawaii things, you've got to include some adorable food items in the mix. You'll come to love food with facial features through these 8 kawaii food Perler bead patterns, and perhaps even find yourself salivating.
7. Kawaii Dango Perler Bead Pattern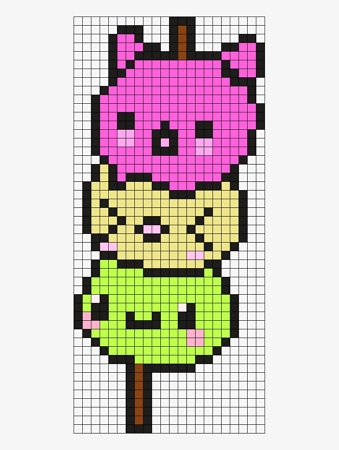 Dango is a sweet Japanese treat that consists of rice flour that's been shaped into a ball.
It's similar to mochi, but you can distinguish them easily by the dango's skewers.
PNGKit gives us three dango balls with different personalities and flavors!
8. Kawaii Kiwi Perler Bead Pattern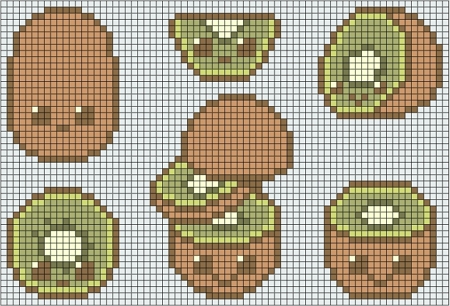 Kawaii kiwi almost sounds like a tongue twister. Try saying that 5x in a row. It's kinda hard. Not as hard as this Perler bead pattern, though.
Bracelet Book gives us 6 different kiwi variations to choose from. Or you could make a kawaii kiwi masterpiece by making them all together on one massive pegboard.
9. Kawaii Cupcake Perler Bead Pattern
My 4 year old walked in and saw my computer screen right as I found this one. His response?
A cupcake with a mouth and two eyes?! Are you kidding me?
I guess I know what we'll be making this afternoon.
Encourage your kids to add their own personal flavor to this cupcake from PNGFind by changing the colors of the frosting, and even the cupcake wrapper.
10. Milk & Cookie Kawaii Perler Bead Pattern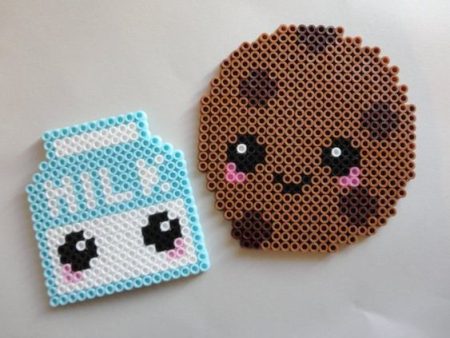 This milk and cookie Perler set just reminded me of Shopkins toys (which my niece was very fond of). Instead of buying expensive toys, simply make one of these similar-looking crafts from Pinterest.
Not only will your kids get to improve their fine motor skills, but they'll also get to play with their crafts after they are finished.
11. Strawberry Kawaii Perler Bead Pattern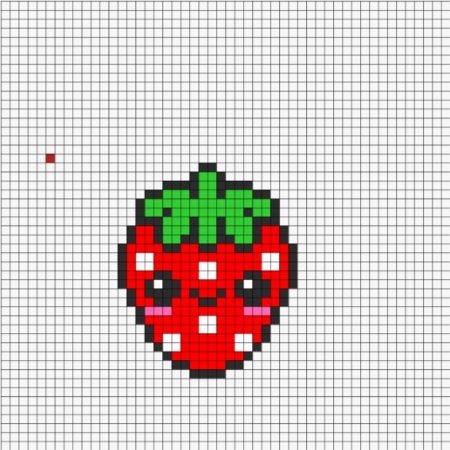 I never knew fruit could look this cute. It kinda looks like that this strawberry has hair and freckles!
12. Pancakes Kawaii Perler Bead Pattern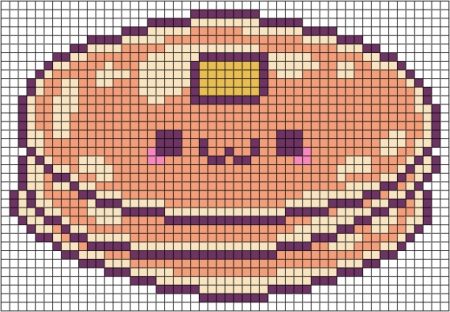 The only thing missing from this delightful stack of pancakes is the maple syrup to match.
Apart from that, these pancakes look like they're ready to be eaten.
See if your kids are creative enough to add some maple syrup dripping down this pancake, courtesy of Bracelet Book.
13. Delicious Kawaii Onigiri Pattern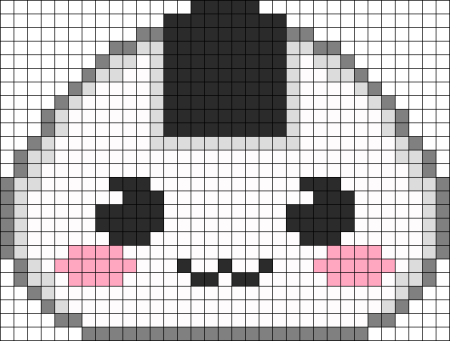 Onigiri is a rice snack that consists of a rice ball shaped into a triangle with some delicious fillings.
Make some real onigiris after you've created this Perler bead craft from Kandi Patterns because your kids will no doubt be drooling.
14. Kawaii Bowl Of Ramen Idea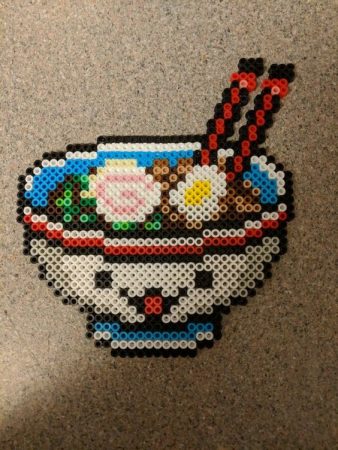 Here's an adorable kawaii bowl from Pinterest happily holding some ramen noodles for you and your kids.
3 Ice Cream Kawaii Perler Bead Patterns
Sometimes you just need a cold beverage or ice cream to keep you from melting during those hot summer days.
Get inspired by making some kawaii ice cream Perler bead patterns and reward yourself with a treat.
Craving more delicious treats? By that I mean crafts, so here are some more fun ice cream crafts to cool you down.
15. Three Kawaii Ice Cream Pattern Variations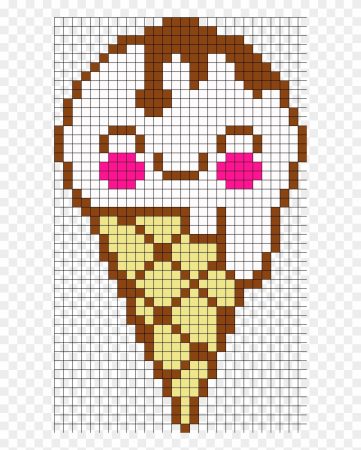 These three ice cream cones are pretty similar but they are all so cute I just couldn't decide which would make the cut.
First, this kawaii cone from PNGFind is topped with chocolate syrup.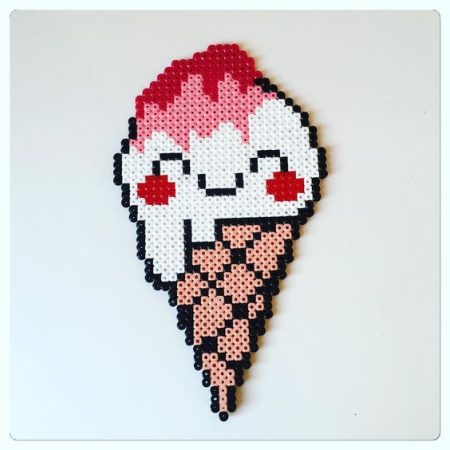 Next up, this Pinterest ice cream cone is topped with strawberry syrup instead.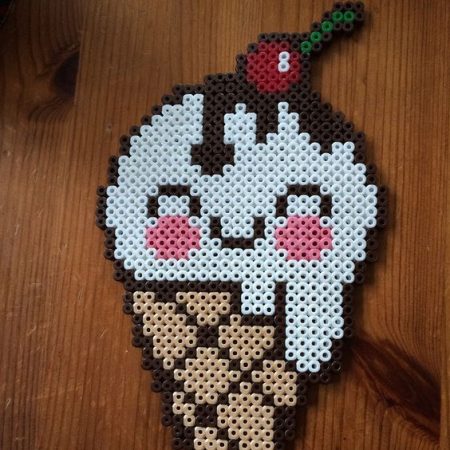 Our last cone is the fanciest of them all. You can literally put a cherry on top, like this idea from Pinterest.
Try to experiment with different ice cream flavors and toppings. My favorite is pistachio.
16. Simple Ice Cream Cone Perler Bead Pattern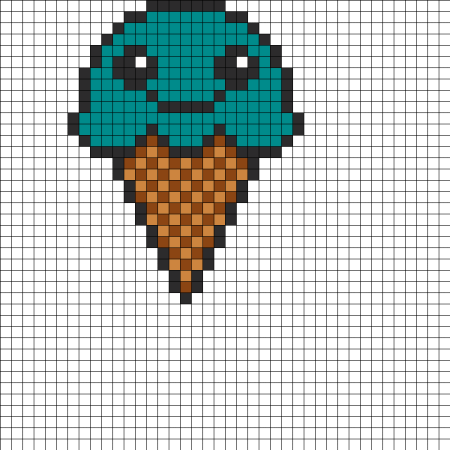 Not ready to accept that your ice cream cone is going to melt in the hot sun?
Ya, me neither.
That's why I like this perfectly formed scoop from Kandi Patterns.
17. Ice Cream On A Popsicle Stick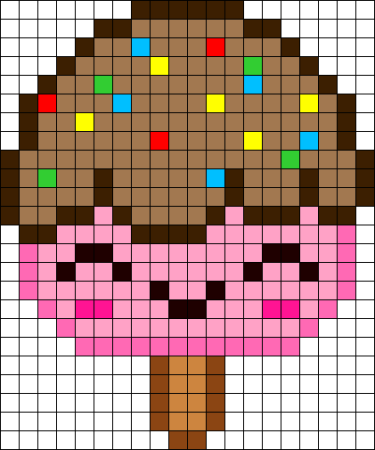 I've got one last ice cream pattern for you from Free Bead Pattern, complete with a big smiley face and rainbow sprinkles!
7 More Kawaii Perler Bead Patterns
Let's delve further into what things we could turn into kawaii characters.
18. Kawaii Ghost Pattern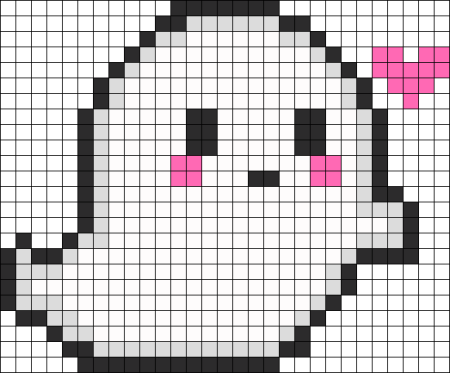 Just like these Halloween painted rocks have demonstrated, monsters and ghosts aren't all scary.
The additional kawaii features, like this ghost from Kandi Patterns, will actually encourage your children to befriend these not-so-spooky entities.
19. Boba Tea Kawaii Perler Beads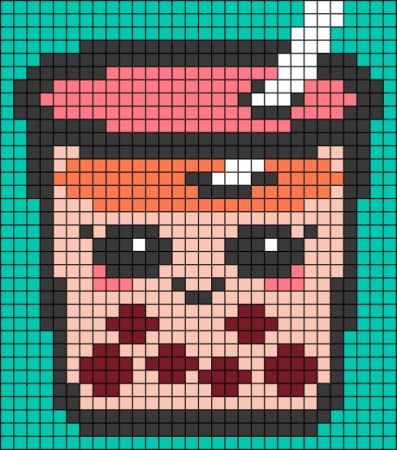 Pick up a fresh cup of boba tea before sitting down to make this kawaii boba tea Perler bead pattern with your kids.
You'll get a couple of minutes to yourself to sit and enjoy your drink and you're kids will have fun creating a project of their own.
This kawaii boba tea pattern is provided by Bracelet Book.
20. Kawaii Camera Perler Bead Pattern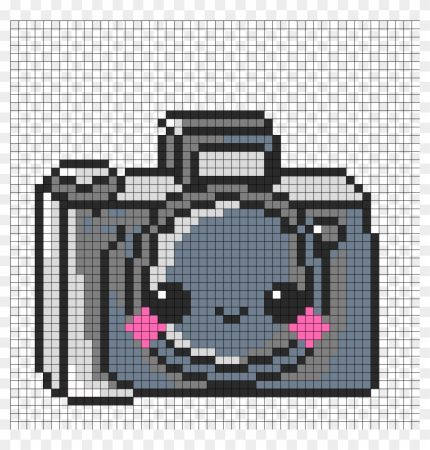 Kids love to play pretend, whether it's with toy animals or through paper bag puppet crafts.
With this kawaii camera from PinPNG, they'll be able to capture their imaginary world and friends.
21. Kawaii Pumpkin Perler Bead Pattern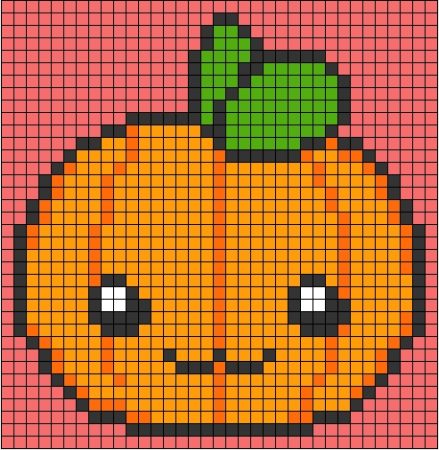 Is Halloween over and yet your kids still want to create some autumn crafts? Maybe they should try making this kawaii pumpkin Perler bead design from Bracelet Book.
These paper-mache pumpkins are another perfect craft for the autumn season.
22. Kawaii Heart Pattern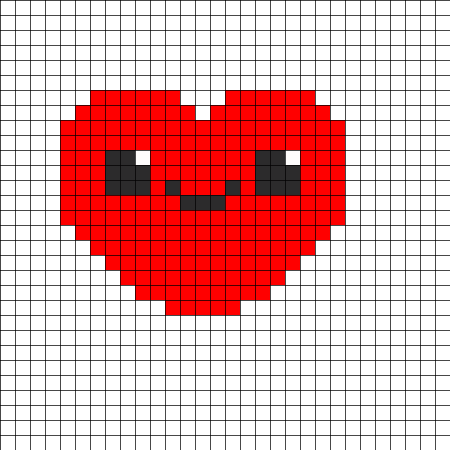 You can slap a pair of eyes and smile on any object, food, or abstract thing and call it kawaii.
Just like this kawaii heart from Kandi Patterns.
Recreate this to show your affection for your little ones.
23. Kawaii Test Tubes and Beakers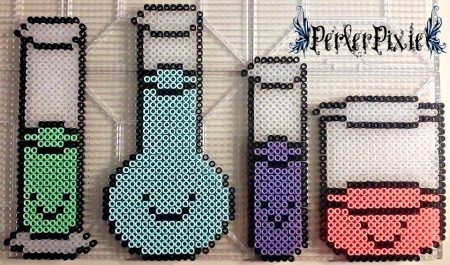 Another activity that kids love to do is experimenting, whether it's with bottles of shampoo mixed with some toothpaste, or other combinations that they're curious about.
Free Bead Pattern's kawaii beakers and lab tubes allow your children to be little scientists without getting messy.
24. Kawaii Cactus Pattern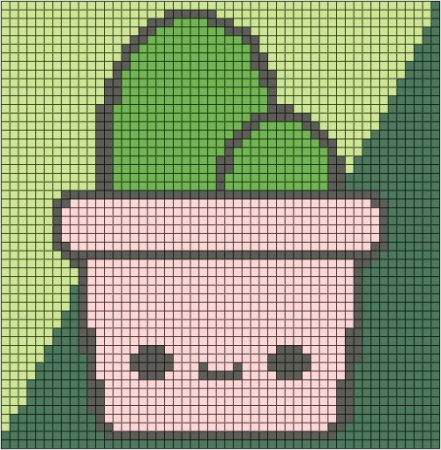 Would your kids love to have a cactus decoration without the hassle of watering it every once in a while and the risk of pricking themselves?
You should make this kawaii cactus, with the added benefit of being super adorable.
Check out Bracelet Book's variations on this cactus to get more ideas.
6 Other Kawaii Perler Bead Patterns
These last 6 kawaii Perler bead patterns have some famous characters that you might instantly recognize.
25. Loki Kawaii Perler Bead Pattern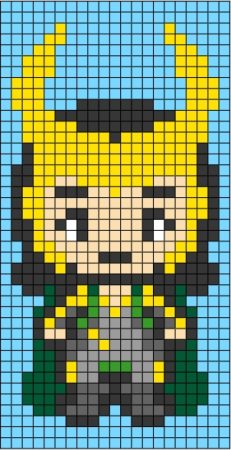 Marvel fans will have undoubtedly been blown away by the Loki series on Disney+.
While some kids might be too young to grasp the concepts tackled in the show (like time travel), they'll have no difficulty following this Loki pattern from Bracelet Book.
Do you know what else airs on Disney+ that kids love? Bluey and her family! I'm sure your kids are fans of the Blue Heeler puppy, so check out our post on various Bluey crafts.
26. Mario Mushroom Kawaii Perler Bead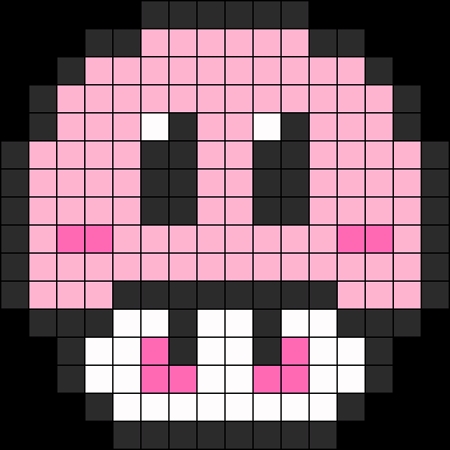 Mushrooms in the Mario series have the ability to transform your main character, like growing Mario, among other powers.
I wonder what this kawaii pink mushroom from Kandi Patterns does when you craft it.
There's only one way to find out.
27. Teenage Mutant Ninja Turtle Kawaii Pattern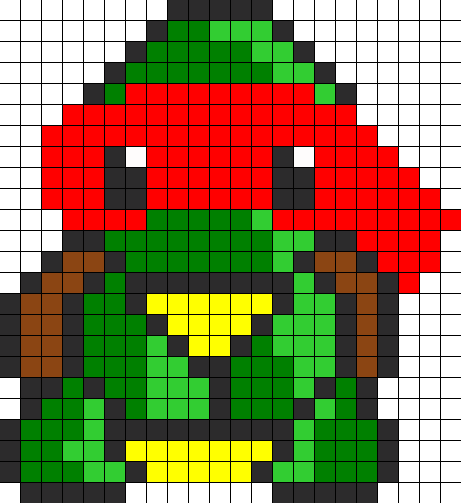 Try to recreate one of the legendary Teenage Mutant Ninja Turtle, Raphael, through this easy pattern provided by PNGKey.
28. Cat Ghost Perler Bead Pattern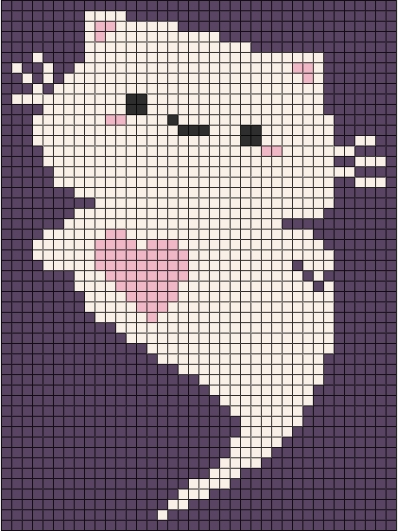 Cats are one of the cutest pets in the world. Couple that with kawaii features and you have a dangerously cute craft, like this pattern from Bracelet Book.
Looking for more adorable cat Perler bead patters? Here's a whole article full of them. 
29. Condiments Kawaii Perler Bead Pattern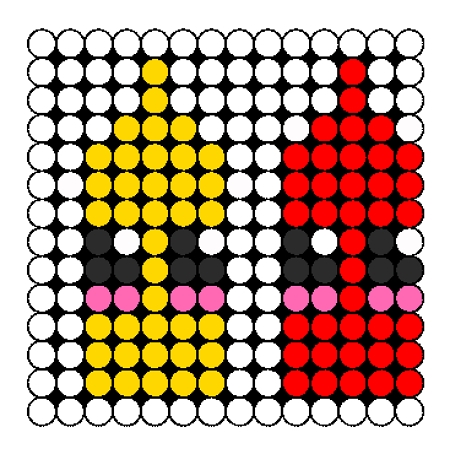 Are your kids missing that Zing! that they need on their imaginary burgers and hotdogs?
Well, Kandi Patterns has got you covered with these friendly ketchup and mustard bottles to accompany your snack dishes.
30. Kawaii Baby Yoda Perler Bead Pattern
If Grogu wasn't cute enough, then this kawaii Perler bead pattern from Bracelet Book will fully convince you.
Try these other Baby Yoda crafts if you and your kids are Star Wars fans.
Cuteness Overload For Your Kids!
Add a smile to your day with these 30 kawaii Perler beads.
Which pattern did you find the most charming? I'd love to hear in the comments section below!
If you're still looking for craft ideas to keep your children busy, take a gander at these pinecone crafts and sun crafts.