Fill up your children's collection of animals by making these Perler bead frog patterns, one of the most recognizable amphibians for kids!
Making animals out of Perler beads can be a really exciting activity, and frogs are no exception.
These typically small animals live near ponds, rivers, and lakes, and can breathe underwater through their thin skin. Frogs, salamanders, toads, and newts, in general, can look slimy, and that's because they require water to survive.
Children who feel uneasy about these types of animals might have a change of heart once they complete making one of these frog melty bead patterns! I've compiled different frogs, from simple-looking ones to adorable frogs to popular frogs you might recognize.
3 Perler Bead Frog Kits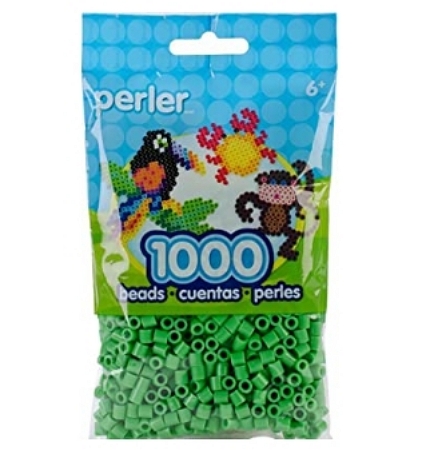 There are many species of frogs with different colors, including yellow, red, blue, and black, but the most popular image of the frog and one that typically comes to our minds is a green-colored frog.
While you can challenge yourself and your little ones to vary the color of the patterns provided below, I find that beginners should stick with the original designs, which heavily feature the green color. So, it's best to stock up on these green beads before embarking on your Perler bead activity.
Beginners trying to figure out the basics of Perler beads can find out more in our easy Perler bead patterns guide!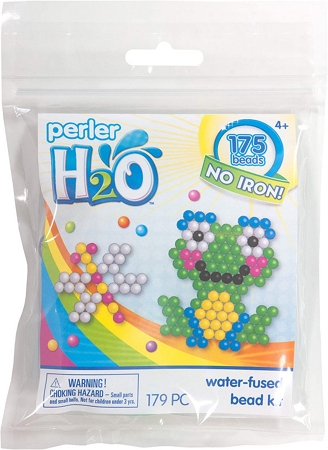 Classic Perler beads require heat to melt and fuse the beads together. While ironing the beads shouldn't pose any problem for an adult, it might pose a challenge if your little ones want to participate in the process of linking the beads together.
That's where these Perler H2O come in. Unlike the heat-activated process of fuse beads, these innovative beads are activated through water, allowing children to be part of the entire Perler bead activity.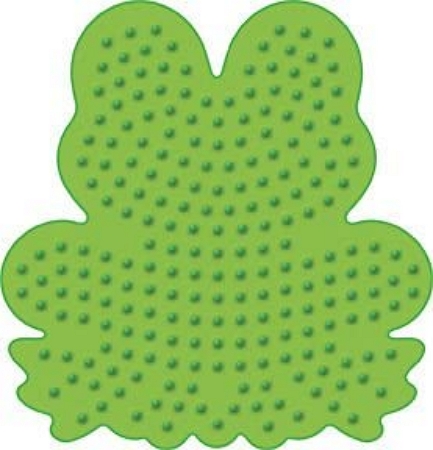 Preschoolers who are not yet able to discern patterns can stick to this frog pegboard. While there's still some creativity required to create a frog, a process with which adults can help, there's no need to think about where each bead needs to go with this pegboard.
7 Basic Frog Perler Beads
The seven patterns below will start with basic frog designs, followed by more detailed ones for older children.
4. Simple Frog Perler Pattern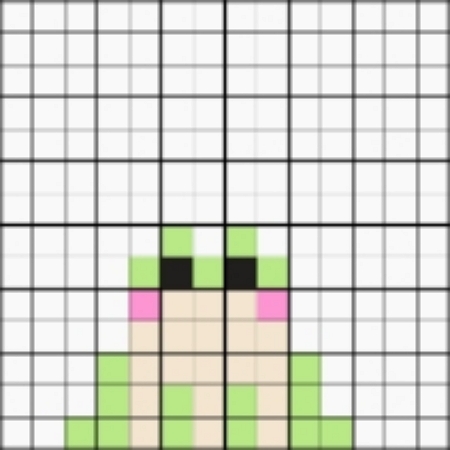 Younger children don't need to have a hard time with such an exciting activity as Perler beads. PJDoesStuff provides one of the simplest frog Perler bead patterns.
5. Young Frog Design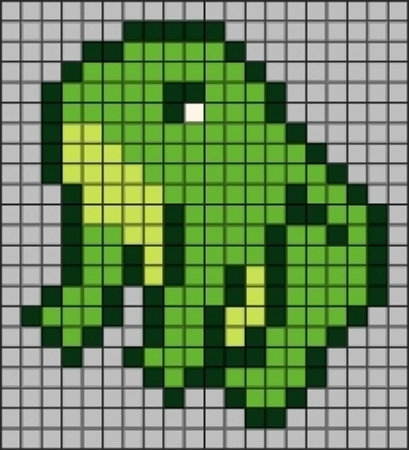 Unlike the life cycle of humans, who are born on land and grow on land, frogs have a very unique life cycle and they undergo through change a process called metamorphosis.
Frog eggs are laid in water. They hatch into tadpoles that swim in the water. After some time, they transform into frogs that can go on land.
Here's goldflower depicting a seemingly young frog who looks like it just got out of water.
6. Easy Frog Perler Beads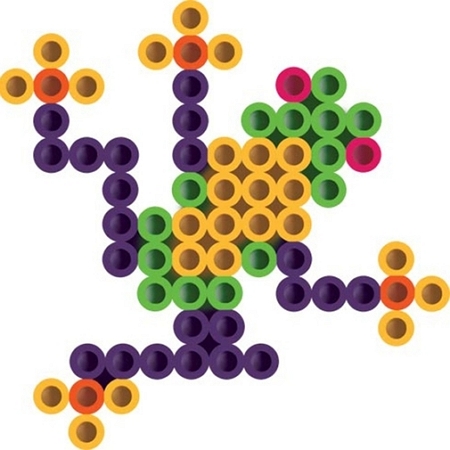 As mentioned before, frogs come in different colors. It's a way of saying to their predators that they're filled with poison; because of that, they're to be left alone.
Perler shows us a very colorful frog pattern that frog lovers can't miss.
If you love colorful stuff then you'll enjoy these rainbow crafts even more!
7. Balloon Frog Perler Beads Idea

Disclaimer: no frogs were harmed during the writing of this article. Joking aside, this frog with a balloon from lolbit looks really cute.
If your kids love balloons, here are more balloon crafts for them to enjoy!
8. How to Make a Cute Perler Bead Frog
Laceys Crafts's channel provides this simple video tutorial on how to make a cute Perler bead frog. Watching a video tutorial is really convenient since it can be paused, slowed, or even put on rewind should you feel that the pacing is too fast.
9. Adult Frog Pattern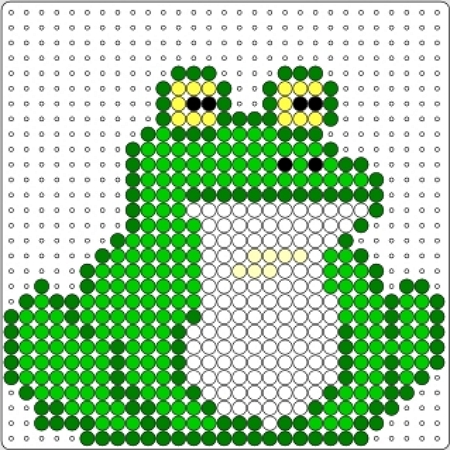 Scientists have discovered that the oldest frog is in New Zealand, and is reportedly 37 years old. You might think that 37 years old is not that old when compared to the lifespan of humans, but it's actually impressive since frogs have a lifespan of 10-12 years old.
Perler Bead Patterns shows what an adult frog looks like with their straightforward frog pattern.
10. Detailed Frog Design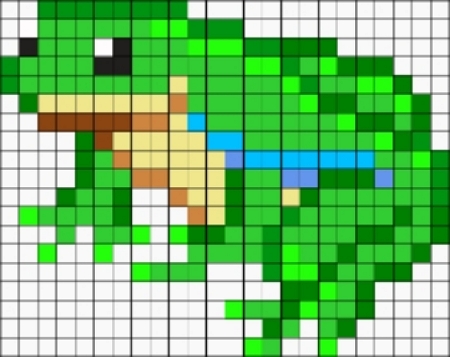 If you're a person who loves noticing the little details, then this frog pattern from Devildove is for you!
From the dark green outline to the light green tone of the frog's webfoot, there's no doubt that effort has been poured into the details of this pattern.
11. Strawberry Pacman Perler Bead Pattern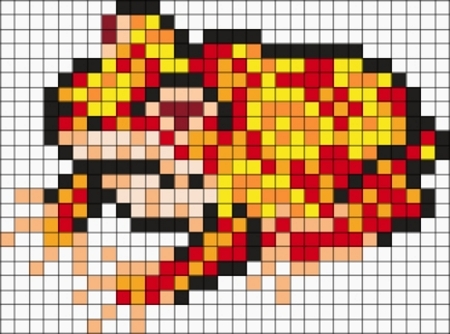 You might be asking yourself, "Was there any frog character in Pac-Man?". Well, no, there wasn't. This pattern by garrettschueman is inspired by a frog in real life, which got its name from its triangular mouth and round body that resembles Pac-Man.
If you ever feel nostalgic, simply make these Pac-Man Perler Beads and reminisce the arcade days.
7 Cute Frog Perler Bead Patterns
Frogs can look ugly — even disgusting — to some, but here are some patterns that will change your mind.
If you're enjoying these frog activities so far, then you might want to check these frog crafts for kids next!
12. Adorable Frog Pattern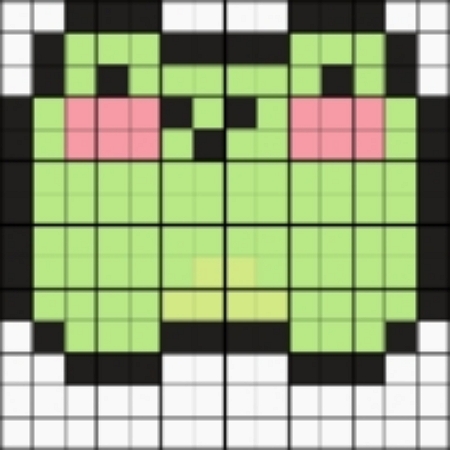 Here's one of the cutest frog patterns out there, courtesy of Babyface1019.
Melt your heart further with these kawaii Perler bead patterns.
13. Cartoon Frog Perler Design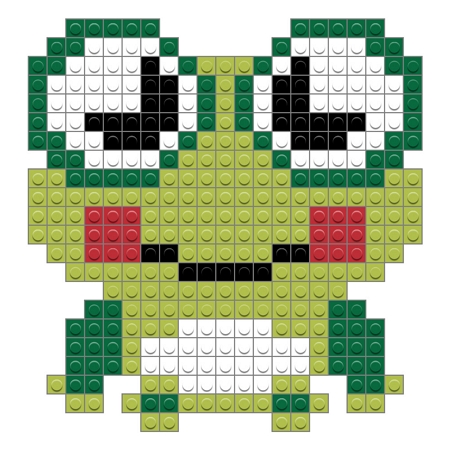 Children love watching cartoons, so there's no doubt that they'll relate to this frog pattern by Brik, who creates a wonderful frog with a cartoon style.
For more cartoon-related activities, check out our awesome list of Bluey crafts and Paw Patrol crafts!
14. Cute Frog with Flower Perler Bead Pattern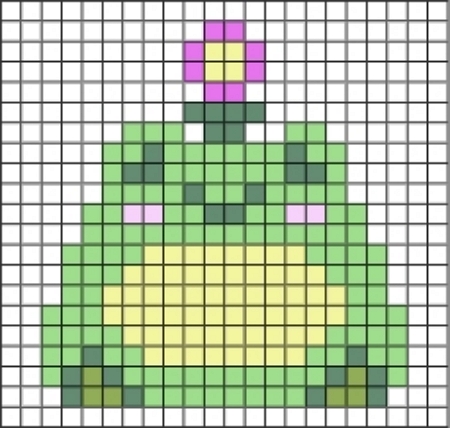 I'm sure there are fewer things that are cuter than this chubby frog pattern with a flower on its head, shared by Claire91.
Enjoy making these Perler Bead flowers during the spring and summertime!
15. Little Frog in a Floatie Pattern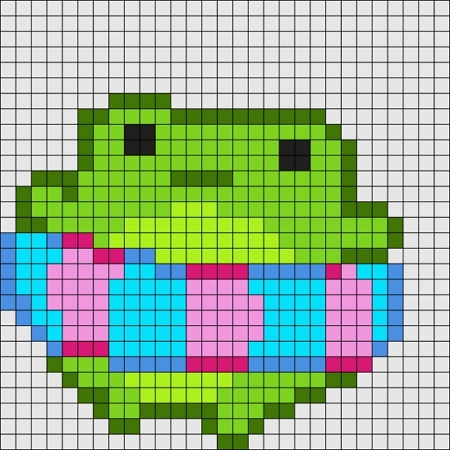 We know that frogs are amphibians, so they must live near water to survive. This pattern by Cheech_and_Chong247 of a frog in a floatie is quite ironic, funny, and super adorable.
Don't be afraid of the water and make these refreshing ocean crafts!
16. Spitz in a Frog Suit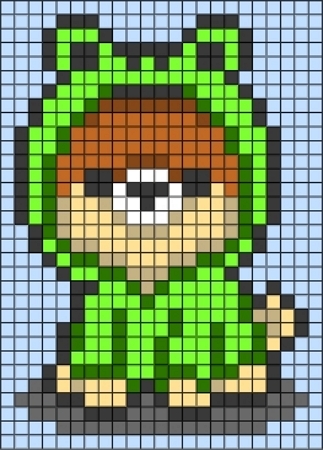 What's cuter, a dog or a frog? Why not have them both with alexas's pattern of a cute dog wearing a frog hoodie?
Dog lovers won't think twice when deciding to make some dog Perler beads.
17. Cat in a Frog Hat Pattern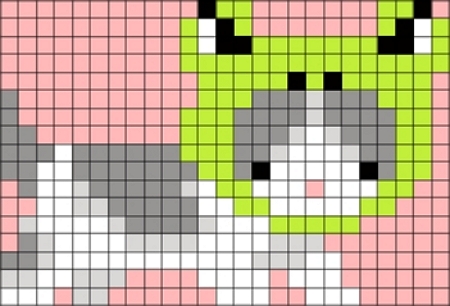 If you're more of a cat person, then try out kittenformula's pattern of a cat in a frog hat!
See more patterns in these cat Perler beads!
18. Frog Ice Cream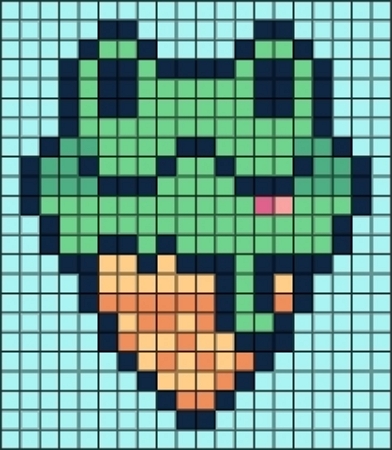 I've seen bizarre ice cream flavors, such as red pepper or basil flavor, but I've yet to see a frog flavor ice cream — not that I'd like to see one. For those who, like me, are curious about seeing a frog-flavored ice cream but not in real life, Skribble has got you covered with this interesting pattern.
For less peculiar flavors, see our list of ice cream crafts that kids can do during the summer!
8 Frog Perler Beads from Popular Media
Like other animals, frogs have had their fair share of representation in popular media. Here are just some of the more iconic ones.
19. Mario Frog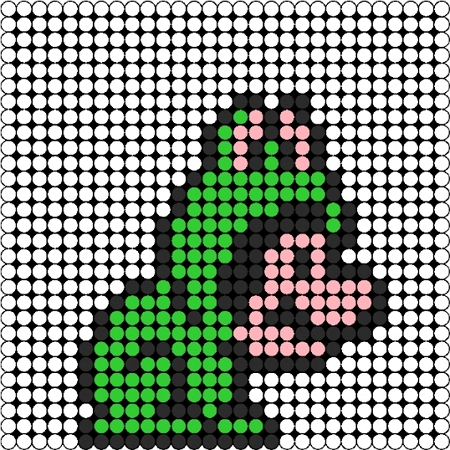 When Mario gets the ability of the frog, he improves his mobility underwater at the cost of being restricted to hopping on land. SeekPNG shares a pattern of Mario wearing the frog suit.
For hardcore fans, here are more Super Mario Perler bead patterns!
20. Om Nom from Cut the Rope Pattern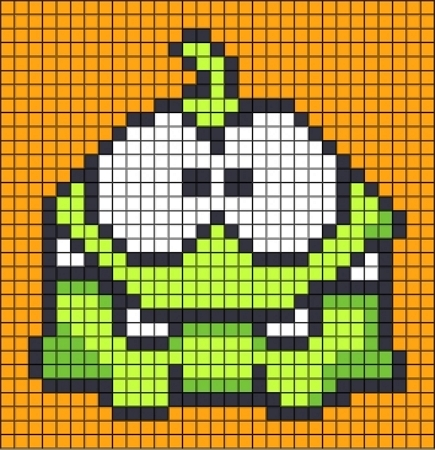 Om Nom is the iconic character from the mobile game Cut The Rope. While Om Nom isn't a frog, you can't blame anyone who may think that. Here's archival showing a great pattern of Om Nom.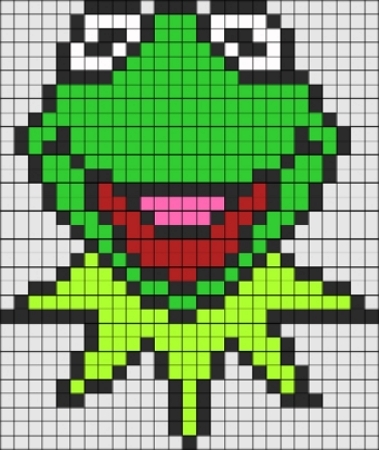 Perhaps one of the most iconic frogs in popular media, Kermit the Frog has been around for decades. NicePNG helps us commemorate him with a face pattern.
22. Keroppi from Hello Kitty
If you're a Hello Kitty fan, then you'll instantly recognize Keroppi, whose pattern is kindly shared by frogbert.
23. Princess Tiana from The Princess and the Frog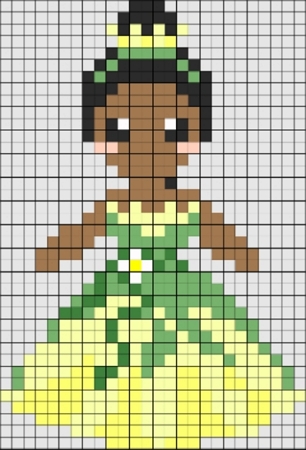 Disney fans out there can think of only one princess who has any involvement with frogs, and that is Princess Tiana. PNGKit shares Princess Tiana in her memorable lily pad outfit.
Would you like to customize your own princess? Look no further than these DIY Mickey Ears!
24. Pepe the Frog Meme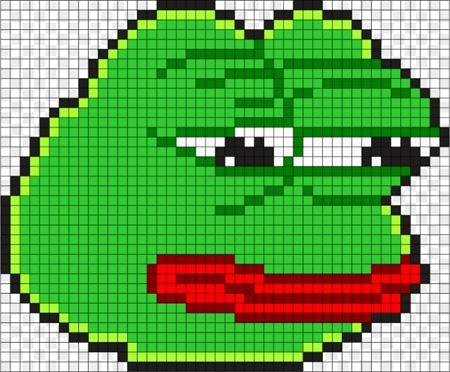 Memes have been an internet phenomenon for the longest time. Here is PNGFind sharing one of the most famous memes out there, Pepe the Frog, who has been featured in countless memes.
25. Politoed Frog Pokemon Perler Beads
Enlarge your Pokemon collection by making this Politoed pattern provided by maximus237.
Gotta catch 'em all with these Pokemon Perler beads!
Ribbiting Frog Perler Bead Patterns!
From simple frog patterns to popular frogs featured in popular media, you'll no doubt find your perfect frog Perler bead in this list!
If you'd like to see more animal patterns, then head on to our other lists here: