Step one. (Re)watch Moana. Step two. Pick out of these 20 awesome Moana crafts to do with your kids.
You can take to the ocean without ever having to leave the comforts of your home.
What else can I say except you're welcome for these 20 Moana crafts below!
You may also want to check out these sweet ocean crafts while you're here.
10 Characters From Moana Crafts
Below are 10 character crafts that your kids can enjoy making and playing with afterward!
1. Moana Paper Doll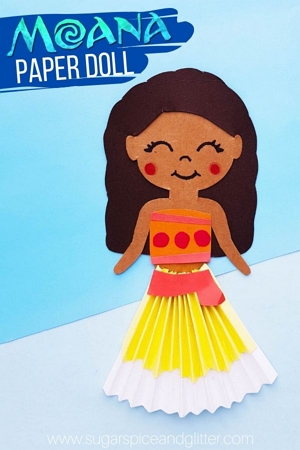 We are starting the list off with no other than the main character herself, Moana!
This is a cute paper doll craft available from Sugar, Spice And Glitter.
Moana's skirt is folded like an accordion, making it a great practice for your children's fine finger movements.
Overall, this craft is a great Disney Princess paper toy your children can play with and will be a very welcome addition to their toy collection.
2. Moana Perler Bead Craft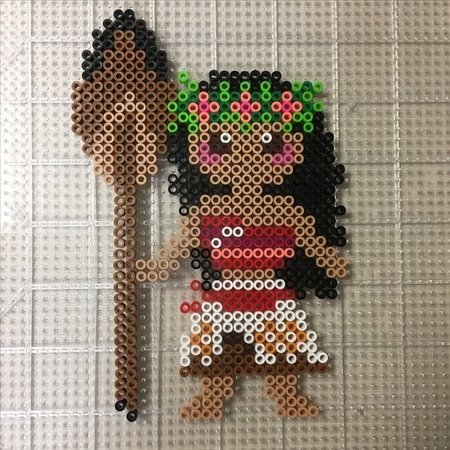 The next is a lovely Perler bead craft of Moana holding her trusty wooden paddle, courtesy of Pinterest.
Perler beads are one of the easiest crafts that your children can make because they're such an intuitive activity that involves placing in order the correct colors of beads.
Placing the little beads will also help tune your children's fine motor skills.
If you aren't too familiar with it, here's our easy Perler beads post where you'll find a comprehensive beginner's guide to this exciting activity.
3. Maui From Moana Drawing
While the movie is centered on the Disney Princess, many kids have earned the respect and admiration for another main character, the demigod Maui.
It's not surprising why kids love Maui so much. He's such a cool and strong character, having the ability to shapeshift into other animals!
Learn how to draw Maui with this excellent video tutorial from Art For Kids Hub.
Introduce your toddlers to some easy animal drawings!
4. Maui Disney Ornament Craft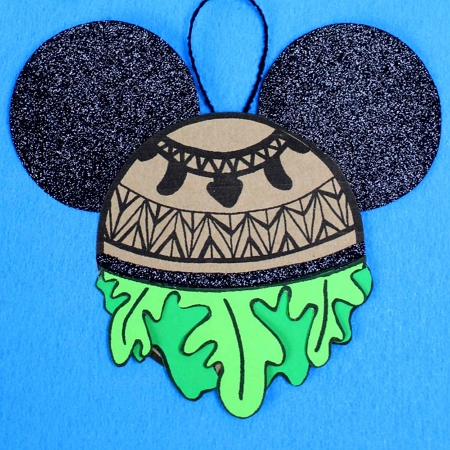 Moana-inspired Mickey Mouse crafts are also a very popular activity among kids. After all, Moana is made by Disney.
This Maui Disney ornament is a perfect craft if you're looking to spruce up your children's bedroom with some of their own creations.
It's also an easy craft for toddlers and preschoolers because Mama Likes This provides a 100% free printable template of this Mickey Mouse Maui design.
5. Hei Hei Toilet Paper Craft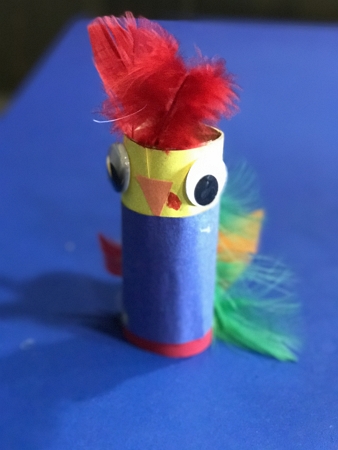 It wouldn't be a children's Disney movie without the silly and loyal sidekick that accompanies the protagonist throughout their journey.
If other Disney Princesses like Elsa, Mulan, and Ariel have Olaf, Mushu, and Flounder as traveling companions, Moana has the silly rooster, Hei Hei.
Except Hei Hei is not your typical helpful sidekick, usually finding himself in very dangerous situations to which Moana always comes to the rescue.
Get your children their own companion to rescue by creating this toilet paper roll Hei Hei craft from Taylor Joelle's blog.
Channel your love for upcycling through these toilet paper roll crafts!
6. Hei Hei Cool Paper Craft
Here's an impressive Hei Hei paper craft, courtesy of My Paper Quest.
This is a great way to spend some time with your kids, as well as improve their scissor and gluing skills because it involves plenty of cutting and combining different colored cardstock paper.
Just protect Hei Hei from the bathtub and any other body of water because we all know how much he hates being lost at sea.
7. Baby Moana And Pua Toilet Paper Craft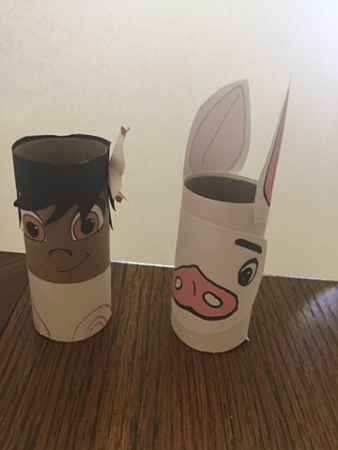 Create these incredibly cute Moana and Pua toilet paper rolls to start your children's imaginary ocean adventures.
While Pua is originally Moana's loyal childhood pet, he became traumatized by the challenges of the aggressive ocean and decided to not go with Moana on her adventures.
Nevertheless, he'll boost your children's morale by being their biggest supporter! Recreate these cute toilet paper rolls made by Musings Of An Average Mom.
8. Moana Ocean Slime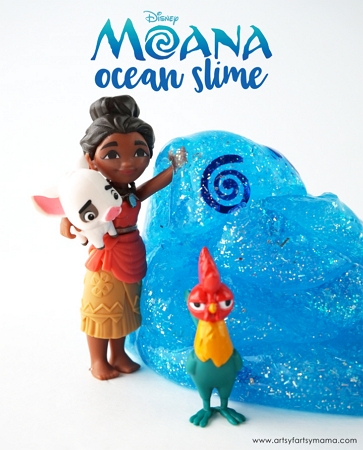 The living ocean is essentially a secondary character within the movie, being always within the sphere of Moana's journey (or vice versa).
I know kids love the gooey and jiggly sensation of slimes, so let your kids experience some tactile sensory play by creating this easy-to-make ocean slime.
Artsy Fartsy Mama has the ingredients to complete this craft.
9. Moana Kakamora Paper Plate Craft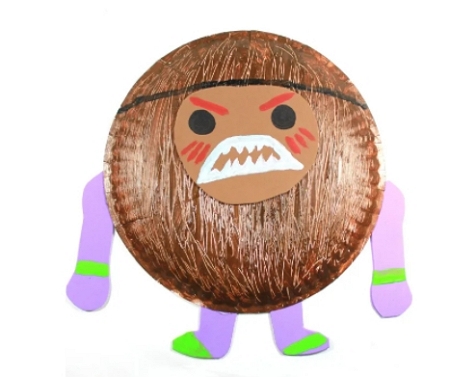 Complete your children's hero journey by helping them take on the ocean's most fearsome and adorable little monsters.
Moana and Maui overcame one of their obstacles by retaking Hei Hei and the Heart of Te Fiti from these coconut pirates called Kakamoras.
Tell your kids to protect their valuables from these paper plate Kakamoras. The Pinterested Parent has all the instructions on how to make these angry little creatures.
10. Shiny Tamatoa Paper Plate Craft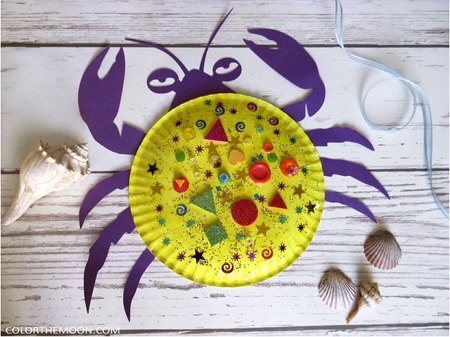 Tamatoa is an iconic villain who provided so much trouble and lessons for Moana and especially Maui.
He enjoys collecting shiny things and placing them on his shell. Add other shiny things to this Tamatoa paper plate craft from Color The Moon so he doesn't try to bother anyone else.
6 Moana Arts And Crafts Ideas
11. Heart Of Te Fiti Rock Painting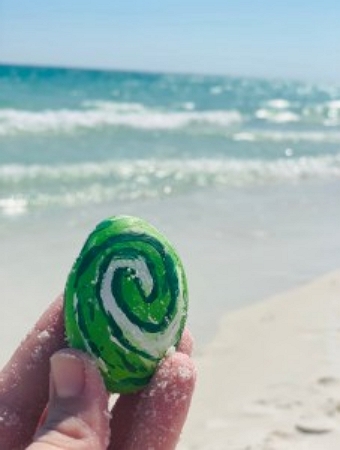 The story pretty much revolves around this precious green stone, which is the Heart of Te Fiti.
Engage your children in some rock painting, and let them return the gem to where it belongs to restore the natural order of things. Pop Goes The Culture has the instructions you need to make this stone.
Interested in engaging your children in more rock paintings? Try making these Halloween rock paintings!
12. DIY Heart Of Te Fiti Glitter Jar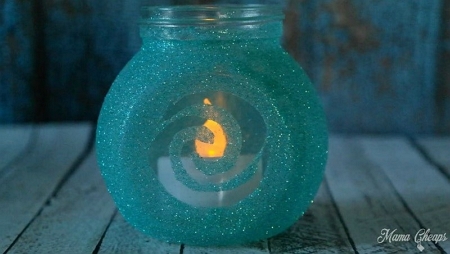 Here's an aesthetic yet also functional craft to make with your kids.
Mama Cheaps will teach you how to make this DIY Heart of Te Fiti glitter jar, which you can easily fill with some scented candles or battery-operated tealights.
13. Moana Canoe Popsicle Craft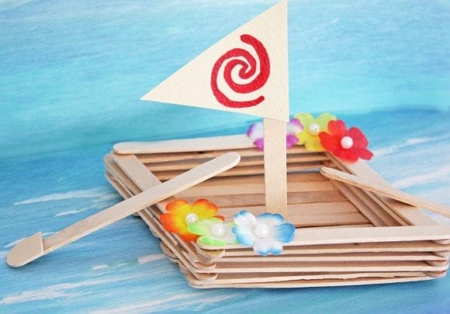 What better way to sail the ocean than this sturdy Moana canoe popsicle craft?
The best part of this is that it actually floats on water!
You'll have a much easier time with your kids in the bathtub because they'll be preoccupied with watching Hei Hei from drowning and keeping this canoe from Catch My Party afloat.
14. Te Fiti Earth Goddess Polymer Clay Craft
This is a wonderful and awe-inspiring scene when Moana finally restores the Heart of Te Fiti.
Blue In Wonderwood's channel uses polymer clay and some interesting tools to complete this craft.
This craft is much more suitable for older kids who'd like to challenge their molding skills and who have the patience to detail this Te Fiti goddess.
15. Maui's Legendary Fish Hook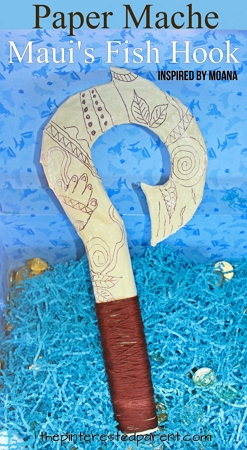 Most kids probably would want to have the shapeshifting powers of Maui.
If that's the case, try recreating Maui's lost fish hook through this paper mache method kindly brought to us by The Pinterested Parent.
Just like how Maui successfully retakes his fish hook in the movie, it will also feel very rewarding to finish this activity with your kids.
Want more paper mache crafts? Well, you should try making one of these incredible paper mache pumpkins.
5 Wearable Moana Crafts
Children love to play pretend and impersonate their favorite on-screen princesses. Moana fans will love these wearable crafts that you can easily make at home.
16. Moana Craft DIY Headband
Allow your kids to feel like a true princess by making this DIY Moana headband crown. While it doesn't look like a traditional crown, this headband is guaranteed to be imbued with Moana's determination and strength.
This is such an easy craft that even some preschoolers are capable of doing it with proper guidance and adult supervision.
Keep the Heart of Te Fiti under your children's supervision at all times by making this beautiful DIY necklace.
The video tutorial from Maive Ferrando's channel suggests not using acrylic paint as it tends to produce cracks when baking the polymer clay.
Check out the video tutorial to learn how to make this stunning Heart of Te Fiti necklace.
18. DIY No-Sew Moana Costume
Are your children invited to a Disney-themed party? If that's the case and they want to go as one of the Disney Princesses, you should try making this no-sew DIY Moana outfit for them.
This is an incredible DIY activity that you can do with your kids during the weekend. Make sure to get the right proportions for your little ones by following the video tutorial on Sam Skyler's channel.
19. DIY Moana Disney Ears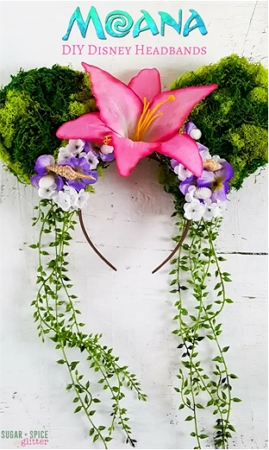 This floral Moana Mickey ears is one of the most creative and stunning Disney headbands I've seen.
Sugar, Spice And Glitter suggest using plastic moss and greenery to make the craft less messy and more comfortable for your children to wear.
If you want to make and customize your own Disney headband, we have a step-by-step Mickey Ears tutorial for you to follow.
20. DIY Maui's Hook Necklace
Maui will never lose his legendary fish hook again when you make this necklace from DIY With Ollie's channel.
Even in the dark when it's hard to see things around your children's room, you'll easily spot this necklace because it's made with glow-in-the-dark clay.
The Line Where The Sky Meets The Sea Calls Your Children
Hopefully, Hei Hei isn't too much of a pain to take care of while you make one of these activities.
Which one did you enjoy? Tell me in the comment section below how far you and your children will go with these 20 magnificent Moana crafts!
Check out other incredible kids' crafts here: