Get rid of bad dreams with these easy-to-do DIY dream catcher crafts for kids!
Dream catchers are hung above one's bed, and while the person sleeps, the bad dreams get captured, allowing only good dreams to pass through.
Making dream catchers is a great crafting activity as it requires a lot of coordination and creativity, but how exactly is one made?
Below you'll find 18 DIY dream catcher craft ideas that can be done by kids. This list is categorized by skill level (easy, moderate, and hard) and includes a bonus section.
Easy: Dream Catcher Crafts Preschoolers Can Do!
Let's start with some simple dream catcher crafts and ideas that require minimal to no help from a grown-up.
1. Colored Paper and Cardboard Dream Catcher
Creators Hub makes a dream catcher entirely out of colored paper, cardboard, and glue.
The webbing is made by folding pieces of paper into cones and arranging them to resemble a web. Likewise, the feathers are also made by rolling/folding pieces of paper into cone shapes to resemble feathers.
The "string" for the bottom part is made by using a stick to roll pieces of paper to resemble strings.
This is a great way to introduce kids to dream catcher crafts as the materials are easy to find and the process is simple.
2. Paper Plate Dream Catcher
This simple dream catcher from StyleNovice using a paper plate as the hoop (by cutting a circular hole in the middle), scissors, a hole puncher, ribbons, beads, and feathers is really easy to make and another great way to introduce your kids to crafting.
3. Paper Plate Dream Catcher (Glueless)
Here's another paper plate dream catcher, but made without using glue, from Laura Berg Life.
This dream catcher for kids also uses pipe cleaners bent to resemble feathers attached to strings (scroll down to number 16 for a dream catcher made almost entirely out of pipe cleaners).
You won't have to worry about any mess due to glue with this version!
4. Mini Dream Catcher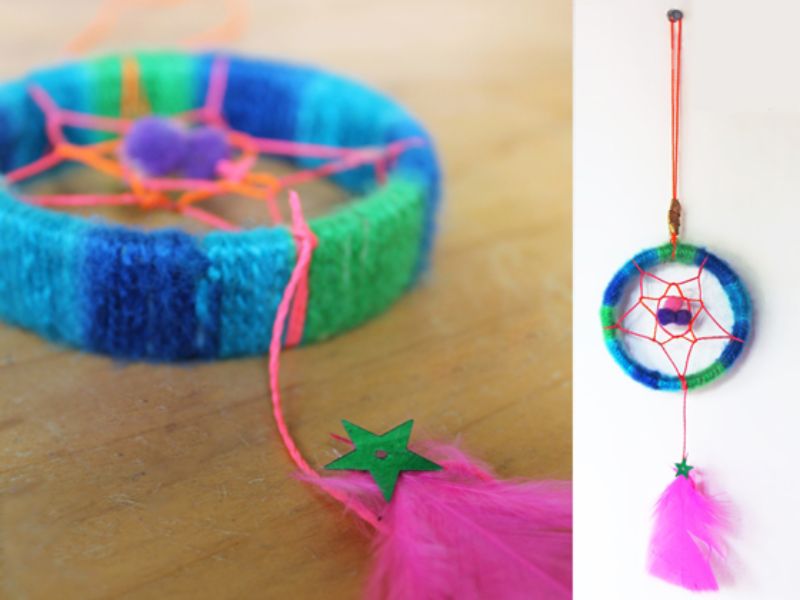 Photo credit: Happythought
Happythought shows how to make a mini dream catcher using an empty tape roll as the hoop. All you need are an empty tape roll, scissors, string, pom poms, and some feathers.
Making a smaller dream catcher is yet another great craft for kids to start with as it might be easier for their small hands.
5. Wire Hanger Dream Catcher
This homemade dream catcher tutorial from Minnie Me's DIY can be made with a wire coat hanger as the hoop, some string, scissors, beads, and requires no glue. It's also ready to be hung once you're done!
A grown-up may need to help bend the wire hanger.
6. Popsicle Stick Dream Catcher
This is an easy-to-make and differently shaped dream catcher made from popsicle sticks, as demonstrated by ArchZine Studio.
The shape formed out of the popsicle sticks for the hoop is entirely up to you!
7. Doily Dream Catcher
Doilies are small ornamental mats made of fabric or paper and have lace patterns.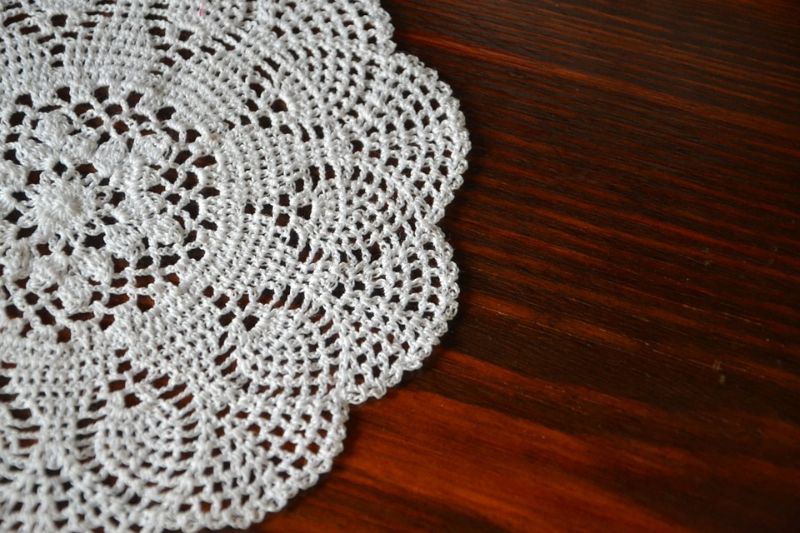 You can use one as the webbing for your dream catcher as shown in this tutorial by iamlikehearted.
This is another easy-to make-dream catcher for kids and less time consuming since the webbing is already made.
8. Modern Dream Catcher
For minimalists or those who want another simple dream catcher craft, this tutorial from MandalaBunny shows an easier take on the webbing as the pattern is just straight lines.
This dream catcher idea is quite easy for kids since the webbing is not that complicated to make.
9. Chandelier Dream Catcher
What's better than one dream catcher? Multiple dream catchers!
Globe Studio One demonstrates how multiple dream catchers can be made to resemble a chandelier.
This can be a fun group or family activity where each member makes one or two dream catchers, connecting them all together to make the chandelier.
You can also make each dream catcher in a different way. Go crazy!
Moderate: Easy Dream Catcher Crafts for Preschoolers That Require Help from a Grown-Up
Some of these ideas require cutting metal or CDs, which may be a bit hard for preschoolers to do on their own.
10. Unicorn Dream Catcher
If you want to make a more vibrant dream catcher, this unicorn-themed dream catcher from CRAFTASTIC ARTS AND GIFTS can help you. She uses various materials to cut and make the ears, horns, and flowers!
If you want a more uniquely shaped unicorn dream catcher, Kim Crystal shows how to make one that looks like a unicorn's head by using two different sized rings attached together.
A grown-up may need to help attach the two rings together.
11. Moon Dream Catcher
If you want another shape for your dream catcher, why not try a crescent moon?
This crescent moon dream catcher from Handmade Bliss has the moon itself protect your kids from bad dreams!
Since the video shows a metal ring being cut to make the crescent moon shape, a grown-up may need to help with that step.
12. Giant Hula Hoop Dream Catcher
If you want a larger dream catcher, this dream catcher craft idea from Kim Crystal shows one made from a hula hoop and other items found at home.
As this is fairly big, a grown-up may need to help with making this dream catcher.
13. CD/Vinyl Record Dream Catcher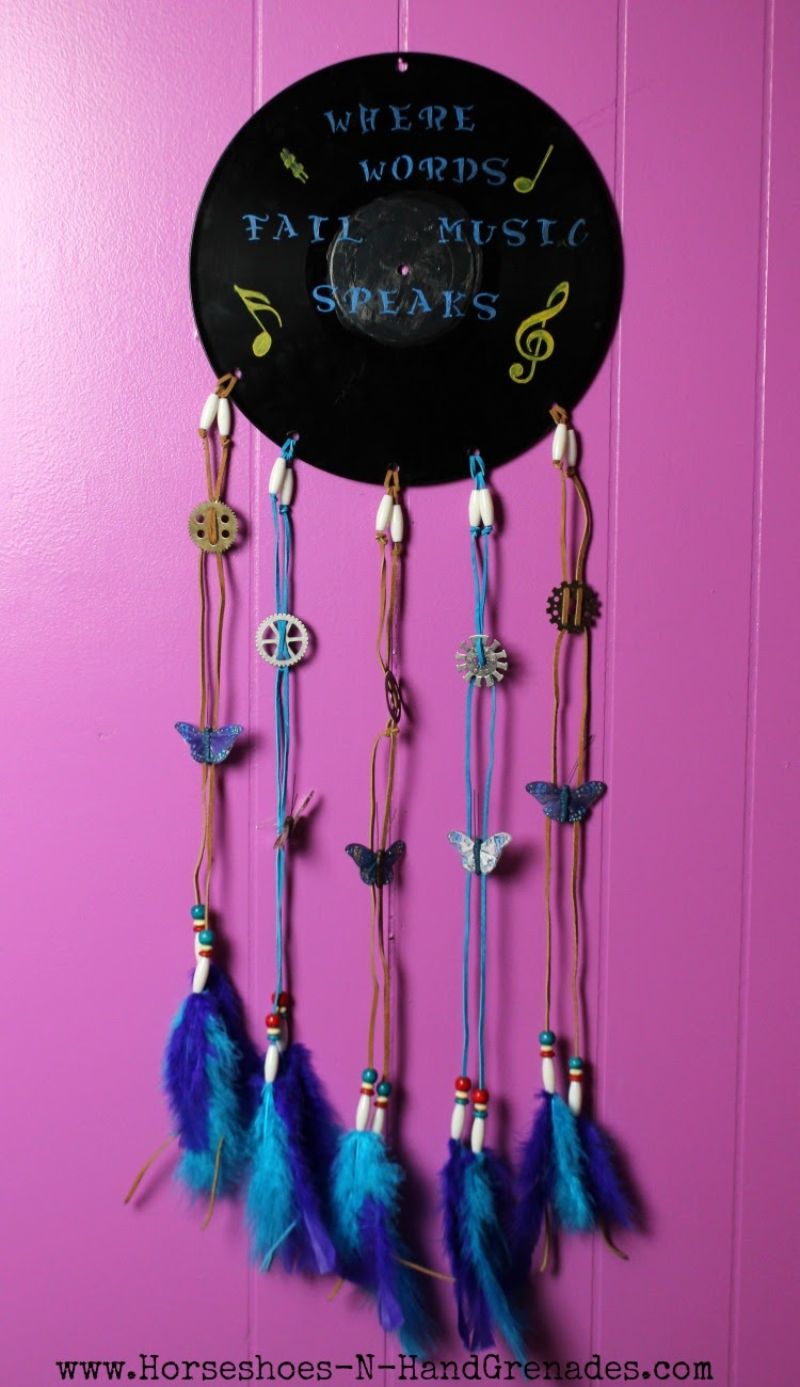 Photo credit: Horseshoes and Hand Grenades
Instead of throwing away old CDs, Nima Kiran shows us how to recycle and turn them into dream catchers.
Since she cuts slits in the CD to attach the string to, a grown-up might need to help with this step.
You can also use old and unwanted vinyl records for your dream catcher as seen in Horseshoes and Hand Grenades.
14. Tree Branch Dream Catcher
You can also make a dream catcher using tree branches to give it a more rustic look, as demonstrated by Cali Black.
Also, like the popsicle stick dream catcher, it can be made into any shape of your choosing!
A grown-up may need to help tie the branches together.
Hard: More Challenging Dream Catcher Ideas for Older Kids
Now, let's move on to two more dream catchers that are slightly harder and may require strict supervision from a grown-up.
15. Loom Band Dream Catcher
Using loom bands as the webbing and to wrap the hoop produces a vibrant dream catcher, as shown by dailyandordinary.
This dream catcher idea might need even more help from a grown-up, depending on how you decide to design the loom webbing.
16. Crystalized Pipe Cleaner Dream Catcher Using Borax
If you want to get really creative, you can use Borax to give your dream catcher a lovely crystal effect as shown in Shaun and Kyra's pipe cleaner dream catcher.
Pipe cleaners are used to make up almost the entirety of the dream catcher.
Borax is a compound used for various other arts and crafts for kids (such as colored slime).
It's recommended to have a grown-up supervise kids with this crafting method since Borax is a chemical and because hot water is required to crystallize it.
This dream catcher idea also doubles as a fun science experiment!
Bonus Dream Catcher Ideas to Spice Up Your Creations:
17. Other Thematic Dream Catcher Craft Ideas
Does your kid have a character he/she likes? Then you can also incorporate some of that character's aspects in your dream catcher.
Here's a Pikachu themed dream catcher tutorial from Keetzy's Classique Creations and Vlogs that uses the iconic Pokemon's colors for the webbing.
Here are other examples/ideas:
Spiderman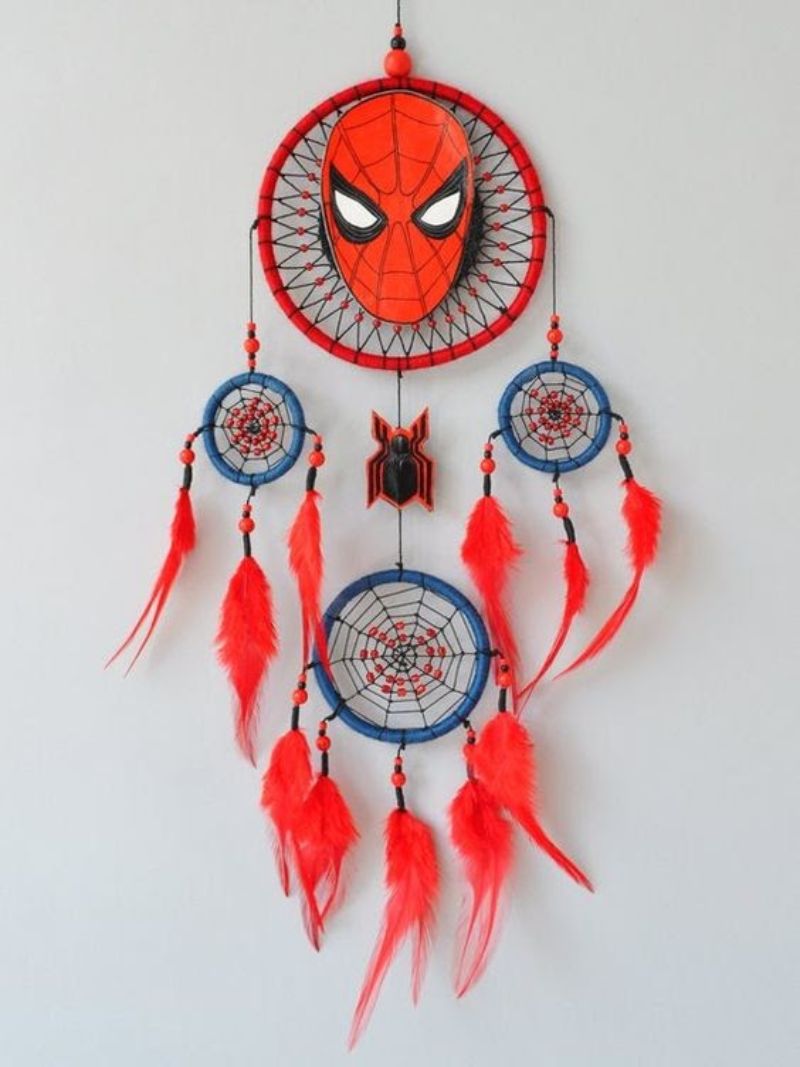 Photo credit: Graciela Bonilla
Jack Skellington from A Nightmare Before Christmas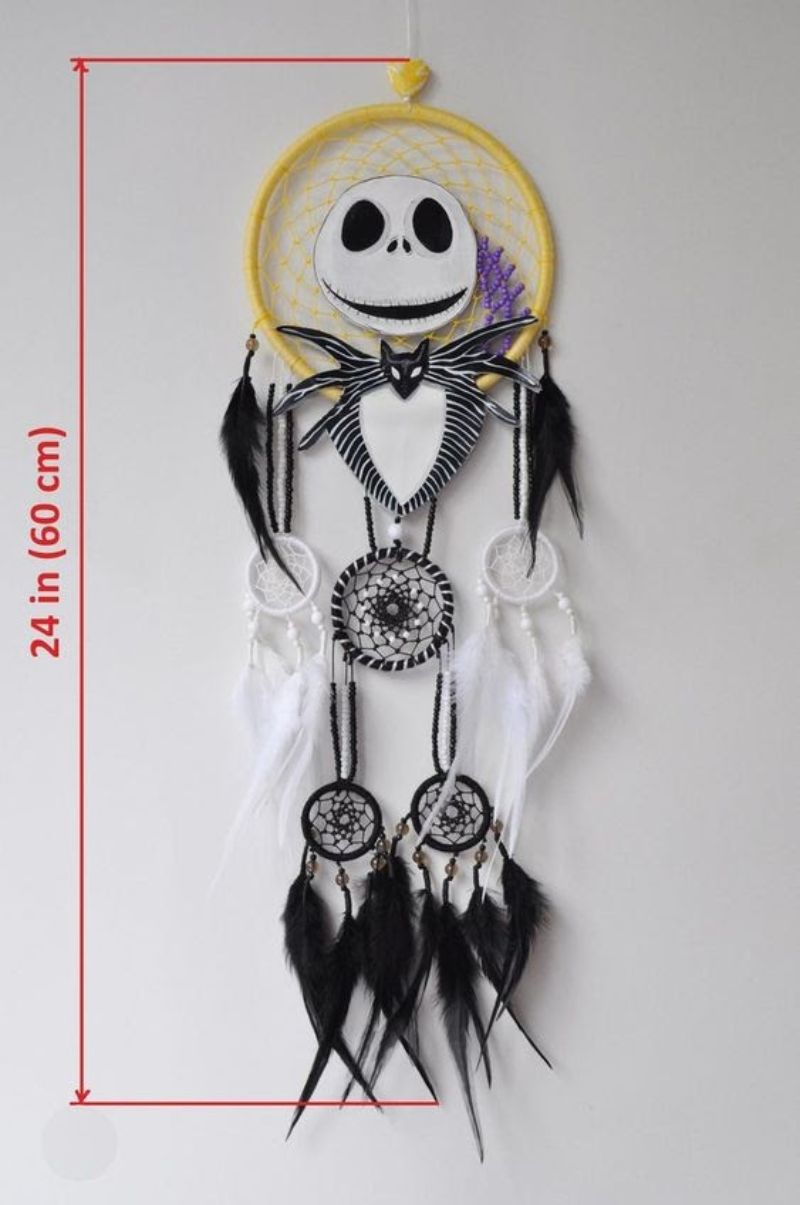 Photo credit: Mary
Or, if you want a dream catcher based on an iconic symbol from a show or movie, Demi Siriusly shows her process in making a Deathly Hallows (from Harry Potter) themed one.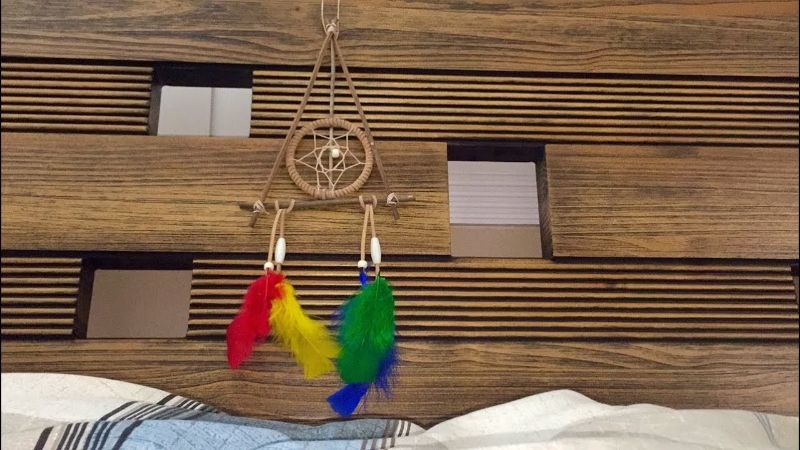 Photo credit: Demi Siriusly
Or you can keep it simple and base the dream catcher off of animals such as this cute polar bear themed dream catcher from Matthew Kazor.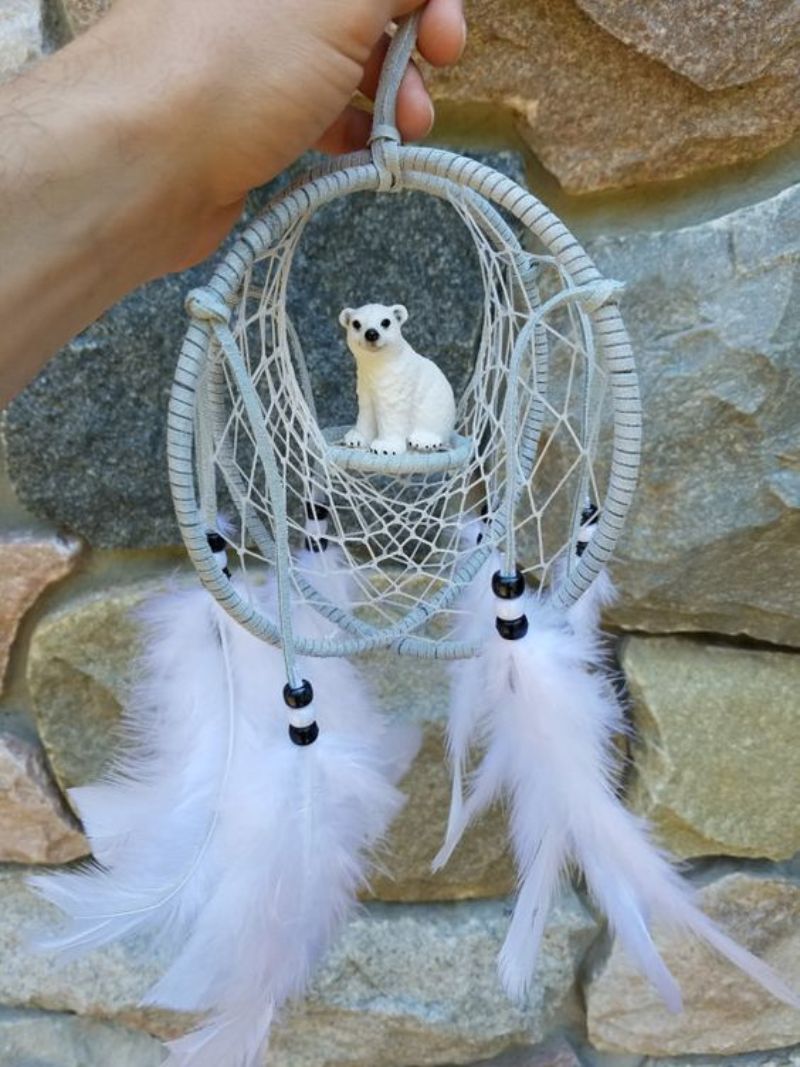 Photo credit: Matthew Kazor
Designs are only limited by your imagination!
18. Fairy Light Dream Catcher
Fairy lights are versatile decorative lights commonly known as Christmas lights.
Shri Gloria shows us how to attach fairy lights to your dream catcher.
Be sure to have a grown-up help attach the lights!
This dream catcher can also double as a night light for kids!
Catch Those Nasty Dreams!
These are just some ideas to draw inspiration from when making a dream catcher for kids. As mentioned in some of the tutorials above, the designs and materials are completely up to you!
You can make dream catchers as big or small as you want, you can make the webbing as easy or complex as you want, or you can combine elements from the list above to make your own unique dream catcher.
So what are you waiting for?
Get your kids started on these dream catcher ideas and let their creative juices flow to make sure those nasty dreams stay captured!