Keep kids entertained by making these food Perler bead patterns.
Perler beads are an exciting activity to do! They also encourage fine motor skills through the careful placement of small beads and enhance color and pattern recognition.
Some of these patterns are easy enough while others are more challenging (but rewarding).
3 Perler Bead Food Kits
Stay hassle-free with these three Perler bead starter kits which include Perler beads and pattern sheets full of food pattern ideas.
If you're unfamiliar with Perler beads, check out these easy Perler bead patterns to know more about Perler beads.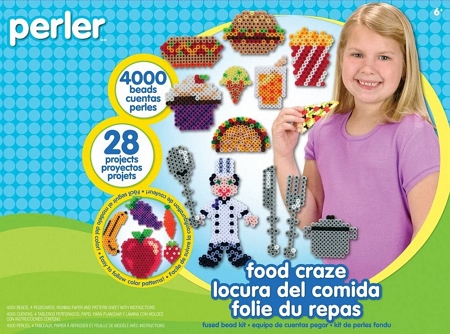 Everything you need to build a mini restaurant is contained in this single Perler beads "food craze kit." The kit includes 4,000 beads, four pegboards, ironing paper, and a pattern sheet containing 28 different food ideas.
Not only does the pattern booklet contain food patterns, but it also includes patterns of kitchen tools and utensils.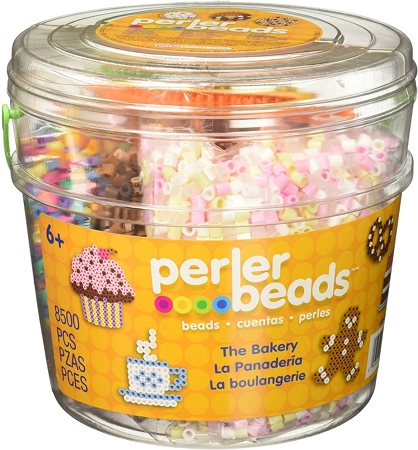 Some prefer cooking, while others prefer to bake. If your kids would love to open a little bakery, here's the Perler bead kit for them.
The bakery kit bucket has over 8,000 fuse beads, three pegboards, and a pattern sheet containing various recipes for delicious sweets and bread.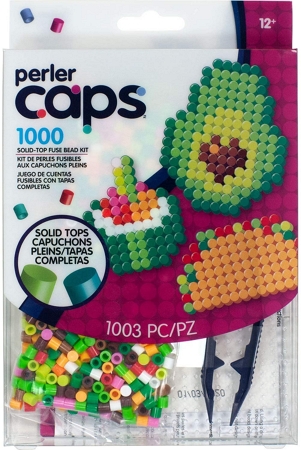 Try something new with this Perler "caps" fuse bead starter kit. Perler caps are similar to traditional beads, but they have a solid top to create a cleaner look when fused together.
This starter kit also includes food patterns, such as avocados and tacos. The size of this small pack and the number of fuse beads in this kit is perfect for the curious who just want to try this activity out.
8 Fruit & Vegetables Perler Bead Patterns
Growing children need at least five portions of various fruit and veggies every day. Encourage them to eat those healthy broccolis and brussel sprouts by making these fruit and veggies Perler bead patterns.
4. Assorted Veggies Perler Bead Patterns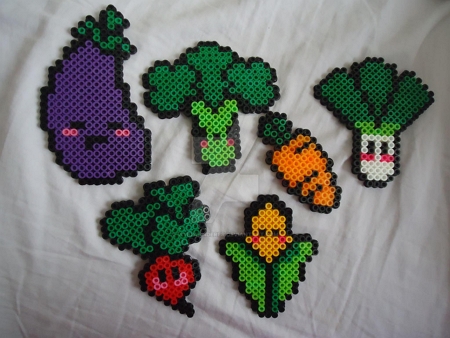 VividWanderer makes vegetables more friendly and appealing to children by putting cute faces on them.
Their fuse bead ideas include carrot, eggplant, corn, broccoli, radish, and leeks, all of which are nutritious vegetables that your little ones should be acquainted with.
5. Cute Perler Beads Fruit Patterns
It's best to help kids learn to eat fruits and veggies at an early age. Though most fruits are sweet and are thereby loved by children, QDCrafts makes them more enticing by adding cute faces on these fruit Perler bead patterns.
6. Easy Tomato Perler Bead Pattern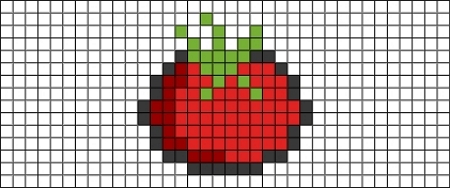 Is the tomato a fruit or a vegetable? Kids can do their own research by starting with this easy tomato Perler bead pattern by lukelets.
7. DIY Citrus Fruits Coaster Set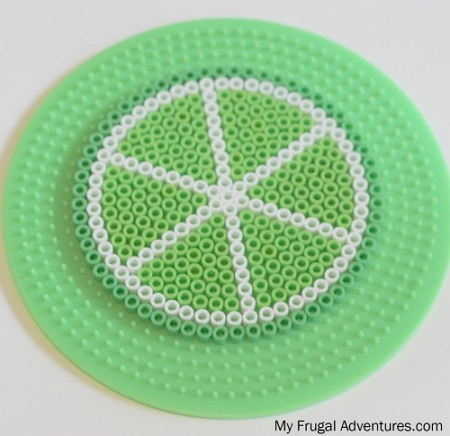 Create a Perler bead pattern that's both attractive and useful with this DIY citrus coasters guide by My Frugal Adventures.
Oranges, lemons, and limes all belong to the citrus family, so you can select which ones you love the most.
8. Spicy Chili Pepper Pattern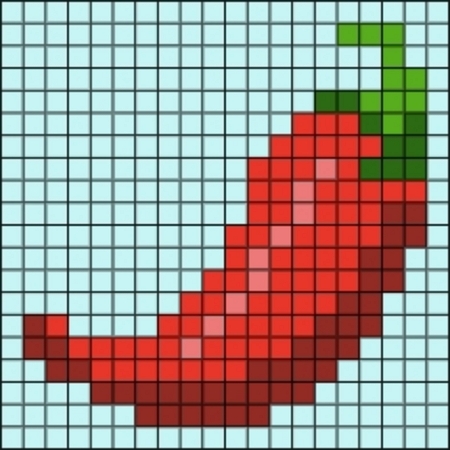 Spicy food can be too hot to handle for some. Luckily, you don't have to eat a chili pepper to appreciate this chili pattern by mir_knots.
9. 3D Avocado Perler Bead Pattern
Avocado is considered by many nutritionists as a superfood, so don't pass up the opportunity to make this 3D avocado pattern by KandiPerlerFairy.
Check out more 3D crafts in these 3D paper flowers compilation.
10. Broccoli Perler Beads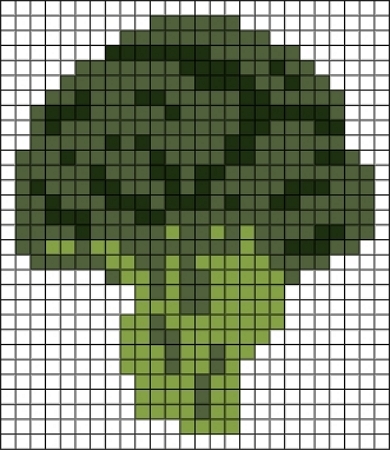 Broccoli is notorious for being distasteful to some children. Tell your little ones that they can skip broccoli if they don't want to eat, but in exchange, they must create this broccoli Perler bead pattern by auntmurdoc.
11. Huge Strawberry Fuse Beads Pattern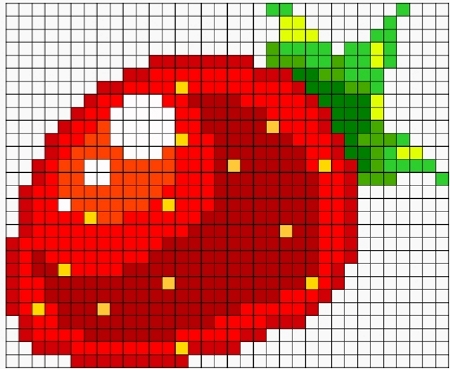 Strawberries can taste sour if they're not in season. Sweet or sour, I know you won't be able to pass up the opportunity to create this huge strawberry with bright red skin courtesy of Smollbean.
8 Junk Food Perler Bead Patterns
Junk food isn't bad when eaten in moderation, but it can become harmful to one's health when eaten in excess.
The good news is that making fake junk food isn't harmful, so indulge in making these cute junk food Perler bead patterns!
12. Fast Food Perler Bead Patterns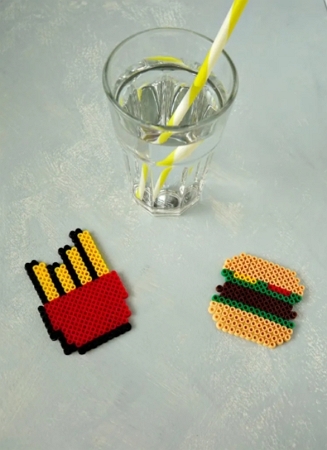 Get some useful coasters with a junk food theme out of your Perler obsession by following The Makeup Dummy's guide that includes patterns for french fries, a hamburger, pizza, and more irresistible junk food.
13. Corndog and Fried Chicken Pattern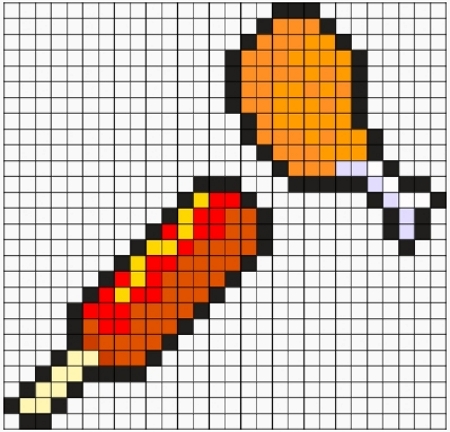 For people who love state fairs, here are Perler bead patterns made by rainbowpopcorn of a delicious corndog and fried chicken (or turkey?) leg.
14. Pepperoni Pizza Perler Beads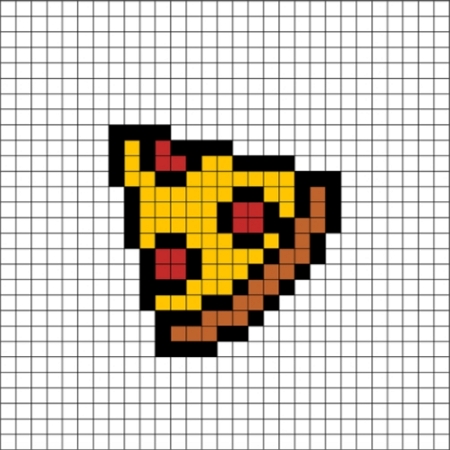 Except for those who have lactose intolerance, I don't know anyone hates pizza.
Children devour pepperoni and cheese pizzas in an instant, so here's a simple pizza, fresh out of the oven, baked by Pixel Real.
15. Simple Hamburger Pattern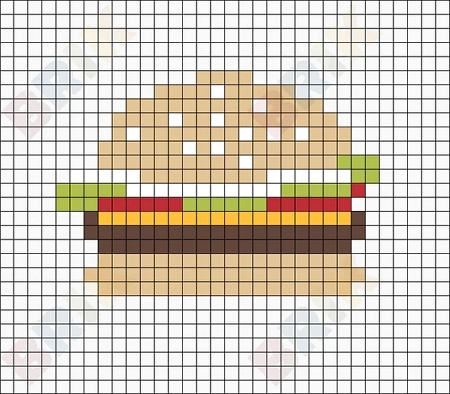 Brik provides us with a simple cheeseburger pattern, containing classic ingredients like lettuce, tomatoes, cheese, and beef patty.
16. "Donut and Friends" Perler Bead Patterns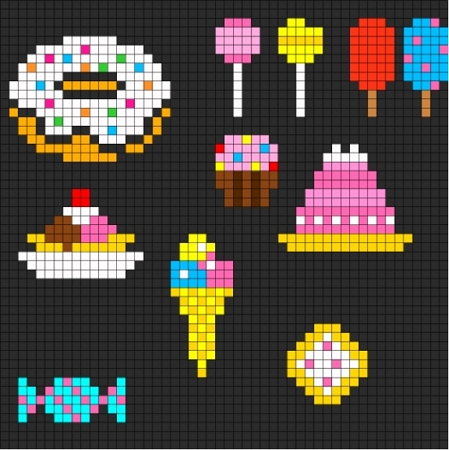 Redirect your little ones' sugar cravings towards making these Perler bead patterns by butterscotchey, who makes various patterns including a donut, ice cream, cake, and different candies.
17. Ice Cream Sundae Pattern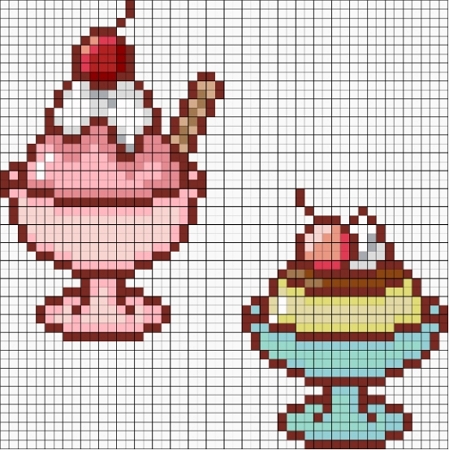 Shared by Killer, here's another mouthwatering pattern that will trigger your sweet tooth. Reward yourself with a sundae after completing this tricky design.
Discover more ice cream-themed fun with these ice cream crafts.
18. Advanced Pizza Perler Beads Pattern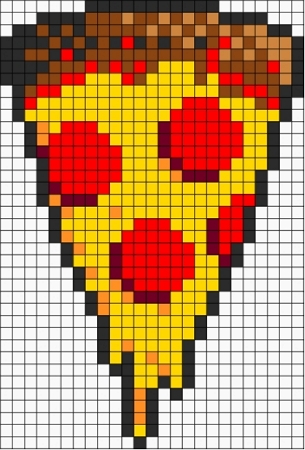 Experienced Perler fans who are searching for a more difficult pattern can look to Gee_Low's pepperoni pizza pattern.
19. An Even More Sophisticated Cheeseburger Pattern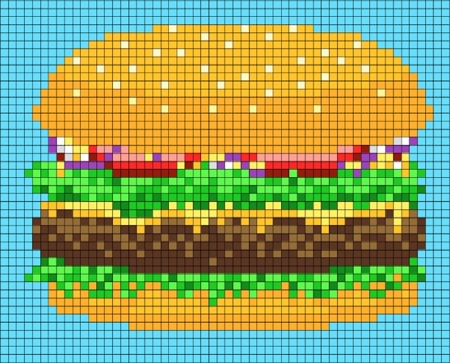 For a pattern that will really provide a sense of achievement, Pixel Art Shop shares this amazing cheeseburger pattern filled with little details.
8 Perler Patterns of Delicious Foods
Here are eight delicious food patterns you won't be able to resist.
20. Bacon and Eggs Perler Beads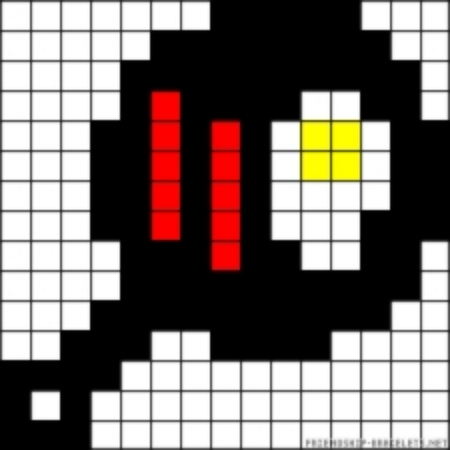 RIVAI provides the best breakfast food with their bacon and eggs pattern. The pattern is simple enough, involving two lines for the bacon and several beads for the egg.
Even toddlers can complete this with a little bit of help from an adult!
Speaking of eggs, here are some ideas to transform those empty egg cartons into crafts.
21. Tamago Sushi Pattern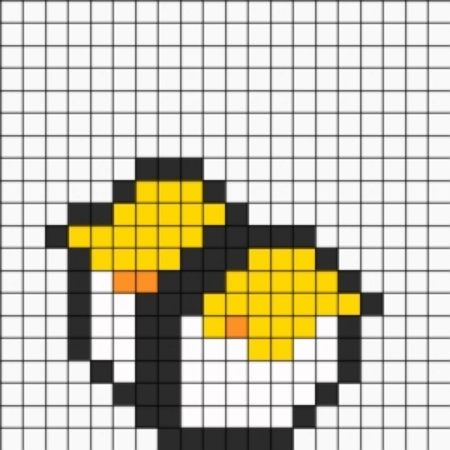 If you love to explore other cuisines, here's zombieskayer providing a pattern of tamago sushi, which consists of sushi with an egg.
22.Cup of Coffee Perler Bead Pattern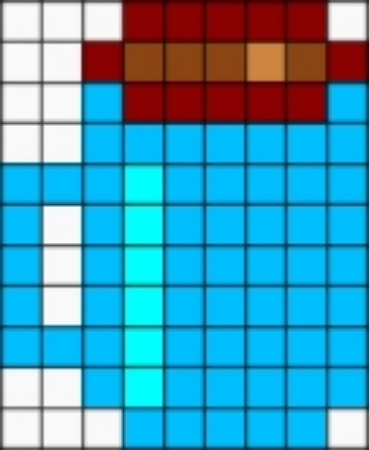 Children shouldn't drink coffee yet, but they can pretend to drink this beverage by doing this pattern created by Laurel.
Allow your kindergartners to choose the color of their coffee mug to enhance their creativity and visual skills!
23. DIY Minecraft Foods Perler Beads
Kids who love playing Minecraft will enjoy making these awesome food patterns created by QDCrafts. They make various foods ranging from cakes and berries to stews and vegetables.
Get more Minecraft fuse bead ideas from this compilation of Minecraft Perler bead patterns.
24. DIY Perler Bead Sushi Magnets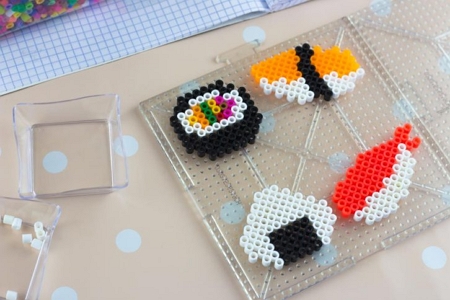 This guide to sushi magnet patterns made by Do It and How include onigiri, nigiri, and maki.
25. 3D Sushi Perler Beads
Follow this video tutorial by Lightning Rocket Creates to learn how to make DIY 3D sushi!
26. Croissant Perler Beads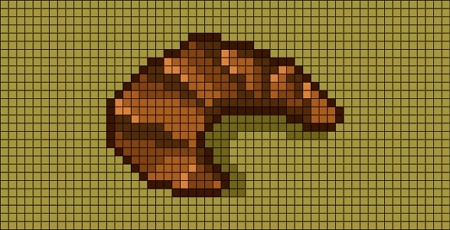 If you love eating bread then you'll adore ibutterfly's version of the croissant which is created with different shades of brown.
27. Ramen Perler Bead Pattern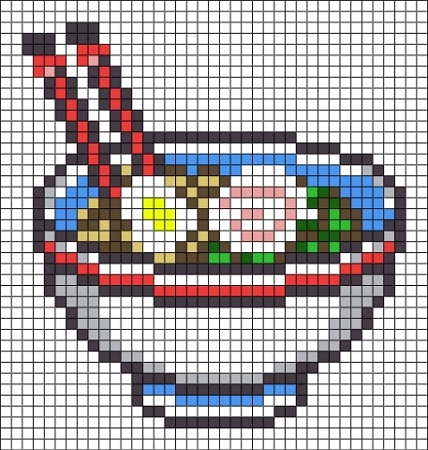 Cold weather and rainy days call for hot soups and stews like this bowl of ramen noodles courtesy by itsjustmeg.
Check out our rainbow crafts for kids for more crafts to make during the rainy weather.
6 Kawaii Food Perler Bead Patterns
The term "kawaii" literally means cute, and kawaii things are often involve objects with a recognizable cute face.
Do more cute Perler patterns following this guide for kawaii Perler bead patterns.
28. Hot Chocolate Kawaii Perler Beads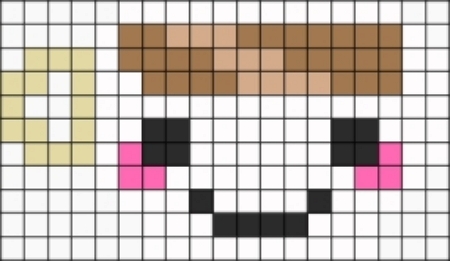 Enjoy a cup of hot chocolate and make this kawaii pattern from Cami_and_Fawn during those chilly evenings.
29. Cute Taco Perler Bead Pattern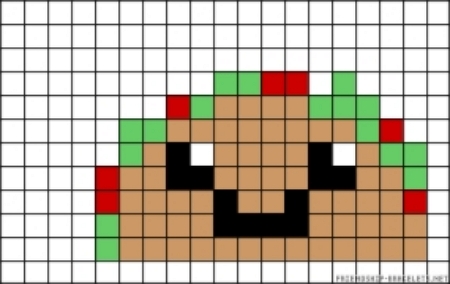 Searching for something crunchy? Megan4032 has you covered with this cute taco pattern. I mean, just LOOK at it!
30. Kawaii Milk Patterns
Add these kawaii milk cartons to your little ones' collection of cute characters. Flying Mio's video tutorial will guide you and your kids in making this pattern, step-by-step.
31. Pancake Perler Bead Pattern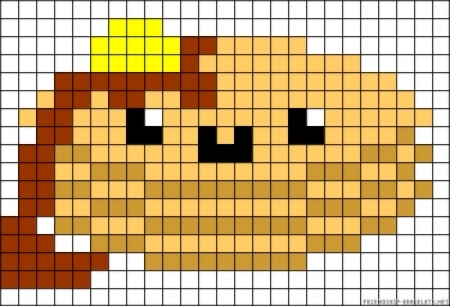 Amberry shares a sweet kawaii pancake Perler pattern topped with creamy butter and maple syrup.
32. Cute S'more Perler Pattern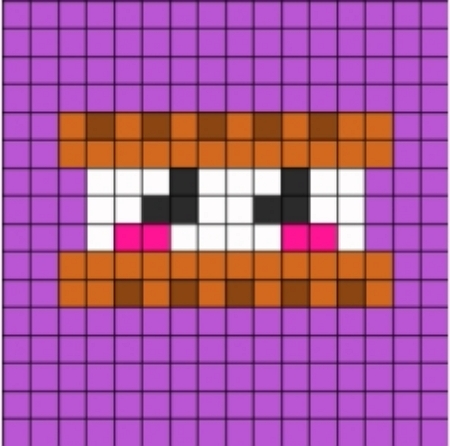 There's one thing that children look forward to when camping, and that's eating s'mores by the campfire.
Here's pippop providing a chance for your little ones to make a kawaii s'more right at home.
33. Kawaii Hamburger Perler Design
FiloPixie makes an adorable hamburger in this video tutorial. The pattern is quite easy and made even simpler by adding an outline that makes it easier to distinguish the various layers.
I'll Take My Perler Beads To-Go, Please
These Perler bead food patterns will introduce your little ones to healthy fruits and vegetables while teaching them to stay away from junk foods.
Explore our other compilations of Perler bead patterns below: