Dogs are the most loyal companions humans could ever wish for. They're playful, affectionate, and they simply bring so much joy to dog lovers.
If you and you're kids are searching for a companion to keep you busy through the weekend, just craft one of these 30 dog Perler beads that are guaranteed to brighten your day!
Not familiar with Perler beads? Not sure where to start ? Don't worry, we've got you covered with our easy Perler beads for kids article, where a beginner's guide is waiting for you.
I'll also list the materials and tools you need for the crafts below.
Materials Needed
8 Simple Perler Bead Dog Patterns
These first 8 patterns are relatively simple dog patterns. With some help from an adult, a toddler could help work on these Perler bead projects. It could even be a good chance to practice counting and colors with your toddlers.
1. Simple Dog Perler Bead Pattern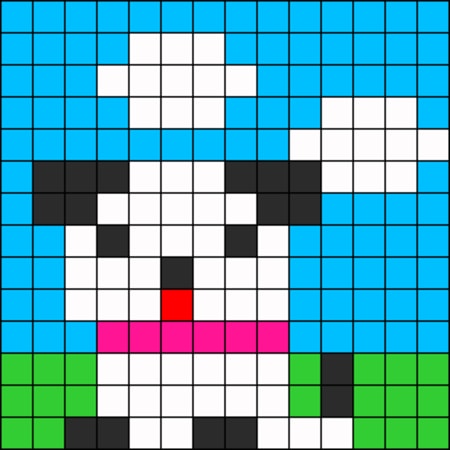 Have your children ever wanted a dog companion? This is not the real thing, but it's a step closer to them getting one.
Follow this simple dog pattern from Kandi Patterns which looks like it's taking its daily walk outside.
2. Perler Bead Dog Face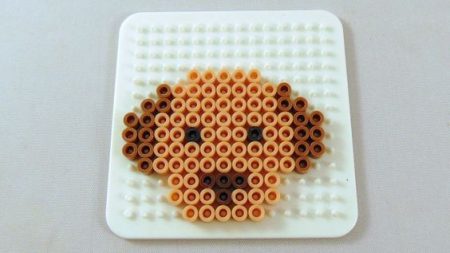 Perler bead patterns are such an easy craft to do because you just put the colored beads in the right order.
If you like to keep it simple with your children, there's no shame in starting out with this easy dog face pattern from Krysanthe.
3. Easy Perler Bead Dog Face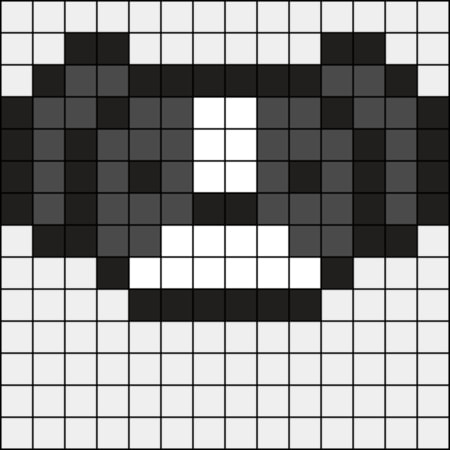 Picking out the right colored Perler beads from a bowl and lining them up on a pegboard are great ways for toddlers to work on their fine motor skills. This simple dog face from Kandi Patterns only requires 3 colors.
4. Shiba Inu Face Perler Bead Pattern
It's a lot of fun watching your picture come to life as you assemble Perler beads on a pegboard, as you'll see by watching this video tutorial from Perls of Wisdom's channel.
Interested in developing your kids' artistic skills early on? Check out these easy animal drawings for kids!
5. Dog Paw Perler Bead Pattern
Here's a simple pattern you could make with a young kiddo. I'd suggest that the adult figure out the layout of all of the black outline pieces for the dog paw pattern and then let the child fill in the inside space with white or whatever color Perler beads they choose.
6. Star Pegboard Dog Perler Bead Pattern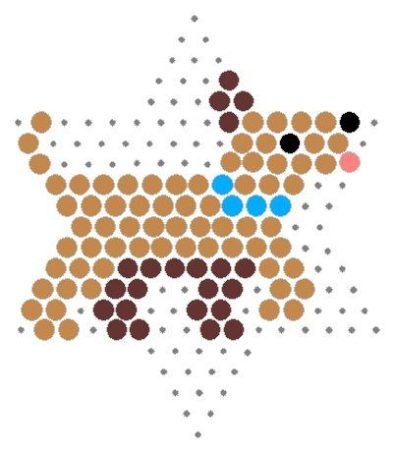 Most Perler bead starter buckets come with a star shaped pegboard which is perfect to make this simple dog pattern.
7. Black Dog Perler Pattern
They say black cats bring you bad luck. What about black dogs?
I think they only bring you happiness and love. All dogs do!
Enjoy making this black dog Perler bead pattern from Bracelet Book. The pattern is actually designed for tying a string friendship bracelet. But seeing as it's a pixelated design, I've included it in this Perler bead pattern list.
Speaking of black cats, you might also enjoy the craft ideas in this article about Halloween painted rocks.
8. Minecraft Dog Perler Bead Pattern
This dog pattern is perfect for Perler beads because Minecraft is a game that's made entirely of pixels.
So, if you're a Minecraft fan, don't miss your chance to tame this wolf and let it become your loyal companion.
While we're talking about Minecraft, here are 19 other Minecraft Perler bead patterns that shouldn't be missed.
6 Cute Dog Perler Beads Patterns
The next 6 items on the list feature dogs being precious and doing cute things. As if dogs weren't adorable enough.
9. Running Dog Perler Pattern
There's nothing more satisfying than coming home to your dog after a long day's work and you both run into each other's arms.
That's what I imagine, at least, because I don't own a dog.
Now I can pretend to have a running dog with this pattern from Crochet and Knitting.
10. Perler Bead Dog Face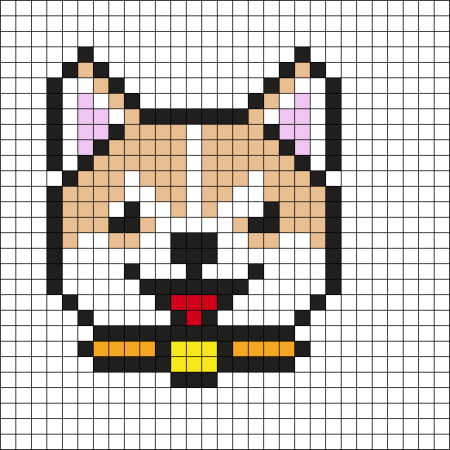 This design from Kandi Patterns is what your dog's face looks like when it's trying to ask for a treat for the 3rd time, and they know they're on a strict diet.
You can't resist giving them another one, though.
11. Cute Pug Perler Beads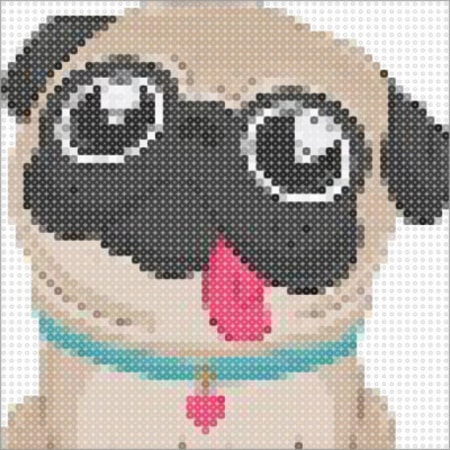 Pugs are one of the more charming breeds out there. They might be stubborn, but they make up for it with their playful and affectionate nature.
This is one of the most complex patters on this list, but that doesn't mean it's not worth trying out!
12. Sleeping Dog Perler Bead Pattern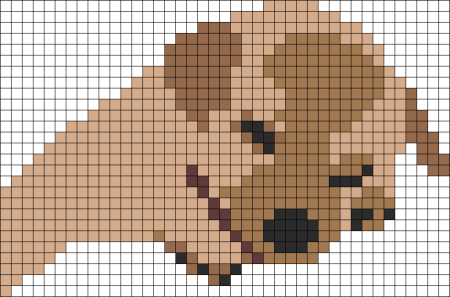 Try not to disturb your pets during their well-deserved sleep, like this precious sleeping puppy pattern from Kandi Patterns.
13. Cute Pomeranian Dog Pattern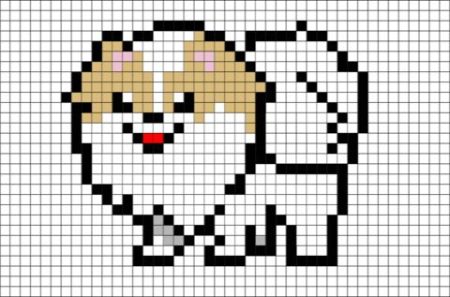 This extroverted dog breed will keep you panting for days because they're so energetic and sociable.
I bet you can't keep a smile off your face while recreating this cute Pomeranian pattern.
14. English Bulldog Perler Bead Pattern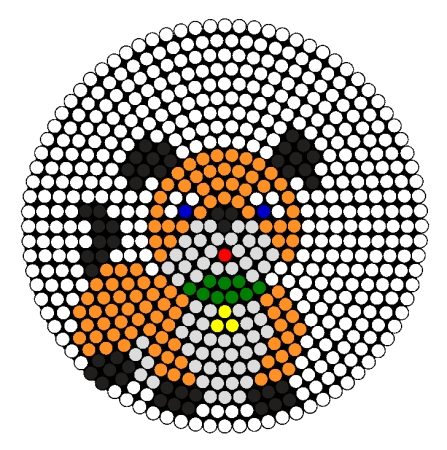 Taking care of a dog is almost like taking care of a child. You need to give them a lot of love and attention. And, also food. Especially food.
Joking aside, it's why many people consider their pet dogs to be like their own children.
This cute dog pattern from Kandi Patterns requires you to assemble your beads on a circular pegboard.
8 Common Dog Breed Perler Bead Patterns
Here are some of the dog breeds you might encounter when taking a stroll to the park. They are some of the most common breeds that we all know and love.
I've included a fun fact for each dog breed so you can surprise your children with some interesting facts while they craft.
15. French Bulldog Perler Bead Pattern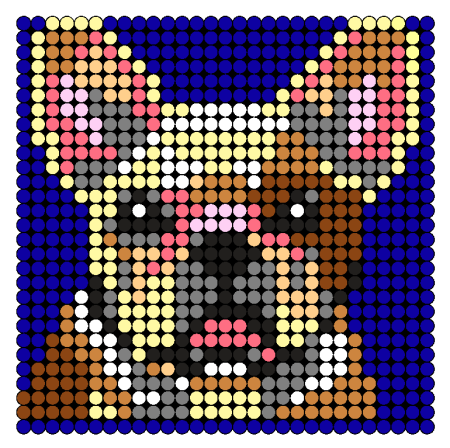 Check out this portrait style pattern of a French bulldog from Kandi Patterns. I'm really liking the aesthetic they went for with this pattern.
French Bulldog Fun Fact: French bulldogs can't fly. Say what? Of course dogs can't fly, you silly
What I mean is, since they have a short snout, they have a harder time breathing than other dogs, and so they're banned from many airlines.
16. Dachshund Perler Bead Pattern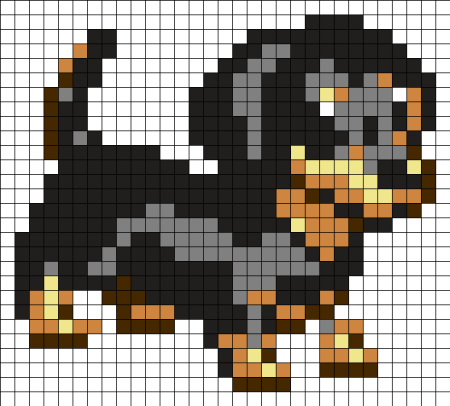 Dachshund Fun Fact: Many of us know Dachshunds as wiener dogs or hot dog dogs. But did you know that the original hot dogs were known as Dachshund sausages?
The butcher in Frankfurt, Germany who invented frankfurters (hot dogs) was known for his Dachshund.
It didn't take long before his sausages were known around town as Dachshund sausages.
Try recreating this adorable Dachshund Perler bead pattern from NicePNG.
17. German Shepherd Face Pattern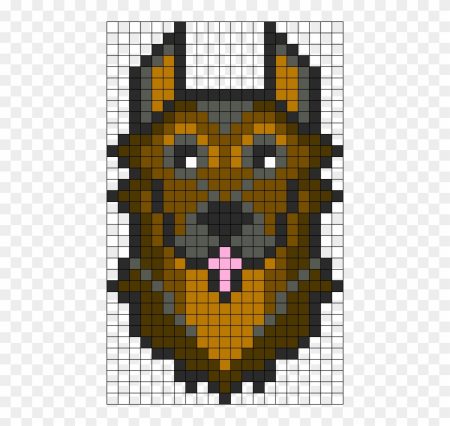 The German Shepherd is probably one of the top 3 most recognizable dogs.
This is a good Perler bead pattern for an older kid to try to make on their own. If you're looking to craft with a younger kiddo you can certainly let them assist you on this pattern. Maybe they can help sort the colors that you'll need.
German Shepherd Fun Fact: They are one of the smartest and most obedient dog breeds. That's why they are commonly used as police dogs working in K-9 units.
18. Bull Terrier Dog Pattern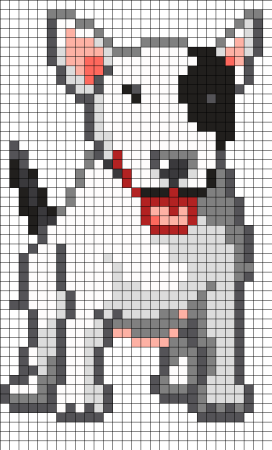 Bull Terriers have one of the most distinct looks among dog breeds. They have an egg-like face shape and peculiar eye shape.
Bull Terrier Fun Fact: Despite being intimidating because of their bulky and muscular build, they're actually one of the sweetest dog breeds you'll encounter.
19. Beagle Dog Pattern
If you're looking for an activity that takes about 1 hour to make, try out this beagle dog Pattern from Perler-Bead-Patterns.com.
Beagle Fun Fact: Their long ears are useful in retaining a scent they're trying to sniff out.
20. Yorkshire Terrier Dog Pattern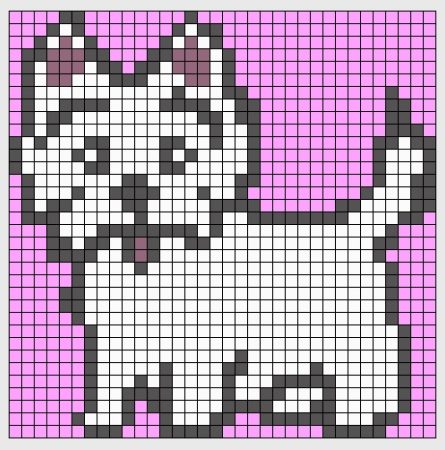 Sometimes the smallest dogs are the ones that have the most aggressive behavior. Yorkshire Terriers are up on that list.
They're small, but if you irritate one you'll face their wrath. Try to create this Yorkshire Terrier Perler bead pattern from Bracelet Book… if you dare.
I'm kidding, they're sweet.
Yorkshire Terrier Fun Fact: If you're looking to adopt a dog in a jammed urban neighborhood, Yorkshire Terriers are perfect because they're small. In fact, multiple different Yorkshire Terriers have held the Guinness World Record for the smallest living dog.
21. Corgi Breed Perler Bead Pattern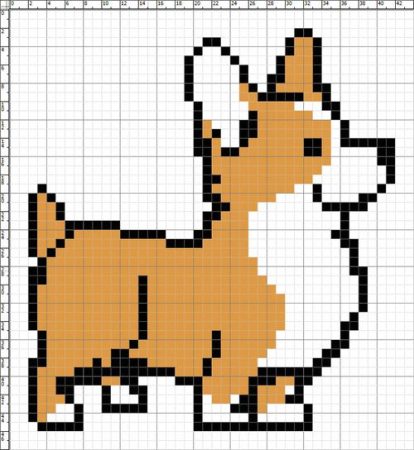 The Welsh Corgi is another breed that you wouldn't mistake for any other dog. It's very popular for its short stature.
Chell Bell Craft provides us with this cute Corgi pattern.
Welsh Corgi Fun Fact: The name Corgi comes from the Celtic 'cor' and 'gi' which mean 'dwarf' and 'dog', respectively.
22. Husky Dog Pattern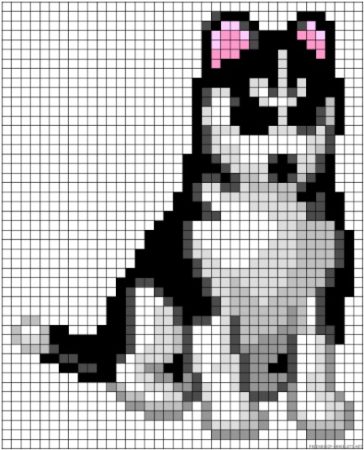 The Husky is one of the breeds that actually resembles its ancestors, namely wolves.
Husky Fun Fact: Huskies are one of the few dog breeds that have cold, blue eyes. Don't let that fool you, though, they're very friendly, even to strangers.
7 Famous Dog Perler Bead Designs
You'll probably recognize the next 7 famous dogs from memes, social media, and tv shows.
23. Stardew Valley Dog Perler Beads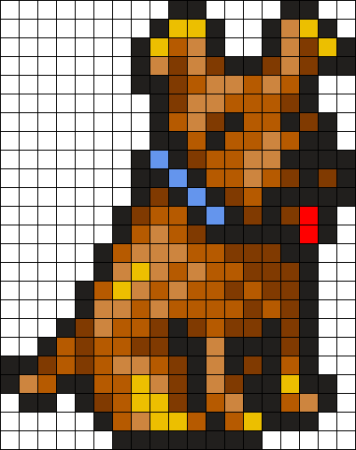 Fans of Stardew Valley will be able to choose one dog breed to keep them company.
If you're a fan, you'll no doubt want to make this pattern from Kandi Patterns.
24. Courage The Cowardly Dog Pattern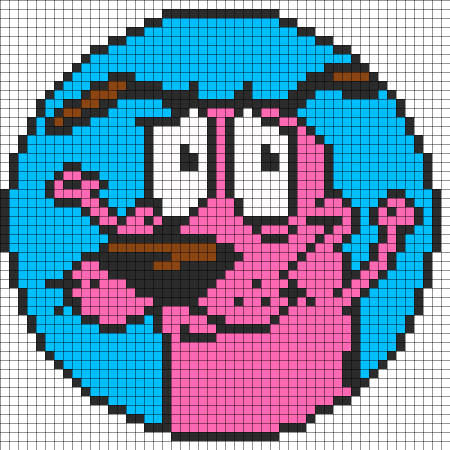 The sight of this dog brings out a lot of old memories from Cartoon Network.
Courage the Cowardly Dog was one of the silliest and most resourceful dogs out there. Recreate him through this pattern by PNGKey.
25. Jake From Adventure Time Perler Bead Pattern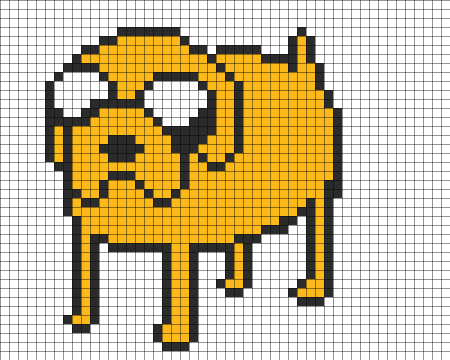 Jake is a magical dog from Adventure Time who has the ability to shift his body into any shape.
Try making this pattern provided by PikPNG.
26. Doge Perler Bead Pattern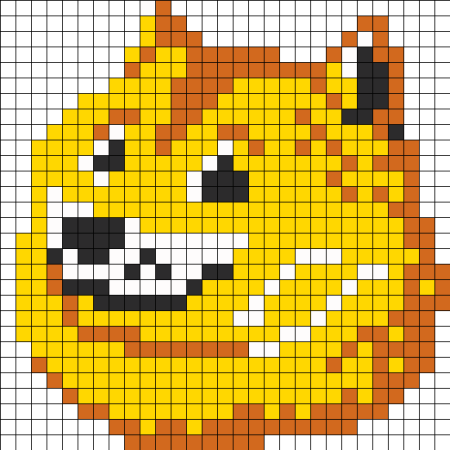 If you haven't been living under a rock, you'll know that Dogecoin has taken the world by storm.
While it was created as a spoof, many have considered it as a genuine investment prospect.
And, it all started from this meme, the Doge. This design is courtesy of Kandi Patterns.
27. Cheems Hama Bead Pattern
This is another dog meme that has been extremely popular in recent years.
While doesn't have his own currency like Doge, he's equally as loved by the internet community, if not more.
Follow the video tutorial from PixelAxelArt's channel to make Cheems.
28. Scooby-Doo Perler Beads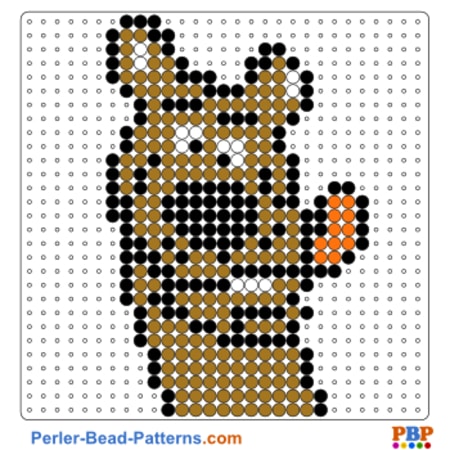 Baby Boomers will for sure recognize Scooby-Doo, a goofy cartoon dog that deals with criminals dressing up as monsters.
Try reliving the glory days by recreating this pattern from Perler Bead Patterns with your children or grandchildren.
If you're looking for other cartoon TV show dogs, check out these Bluey crafts.
29. Charlie Brown And Snoopy Pattern
Snoopy is one of the most loved dog characters that have ever existed.
He and Charlie Brown demonstrate perfectly the strong unbreakable bond between dogs and humans.
Recreate this heart warming craft by following Fun Family Crafts pattern.
A Perler Bead Pattern For Every Dog Lover
With 29 amazing dog patterns it seems you've got your next couple weeks of crafting already planned out!
Just be careful not to let your cat know which pet you're favoriting.
Keep the craft projects going with these 28 fun cat Perler bead patterns.
Which of these dog Perler bead patterns was your favorite? Comment down below!