Make some bee Perler beads creations with the kids to keep them "bee-sy" throughout the day.
Bees can be scary, but the only way to conquer your fears is to face them, and these bee Perler beads allow kids to remove their fear of bees by showing that they're cute and harmless creatures.
In addition to that, Perler bead activities provide many benefits for children like improving color recognition, the development of fine motor skills, and enhancing creativity.
Are you ready to bee-gin our Perler bead activities (and for more bee puns)?
9 Easy Bee Perler Bead Patterns for Toddlers
These nine bee Perler bead patterns are very simple and are aimed mostly at toddlers.
For other quick and easy patterns, here are some easy Perler bead patterns for young children.
1. Five Minute Bumblebee Beads Pattern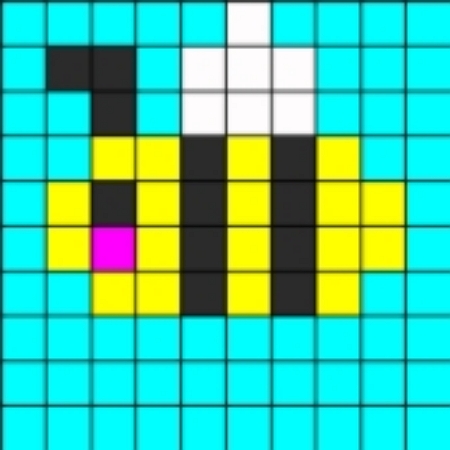 Let's start with AcidOnigiri's pattern of a simple bee composed of just a few Perler beads. While the Perler bead count here is small, it's rich in color and detail for toddlers to learn from.
The best part is that it takes five minutes to make! But I suggest toddlers take their precious time to get to know each bead properly.
2. Easy Bee & Flower Pattern for Toddlers

Here's a couple of bees from l4vender, who includes a bonus flower that the kids can pollinate with their crafted bees. They can then pretend to bring the bees to their hive to store their nectar.
If they prefer to make three-dimensional flowers, here are some 3D paper flowers that kids can make with you!
3. No-Fuss Bee Perler Bead Pattern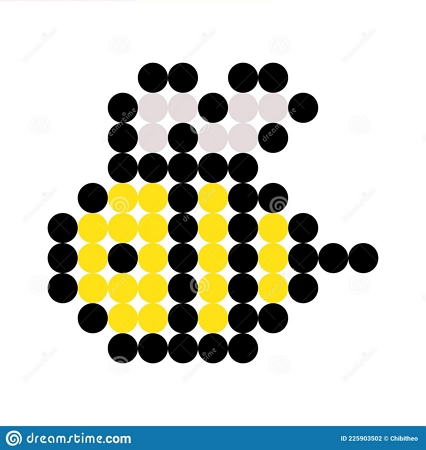 Dreams Time shares a no-fuss bee pattern with a hard black outline to make it easier for kids to create the bee.
4. Valentine's Day Perler Bead Bumblebee Pattern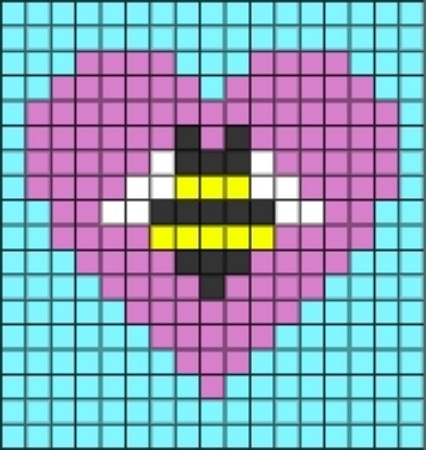 Show that bees are loving creatures with this heart bee pattern from its_jenny. Keep the bee and heart together, as in the pattern, or create them separately.
This can be a great Valentine's craft for toddlers!
Spread the love with these heart Perler beads or Valentine's crafts for toddlers.
5. Another Bumblebee Perler Bead Pattern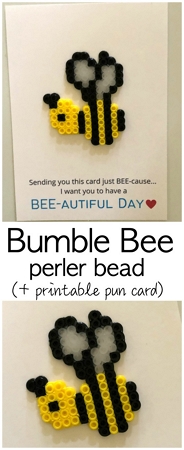 Here's a bumblebee Perler bead pattern from The Cents'Able Shoppin, who wishes everyone a wonderful day with bee Perler beads and a card.
For more bright ideas, check out these sun crafts to lighten up anyone's day!
6. Colorful Bee Perler Beads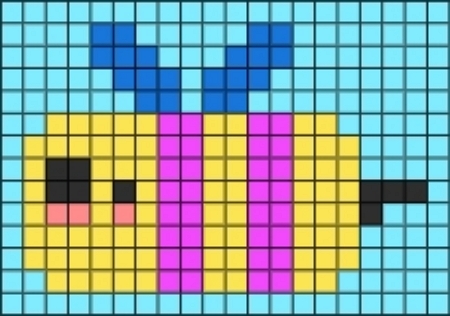 Encourage your kids to be more creative with color patterns, just like how bbinski is with this Perler bee pattern. Instead of black stripes they use purple beads and they changed the white wings to blue.
This bee is almost as colorful as these rainbow crafts for kids.
7. Easy Bee Pattern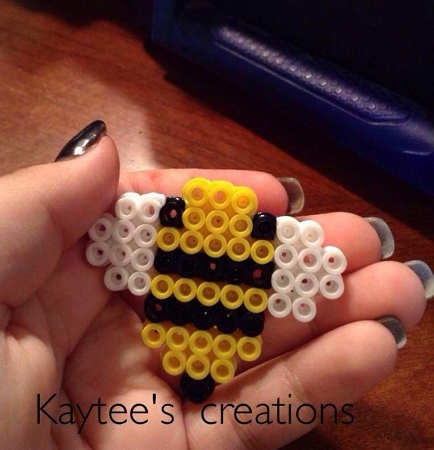 EightGreatCrafters creates an easy bee pattern for beginners. This can challenge toddlers' visual perception as most of the bee Perler beads patterns so far are from the bee's profile.
They might question, "Why are the wings on its side instead of the top?" which encourages problem-solving skills.
8. Chubby Bee Pattern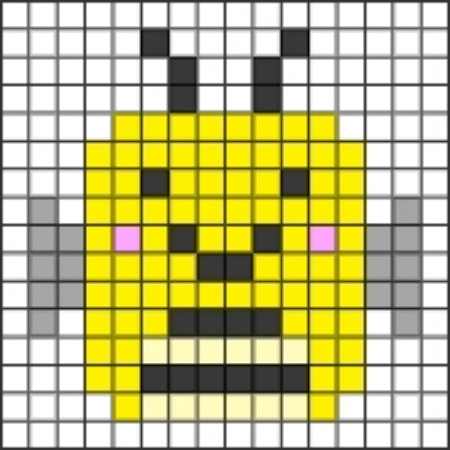 AppleBunny creates a chubby bee companion for kids to make on those lonely days. The happy expression on this bee is sure to cheerios them up.
(I know, I know – that one was a bit of a stretch).
Try making more DIY companions of your kid's favorite characters with these Toy Story crafts.
9. Simple Silly Cartoon Bee Pattern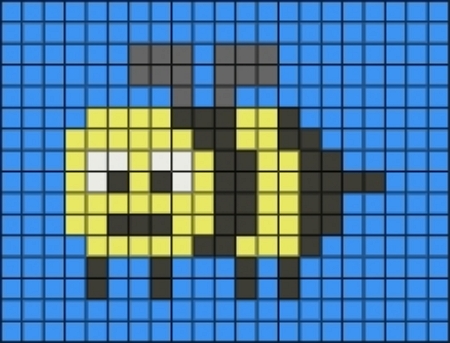 Perhaps a cartoon bee, which is something very familiar to kids, will help convince them to try a bee Perler beads pattern.
Follow arinao's bee pattern that features very large eyes that are typical of cartoon characters.
8 Bee-autiful Bee Perler Beads
Here are more bee patterns that are suitable for grade schoolers that feature a bit more challenging designs.
10. Blushing Bee Perler Beads Pattern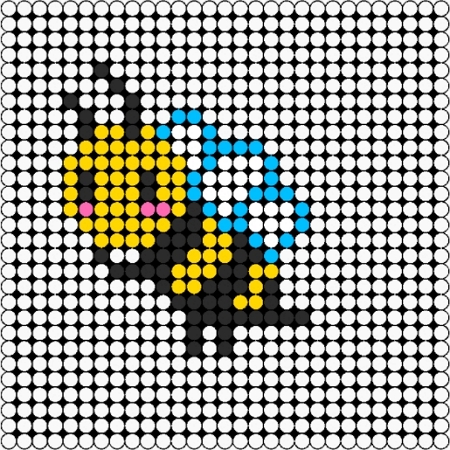 GwenniStars creates a blushing bee pattern. It's amazing how adding a couple of pink beads totally changes the personality of the bee!
11. Wasp Perler Pattern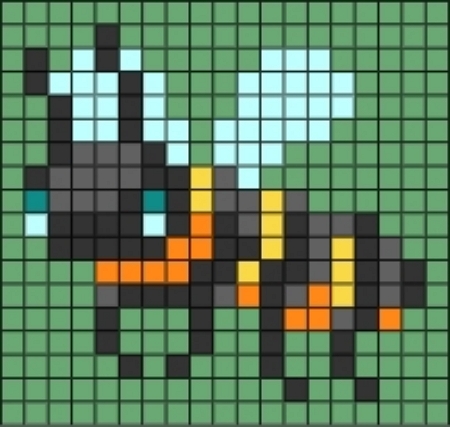 Here's gomezztori providing a pattern for a wasp, which looks realistic compared to most of the bee patterns so far.
While it's a minimalistic pattern that doesn't consist of a lot of beads, using different shades allows you to create depth in the wasp's design.
12. Another Cartoon Bee Pattern
Here's another version of a cartoon bee with ridiculously big eyes by Jeanette that's more appropriate for older kids because of its size.
13. Detailed Hornet Perler Bead Pattern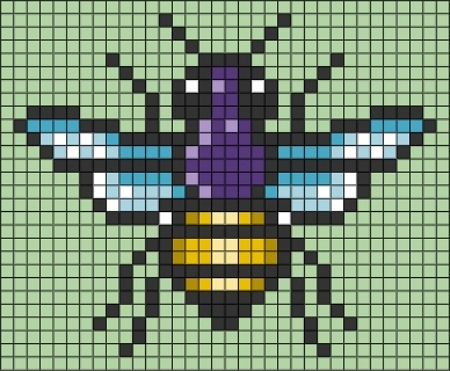 Here's a detailed hornet pattern from hlc if you want to try something a little more challenging than your average bumble bee.
Wanna know more about insects? Perhaps these fly drawings will help interested kids learn more about our tiny neighbors.
14. Simple Perler Bee Pattern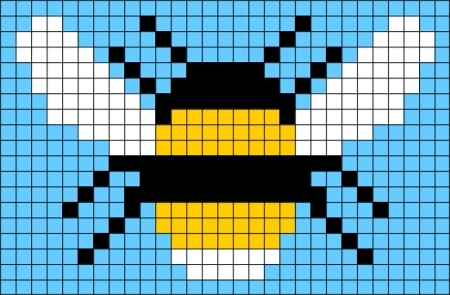 There's nothing wrong with trying big bee Perler beads patterns like this one from Not shizik.
15. Beehive Perler Bead Pattern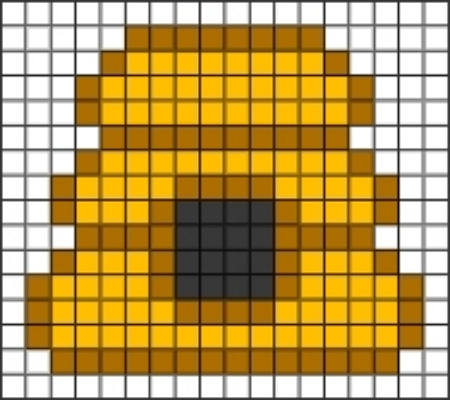 Create a hive for the bees you've created so far by following m345's beehive pattern. This one can acquaint kids with new shapes.
Challenge kids to explore more shapes with these origami kits.
16. Cute Bee Perler Beads Pattern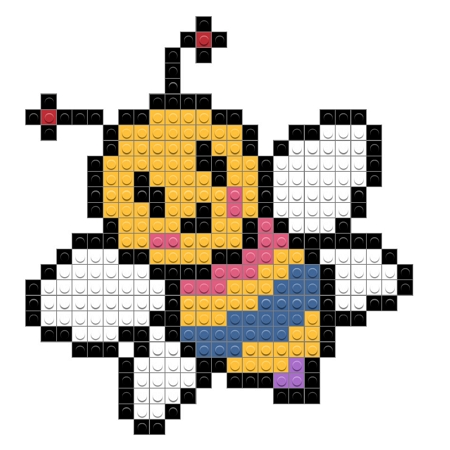 This bee pattern from antiquecauldron1 is almost a hybrid between a bee and a butterfly, and I love it! It's an adorable craft that any kid will enjoy.
This cute bee reminded me of these ladybug crafts that kids will also  find adorable.
17. Kawaii Bee Perler Beads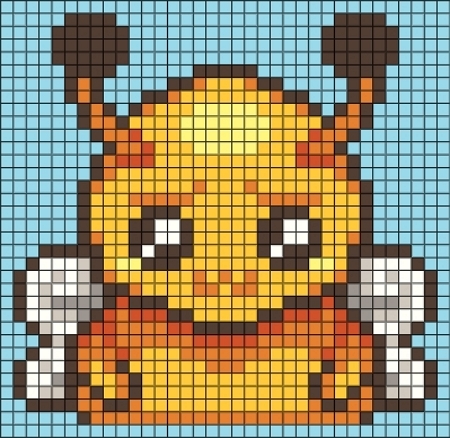 LovelyDay takes cuteness to another level with this kawaii bee pattern. Its physical characteristics, like the huge eyes and antennae, are exaggerated to the point of making it adorable.
For more cute Perler beads like this one, I suggest checking these kawaii Perler bead patterns out.
6 Pop Culture Bee Patterns
The last six bee patterns on the list are taken from popular media, like Pokemon and Minecraft.
18. Combee Perler Bead Pattern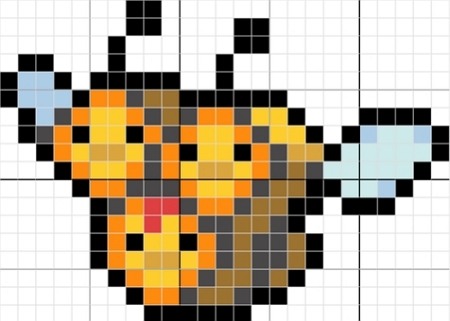 Stitchdex brings to life the most adorable bee in the Pokemon universe, Combee.
19. Beedrill Perler Bead Pattern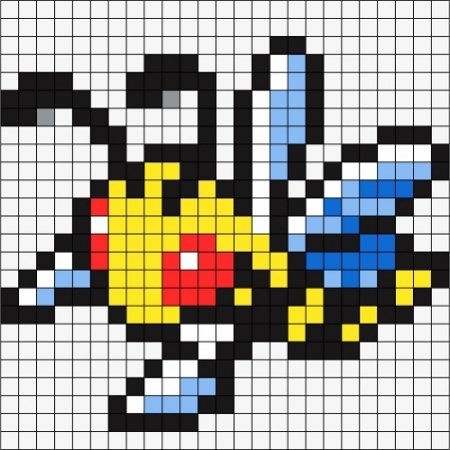 Here's another bee-type Pokemon by PNGKit that resembles an actual bee.
Try "crafting" them all by making these Pokemon Perler beads, too!
20. Minecraft Bee Perler Bead Pattern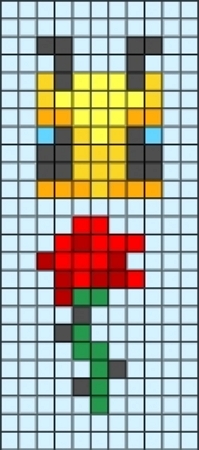 Minecraft enthusiasts can show their love for the game by making this bee and rose pattern from avajks.
The great thing about making Minecraft bee patterns is that the game's graphics are already pixelated and ready to be translated into Perler beads.
21. DIY 3D Minecraft Bee Perler Beads
If the kids want to push their Perler bead activity a little bit further, then QDCrafts has got them covered with this 3D Minecraft Bee Perler bead guide.
Completing this bee craft will give your kids a great sense of accomplishment.
While it might seem a daunting task, there's no need to be intimidated because the guide details each step of the process and the video tutorial contains timestamps to make it easy to go back and forth in the video if you missed something.
If the kids love everything Minecraft, then don't miss out on these Minecraft Perler bead patterns.
22. Mario in Bee Costume Perler Bead Pattern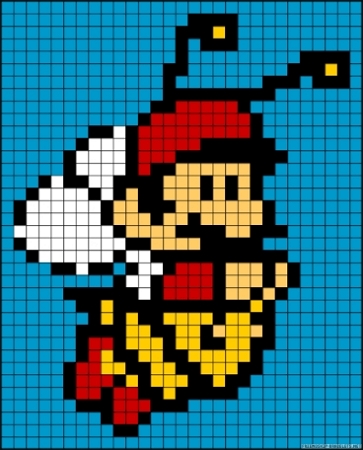 Never Give Up provides a great Mario in a bee costume pattern for big Mario fans. The kids will be ready to save Princess Peach after making this Mario craft.
Check out other superhero crafts to save the day!
23. Hello Kitty Bee Perler Pattern
Once again, we are presented with an adorable Hello Kitty pattern wearing a bee costume brought to you by gelflingelf.
Let's "Bee" Adventurous with These Perler Beads
These bee Perler beads (and Perler beads activities in general) are the best way to spend time with the kids because they're super fun and a great learning experience.
Try making more animal patterns with these other Perler bead lists: