If you're a fan of The Mandalorian series then there's little doubt that you came here for the Baby Yoda Perler beads!
The Mandalorian turned out to be as surprise hit as it's quite intriguing with its action-packed adventures, familiar settings, and captivating storytelling.
Personally, I came to see what the hype was about and stayed to watch the rest of the series because of Baby Yoda.
Prepare to enter hyperspace as we dive into these Baby Yoda Perler beads that range from simple to more unique Baby Yoda fuse bead ideas.
Please take note that all ironing must be done by an adult.
3 Baby Yoda Perler Bead Kits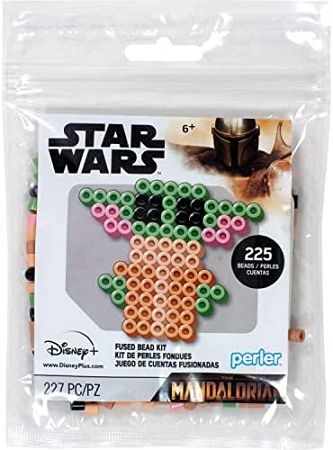 Perler bead beginners who are curious about what fuse beads are all about can start with this easy Baby Yoda Perler bead kit that's also suitable for young children.
Melty beads are sort of like LEGOs, in the sense that you need to assemble the bead pieces onto a pegboard. The main difference is that these fuse beads are activated by heat, the common way of applying which is through an iron.
To learn more about Perler beads, simply head on to our easy Perler bead patterns, where a comprehensive beginner's guide is waiting for you!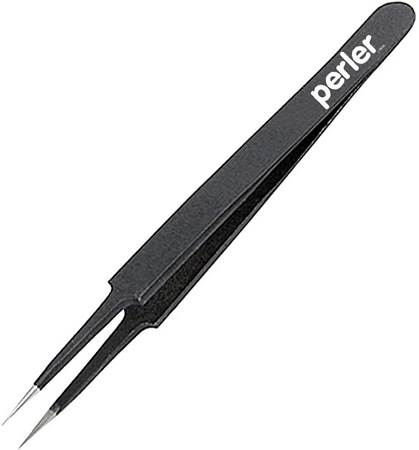 If your little Padawans (Jedi students) are still getting acquainted with the fundamentals of the Force (i.e., Perler beads), then this pair of tweezers might accelerate their learning process.
With hundreds, even thousands of fuse beads to assemble, the fingers of your little ones will get tired eventually, and having these might help those Perler bead activities last longer.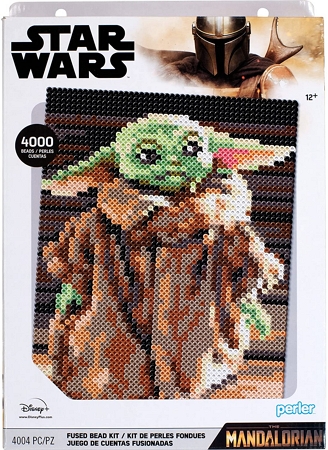 If you're looking for a more complicated Grogu pattern, then this intricate Baby Yoda Perler bead kit should be right for you!
With over 4,000 pieces to assemble, making this activity will be akin to completing a jigsaw puzzle. Of course, the kit will contain an instruction pad so you won't be completely in the dark.
It's best to allot an entire afternoon (preferably an entire weekend!) to complete this stunning design since there are plenty of color shades involved.
Just like Grogu deciding whether to become a Jedi or a Mandalorian, once the beads have been ironed out, there's no turning back.
10 Baby Yoda Perler Bead Pattern
Let's begin with some simple Grogu patterns, ranging from an easy Baby Yoda face pattern to more challenging kawaii patterns.
Here's some easy animal drawing for kids, a great starting point should you want your little ones to develop their artistic skills.
4. Cute Baby Yoda Head Melty Beads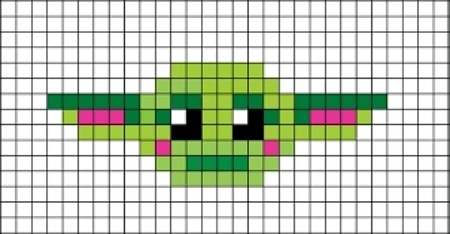 In the show, Grogu didn't look like he was animated using CGI.
That's because a real puppet was used alongside the actors!
Treehouse Threads shares a pattern of cute Grogu that's more relatable to little kids. They added a pair of pink Perler beads to his cheek that accentuate his cuteness.
5. Baby Yoda Face Pattern

Here's another easy Baby Yoda face pattern, shared by maddygould.
Perler beads are an amazing activity, and this pattern shows how children can learn various shapes through these fuse bead projects.
His eyes, for example, teach children a basic shape like the square.
6. Cartoon Baby Yoda Design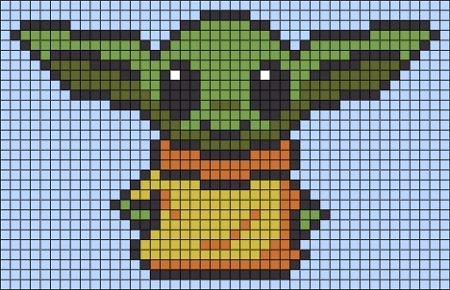 Some critics had the audacity to say that Baby Yoda looks ugly in the show.
They're entitled to their wrong opinions, of course, but if you'd like a pattern that looks a little less realistic, then look no further than this pattern made by HeyItzLucy.
Its cartoonish style will certainly have an appeal for those who frequently watch cartoons, that is, children!
If your kids love cartoons, then they'll adore these PAW Patrol crafts and Bluey crafts.
7. Baby Yoda in His Pod Pattern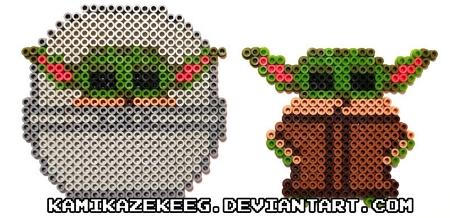 Even though Baby Yoda is 50 years old when Din Djarin was tasked to retrieve him, his age is relatively young for his species.
That's why he's often portrayed in his floating crib (or pod), just like any toddler.
Here's a pattern by kamikazekeeg, who teaches us how to craft a design of Baby Yoda in his pod and one just standing.
8. Baby Yoda Drinking Soup Pattern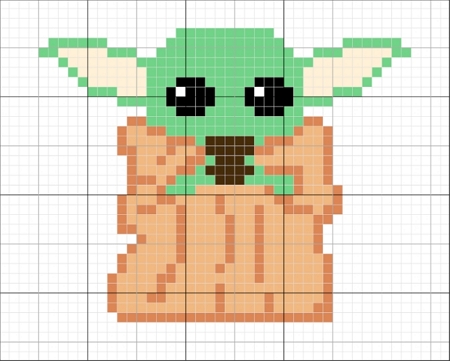 This design is inspired by an iconic scene where Grogu was casually drinking his own soup.
Doces Pontos allows us to recreate that adorable and memorable moment through their pattern.
9. Simple Baby Yoda Fuse Bead Pattern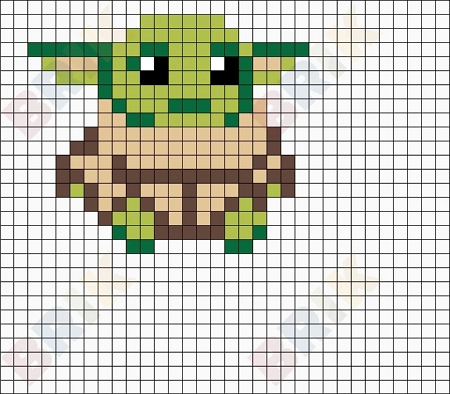 Brik allows you to get your own Baby Yoda who looks like he's ready to be picked up and be nursed like a baby.
10. Baby Yoda and The Mandalorian Perler Bead Pattern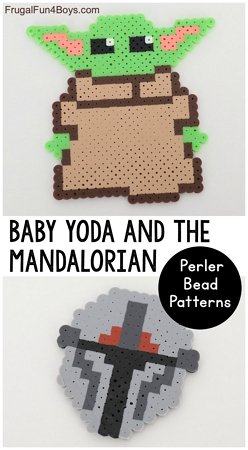 We might've totally missed our precious womp rat if it wasn't for the bounty hunter, Din Djarin, who had a change of heart in saving his target, instead of killing him.
Frugal Fun 4 Boys reunites the two characters, who have a special relationship like that of a father and son.
11. Adorable Baby Yoda and Baby Frog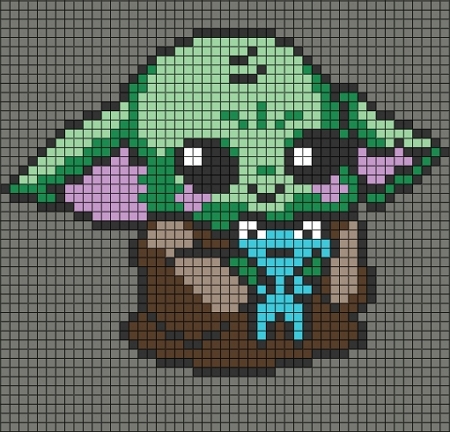 Baby Yoda likes to eat things that we humans would normally consider as exotic, like frog eggs.
With their Perler bead design, ASMF shows us how happy Grogu is whenever he gets his hand on something delicious, like the blue frog he holds in this pattern.
Create more frog crafts for kids here!
6 Unique Baby Yoda Perler Beads
These next six Baby Yoda fuse bead patterns are unique in that some of these patterns are mixed with other popular media characters, like the Mandalorian and Grogu in the shape of Mickey Mouse, while others are seasonal, like Grogu wearing a Santa hat.
The Mandalorian is but one story in the Star Wars universe. Get to know others through these Star Wars Perler beads!
12. Mickey Mouse-Inspired Baby Yoda and the Mandalorian
User _Evelyn_ from Bracelet Book mixes the most iconic character in Disney with the most adorable character in Disney by making these Mickey Mouse-inspired Baby Yoda and Mandalorian patterns.
The shape of these designs is perfect if you're looking for a Star Wars drink coaster.
I love Mickey Mouse! So much so that I've also created a DIY Mickey ears guide and compiled some Mickey Mouse crafts and Mickey Mouse Perler bead patterns!
13. Among Us Baby Yoda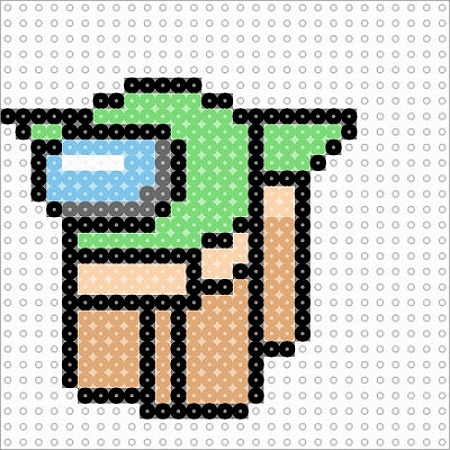 Who'd think that Grogu would ever be "sus"? Even though this young Padawan can wield the force, I would never accuse this little green monster.
Maybe you can get away with murder in the game Among Us if you disguised as Baby Yoda, like this pattern shared by datteber.
14. Baby Yoda in a Flower Pot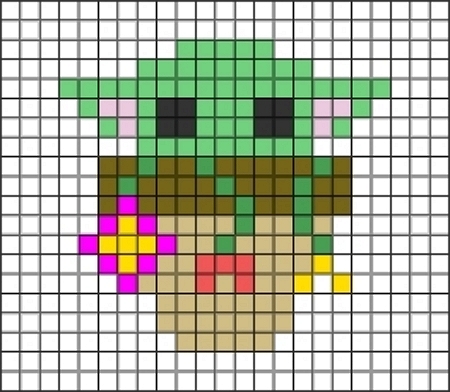 If there exists a plant species that looked like Baby Yoda, I'd fill up my entire backyard with it.
Unfortunately, not even a real Grogu exists in real life. Luckily, we have _laura_, who kindly shares this cute Baby Yoda in a pot.
Here are some plant crafts and drawings for those with a green thumb: 3D paper flowers and flower doodles.
15. Christmas Baby Yoda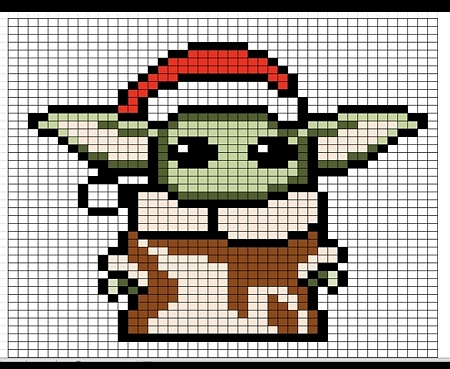 I'm not sure if Christmas is celebrated in the Star Wars universe, but I know that this Baby Yoda wearing a Santa hat from Some DIY Projects is very welcome in my heart.
Try these snowman handprint ornaments and snowman crafts for kids to make during winter.
16. Kawaii Baby Yoda and His Soup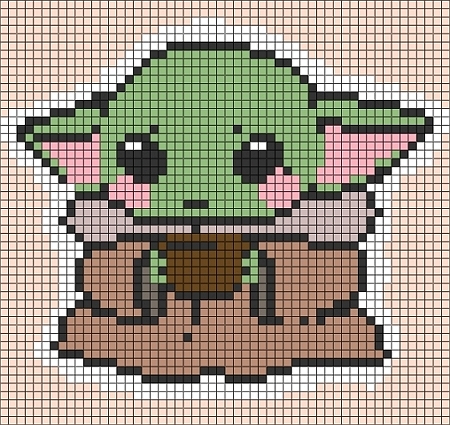 Here's another kawaii Baby Yoda pattern, delivered to us by kw314. It once again recreates the scene where Grogu is drinking his soup while the adults are discussing serious matters.
The blush on his face makes this green monster cuter than he already is, which many will find adorable!
Need more reason to melt your heart? Say no more, and proceed to make these kawaii Perler bead patterns.
17. 3D Baby Yoda Perler Beads
KandiPerlerFairy's channel has a video tutorial for those who love to create a 3D version of Baby Yoda. Making 3D fuse beads might seem difficult, but the guide makes sure that anyone can follow the project easily.
Check out more 3D creations by heading on to our 3D Perler bead patterns list!
A Mandalorian and a Jedi? They'll Never See It Coming!
Grogu has captured the hearts of many viewers who consequently turned into big The Mandalorian fans. I'm sure that making these Baby Yoda Perler beads will make anyone rewatch the entire series.
For more activities to do during your free time, here are more options to choose from: