Fans of Star Wars who'd love to introduce the franchise to their children through kids' crafts will be happy to find these Star Wars Perler beads.
As you've probably seen in our easy Perler bead patterns guide, these exciting activities can prove to be a fun activity for growing minds.
Manipulating Perler beads (also known as melty beads) can improve kids' fine motor skills, visual skills, and creativity since they're carefully placing small beads on a pegboard that will ultimately form a design.
So let's beginthat young Padawan's training with these 30 different Star Wars melty bead patterns!
3 Star Wars Perler Bead Kits and Patterns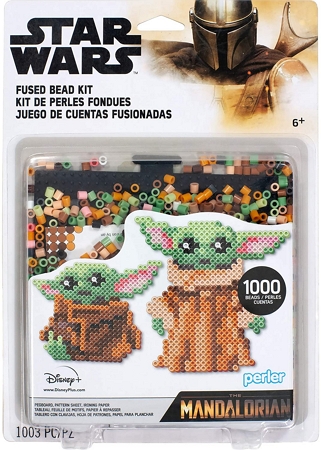 Don't be anxious if you prefer a little more guidance with your fuse bead practice because here's a fuse bead kit for your convenience. This Perler bead kit contains enough beads to create two Perler bead versions of Grogu and a pegboard to place the beads on.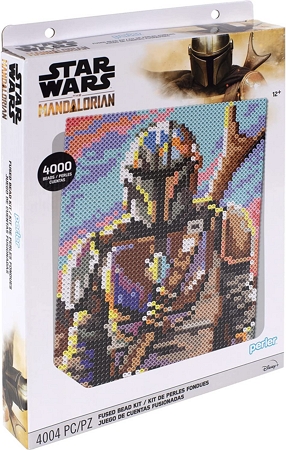 Fans of the Mandalorian shouldn't miss out on this Perler bead kit. It's full of beads that will allow anyone to assemble a Perler bead "painting," similar to how one would assemble a jigsaw puzzle to get the overall picture.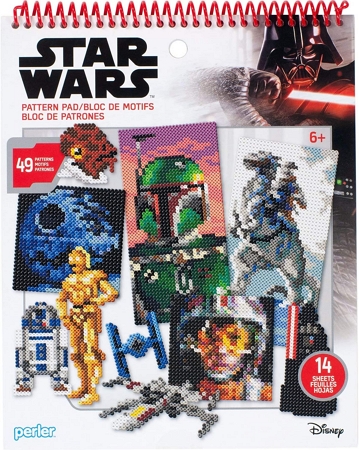 If you didn't find what you were looking for and are searching for more intricate Star Wars Perler bead patterns, here's a pattern pad from Perler that contains almost 50 patterns of our favorite franchise.
The patterns contained in this pad are suitable for older kids since they are a little more sophisticated than most patterns found on the web.
11 Star Wars Perler Bead Patterns
Find some of the most iconic characters in Star Wars in these first 11 Star Wars Perler bead patterns.
4. Star Wars Logo Pattern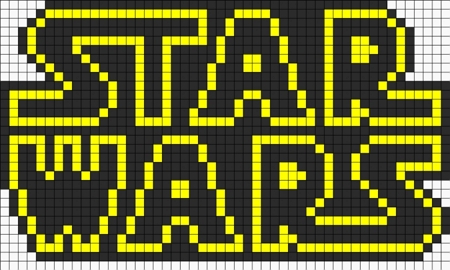 Just like any Star Wars movie, the best way to start our Perler bead journey is to showcase this Star Wars logo made by IceBunee.
This craft focuses more on the placement of the Perler beads rather than the colors since it involves only black and yellow.
5. C-3PO Perler Beads Pattern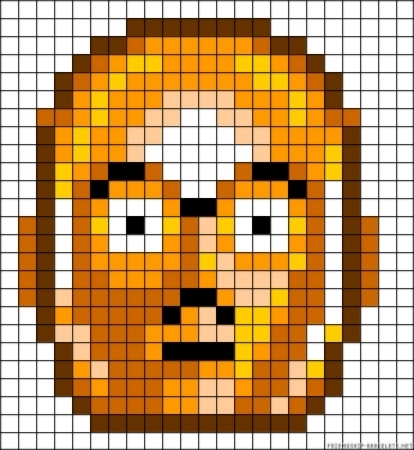 VRoss4613 creates the most obedient protocol droid there is, C-3PO, who forms a very entertaining duo with R2-D2. Just as droids have their purpose in the movies, so does this Perler bead creation, which can be turned into a coaster once completed.
6. R2-D2 Perler Beads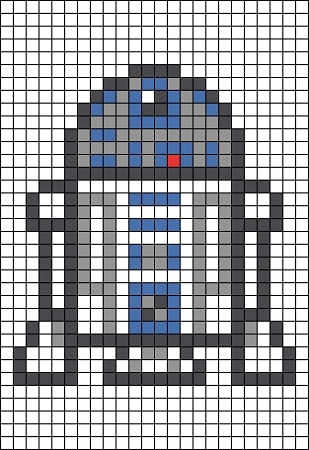 R2-D2 can't be missed when watching any of the Star Wars films, and children can't skip out on this pattern made by JJandme. This project is easy for kids to make and will introduce toddlers to different shapes.
7. Luke Skywalker Perler Beads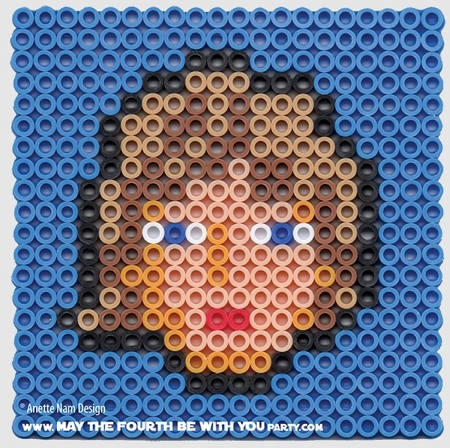 The fate of the galaxy rests in the hands of this young Padawan. Anette inspires kids with this pattern of Luke Skywalker, who underwent intense training to save his friends and, ultimately, the galaxy.
His triumph versus evil is one of the morals that kids can learn at quite a young age.
Speaking of young heroes who triumph over evil, we have a great compilation of Harry Potter crafts that are fun for every fan!
8. Princess Leia Perler Beads Pattern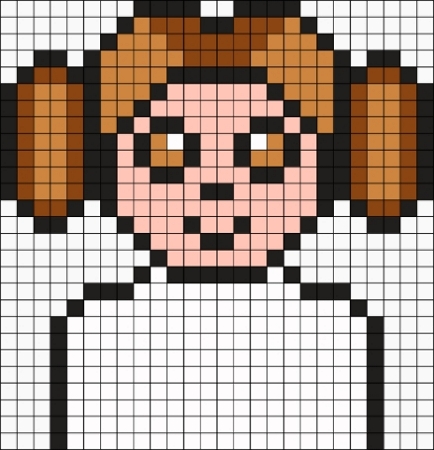 Princess Leia is a good role model that young girls should aspire towards because she tried to thwart the evil plans of the Empire. Inspire your daughters and make this Princess Leia figure by Melvena, who shares an easy pattern to follow.
9. Han Solo Perler Beads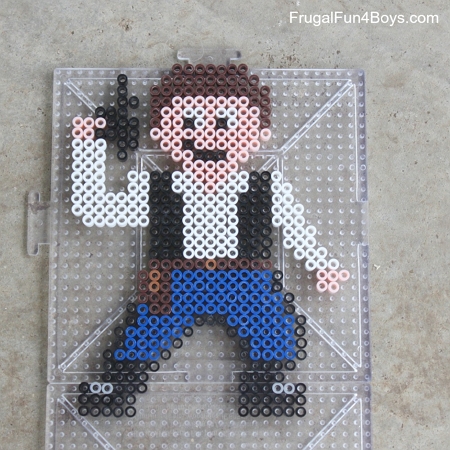 It's always nice to know that someone always has your back, and that's exactly what Han Solo represents: a friend who will always be there for you.
Create a trusted companion with this Han Solo Perler bead pattern shared by Frugal Fun 4 Boys who does an excellent job of recreating Han with his blaster.
10. Chewbacca Perler Bead Pattern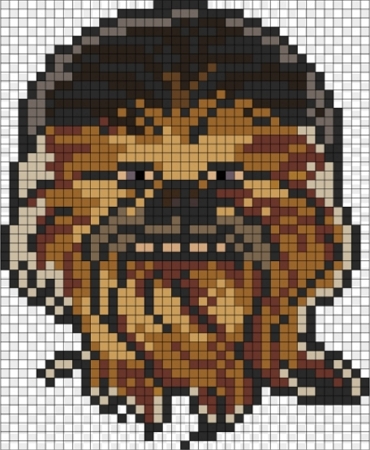 If you make a Perler beads pattern of Han Solo, then you must also create a Chewbacca one! Here's a great portrait pattern of our favorite Wookiee provided by PNGFind.
11. Yoda Perler Beads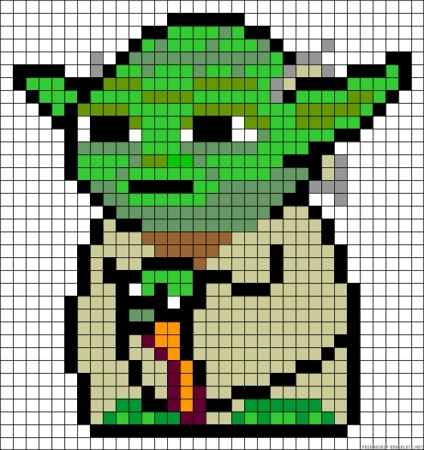 Instead of going to a remote planet and trying to find Master Yoda, Pache will bring him to you through this Perler bead craft.
Kids will be able to learn how to wield the Force and lift a spaceship in no time (by which I mean they'll improve their dexterity and hand-eye coordination).
12. AT-AT Walker Pattern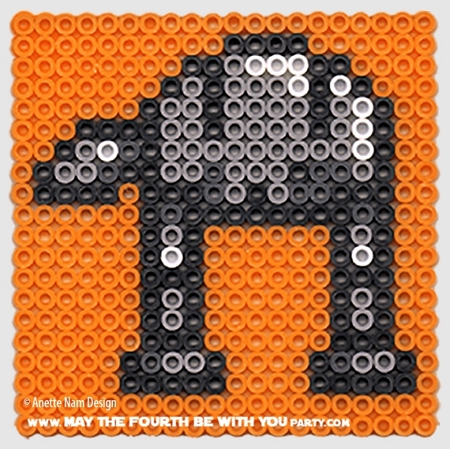 Provide a formidable opponent for your kids' Star Wars characters by making this AT-AT walker brought to you by Anette.
13. 3D X-Wing Perler Beads Project
Creating a 3D X-Wing made of Perler beads seems like a daunting task. Beyond the Bead proves otherwise by making this comprehensive guide to assemble a X-Wing with fuse beads.
The first section is devoted to creating the parts required for the spaceship. Then they show how easy it is to assemble the ship, providing convenient timestamps for each component of the aircraft.
14. Lightsaber Perler Beads Pattern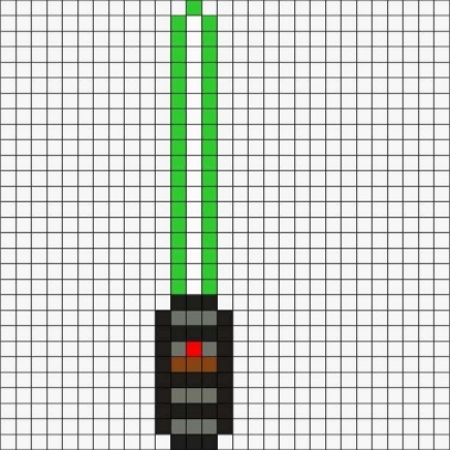 Only a few talented individuals could ever master a lightsaber. With little effort and guidance, your toddler can too by making this Perler bead lightsaber from SeekPNG.
7 Cute Star Wars Perler Beads Patterns
These next seven patterns will melt (pun intended) your heart.
Other things that can melt your heart are these adorable kawaii Perler bead patterns.
15. Mini Star Wars Perler Beads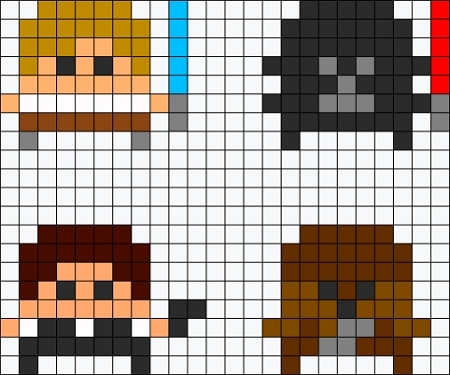 Basic patterns such as this one from Free Bead Pattern are perfect for toddlers who aren't yet skilled in making complicated patterns. The great thing about this pattern is that, even though they're simplistic, we can still recognize the characters!
16. Ewok Pattern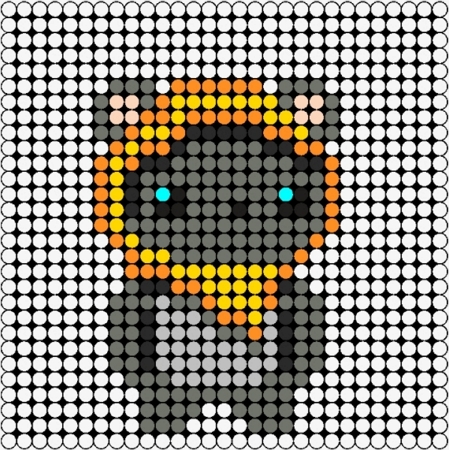 Don't be fooled by the cuteness of the Ewok because they're very competent warriors who helped our favorite characters in their effort to take down the Empire.
PNGKit gives you a pattern of this adorable species, whose clothing's color can be customized to your kids' preference.
17. Porg Perler Beads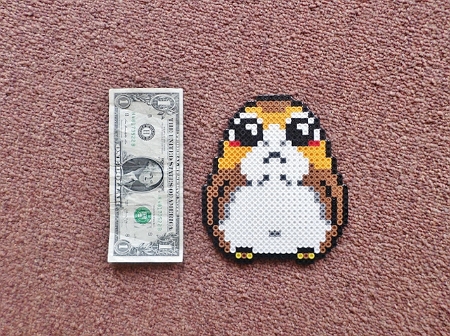 There's something about critters with big eyes that make them instantly adorable, like the Porgs. Make this cute companion now by following the guide by Long Black Fingers.
Create more birds that are as cute as this Porg by doing one of the owl rock paintings with you kids!
18. Jawa Perler Beads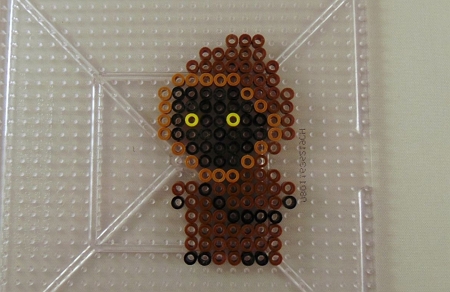 While Jawas might seem cute, their scavenging and looting behavior places them far from being cute. But if we're strictly talking about their physical appearance, then some might be charmed by their size and mysterious look.
Krysanthe provides an accurate depiction of Jawas with this Perler bead pattern that they've created.
19. Hello Kitty Wars Perler Beads Pattern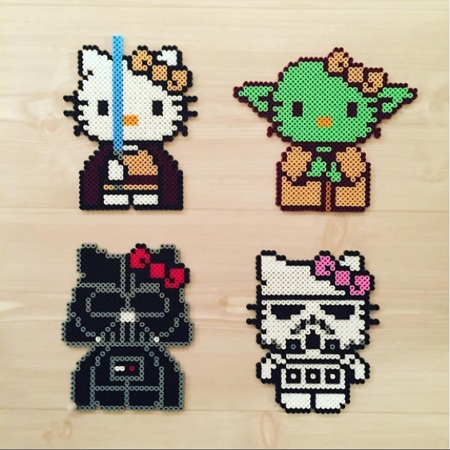 Kittybeads shares these incredible Star Wars-inspired Hello Kitty Perler beads patterns. These are so adorable that even Darth Vader looks non-threatening with that little red ribbon.
20. Minions as Star Wars Characters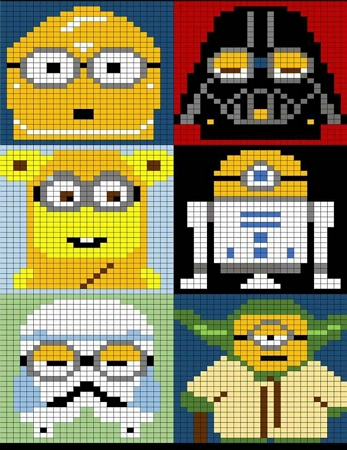 Fans of both Star Wars and the Minions can have a laugh or two with these Minions cosplaying as Star Wars characters. Modeles Hama provides these silly yet awesome Perler bead patterns.
21. The Death Star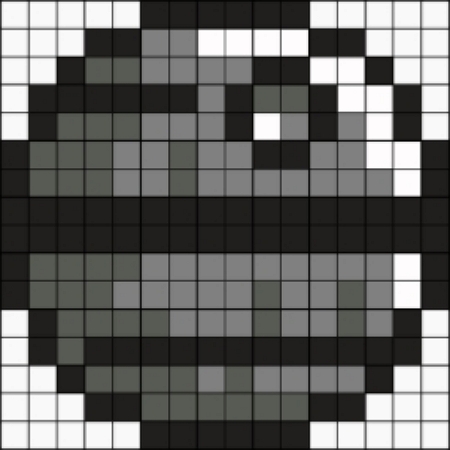 While the Death Star represents the total opposite of what is cute, JeffDaPotato still manages to make an adorable Death Star with their pattern.
For perfectly round Perler bead projects, here are circle Perler bead patterns for round pegboards.
5 Star Wars Perler Beads for the Dark Side
These villains are arguably what makes the films so great. Make these characters, who have turned to the dark side of the Force, to create some formidable opponents for your kids' heroic Star Wars characters.
If you need other superheroes to save the day, here are a few other superhero crafts to make!
22. Darth Vade Perler Beads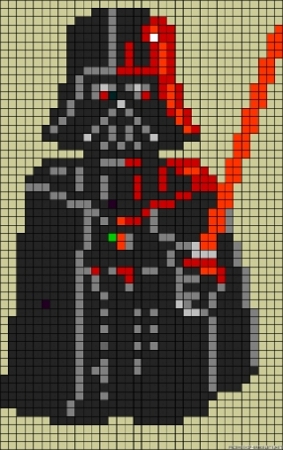 No introduction is needed for this Sith Lord, who everybody knows Luke Skywalker's dad (oops, spoiler alert).
23. Darth Maul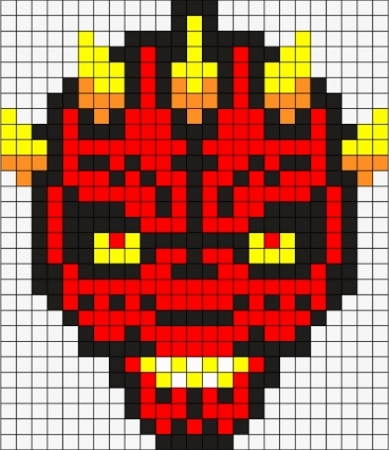 Out of all the Siths, I believe that Darth Maul had the creepiest look of all. PNGKit shares this face of Darth Maul, which looks so spooky that it can be a Halloween decoration.
If you'd love to make more DIY Halloween decor, then don't miss out on these Halloween painted rocks and paper mache pumpkins.
24. Stormtrooper Perler Beads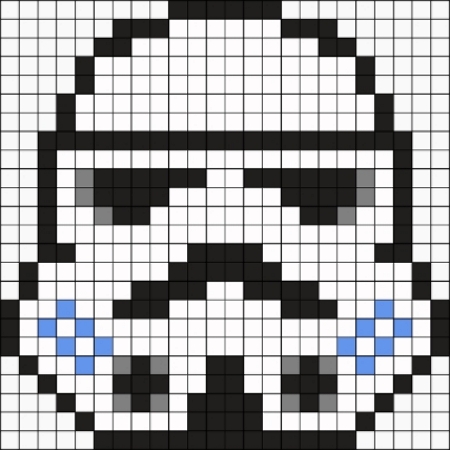 The Empire wouldn't be so hard to take down if it weren't for Stormtroopers. At the same time, their incompetence might've caused the Imperial downfall.
Anyway, they're integral to the Star Wars franchise, so practice your fuse bead obsession by making this Stormtrooper created by TechnoTrooper.
25. Darth Sidious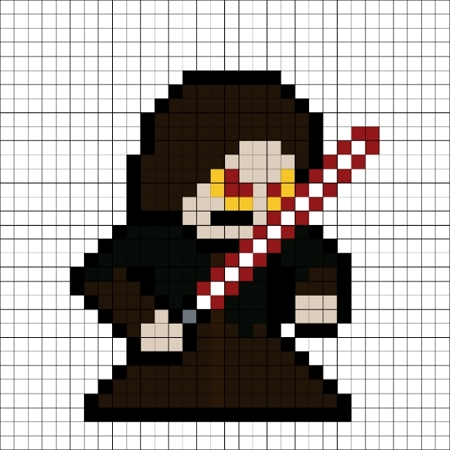 Many have trained under the Sith Lord Darth Sidious, who acted as the Emperor during his dark Imperial reign. The stories we know now wouldn't exist if there wasn't a mastermind like Darth Sidious.
PeteBits24 shares this minimalistic version of Emperor Palpatine wielding his red lightsaber.
26. Jabba the Hutt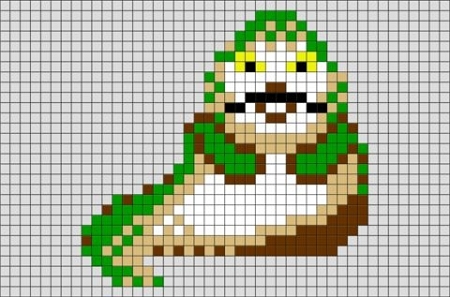 While not exactly a wielder of the Force, Jabba the Hutt isn't one of the good guys, either. Brik provides an excellent pattern of him, complete with the small color details and shading under his belly.
4 Mandalorian Perler Beads Patterns
The Mandalorian series captured the hearts of many with the most adorable creature, Grogu (aka, Baby Yoda). Relive the adventures of The Mandalorian and The Child by making these Mandalorian Perler beads patterns.
And get your Baby Yoda fix with these other Baby Yoda crafts.
27. Baby Yoda Perler Beads Pattern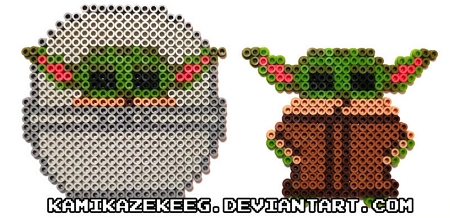 I'd be lying if I said that I want to rewatch the Mandalorian for reasons other than seeing Grogu again. He's just too adorable!
Kamikazekeeg recreates him both in and out of his moving crib, both of which can be easily recreated by toddlers like Grogu.
28. The Mandalorian's Beskar Helmet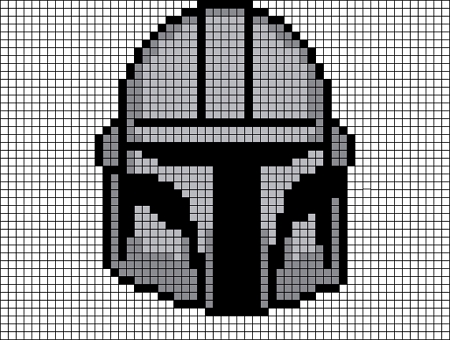 While our hearts have been stolen by the cuteness of Baby Yoda, we can't forget the protagonist with whom he forms a bond. This beskar helmet pattern provided by Mr_norman reminds us that Mandalorian will go to any lengths to protect the kid.
29. Fuse Bead Pattern of Boba Fett Being Awesome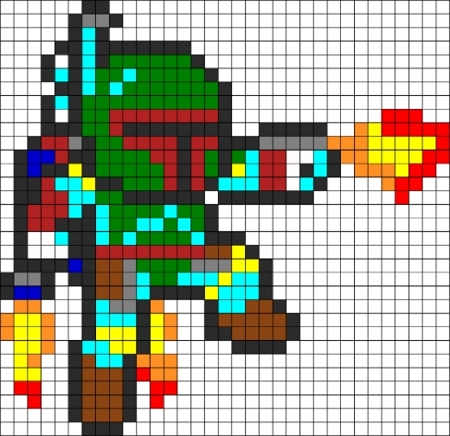 While he doesn't consider himself as Mandalorian, Boba Fett still rocks Mandalorian armor that he inherited from his father, Jango. PikPNG gives us a glimpse of his badass fighting style with this awesome Perler bead pattern.
30. Boba Fett's Helmet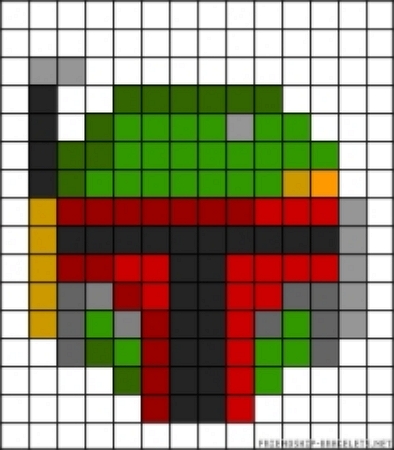 There's no shame if you need a simpler Boba Fett pattern. In fact, you should encourage preschoolers to start with the basics, just like this helmet made by Shegorules.
May the Force Be with Your Star Wars Fuse Bead Patterns
Star Wars is an awesome franchise and Perler beads are one of the best ways to introduce it to kids! Besides creating their favorite companion, they also get to practice many skills that are great for their development.
If the kids would rather make similar Star Wars projects, then here's a list of Star Wars crafts that I'm sure they'll enjoy.
For more Perler beads patterns check out these other lists: