Display your love for the hugely popular game Among Us by making one of these Among Us Perler beads!
Set in various extraterrestrial places, this multiplayer game in which players are divided into crewmates and impostors with the goal being for impostors to eliminate or sabotage operations.
The game become an enormous hit around the world in 2020 and spawned popular memes, so if you love the game, then you've come to the right place to pay homage to your favorite pastime!
3 Perler Bead Accessories for Among Us Patterns
Stop giving yourself a hard time by searching for Perler bead accessories because I've already compiled them for your convenience.
Other no-fuss guides include these Harry Potter Perler bead patterns and dinosaur Perler beads.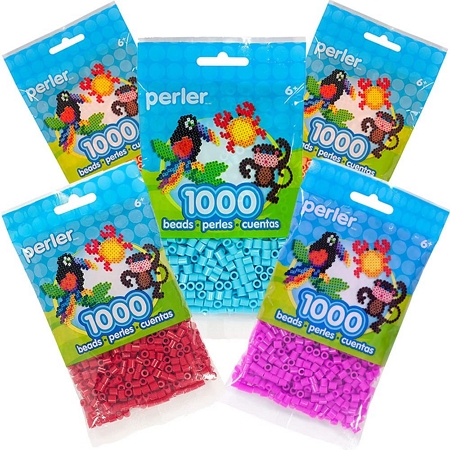 Among Us is a game where you get to personalize your character and style them with your flair. Whether you're an impostor or a crewmate, your character will stand out when you're given the materials you need for customization.
These Perler bead packs take you a step closer to achieving the best look for your Among Us character. Each pack contains 1,000 pieces of beads with your preferred color.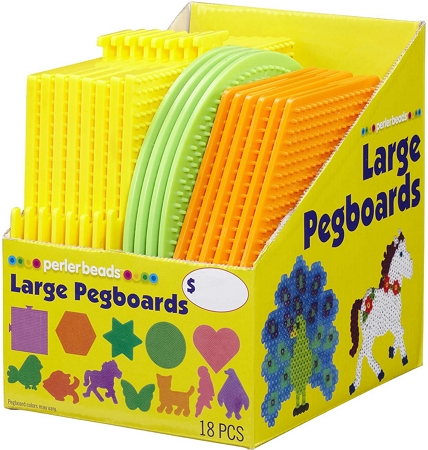 Let's not forget the pegboards where the Perler beads will be assembled. If you've been thinking about making Perler beads for quite some time, these large pegboards may be the sign you've been waiting for.
Getting this 18-pieces pegboard bundle frees you of the worry of searching for the materials needed for any sudden Perler bead activity, which happens more often than you might think.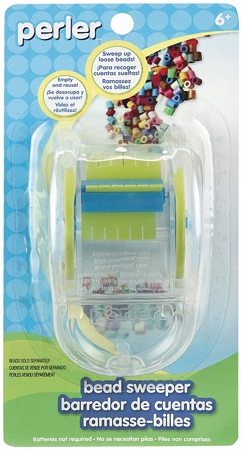 Perler beads are the size of a pea, perhaps even smaller. These small things can fall inside your sofa or get swept in hard-to-reach places.
Fortunately, this Perler bead sweeper can clean and collect them as easily as the poor janitor tasked with cleaning the bodies in any Among Us map.
8 Among Us Perler Bead Patterns
These first eight Among Us Perler bead patterns will be tackling basic Among Us Perler bead designs which you can change according to your color preference. Additional designs can even be added if you're creative enough to make those changes.
Customize your own DIY Mickey Ears now to impersonate your favorite Disney character!
4. Small Crewmate Perler Beads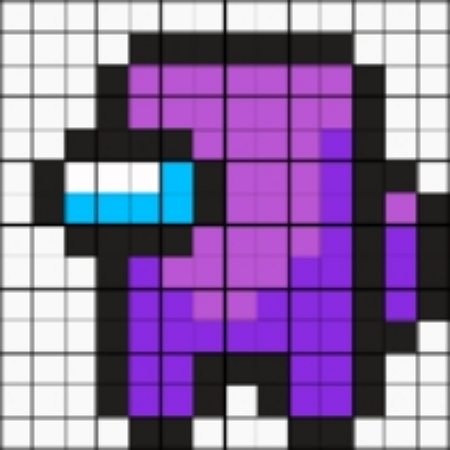 Those looking for a quick Perler bead activity should look at z_b0n3_r0tt_z's small crewmate Perler bead pattern.
Similar to how simple and quick it is to make this small character, these easy Perler bead patterns won't give your little ones a hard time either.
5. Classic Among Us Crewmate Design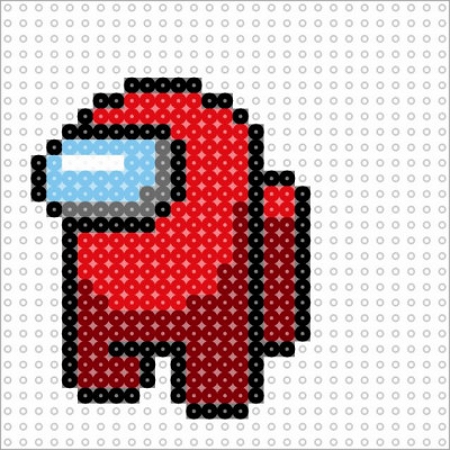 There's nothing like staying true to the classics, like this classic red crewmate pattern shared by datteber. The design of a regular crewmate looks simple, but there are subtle differences in color that complete the design.
For more of the classics, head on to our Mickey Mouse crafts and Mickey Mouse Perler beads.
6. Murdered Among Us Crewmate Perler Bead Pattern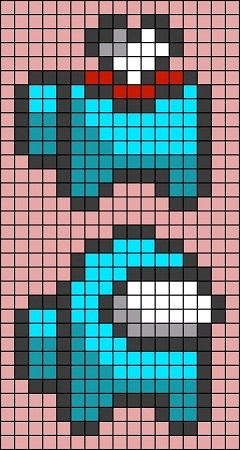 If you've been playing Among Us for quite a long time, then this image isn't at all shocking. Playing as a crewmate, though, it's the last thing you'd want to see.
This scenario is perhaps one of the defining features of the game, and annakot is here to help those enthusiasts bring it to life.
Try your hand at these Halloween painted rocks if you're looking for more spooky stuff.
7. Crewmate and Baby Crewmate Among Us Pattern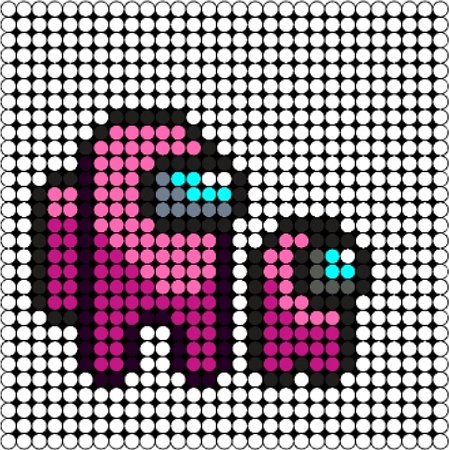 Besides those graphic scenes where the impostor kills a crewmate, Among Us is generally a family-friendly game that any member can enjoy. Here's a pattern for those parents, children, and relatives who frequently get together to play the game.
Speaking of getting together, here are some outdoor and indoor ideas for camping crafts.
8. Ghost Crewmate on Among Us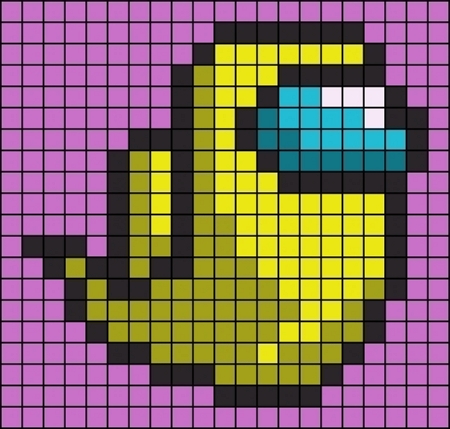 Crewmates who don't figure out the impostor in time might turn into one of these if they get killed. Here's a pattern from Iccyy_bish who does a great job of recreating the ghost of a crewmate.
9. Among Us Impostor Perler Bead Patterns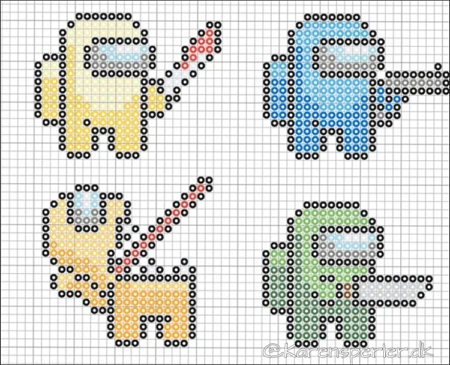 Karen's Perler shows us the hidden side of the impostor, with all their murder weapons and tools.
These designs can be completed with other colors with enough creativity. Simply follow the shading pattern in the design.
10. 3D Among Us Perler Bead Video Tutorial
For those seeking a bit of a challenge, here's Pixel Planeta showing us an exciting 3D pattern of an Among Us character.
The building process for this design doesn't require any type of glue gun. Simply follow the guide to know the measurements and where each component fits together.
Find some of the coolest 3D Perler bead patterns here!
11. "Shhh!" Perler Bead Pattern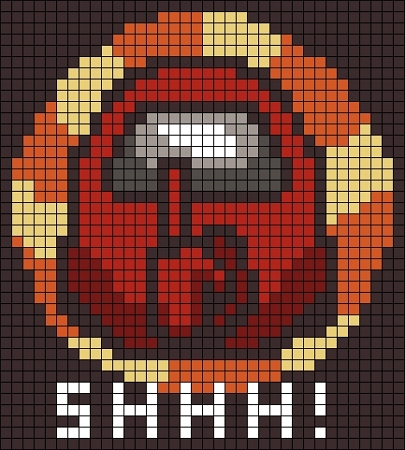 Being the impostor gives you an anxious yet exciting feeling. You have to make sure no one sees through you, or else the game could end very quickly.
Here's potatooooo sharing a design of the crewmate letting you know that you're the impostor.
7 Among Us Disguises Perler Bead Patterns
There are plenty of "skins" that can be bought within the game to enhance the look of your character. These don't provide any other benefits than being purely a cosmetic item. Who knows, you might even fool the crewmates with your silly cosplay.
12. Tomato Crewmate Perler Bead Pattern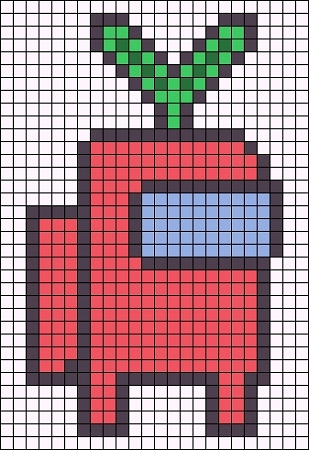 This design by blob53fy3 is just one of many examples of a regular skin. The crewmate has a stem on their head that makes him look like a tomato.
Change the crewmate's color to orange and he'll look like a carrot.
13. Among Us with the Cherry on the Top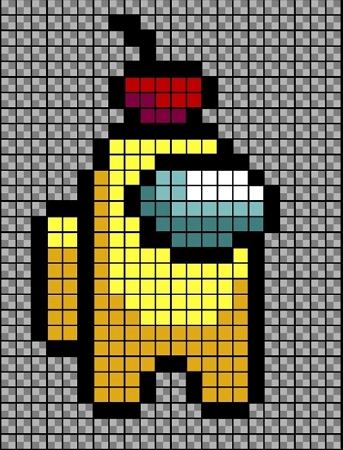 Here's another crewmate who has a literal cherry on top, courtesy of Pixel Art 123.
Get your children acquainted with various fruits and vegetables through these food Perler bead patterns.
14. Crewmate with a Pumpkin Hat Design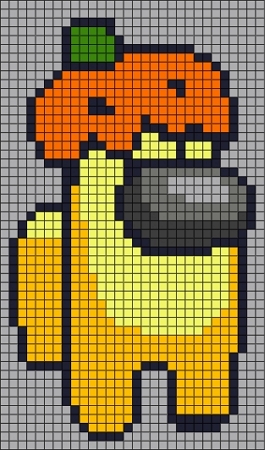 For a Halloween-themed crewmate, manu_11 shares this awesome pattern that makes him look like a jack-o-lantern.
It looks like this crewmate has made a disaster trying to make a jack-o-lantern decor. Don't commit the same mistake and follow this list of paper-mache pumpkins for ideas.
15. Among Us Crewmate with Bear Ears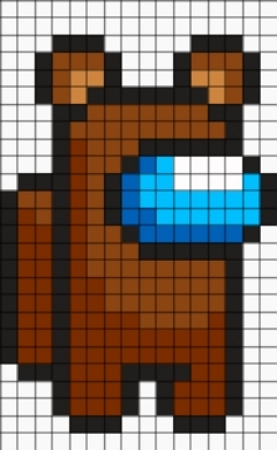 Bears could either be scary, like grizzly bears, or adorable, like teddy bears. Fortunately, we don't have to worry about this cute bear pattern from kandikrab being scary. We just have to worry about their deceivingly cute looks and think about whether this crewmate is an impostor.
Stop worrying about impostors for a second and make these bear crafts!
16. Plunger Among Us Perler Bead Pattern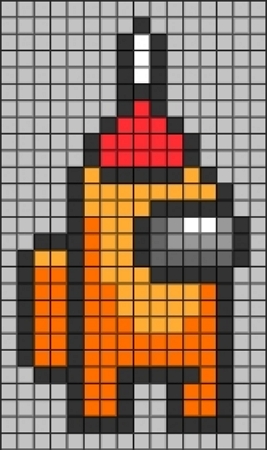 This pattern from MJ4 is a bizarre costume design that actually exists in the game. Don't worry, though, there is a lot more sus (short for "suspicious") accessories worn by crewmates, like an innocent-looking halo.
There are even crewmates with toilet paper on their head. But don't let those empty rolls go to waste by making these toilet paper roll crafts.
17. Among Us Clown Wig Perler Beads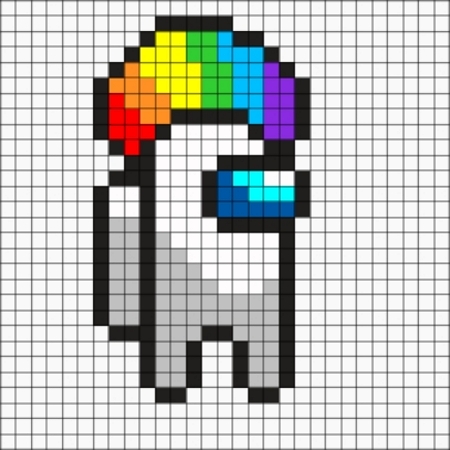 This crewmate knows how to party like there's no tomorrow with their rainbow wig (that's totally not sus). I recommend making the crewmate's color white or black so that the color of the rainbow shines out.
Make sure not to miss any rainbow crafts!
18. DIY Among Us Perler Bead Crafts
QDCraft is an amazing resource for popular Perler bead activities. The video tutorial shows us how to make various Among Us-inspired Perler bead creations.
Particularly she demonstrates how to create DIY coasters, pet headbands, magnets, and more!
6 Unique Among Us Perler Bead Designs
The rest of the Among Us designs feature unique Perler bead designs, such as the crossover of Among Us characters and popular figures from games and TV shows.
19. Mario Mushroom Among Us Crewmate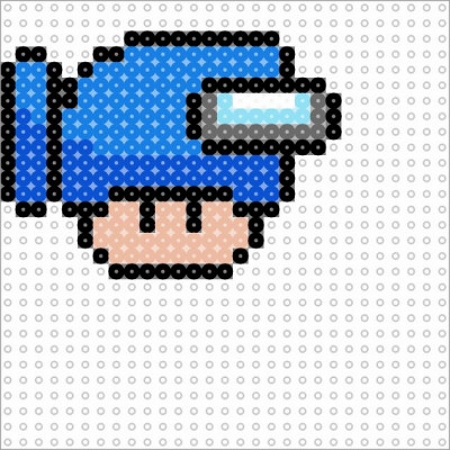 Super Mario, while originally released in 1985, is still relevant and popular today, as showcased by this Among Us-inspired Mario Mushroom.
Have fun with the whole family by making these Mario Perler bead patterns!
20. Retro Crewmate Perler Bead Pattern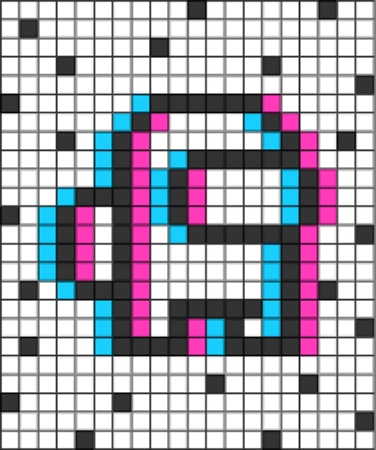 Continuing the trend of old-fashioned and retro designs, here's KrazyKnotz providing a mesmerizing crewmember pattern.
Take a nostalgic trip to the past by making these Pac-Man Perler beads.
21. Baby Yoda Among Us Perler Bead Pattern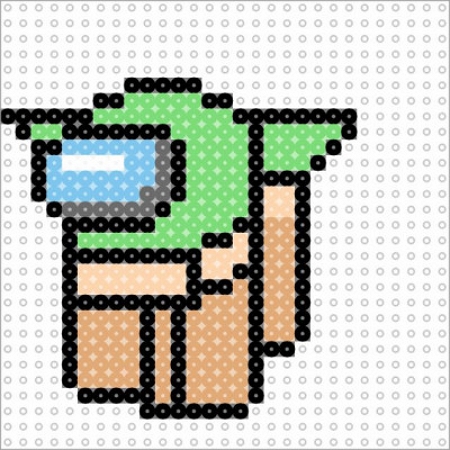 No one would suspect Baby Yoda (aka Grogu) to be an impostor. Even if he is, I'd probably let him get away with it. Anyone who feels the same way wouldn't hesitate to make this design made by datteber.
Follow our other list of Baby Yoda crafts and Star Wars Perler Beads.
22. Sherlock Holmes Among Us Design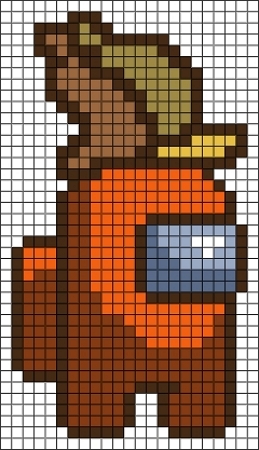 Take on the role of a true detective by wearing the hat of the most famous detective in fiction, Sherlock Holmes, by following meredithgl's pattern.
Not only will it increase your little ones' fine motor skills, but it will also sharpen their cognitive abilities.
23. Among Us Pikachu Design
"Got to catch 'em all!" is a saying that aspiring Pokemon trainers and shivering Among Us crewmates can both relate to.
KandiPerlerFairy shares this amazing video tutorial of a 3D crewmate in a Pikachu costume, who definitely won't electrocute you to death.
This Pikachu pattern scratches only the surface of the Pokemon Perler Beads one can make.
Check Off These Among Us Perler Beads from Your Tasks
Trying to pick off crewmates can be exhilarating. On the other hand, doing detective work will feel rewarding if the impostor gets caught. And just like the game, making Perler beads can both be exciting and satisfying.
For more fun-filled Perler bead activities, head on to our other lists: