Summon your friendly neighborhood Spider-Man through these Spider-Man Perler beads below!
Spider-Man remains one of the most recognizable and iconic superhero characters around the world among both teens and adults.
Look no further than the overwhelming success of the most recent installment from Sony and Marvel Studios, Spider-Man: No Way Home, which was the highest-grossing film of 2021.
If you still can't get over the ending of the movie, or you're just a super loyal Spider-Man fan, I've compiled different Spider-Man Perler bead designs and patterns so you can always keep Spidey close to your heart.
3 Spider-Man Perler Bead Kits
Here are a few superhero kits that will take beginners closer to their endgame of becoming an Avenger!
Who doesn't love superheroes? Make them come to life through these superhero crafts!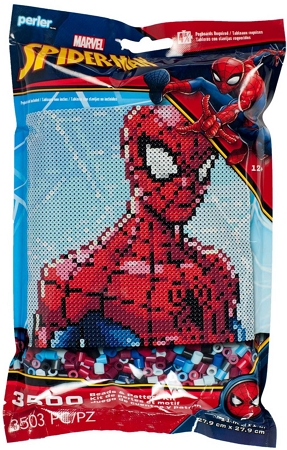 Looking to construct a Spider-Man Perler bead to display?
Say no more!
With this Spider-Man Perler bead kit, you won't need anything else, as it contains enough beads to create an awesome pattern, a pair of tweezers, and a pattern sheet with instructions that even children can easily follow.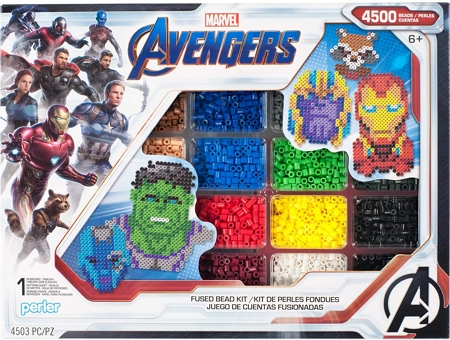 Spider-Man is, of course, part of the team of Earth's Mightiest Heroes.
Our friendly neighborhood Spider-Man can easily handle threats in New York City, but when there's a global threat involved, he must call upon the Avengers.
Fans of this superhero team shouldn't miss the opportunity to make their favorite characters, and the easiest way to do so is by getting this Avengers mega Perler bead kit, which contains over 4,000 beads, a pegboard, an ironing paper, and a pattern sheet of the characters.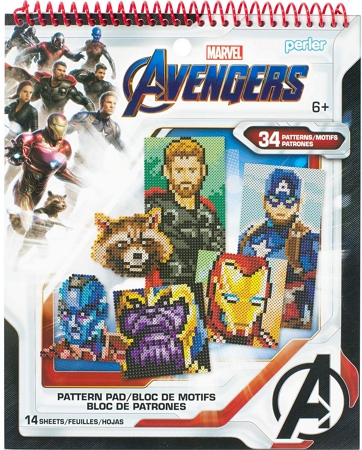 If you're fully stocked with fuse beads and just need the inspiration to transform those individual beads into a wonderful art, then this Avengers Perler bead pattern pad is a perfect choice.
Alternatively, these Marvel Perler bead will set you in the right direction to defeat those Avengers-level threats.
12 Classic Spider-Man Perler Bead Patterns
Here are twelve classic Spider-Man designs that every fan is familiar with. These Spider-Man patterns start out easy and get progressively more difficult..
4. Spider-Man Perler Bead Pattern for Kids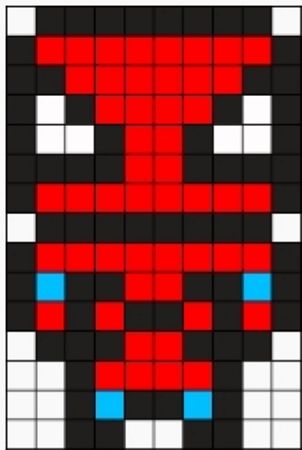 The most recent installment has undoubtedly created new followers and fans for our favorite webhead, be it kids or adults.
Here's a Spider-Man fuse bead pattern from GalaxyCraft_MC for those little ones who aspire to be like the web-crawler.
5. Simple Spider-Man Pattern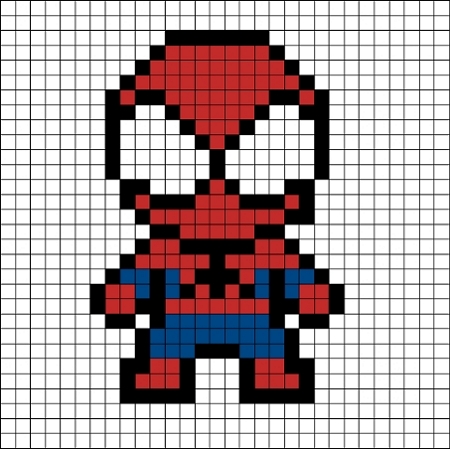 Here's another amazing Spider-Man Perler bead pattern that can be done in less than an hour, courtesy of Pixel Real.
The head of this design is reminiscent of those kawaii characters that have exaggerated body proportions.
If you'd like to see what I mean by kawaii characters, then don't hesitate to head on our list of Kawaii Perler bead patterns.
6. Upside Down Spider-Man Design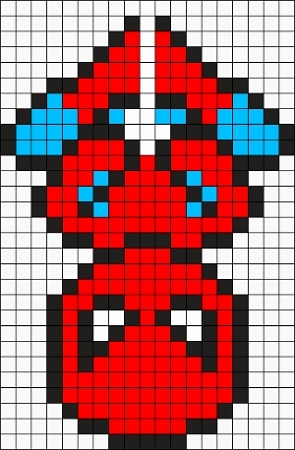 Spider-Man can do all sorts of amazing things that a spider can do.
One of them is demonstrated by gardeniafly, who created a pattern of Spidey being able to keep his body upside down without being dizzy.
Interested in animals like the spider? Try out these easy animals to draw for kids.
7. Spidey Fighting Crime Pattern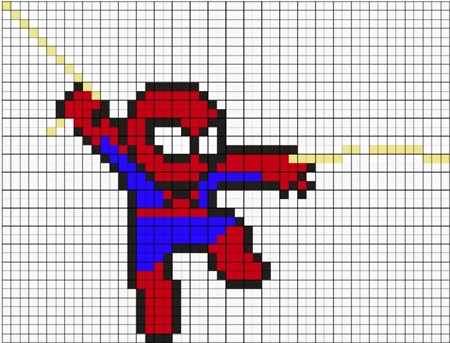 "With great power comes great responsibility", is a mantra that Peter keeps close to his heart.
That's why he's a superhero and not a supervillain because he uses his powers to fight evil and protect the citizens of New York.
Here's a pattern by Arcanjulio showing us Spidey swinging through the neighborhood.
These PAW Patrol crafts are other responsible characters that provide services to the citizens.
8. Swinging Spider-Man Perler Bead Pattern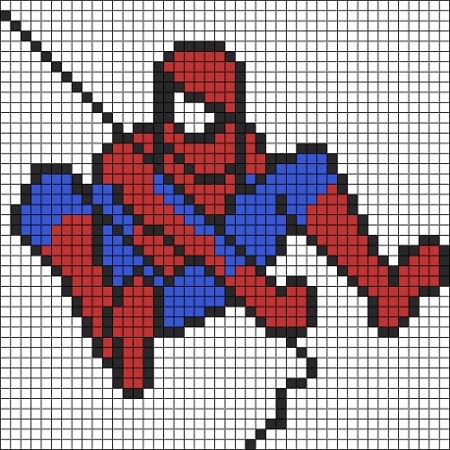 For a more complicated design, PinkLady shares with us a detailed swinging Spider-Man Perler bead pattern.
Speaking of complicated stuff, here are some paper mache pumpkins if you're looking for some cool decor and are up to the challenge!
9. Another Swinging Spider-Man Pattern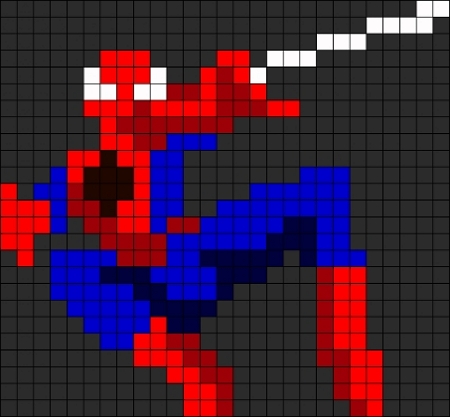 Just like Peter Parker who provides different photos of himself to the Daily Bugle, TurtleDurdle supplies us with a swinging Spider-Man pattern but from a different angle.
10. Spider-Man Portrait Perler Bead Pattern
Fans love to keep a portrait of their favorite idol in their bedroom or their workplace.
Perler Bead Patterns shares exactly that, a portrait of everyone's favorite Web-Slinger.
11. Easy Spider-Man Face Pattern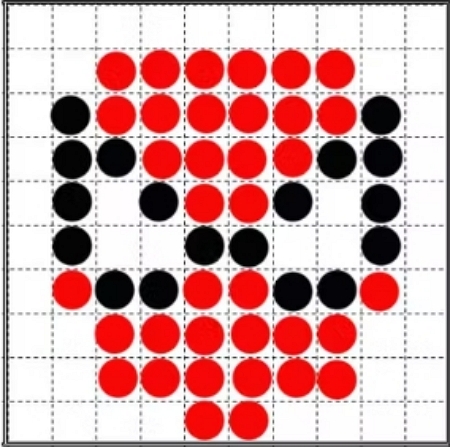 Minimalism meet Spider-Man.
I absolutely love the look of this super simple Spider-Man face pattern, brought to you by Momes.
12. Spider-Man Face Pattern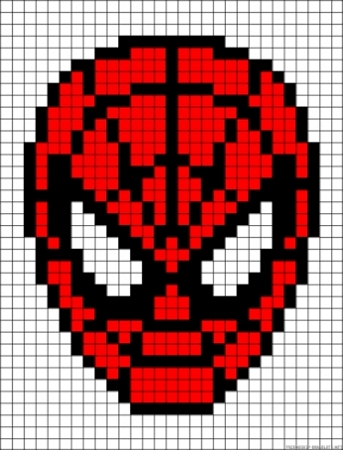 For older children who find the previous face pattern too minimalistic, don't worry, because cjjones is here for a more complex Spider-Man face pattern that they can proudly display.
This one can easily be made bigger to serve as a mask for children.
Encourage imaginative play of children with these paper bag puppets!
13. How To Create Spider-Man's Face
Here's for the Spidey fans who would enjoy a big project for the weekend. Tannah's channel shares a video tutorial of a big, round Spider-Man design that requires square interlocking pegboards to complete. Simply pause the video if you find the pacing too fast.
14. Spider-Man Logo Perler Beads
When we see such a pattern, like this one provided by Free Beads Patterns, there's no doubt which superhero it's referring to.
Those fascinated with spiders should try their hand with this Spider-Man logo pattern.
Don't forget to check out our Halloween painted rocks, where spiders and other spooky creatures are waiting for children to paint them.
15. Perler Bead 3D Spider-Man
When you find that 2D Perler bead patterns are too easy to make, you must look for other intriguing projects, like a 3D version of it. Thankfully, Wolleplanet's channel released a video tutorial on how to make a 3D Spider-Man.
Don't forget to prepare a glue gun or super glue for this project.
3D Perler beads can be quite a fun activity for the entire family! Here are some of the coolest 3D Perler bead patterns I've found.
8 Spider-Men from Other Universes
The Marvel Cinematic Universe is slowly acknowledging the existence of other universes. There's no doubt that we'll see these popular Spider-Men (and Women) from other universes on the big screen sooner or later.
I hope you're enjoying these patterns so far. If you'd like to see more of Spider-Man, look no further than these Spider-Man crafts!
16. Easy Miles Morales Perler Beads
One of the most popular Spider-Man from another universe is Miles Morales, who was the main protagonist in the 2018 film Spider-Man: Into the Spider-Verse.
MATH BOARDOM's channel shares a simple video tutorial of a Miles Morales Perler bead pattern.
17. Miles Morales Spider-Man Perler Bead Pattern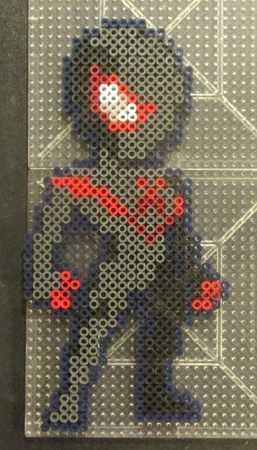 Flood7585 provides us with a cool-looking Miles Morales design.
Personally, I love the black and red aesthetics of this version of Spider-Man, and would proudly display such a pattern.
18. Miles Morales Face Perler Bead Pattern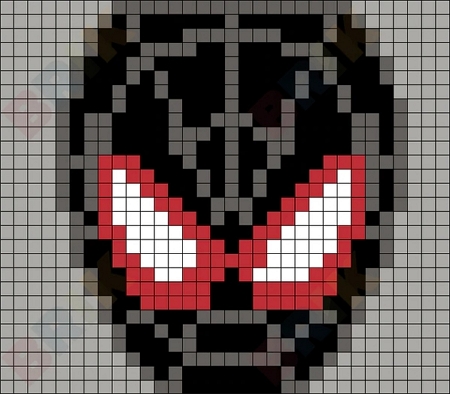 There's no shame in starting with the basics, like this Spider-Man Miles Morales face shared by Brik.
19. Spider-Man, Spider-Gwen, and Miles Morales

If your children haven't watched Spider-Man: Into the Spider-Verse yet, then this pattern by e-g-g-s is a great gateway to introduce the film to them.
Spider-Man and Spider-Gwen are both memorable characters and play a huge supporting roles for the protagonist in the film.
Just like the patterns above, these Star Wars crafts and Star Wars Perler beads are amazing ways to introduce the Star Wars franchise to the younger generation.
20. Mushroom Spider-Man Design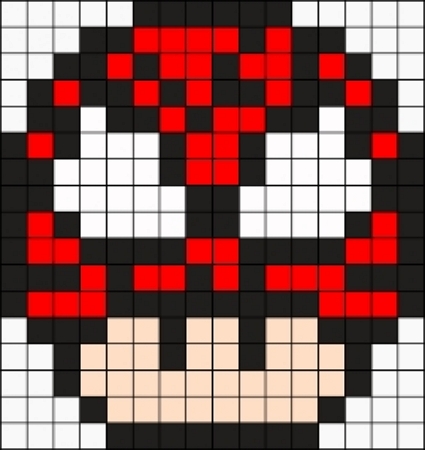 Here two universes collide with a Spidey-inspired Mario mushroom.
This pattern from tashar_h helps us in being hopeful that a crossover may happen someday, however unlikely that might be.
In the meantime, fans of Mario shouldn't miss out on these Mario Perler bead patterns.
21. Peter Porker Perler Bead Design
Peter Porker, or Spider-Ham, is an actual character from the Marvel comics who was also featured in the 2018 film. 8-BitHero kindly shares a pattern of this silly superhero that children will enjoy making.
Pigs are fascinating creatures. Learn more from this list of pig Perler beads and guide on how to draw a pig.
22. Hello Kitty Spider-Man Perler Bead Pattern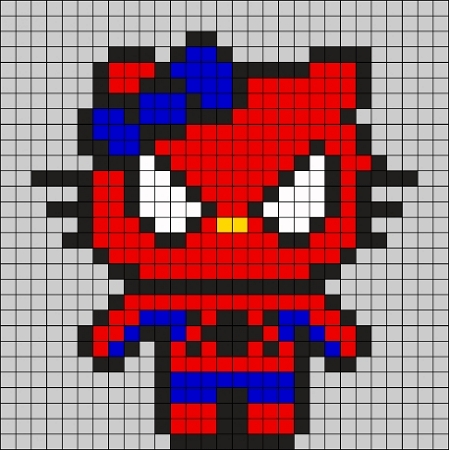 Even though this version of Hello Kitty gets the webhead's eyes, which are shaped almost in a menacing way, it only makes it even more adorable.
You have Kya917 to thank for this endearing Spider-Man-inspired Hello Kitty.
Are you a fan of just cats? No problem, here are cat Perler beads just for you!
23. Spider-Men Perler Beads from Different Universes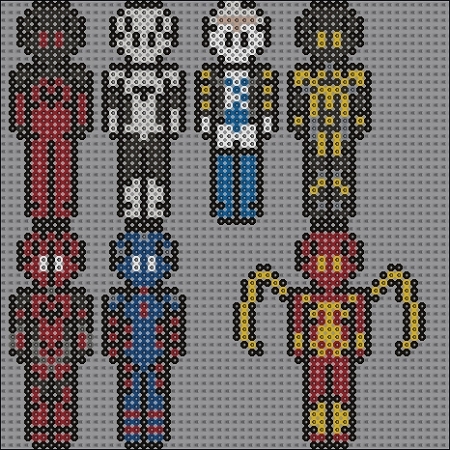 If you're tired of seeing the same Peter Parker costume over and over, here's geek-2perlerbeads recreating alternate versions of Spider-Man over the years, such as the Iron Spider, Spider-Man 2099, and many more!
24. 3D Black Suit Spider-Man
Shendijiro & Ura's channel shares this 3D Perler bead tutorial of Spider-Man donning the Black Suit, also known as the Symbiote Spider-Man.
While it may look complicated since it's 3D, don't be too intimidated as the guide will walk you through each step.
2 Unique Spider-Man Perler Bead Ideas
25. Spider-Man Door Hanger Perler Beads
Do you want some privacy when you're busy playing video games in your room? Then this Spider-Man door hanger from SarahLinShop's channel is the perfect video tutorial for you.
Since they use two connected pegboards, the design will fit the typical doorknob.
26. Spider-Man Hanging on a Switch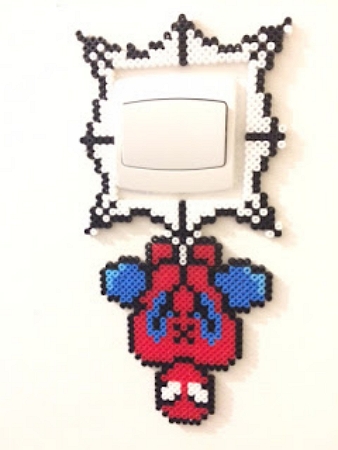 To add some flair to your display room, ideecreatiti creates this hanging Spider-Man for your light switch. It's best to first check your light switch measurement before following the guide. Once you've nailed its width and length, then proceed by making the inspiring web design.
5 Spider-Man Perler Beads for Display
These last five designs will give Perler bead enthusiasts and Spider-Man fans a sense of achievement and a project that they can proudly display.
27. Detailed Spider-Man Perler Beads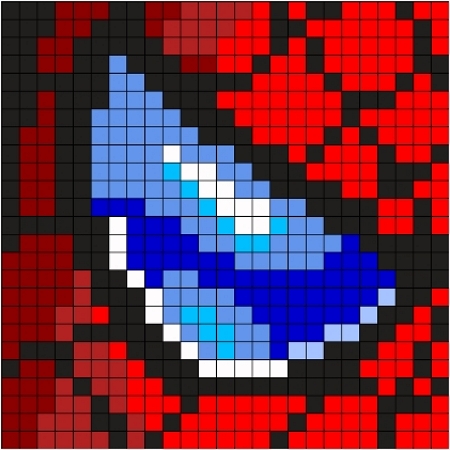 You don't need to see the whole picture (literally!) to know that this design by Tjalle is the friendly neighborhood Spider-Man.
28. Amazing Fantasy Spider-Man Comic Perler Beads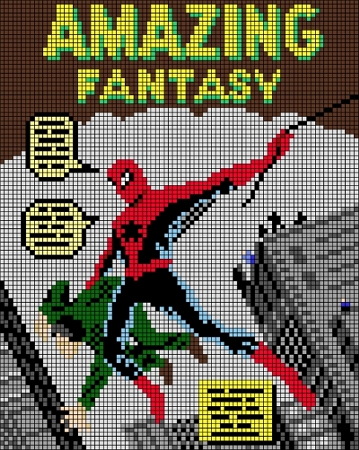 True fans will point to the comic book Amazing Fantasy #15 as the origin story of Spider-Man.
If you're one of those passionate comic book readers, this cover recreated by Pixel Art Shop is a must-do!
29. Intricate Spider-Man Perler Bead Design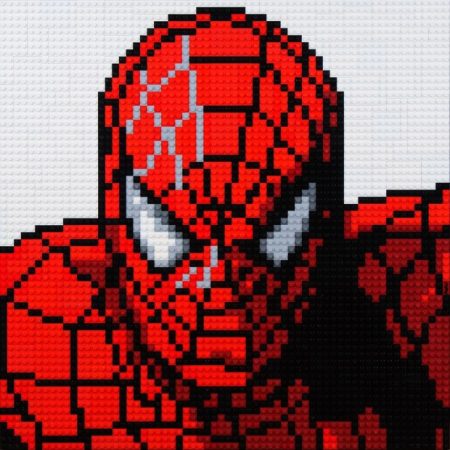 Many consider the Sam Raimi Spider-Man films as the franchise that defined the future superhero films.
Conner Flynn commemorates the original Spider-Man played by Tobey Maguire by sharing this amazing pattern.
30. Swinging Spider-Man Perler Bead Display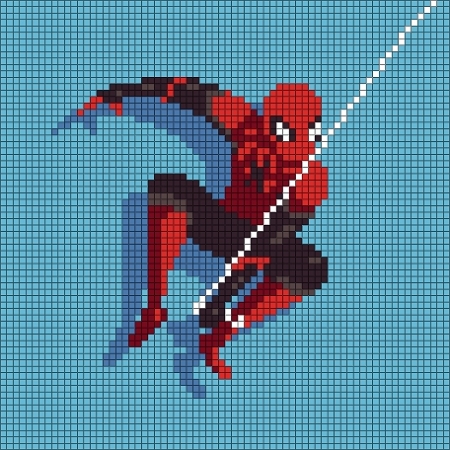 The younger generation of Spider-Man fans might've not seen the original Spider-Man films but I'm sure that they haven't missed Tom Holland's amazing portrayal of the webhead.
Here's laurenbrue's Perler bead pattern, which is inspired by the costume from Spider-Man: Far from Home movie.
With Great Perler Comes Great Activities
When you've been granted so much power, it's your responsibility to use that power for the best.
Similarly, when you've been given a supply of Perler beads and patterns, you simply cannot ignore the opportunity to create these Spider-Man designs.
Create more Perler beads through these other lists: