The fall has arrived and it ushers in countless seasonal festivities, goods, and activities for the whole family.
Among the long-awaited holidays that people look forward to is Halloween, known for its spooky but stunning decorations.
Halloween may frighten some kids, so to make it more fun I've compiled 17 paper-mache pumpkin ideas that your children can make on their own or with help from an adult.
Before we get started with these incredible paper-mache Halloween ideas, though, you might ask yourself: what exactly is paper-mache?
What is Paper-Mache?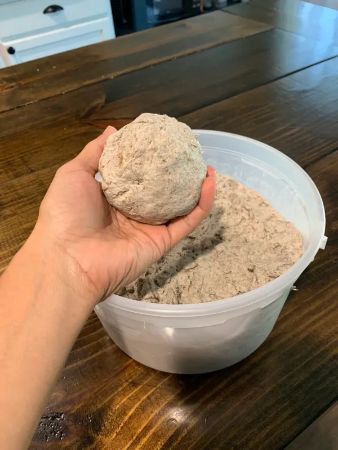 Paper-mache (also known as papier-mâché if you want to sound fancy) literally means "paper mash" and refers to a material made with paper that's used in many different crafts.
It has the consistency of clay (or homemade playdough) and is fairly malleable, making it a perfect material for tricky crafts that have many curvatures.
What Do You Need to Make Paper-Mache?
Paper-mache can simply be made with just two ingredients: paper and an adhesive.
The paper ingredient is straightforward: just grab some old newspapers, magazines, or paper that you want to get rid of.
The adhesive ingredient can either come in the form of PVA glue (your typical Elmer's glue) or from a water and starch mixture.
For those who aren't a fan of the sticky feel or smell of white glue, I recommend the second option. Overall, though, pick whichever material you have available.
How to Make Paper-Mache
Paper-mache is simply made by reducing paper down to a pulp. The more popular method of making paper-mache is by soaking paper strips overnight in plenty of water.
You can also boil the paper if you lack the time, which I don't recommend because the ink from newspapers can stain your pot.
Check out Rough Around The Edges's comprehensive guide to make your own paper-mache clay at home.
6 Simple Paper-Mache Pumpkin Ideas
The first 6 paper-mache pumpkin ideas are perfect for younger kids because they're not too complicated to make. Each is also a great sensory activity for them because it allows them to explore with this unique material.
1. Paper-Mache Pumpkin Tower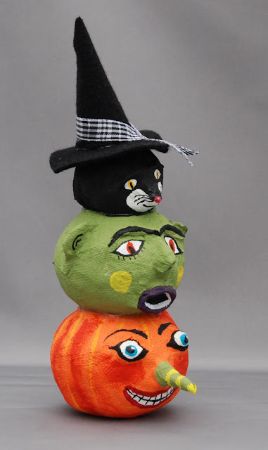 While the design might look complicated at first glance, making the individual pumpkins is not very difficult. It's the perfect size for preschoolers because the pumpkin's diameter is no wider than 4 inches.
That Artist Woman provides step-by-step instructions along with helpful images that will guide you in making this paper-mache pumpkin tower. She also lists the ingredients needed for this craft.
It's up to you how many pumpkins you want to stack up on this totem-slash-tower craft!
2. Simple Paper-Mache Pumpkin
This is another straightforward craft that preschoolers can easily nail. RHS uses an unconventional material to form the shape of the pumpkin.
Find out what that material is and the process to make this simple paper-mache pumpkin by checking out their website, where they list all the materials you need.
3. Paper-Mache Pumpkin: DIY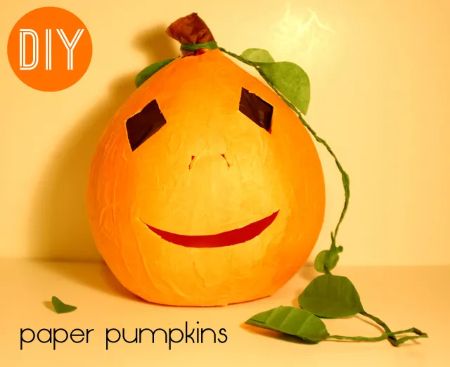 This design from Alana Jones-Mann showcases one of the most popular methods for making paper-mache pumpkins, which is by applying the paper-mache onto an inflated latex balloon and letting it dry. In this case, they suggest letting it dry for at least 24 hours.
4. How to Make Paper-Mache Pumpkins

Ultimate Paper-Mache gives us the recipe and steps for these minimalistic paper-mache pumpkins.
Simplicity, however, doesn't mean that the craft is unattractive. Sometimes it's the simplest designs that are often the most aesthetically pleasing. I mean, just look at those pumpkins! You wouldn't think for a second that they're made of paper.
Take a gander at these Halloween painted rocks while you're at it if you like simple but beautiful designs to decorate your house with during the spooky season.
5. Colorful Paper-Mache Pumpkins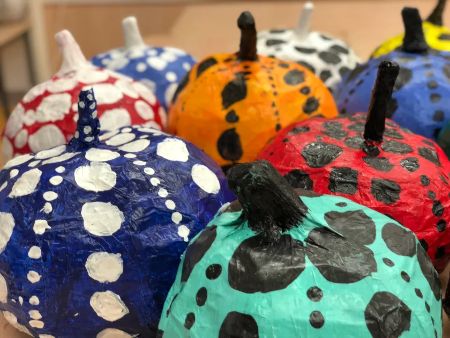 Just as colorful as these rainbow crafts, these colorful paper-mache pumpkins are a perfect activity for grade-schoolers because it enhances their creativity through the selection of color pairs.
Not only that, but they'll also refine their hand-eye coordination through the application of gesso (a white paint) and drawing circles of varying sizes.
Ms. Kit Lang has a detailed written guide that provides a fantastic explanation on how to make the pumpkin's form and how to store these crafts, among others.
These colorful paper-mache pumpkin designs are inspired by Yayoi Kusama's artwork.
6. "How To" Tissue Paper Halloween Lanterns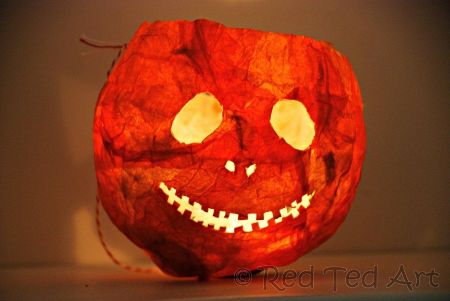 Are you searching for a Halloween decoration that can lighten up both your front porch and your children's day? You're in luck because Red Ted Art has a simple tissue paper Halloween lantern for you and your children to craft!
Check out their website to learn the instructions and materials needed for this craft.
When you're done with this tissue paper craft, check out these other tissue paper crafts that are super easy for children as young as toddlers!
7. Paper-Mache Pumpkin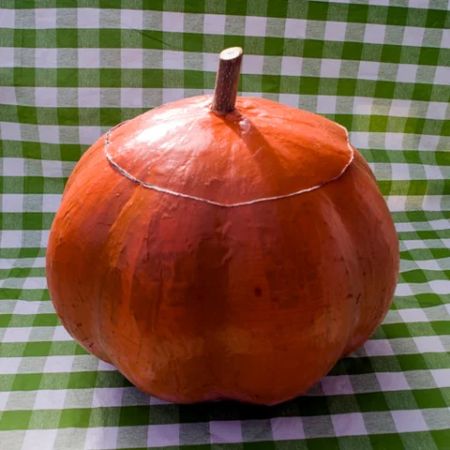 Do you love a pumpkin decoration that also has the dual purpose of a container?
That's exactly what Instructables guide will give you if you make this paper-mache pumpkin craft. They have an excellently written tutorial, plus bonus instructions to make a pumpkin-top hat.
Warning: this craft involves some cutting with sharp objects, so make sure to supervise kids.
3 Interesting Paper-Mache Pumpkin Ideas
The next 3 paper-mache pumpkin ideas are perfect to make for special occasions, like birthday parties, because they serve multiple purposes.
8. How to Make a Pumpkin Piñata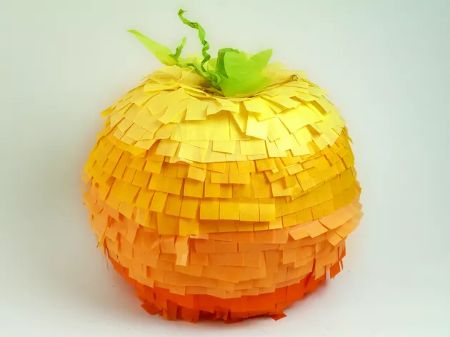 If you're celebrating your child's birthday in October, then you should definitely make this paper-mache pumpkin piñata from eHow.
Fill the piñata with your child's favorite treats! eHow has 25 detailed steps on how to make this craft.
9. DIY Vintage Style Paper-Mache Jack-O-Lanterns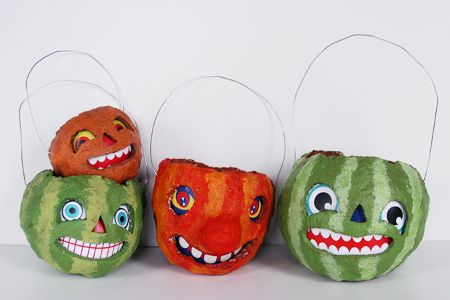 Make trick-or-treating even more fun than usual by making these paper-mache jack-o-lanterns that also serve as candy baskets for your children.
You can create the design your kids want or choose any of the designs from My Paper Crane. They also have an elaborate step-by-step written tutorial, so don't miss out on this one!
10. Paper-Mache Pumpkin Head Halloween Costume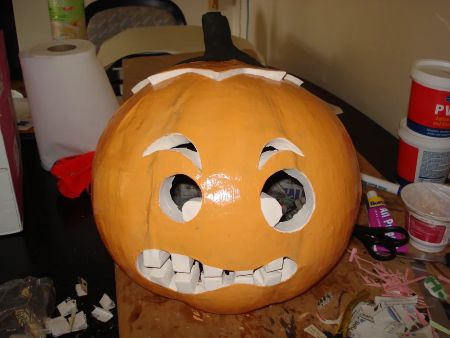 Often, children love to impersonate characters they see on TV shows and play pretend. This pumpkin head Halloween costume will excite those children who want to play the role of an evil jack-o-lantern this year.
This is the perfect Halloween headwear because it has the exact shape of a pumpkin but without the heavy weight, guts, and seeds of a real pumpkin.
Instructables provide guidelines to facilitate the process of making this headgear, and tips to make your craft look more impressive.
6 Decorative Halloween Paper-Mache Ideas
Make these next 6 paper-mache pumpkins to show off you and your children's DIY skills this Halloween.
11. How to Make Paper-Mache Pumpkins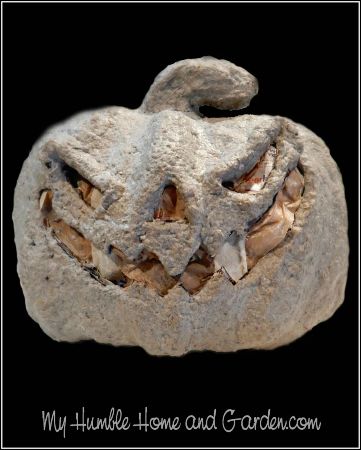 This paper-mache pumpkin is one of my favorites on the list. Not only does My Humble Home And Garden provide an incredibly well-written guide on how to make the pumpkin you see above, but the first half of their post has a dedicated guide on how to make quality paper-mache at home.
This craft is highly recommended for older kids because it's a little more complex than your typical paper-mache craft.
I assure you that you or your kids won't become overwhelmed because the author goes into even the small details.
12. Goofy Paper-Mache Jack-O-Lantern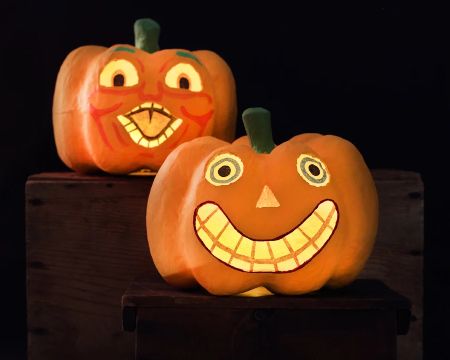 One of the best parts about making paper-mache pumpkins is that you don't have to deal with the painful process of carving and scooping out the pumpkin and its guts.
While you still need to cut holes to complete this craft, having carving tools is not essential because the paper-mache is soft enough to be cut by a simple steak knife.
Smile Mercantile shows us how to form the pumpkin and how to outline its eyes and mouth with a step-by-step guide.
13. Halloween Paper-Mache Pumpkin Idea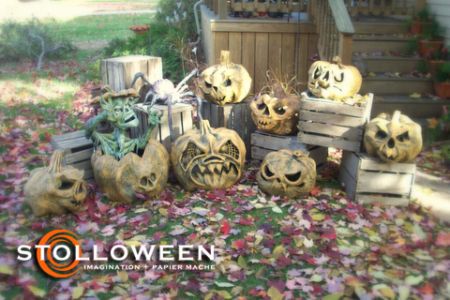 Here's a bunch of Halloween paper-mache pumpkin ideas from Stolloween that you could take inspiration from, like their awesome snake wrapped around a jack-o-lantern.
To make such big paper-mache projects, instead of using the balloon method, Stolloween simply fills up trash bags with lots of paper.
Turn one of these pumpkin ideas into reality with your kids to really impress trick-or-treaters this year!
14. Unique Halloween Paper-Mache Pumpkin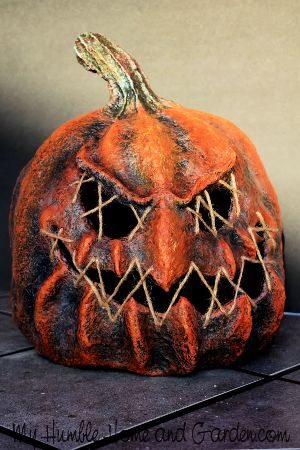 Here's another impressive paper-mache craft courtesy of My Humble Home And Garden. There's nothing creepier than a jack-o-lantern with sewn-up eyes and mouth.
Make this craft if you and your children are up for a challenge this Halloween. This craft makes use of jute twine that serves as the "stitches." Follow the guide on their website to get more valuable tips and tricks for this craft.
It's a very rewarding activity for those who are patient enough to try it.
15. Paper-Mache Pumpkin Tutorial
If you're more of a visual learner, or simply prefer watching instead of reading a tutorial for paper-mache pumpkins, then I've got you covered with this video tutorial from The Sweetest Journey's channel.
In the video, we see that the artist uses the exceedingly popular method of using an inflated latex balloon for this paper-mache pumpkin tutorial.
16. Paper-Mache Pumpkin DIY
Possibly one of the most chilling paper-mache pumpkins on the list, this craft from Instructables is one to look out for.
This eerie jack-o-lantern is creepier than your typical Halloween pumpkin. Perhaps it's the gaping left eye socket or the eerie nostrils? All I know is that the teeth don't help at all.
Check out their written guide and try to brave the tutorial.
Bonus Halloween Paper-Mache Project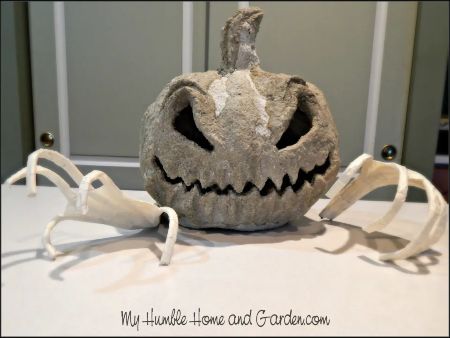 Here's a bonus paper-mache project to complete your Halloween decor at home. You might think it's another typical paper-mache pumpkin craft, but this one involves creating arms and shoulders to literally give a bit of body to this paper-mache pumpkin.
The craft is part of a pumpkin wreath designed by My Humble Home And Garden. Check out their guide to this awesome craft.
Paper-Mache Pumpkins for Your Fall Decor
These 17 paper-mache pumpkins are the perfect decorations for any type of festivity that you might be expecting this fall.
And whether it's welcoming Thanksgiving or preparing for Halloween, we've also got you covered with posts such as Thanksgiving sensory activities and jack-o-lantern crafts.
Which of the above paper-mache pumpkins are you most interested in making? Let me know in the comments below!