Halloween is just around the corner, and there are a lot of different crafts to make that can turn your home spookier for the season, like painted rocks.
Here are 21 simple and smooth rock painting ideas for you and your kids to place inside and outside your home this Halloween.
8 Beginner Level Halloween Rock Painting Ideas
The following 8 painted rock ideas are very simple and take less than 20 minutes to do. Most of these rock paintings are suitable for kindergartners because they just involve painting the base color of the rock and adding circles or squiggly lines to make a face.
If you want your rock paintings to last, Rock Painting 101 has a beginner's guide on how to prolong the life of your Halloween rocks by applying a rock painting sealer.
1. Super Easy Painted Ghost Rock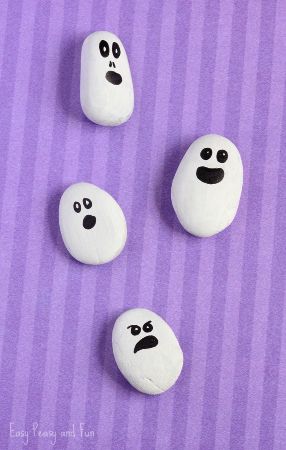 "Boo" sounds a lot less terrifying coming from these painted rock ghosts by Easy, Peasy and Fun. This craft is very straightforward and requires only two paint colors: black and white.
Water-based acrylic paint is the preferred type of paint for painted rocks because it dries quickly and is washable.
2. No-Fuss Painted Rock Jack-O'-Lanterns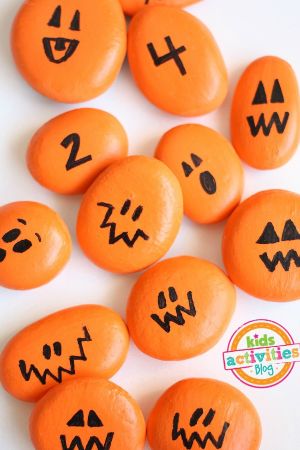 If you're not looking forward to carving out enormous pumpkins for your jack-o'-lanterns, you and your little ones can simply make these mini pumpkins made of stone.
Again, this will be inexpensive to make because you only need orange and black paint. Simply slather your rocks in orange paint, then once it dries draw silly faces with a black marker or black paint.
Kids Activities Blog suggests applying craft varnish for a smooth finish.
If you're instead interested in carving out jack-o'-lanterns out of real pumpkins, then feel free to explore our Halloween jack-o'-lantern ideas, too.
3. Halloween Mummy Painted Rocks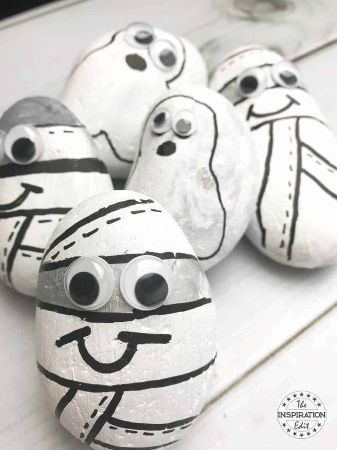 Improve your kids' dexterity by helping them draw the lines on these simple painted rock mummies. These rocks are effortless to craft, even for preschoolers!
The Inspiration Edit took the liberty to add googly eyes on these rock mummies to make them less frightening and sillier for kids to play with.
4. Yarn-Wrapped Mummy Painted Rock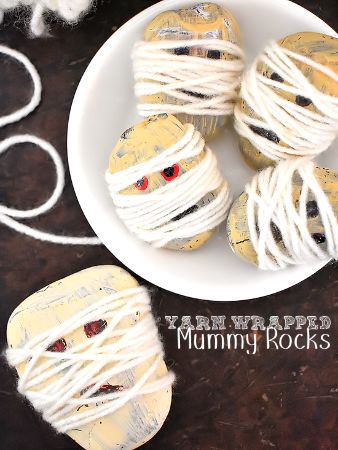 If you're not holding back on eerie decorations, here's an evil variation of the previous mummy rock. Though it's a little spookier, it's an easy craft nonetheless.
This version by Our Kid Things is cleverly covered in white yarn. With their bloodied eyes, these mummies will surely give those trick-or-treaters the creeps.
5. Graveyard Rock Painting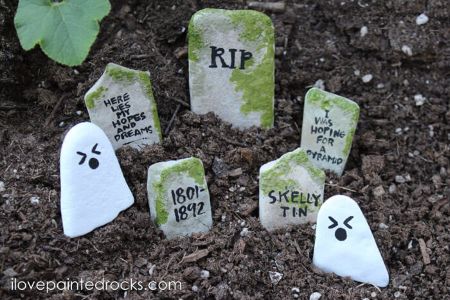 These graveyard rock paintings are a perfect welcome to add to your front yard this Halloween.
I Love Painted Rocks accompanies these tombstones with cute ghosts that add levity to the haunting atmosphere, which almost completely cancels out the relatable tombstone messages.
6. Halloween Monsters Rock Painting Idea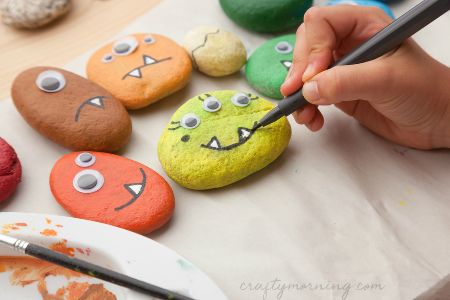 If you or your children prefer to show off brighter colors during the Halloween season, make these adorable Halloween alien monsters!
Prepare an assortment of colors for your children and let them apply the paint on the stones. Let them also add as many googly eyes as they want to create a diverse set of monsters.
Crafty Morning suggests using a hot glue gun to securely attach those eyes.
Pull out all the stops this Halloween season by trying out some of these other cute DIY monster crafts for kids.
7. Halloween Candy Corn Painted Rock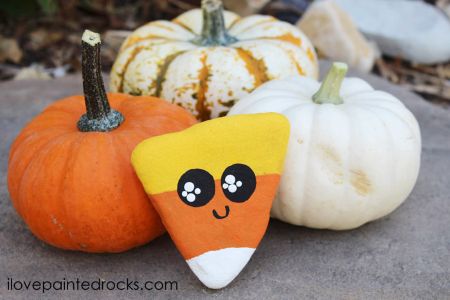 A controversial staple candy during Halloween, the candy corn is a symbol of the fall harvest.
This candy corn is a very adorable rock that will keep you and your children busy.
I Love Painted Rocks has clear instructions on how to make this painted rock come together. They also have a Youtube video tutorial!
8. Halloween Eyeball Rock Painting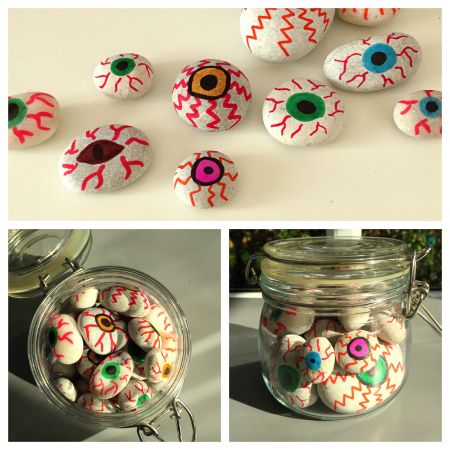 The last thing children would expect while sorting through candies is to pick up an eyeball! Trick children by stuffing a bunch of painted rock eyeballs in your basket of candies this year.
Entrust your children with drawing circles on the rocks, and then have them trace lines for the eyeball's veins with a red or orange marker.
Check out this tutorial by Daisies And Pie to learn how.
7 Moderate Level Halloween Painted Rocks
The next 7 Halloween painted rocks will come easier for older children, such as grade schoolers, because of their developed visual and fine motor skills, and creativity.
9. Sugar Skull Rock Painting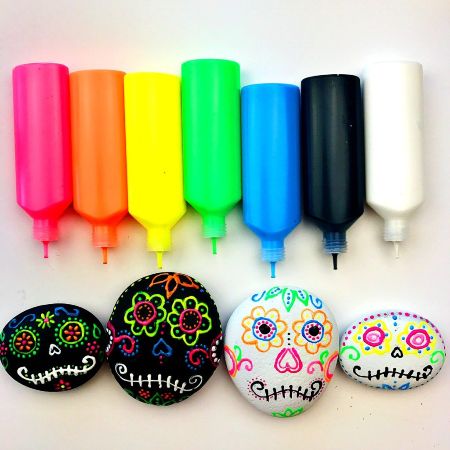 While popular in Spanish-speaking countries for Dia De Los Muertos (Day of the Dead), sugar skulls are not out-of-place during the Halloween season.
These colorful rocks designed by Color Made Happy are crafted using different colors of puffy paint (also known as fabric paint). They also suggest using a spray primer to color rocks quickly.
Interested in more skull-like decorations or crafts? Check these simple DIY skeleton crafts for kids.
10. Halloween Silhouette Painted Rock Ideas
Here's a simple but aesthetic set of Halloween silhouette rock paintings. While they're simple, these drawings require a steady hand.
Live Love Create Repeat shares some awesome ideas such as spiders, black cats, and witches on a broomstick.
11. Painted Rock Mummies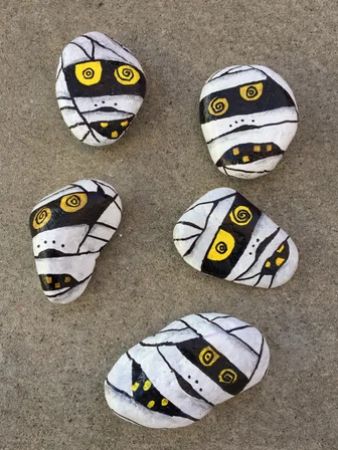 It's funny how we associate toilet paper with mummies. However, trick-or-treaters will come to learn that there's nothing funny about mummies when they encounter these painted rock mummies along the path to your doorstep.
These painted rocks only require basic colors like black, white, and yellow.
Speaking of toilet paper, did you know you can upcycle empty rolls into kids' crafts? Here are super easy toilet paper roll crafts you should try next time you have a collection of empty rolls.
12. 3D Spider On A Web Rock Painting
A spider is something you'd probably expect to see on a rock. Impress your children's friends by making this 3D pebble spider painted rock!
Adri Artsy has a step-by-step video tutorial on how to make this cool rock painting idea.
This will certainly make those little rascals wonder if it's a real or fake spider!
13. Bat, Spider, and Pumpkin Painted Rock Ideas
Here's a cool idea for your Halloween decor this season. This rock painting project avoids the use of any acrylic paint and instead uses fine tip paint marker pens.
I Love Painted Rocks provides three different Halloween ideas for painted rocks: a spider, a jack-o'-lantern, and a bat.
If you use thinner and small rocks, attach self-adhesive magnets to stick them onto your fridge!
14. Frankenstein Rock Painting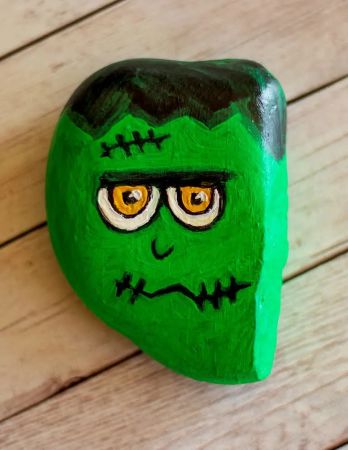 A classic in the realm of literature, Frankenstein has made his way into pop culture as a zombie-like figure. Create this Frankenstein rock painting with the help of your kids!
For this Halloween painted rock craft by PJS and Paint, you'll need green, black, white, and yellow paint.
While you're at it, this could be the perfect moment to introduce your grade-schoolers or middle-schoolers to Mary Shelley's masterpiece.
For other pop culture crafts that your kids can make, check out our list of Baby Yoda crafts!
15. Easy Zombie Painted Rocks
There's no way you'll spend this Halloween season without making at least one zombie craft, so here's a simple zombie rock painting for you and your children.
Not all zombies are made equally. Some are little, some have scars on their face, and some don't even have teeth!
Simple Everyday Mom has some ideas on how to detail your zombie's faces, too.
6 Advanced Level Halloween Rocks To Paint
Below are 6 Halloween painted rocks that are suitable for teens (perhaps middle schoolers) who are more artistically oriented and have a good command of their fine motor abilities.
16. Fancy Sugar Skull Painted Rocks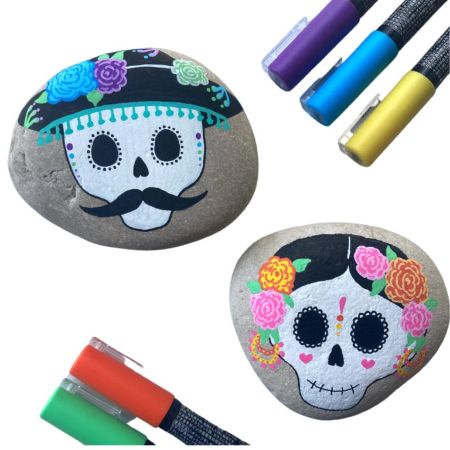 These awesome Dia De Los Muertos rock paintings are designed so incredibly well! They make you appreciate the fine details included in the art for this special holiday, such as the roses and the tiny heart and circle marks on their faces.
Color Made Happy will guide you through the drawing and painting of Mr. & Mrs. Skull (the names they've lovingly given these two characters).
17. Magical Halloween Silhouette Painted Rocks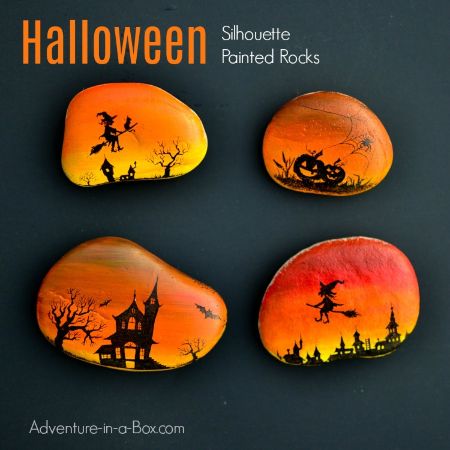 This set of painted rocks is my personal favorite. There's something mesmerizing about the color of the sky during sunset.
You'll need to mix red and yellow paint to obtain different shades of orange for this rock painting and naturally black paint for the silhouettes.
Adventure In A Box has some tips on their website for this Halloween painted rock, including a tutorial on how to transfer designs from carbon paper onto rocks.
18. Colored Zombie Painted Rocks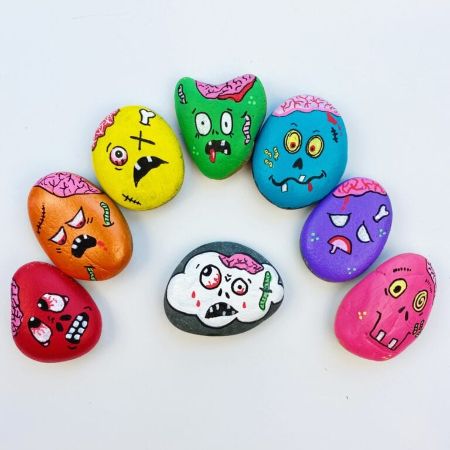 Make these colorful but freaky zombie rock paintings to add color to your Halloween-themed home.
You can make these any color you or your children want! Color Made Happy made their zombies with each color of the rainbow. Visit their website to see the different cool designs.
For even more colorful crafts, see our list of 23 easy and beautiful rainbow crafts for kids.
19. Realistic Eyeball Painted Rocks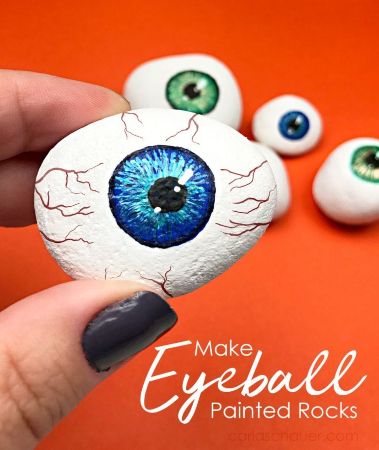 Check out this lifelike eyeball rock painting by. It's hard for it not to be on your list of favorite Halloween crafts (unless you get creeped out by eyeballs, of course).
You can sneak some of these in your candy jar, attach them onto your fridge with some self-adhesive magnets, or just simply display them around the house because they're just so darn realistic.
If you're having trouble with how to proceed with making this craft, Carla Schauer Studio has a step-by-step guide on their site.
20. Halloween Cat Painted Rock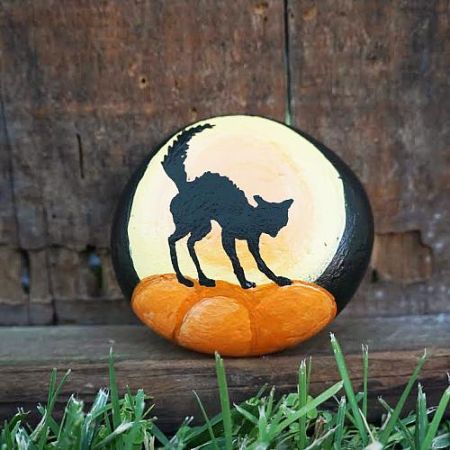 They say black cats bring bad luck when you encounter one, but that's FALSE. Black cats are one of the most adorable creatures to exist on this planet.
DecoArt gives you a starting point to begin this rock painting. Contrast the shadowy figure of this cat standing on a pumpkin with the bright reflection of the moon.
Cats are truly awesome. So awesome, in fact, that I created a list of pawsome cat crafts for your kids to enjoy.
21. Painted Jack-O'Lantern Rocks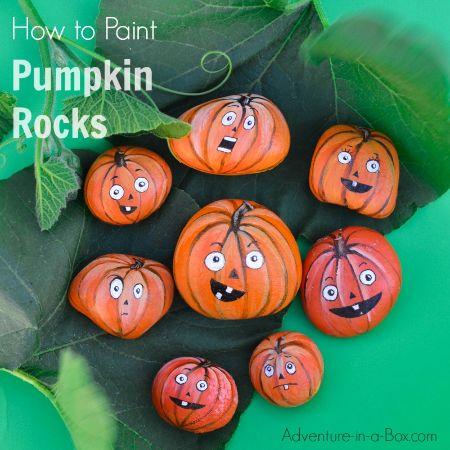 If your local pumpkin patch is fresh out of pumpkins, then replace those jack-o'-lanterns with these pumpkin rock paintings.
Adventure In A Box has an excellent guide on how to trace the lines and detail your stone pumpkin. You can even create different personalities for these pumpkins by painting a happy, sad, angry, or curious expression on each rock.
Halloween Rock Painting Ideas That Rock
There are plenty of opportunities to trick children with these 21 Halloween rock crafts that also make superb additions to your Halloween decorations this year.
For other seasonal or painting activities to do with your kids, check out these other craft lists on the site: