It's that time of the year again when you're in search of kids Valentine box ideas for your kid's Valentine's Day at school.
Preparing and choosing the right box can be a daunting task. Fortunately, I've been scouring the web for the best Valentine's Day box for kids so you don't have to.
There are plenty of ideas to choose from on this list of 25 Valentine boxes, varying from quick and easy boxes to cool ideas for boys.
If you already made a box this Valentine's day, remember that there are always more Valentine's day crafts for toddlers to make!
5 Easy Valentine Boxes
These first five items are simple boxes that require very little crafting skills. Most of them only require some painting and a little cutting.
1. Rainbow Valentine Box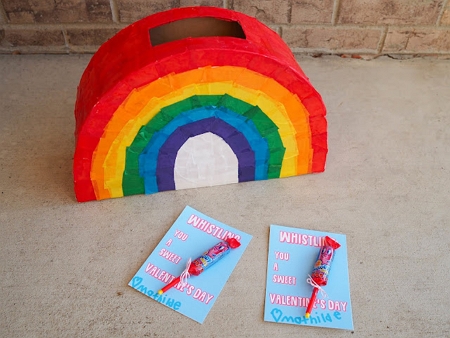 There's not a more straightforward box design than a rainbow. While this Valentine's Day box by Little Hiccups requires a bit of cutting and preparation, which can be done by an adult, coloring the box should be left to the kids since it's the funnest part.
Here are other rainbow crafts for kids to make during a rainy day.
2. LEGO Piece Valentine Box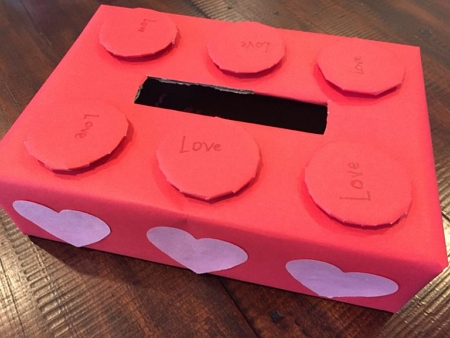 I bet you're happy that you kept that shoebox because Carefree Crafts found a way to repurpose it into a LEGO Valentine box for school.
While red and pink would be appropriate for Valentine's Day, changing the color won't remove the essence of this Valentine's Day craft because classmates will ultimately fill it with Valentines.
3. Truck Box
First Palette shares a box made to look like a truck for Valentine's Day that's made mostly of repurposed materials. A box and three toilet paper rolls are all that's required for this fun and creative box idea.
If you've got more toilet paper rolls at hand (which is very likely), then try these other toilet paper roll crafts with the kids!
4. Pink Koala Box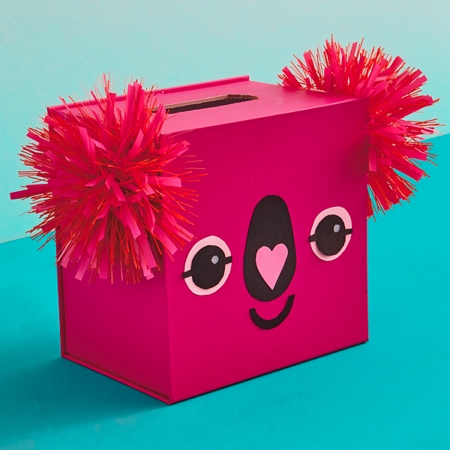 Hallmark teaches us how to create a cute koala very quickly, complete with furry ears and cute facial features. To make things faster and more convenient for you, they provided a template of the koala.
For more koala-related stuff, here are some koala drawings that kids will find adorable.
5. Mickey & Minnie Valentine's Day Boxes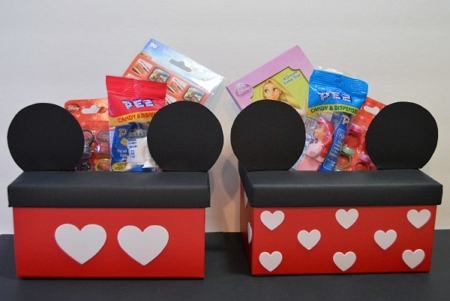 Fans of the Mickey Mouse clubhouse can't miss out on making these Mickey-inspired Valentines boxes for school by Mouse Ears Mom. It's a really simple craft involving only black and red colors and cutting hearts out of white construction paper.
Kids love Mickey, so make him come to life with these other Mickey Mouse crafts.
5 Cool Valentine Box Ideas for Boys
I think the boys will approve of these cool Valentine box ideas that feature some of their favorite superheroes.
6. DIY Dinosaur Valentine Box Craft Idea
Dinosaurs remain one of the coolest animals to many kids, even though they went extinct millions of years ago. Kids fascinated with these ancient creatures shouldn't miss out on this guide on Abbi Kirsten Gillespie's channel.
Each component of this dinosaur is explained in their comprehensive video tutorial, which is full of tips and tricks to make the crafting process easier.
7. Spider-Man Valentine's Day Box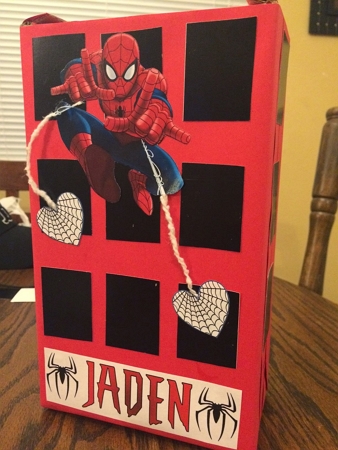 How amazing is it to be friends with Spider-Man? He'll be excited to show off this Valentine box by Jacquie at school. This craft requires minimal design, too, since Spider-Man will simply be printed out and glued on the box.
Fan of the friendly neighborhood superhero? Try out these Spider-Man crafts kids will enjoy!
8. The Batmobile Valentine Box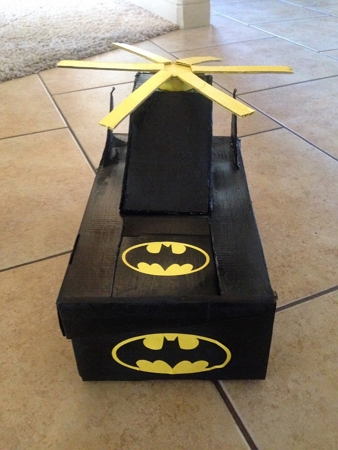 Mommy Lessons 101 fulfills many kids' dream to own a Batmobile of their own by creating this guide on how to make one. They list all the materials and parts needed to assemble this ultimate vehicle.
While this Batmobile was made for Valentine's day, the overall aesthetics and the durability of this craft ensure that the kids will be able to play with it all year long, becoming a memorable keepsake to cherish for years to come.
Superheroes are the best so here are some superhero crafts!
9. R2-D2 Valentine Bin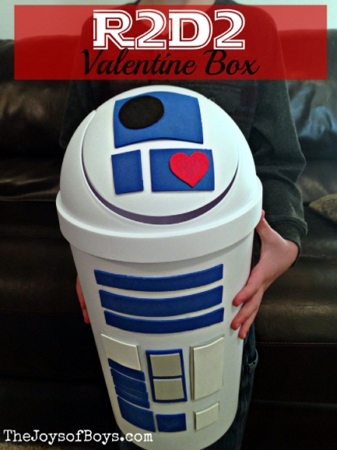 The Joys Of Boys brings to life the most beloved character in the Star Wars franchise (after Baby Yoda, of course). This is the Valentine box to make for those who enjoy the entertaining interactions between this little droid and C-3po.
All you need is a white swing-top trash can and felt pieces to complete this droid.
Now might be the time to introduce them to the franchise, and what better way to do that with some Star Wars crafts?
10. Football Stadium Valentine Box
It's never too early to pick a team to cheer for in football, as this Valentine box by Creations By Kara can attest. The addition of tiny dots that represent the people in the stadium is a creative idea!
If your kids are inclined towards music more than sports, then you should try these putting together these homemade instruments sometime soon!
5 Creative Valentine's Day Boxes
The next five Valentine box ideas involve the creative use of lesser known and recycled materials.
11. "Bee Mine" Valentine's Day Box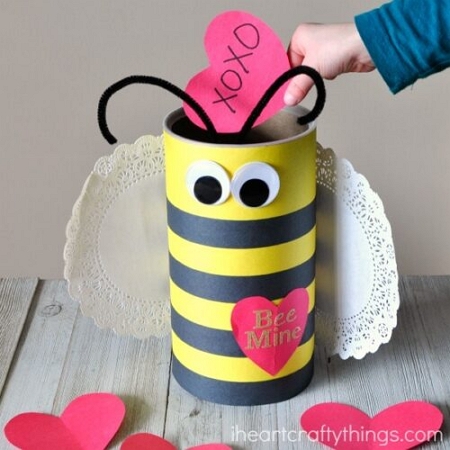 I Heart Crafty Things presents an ultimate test for resourcefulness with this Valentine box. This project requires you to repurpose an oatmeal container for the bee's body and use some paper doilies for its wings.
The rest of the materials and instructions are detailed on their page, including how to design the body and add the antennae.
12. Kiss The Frog Valentine Box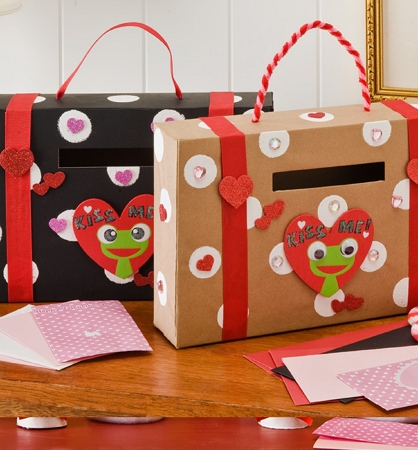 Here is another creative idea by Plaid Online, who makes use of cereal boxes to create a Valentine box suitcase. Since creating a hole for the box can be dangerous, it's best to leave the cutting to adults and designing to the kids.
Here are some more frog crafts for kids for those who find these little green creatures adorable!
13. Triceratops Dinosaur Box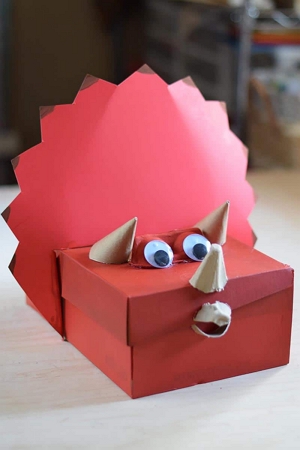 Here's another dinosaur craft brought to you by Adventures of Mel. The triceratops is one of the most recognizable dinosaurs out there, so kids will be proud to display their work of art at school on Valentine's Day.
14. Dazzling Unicorn Box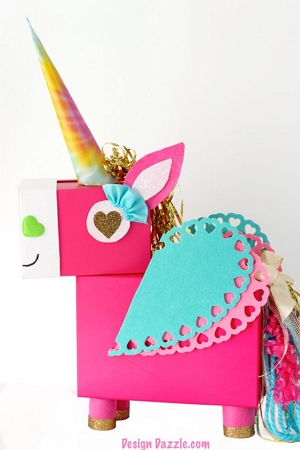 Design Dazzle teaches us to be more resourceful in making a cool Valentine box for school and that any supplies we have can go a long way into decorating and making the box more impressive.
While this unicorn box looks daunting to make, they simply used whichever material they had at their disposal to embellish the unicorn.
Here are other adorable unicorn crafts to brighten up those gloomy days.
15. Alligator Valentine Mailbox Idea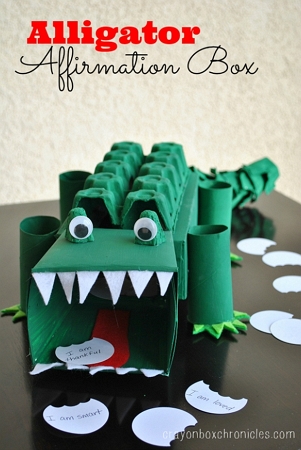 Crayon Box Chronicles takes things that are readily available at home, like toilet paper rolls, egg cartons, and empty tissue boxes, and assembles them to form this impressive alligator mailbox.
Prepare lots of green paint for this one because almost the entire Valentine box will need it.
There are always more egg carton crafts to make for kids! Alternatively, these crocodile drawings might pique their interest.
5 Valentine's Day Box Ideas with Template
If you don't want the hassle of designing your own box, here are five Valentine box ideas that contain very convenient and free templates just for you.
16. Panda Valentine Box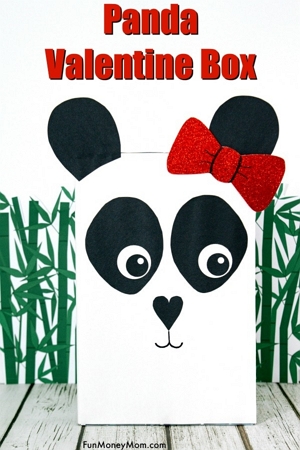 Make this panda Valentine box by Fun Money Mom. They kindly share a template of the panda's facial features, as well as a bonus ribbon for the kids to decorate.
17. Pugs and Kisses Box for Valentine's Day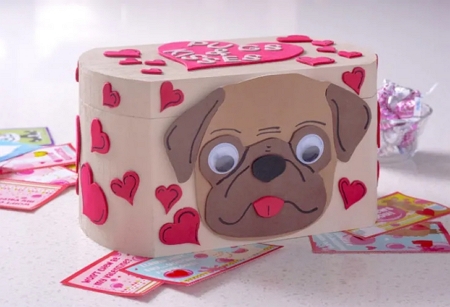 Dog owners, specifically pug owners, will love this "Pugs and Kisses" Valentine box. Dogs bring so much love and joy, and this one from Mod Podge Rocks is no exception, especially since it's covered with lots of hearts and kisses.
Here's a template of the pug's face provided for your convenience.
Commemorate your own pets by making these dog Perler beads!
18. Eevee Valentine Box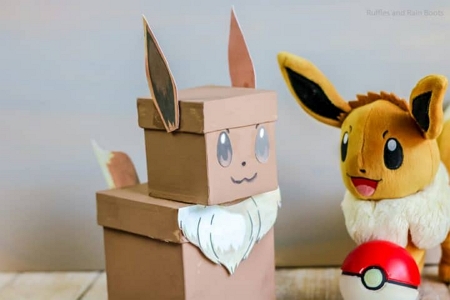 Ruffles And Rain Boots allows you to capture one of the cutest Pokemon out there, Eevee, which can evolve into other cool Pokemons. The best part of it is that the regular brown cardboard box used in this craft doesn't need coloring because Eevee is already brown!
19. Baby Yoda Box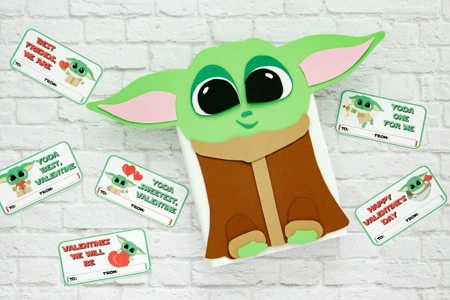 Bring to life one of the most adored creatures on television, Baby Yoda. Fun Money Mom celebrates the success of the Mandalorian by making this Valentine box guide, complete with the template of this force-wielding creature.
Can't get enough of The Kid? I know I can't, so here are other baby Yoda crafts.
20. Cute Unicorn Valentine Box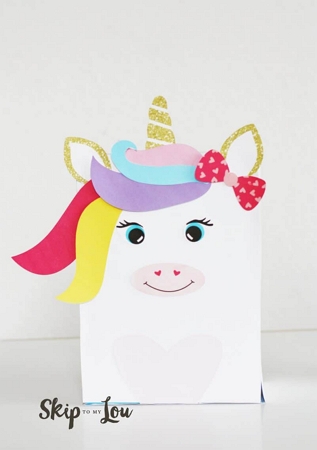 Skip To My Lou makes Valentine's Day quite magical with this colorful unicorn Valentine box. What's great about this one is that they provide plenty of customization options with the unicorn pieces and glittery horn template.
5 Cute Valentine Boxes
These last five Valentine boxes are just too adorable to skip!
Kawaii Perler bead patterns are also a must-do for those who enjoy cute things.
21. Valentine's Fox Box
Joy Holiday Family provides a video tutorial of a Valentine fox box that's no-fuss and straight to the point. Even though it's a seriously easy craft, this Valentine's box is a project kids will be proud of and will look back on for years to come.
22. Pink Sloth Box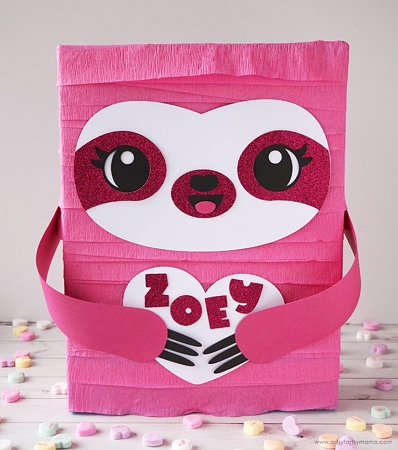 Sloths are already super adorable on their own, but Artsy Fartsy Mama crafts a cute pink sloth that makes it even more relatable to kids who love the color pink.
Finish this Valentine box by cutting out their name and pasting it on the sloth's heart!
23. Cute White Cat Box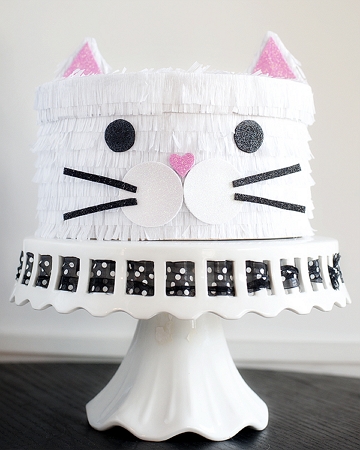 While cats can seem aloof sometimes, more often than not cats have a very warm and tender personality, which I believe is imbued in this craft by Pretty Plain Janes.
I love the material they used in this cat Valentine box because it makes it more realistic, which I'm sure kids will appreciate.
Cat lovers will also appreciate these cat crafts and cat Perler beads patterns!
24. Pikachu Valentine Box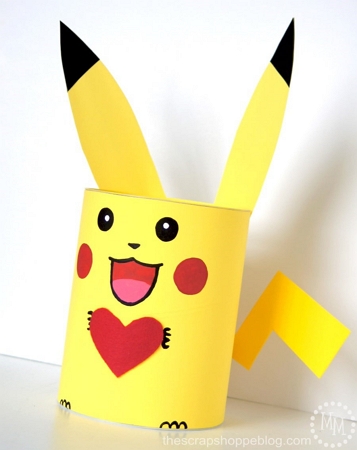 Pikachu still remains the most recognized Pokemon even after decades since he debuted. Children today can enjoy displaying this Valentine box from The Scrap Shoppe Blog, who makes an adorable Pikachu holding a heart.
To be more convincing that this is a Valentine's box, I suggest changing his round cheeks into heart shapes.
Get to know Pokemon other than Pikachu with these Pokemon Perler beads patterns.
25. Floral Valentine Mailbox Idea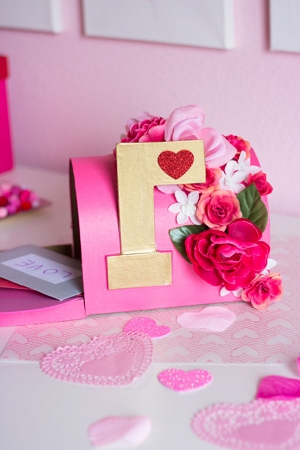 Design Improvised stays traditional with their Valentine box and creates a pink floral mailbox, the perfect symbol for Valentine's Day. It looks so pretty, and this project is quite simple, involving painting a paper mache mailbox and attaching some fake flowers to embellish it.
If you'd rather make DIY flowers to add even more flair to this Valentine box, then try some of these 3D paper flowers.
Creative Valentine's Day Boxes for Every Kid
I hope that you've found one of these Valentine boxes useful in your quest to seek a craft that's easy, beautiful, and something that the kids will be proud of.
Check out these other fulfilling projects that can be transformed into a fun hobby: