Celebrate the 14th of February with these 21 Valentine's day crafts for toddlers that will get them excited for the holiday.
It's an important day that teaches kids the importance of remembering and cherishing loved ones, like teachers, parents, grandparents, and other family members who are close to our hearts.
Making a thoughtful craft is a beautiful way to show the love that toddlers have and the joy they bring to the people who are closest to them.
I'm sure that the recipient of these Valentine's presents will appreciate the effort and love that the little hands have poured into these crafts.
7 Heart Crafts for Toddlers
It wouldn't be Valentine's without the hearts that define this holiday. So here are seven heart crafts that toddlers can make with the help of an adult.
1. I Love You To Pieces Craft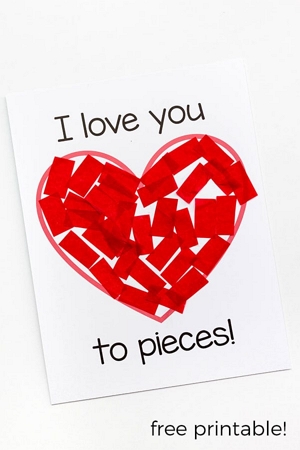 Make a lovely gift for grandpa or grandma by doing this Valentine's craft by Fun Learning For Kids. Simply provide toddlers with pieces of red and pink construction paper and instruct them to stick the pieces onto a heart shape.
I bet that the caption "I Love You to Pieces" won't fail to get a chuckle from grandparents.
2. Saltdough Footprint for Valentine's Day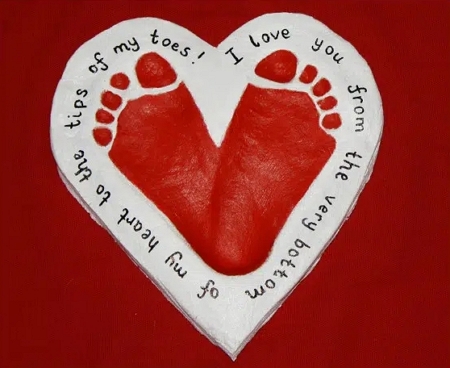 Red Ted Art shares a Valentine's Day keepsake that will bring fond memories of this precious moment in the future. I enjoy footprint crafts like these because it allows children to be as engaged in the activity as possible.
This project involves salt dough, which you'll know is not too difficult to make at home if you've seen our guide on homemade playdough.
3. Paper Heart Hug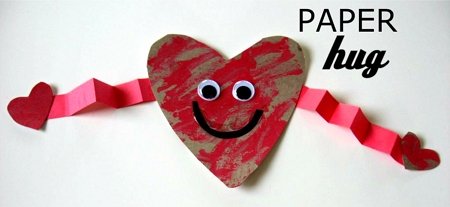 While the children may not always be around to give their grandparents hugs, a simple heart craft from them, like this one by No Time For Flashcards, will let them feel the warmth of their embrace.
4. Heart Corner Bookmark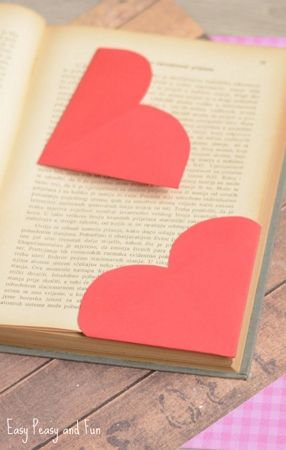 Origami crafts are great for kids who are just beginning their artistic journey. Easy, Peasy, and Fun shares an easy heart corner bookmark for Valentine's Day that can be given to an older sibling who loves reading.
5. Paper Strips Heart Craft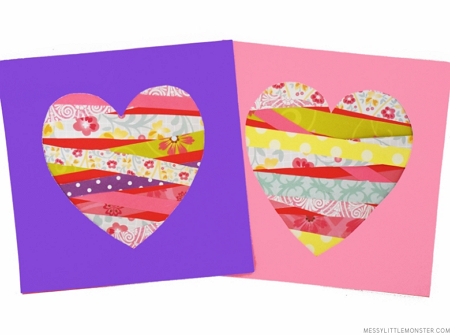 Here's another heart craft that kids will have loads of fun with that's brought to you by Messy Little Monster. This one is bound to get sticky since it involves gluing a bunch of colorful paper strips, but sticky hands shouldn't be a problem when kids are engaged in the craft!
Speaking of sweet and sticky things, you'd be surprised how much fun the kids can have with these marshmallow crafts.
6. Salt Dough Conversation Hearts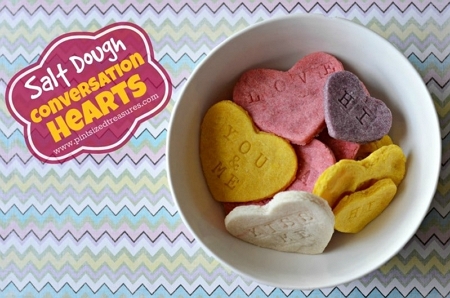 Pint Sized Treasures shares a delightful craft in the form of salt dough conversation hearts. Making heart shapes with a cookie cutter and salt dough sounds like a lot of fun!
Kids will also get to enhance their visual skills and creativity from mixing the food coloring that will be added to the salt dough mixture.
If you find yourself with more salt dough than you intended to make, then check out this snowmen handprint ornament guide, which features plenty of crafts that use salt dough.
7. Pom Pom Glue Craft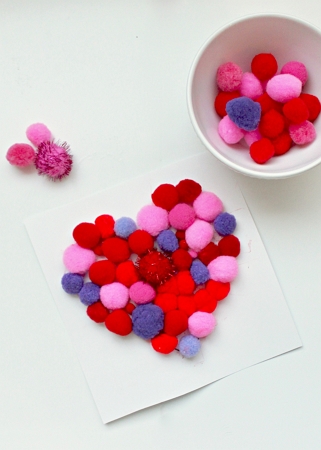 Let's turn to fluffy objects with this Valentine's Day pom pom craft made by This Sweet Happy Life. The project is as simple as it can get, consisting of attaching rose-colored pom poms on a piece of paper.
If you've got leftover pom poms, put them to good use by making these amazing pom pom crafts!
7 Valentine's Day Painting Ideas for Toddlers
Toddlers can express themselves through these Valentine painting ideas, which are perfect for little children since they are easy to replicate.
None of these paintings require painting skills since kids will be aided with things like cotton balls, sponges, and other interesting materials to paint with.
Older kids who'd love a more challenging project should look at these owl rock paintings or Halloween painted rocks.
8. Handprint Flower Valentine's Card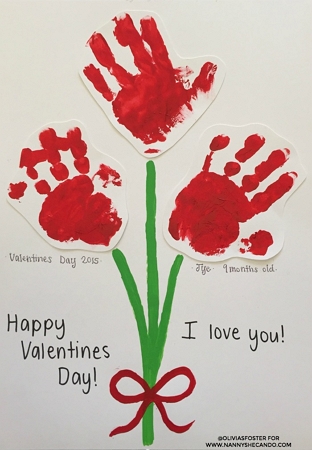 There are very few things that are easier than a handprint. Nanny Shecando shows just one of the ways that handprints can be employed through this Valentine rose bouquet handprint craft.
After they're done high-fiving the paper with red paint, write a happy Valentine's message, or better yet, teach little ones how to compose a simple sentence for their loved ones.
9. Fingerprint Heart Tree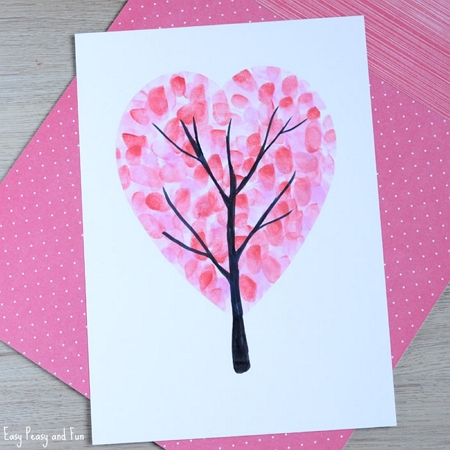 Here's another Valentine's day card from Easy, Peasy, and Fun that consists of stamping fingerprints to make this gorgeous heart-shaped tree that looks like a cherry blossom.
10. Valentine's Day Sponge Painting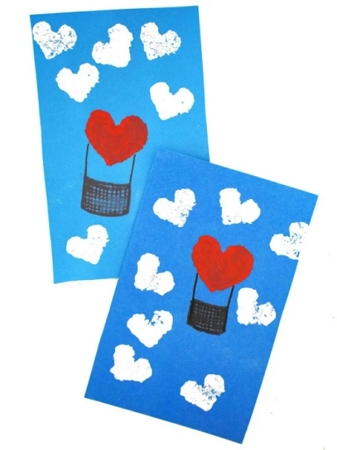 Here's a nice idea that uses an unusual material as a paintbrush to create a textured finish. High Chair Chronicles cuts a heart-shaped sponge and uses it to create this Valentine's Day card.
11. Watercolor Valentine Painting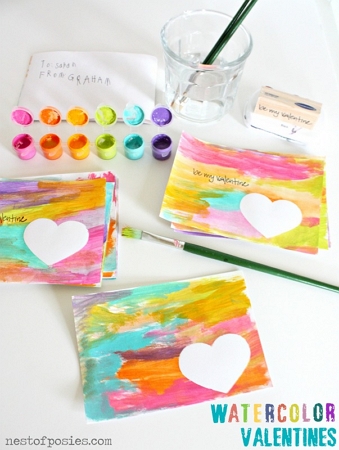 Almost everyone with kids will have watercolor paint at home. Nest of Posies shares this Valentine's Day project that will undoubtedly enhance toddlers creativity since they have unlimited freedom with color mixing.
12. Cotton Ball Heart Painting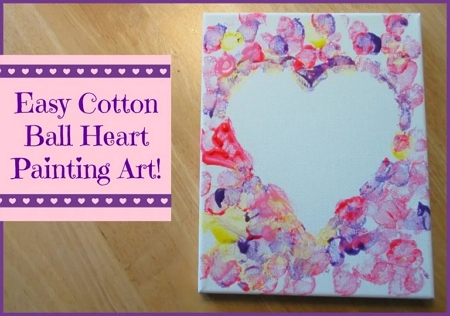 Sunshine Whispers presents another version of painting using textured materials. This one consists of using fluffy cotton balls as the medium, which is a fun texture to work with for toddlers!
13. Fingerprint "Love" Canvas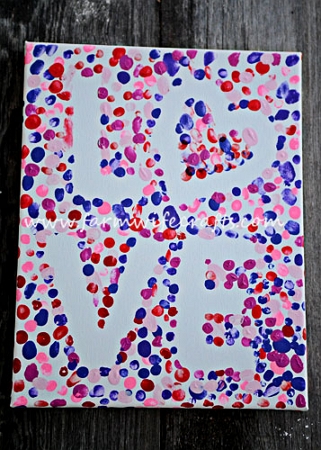 Kids will have another wonderful experience making this mesmerizing Valentine's Day craft from The Farmwife Crafts. Be prepared to get messy because this one involves plenty of fingerprint stamping, which should be a fun activity for all parties involved!
14. Bubblewrap Painting Idea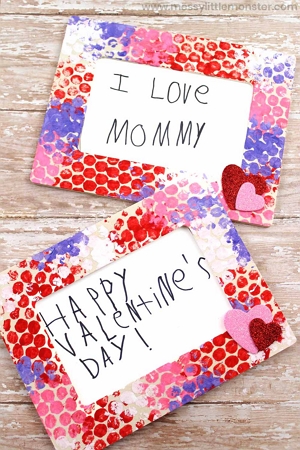 Messy Little Monster thinks outside the box and takes painting to another level by using bubble wraps as a paintbrush. Not only that, but this project also serves as a picture frame that captures a special time in your toddlers life.
7 Other Valentine Ideas for Kids
Here are some other original craft ideas for Valentine's Day that toddlers will enjoy making.
15. Lovely Tissue Paper Flowers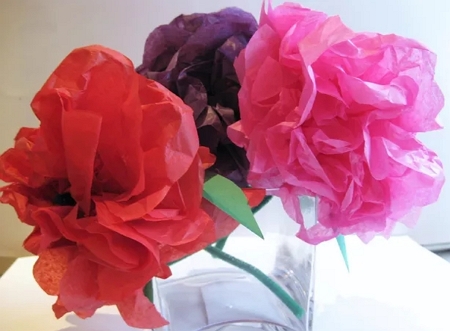 Why not teach the kids how to make bouquets made of tissue paper? Very Well Family shows us how easy it is with just some colored tissue paper and green pipe cleaners.
Here are some other neat pipe cleaner crafts to make with the kids!
16. Heart Windsocks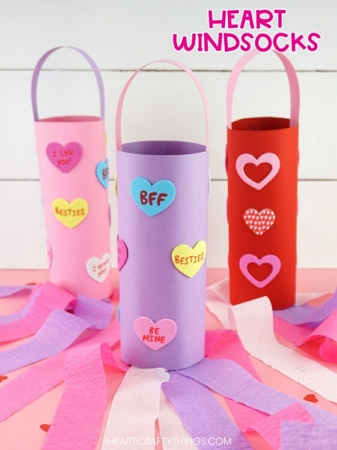 Create a lovely decoration to hang on the front porch during Valentine's Day with these heart windsocks made by I Heart Crafty Things.
All you need is cardstock paper, party streamers, and assorted Valentine's Day stickers.
17. DIY Votive Candle Holders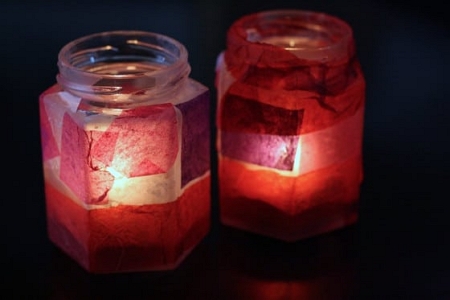 Here are some DIY votive candle holders for Valentine's Day to wish our loved ones the best. Happy Hooligans designs a small jar by pasting some colored tissue paper onto it with Mod Podge for a glossy effect.
Simply fill the candle holder with some battery-operated tealights and you have a nice little decoration for the holiday!
18. Pizza for Valentine's
Here's a cheesy way to express your toddler's love for their beloved family members. Surviving a Teacher's Salary "bakes" a slice of Valentine's pizza, adding toppings like cheese and heart-shaped pepperonis.
Allow the kids to serve this hearty snack, fresh out of the oven, to grandpa or grandma. I'm sure they'll laugh when they see the silly caption on the paper plate.
19. Salt Dough Valentine's Magnet Craft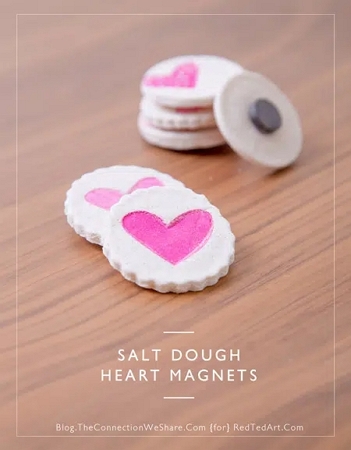 Red Ted Art shares another Valentine's Day salt dough craft. This time they make small fridge magnets with a heart design, which kids will cherish for a long time since these salt dough crafts last quite a while.
20. Valentine's Bee Craft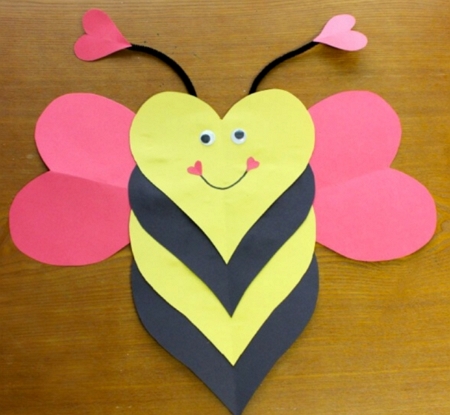 Bees are not uncommon to see on Valentine's Day since it's a day for flowers.  is a witty yet cheesy phrase that people associate with bees.
Laugh while making this heart craft made by Mary, Mother of the Light Academy, who creates the bee's body entirely of hearts. There's no better way to ask someone to "Bee My Valentine" than with this cute Valentine!
21. Dog Heart Valentine Craft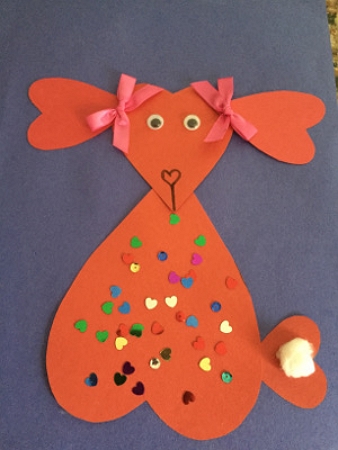 Who said that only humans can celebrate Valentine's Day? All Kids Network shows us that we can also express our love for our pets by making a Valentine's Day craft like this one.
This one is for all the toddlers who love their loyal companions so much that they're considered a part of the family.
Spread the Love and Crafts This Valentine's Day!
Valentine's day, like birthdays and other similar occasions, only comes once a year, so make the most of it by making these crafts with the kids.
Busy lifestyles can take away precious bonding moments with the kids. Spend more quality time with your children by doing other activities together, like these: