Turn your love of cats into fun craft projects with your little ones!
I've rounded up 30 different ideas that kids of all ages can do.
7 Cat Crafts for Toddlers
This first cat-egory has some really easy cat crafts your toddlers can make with a bit of help from a grown-up.
Note: Here are safety scissors and washable paint for kids to use since most of these crafts require painting and cutting. Also, here's a low temperature glue gun for kids to use on crafts that require one.
1. Really Easy Cat Drawing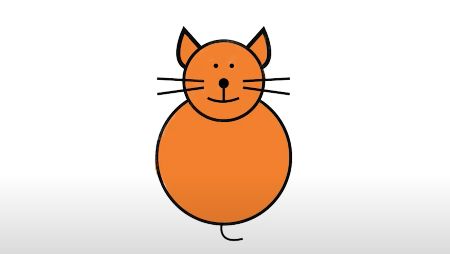 Want to teach your kids how to draw a simple cat but don't know how to start? By using circles, lines, and other simple shapes, Robin Art School teaches kids how to easily draw a really cute cat!
2. Chalk Art Cat Craft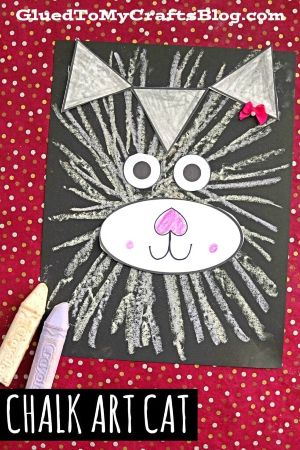 With this Glued to My Crafts chalk art cat, you can still put that sidewalk chalk to use on a rainy day. This cat craft lets kids doodle with chalk on a dark piece of paper. By adding on the cutout pieces from their free template, your kid's chalk doodle will be transformed into an adorable cat craft.
Besides colored chalk, kids will need cardstock, scissors, glue, and colored markers. Also, have some baby wet wipes handy to clean their hands up afterwards.
3. Handprint Cat Art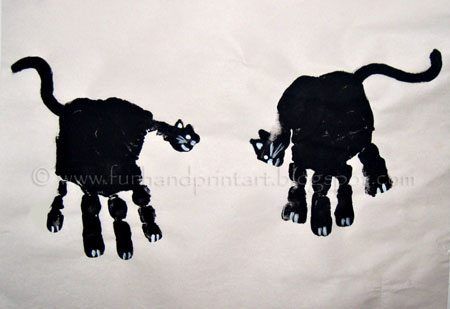 Halloween coming up? Then let your toddler paint some black cats with this handprint cat art from Fun Handprint Art Blog. They'll only need paint, paper, and a brush (for finishing touches), and that's it!
4. Easy Cat Art and Craft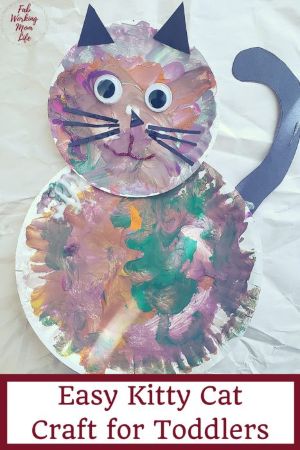 As the picture states, this is a really easy cat craft that toddlers can do. Julie shows you how your toddler can make this craft with paper plates, paint, glitter glue, scissors, and googly eyes. She even recommends using newspaper or packing paper to avoid a mess!
5. Paper Plate Cat Craft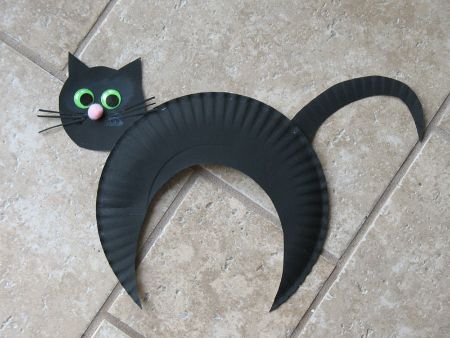 Black cats get a bad rap for being "unlucky". Amanda from Kinder Art teaches kids how to make a cute one so kids won't be afraid. To make this cat craft, kids will need a paper plate, googly eyes, paint, a paintbrush, scissors, tape, glue, and a pink pom pom.
Amanda also provides a printable pattern to make this much easier for kids!
6. Paper Cat Ears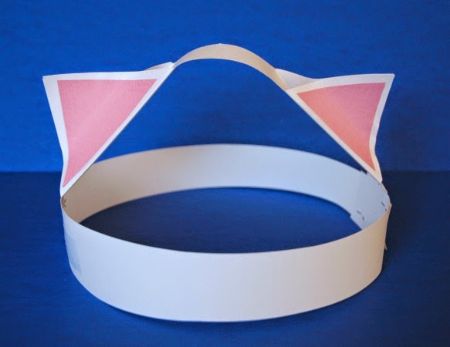 Turn your kids into cute kitty cats with this cat ear craft tutorial from Ellen. Get construction paper, scissors, glue, and scotch tape or a stapler, and your kids will be able to become cats themselves!
7. Cat Mask Craft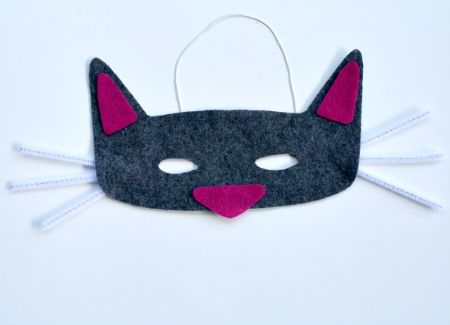 Kids want more than just cat ears? Fantastic Fun and Learning has got them covered with this cat mask. What do they need? Felt, party masks, glue, scissors, pipe cleaners, and a glue gun.
12 Easy Cat Crafts for Preschoolers
8. Upcycled Cat Art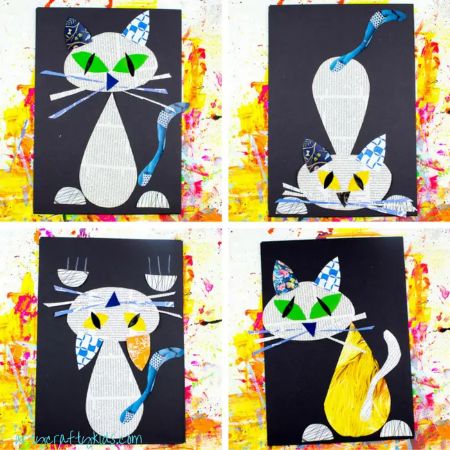 What a fun upcycled cat craft project! Arty Crafty Kids shows kids how to make cool dynamic cat art by using pages from newspapers and magazines.
9. Hello Kitty Button Art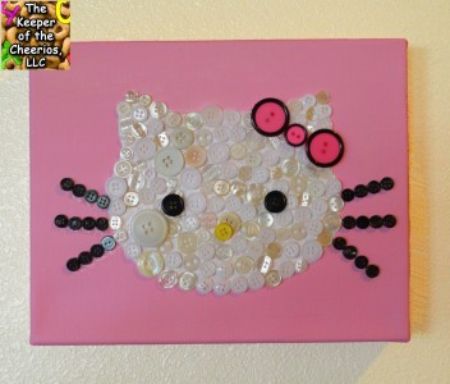 Turn your kids favorite cartoon kitty into a piece of artwork you can hang up on their bedroom wall.
Kids can make this beautiful button art courtesy of The Keeper of the Cheerios by using a canvas, paint, paint brushes, glue, and buttons!
10. Cat Bookmark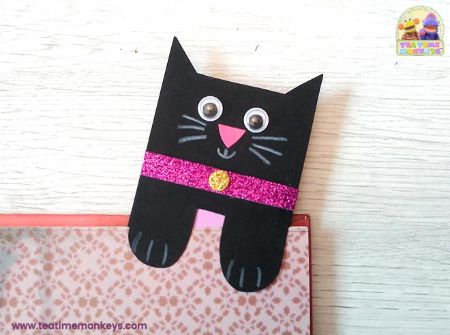 A craft that encourages creativity and reading? Yes please!
Check out these kitty-reffic cat bookmarks from Tea Time Monkeys. All you'll need is cardstock, glue, scissors, black pen, and optional googly eyes and a hole puncher. The site also provides a template to make craft time even easier.
11. Lucky Cat Craft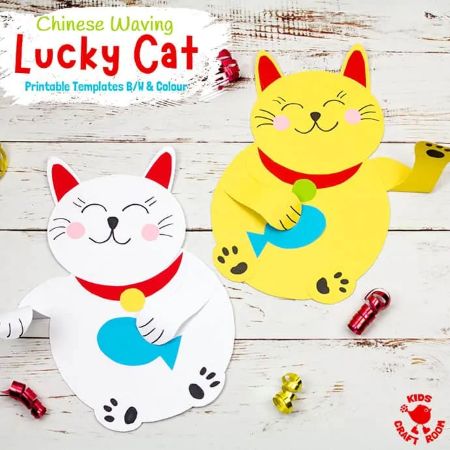 Care for a bit of Feng Shui? Make sure that luck is always welcomed in your home with this lucky waving cat craft from Kids Craft Room. To make one, kids will need cardstock, a marker, scissors, and glue.
12. Cat Papercraft
Having a cat party? These cat crafts can double as party decorations. Easy Kids Craft gives kids this easy craft they can make with cardstock, glue, scissors, string, and a black marker.
13. Cat Clock Craft
Teach your kids how to tell the time with this cat clock craft. Bev shows kids how to make this project with cardstock, a pencil, glue, scissors, colored markers, and googly eyes.
14. Toilet Paper Roll Cat Craft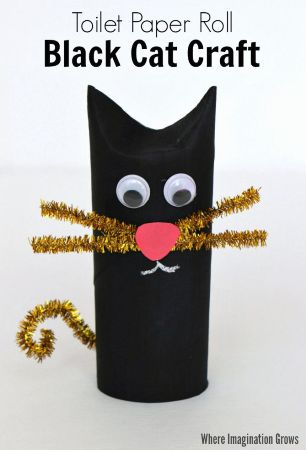 Here at Cool Kids Crafts we've already given you 20 reasons why you shouldn't throw away those empty toilet paper rolls. But what's one more?
Where Imagination Grows shows you how to make this adorable black cat with an empty toilet paper roll, paint, chalk, scissors, googly eyes, pipe cleaners, glue, and construction paper.
15. Paper Ball Cat Craft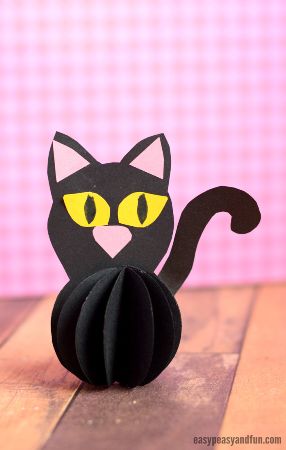 Here's a really easy cat craft from the aptly named Easy Peasy and Fun. Kids can make this simple Halloween decoration by using construction paper, a black marker, glue, scissors, a circle paper puncher, and a pencil.
16. Bobble Head Paper Cat Craft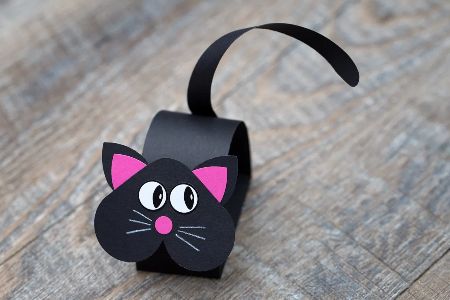 This black cat won't bring you bad luck! A cute Halloween cat decoration, this bobble head cat from Fireflies and Mudpies is really simple to make. All kids need is construction paper, scissors, googly eyes, a hole puncher, glue, and crayons.
17. Cat Paper Bag Puppet Craft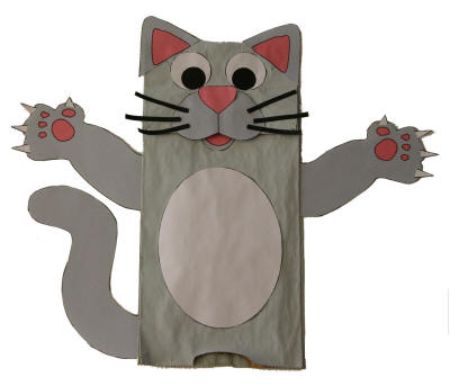 Paper bag puppets are great tools to teach kids. This cat paper bag puppet from DLTK is no exception. Just get a paper lunch bag, construction paper, scissors, glue, crayons, and googly eyes (optional).
DLTK even provides templates:
18. Pusheen Popsicle Cat Craft
Pusheen is a cartoon cat created by Claire Belton and Andrew Duff way back in 2010. With this video tutorial from Ketchupgirl, your kids can make a cute Pusheen popsicle out of foam or a large sponge, a glue gun, scissors, a popsicle stick, paint, toothpicks, and gloves.
19. Clay Cat Craft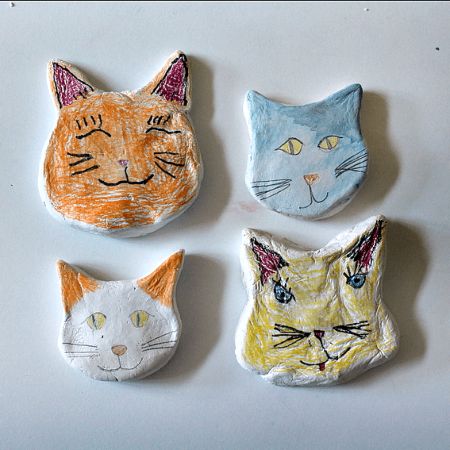 Let kids practice their molding skills with these clay cat heads. With clay, sculpting tools, a pen, and coloring materials, NurtureStore teaches kids how to make simple cat head sculptures.
11 More Challenging Cat Art and Craft Ideas
20. Pencil Holder Cat Craft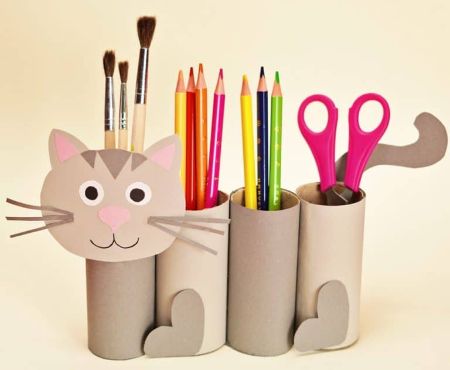 How about a functional toilet paper roll cat craft? This pencil holder from Hello, Wonderful is really easy to make, and all your kids will need is empty toilet paper rolls, scissors, glue, a ruler, a black marker, colored paper, and a wooden clothespin.
Hello, Wonderful even provides a cat template! Isn't that great?
21. Cat Storage Basket Craft

Photo credit: Quiet CornerContinuing with the cute and functional cat crafts, here's a cat basket craft from Quiet Corner to hold things such as pencils, scissors, or other stationary supplies. Kids can easily make this by using jute rope, a glue gun, embroidery floss, scissors, a marker, and wooden ovals.
22. Cork Cat Craft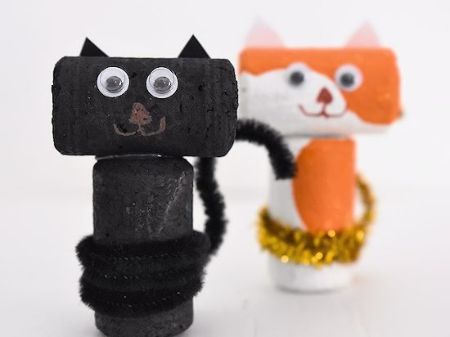 Do you have extra corks from a recent wine party? Don't throw them out once the bottles are empty!
With this tutorial from Our Kid Things, kids can use these corks to create cute cat crafts together with paint, construction paper, pipe cleaners, scissors, a glue gun, googly eyes, and colored markers.
23. Pom Pom Cat Craft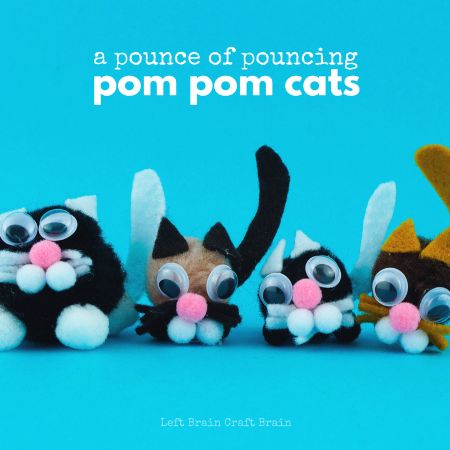 These adorably round cats from Left Brain Craft Brain can be made from pom poms (lots of them), a glue gun, felt, scissors, and a paperclip.
24. Origami Cat Face
Origami is a great way to enhance your kids' motor skills and precision. 123 Easy Paper Crafts' video will help kids make a cat's face by just folding a piece of paper.
25. 3D Origami Cat
Want more than just a cat's head? Then this video from KIDS Craft has got you covered. Kids will be able to make an origami cat that includes both the head and body.
26. Box Cat Craft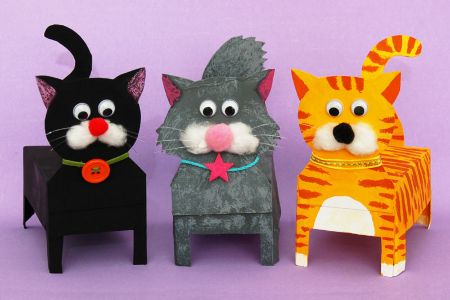 These cat crafts almost look real! Your kids will be playing with their new cat friends all day long.
With some help from First Palette's tutorial, you'll need:
A box
Scissors
Paint
A paintbrush
A pom pom or a button
Ribbons
Glue or a glue gun
A pencil
With these supplies, and a bit of help from a grown-up, they can have their own pet cardboard cat in no time.
27. Pusheen Cat Sock Craft
Do your kids have socks they've already outgrown? Help them make this cute Pusheen cat with help from Creative DIY's tutorial. The other materials needed are felt, stuffing, needle, thread, fabric glue, washable fabric pen, and scissors.
28. Felt Cat Purse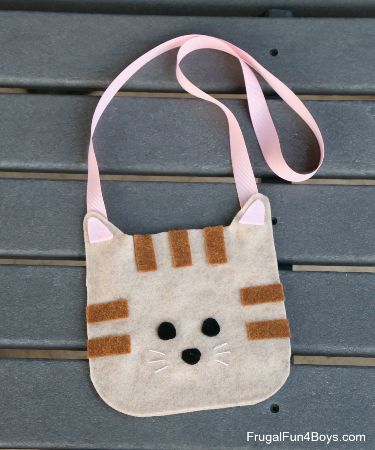 Here's a lovely purrrse for cat-loving kids! Frugal Fun teaches kids how to make their own with felt, a ribbon, a glue gun, and thread. Instead of using glue, a needle and thread can also be used. They even provide a printable template! Isn't that great?
29. Plastic Bottle Cat Craft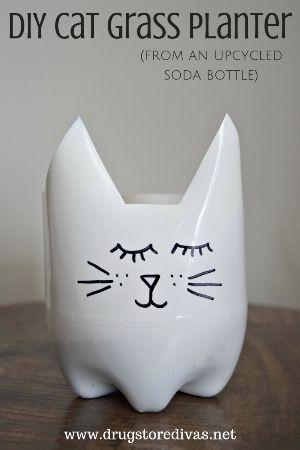 Don't you just love a good upcycling project?
Drugstore Divas shows us how to use a plastic bottle to create this cat craft which doubles as a grass planter. Other materials are cat grass seeds, black marker, scissors, paper, and spray paint.
30. Scrap Wood Cat Craft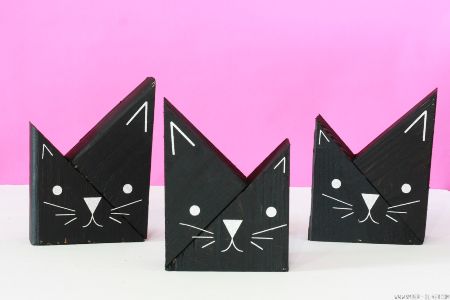 Got some wood scraps lying around at home? Then let your kids help out with these wooden cat crafts by Amber. What'll you and your kids need? Pieces of wood cut into triangles, wood glue, and paint.
Amber uses a Cricut to print out a cat face. If you don't have a Cricut, no problem. Just let your kids paint the facial features on themselves.
Purrrfect Cat Art and Craft Ideas
Get kids to embody the cuteness of these animals with these 30 wonderful cat crafts which will also improve their creativity and motor skills.
Have you tried any of these cat crafts at home? Which ones did you enjoy the most? Let me know in the comments section below!
Want even more animal crafts? Check out this list of elephant crafts!