Frogs may be slimy little creatures, but for some reason kids love their huge eyes, large mouth, and webbed feet. This is why frog crafts are such a hit among kids!
I'm digging the awesome frog craft ideas I've been seeing and I'm 100% sure your kids will, too.
So hop into a world of fun and easy crafty adventure with these 20 toad-ally awesome frog crafts for kids!
13 Simple Frog Crafts for Young Kids
The following 13 frog crafts for kids require minimal help from an adult, giving your toddler and preschooler a sense of independence and pride in their finished product.
1. Corner Bookmark Frog Craft
This corner bookmark frog craft is a perfect way to keep little hands busy. And because origami is an activity that requires very little adult supervision, your kids can work independently.
You'll need to cut green and red paper into squares beforehand. Provide your kids with eye stickers, glue, and a black marker and they're good to go.
Wanna learn how this corner bookmark frog craft is made? Easy Peasy and Fun's video tutorial above shares great instructions.
2. Clothespin Frog Puppets
Transform a typical household object into an adorable craft project by making clothespin frog puppets.
You can use these as props during storytime, or have your kids stage a puppet show – you'd be surprised to hear what frogs have to say if they could talk!
Easy Peasy and Fun has provided step-by-step instructions in their video tutorial above. They also have a template that you can download for a small fee.
3. Egg Carton Frog Craft
Because we love recycling, here's a sweet little frog craft that's made from recycled material.
Convert a humble egg carton into an egg carton frog craft, a perfect after-school or weekend activity for the kids. It's fun, quick, easy, and cheap – what more could you ask for?
Watch Faye's Journal's video tutorial to learn how to make an egg carton frog craft.
4. Handprint Frog Craft
Kids love working with their hands. With this handprint frog craft, they'll be making use of their hands, literally and figuratively.
This activity will need an adult's supervision because it requires the use of scissors. Kids can glue the different frog parts by themselves, so this frog craft is a nice collaborative effort.
Learn how to make a handprint frog craft by watching this video tutorial by Awesomely Crafty.
5. Origami Jumping Frog Craft
Are you ready for some serious frog racing? You better be because this jumping origami frog craft will have your kids begging for races.
This is a great activity to introduce your kids to origami. They'll have lots of fun folding paper!
The instructions from The Printables Fairy come with a printable that you can download for free.
6. Mask Frog Craft
Kids love wearing masks and pretend play, so this frog mask craft is a perfect addition to their collection.
With just a few materials, your kids are ready to play pretend with their friends. Have a sheet of green cardstock or green foam ready along with some pencils and elastics.
This activity requires adult supervision because of the use of scissors, a cutter, and a stapler. This means it's a great bonding activity with the kids!
Watch this School Craft video to learn how to make a mask frog craft.
7. Paper Bag Frog Puppet
Making paper bag puppets is an enjoyable process. Encourage creativity and wonder by making these adorable paper bag frog puppets with your kids.
For the materials, your kids will need a paper bag, green paint with a paintbrush, various sheets of colored cardstock paper, glue, and scissors.
Step-by-step instructions are found at Cooking with Ruthie, and you can also download I Heart Crafty Things's free template for the paper bag frog puppet.
8. Paper Crown Frog Craft
Let your kids experience what it feels like to be a frog prince with this paper crown frog craft. They can wear this crown as they hop around the garden.
With the instructions and free printable template from 10 Minutes of Quality Time, putting together this paper crown frog craft is made easier.
9. Paper Cup Frog Craft
Paper cups are a staple in craft projects because they're an inexpensive craft material. Aside from that, your kids will also need huge googly eyes, green construction paper, a Sharpie pen, scissors, and glue.
This craft is so easy it shouldn't take longer than 15 minutes to make! Again, adult supervision is recommended when using any kind of material with fumes, such as a permanent marker.
Watch the video tutorial from Kids Activities above to learn how to make a paper cup frog craft.
10. Paper Plate Frog Craft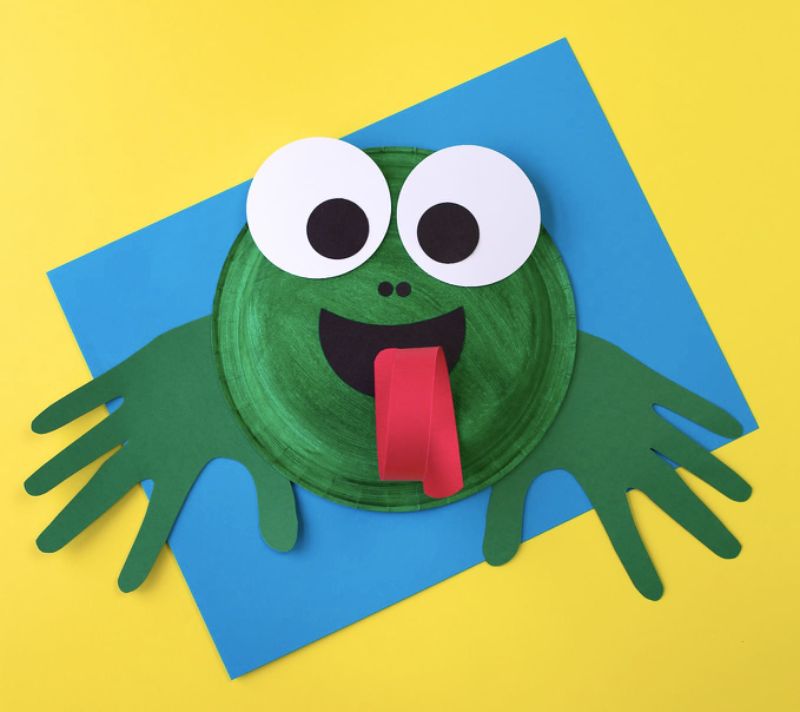 Photo Credit: Fireflies and Mudpies
This paper plate frog craft is a great activity to make learning more interactive and fun.
Your kids will need basic art materials such as paper plates, colored construction paper, glue, scissors, a pencil, a Sharpie (adult supervision, please!), and green tempera paint.
You'll also need to read the instructions and download the free template from Fireflies and Mudpies.
11. Paper Plate Frog Puppet
Aside from paper bags, your kids can also use paper plates to make a frog puppet.
They'll need two paper plates, red and green paint, colored construction paper (red, green, black, and white), a paintbrush, glue, and scissors.
This is a quick and easy project that your kids can make in under 20 minutes. Watch and learn how a paper plate frog puppet is made in this tutorial video by Make Film Play.
12. Popsicle Stick Frog Craft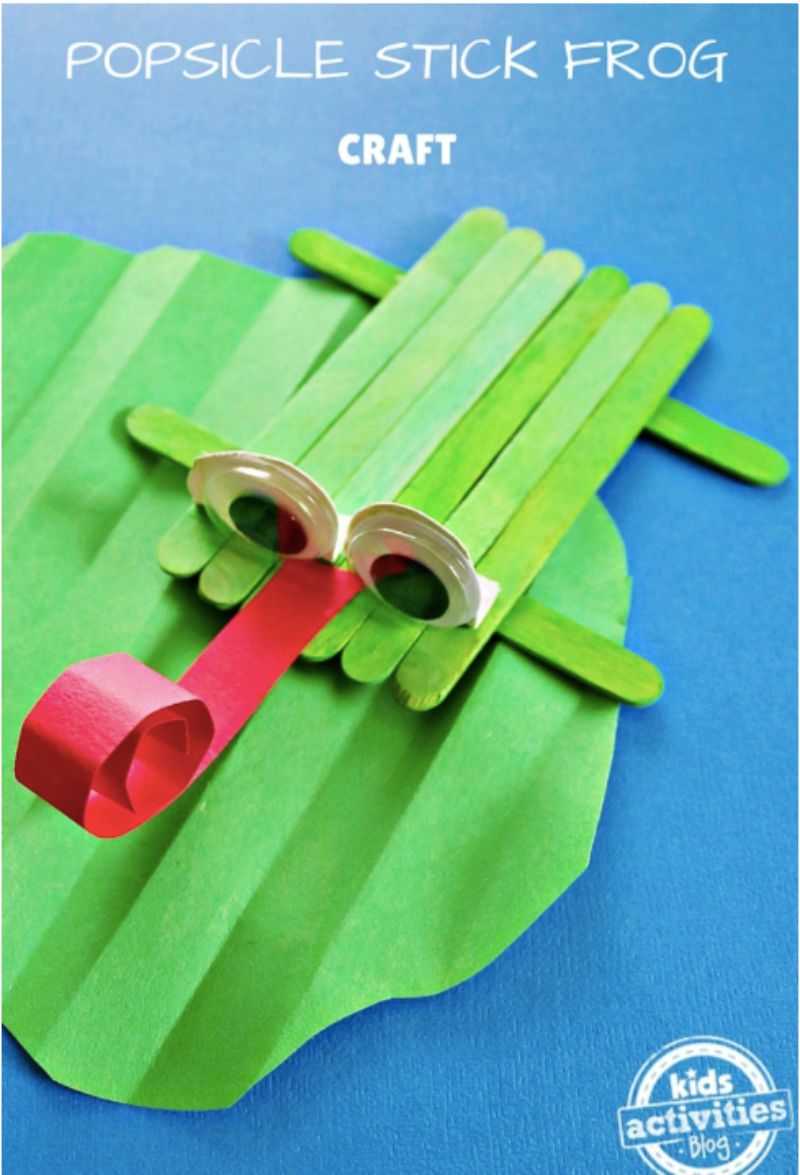 Photo Credit: Kids Activities Blog
With the use of wooden popsicle sticks, green paint, cardstock, googly eyes, glue, and scissors, your kids can make this popsicle stick frog craft in a flash!
With the finished popsicle stick frog, the kids can stage puppet plays, or you can display them in your kids' room as fun decor.
Read these step-by-step instructions from Kids Activities to make your own popsicle stick frog craft!
13. Toilet Paper Roll Frog Craft
It's no secret that we love toilet paper roll crafts. This is because toilet paper roll tubes are so easy to access and are pretty versatile.
Simply by painting a toilet paper roll green and sticking pre-cut colored construction paper on them, you can turn a boring TP roll into a whimsical frog!
Make this toilet paper roll frog craft with your kids and leap your way to endless fun!
Watch Easy Kids Craft's video tutorial above to see how easy it is to make one.
6 Frog Crafts Kids and Adult to Make Together
The next 6 craft projects are more suitable for older kids to make with an adult, but young kids can help with simple steps, too!
14. Pipe Cleaner Frog Craft
Here's a cute frog craft that your kids can make with pipe cleaners, felt, and other simple materials you may already have lying around the house.
You can make them as is or add a "pond" made from felt so your frog will look as if it's "swimming."
Learn how to twist pipe cleaners and turn them into frogs by watching the video tutorial by Miss Tricks Mix Crafts and DIY above.
15. EcoFroggie Bank Craft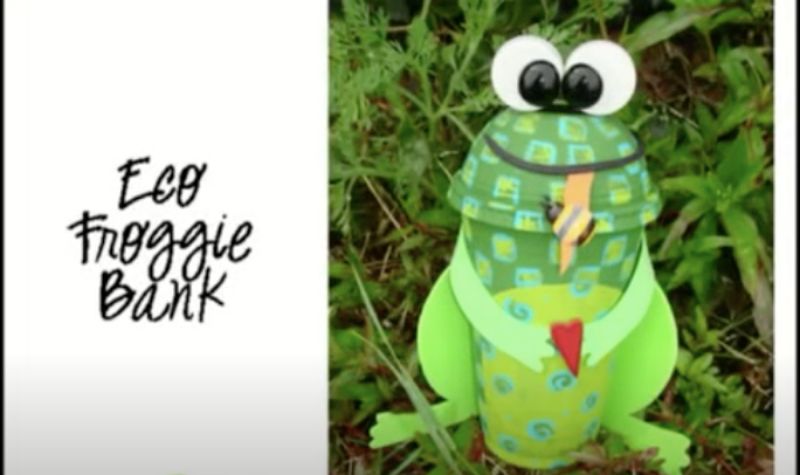 Photo Credit: Cool2Craft
After enjoying a cool refreshing drink from a plastic domed cup, save the cup, wash it, and turn it into an EcoFroggie bank craft with your kids. This is a fun way to teach your kids to save!
This is a project that requires lots of help from a grown up. However, there are some tasks that you can let your kids do by themselves – like painting the cup green with non-toxic paint.
Watch Cool2Craft's video tutorial to learn how an EcoFroggie bank craft is made.
16. Recycled Plastic Egg Frog Craft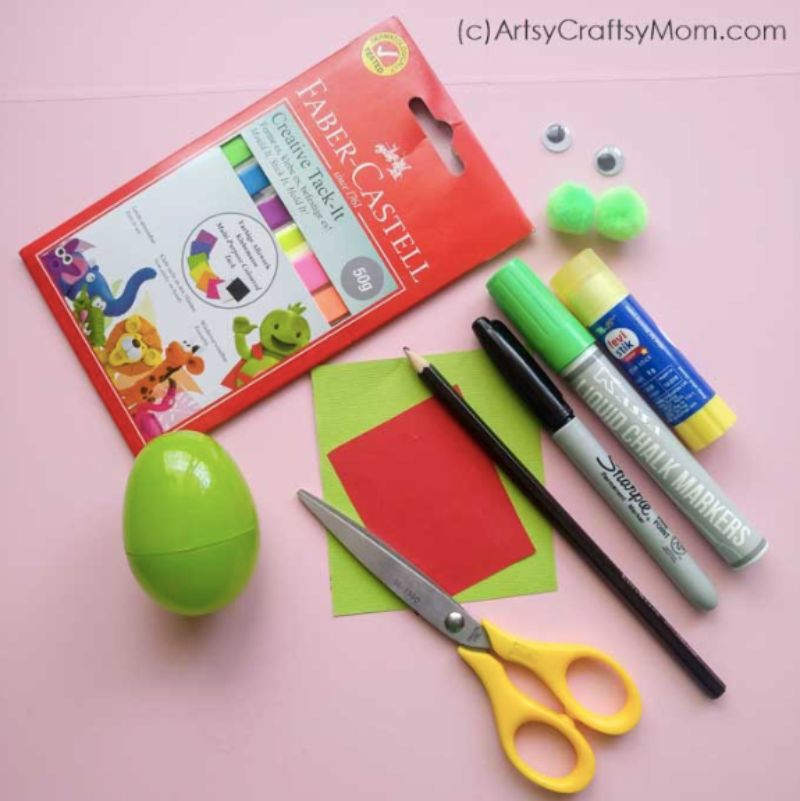 Image Credit: Artsy Craftsy Mom
Do you have green plastic eggs left over from Easter? Turn them into frogs!
This is a fun craft project for parents to do with their toddlers. With an adult's help, they'll soon have a lot of frogs lined up for play!
Artsy Craftsy Mom has detailed instructions on how you can make this cute recycled plastic egg frog craft.
17. Painted Rock Frog Craft
Rock painting is a fun activity for kids and this rock painted frog craft. Kids can hide several of these frogs in the garden or under one of your neighbor's bushes for a silly surprise.
While deciding where to put the finished product can be fun, the process of painting rocks with frogs is just as fun, too. This stimulates your kids' artistic abilities while developing their fine motor skills.
Art and DIY with Misha has a video tutorial that will teach you how to do this painted rock frog craft.
18. Jar Lid Croaking Frog Craft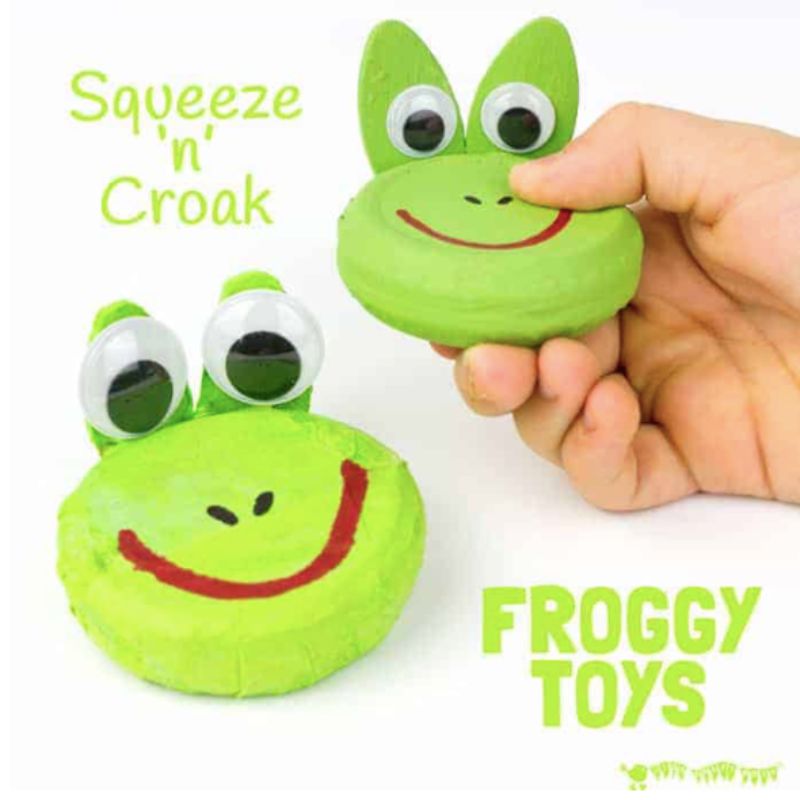 Photo Credit: Kids Craft Room
Recycle old jar lids and turn them into croaking frogs. Simply squeeze and hear them croak!
Prepare two button jar lids, masking tape, green tissue paper (or green acrylic paint if you have it!), large googly eyes, wooden craft spoons, glue, and Sharpies – and you're all set!
Even though this is one of my favorite frog craft for kids, it should absolutely be done under adult supervision due to the use of Sharpie permanent markers.
Learn how to make this croaking frog craft with these step-by-step instructions from Kids Craft Room.
19. Clay Pot Frog Craft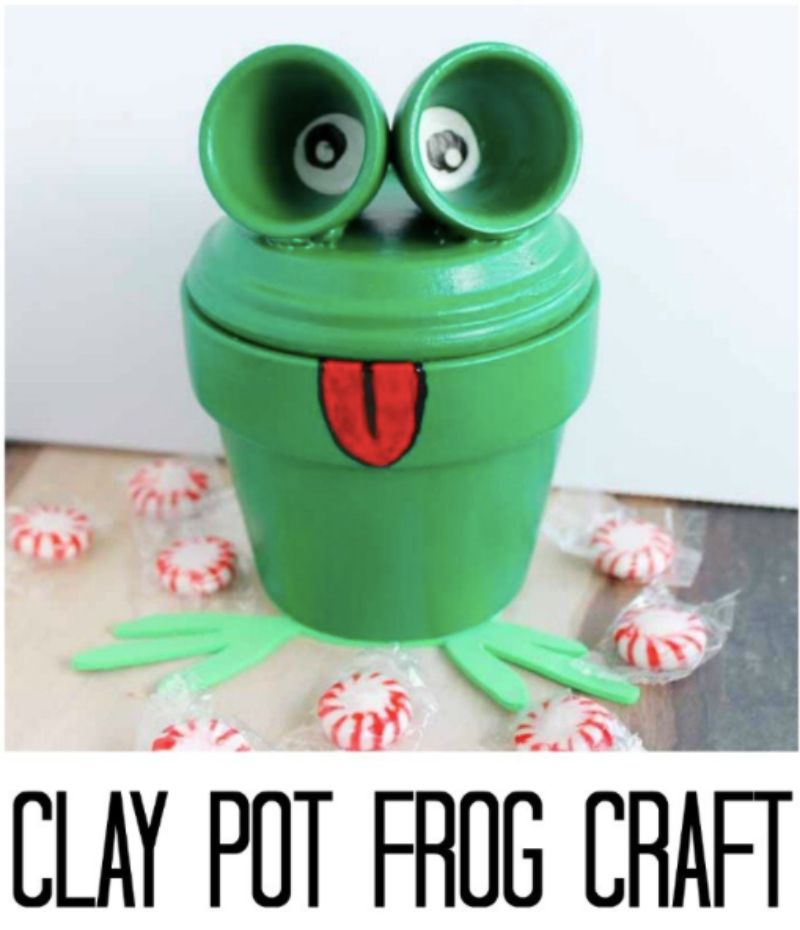 Photo Credit: The Country Chic Cottage
This is a really adorable craft project that'll look good both inside and outside your house.
Paint an old, boring clay pot and transform it into a frog! It's so easy to make that your kids will finish painting it in no time.
Do you want to make this with the kids? Easy-to-follow instructions are found at The Country Chic Cottage.
"Hoppy" Crafting!
Crafts are great activities that make kids happy – but these 20 toad-ally awesome frog crafts for kids will make them even "hoppier."
Don't worry though, the list doesn't have to stop at 20. There are more craft projects for you and the kids to make in this list of toddler painting ideas!