Disney's The Mandalorian gave fans a lot of things to be happy about. From Pedro Pascual's portrayal of the titular character to the appearance of Boba Fett and Ahsoka Tano, fans new and old were immediately drawn to the show.
One of the things that stood out the most since it first appeared was Grogu, or as fans have dubbed him, "Baby Yoda." This adorable force sensitive being from the same race as Yoda can be brought home from a galaxy far far away with these 20 Baby Yoda crafts.
Note: I recommend kids use safety scissors for the crafts that require cutting.
11 Easy Baby Yoda Drawings and Papercrafts
These are 11 cute and easy Baby Yoda art projects that toddlers and preschoolers can easily do with a little help from a grown-up.
1. Easy Baby Yoda Drawing In Space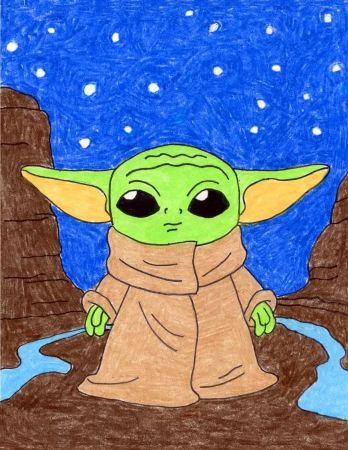 This is a quick and simple drawing from Art Project for Kids. With their printable step-by-step guide, paper, a black marker, and your coloring materials of choice, kids will be able to draw and color in their own Baby Yoda.
2. Easy Baby Yoda Drawing with Hover Pod
Here's a fun surprise fold project with a hidden Baby Yoda inside. Art Land teaches kids how to draw Baby Yoda that includes its pod with cardstock, a sharpie, and colored markers. It's that easy!
3. Cute Baby Yoda Drawing
This is so adorable! Weenie shows kids how to draw a really cute Baby Yoda in the style of squishmallow plushies using a sharpie and crayons or markers in this step-by-step tutorial.
4. Baby Yoda Drawing for the Holidays
Holidays coming up or just feeling festive? Grab a black marker, paper, and crayons or colored pencils, so you and your kids can draw a cute Santa Baby Yoda courtesy of Art for Kids Hub.
5. Paper Plate Baby Yoda Mask
Paper plates are some of the most common and easiest materials to work with. DIY Labs shows kids a fast and easy way to make a Baby Yoda mask with a paper plate, scissors, construction paper, cork paper, a marker, glue, and a popsicle stick.
6. Paper Bag Baby Yoda Puppet
Grab a paper bag, glue, construction paper, scissors, and colored markers. That and this tutorial from Fun Activities For Kids is all you'll need to make this easy paper bag puppet of Baby Yoda. There is even a free template (bottom of the page)!
7. Egg Carton Baby Yoda Papercraft
This is a really easy and cute Baby Yoda papercraft from the Santa Fe Public Library. What'll you need? Construction paper, glue, scissors, an egg carton, and a marker.
8. Toilet Paper Roll Baby Yoda Craft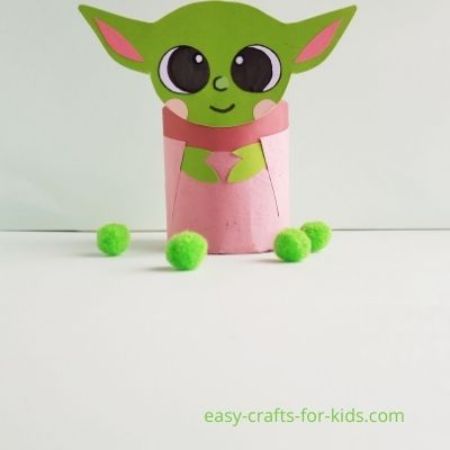 We always like to remind readers with young kids not to throw out their empty toilet paper rolls. There are just so many crafting opportunities!
The aptly named Easy Crafts for Kids shows kids how to make this adorable Baby Yoda craft. With an empty toilet paper roll, glue, colored paper, scissors, a pencil, and a sharpie, this adorable little Baby Yoda is theirs to keep.
9. Baby Yoda Bookmark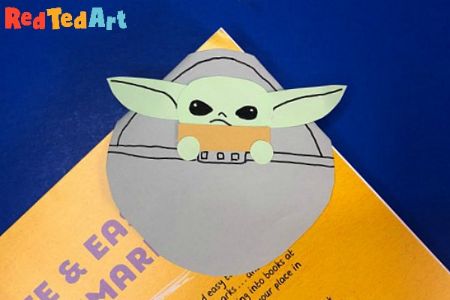 My favorite part about crafting bookmarks? When craft time is over, your kid is going to be so excited to go read and try out their new bookmark.
Check out this Baby Yoda bookmark from Red Ted Art. All you'll need is construction paper, scissors, a black pen or marker, and glue.
10. Baby Yoda Paper Lantern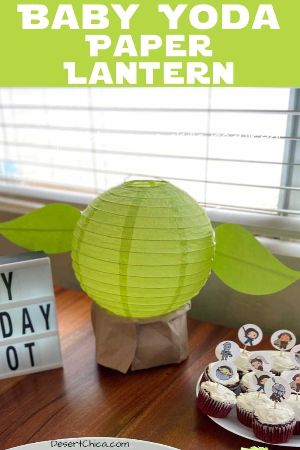 Celebrate your kid's birthday by throwing a Mandalorian themed party! Karen from Desert Chica shows kids how to make this simple Baby Yoda decoration with a paper lantern, bendy straws, construction paper, string, kraft paper, a paper bowl, and scissors.
11. Origami Baby Yoda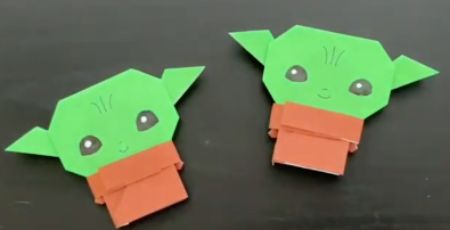 With just a piece of paper and some folding skills, Kim's video teaches kids how to make an easy Baby Yoda origami project. You can use a marker in the end if you want to add details such as eyes.
9 More Challenging Baby Yoda Crafts
Aside from drawings and papercrafts, here are 9 Baby Yoda crafts using other crafting materials that are challenging, but still doable, for kids.
12. Yoda Ears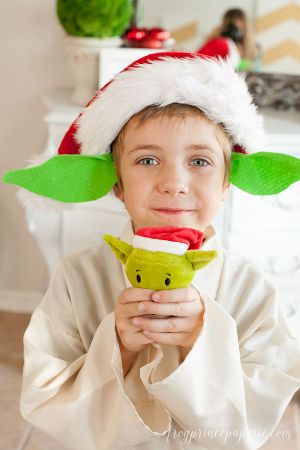 Let your kids transform and become the same species as Yoda and Baby Yoda with this simple Yoda ears craft from The Party People. What they'll need is felt, a headband, a glue gun, and this free template from Sunnyvale.ca.gov.
13. Baby Yoda Felt Garlands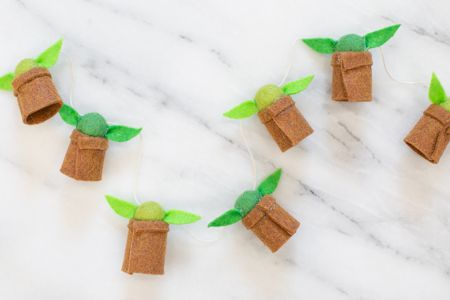 Chelsea from Momtastic shares how kids can make lovely Baby Yoda garlands for a party or if they just want to decorate their rooms. The tools and materials you'll need are felt, felt balls, a glue gun, scissors, embroidery thread, and a needle.
14. Clay Baby Yoda Craft
This is probably the most challenging craft on this list, but it was just too cute not to include! Keep in mind this one is best suited for older kids or kids with crafty grown-ups who are wanting to help out.
With clay, sculpting tools, foil, cabochons, bake & bond, and toothpicks, Alicia shows kids how to make a cool clay Baby Yoda craft.
15. Felt Baby Yoda Doll Craft
Here's a tutorial from Tiny Craft World to make a Baby Yoda doll out of felt. Aside from felt, you'll need a glue gun, embroidery thread, scissors, stuffing, black beads, and a needle. The best part? A template is provided!
16. Pom Pom Baby Yoda Craft
Pom Poms AND Baby Yoda? Yes please!
Jennifer shows kids how to make their own pom poms to build this pom pom Baby Yoda doll craft. All they'll need is yarn, scissors, felt, a glue gun, and beads (for the eyes).
17. Baby Yoda String Art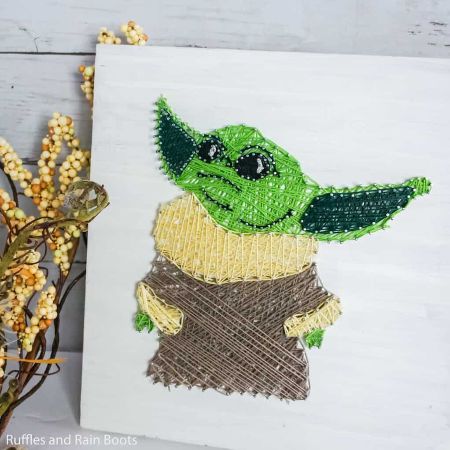 Older kids can make this awesome Baby Yoda string art with the help of this tutorial from Sarah. You'll just need embroidery thread, small nails, a hammer, a wood blank, and the free printable Baby Yoda template for the nail locations.
18. Baby Yoda Piggy Bank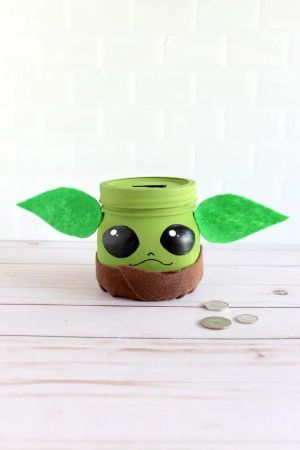 With the force guarding their coins, kids will surely be able to save up that spare change. This tutorial from Heather shows how to make an adorable Baby Yoda piggy bank. You'll just need a mason jar, paint, felt, scissors, a glue gun, a paintbrush, and Mod Podge (optional).
19. Baby Yoda Night Light
Kids will love making these Baby Yoda night lights to brighten up their room. Stephanie shows how to make these in her tutorial using the following materials:
Small jars
Spray paint (a grown-up should handle this part)
Glue
Scissors
Goo Gone (optional)
20. Baby Yoda Pumpkins Carvings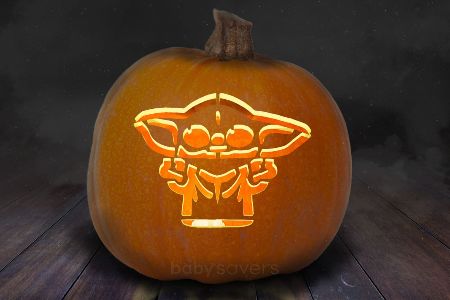 Make your Halloween much much cuter by having your kids carve this adorable green alien using various free Baby Yoda stencils from Baby Savers such as this one. Other materials you will need are:
Now, just print out the Baby Yoda stencil of your kids' choice, and make sure it fits the pumpkin, then you're good to go!
This is the Way…to Make Adorable Baby Yoda Crafts!
Kids who are fans of The Mandalorian, especially Grogu, will love making these 20 Baby Yoda crafts, so they can bring the adorable little green alien home.
Did your kids enjoy making these Baby Yoda crafts? Which one did they enjoy making the most? Tell me in the comment section below.
For even more fun projects, check out these cool polar bear crafts.