Rainbows are great inspirations for kids craft projects. They have simple colors that kids can easily identify and turn into beautiful works of art.
Adults see a rainbow as a sign of hope. Something beautiful that comes after a dark storm.
Below are 23 easy rainbow crafts that will bring peace and quiet while your kids craft and will help brighten up your home if you choose to hang them around the house once they are finished.
10 Rainbow Painting Ideas
Painting doesn't always have to be done with a paintbrush. Below are 10 easy rainbow painting ideas for preschoolers and toddlers that use a variety of interesting tools.
1. Rainbow Feather with a Toothbrush
If you have a worn toothbrush you're about to throw out, let your kids use it instead to paint a pretty rainbow feather like this one from Navneet. The bristles of the toothbrush make pretty neat textures for the feather.
2. Fingerprint Rainbow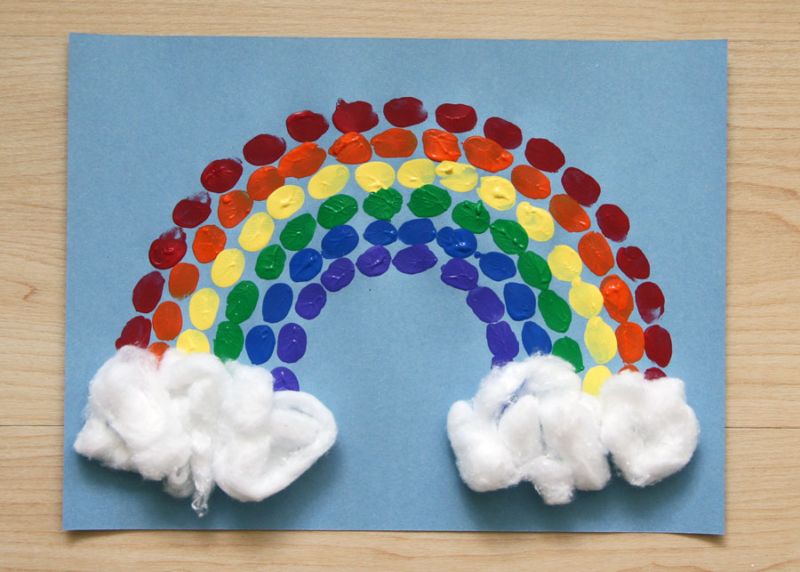 Photo credit: DLTK
Kids won't need any brush for this easy rainbow painting! DLTK shows kids how to paint a rainbow using their fingers, paint, cotton balls, and a piece of paper.
3. Handprint Rainbow Art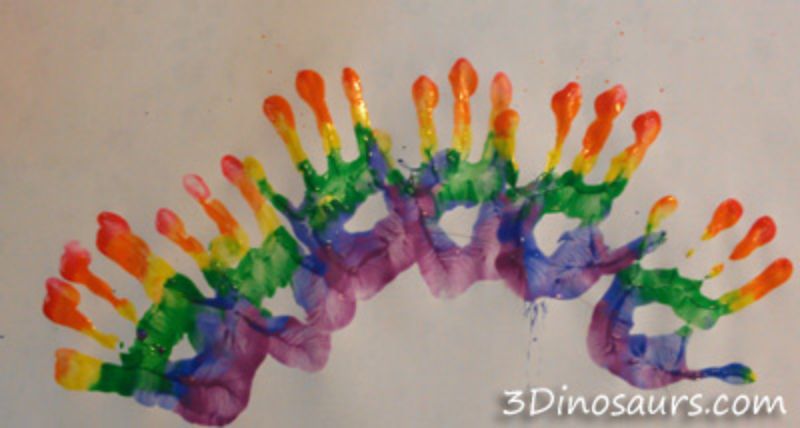 Photo credit: 3 Dinosaurs
Kids got bored with using just their fingers? Let them use their entire hand instead just like 3 Dinosaurs did! With just a piece of paper and paint, along with a paper plate and a pencil, kids will be able to paint a rainbow with just their hands.
4. Mess-Free Rainbow Art for Kids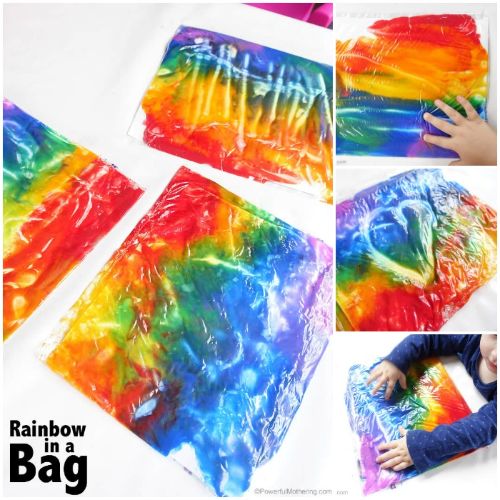 Photo credit: Powerful Mothering
Powerful Mothering shows kids this mess-free rainbow painting option with cardstock, Ziploc bags, painter's tape, and paint.
Don't fret if you don't have any paint handy. They also include a quick recipe for homemade paint, and all you'll need is flour, water, salt, and food coloring. Plus you can save some for all the other rainbow crafts you'll do. Neat, right?
5. Rainbow Drip Name Painting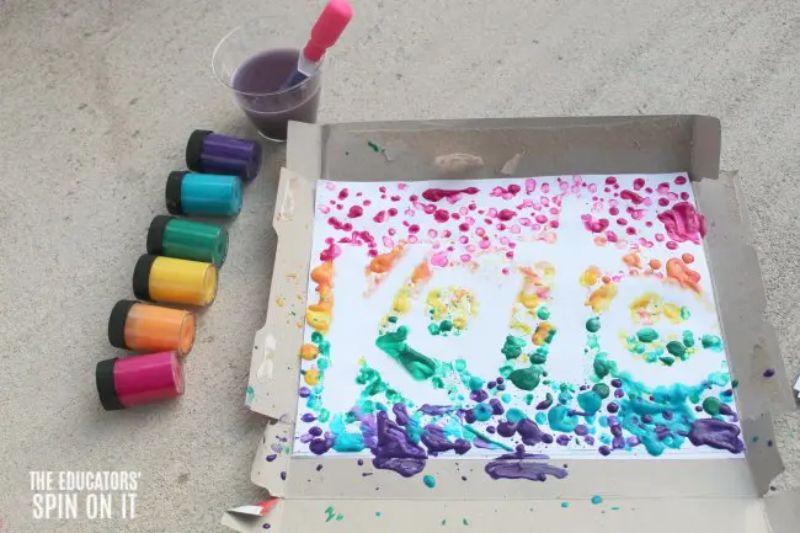 Photo credit: The Educators' Spin on It
Time to let gravity do the work! The Educators' Spin on It shows kids how to do just that with droppers, paint, scissors, cardstock, and cardboard. They also add an additional activity of featuring a kid's name with it!
6. Celery Stamping Rainbow Fish Painting
Vegetables are good for you, kids! They also make for convenient painting tools to replace paintbrushes. In a quick video, Crafty Morning shows kids how to use celery sticks to paint this simple rainbow fish. They even include a free template for the fish!
7. Rolling Pin Rainbow Art Project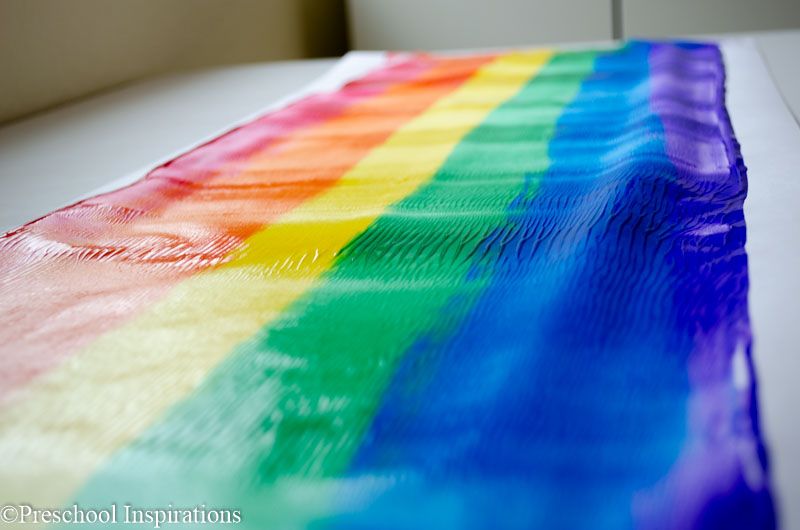 Photo credit: Preschool Inspirations
There are various rainbow art projects out there that let kids use different tools to paint. Such as this project from Preschool Inspirations that uses a rolling pin, paint, and easel paper to produce this simple rainbow artwork.
8. Rainbow Art with a Balloon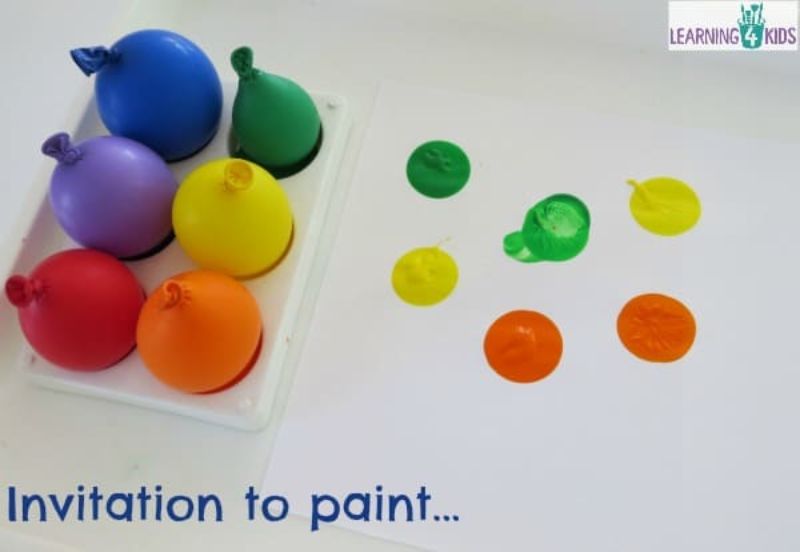 Photo credit: Learning 4 Kids
Got any spare balloons from a recent party? Or better yet, have a party where the kids all make rainbow crafts of their own! Kids will only need a couple of balloons, paint, a paint palette, and a large sheet of paper.
9. Sponge Painting Rainbow Art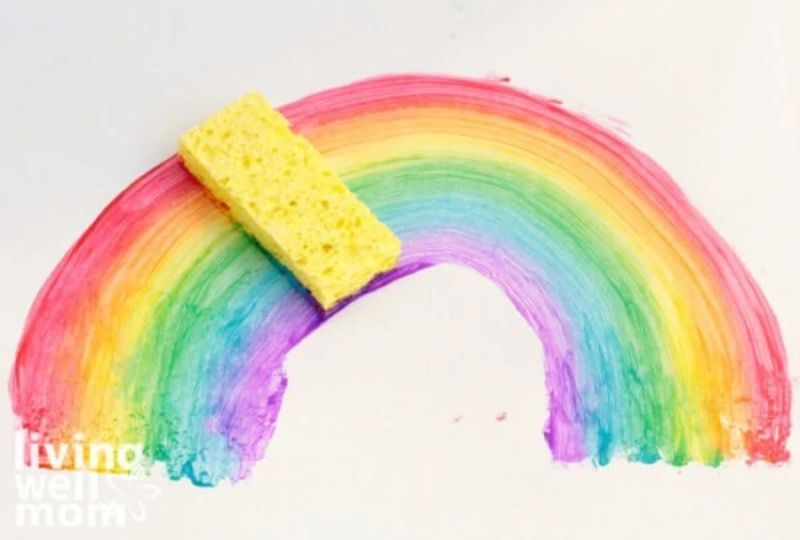 Photo credit: Living Well Mom
Have an extra sponge lying around? Here's an easy rainbow painting idea from Living Well Mom. Aside from the sponge and paint, your kids will need cardstock, a clothespin, and scissors.
10. Rainbow Abstract Painting
With a canvas, masking tape, paint, a palette knife, and a paintbrush (just to splash a bit of paint at the end), Gibi Art shows kids how to make a wonderful abstract rainbow painting. It's best if a grown-up puts on the masking tape so kids can just have a go at it and paint.
13 Rainbow Craft Ideas
Aside from paintings, here are 13 different easy rainbow craft ideas your kids can make.
11. Simple 3D Rainbow Craft
Kids will be reaching for the skies with this 3D rainbow craft from Make Kids Craft. Grab some colored paper, cotton balls, glue, scissors, and a stapler so kids can make their 3D rainbow.
12. Rainbow Pop-Up Card
Greet a friend in a colorful and creative way with this rainbow pop-up card! Red Ted Art shows kids how to make one with paper, white and colored cardstock, scissors, glue, and colored markers.
13. Stained Glass Rainbow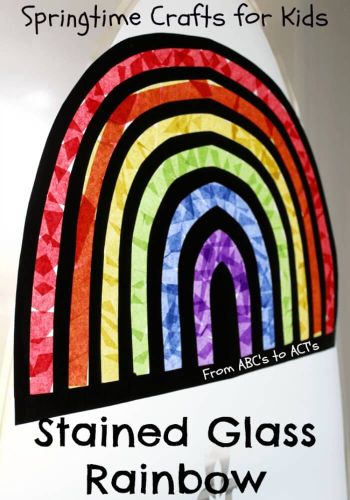 Photo credit: From ABCs to ACTs
How pretty is this stained glass rainbow craft from From ABCs to ACTs? With construction paper, contact paper, colored tissue paper, and scissors, your kids can make their own stained glass rainbow to stick on their windows.
Wondering what to do with the leftover tissue paper after you finish this stained glass rainbow? Here's a whole separate article full of fun and easy tissue paper craft ideas.
14. Rainbow Cloud Craft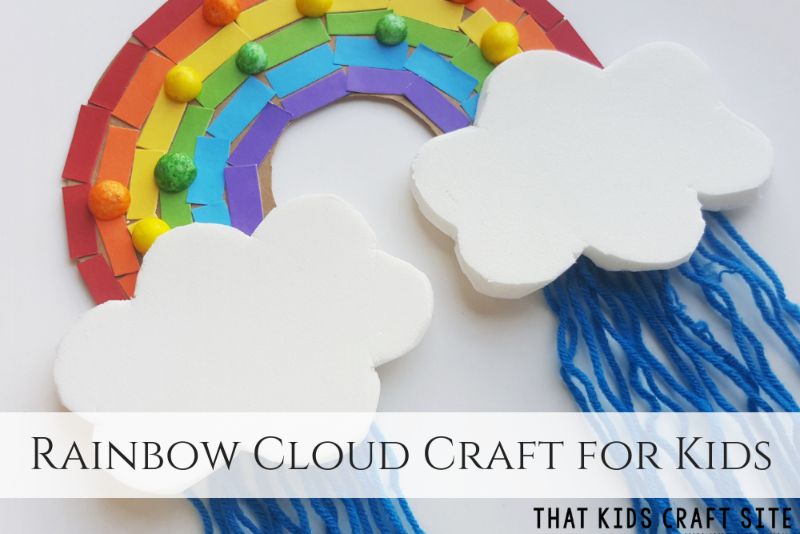 Photo credit: That Kids Craft Site
Clouds are a fun addition to any craft rainbow. That Kids Craft Site gives them emphasis with craft foam. Other than the craft foam, kids will need cotton balls, construction paper, glue, scissors, and blue yarn.
What's neat about That Kids Craft Site is that they provide a template to help guide kids for this craft. How convenient!
15. Pipe Cleaner Rainbow Craft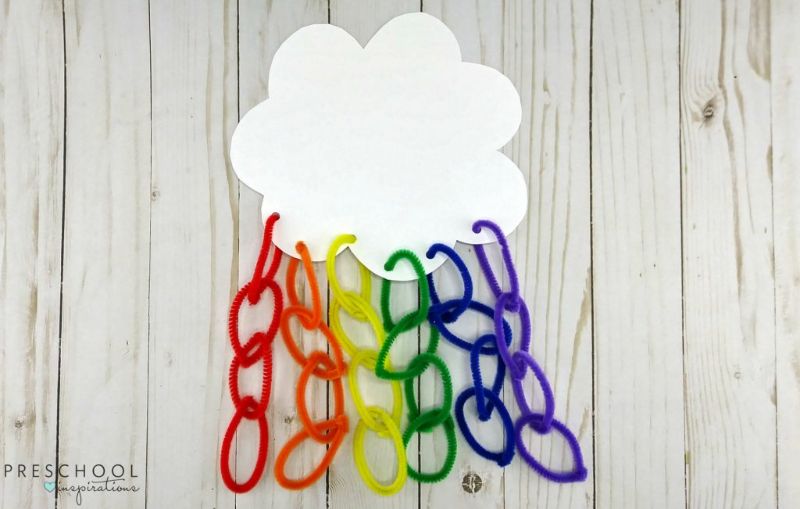 Photo credit: Preschool Inspirations
Rainbow crafts don't always have to be arcs. Instead of a rainbow arc, Preschool Inspirations uses pipe cleaners, a hole puncher, cardstock, scissors, and a pencil to show kids how to make this colored chain-like rainbow craft.
16. Rainbow Popsicle Sticks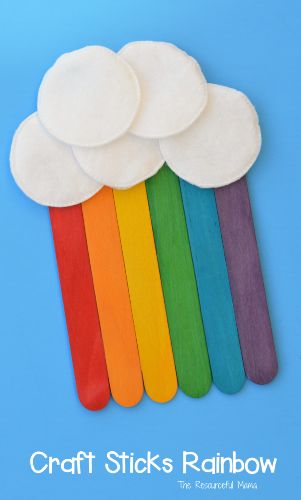 Photo credit: The Resourceful Mama
One popular kids crafting material is a popsicle stick. In fact, I have a whole separate article about popsicle stick craft ideas.
The Resourceful Mama uses colored versions of them so kids can make this easy-to-do rainbow craft together with some cotton pads, glue, and cardstock.
17. Rainbow Tambourines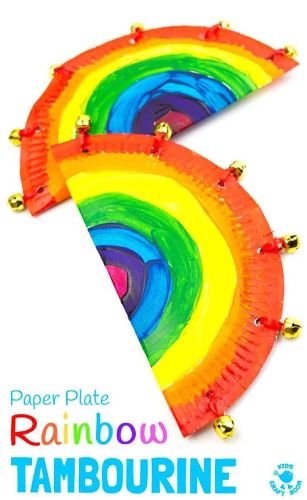 Photo credit: Kids Craft Room
What a fun way to use your spare paper plates! Kids Craft Room uses them to makes these cute rainbow tambourines. You'll also want to have some paint, a hole puncher, ribbons, tiny bells, cotton balls, glue, and clothespins.
18. Rainbow Garlands
Photo credit: Mini Eco
Enhance children's motor skills with this rainbow garland craft from Mini Eco. What will they need? Just colored paper, glue, scissors, and their folding skills. That's all!
19. Marshmallow Rainbow Craft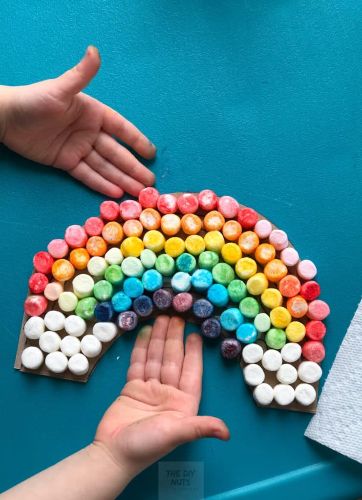 Photo credit: The DIY Nuts
Using yummy marshmallows (either white or colored), cardboard, glue, pencil, and food coloring (optional), The DIY Nuts show kids this tasty rainbow craft. The best part? Kids can have the leftover marshmallows as a celebratory snack!
20. Rainbow Pasta Mobile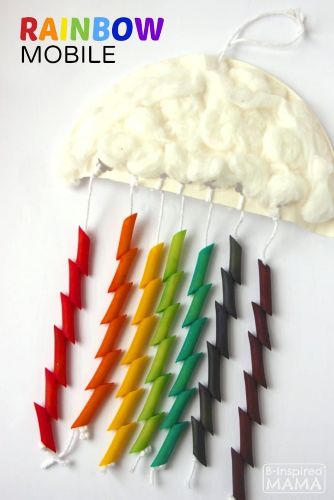 Photo credit: B-Inspired Mama
Continuing on with food as crafting materials, B-Inspired Mama has this lovely rainbow pasta mobile for kids to make. The materials kids will be needing are:
Uncooked penne pasta
Food coloring
Ziploc bags
Cotton balls
Hole puncher
String, yarn, or pipe cleaners
Scissors
Rubbing alcohol
Phew! That's quite a lot of materials, but the process of making it is easy enough for kids with a bit of help from a grown-up when dyeing the pasta.
21. Rainbow Salt Craft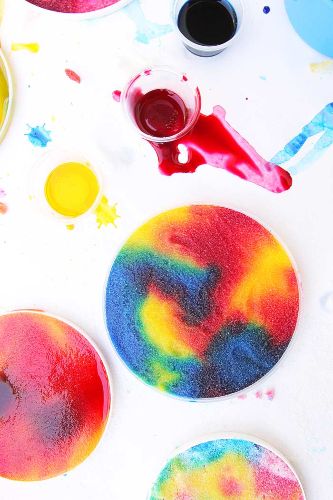 Photo credit: Babble Dabble Do
Have you or your kids ever tried to use salt for crafts? Well, Babble Dabble Do has got you covered. With salt, plastic lids, watercolors, eye droppers, plastic containers, and glue, kids will be able to paint and even lift a print of colored salt!
22. Rainbow Rice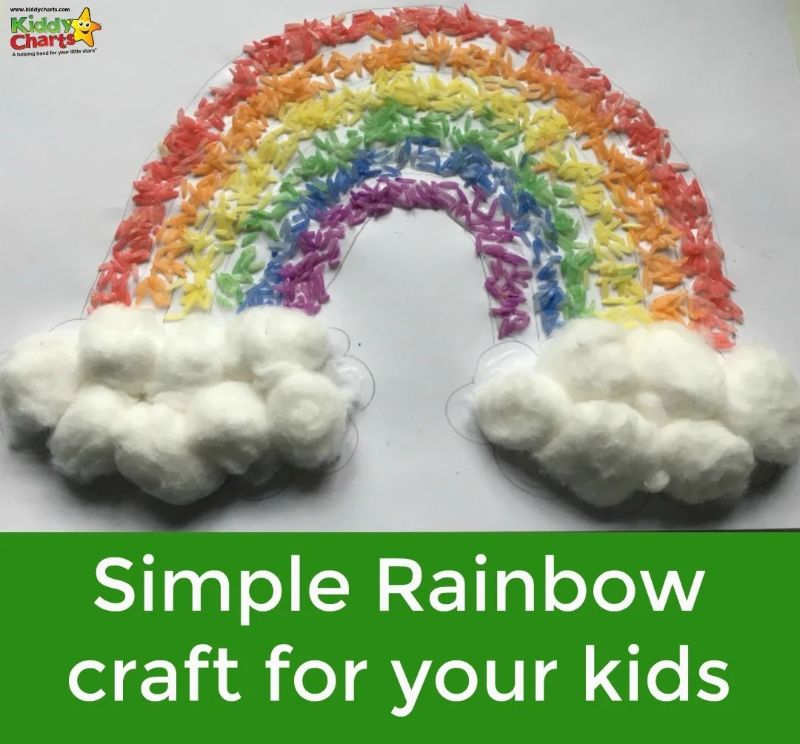 Photo credit: Kiddy Charts
Here's an easy rainbow craft preschool level kids can do! Kiddy Charts paints some rice with different colored paint and uses paper, pen, cotton balls, glue, and a Ziploc bag to make this rainbow rice craft.
23. Rainbow Slime
Last but not least, check out this cool rainbow slime! Sue from Slick Slime Sam shows kids a quick and easy tutorial on how to make and color the slime.
While you can purchase a kit with all the materials to make slime, you and your kids can also make them with glue, water, an activator (such as Borax or contact cleaners), and food coloring.
A Rainbow Art and Craft Project to Add Color to Your Day
Painting and crafting are great sensory activities that enhance a kid's motor skills. These rainbow crafts for toddlers and preschoolers alike will definitely add color in their life!
Have your kids tried any of these rainbow crafts? Which one did they enjoy doing the most? Share it with me in the comment section below!
Looking for more toddler painting ideas? I've got you covered!