Spider-Man is one of the most iconic superhero characters out there, attracting different fans ranging from 4-year old preschoolers to adult comic book enthusiasts.
With Sony and Marvel Studios' third movie installment of Spider-Man coming out soon, this is an exciting time to start making some Spider-Man crafts with your kids!
So here is our list of 19 crafts of your friendly neighborhood Spider-Man that you and your little webheads can enjoy making while waiting for the movie to come out.
6 Spider-Man Crafts for Toddlers And Preschoolers
These first 6 Spider-Man crafts and activities are super easy for toddlers and preschoolers to make with the help of an adult.
For more crafts to make with a toddler and preschool-aged children, head on over to our list of letter S crafts that are specifically designed for young developing minds.
1. Spider-Man Handprint Art Activity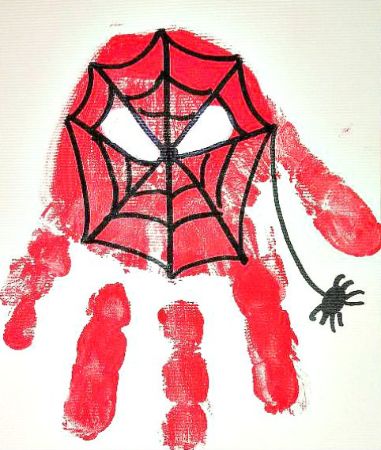 One way to pique your children's interest in doing activities is to make them as engaging as possible. Handprint art is hands down (pun intended) the most engaging activity that toddlers can do!
You just need a type of water-based paint (tempera or acrylic) that's easily washable and a piece of paper. Just tell your little ones to dip their hands in red paint and then high-five the paper like they would their favorite superhero.
Follow Mama To 5 Blessings's simple guide on how to make this handprint art.
Handprint art is so versatile and popular among kids that we've been able to compile an entire list of turkey handprint crafts to do during this upcoming holiday season.
2. Spider Web Art For Preschoolers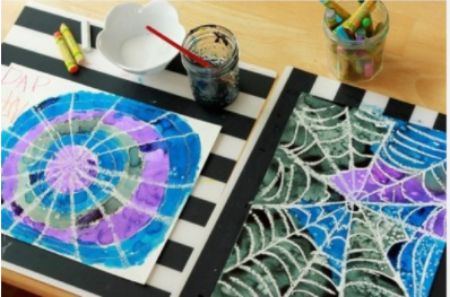 I love activities that involve some type of secret technique or ingredient that makes your craft look effortlessly good.
While this technique is no secret, I found Lasso The Moon's watercolor paint and salt combination too fascinating to exclude from the list.
This Spider-Man craft consists of drawing a web with white pastel, then applying the watercolor paint of your choice followed by sprinkling salt over it to create the desired effect.
For other crafts that make use of unique techniques, check out this list of our favorite diamond painting kits for kids.
3. Toilet Paper Roll Spider-Man Craft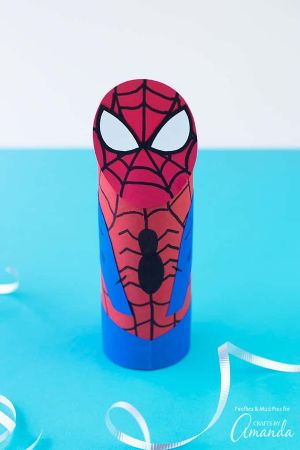 Who knew those empty toilet paper rolls that are lying around waiting to be thrown out could become your kid's next favorite toy?
Upcycle those rolls into this Spider-Man figure from Crafts By Amanda. Simply follow their guide for accurate instructions.
Toilet paper rolls are so good in kids' crafts because they can turn into almost anything, like what you'll see in this post of fun and easy toilet paper roll crafts.
4. Spider-Man Handprint Card
Here's another craft that will keep little hands busy for a while. Spider-Man's costume has simple colors (often red, blue, black, and white), so this handprint craft isn't too complicated for toddlers to handle.
The Best Ideas For Kids designed this handprint activity in a way that includes a space for messages inside the palms. If you feel somehow lost with their written tutorial, don't worry because they also included a video tutorial.
5. No-Carve Spider-Man Pumpkin Design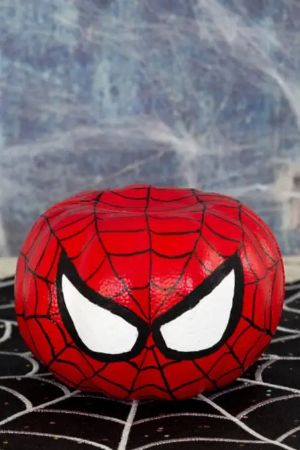 The summer has ended and the autumn's bounties have arrived. With that comes a whole lot of activities and goods related to pumpkins.
Among those are jack-o'-lantern pumpkin crafts, and Fun Money Mom has a different but exciting idea of how to make a no-carve Spider-Man pumpkin design.
While Spider-Man is not a particularly scary character, this pumpkin craft makes a very good decoration during Halloween.
If you're looking for quick and dirty Halloween decorations, you'll have no trouble making these Halloween painted rocks just in time for the spooky season.
6. Spider-Man Coloring Activity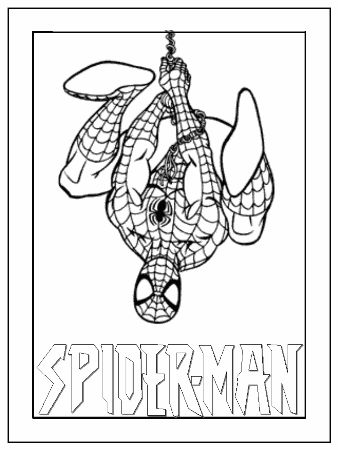 There's no harm or shame with going back to the basics. In fact, it's encouraged that you start your children with coloring activities to gradually develop their fine motor skills.
DLTK's Sites For Kids have multiple Spider-Man coloring pages on their website. Here are a few of their free templates:
5 Interesting Spider-Man Craft Ideas and Activities
The following 5 Spidey activities will tingle your children's Spidey senses (and by that I mean these crafts will stimulate their imaginations).
7. Origami Spider-Man Corner Bookmark
Encourage your kids to read more with this origami Spider-Man corner bookmark that keeps track of their pages.
Origami crafts are more challenging than your typical paper crafts because they require more precise folding. But don't worry too much because Sandra Belz's channel has you covered!
8. Spider-Man Sugar Cookies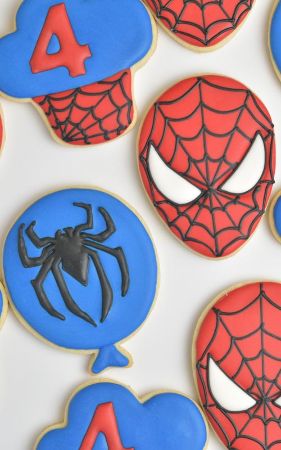 Fans of the web-slinger won't be able to resist these delicious cookies made by Haniela's. I love the level of detail that they've put into these sugar cookies with Royal Icing.
All the ingredients, materials, and instructions you need to make these Spider-Man cookies are included on their website.
9. Spider-Man Candy Apples
Here's another treat that will tempt your children's sugar cravings.
While the adults must handle all the cooking, your little ones can take the responsibility of pouring the already measured ingredients into the pot.
Rosanna Pansino's channel makes clever use of marshmallows to serve as Spidey's eyes. Check it out!
10. DIY Spider-Man Container
Take a look at this DIY Spider-Man craft by Gina Tepper that's not just aesthetic but also provides some utility. This will surely take the spotlight on your child's desk.
It's a bonus that this craft is made from an upcycled plastic bottle. Definitely one of the more useful crafts on this list!
11. Spider-Man Pencil Holder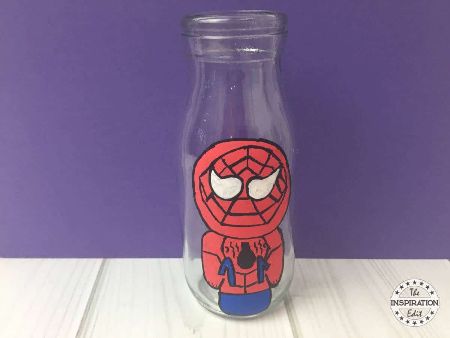 If you and your kids are up for a challenge and like painting, then this variation of the previous craft is for you!
Instead of coloring the entire bottle, The Inspiration Edit draws Spider-Man on a glass bottle with paint markers.
9 DIY Spider-Man Costume Crafts
I'm sure most people are excited about these last 9 crafts because these are the ones that give children the power to get into character. Remember kids, with great power, comes great responsibility!
12. Spider-Man Mask Craft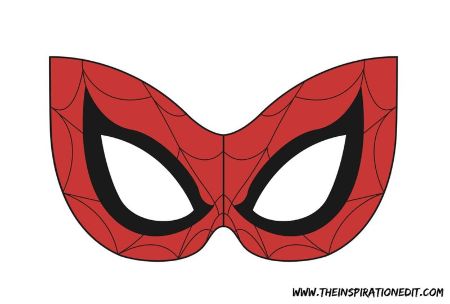 Get ready for this Spider-Man eye mask craft that your kids can easily make.
The Inspiration Edit shares both the materials and instructions on its website. Unfortunately, the mask is not wearable, but you can hold it up to little eyes by attaching a paper straw on the side of the mask.
13. Wearable Spider-Man Felt Mask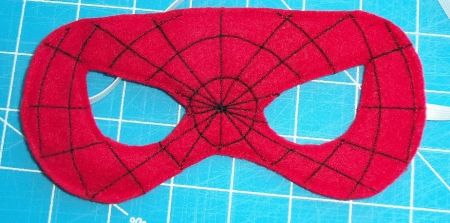 Here's another simple Spider-Man felt mask made by Cutesy Crafts. The benefit of this one is that you can attach an elastic band to it so your children play pretend with ease. This craft will also be soft on your children's skin because it's made with craft foam.
I'm sure your children love to play pretend with other things too, so here's a list of paper bag puppet crafts for them to enjoy!
14. Paper Plate Spider-Man Mask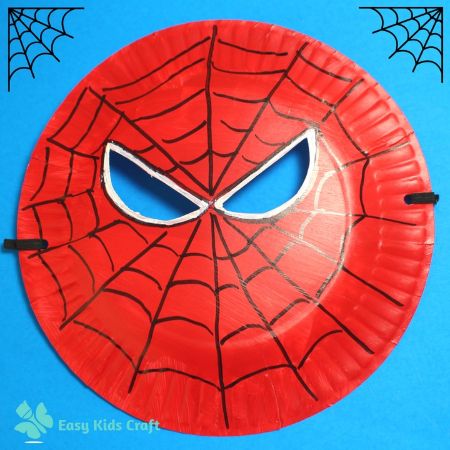 Who doesn't have paper plates in their home? That's why this inexpensive material is most used by teachers and parents alike – because they're very accessible!
Easy Kids Craft provides the list of materials and the guide to make this Spider-Man paper plate mask in just 20 minutes.
15. Spider-Man Face Mask With Template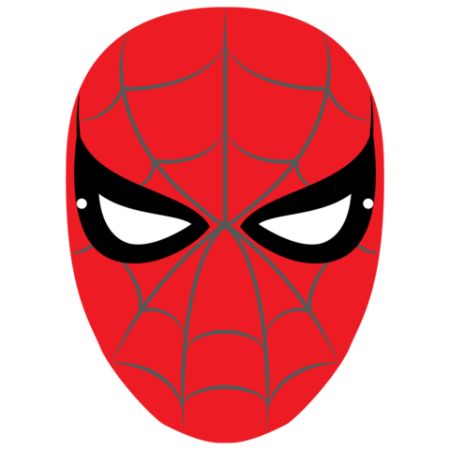 This Spider-Man paper mask is perfect for preschoolers who are still struggling with drawing complex designs because Super Coloring provides a 100% free printable template of the mask.
They provide an outline version for those who would prefer to color the mask and a colored version for those who don't have the time to do so.
16. Spider Web Idea For Parties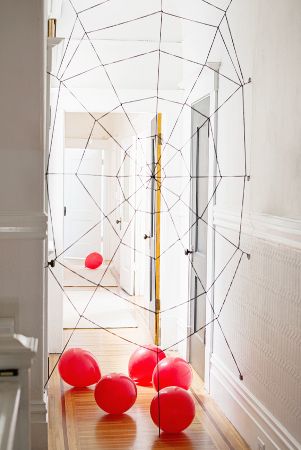 This artificial spider web is perfect in the world of role-playing, like when your kids are pretending to sling webs to defeat their enemies. It's also a nice and inexpensive Halloween decoration.
You can't entangle yourself putting this Spider-Man craft together because Oh Happy Day provides a detailed two-step process on how to make this spider web.
17. Spider-Man Web-Shooter Cuffs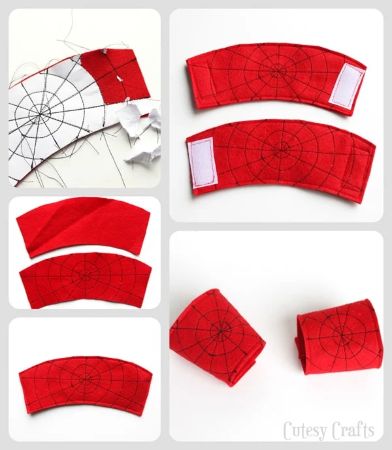 Remember that Spider-Man shoots out webs organically through web shooters that the highly intelligent Peter Parker devised. It's time for your kid to get in on the action, so sew these gadgets together that will allow them to swing through the streets of New York (during pretend play, of course)!
Cutesy Craft even provides a free pattern to base your design on.
18. DIY Spider-Man Costume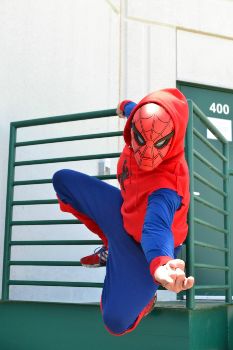 This is the ultimate DIY Spider-Man costume for your children. It doesn't require your kids to wear a tight outfit because this costume uses comfortable clothes such as a red hoodie, a blue long-sleeved shirt, and a pair of blue sweatpants.
Life She Has is very considerate of those who might not have the tools of an experienced DIY blogger, so they included a list of materials that are easily accessible. The costume is inspired by the outfit in the movie Spider-Man: Homecoming.
Note: the Spider-Man mask is not included in the DIY process.
19. DIY Spider-Man Cape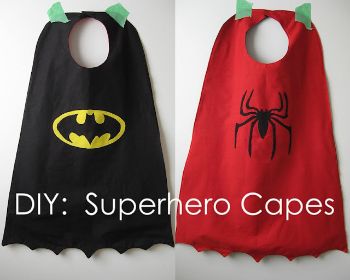 Not all heroes wear a cape, and that's (literally) true in the case of Spider-Man! But as long as your children feel like they're in character, it shouldn't matter.
So try creating this impressive superhero cape made by Handmade By JT. They've got a detailed guide on their website, including how to attach the Spider-Man symbol onto the cape.
Swinging Through These Spidey Crafts
Your little web-slingers will have fun swinging around your house with these 19 Spider-Man crafts.
When you're done with these Spider-Man themed crafts, check out this compilation of baby Yoda crafts any young (and not so young) Star Wars fan would enjoy.
Which one of these Spider-Man crafts did your kids enjoy making? Let me know in the comments below!