There's nothing I love more than an activity that challenges my kids' fine motor and analytical thinking skills, and nothing does a better job of that than a 3D paper flower craft.
If you're like me, though, you're probably wondering exactly how to make 3D paper flowers. Don't worry – I've already done the research for you and found 20 great tutorials that show you how to make 3D paper flowers, step-by-step, for kids.
5 Easy 3D Flowers Made From Paper
These first five 3D paper flower crafts will teach you how to make paper flowers for kids. I love these because they're easy enough for young children to tackle with a little help from a grown up.
1. Tissue Paper Flowers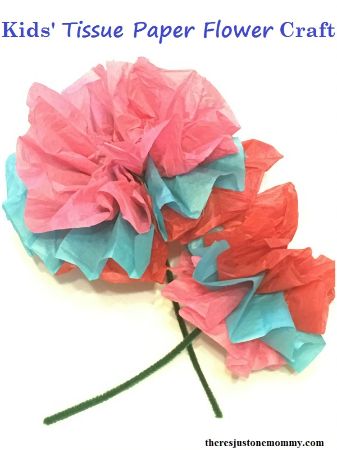 This is a really great option for a super easy 3D paper flower craft for toddlers or preschoolers because it allows for creativity and imperfections.
Help your children make these easy tissue paper flowers from There's Only One Mommy so they can brighten someone's day.
Want more ideas for fun and simple activities for your toddlers? Try these tissue paper crafts my little one loves to make!
2. 3D Paper Flower Greeting Card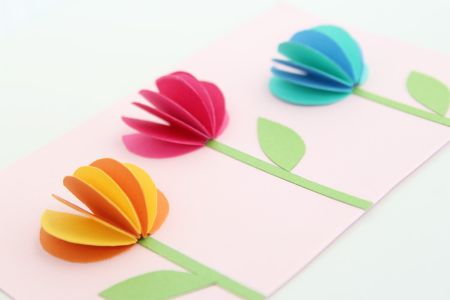 There's always an occasion to give a greeting card, and this DIY 3D flower greeting card by One Little Project is a great way for kids to celebrate someone special in their life like a parent, grandparent, teacher, or even a friend.
3. Simple Cardstock Flower Craft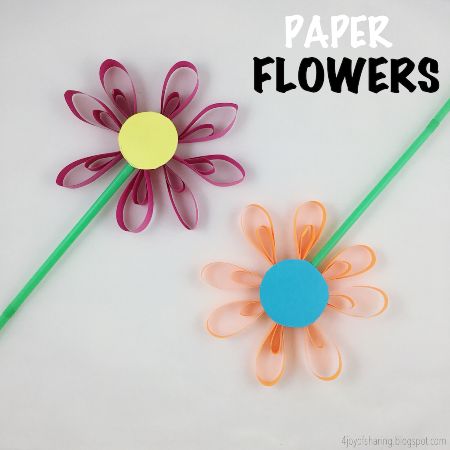 The Joy of Sharing has an easy-to-follow tutorial for a very simple yet very pretty cardstock flower craft that's perfect for younger children to do mostly on their own.
I love this particular 3D paper flower craft because not only is it simple, it allows kids to learn about colors and shapes.
Stay on the educational craft train with word association using these letter F crafts for toddler and preschoolers!
4. Popsicle Stick 3D Paper Flowers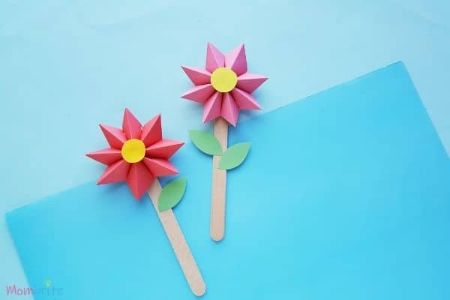 Mombrite shares a neat flower craft kids can easily make using construction paper, popsicle sticks, and the free flower template that can be accessed when you become a subscriber.
5. Spring 3D Paper Flower Craft
Now this paper craft by Red Ted Art may be a little more involved to keep a toddler or preschooler's attention, but I still highly recommend it for older kids in elementary school because the end result will make them feel accomplished and proud of their effort!
10 Realistic 3D Paper Flower Crafts for Middle Schoolers
These next 10 3D paper flower crafts are so beautiful you'd swear they were real. And while most are intended for older kids, they're still easy enough for elementary students to do with a little help from an adult.
6. Paper Rose Craft
They say every rose has its thorn, but here's an easy-to-do paper rose courtesy of LampZoom that proves that's not the case.
This project calls for some basic craft materials and wooden skewers.
7. Paper Sunflower
FUNCRAFT shows kids how to make a paper version of one of the most popular flowers using cotton balls and tea leaves: the sunflower.
Cotton balls are a great crafting material for younger kids, too. Check out these cotton ball crafts my kids and I love to do together!
8. Paper Chrysanthemum
I just love how real and fluffy these paper flowers by the YouTube channel Being Artistic look!
What gives these 3D flowers their realistic quality is the detail in the petals, so this is definitely a craft best suited for a middle schooler or older elementary school-aged kid.
9. Paper Hyacinth
Rolling strips of paper can produce a lovely texture that's similar to a hyacinth. The channel Guidecentral shows kids how to make these beautiful paper flowers by using arts and crafts materials found at home.
10. Origami Tulips
Tulips are known for having almost perfectly symmetrical flower buds, so this tutorial by Craft Haven is the perfect paper flower craft for kids to practice their origami and symmetry skills.
11. Origami (Kirigami) Cherry Blossom
Kirigami is a form or origami that involves not only folding the paper, but cutting it as well.
This paper flower tutorial by The Little Genius Workshop does a really great job of breaking down how to make these paper flowers, step by step.
12. Crepe Paper Lavender Flower Craft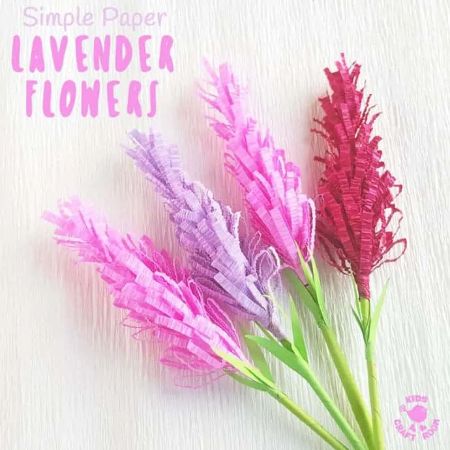 Here's a fun fact to wow your kids with: Did you know that lavender was used as perfume on clothes and beddings during the Elizabethan period?
It's no wonder the scent of this flower is used so often in cleaning products, candles, and essential oils!
These wonderful 3D flowers by Kids Craft Room that are made with crepe paper (aka, streamers) may not carry the signature scent, but they're still a pretty neat paper craft to put together.
13. Folded Paper Lotus Flower
I'll be honest with you: I've included this 3D paper flower craft by the channel Being Artistic on the list because I had way too much fun putting it together (sorry not sorry). These paper lotuses are actually not that difficult to make, but they do require patience and time.
14. Crepe Paper Calla Lily
Fun fact: The word "calla" is Greek for beautiful, and this tutorial by Goc Nho Handmade shows you how to make gorgeous and realistic calla lily flowers with crepe paper, turmeric powder, oil pastels, plastic water pipes, and a sponge.
Fair warning: this paper flower craft is more involved than the others on this list, so I definitely recommend it for a middle schooler who enjoys crafting.
15. Wafer Paper Dandelion
Here's another challenging and intricate 3D paper flower brought to you by Cheshire Bakery. To make this paper dandelion you'll need a few specialized tools and supplies including wafer paper, wire, a wire cutter, a styrofoam ball, and some paint.
There's even a template of the leaves provided for your convenience!
5 Giant Paper Flowers for Crafty Kids
16. Giant Crepe Paper Flower Craft
Smile Mercantile shows us how to make a giant 3D flower out of crepe paper. Crepe paper is a great way to get more petal-like textures for your DIY flowers, so you'll be surprised how realistic this giant 3D flower looks and feels.
This craft does require the use of a hot glue gun though, so use caution around little curious hands!
17. Giant Crepe Paper Peony
Crepe paper is also perfect for crafting peonies! Make beautiful giant peonies thanks to the YouTube channel Lulia.
This flower craft also requires a glue gun and other materials easily found around the house.
18. Giant Tissue Paper Hibiscus
Note: Skip to 7:06 to get to the giant hibiscus.
Planning a party for a special occasion? Then here are some DIY tissue paper giant hibiscus flowers from Dorsett Doorstep that are so beautiful you won't want to throw them away.
19. Giant Cardstock Dahlia Flowers
Cardstock is a great alternative to construction paper because it's sturdy and is available in many different colors.
I also love that cardstock offers you more options as far as paper crafts go, like this giant paper dahlia by YouTuber Marianne. Make these paper flowers using scissors ( or a paper cutter for more precision) and a cake circle.
20. Giant Cardstock Rose Craft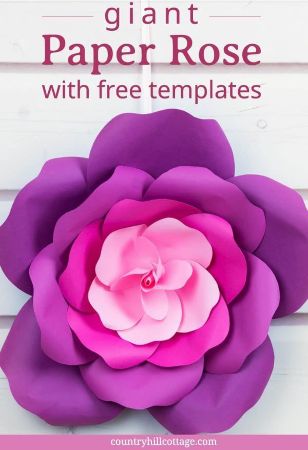 This giant cardstock rose tutorial shared by Country Hill Cottage may look complicated, but it's actually really simple to make! All you need are your favorite cardstock colors and a hot glue gun to put this bad boy together.
A free template is even provided for you so that you don't have to figure out how to cute various petal shapes.
DIY 3D Paper Flowers for Adults and Kids
You and your kids can enhance your creativity while making lovely decor for any special occasions with these 20 3D paper flower crafts.
Regardless of which paper flowers you choose to make, I guarantee you'll have a ton of fun working with your kids.
For more flower craft inspiration and other spring-time activities, try one of these 15 fun and easy spring crafts for kids!