Star Wars has garnered millions of fans ever since it was first released 45 years ago and continues today to attract new followers with TV shows like the highly successful The Mandalorian.
With an awaited spin-off on its way, titled The Book of Boba Fett, Star Wars fans have a lot to look forward to this coming 2022.
Children (and parents) who can't contain their excitement will be able to cultivate their patience by making these 28 Star Wars crafts that are out of this world!
9 Easy Star Wars Crafts for Kids
Just like how Luke Skywalker honed his abilities, your little Jedis will be able to practice many crucial developmental skills, including their hand-eye coordination, color recognition, and fine hand movements through these easy 8 Star Wars crafts.
1. Cute Star Wars Roll Out Crafts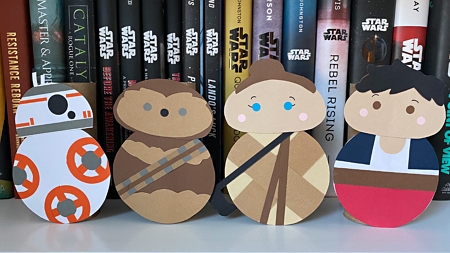 While considered non-canon, the web series Star Wars Roll Out made it super easy for geek parents to introduce their children to the vast universe of Star Wars. That's because the featured characters are shaped into adorable ball figures, which makes it easier for toddlers and preschoolers to relate with.
The Star Wars website bridged the web series into tangible activities that children can enjoy and learn from. To make it easier for the kids, they provide templates for the characters (BB-8, Chewbacca, Rey Skywalker, and Ben Solo).
2. Star Wars Toilet Paper Rolls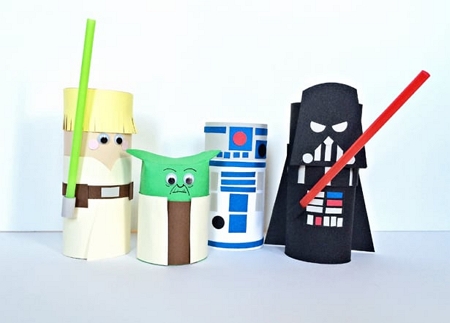 Toilet paper roll crafts always find their way into kid's crafts, and Star Wars toilet paper rolls are no exception! Hello Wonderful shows the versatility of the humble toilet roll and makes our favorite Star Wars characters out of them.
With a pair of safety scissors and other materials listed on their webpage, preschoolers can easily transform those empty toilet papers into amazing Star Wars toys in less than an hour.
Toilet paper rolls are just too valuable for kid's crafts to be thrown away. Here are more toilet paper roll crafts for inspiration.
3. Baby Yoda Paper Plate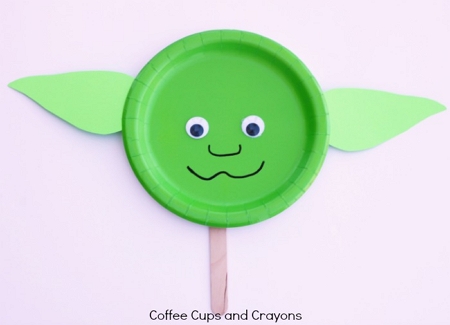 Coffee Cups And Crayons made a simple Yoda paper plate for little ones that are still developing their hand movements and creative skills.
To make it simpler, they suggest using a green paper plate and green construction paper, so kids won't have any difficulty with the coloring aspect. Finish the little craft by sticking some googly eyes on the paper plate.
4. R2-D2 Paper Plate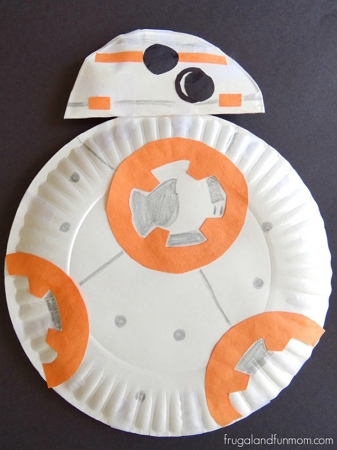 Here's another paper plate craft for those interested in creating a droid. The paper plate is the perfect material for creating BB-8 since the shape of his body is round.
Fun Learning Life provides plenty of tips and tricks to make your activity a little bit easier, like using a nickel to create round shapes.
5. Cupcake Liner Death Star Art for Kids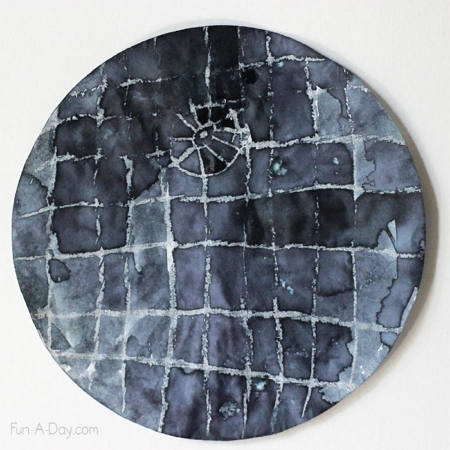 Fun A Day tests kids' resourcefulness with this Death Star made with cupcake liner. They use a technique that looks similar to the results of watercolor and salt.
Find out more on how to create your own Death Star by visiting their webpage.
6. Yoda Paper Bag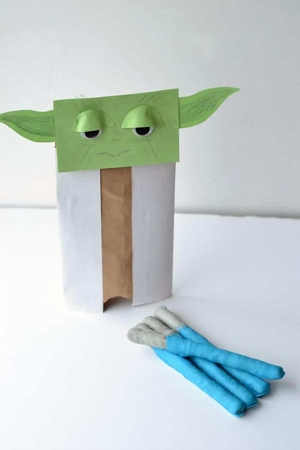 What better way to immerse the kids into the Star Wars universe than with some paper bag puppets? Glue Sticks & Gumdrops shares a paper bag craft of the legendary Jedi Master himself, Yoda.
Every detail, from the white robe to Yoda's wrinkles, is explained very well in their written guide, so there's no fuss when you begin making this Yoda puppet.
Check out other paper bag puppets here!
7. Chewbacca Craft Idea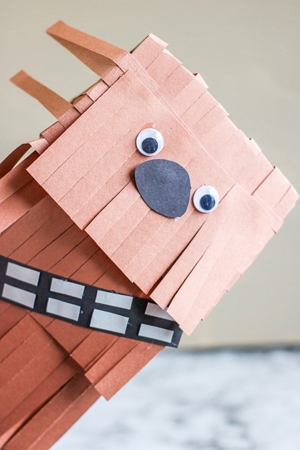 Recreating a Wookiee using only paper materials is not an easy feat, but Mommy Made That impressively brings it to reality. What's more incredible is that it only takes a pair of scissors and brown construction paper to make.
It's so surprisingly easy that preschoolers can make it on their own! Simply follow their written guide and tell the kids the step-by-step process.
8. Lightsaber Popsicle Sticks Bookmark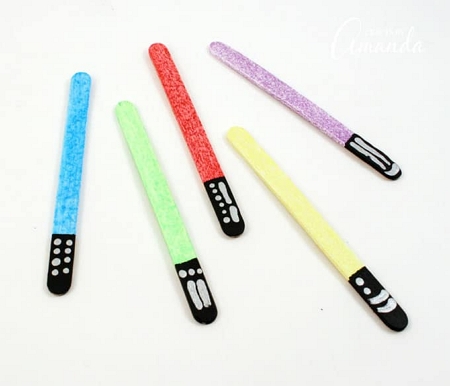 Crafts By Amanda gives the force-wielding children the chance to build their own lightsaber. The variations are as wide as the imagination, so feel free to put any pattern on the handle and to paint it with any color.
Kids will finally have their own lightsaber to fight against the forces of evil, and more importantly, they'll also be encouraged to read more since these can serve as a bookmark.
9. Star Wars Characters Popsicle Crafts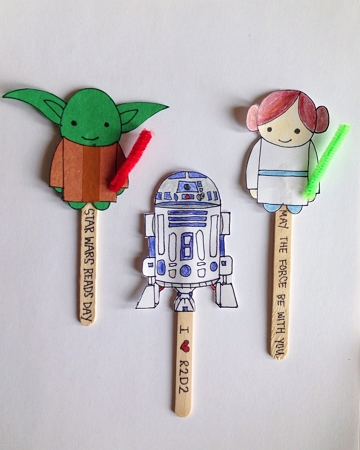 Continuing the popsicle stick craze are these character popsicle sticks made by Justine Krista. The coolest part about their guide is that they include amazing step-by-step instructions on how to draw each character in the image (Yoda, R2D2, and Princess Leia).
The minimalist design is simple even for younger kids, and I adore the addition of lightsabers made of pipe cleaners.
11 Star Wars Arts and Crafts
Let's move on to Star Wars arts and crafts that are a little bit more challenging but are still a great activity and learning experience for grade schoolers.
10. Darth Vader Corner Bookmark
Elementary students should be tackling more complicated reading materials by now. Red Ted Art gives children an opportunity to reinforce their reading habits by creating this Darth Vader bookmark corner.
The video tutorial provides excellent tips, and covers pretty much every detail, from the shaping of the construction paper to how to add details to the tricky black paper.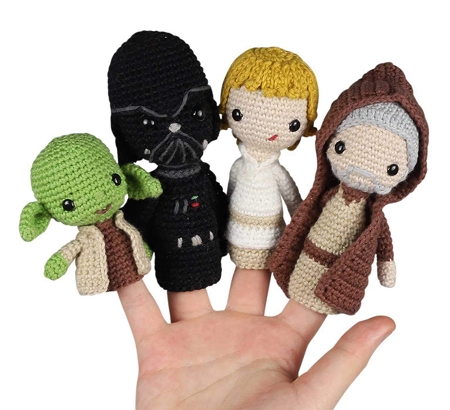 Bring your kids' favorite Star Wars characters to life by making their finger puppet versions through this crochet kit. The bundle includes everything you need for a weekend crochet activity, including yarn, a crochet hook, stuffing, etc.
Crochet beginners don't need to be intimidated because the kit includes an 80-page instruction book that will detail the process of making these finger crochet puppets.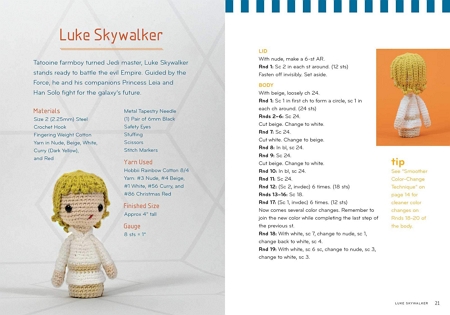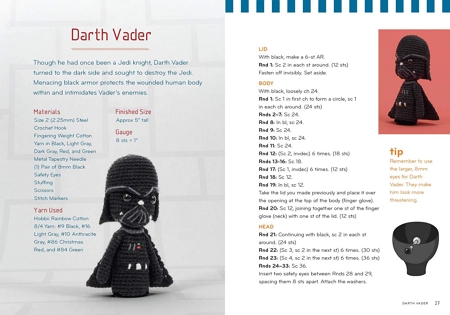 12. Star Wars Handprint Art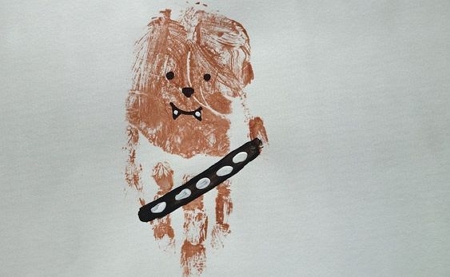 Learning is fun when activities are made to be as engaging as possible. Handprint art is one of the most engaging activities for younger kids because it allows them to be hands-on.
Geek Mom transforms our favorite Wookiee into a handprint art activity that children will enjoy.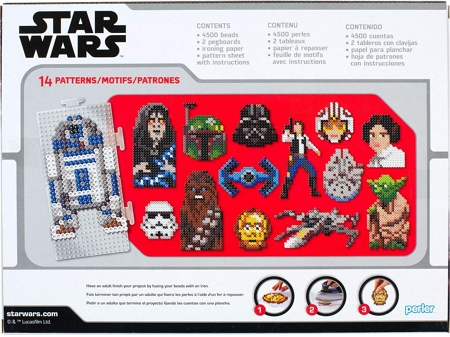 I love Perler bead activities since they hit so many birds with one stone. They develop children's fine finger movements through the placement of the small beads; they improve their color recognition; they teach younger kids to count; and, it creates a lasting craft that could also serve as art.
Those are only the tip of the iceberg when it comes to the learning experiences with Perler beads. This Perler bead kit includes 4,500 beads, a couple of pegboards, ironing paper, and a pattern sheet for Star Wars characters that children can easily follow.
Check out other Perler bead ideas:
14. Star Wars Snowflake Ornaments
Anthony Herrera Designs makes any Star Wars fan's Christmas tree more appealing by making these incredible Star Wars snowflake ornaments. They include a variety of options, including characters from the original 1977 movie to the more recent ones.
They have a template for each of the provided characters, so simply follow their video tutorial to learn how to create these stunning decorations.
Below are some examples of their Star Wars snowflakes.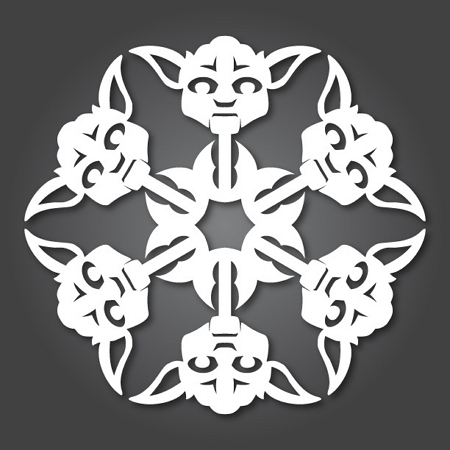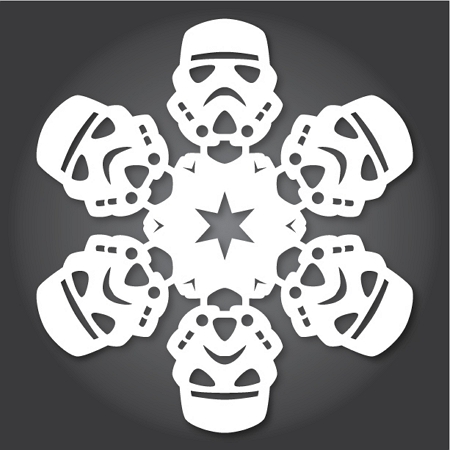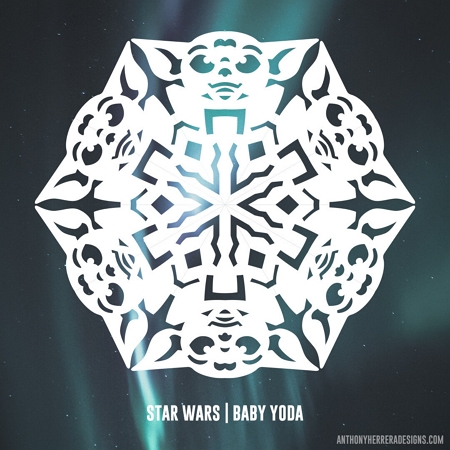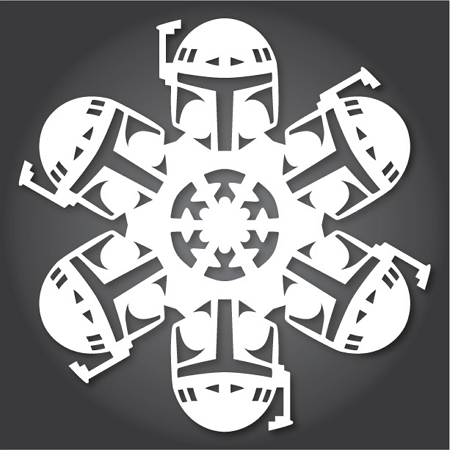 By the way, here are some snowmen handprint ornaments to make during the winter!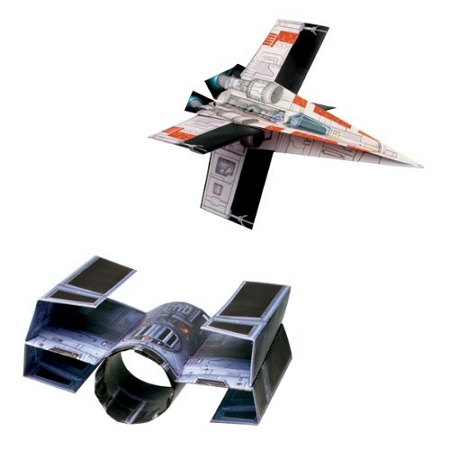 Interplanetary travel is one of the most fascinating scenes in Star Wars, so kids can't miss out on making their favorite Star Wars spaceship.
With this folded flyers kit, kids will be able to choose among the 30 space vehicles listed in the 60-page book, which lays out detailed instructions and techniques on how to make their flyers as aerodynamic as possible.
The kit provides kids with the materials necessary for their intergalactic adventures (a.k.a. making and flying these paper planes throughout the house).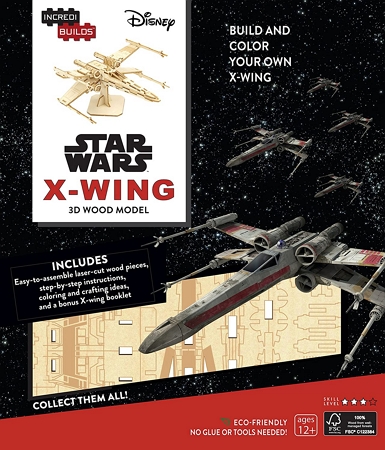 Here's a 3D model of an X-Wing spaceship should your kids prefer displaying their Star Wars collection instead of flying them. The benefit of this wooden model is that it doesn't require any glue or tools to set up.
It also includes a booklet where instructions are specified and mechanical details about the spaceship are presented with stunning imagery.
17. Saltdough Jabba the Hut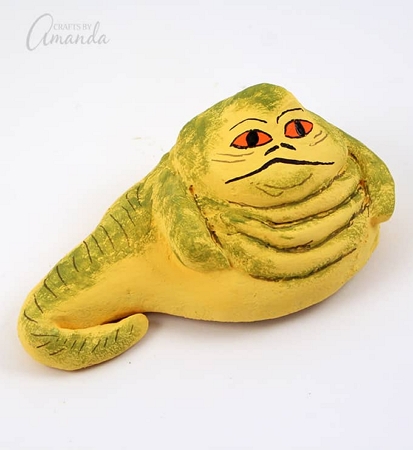 Salt dough is such an accessible material to work with at home, and what better character to craft with such material other than the crime lord, Jabba the Hutt.
Crafts By Amanda explains in detail how much flour, salt, and water are required for this Jabba craft, as well as how long he should stay in the oven to harden. This salt dough craft will last a long time, save for the paint, which can easily be retouched.
We have a guide on how to make homemade playdough using the same ingredients!
18. Clone Trooper Origami
Origami is a great activity to introduce kids to because it takes their fine finger movements to another level and improves their mental skills through the complex folding of simple paper.
They'll feel a sense of accomplishment after completing this clone trooper made by Anthony Tong Origami. Each fold and crease for the origami paper is detailed in their video tutorial.
19. Star Wars Stitch Craft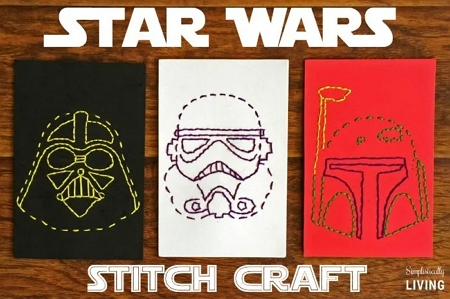 Here's a Star Wars craft that features an uncommon approach to kid's crafts. Simplistically Living explores the application of sewing in arts and crafts by making these amazing Star Wars head figures.
They detail each step from start to finish and the materials needed to complete this project, which can serve as decoration in your little ones' rooms.
20. Assorted Star Wars Painted Rocks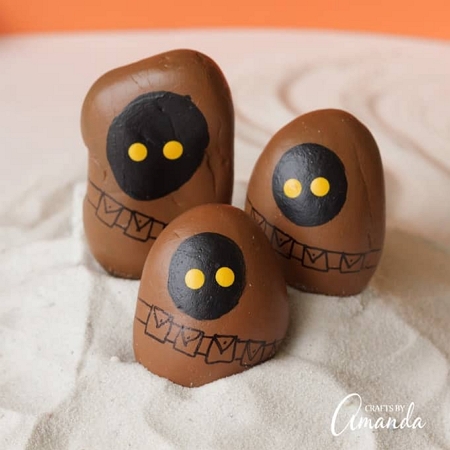 Crafts By Amanda provides us with a new hobby for whenever we are forced to stay indoors with these Star Wars rock paintings. Jawas are perfect models for rock paintings since they don't involve complicated details.
Frugal Fun 4 Boys provides other inspiration for Star Wars rock paintings. Children who love drawing will have an opportunity to challenge themselves and improve their artistic skills.
4 Other Inspiring Star Wars Crafts
These next four items feature Star Wars crafts that have some useful application at home while providing the Star Wars aesthetic where you place them.
21. Baby Yoda Piggy Bank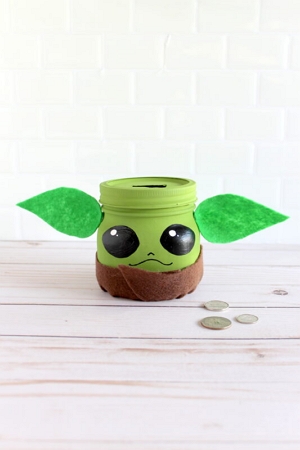 Homemade Heather shares a charming Grogu craft that serves as a piggy bank for your next Disneyland trip! As long as you have a spare mason jar at home and some paint, the kids can easily recreate this baby Yoda craft.
They suggest finishing with some Mod Podge to make Grogu's eyes more endearing.
22. R2-D2 Pencil Holder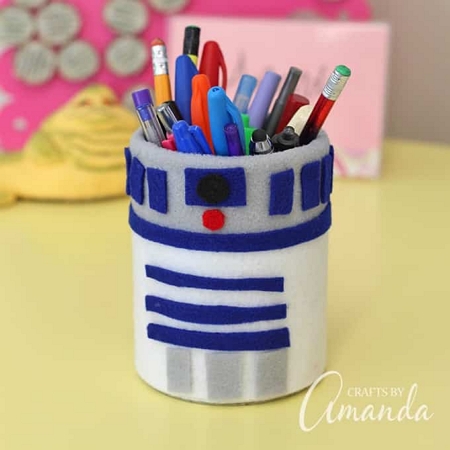 Droids truly are helpful in the Star Wars universe, and Crafts By Amanda proves it by making this fantastic R2-D2 pencil holder. It's incredibly easy to do, and they explain each part of the crafting process to make it easier for you and the kids.
23. R2-D2 Trash Can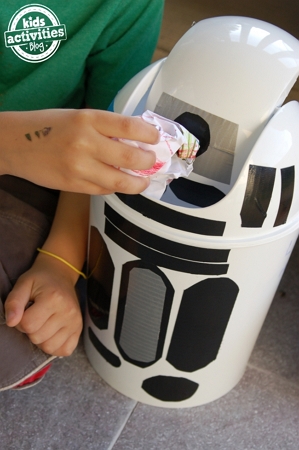 Kids Activities Blog teaches us the importance of a clean house while having an amazing craft to remind us of such an important habit. With just duct tape and a black marker, anyone will be able to reproduce their own R2-D2 at home.
R2-D2 once again serves a noble purpose by cleaning up any waste that we humans produce.
24. Star Wars Paper Lanterns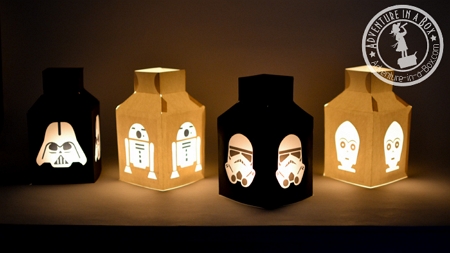 Adventure In A Box takes paper crafts to a whole different level with these stunning Star Wars lanterns. The best thing about this craft is that there's no need to worry about measurements and design since all of those are laid out in the template provided.
The only thing left to do is look for the materials and follow their step-by-step guide.
4 Cool Lightsaber Crafts
Lightsabers make the action scenes more satisfying with the visual and sound effects that are out of this world. Kids won't be able to resist making their personal lightsabers.
25. Pool Noodle Lightsaber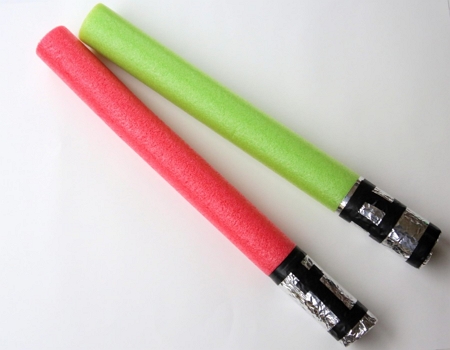 Lightsabers toys should be realistic enough and safe for kids who are always running around at home. Kix Cereal gives the perfect lightsabers made of pool noodles that kids can wield all day long.
Just be prepared for the lightsaber noises and grunts that the kids make after completing this craft.
26. Lightsaber Popsicle Holders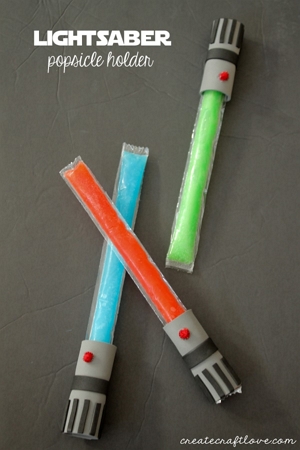 Create, Craft, Love gives us a reason to stay indoors during those hot summer days with these lightsaber popsicle holders. It's effective in defeating the Sith Lord and also combating the hot desert weather in Tatooine with some cool popsicles.
Not only that, but kids will have no problem with any nasty condensation that comes with popsicles.
27. Glowing Mini Lightsabers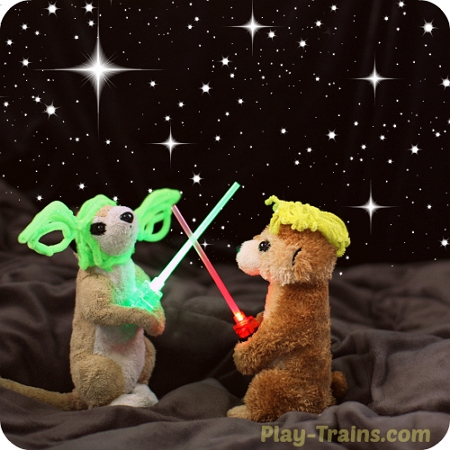 Play Trains shares an awesome lightsaber with a glowing effect for your kids' toys. The lightsaber is made with a straw attached to a LED Finger Light.
While they are weapons appropriate for small toys, children will still have an amazing play pretend experience with these lightsabers.
28. Sensory Light Saber Bottles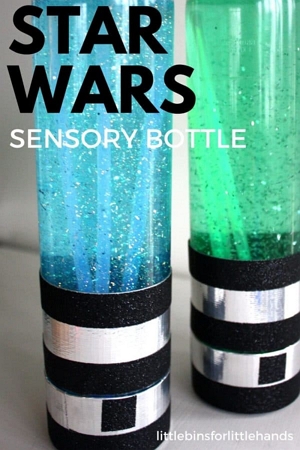 Little Bins for Little Hands makes lightsaber crafts a little bit more exciting by throwing in some science in the mix. The craft involves lightsabers that glow in the dark, which is quite impressive!
Little Bins for Little Hands made a blue and green lightsaber, but they encourage children to make it with other colors, too! The kids can personalize the handle of their lightsaber according to their preference.
May the Force Be with You as You Make These Amazing Crafts!
There are plenty of Star Wars crafts to pick here, ranging from simple paper crafts to more outstanding crafts that have a useful application at home.
Kids love following the pop culture so here are other exciting crafts: