Crocodiles are one of the fiercest apex predators that exist in the wild. They possess one of the strongest jaws in the animal kingdom, biting with a force of an extraordinary 3,700 pounds per square inch.
By comparison, that's almost 18 times stronger than a human jaw! No wonder kids are fascinated by these dinosaurs.
Your kids don't need to worry about these 19 crocodile drawings biting them though because they're easy and, most importantly, fun to do.
4 Simple Crocodile Drawings
These first 4 crocodile drawings have easy designs that preschoolers, and even toddlers, can draw. It's a good practice to develop small hand movements and improve hand-eye coordination.
1. Crocodile Drawing: Easy for Toddlers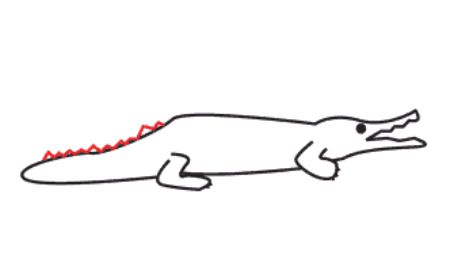 This design from We Draw Animals is perhaps the simplest crocodile drawing on the list. It's not too detailed nor does it contain any difficult lines that can be a hindrance to toddlers or preschoolers.
Because of that reason, it's also a quick activity that shouldn't take more than 20 minutes to do. There's also a video tutorial provided for you to follow.
If you like straightforward drawings like this one, then don't miss out on our other post of easy animal drawings for kids!
2. How to Draw a Crocodile: Easy for Preschoolers
If you're looking to fine-tune your preschoolers micro hand movements, then this crocodile drawing from Drawing Tutorials 101 is for you.
The design contains many curvy lines that serve as the crocodile's scales. Drawing Tutorials 101 also makes the drawing of the crocodile's feet painless and adorable, almost as cute as these ladybug crafts.
3. How to Draw A Crocodile for Kids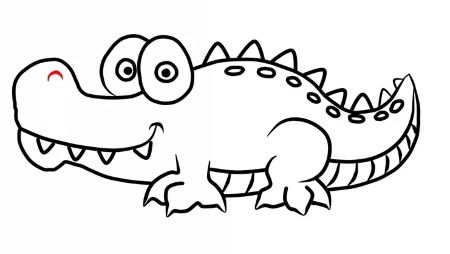 The eyes of a crocodile are situated on the top of their heads, enabling them to stalk and lurk their prey underwater. That's exactly what this drawing from How To Draw For Kids emphasizes with its large cartoon eyes.
Since crocodiles are web-footed, I love how they added that little detail to this drawing!
Do you know what else is web-footed? Frogs! So if you like frogs, you should check out our post on frog crafts that are toad-ally awesome.
4. Crocodile Drawing for Kids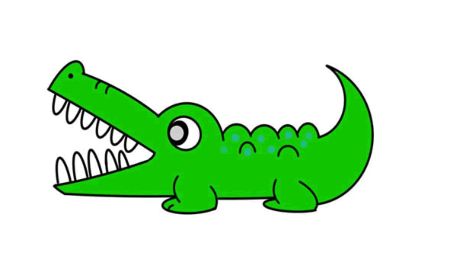 Children don't need to accurately nail the exact proportions of their drawings. Cute Easy Drawings wants to prove that point with this crocodile design that has a mouth that is almost larger than its body.
5 Cute Crocodile Cartoon Drawings
The next 5 crocodile drawings have adorable designs that children will love. They often see these styles on their favorite cartoon TV shows, so these designs should be relatable to most children.
5. How to Draw A Baby Crocodile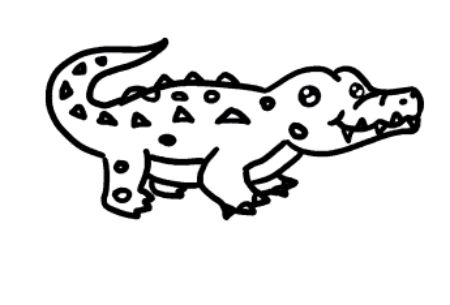 Grown-up crocodiles can be really frightening. After all, they are one of the fiercest predators in their habitat. Seeing this baby crocodile from We Draw Animals, however, might change my opinion on that.
I wouldn't be surprised if your children choose to draw this baby crocodile. Check out their page to see the step-by-step instructions.
6. Cartoon Crocodile: Easy Step-by-Step Guide for Kids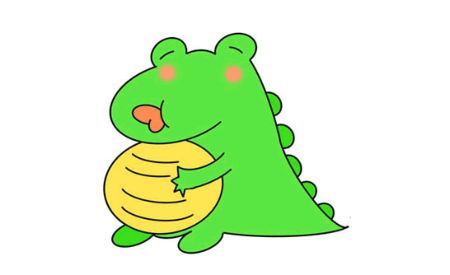 You can tell that this crocodile just had a feast. Don't fret, though, because this adorable cartoon crocodile drawing doesn't seem like it's capable of eating other animals! Perfectly friendly for your little ones.
To make the design even cuter, Cute Easy Drawings shows the crocodile holding its huge tummy.
Fun fact: the crocodile is closest to birds and dinosaurs more than any other reptile.
7. How to Draw an Alligator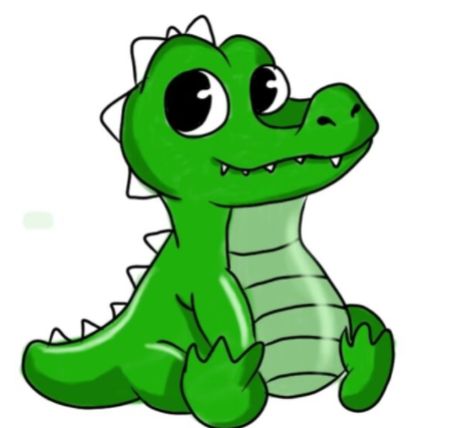 Cartoons are super relatable to children. Even if they look scary in real life, artists manage to capture the hearts of children through their ability to make their drawings silly, cute, and entertaining.
Easy Drawings Step By Step is able to do just that with this cartoon alligator drawing that almost looks like a dinosaur.
8. Fat Crocodile Drawing
How do you make a crocodile seem less dangerous? HTDraw's video tutorial will tell you how – by making them plump and cute like in their drawing!
I mean, how threatened would you be if you were to encounter this crocodile ball? Not very, I imagine.
9. How to Draw a Cute Crocodile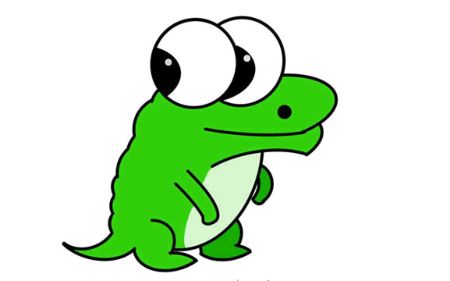 Crocodiles hunt mostly during the night when they take advantage of their incredible sight and of their prey's limited vision. I guess you could say that this drawing from Cute Easy Drawings captures their amazing eyesight with its large eyes.
6 Crocodile Drawings From Letters and Numbers
Reinforce the alphabet on your children's memory by making one or several of these 6 crocodile drawings that are made with letters and numbers.
If they're just beginning elementary school, then these crocodile drawings will also teach them basic numbers!
10. How to Draw a Crocodile From the Number 7
An easy way to remember how to draw a certain animal is by having a starting point, such as this crocodile drawing from Kids Learn Color TV that starts by drawing a number 7.
You don't have to watch the entire 12-minute video because the crocodile drawing only occupies the first 2 minutes.
11. How to Turn the Letter V Into a Crocodile
The fastest way to distinguish a crocodile from an alligator is by looking at their mouths. Crocodiles have a V-shape mouth, while alligators have a less-pointed U-shape mouth.
The letter V is exactly the starting point for this video tutorial from MP Drawing Tutorial.
12. How to Draw a Crocodile From a Lowercase A
This is one of my favorite drawings on the list because while it looks simple, it's packed with details that make the drawing very impressive.
From the color choices to the simple scales, this design from Kasikorn Nalatarm looks great and it's a perfect design for kids of any age.
13. How to Draw a Croc From the Number 6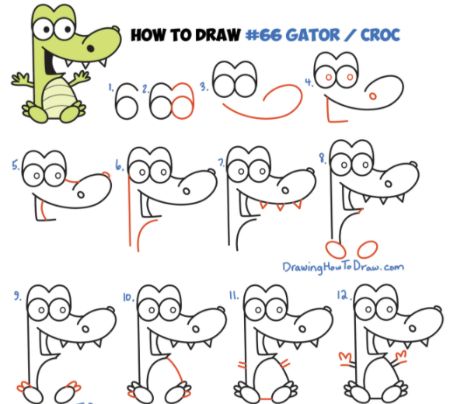 If your kids are just looking to draw something simple, then present them with this jolly crocodile drawing from How To Draw Step By Step Drawing Tutorials, which basically spoon-feeds them with a step-by-step guide.
The design makes use of the number 6 to create the crocodile's head and eyes!
14. How to Draw a Crocodile Using "5555"
You'll be surprised to know that you can draw a crocodile from using four number 5s in a row. To find out how to draw this curious crocodile drawing, watch Doodle Art Time's video tutorial.
15. Another Crocodile Drawing With a Lowercase A
If your preschoolers are having a hard time writing the lowercase letter A (a), then have them practice writing it by following this crocodile drawing from Lovely Kids. It's a very simple drawing that should increase your children's fine motor skills!
4 Incredible Crocodile Drawings
If you have older children that like to draw a lot, then you should show them these next 4 crocodiles, which require considerably more skill and experience to draw. They're not too complicated with a little time and effort for younger children, though.
16. How to Draw a Crocodile for Kids: a Step-by-Step Guide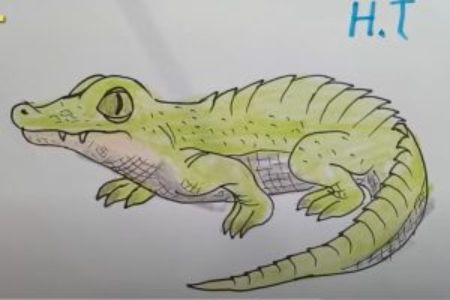 This drawing from HT Funny may look small, but it's detailed enough to make it a more sophisticated design for older kids who love to draw.
If the written tutorial is not enough, don't worry because there's also a video tutorial, although you might have to slow down the playback speed because the pace might be too fast to follow.
17. A Step-by-Step Drawing of a Crocodile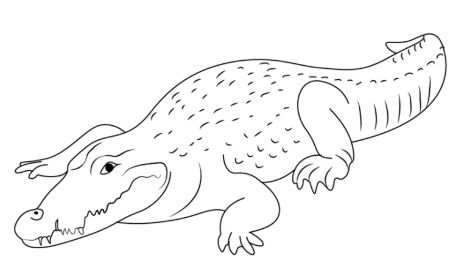 This next drawing from Drawing Tutorials 101 involves a lot of sketching, which is great because it allows your children to explore their drawing style.
If you check out their guide, you'll notice that this crocodile drawing involves plenty of circles that serve as the guidelines for the rest of the drawing.
18. How to Draw a Realistic Crocodile
If you or your children have found all the previous drawings too easy, then just wait until you check out this drawing from Art For Kids Hub.
It's quite a long video tutorial, but it'll be very gratifying for your children when they finish this art project.
19. How to Draw a Crocodile for Older Kids
Here's another realistic sketch of a crocodile from Dipu Drawing Academy that older kids will appreciate.
Because it's a sophisticated design, this crocodile drawing will challenge your kids' ability to define the dimensions and volume of the figure, carefully varying the pressure of their pencils to achieve different degrees of tonal value.
Bite-Sized Crocodile Drawings for All Children
Whether you have toddlers who are just starting to learn their ABCs or older kids who have more experience in art, there are a lot of crocodile drawings that are appropriate for your kids' level.
Which one of these crocodile designs are you planning to draw next? Let us know in the comments below!
And for other animal-related crafts, check out our compilations of bear crafts and elephant crafts, too!