Is there a better way to spend quality time with your kids than to combine colors, creativity, and fun into one? DIY unicorn crafts are simple, cute, and easy to make!
Unicorns are magical and fascinating creatures, so your children will surely love conceptualizing, designing, and creating their very own unicorns.
DIY projects encourage children to use their imaginations and also helps to develop character.
So what are you waiting for? Grab some markers, glitter, and scissors, and get ready for a unicorn-filled day with these 30 unicorn crafts for kids!
11 Unicorn Crafts for Preschoolers
1. Easy Unicorn Coloring Pages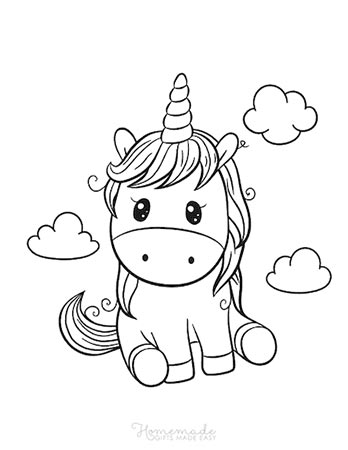 Let's kick things off with an activity kids naturally love to do: coloring! There are only two materials needed for this exercise: crayons and a unicorn coloring page.
Homemade Gifts Made Easy has lots of coloring page options, including printable unicorn pages. There are even designs for adults to join in on the fun.
2. Adorable DIY Unicorn Card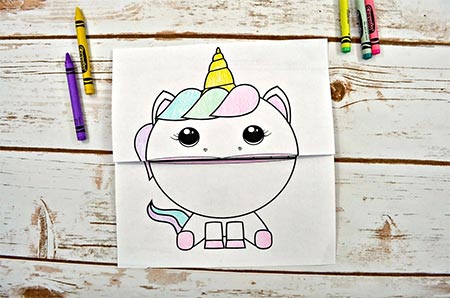 Regardless of the occasion, a DIY card is always a heart-felt gift that kids love to give.
Mess for Less has now made card-making a more personalized experience by introducing its printable unicorn card for kids. Let kids express their creativity and love with these fun DIY unicorn cards.
3. Unicorn Bag Puppet Craft
Thanks to I Heart Crafty Things, children can now have a unicorn-themed puppet show.
Not only that, these unicorn bag puppets can be customized to each child's preference.
These paper bag puppet crafts should be no problem after this project!
4. Toilet Paper Roll Unicorn Craft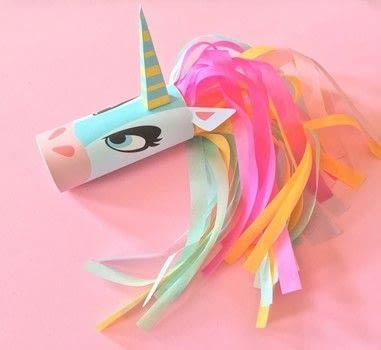 Don't throw out those toilet paper rolls just yet! This activity invites kids to create colorful and adorable unicorn heads from old toilet paper or paper towel rolls.
Printable unicorn faces are available on the websites The Art Dream and Cut Out + Keep to help kids create a cute DIY unicorn head.
Try these other toilet paper roll crafts when you're done with this one.
5. DIY Standing Unicorn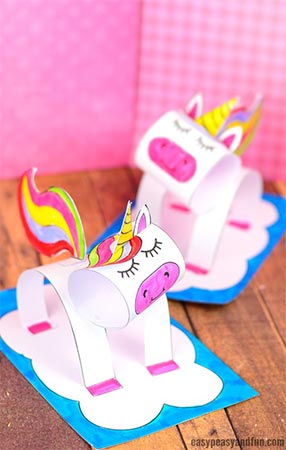 With 3D unicorn crafts, printable templates are your friend.
Easy Peasey and Fun makes it possible for kids to color, set up, and play with these unique standing unicorns.
6. Stunning DIY Unicorn Paper Plates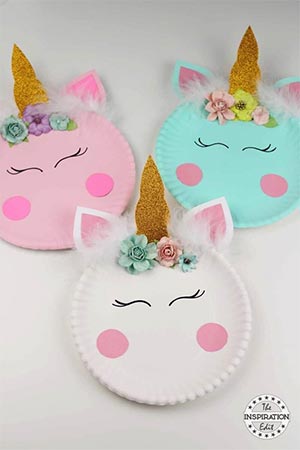 Everyone will adore these creative and eye-catching DIY unicorn paper plates from The Inspiration Edit.
Kids can use a variety of decorating supplies such as sequins, colored papers, felt, and more!
7. Easy Unicorn Mask Craft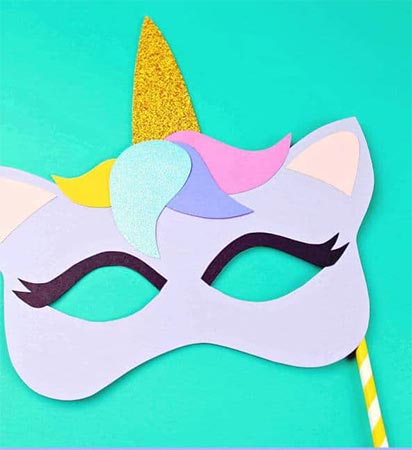 With Ruffles and Rain Boots's helpful templates, kids can easily make unicorn masks and become beautiful unicorns for a day.
These masks are very simple to make and will create lasting memories.
8. DIY Unicorn Clothespin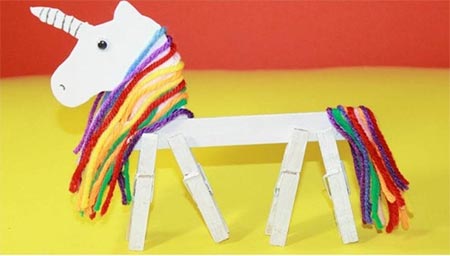 I guess you really can make a unicorn from anything! This DIY activity from The Pinterested Parent only requires clothespins, yarn, paper, glue, and scissors.
It's so easy to create that even your preschoolers can do it!
9. Unicorn Finger Puppet Craft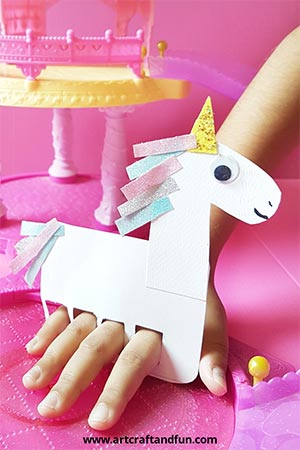 With Art Craft and Fun's unicorn finger puppet craft, kids can try another hand puppet style.
These finger puppets are easy to make and add variety to the usual playdate itinerary.
10. Unicorn Popsicle Stick Craft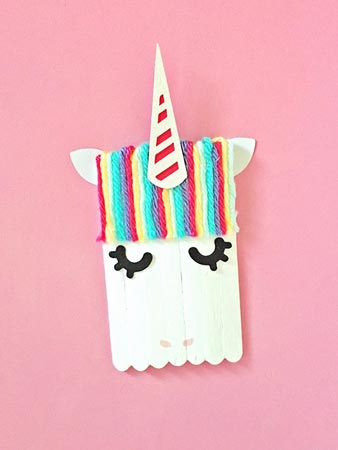 What do kids love apart from unicorns? Popsicles! Put them together and what have we got? A unique piece of unicorn artwork made from popsicle sticks!
All you'll need is yarn, glue, scissors, decorating materials, and of course, popsicle sticks. Hello, Wonderful shares examples to look at for inspiration.
We have more fun popsicle stick crafts where this came from!
11. No-Sew DIY Unicorn Sleeping Masks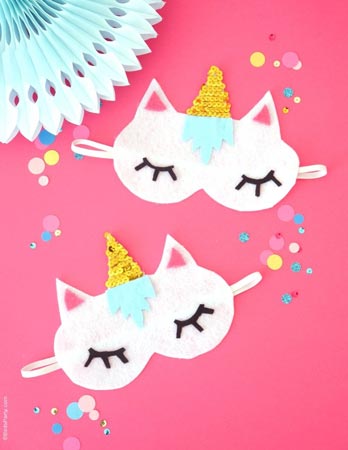 Try these no-sew DIY unicorn sleeping mask templates from Bird's Party at your next slumber party.
Kids can add their own unique style and decorations to the masks and slumber in style.
15 Unicorn Arts and Crafts Projects
12. DIY Unicorn Pencil Holder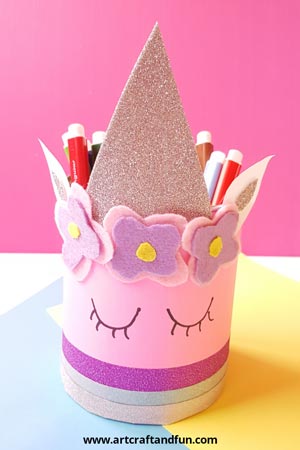 This pencil holder is the perfect DIY unicorn kid's craft.
Aside from tin cans, kids will also be using glitter, construction and felt paper, markers, glue, and scissors (make sure to assist children when using scissors).
This DIY Unicorn Pencil Holder from Art Craft and Fun only involves a little bit of cutting, gluing, and decorating, and results in a useful DIY craft!
13. DIY Unicorn Bookmarks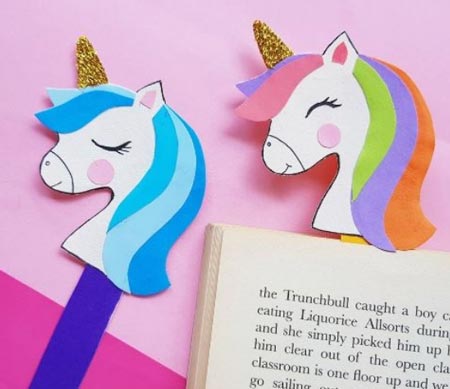 Since a lot of kids love to read, this next activity will add a little more color and fun to their books.
With printable unicorn templates and helpful instructions from My Nourished Home, children can use all sorts of paper to create their very own unicorn bookmark.
14. DIY Unicorn Bank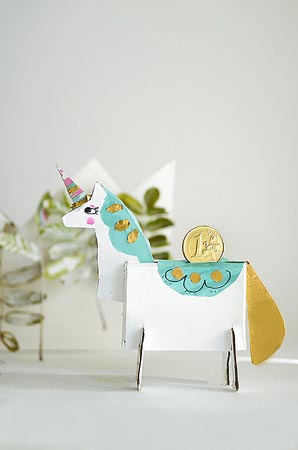 Get ready for a fun-filled activity that creates a spin on the traditional piggy bank and teaches kids how to save money.
Willow Day provides a detailed guide on how to assemble a DIY unicorn bank that can be made in different sizes. Fun and practical, right?
15. DIY Unicorn Rock Painting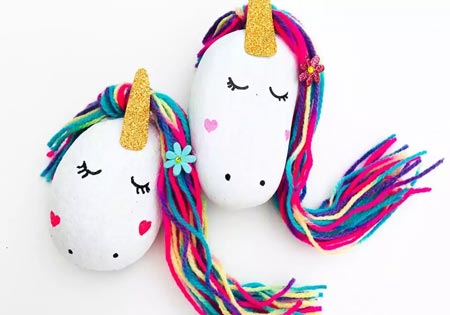 If you're looking for an indoor and outdoor activity, these DIY magical unicorn painted rocks are the perfect solution.
Let your kids get some fresh air by encouraging them to pick out the best stones from your yard or garden.
This clear guide from Mas and Pas shows your kids how to paint, design, and play with their unicorn stones!
Did your kids love painting these unicorn rocks? Try these other rock painting ideas for kids.
16. Fun Unicorn Necklaces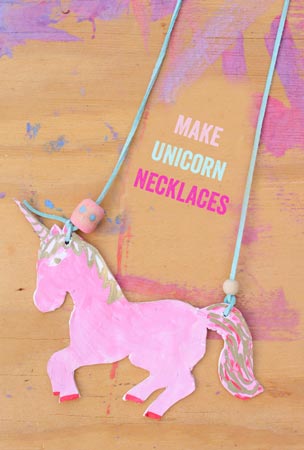 Kids who love to accessorize will surely have a fantastic time making their own unicorn necklaces.
Merry Cherry Art Studio outlines how to create personalized unicorn necklaces with beads, yarn, and coloring materials.
Children can write their name on the unicorn's body to make it even more special.
17. Cute DIY Mini Unicorn Planters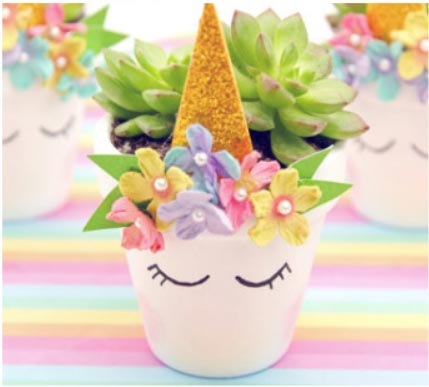 Easy Peasy and Fun's guide to making unicorn planters will surely encourage your kids to help out in the garden so they can admire their artwork.
You can do the planting, they can do the painting! If you have plain planters that need more touches of creativity, this is an activity the whole family will enjoy.
18. DIY Unicorn Valentines Foam Hearts with Candy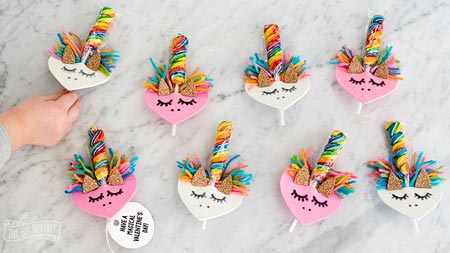 Valentine's Day is just around the corner, and what better way to surprise a loved one than with a cute unicorn card and a delicious candy treat?
Kids will definitely be feeling the love this season with The DIY Mommy's easy to follow tutorial.
19. Simple DIY Unicorn Dreamcatcher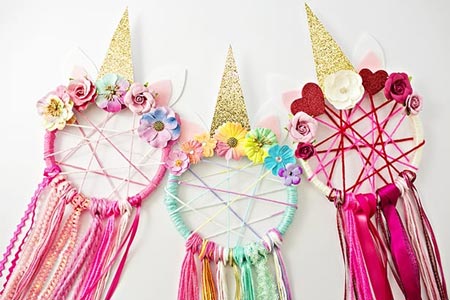 Kids can make their rooms more colorful and cozy with these easy DIY unicorn dream catchers from Hello, Wonderful.
This craft only requires the hoop, a variety of yarn and ribbons, and other decorating materials.
20. 3D Unicorn Ornament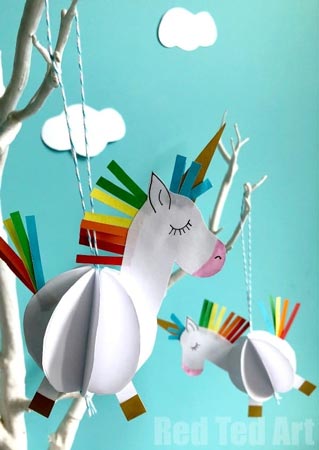 Christmas tree decorating has always been a fun family experience, and what better way to make it more unforgettable than to make dazzling unicorn ornaments?
Red Ted Art teaches kids how to make 3D unicorn decorations using only paper, twine, glue, and colors.
21. Elegant Stained Glass Unicorn Art Project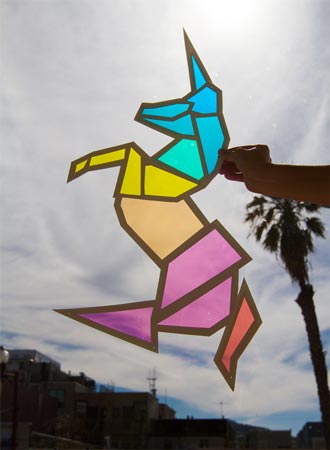 This stained glass unicorn artwork by Oh Happy Day may seem like a complicated activity, but it's actually as simple as cutting and pasting the materials together.
This project can be used for a birthday party, as a gift, or even just bedroom decor. If your children have been wanting some touches of color and sophistication in their rooms, this stained glass unicorn is perfect!
22. DIY Unicorn Easter Eggs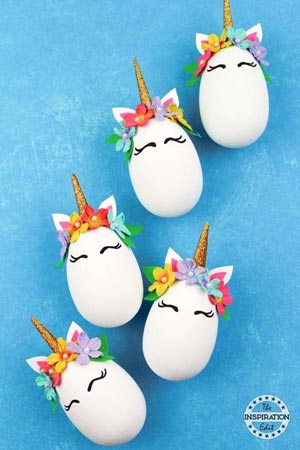 Easter egg hunting is an exciting activity, and these DIY unicorn easter eggs from The Inspiration Edit bring more joy to the experience.
Kids only need wooden eggs, glue, decorating materials, and paint! After Easter, the eggs can be used as home decor.
With Easter coming up, you'll want to get a head start on all those Spring crafts for kids!
23. Cute DIY Unicorn Notebook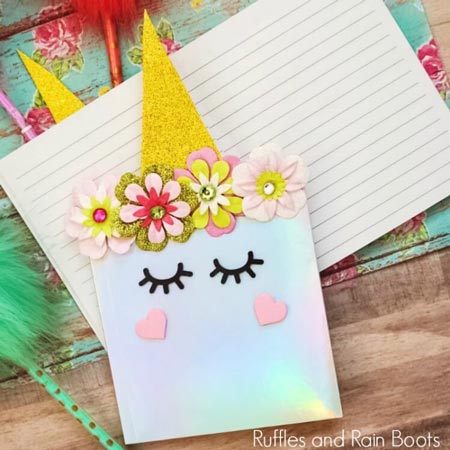 Children will definitely enjoy decorating their own unique notebooks with this entertaining and useful activity from Ruffles and Rain Boots.
There's no doubt your kids will enjoy using these notebooks for personal use or school work.
24. Unicorn Multi-Purpose Pouch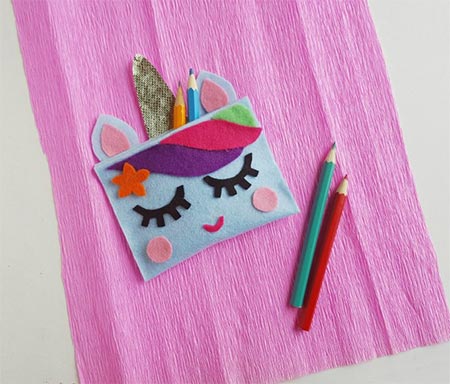 My Heavenly Recipes guides kids in creating a functional multi-purpose pouch that can be used for coins, toys, art materials, even small notes for their loved ones.
25. Simple and Fun Unicorn Collage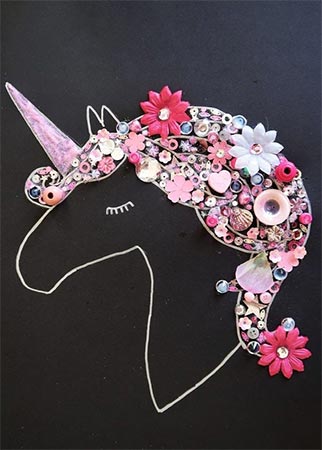 With this unicorn collage project from Someone's Mum, you can make a decorative unicorn mane using old scrapbooking materials and a free unicorn template.
26. Unicorn Wall Art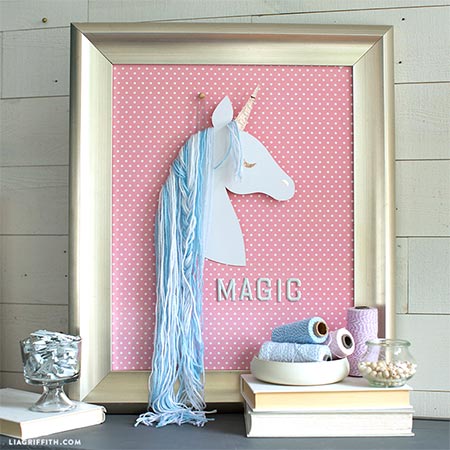 Decorate their bedroom walls with this easy unicorn artwork inspired by Lia Griffith.
This is the perfect opportunity to teach children how to braid. Hang the frame in an area where the cascading yarn mane is easily accessible.
4 Cute Unicorn Crafts for a Themed Party
27. DIY Unicorn Invitations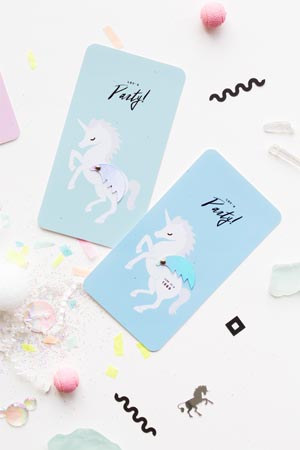 Make a lasting impression and send your children's party guests these unicorn invitations.
Oh Happy Day provides printable DIY unicorn invitation designs that kids would be delighted to assemble.
28. DIY Unicorn Pinata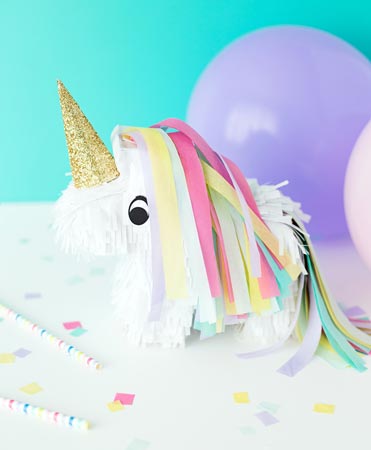 If you're looking for a party decoration for your unicorn themed celebration, check out this cute DIY pinata from A Subtle Revelry.
Not only will this be a fun party activity, it will also invite the kids to help prepare for the event. A family that celebrates together, stays together!
29. Easy DIY Unicorn Party Balloons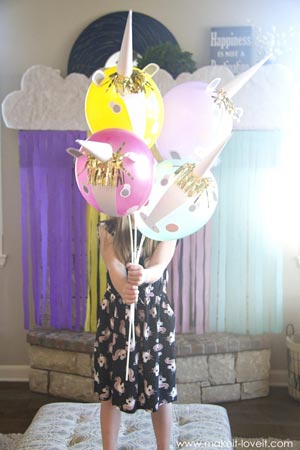 Planning to host your child's unicorn-themed birthday party soon?
Make It and Love It has a step-by-step tutorial on how to prepare unicorn balloons with different designs and colours for a fun-filled birthday!
There's no doubt these balloons will add a special touch to pictures and videos.
30. Unicorn Party Headbands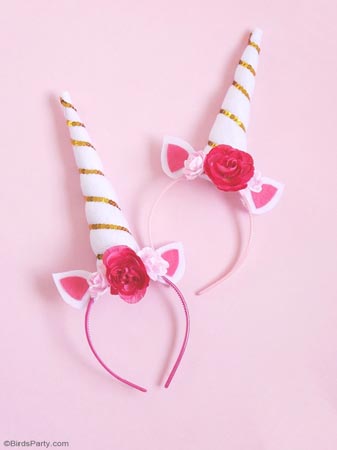 For more DIY unicorn-themed party accessories, Bird's Party offers a fresh and fun idea with their printable template for gorgeous unicorn party headbands.
Turn this project into a party activity by preparing the materials ahead of time for guests to design their own
Unicorn Crafts for Kids of All Ages
It's never too late to make time for these fun and exciting activities with your kids.
If you're looking for more magical crafts, try some of these mermaid crafts next!