Decades have passed since his creation and yet Mickey Mouse is still the most recognizable character the world.
We don't need film critics to tell us how entertaining and relatable he is. We simply need to look at our children's undivided attention whenever they watch Mickey Mouse.
Kids will surely be hungry for more content after they watch shows like the Mickey Mouse Clubhouse, so I've compiled 23 Mickey Mouse crafts to satisfy their needs.
13 Mickey Mouse Craft Ideas
These first 13 Mickey Mouse crafts feature simple crafts that toddlers and preschoolers can easily participate in and from which they'll pick up plenty of valuable experiences.
1. Mickey Mouse Paper Bag Puppet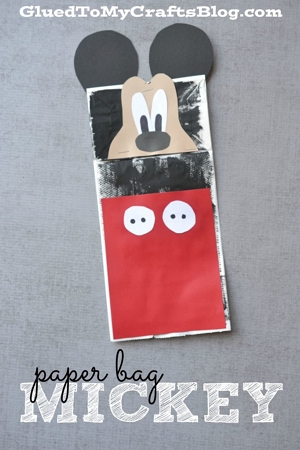 Having a paper bag puppet like this from Glued To My Crafts Blog allows children to immerse themselves in the world of Mickey Mouse and his friends, boosting their imagination and mental acuity.
They'll also practice using their little fingers since this activity involves painting the paper bag in black and gluing a bunch of tiny pieces of paper to bring Mickey Mouse to life.
2. Mickey Mouse Clubhouse Toilet Paper Roll Toys
Toddlers and preschoolers will finally meet their Mickey Mouse Clubhouse idols by creating these DIY toilet paper toys.
The video tutorial from Oh Partyland! will guide you through each member of the show, including everyone's favorite dog, Pluto!
Save up those toilet paper rolls for other toilet paper roll crafts for kids to play with!
3. Mickey & Minnie Paper Plates
Let's return to the basics of DIY crafting with these easy paper plate Mickey and Minnie crafts. Crafts with Toddlers show us how easy it is to keep your kids busy with a humble and accessible material such as the paper plate.
For this craft, you only need three paint colors: red, pink, and black. The rest of the details are made with cardboard paper.
4. Toodles DIY Plush Toy
Toodles is such an integral part of the Mickey Mouse Clubhouse show that it wouldn't be fair to exclude him from this list. Toodles will be there to help with any sticky situation the characters might find themselves in, so kids will be so excited after crafting this DIY plush toy.
Pif paf puf's video tutorial adorned Toodles with a string of fairy lights that makes him visible in the dark, but the craft will still look amazing without it.
5. Rainbow Mickey Mouse Paper Plate Craft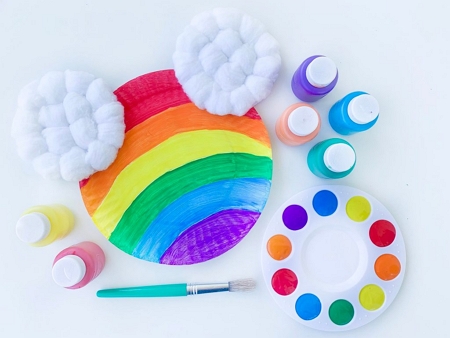 There's plenty of sunshine to look forward to after a heavy downpour. In the meantime, here's a rainbow craft from Grace, Giggles, and Naptime that will brighten up the rainy days.
Practice naming the colors while you work to improve children's color recognition, which is a crucial aspect of their development.
Rainy season can affect the mood of little ones, so here are other rainbow crafts to cheer them up!
6. Mickey Mouse Popsicle Sticks Craft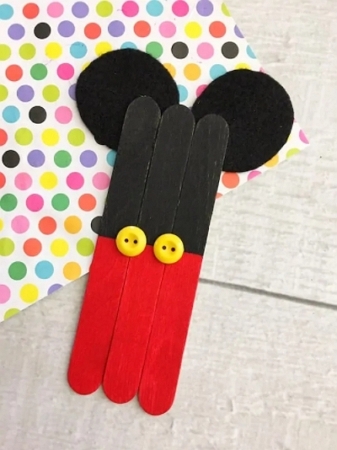 Popsicle stick crafts are amazing since they're quite versatile and there are plenty of DIY toys that you could make with them. Savings Lifestyle shares a Mickey Mouse craft you could make out of these neat materials.
They have plenty of useful techniques, like placing tape to make the coloring process easier. With a little bit of imagination, try making other characters, like Minnie Mouse or Donald Duck, so this popsicle Mickey won't be lonely.
7. Recycled Newspaper Craft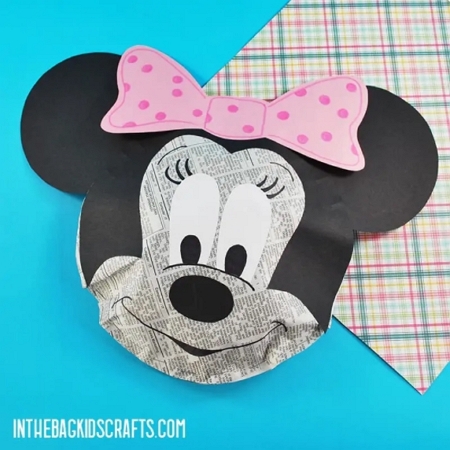 Teach children about the importance of recycling by making this newspaper craft by In The Bags Kids' Crafts. Simply follow their instructions and get their printable templates of Mickey and Minnie.
While you're at it, check out our paper mache pumpkin crafts that make use of old paper to create incredible decorations.
8. Halloween Mickey Ornament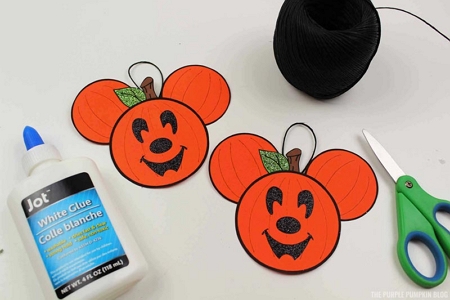 Here's an interesting craft for when Halloween is approaching. The best thing about this craft from The Purple Pumpkin Blog is that they share a printable template of this cute decor.
Try making durable and amazing Halloween painted rocks that will last you indefinitely with proper care!
9. Steamboat Willie No-Carve Pumpkin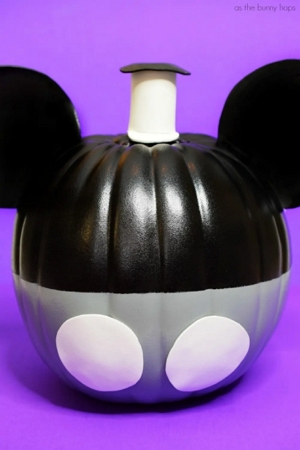 Steamboat Willie is where Mickey Mouse first appeared, so there's plenty of meaning and emotions behind this craft from As The Bunny Hops.
The benefit of crafts like these is that they don't require you to carve out the pumpkins. Meaning, even toddlers can participate in painting an amazing craft like this.
10. Mickey Mouse Christmas Ornaments
Here's a more appropriate craft to make during this Christmas Season. Brought to you by Red Ted Art, the video tutorial features a variety of Mickey-inspired ornaments, all of which have a detailed walkthrough.
The crafts are made easier for everyone since the materials used are pretty accessible and don't require the purchase of clear ornament balls.
Kids will get a sense of achievement when they see these lovely ornaments hanging upon your Christmas tree.
11. Shiny Mickey Ornament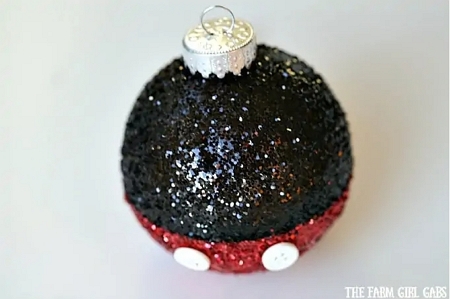 The Farmgirl Gabs has a different but fabulous take on Mickey Mouse Christmas ornaments.
Crafts made out of glitter are bound to get messy so make sure to follow the tips and tricks that The Farmgirl Gabs provides with their written instruction.
12. Perler Bead Mickey Mouse Magnet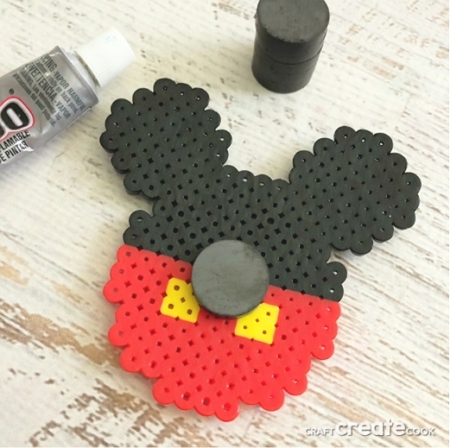 Craft, Create, Cook shares an easy-to-make keepsake that you can stick on your fridge with a self-adhesive magnet. This Perler bead activity requires only three colors, making it a simple fine motor skill exercise for preschoolers.
Perler bead activities are very intuitive and educational for toddlers, so to get you started here are some easy Perler bead patterns children will enjoy.
13. Paper Pumpkin Mickey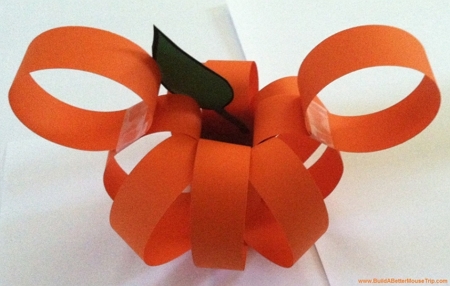 Practice your children's ability to recognize shapes by making this paper pumpkin Mickey Mouse.
This activity by Build A Better Mouse Trip focuses on making plenty of circles out of orange paper strips, giving toddlers a chance to learn how to form round objects.
9 Useful Mickey Mouse Crafts
Aside from improving their fine motor skills and creativity, these next 8 Mickey Mouse crafts are useful in a way that they're functional and have other applications.
14. Mickey & Minnie Mouse Coasters
Parents love activities that make their children more independent.
CraftKlatch hits the bullseye with these Mickey and Minnie coasters that will prevent those annoying fruit juice stains on their kid's high chair.
The video tutorial is very instructional as it is satisfying to watch.
15. Cute Mickey Mouse Bookmarks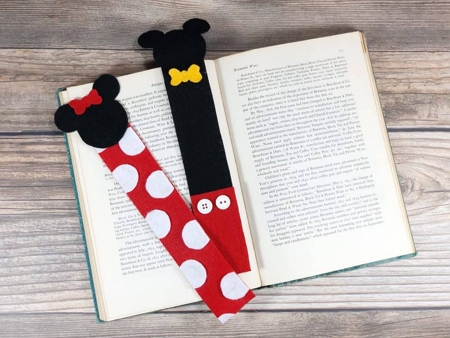 While most kids books are short enough to read in one go, these cute bookmarks by Hispana Global will keep your kids busy and they can potentially be used as a gift for those a little bit older.
Or, just keep them for yourself.
16. Mickey & Minnie Corner Bookmarks
Here are a couple of bookmarks with a different designs. These corner bookmarks from simple Art and crafts' channel are super easy to do and a great way to introduce kids to the world of origami because the activity involves lots of paper folding.
By exchanging the red paper with orange ones, the kids could easily make a similar Goofy bookmark.
17. Mason Jar Mickey Mouse Piggy Bank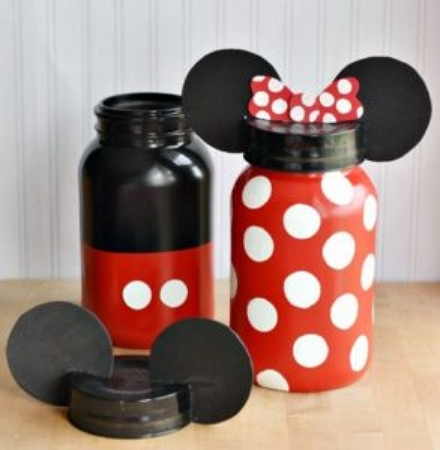 Food Family Finds gives us the perfect craft that allows the whole family to save up for the next Disneyland trip.
Seeing these Mickey & Minnie mason jar piggy banks will allow you to focus on your savings and remind you not to splurge too much.
Making these DIY Toy Story crafts will go a long way in your endeavor to save for that Disneyland trip.
18. Mickey Party Hat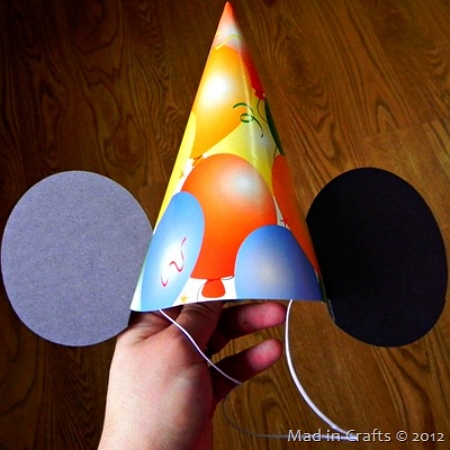 Planning for a Disney-inspired party isn't as complicated as one might think, as Mad In Crafts proves to us how easy it is to make a Mickey Mouse party hat.
Along with these hats, they also share a way to make a Mickey Mouse wreath.
19. Mickey-Inspired Wood Decor Pieces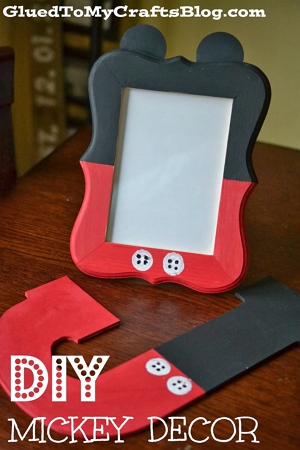 Glued To My Crafts Blog shares another Mickey Mouse-inspired decor and a frame that will keep memorable photos safe.
They suggest doing these designs to any wooden frame at your disposal. It's a fun way to safeguard your memorable pictures taken during your trip to Disneyland!
20. Mickey Mouse Tie Dye T-Shirt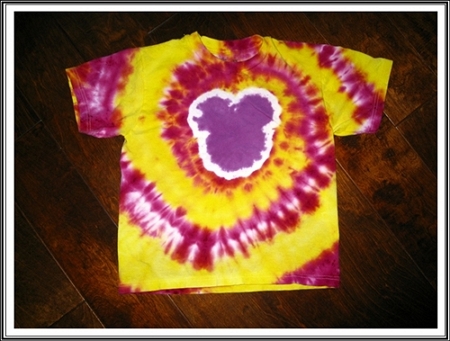 Tie dying might seem like an intimidating activity to get started. But as our step-by-step guide on tie dying shirts and this guide by Kids Activities Blog prove, they're not that hard, even for beginners!
Kids Activities Blog provides plenty of tips throughout their written guide that keeps the tie-dying process easier.
21. Toodles from Mickey Mouse Clubhouse Costume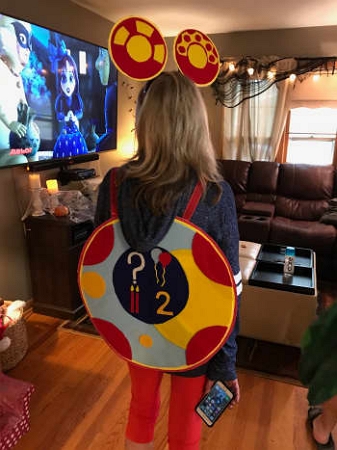 Holidappy shows appreciation for one of the important characters in the show Mickey Mouse Clubhouse by making this Toodles costume.
From the design of the body to the design of the ears, Holidappy makes it easier for the reader by providing as much detail as possible so they can recreate the costume accurately.
Any imaginary tools that your kids need in their adventures will be provided by the trusty Toodles.
22. Mickey Oreo Cookies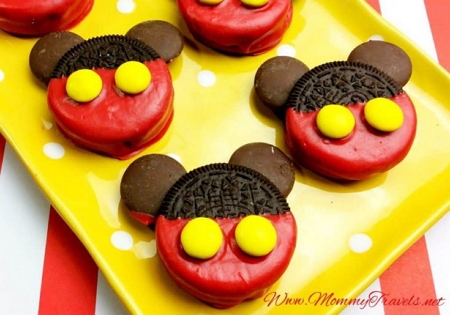 Mommy Travels created a recipe for Mickey Oreo Cookies that anyone could quickly whip up for kids' parties or simply an afternoon snack.
Making two dozens of these cookies shouldn't take more than an hour, making it a convenient sweet snack for unexpected visitors.
1 Mickey Mouse Painting Idea
23. Mickey Mouse Marble Painting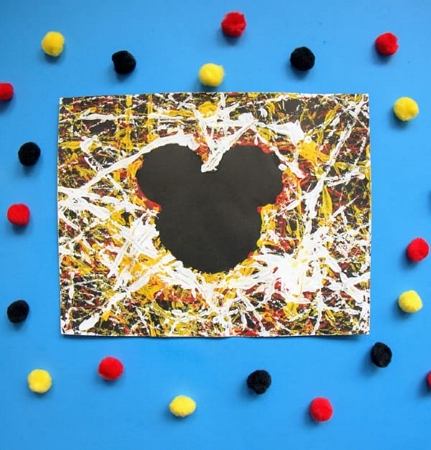 Three Kids, Three Cats, And A Husband found a creative technique to make a Mickey Mouse painting look sophisticated. You could take any figure and make a stunning silhouette painting with this technique.
It's so simple that even toddlers could make it. Though, it's not recommended for younger kids since the materials used in the craft are a potential choking hazard.
Aw Gee, These Mickey Mouse Crafts Sure Are Swell!
From DIY toys to more useful crafts, these Mickey Mouse crafts will inevitably find a way into one of your activities since every kid enjoys Mickey and his friends so much!
Here are other enjoyable crafts for kids: