Cowabunga! Expect nothing but the best Teenage Mutant Ninja Turtles drawings in this list. We've got something for fans of Leonardo, Donatello, Raphael, and Michelangelo.
I'll be Master Splinter and teach you how you can easily and effectively draw TMNT with the kids. Fun times are guaranteed while drawing these turtles so let's start and create art. Read 'til the end for an awesome surprise.
Expand your drawing portfolio by learning these easy animals to draw for kids.
Essentials for An Epic Drawing
9 Easy Ninja Turtle Drawings
1. 7-Step Ninja Turtle Drawing
The Teenage Mutant Ninja Turtles have the coolest costumes and weapons.
Get tips on how to draw their bandanas, belts, and weapons in this drawing guide.
Find exciting Legend of Zelda perler bead patterns here.
2. Cute Leonardo Drawing
I recommend this drawing of Leonardo for kids who are just starting to learn to draw.
It will be easier for them to copy the shapes and strokes done by  EasyPicturesToDraw in completing this drawing.
Unleash the inner wizard and witch inside your kids with these Harry Potter perler bead patterns.
3. Michelangelo Drawing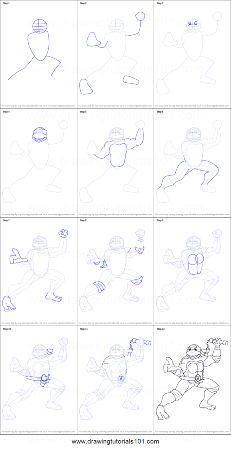 Get ready to draw the funniest ninja turtle, Michelangelo.
He's striking a pose and is ready to defeat Super Shredder with his dual nunchaku.
Check out this drawing tutorial because it will help you every step of the way.
Know what's the best shirts to tie dye in this post.
4. Cute Michelangelo Drawing
Want a cuter version of Michelangelo? We've got you!
This version is composed of mostly round shapes that make him look younger and more squishy.
Be sure to check out this helpful video by EasyPicturesToDraw to get more tips and tricks to enhance your drawing skills.
5. How to Draw Raphael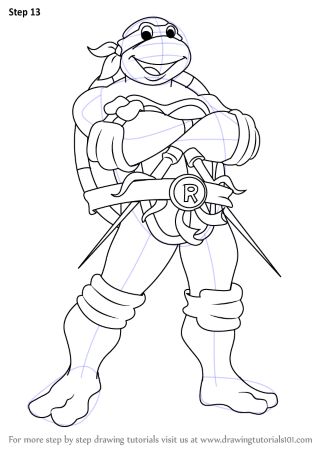 Here's a rare drawing of Raphael smiling.
He usually comes off as the most hotheaded among the ninja turtles but he's also got a soft side to show. This drawing shows how to draw his handy twin sai as well.
Say hello to Mr. Sun with these summer perler bead patterns.
6. Strong Raphael Drawing
Villains better watch out when Raphael's anger is unleashed. Watch this video by Cartooning Club How to Draw to get an accurate depiction of Raphael's angry expression for your drawing.
Our favorite yellow characters have the spotlight in these minion perler beads patterns.
7. How To Draw Raphael
Challenge the kids and pick this drawing of a grown ninja turtle to be the project of the day.
It will involve a lot of page turns and coloring but it'll be a blast to make.
Watch the step-by-step tutorial of Art for Kids Hub with your little artist.
8. Donatello Face Drawing Tutorial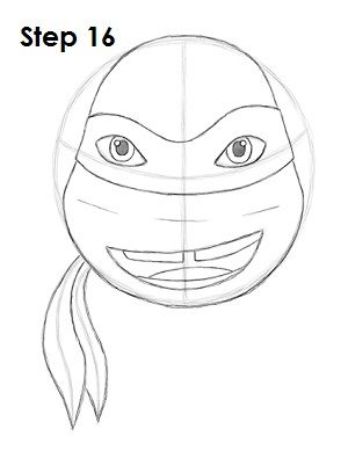 Master drawing the face of Donatello with this guide.
You'll have a better view of his eyes, mouth, and face shape with this. Plus, changing the color of the eye mask will easily turn him into a different ninja brother.
Explore the outdoors and learn something new with these camping crafts for preschoolers.
9. Donatello Drawing
It's always good to know and learn different drawing styles to better appreciate art. This Donatello drawing will appeal more to younger kids because of his soft features and nice smile.
Practice drawing Donatello using this technique with the help of Cartooning Club Junior's video.
5 Teenage Mutant Ninja Turtles Drawings
10. How to Draw a Ninja Turtle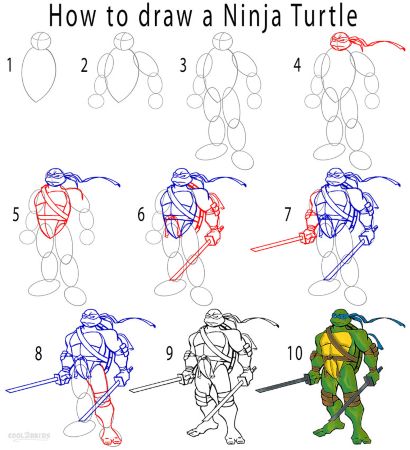 Get your game face on because this ninja turtle drawing will be a little bit challenging. Don't worry because anyone can draw this with constant practice. This tutorial provides a step-by-step guide that's easy to do and follow.
Your kids will be thrilled to make these emoji perler bead patterns with you.
11. Funny Teenage Mutant Ninja Turtles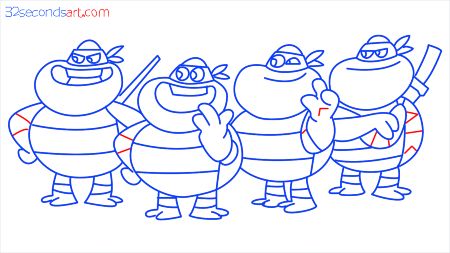 Take a break from all the serious ninja turtle drawings and sketch this one. This drawing highlights the goofy side of the ninja brothers. Plus, it's an easy sketch that your kid can do in under half an hour.
Get spooked with these Nightmare Before Christmas perler beads just in time for Halloween.
12. Cool Teenage Mutant Ninja Turtle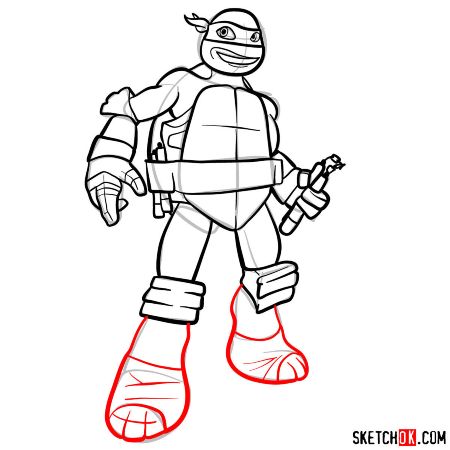 Put your best foot forward and include this ninja turtle drawing in your sketchbook. It shows the classic style of the TMNT with their getup, stance, and expression.
You don't need to go to the field to make these awesome football perler beads patterns.
13. Adorable Teenage Mutant Ninja Turtle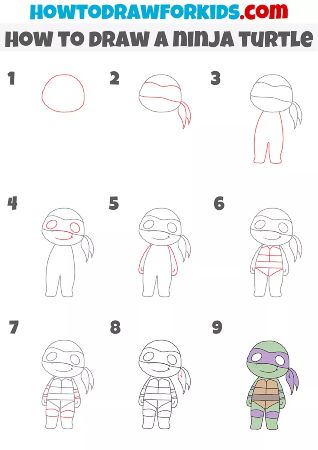 Whoever said that Teenage Mutant Ninja Turtles aren't cute will be proven wrong with this drawing. Your kids will like this unique take on the TMNT because it's charming and simple to do.
Learn more about animals by doing these farm animals crafts with your little ones.
14. Fierce Ninja Turtle Drawing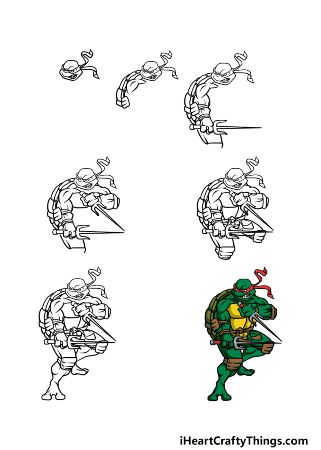 Feel like a pro illustrator after finishing this ninja turtle drawing. It entails a lot of details and precision so it will be rewarding once you've completed this sketch.
Players of online games will be excited to create these Minecraft perler bead patterns.
Bonus: Turtle Drawings
15. Cute Sea Turtle Drawing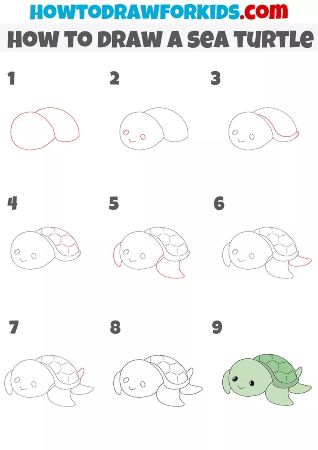 Explore the deep waters with this adorable sea turtle. In this drawing tutorial, kids will learn how to draw cartoon-like characters. Plus, this sea turtle will go well with their ocean-themed sketches.
Teach the kids about recycling by doing these egg carton crafts.
16. Swimming Turtle Drawing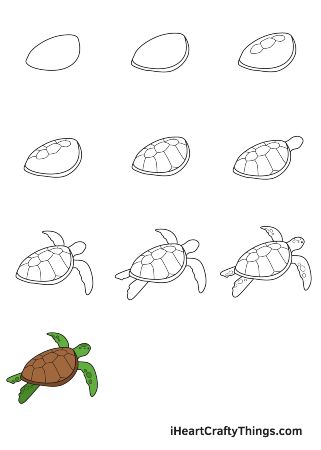 Learn how to draw a swimming turtle in this tutorial. This will show the kids the right patterns and textures of the flippers and shells. It will be like taking a quick trip to the ocean.
Your day will be filled with love with these Valentine's Day crafts for toddlers.
17. Pretty Turtle with a Flower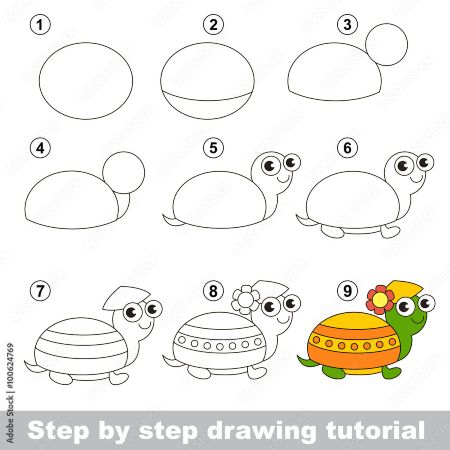 A pretty turtle coming right up! Dress up the turtle by drawing some flowers and clothes on it. This will add character and life to your drawings.
Cuteness overload is guaranteed with these super kawaii perler bead patterns.
18. Easy Turtle Drawing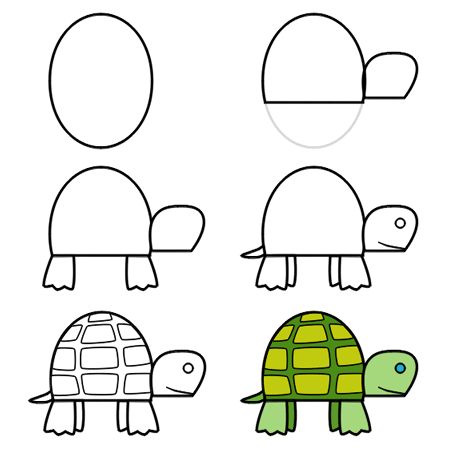 If you can draw an egg then you can learn how to draw a turtle! Try this tutorial to make an adorable hunchback turtle. It's unique, creative, and super cute as well.
These DIY dream catcher crafts for kids will be perfect in their bedrooms.
19. Turtle in the Sea Drawing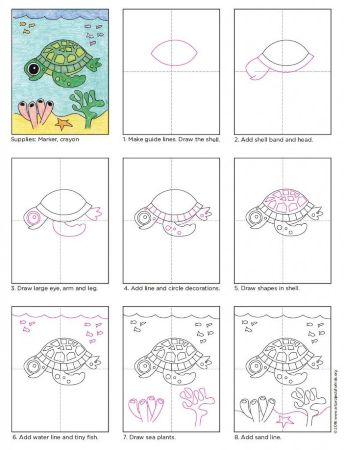 Dive into the ocean with your little amphibian friend. This tutorial will also include guides on how to draw the habitat of the turtle which includes starfish, corals, and sand.
Enjoy these ocean crafts with the kids wherever you may be.
Teenage Mutant Ninja Turtles Drawings for the Most Loyal Fans
These Teenage Mutant Ninja Turtles drawings are for everyone. It's for the fans who've been there from the beginning and for those just learning about these epic turtle brothers. It also includes beginner-friendly sketches as well as expert-level ones.
Had fun with these drawings? Here are more crafts that you need to try out.