Looking for guides on how to draw a train? You've come to the right place! Drawing trains is great practice for getting acquainted with different shapes and colors.
While most of these train drawings are suited for beginners, there are more complicated train sketches at the end of the list for skilled artists who are seeking a little bit more of a challenge.
8 Simple Train Drawings for Kids & Beginners
These first train drawings are appropriate for children who are learning how to draw because they involve simple shapes.
Working with a younger kid? Don't miss out on these easy animals to draw for kids.
1. Step-by-Step Train Drawing
Introduce your kids to a basic train drawing like this video tutorial made by Kids Art Guru. This guide starts by drawing simple shapes (like squares, triangles, and circles) to create a basic steam train.
Introduce your little ones to the exciting world of paper folding with these origami kits.
2. How to Draw a Train with Basic Shapes
Take shape drawing to the extreme by following this video tutorial on MOM COM FAMILY's channel. The train design is a little bit illogical, but it's great if you your kids know how to draw many different shapes.
The more shapes your children can insert in the train drawing, the more they can vary the colors, enhancing their creativity in the process!
Help your kids recognize shapes better by making these circle Perler beads patterns.
3. A Simple Train Drawing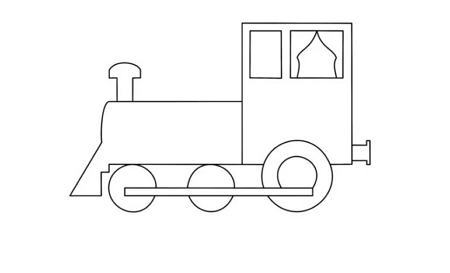 Verb Now keeps things simple with their straightforward train drawing. It includes a small smokebox with a chimney and a simple carriage that carries a limited number of passengers.
4. Cartoon Train Drawing with a Bonus Number Lesson
This video tutorial from DingDong Kids not only teaches children how to draw but also teaches them the basics of counting up to the number five.
5. Drawing a Train with the Number Two
M P Drawing Tutorial shares this train drawing guide that starts with the numbers "22, 22, 22". This number strategy helps you remember how to easily draw a train.
This list of how to draw a pig also includes guides that employ similar drawing strategies!
6. No-Frills Train Drawing
Here's another simple train drawing brought to you by Art for Kids Hub. The only challenge you'll encounter here is trying to create straight lines for the train.
Crooked lines isn't a problem, though, because practice makes perfect!
7. Cartoon Train Drawing
HTDraw shares an exciting and easy cartoon drawing. If this one is too complicated for young artists, draw it first and then let your little ones color the train!
8. Thomas the Train Drawing
Tim Tim TV shares this easy-to-follow guide for every child's favorite train, Thomas! The artist uses a marker to draw Thomas, but inexperienced artists should start with a pencil.
After completing the sketch, finalize it by tracing it over with a marker and then color in the rest to bring Thomas to life!
Here are a couple of other famous cartoons for you and your kid to recreate: Bluey crafts and PAW Patrol crafts!
6 Step-By-Step Train Drawings
If prefer to follow a step-by-step process, then the following six train drawings are perfect.
9. Cute Steam Train Drawing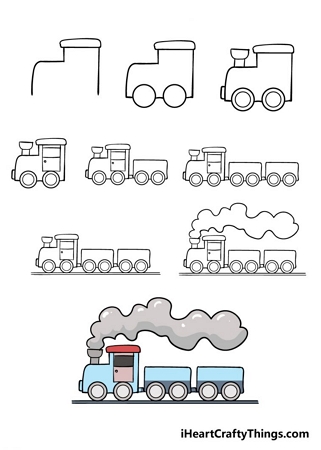 I Heart Crafty Things creates a simple step-by-step train drawing guide. Start out by drawing the main train car, along with the cute chimney, then proceed to draw the rest of the wagons.
10. Old-Fashioned Train Drawing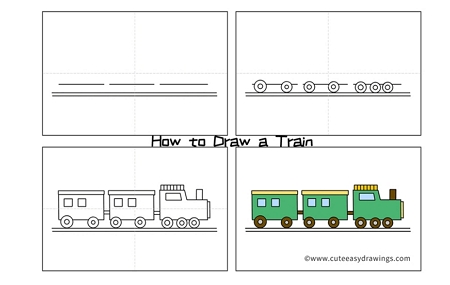 If you want to draw something quick and easy, then Cute Easy Drawings has you covered with their simple to follow guide.
All you need to do is draw two parallel lines which act as the train tracks, then draw the wheels and wagons.
11. How to Draw a Modern Locomotive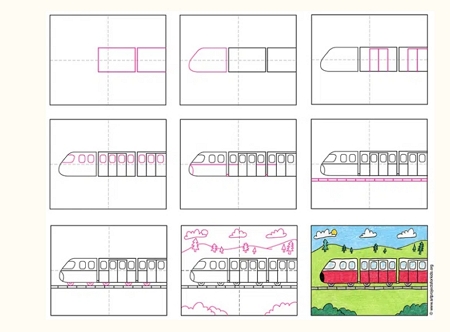 Art Projects For Kids makes drawing trains easy. Here they provide clear directions for drawing a modern locomotive.
Realizing some of these drawings might be too complicated for your and your kids? Try these simple and easy sun crafts instead.
12. 9 Steps to Drawing a Simple Steam Train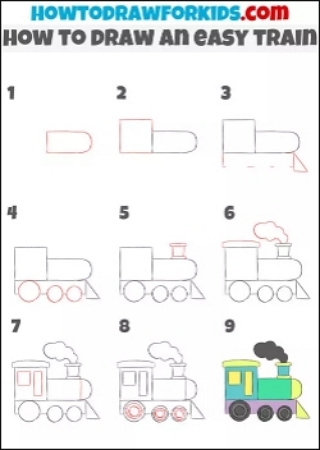 Here's another steam engine drawing courtesy of How To Draw For Kids. This step-by-step train drawing is simple enough for even the most ambitious kindergartner.
For other drawings that young kids can copy, check out these octopus drawings.
13. Another Cartoon Train
This video tutorial from EasyDrawingTutorials walks the viewer through a step-by-step guide on how to draw an old-fashioned steam engine train in 16 steps.
Did you know you can make a train using an old egg carton? Learn what else you can do with this recyclable material by reading our post about egg carton crafts.
14. How to Draw a Train: A Step-by-Step Guide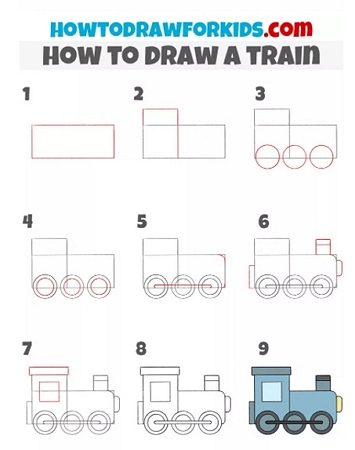 There's nothing wrong with committing mistakes. In fact, it's the easiest way for children (and even adults) to learn.
There's plenty of erasing to be done with this step-by-step guide by How To Draw For Kids because there are overlapping lines that will eventually need erased.
4 Realistic Train Drawings
These next four challenging train sketches will push even the most experienced artist's abilities to the limit.
15. Bullet Train Sketch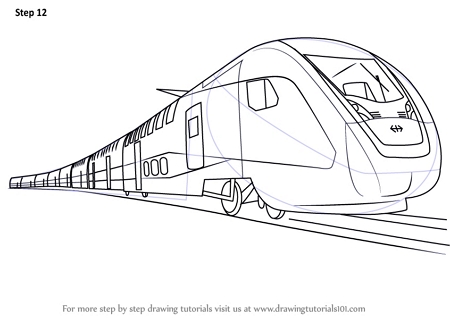 Learn how to draw one of the fastest trains in the world, the bullet train. This one is a little bit more complicated because it uses perspective, making the train look bigger on the front and smaller as it reaches the back.
To see the step-by-step directions, simply head on to Drawing Tutorials 101's guide.
16. How to Draw a Locomotive Train (Steam Train)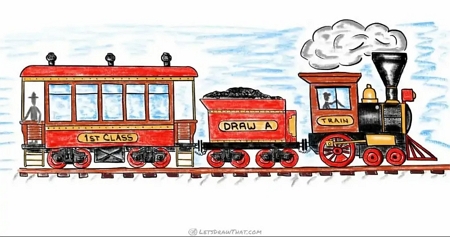 Let's Draw That shares an amazing guide on how to draw a locomotive. Although the train is composed of only three components (locomotive, coal car, and passenger car), each wagon is full of small details that add up to make a really fascinating drawing.
Don't worry, though, since the guide proceeds by drawing each component with simple shapes, such as squares and triangles, so you won't get lost or feel overwhelmed.
Each train component takes only around 4–6 steps.
17. Realistic Steam Train Sketch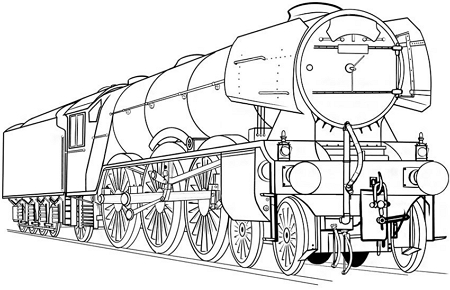 If your children want to learn more about perspective, Envato Tuts+'s steam train guide is the perfect starting point. The guide doesn't start by drawing the train but by establishing an outline for it.
The written guide will absorb children who are truly interested in improving their artistic skills.
18. Another Train Sketch
Artist Munda takes a different approach to drawing by creating an outline along the way.
This one is more suitable for more experienced audiences who understand the fundamentals of perspective. Nevertheless, there's plenty to be learned here, even by more advanced artists.
Bonus Train Tracks and Tunnel Drawing
This is a bonus for those who want to gain mastery on the subject of perspective. A tip that I learned from watching this video lesson is to apply little pressure on the pencil until you want to finalize the drawing and darken the shade.
The video tutorial starts by drawing a train track but finishes with an amazing drawing.
Let's Get on Board the Hype Train
I hope these drawing tutorials have helped to "train" your artistic styles.
Don't stop with these train drawings, though. Follow our other drawing guides: