What time is it? It's summertime! Everyone's favorite season is finally here. Make it even more colorful and fun by making these summer perler bead patterns.
This list has great perler beads patterns that your little ones and yourself would enjoy making under the sun. From summer food, essentials, and destinations, this list has got the hottest summer-themed projects.
Before we dive into the list, here are some of the items that will be useful in all of your perler beads projects:
If you're a beginner or this your first time making Perler beads patterns, try some of the designs in our easy Perler beads patterns guide.
19 Summer Perler Bead Patterns
1. Smiling Pineapple Perler Bead Pattern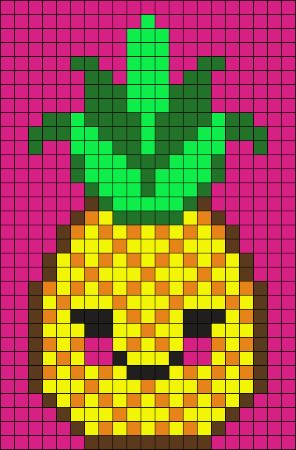 This adorable smiling pineapple will make summer days even sweeter. Your day will instantly be 10x better just by looking at your finished work.
This is the perfect Perler pattern for any pineapple fanatic.
2. 3D Perler Bead Cacti & Succulents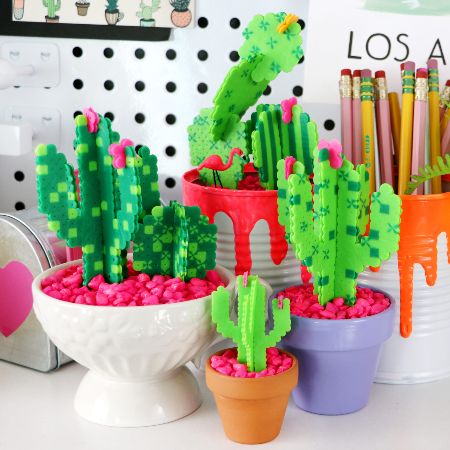 Cacti and succulents are pretty self-sufficient and don't require a lot of TLC. But there are still people who don't have the time and patience to take care of them.
Here's the perfect solution. It looks and feels like a plant without the commitment. A win-win for all!
Spend time with your little ones this summer going over the basics with these easy and fun letter C crafts!
3. Easy Flamingo Pattern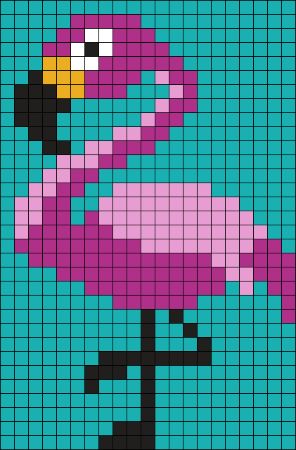 Did you know that there are more fake flamingos than real ones? There's a huge possibility that flamingo Perler beads will also join that list.
Start now and create this beautiful pattern to be one of the OGs in the game.
4. Cute Donut with Cat Pattern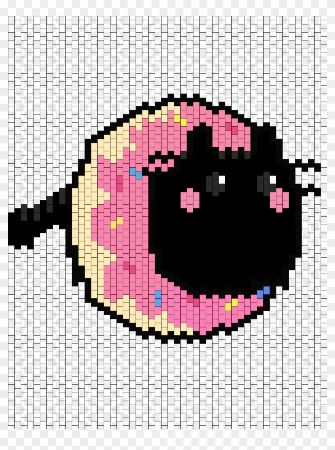 A donut-themed Perler bead piece is cute, but I guarantee that adding a cat into the equation will make it even cuter.
Are you a certified cat lover? You'll love these cat perler beads ideas. 
5. Assorted Fruits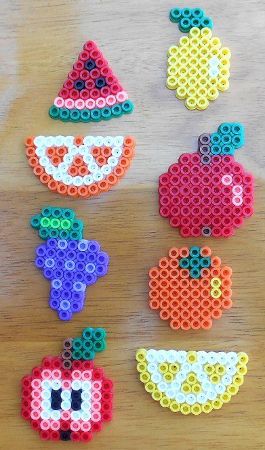 Eating fruits is essential during summer because they contain essential water and sugar that give your body the energy to do all your favorite summer activities.
Debbies Craft Corner will teach you how to make watermelon, lemon, and orange perler beads patterns!
6. Rainbow Perler Beads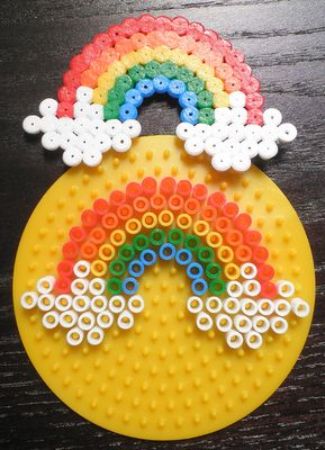 Summer days are more magical whenever there's a rainbow painted across the sky. Inspired to make one using Perler beads? Then you've found the pot of gold at the end of the rainbow.
With this rainbow perler beads pattern, you'll be able to bring some magic wherever you go.
Keep your summer days bright with these other rainbow crafts for kids!
7. Yummy Burger 'N Fries Combo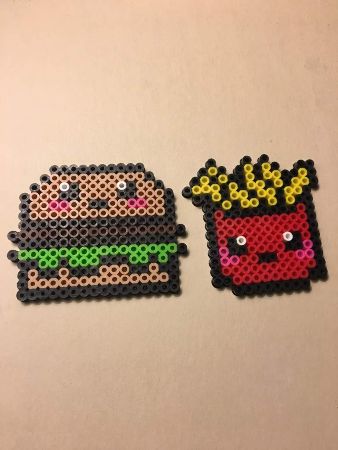 Every day is a cheat day when it's summer. But for those who are disciplined and follow their diet plan religiously, these burger and fries Perler beads patterns will be the next best thing.
Here are more perler bead food ideas to satisfy your artistic cravings. 
8. Cute Popsicle Duo Pattern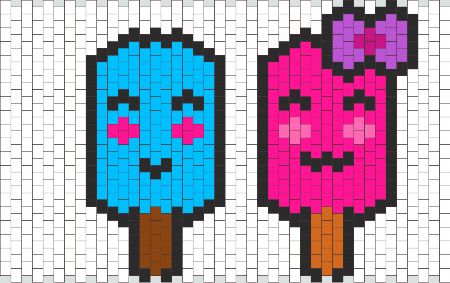 Popsicles always save the day, especially when the summer heat becomes too unbearable. Their yummy flavors and cool temperature make them one of the best things about summer.
Plus, this cute duo will be a fun project to do with the kids because they're easy and fun to make.
9. Cool Emoji with Sunglasses Perler Beads Pattern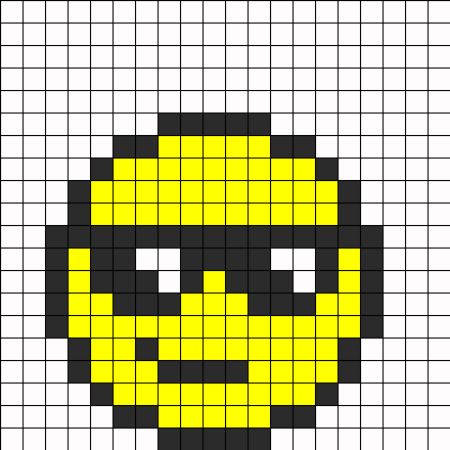 Finally, it's summertime. The perfect time to relax and have fun without worrying about homework and deadlines.
This cool emoji will perfectly sum up what students feel during the season: happiness, excitement, and contentment.
Make this your very first perler beads project because it's beginner-friendly, simple, and fun to do.
10. Blue Bead Flip Flops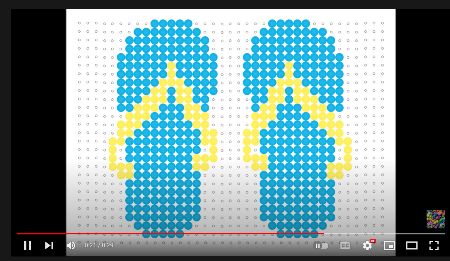 Summertime means going to the beach. And your beach trip won't be complete without flip-flops. Doing this Perler beads project by HamaBeadPatterns123 will remind you of all the good times you had under the sun at the beach.
Plus, this pattern is beginner-friendly so you won't have to worry if you're just starting out making Perler beads craft.
11. Colorful Flowers in a Pot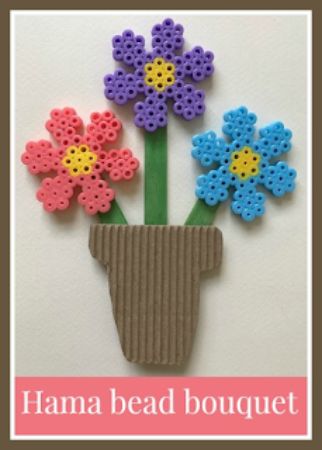 A bouquet of perler beads flowers? Yes, please!
It will be a unique piece that your little one will have fun making. Jennifer's Little World will show you how to make these beautiful flowers step-by-step from the petals to the stems.
12. Little Frog in a Floatie Pattern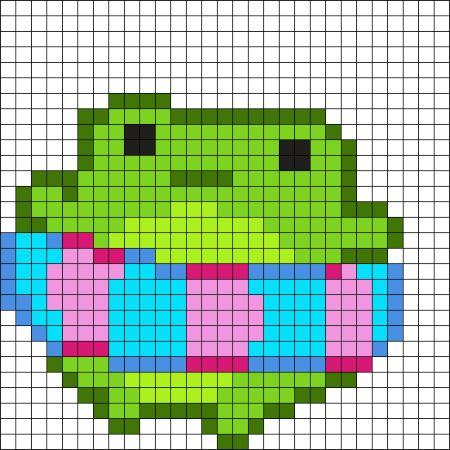 I'll bet that you didn't think that floaties and frogs go together. Seeing this adorable pattern will change your mind!
Can't wait to start another cute perler bead project? Check out these kawaii Perler bead patterns, too! 
13. Sailboat Perler Beads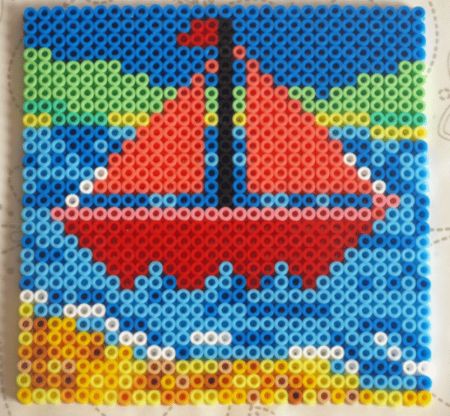 Here's a pattern for older kids and adults who enjoy the calmness of the ocean while being on a sailboat. Seeing this project will remind them of the good days spent outdoors.
If you liked making this Perler bead sailboat, then you'll love these camping crafts for preschoolers for sure.
14. Collection of Sports Balls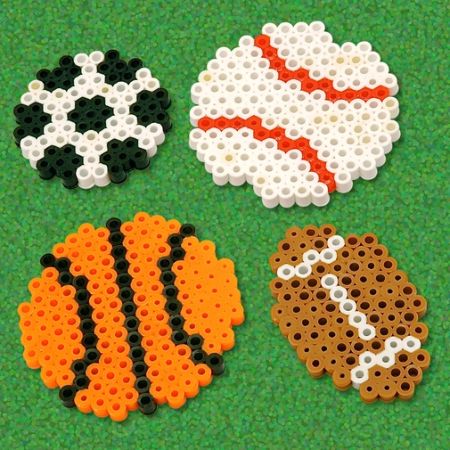 Show your love for sports by making these ball perler beads. Whether you love basketball, football, or baseball, Perler has something good in store for you.
Plus, you don't have to be a top athlete to make these cool patterns.
15. Beach Ball Perler Beads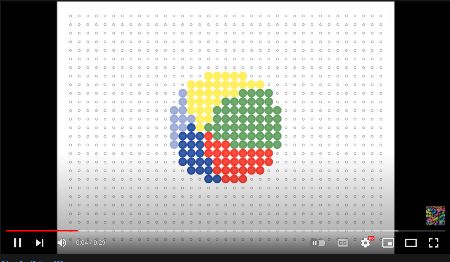 One foolproof item that will remind you of summer is a beach ball. It's fun and colorful which helps create great memories while being on the beach with family and friends.
In this Youtube video, HamaBeadPatterns123  shows you how to make your very own Perler beads beach ball.
16. A Fun Day at the Beach Perler Beads Pattern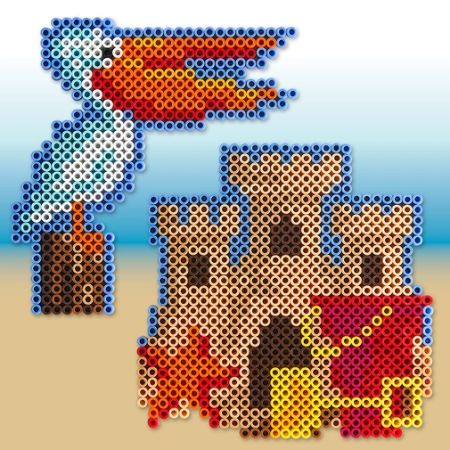 Summer won't be complete without a trip to the beach. Building sandcastles and seeing seagulls fly are part of the experience.
Perler will guide you in making these perler bead artworks.
Note: These patterns are more suitable for older kids and there are some steps that require adult assistance.
17. Sun with Sunnies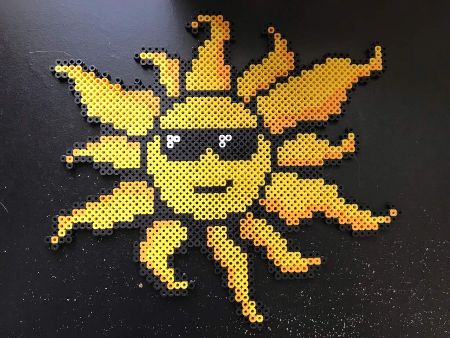 What even is summer without Mr. Sun? Make sure to include this in your summer perler bead collection. Brownie points to this pattern for adding character and life to the sun with those epic sunglasses!
18. Cool Emoji Surfer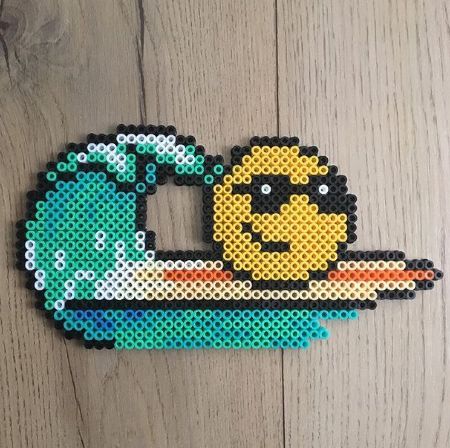 Wishing you could feel the summer breeze and hear the crashing of the waves on the beach? We all feel the same.
Creating this surfing emoji will be an equally fun experience as well. What are you waiting for? Get your pegboard and Perler beads and let the fun begin!
19. Adorable Little Mermaid-Inspired Pattern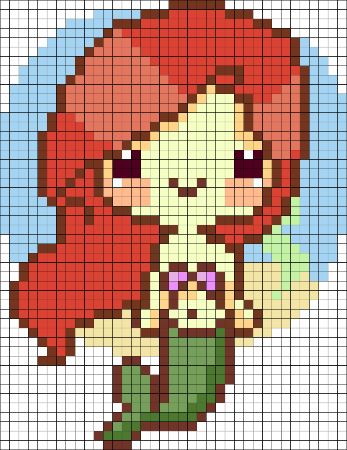 Look at this pattern, isn't it neat? Fans of the Little Mermaid will go nuts over this mermaid pattern.
You've got the mermaid, now you just need to add more magical creatures to your collection. Here's are a couple of guides to making unicorn perler beads and dragon perler beads to give you a head-start.
Here Comes the Sun!
Make each day unforgettable with these summer perler bead patterns.
Kids will still learn and have fun while making these projects even if they're out of school. Brownie points for being a great bonding activity for adults and children, too.