Get your children hyped up for their next outdoor adventure with these camping crafts for preschoolers!
Whether you're going to a nearby wood or lake, or simply recreating the outdoor experience within the comfort of your backyard, camping activities can be relaxing and enjoyable for both adults and kids alike.
Camping crafts and activities provide a healthy break from devices and allow children to be in touch with nature. That's why I've created a list of camping crafts that vary from painting activities to crafts made with nature's treasures.
4 Camping Craft Kits
For a hassle-free experience, get one of these camping craft kits that provide the necessary materials for the ultimate crafting experience.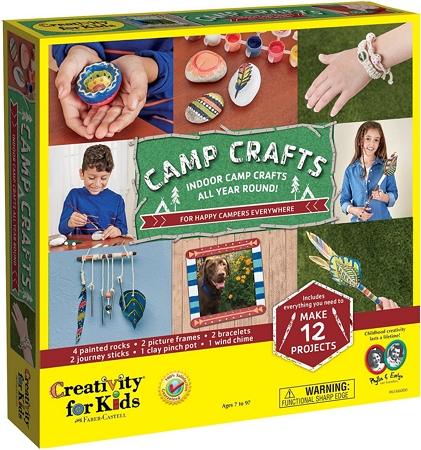 Get a feel of what outdoor activities would look like with this camp crafts kit. Children can make up to 12 different projects with this kit, including rock painting, creating a wind chime, creating bracelets, and much more.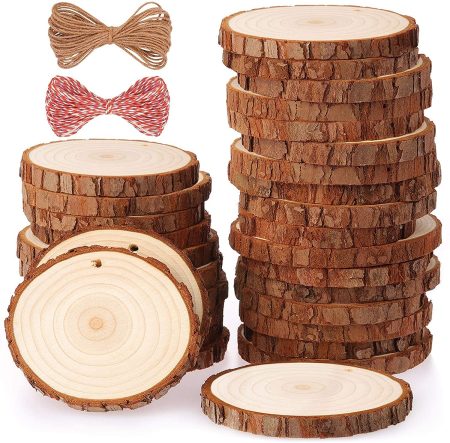 Test your little ones' creativity with these craft wood slices that are waiting to be decorated. Made of natural wood, these wood slices act as a "blank canvas" on which kids can paint, draw, add decoration, and transform into anything that their imaginative minds can think of.
This kit comes with twine that can easily hang the wood slices on your front door, the Christmas tree, or your children's bedrooms.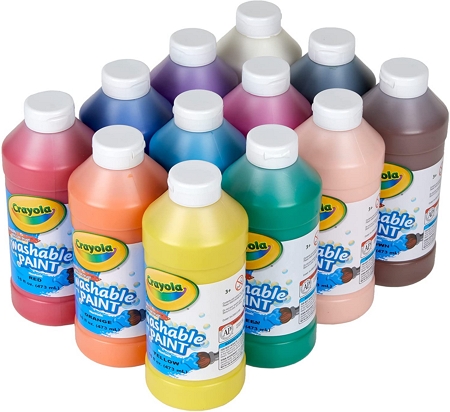 Since there are plenty of painting activities to be done below, I've added this assorted tempera paint in case you're running low on supplies!
No need to worry about making a mess with this paint because it's easily washable.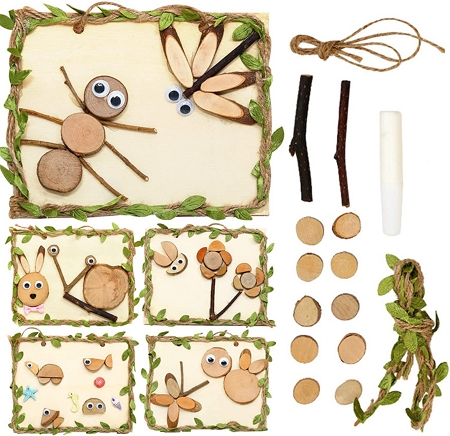 If you really need a kit that lets children get in touch with nature, this wooden craft kit is perfect. The set consists of a wooden board on which children can assemble twigs and pieces of wood to form woodland critters and insects.
Thanks to the leaves and twigs, the set has a natural aesthetic, making little ones feel like they're really out camping!
6 At-Home Camping Crafts
There's no need to worry if your camping plans have been thwarted by bad weather since you can keep the morale high with these camping crafts that are doable at home!
Remind children that there are always something to do after the rain with these beautiful rainbow crafts.
5. Popsicle Tent Craft for Preschoolers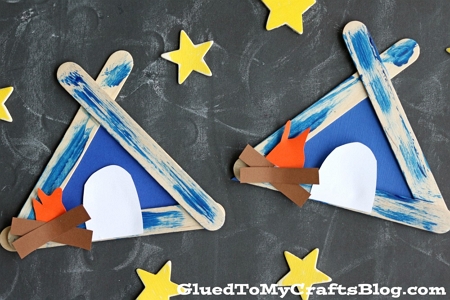 Make a popsicle tent using this guide by Glued To My Crafts Blog. Considering how easy it is to make these, instruct your preschoolers to make one for each family member, painting each tent with their favorite color.
Get more ideas for what you can make with popsicle sticks in this post about popsicle stick crafts!
6. DIY Cardboard Tent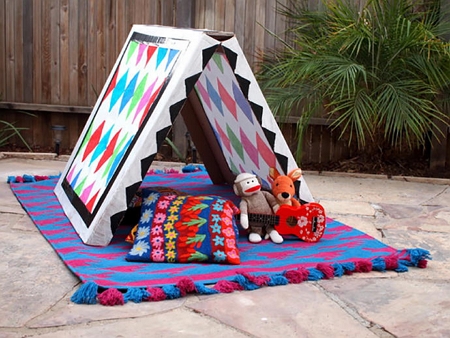 If small crafts aren't enough to satisfy that longing for camping, Handmade Charlotte has you covered with their DIY cardboard tent that can be set up in your backyard.
Children will undoubtedly enjoy designing and painting this one!
7. Camping Tent Crafts for Kids
Promote imaginative play by following this DIY camping set video tutorial made by Crafts with Toddlers that guides the viewer through the process of making tents, a campfire, and even decorative bushes.
8. Campfire Stones Sensory Activity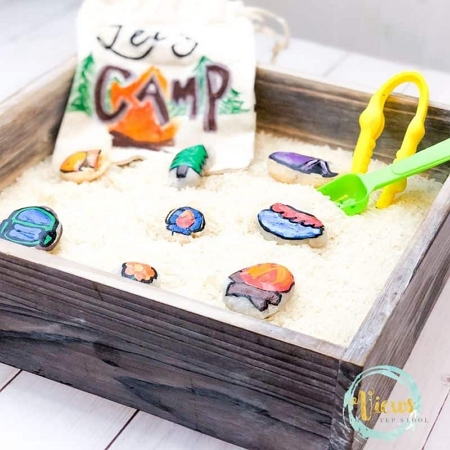 Sensory activities are great for growing children because they provide an opportunity for new learning experiences, especially tactile ones. Views From A Step Stool recognizes that and makes a stimulating activity with a camping theme.
Their activity consists of painting stones with camping elements, such as a campfire, backpack, trees, and so forth, and burying the stones in rice so children can dig them up with a small shovel.
Try your hand (literally!) at these other sensory activities: winter sensory bins and Thanksgiving sensory bins.
9. DIY Smores Coaster Set
If there's anything that campfire reminds children of, it's roasting marshmallows and making s'mores!
While these s'mores are unedible, they serve as useful drink coasters. Simply follow CraftKlatch's video tutorial to make these awesome and functional s'mores.
10. Pretend Play S'mores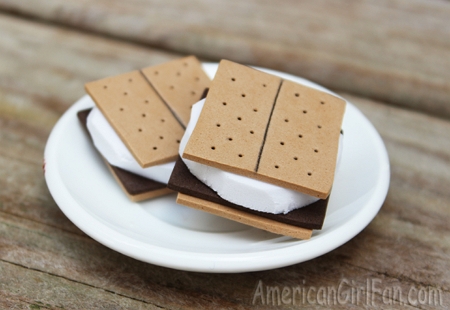 American Girl Fan fosters the imaginative play of children by creating these very realistic pretend splay s'mores. If I didn't know that these s'mores were made of craft foam I would've mistaken them for actual food!
Redirect your little ones' sugar cravings with these ice cream crafts that are perfect for the summer!
4 Campfire Arts and Crafts Projects for Toddlers
While camping doesn't always mean having a campfire, these campfire crafts are the next best thing.
11. Handprint Paper Campfire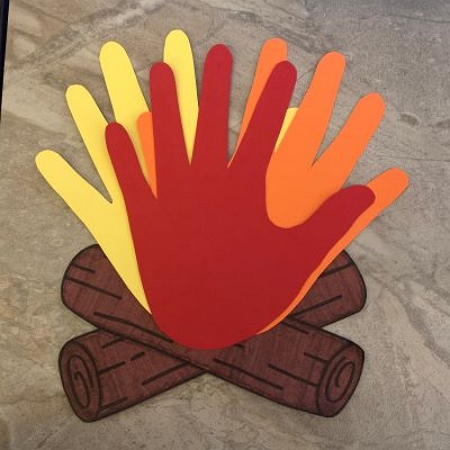 I love engaging crafts such as handprints because it requires a child's full focus.
DLTK's Sites for Kids will capture your little one's attention with their handprint campfire art that's made by cutting hands traced on cardboard paper and gluing those cutouts to pieces of cardboard wood.
Get more handprint ideas from these posts about turkey handprint crafts and snowman handprint ornaments.
12. Campfire Handprint Painting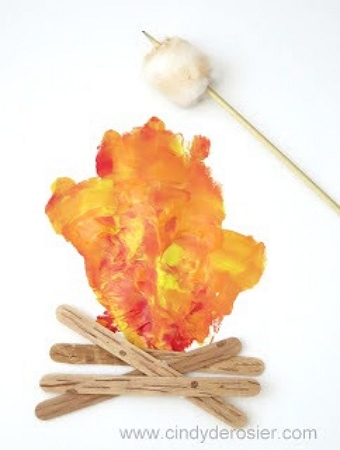 Expand the creative minds and artistic skills of your little ones by following Cindy DeRosier's campfire painting guide.
The wonderful aspect of this painting is that the "fire" is made by mixing red, orange, and yellow paint – a wonderful learning opportunity for toddlers and preschoolers!
Just add several popsicle sticks that serve as wood. My favorite part of this activity is the marshmallow with a roasted design, which is achieved by coloring it with a brown pencil.
13. Campfire Foil Painting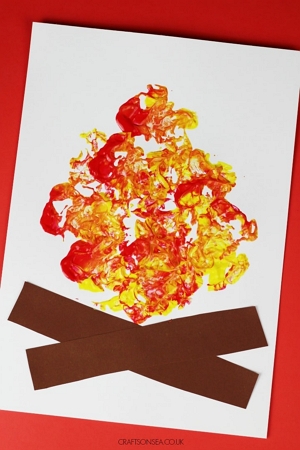 Crafts On Sea understands that handprint art can get a little messy sometimes, so they've devised an ingenious way of painting using crumpled foil.
Painting activities will never be the same once your children try this method.
Inspire the artist in your children with these other toddler painting ideas.
14. Pretend Play Campfire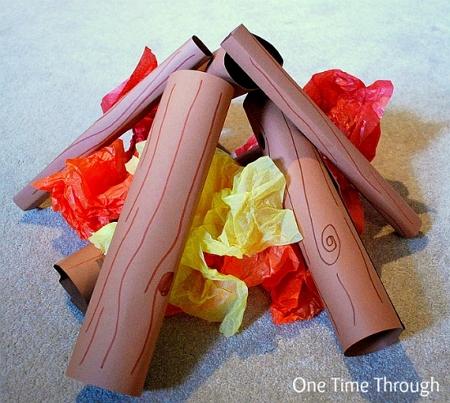 Teach children the value of resourcefulness by making One Time Through's version of the campfire.
Their campfire consists of brown construction paper for the wood, and red, orange, and yellow tissue paper for the fire.
Be aware of your repurposing options with these amazing toilet paper roll crafts and egg carton crafts.
7 Crafts to do While Camping
Here are some activities to pass the time while camping outdoors. Most of these involve gathering some of nature's treasure (such as leaves, twigs, and stones) to create some incredible crafts.
Try similar ideas for crafts involving natural materials by following our nature collage guide.
15. Leaf Transfer Collage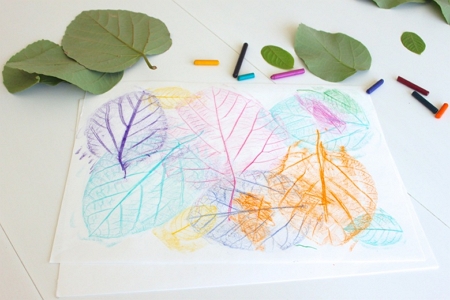 Mama, Papa, Bubba encourages children to take a nature walk and use leaves as a medium to create some wonderful art.
While this technique is no secret, it deserves a spot on this list for being creative. It's as simple as taking a leaf and putting it under the piece of paper you wish to color.
16. Leaf Painting Activity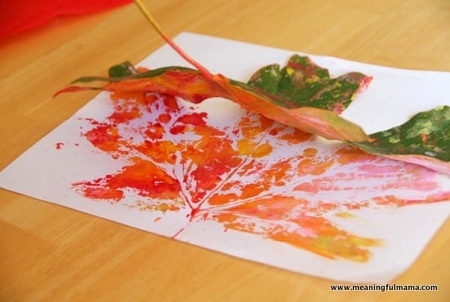 Meaningful Mama has a similar concept as the previous craft, except this one uses the leaf to imprint paint. It's similar to those paintings that use a textured material — such as sponges, loofah, and foil — which leaves a mesmerizing effect on the canvas.
17. Camping-Themed Rock Painting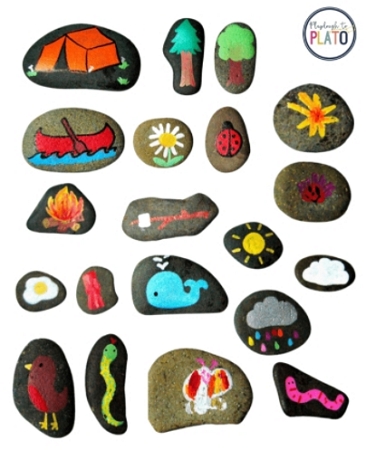 Playdough To Plato provides the perfect set of activities during camping with their rock painting guide.
However, the activity doesn't only promote children's artistic skills through painting rocks, but it also stimulates their imagination by creating stories based on the rock paintings.
That's the definition of hitting two birds with one stone, am I right?
Explore more interesting ideas with these owl rock paintings.
19. Pinecone Bug Craft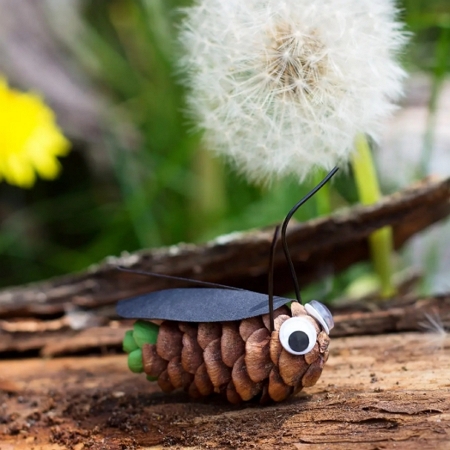 Create some of the cutest creatures that roam the woods through Fireflies and Mudpies.
With black construction paper and some googly eyes, your little ones can transform a simple pinecone into a little critter.
There are plenty of things to do with pinecones as seen in our pine cone crafts list.
19. Twig Painting Activity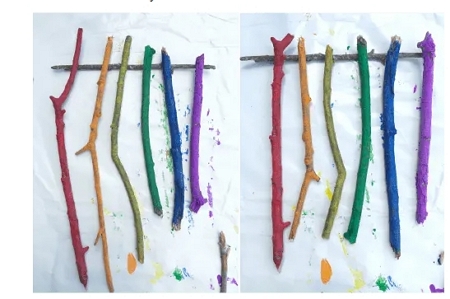 Twitchetts shares an activity that will stimulate the visual skills of your preschoolers.
After you've collected some of nature's treasure, set aside twigs for painting. In their guide, Twitchetts based the color of the twigs on the rainbow, which I'm sure children will find fascinating.
20. Nature Collage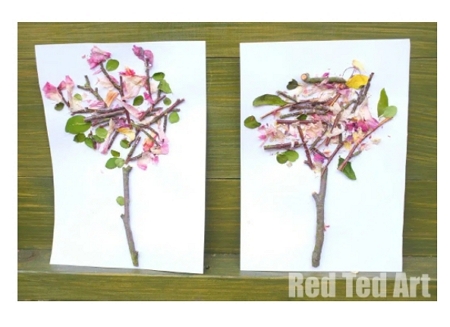 It's fun to pick up some twigs, leaves, and flower petals and transform them into beautiful art that little kids can proudly display.
Red Ted Art shares their spring version of nature collage.
3 Exciting Nighttime Camping Crafts
Here are somewhat complicated crafts that preschoolers will enjoy. These last projects are perfect for camping overnight since they illuminate beautifully under the night sky.
21. DIY Fireflies Craft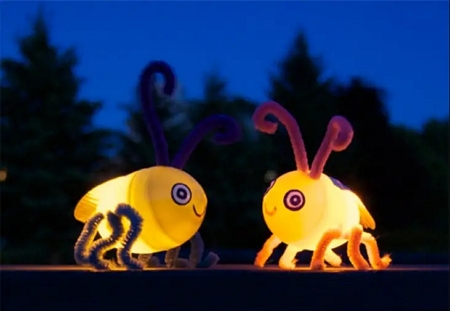 Create a bigger version of the wonderful fireflies that you typically see during the night with Apartment Therapy's guide.
The craft consists of a battery-operated tealight placed inside an Easter egg. The Easter egg can be decorated with some pipe cleaners and some paint markers.
Speaking of pipe cleaners, check out these pipe cleaners crafts!
22. Camping Lantern Craft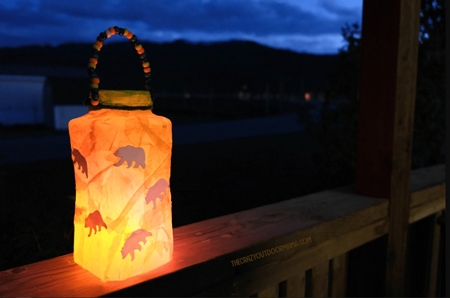 The Crazy Outdoor Mama takes repurposing to the next level by using a used empty bottle and transforming it into a stunning camping lantern.
The project might look intimidating, but it's simply made by gluing strips of tissue paper on the bottle and applying some Mod Podge on it. They attached a couple of pipe cleaners to it to make it portable.
Be stunned with how easy it is to make similar crafts, like these paper mache pumpkins!
23. Glowing Campfire Craft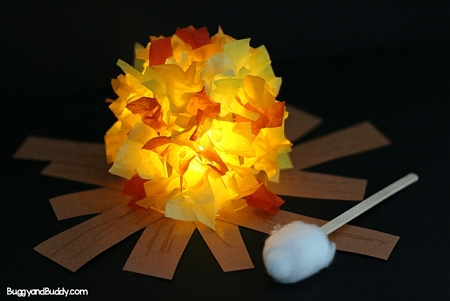 Here's another creative approach to making a fire-less DIY campfire, courtesy of Buggy and Buddy.
It's as easy as gluing pieces of colored tissue paper to a transparent cup. Simply add a battery-operated tealight and watch the magic unfold.
The Best Camping Crafts Ever
I hope these camping crafts excited your preschoolers and prompted them to look forward to future camping trips.
Make sure to be on the lookout for other camping-related crafts: