Make these Pac-Man Perler beads patterns with your kids today!
Below you'll find patterns of classic Pac-Man from the '80s, those pesky ghosts, and Pac-Man patterns that are fused with other popular culture like Mario, Teenage Mutant Ninja Turtle, and more.
If you and your children aren't familiar with Perler beads yet, these post about easy Perler bead patterns is a great beginner's guide.
3 Perler Bead Kits for Pac-Man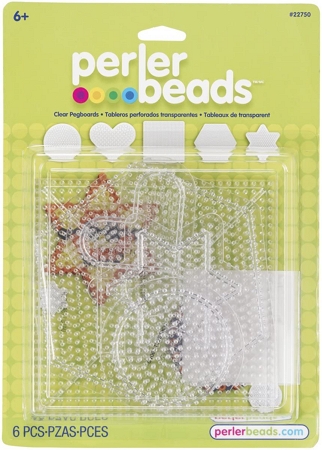 Whether they're recreating small bead patterns or they're undertaking bigger projects, these assorted pegboards will serve your little ones well.
The set contains two large piece (a square and a hexagon) and three small ones (a circle, a star, and a heart). While Pac-Man is obviously round, most of the patterns you'll encounter will require the standard square pegboard.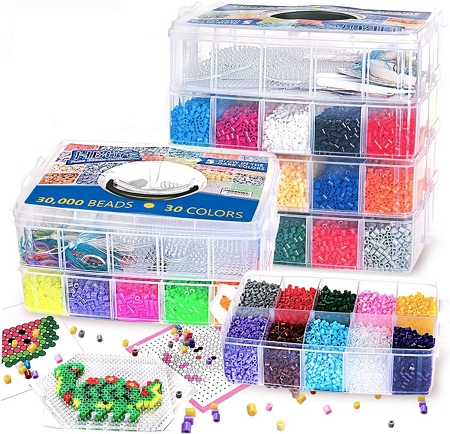 How else would you start without the essential fuse beads that will bring to life your children's vision? Stock up with this fuse bead kit that contains 30 different colors of beads so you don't have to worry about missing the right colors.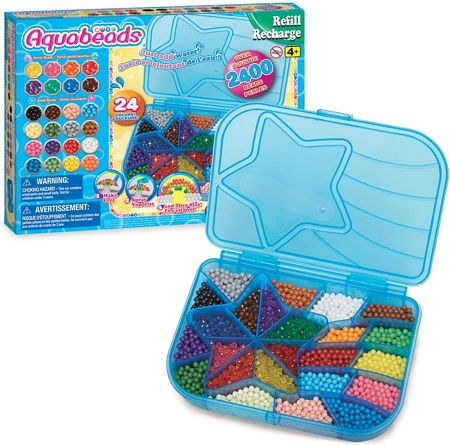 Using an iron to melt Perler beads is always a hazard to children, but that part can take away the fusing experience that children enjoy.
If they love "fusing" the beads together, try Aquabeads, an alternative to fuse beads that links beads together with just water!
With this set, young children will be able to participate in and enjoy the entire beads activity.
5 Pac Man Perler Bead Patterns
We'll first feature five simple Pac-Man Perler bead patterns of this iconic arcade character.
4. Easy Pac-Man Perler Bead Pattern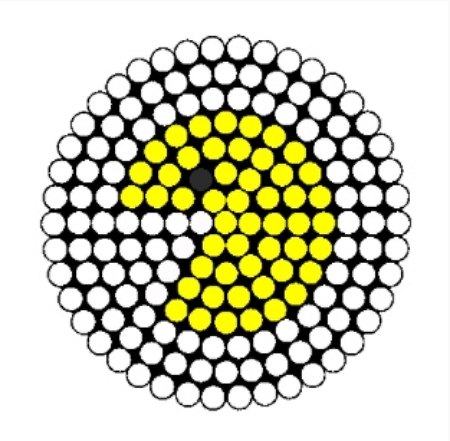 Sophibear99 brings to us a simple pattern of Pac-Man that is suitable for toddlers. Gather those yellow beads and start assembling this pattern.
You'll be surprised to know that this is the only pattern in the list that makes use of a circle pegboard.
If you'd like to see more patterns that use circle pegboards, try out these circle Perler bead patterns.
5. Simple Ms. Pac-Man Pattern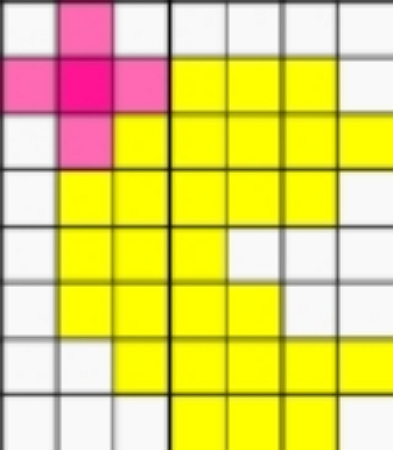 At some point, Pac-Man meets Ms. Pac-Man (who was known as Pac-Girl) and she received her own game as a sequel to the groundbreaking original.
Pippop lets us recreate the wonderful Ms. Pac-Man with their easy Perler bead pattern that will enhance toddlers' fine motor skills.
6. Ghosts and Pac-Man Patterns

If you want to recreate everybody from the game, here's pepperrules providing a great pattern that will bring to life these legendary arcade characters.
The ghosts in the original Pac-Man game have specific colors and names, but these Perler bead patterns can be colored and named whatever you want!
7. Pac-Man and Ms. Pac-Man Pattern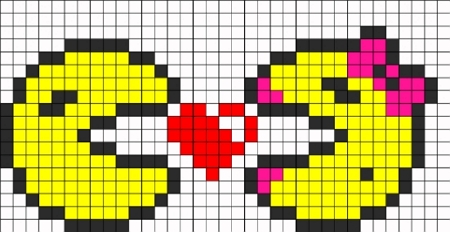 Share the love by making this Pac-Man and Ms. Pac-Man Perler bead pattern courtesy of SkullyBaby. Instead of eating pellets and cherries, they eat a heart in this pattern, which shows their love for each other.
Show appreciation and love for your family and friends by making these kids' Valentine box ideas or heart Perler beads!
8. Cherry Pattern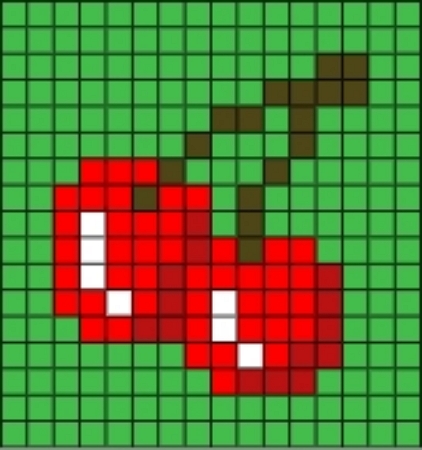 Players of the original Pac-Man game know you had to eat the cherry to get the highest points possible. In the same fashion, your kids should try to make this cherry pattern by avajks to get the of benefits of making Perler beads!
Among the skills they'll develop are counting and color recognition.
3 Pac-Man Ghost Perler Bead Patterns
Everyone knows that ghosts are the obstacle of any Pac-Man game. Get to know more of their weaknesses by making these three Pac-Man ghost Perler bead patterns.
Ghosts are spooky, but not as spooky as these Halloween painted rocks that you should try!
9. Simple Red Ghost Pattern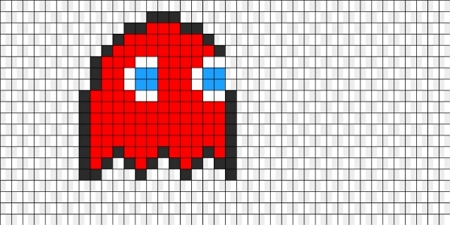 For those who didn't know, ghosts in the original Pac-Man game had names, and the red one's name is Blinky. VHV.RS provides an excellent pattern here for kids to recreate.
10. Colorful Pac-Man Ghost Patterns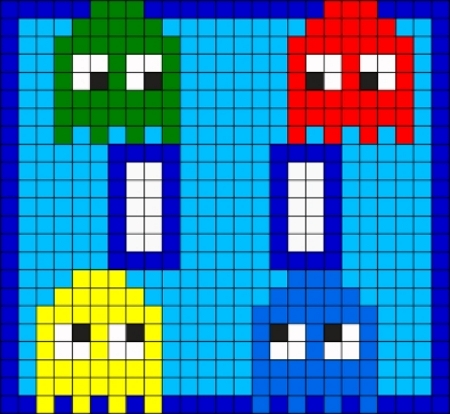 Here's another ensemble of ghost patterns created by The_Apostles_Maknea.
These might have specific colors, but with the countless colored Perler beads at your kid's disposal, they can create any color of ghost that their imagination allows.
11. Blue Ghost Pattern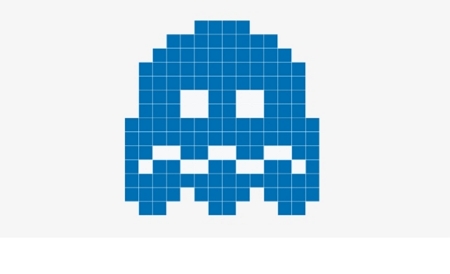 The ghosts is Pac-Man look more sinister when they turn into blue ghosts that can be eaten. Check out this blue ghost pattern from PNGKey.
For other menacing yet beautiful decorations, try making these paper mache pumpkins at home!
4 Cool Pac-Man Fuse Beads
These next four patterns either have decorative purposes or a functional design that is useful at home.
12. DIY Pac-Man Perler Beads Coasters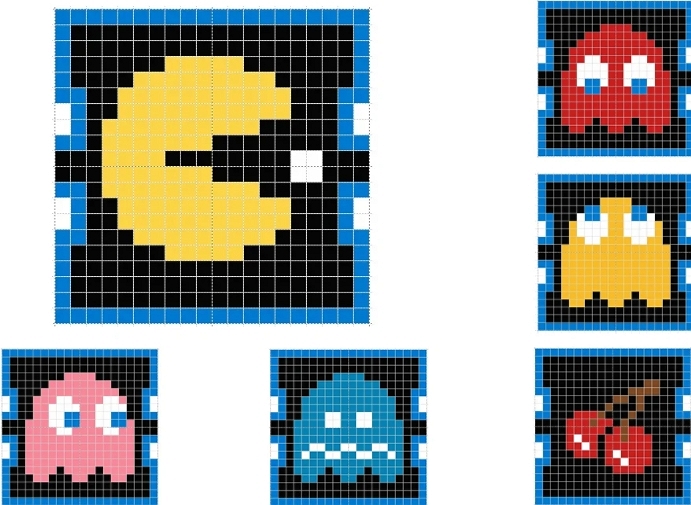 People who grew up in the '80s and played the original Pac-Man will be delighted to know that the nostalgic characters they love can be made into coasters by following the guide and patterns shared by Instructables.
Making these coasters is a great bonding activity for parents and children, and something that they'll be reminded of every time they see these coasters.
13. Perler Bead Pac-Man Ghost Pendant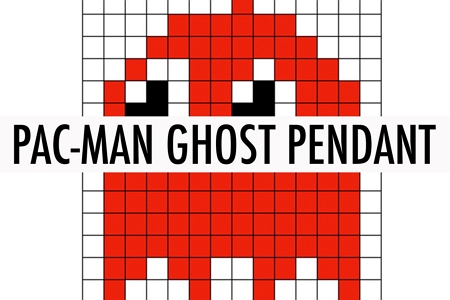 If your children would rather display their defeated ghost opponent as a trophy, Spongy Kids has an excellent guide on how to create a Pac-Man ghost pendant and assemble it to create a necklace.
Children love crafts that they can also wear, so I made this DIY Mickey ears guide for your next vacation to Disney World!
14. Advanced Perler Bead 3D Pac-Man
For a more sophisticated activity for adults or older children, Wolle Planet shares a video tutorial on how to make a 3D Pac-Man with Perler beads.
While it might seem like a huge project, the Pac-Man figure itself is quite small and can fit the palm of your hand.
For more multi-dimensional crafts, take a look at these 3D paper flowers that are perfect for the spring season.
15. Pac-Man 3D Perler Bead Patterns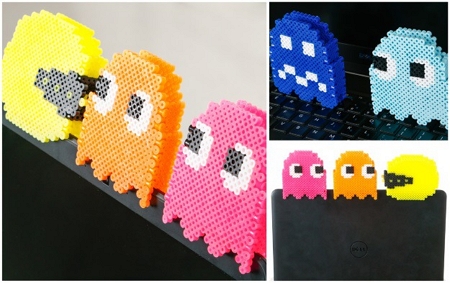 For cute decorations that gamer boys and girls will adore, Fun.com has created some 3D Pac Man Perler beads patterns.
These Pac-Man characters can perch on the edge of your laptop, mobile phones, and more!
8 Unique Pac-Man & Ghost Patterns
These last eight ideas feature unique Pac-Man patterns that you won't find anywhere else!
16. Pac-Man Santa Christmas Ghost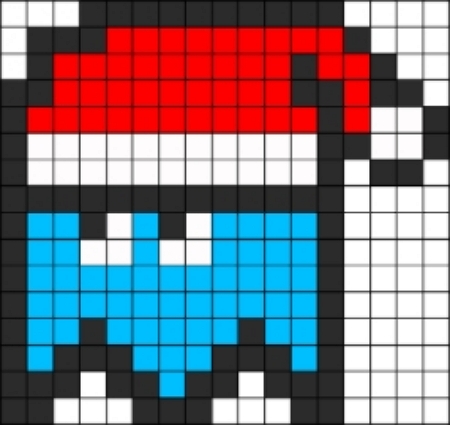 SeekPNG gives us a Pac-Man pattern for the Christmas season with this Santa Christmas ghost.
Searching for crafts to make during the winter? Check out these snowman handprint ornaments that can be hung on the Christmas tree.
17. Rainbow Ghost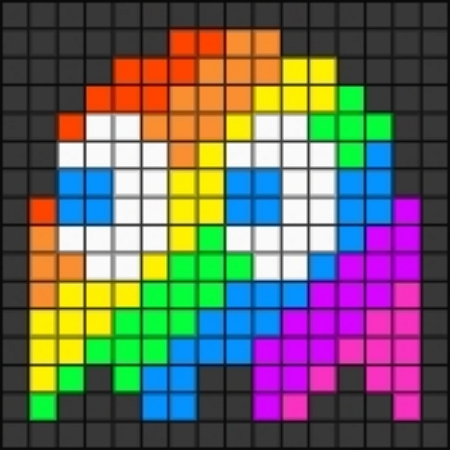 You can make a bunch of differently colored ghosts or put them all in one colorful ghost, just like how Planet Birb did with their pattern. This is a beautiful pattern that serves as a great reminder that there's always a rainbow after the rain.
Rainy days call for rainbow crafts for kids.
18. Mario Mushroom Ghost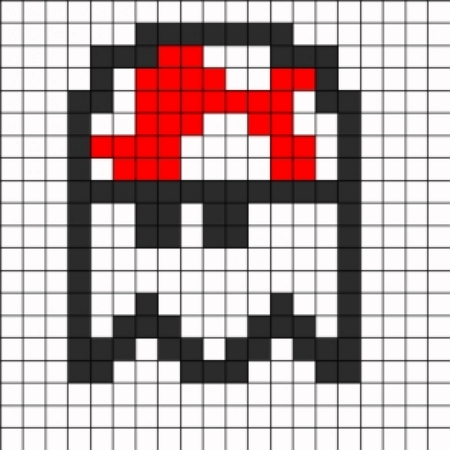 Vicktato brings two of the most popular games ever made into one Perler bead pattern.
19. Ms. Pac-Man Mushroom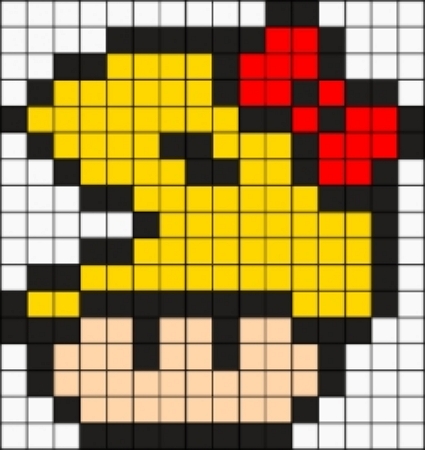 Here's another beautiful melding of iconic games by boughsyrup. It's a magic mushroom from Super Mario, but with Ms. Pacman for its cap.
20. Ghost Mushroom Perler Pattern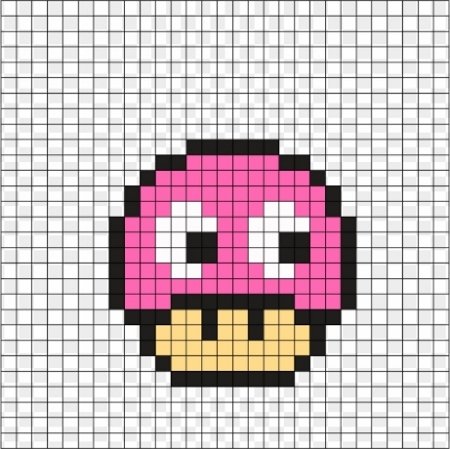 I don't know about you, but there's something fun about this Pac-Man/Mario perler beads pattern by PNGFind.
Speaking of adorable things, check out this compilation of kawaii Perler bead patterns.
21. Arcade Pac-Man and Blue Ghost Mushroom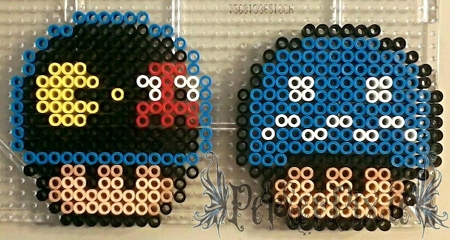 Here are two more Pac-Man-inspired mushrooms made by PerlerPixie.
22. Pikachu Pac-Man Perler Beads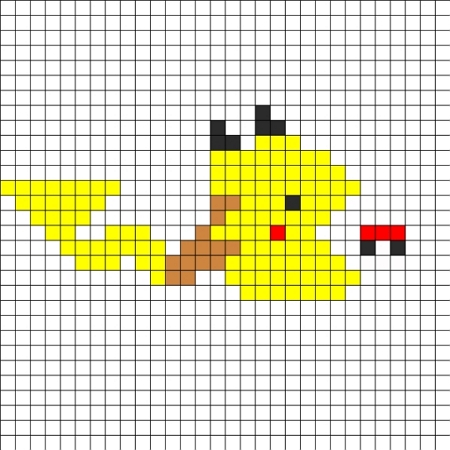 Pikachu is the perfect Pokemon to turn into Pac-Man simply because he's yellow, small, and round. Here's NicePNG's pattern of Pikachu about to eat a Pokeball.
Pikachu is the face of Pokemon, but there are so many more of them to meet! "Catch" all of these Pokemon Perler beads.
23. Teenage Mutant Ninja Turtle Pac-Man Perler Beads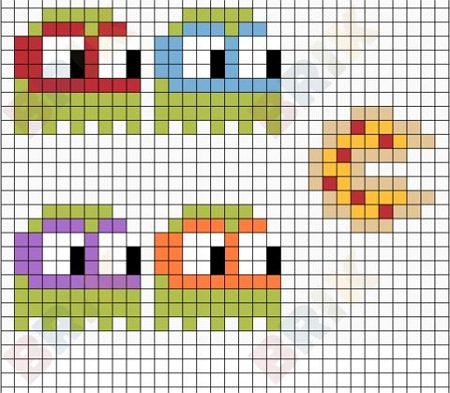 What kid doesn't love the Teenage Mutant Ninja Turtles? More importantly, who doesn't enjoy pizza? The answer is no one, so here's Brik merging the TMNT and Pac-Man together.
I love seeing patterns like this because the TMNT loves pizza so much and it parallels the Pac-Man game so well!
24. Batman Themed Pac-Man Perler Beads

Batman fans can have fun defeating the vigilante's rogues gallery by making littlebutt's Perler bead pattern. I like how they were able to simplify these characters into pixels just like figures from the original Pac-Man game.
For all superhero things, make these superhero crafts to save the day!
Let's Get Crafty with These Pac-Man Perler Beads
Get a high score while having some fun making these Pac-Man Perler beads!
For other game-related Perler beads, just follow our Minecraft Perler bead patterns and Fortnite Perler beads guides!