Farm animals are one of the first things preschoolers and toddlers are introduced to and these farm animal crafts will help them recognize them instantly.
With easy-to-pronounce syllables like "moo," "baah," and "oink," kids will surely develop their vocabulary and creative skills by studying these sweet and humble creatures.
One of the best ways to learn is through experience, so here are 30 farm animal crafts you can make that will stimulate preschoolers' and toddlers' imaginations!
Some of the materials required for these farm animal crafts are basic supplies that you'll find in your home such as scissors, glue, construction paper, paper plates, and craft paint. Since we're dealing with farm animals, you have the option to glue silly googly eyes onto your barnyard creations, too.
3 Handprint Farm Animal Crafts for Toddlers
The following 3 crafts are farm animals that are easy to make and are perfect for toddlers and preschoolers.
1. Cow Handprint Art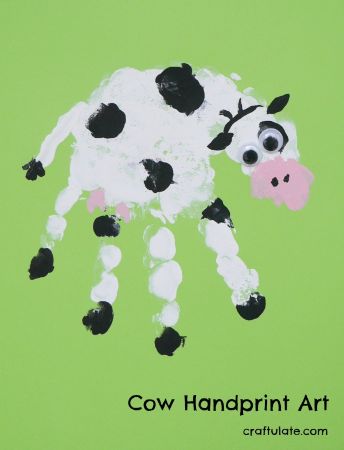 Time to get messy with this handprint cow craft by Craftulate! Just dip your palm in some white paint and you're good to go.
Add details to your cow by brushing black paint on your hand to create spots and hooves and dip your thumb in pink paint to create the cow's mouth and udders.
2. Handprint Chick Puppets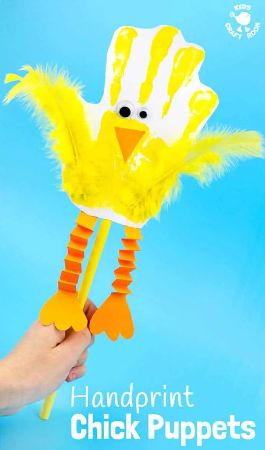 Create a handprint chick puppet by Kids Craft Room. Being messy is part of this craft, so don't be afraid to help your kids dip those hands into some paint.
To make this handheld craft, you need yellow craft paint (or whatever color you prefer for your chick) and jumbo straws.
3. Mallard Duck Handprint Craft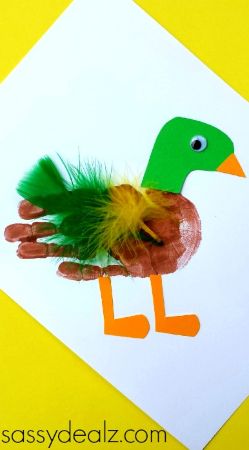 Here's another straightforward farm animal craft from Crafty Morning. Handprint crafts are very popular among preschoolers and toddlers because they are interactive and simple.
The only materials you'll need for this activity are basic school supplies and a few craft feathers.
7 Paper Plate Farm Animal Crafts for Preschoolers
4. Paper Plate Cow Craft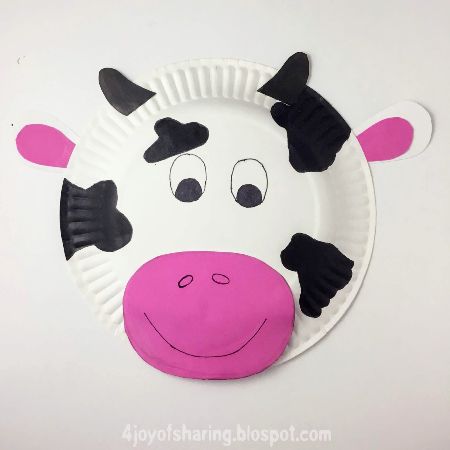 Here's a simple cow craft made with a paper plate, construction paper (pink), and black and brown craft paint.
The Joy of Sharing even provides a 100% free printable template, which your kids can easily cut out on their own.
5. Tissue Paper & Paper Plate Pig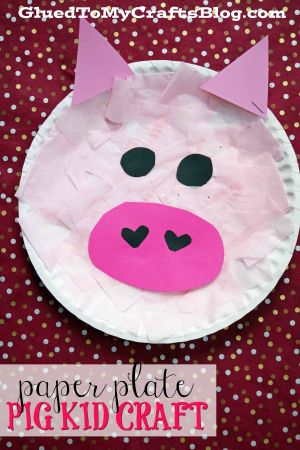 This one is an easy and simple paper plate craft by Glued To My Crafts for you and your toddler that uses toilet paper (or paper towels).
Collaborate with your little ones by cutting triangles and circles for the pig's eyes and ears, and letting your kid glue everything together on the plate.
6. Paper Plate Pig Mask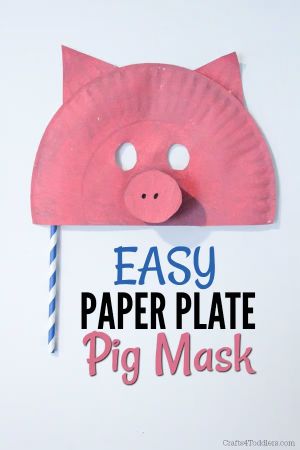 This cute paper plate pig mask is perfect for toddlers and preschoolers who love to play pretend. Crafts 4 Toddlers have a clear, step-by-step guide on how to make this pig mask, along with other animal masks.
For this mask craft you can opt for a paper straw to hold it in place while playing pretend or a string of yarn to make it wearable.
7. Paper Plate Pig Twirler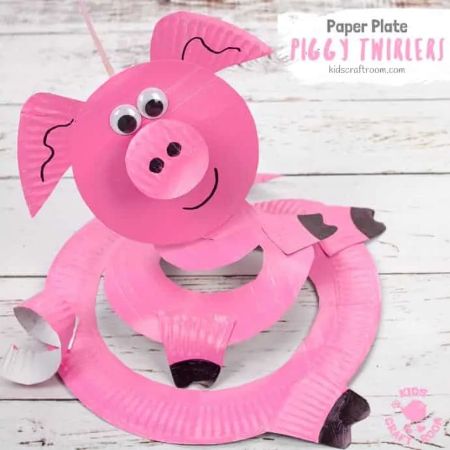 Check out this (literal) twist on another paper plate craft of a memorable barnyard animal from Kids Craft Room that pay homage to a pig's iconic tale.
Have some paper plates ready along with black markers and pink tempera paint.
8. Paper Plate Baby Lambs
Sheep crafts are exciting to make, mainly because there are so many interesting materials with which you can define the wool's texture.
This sheep craft from Mess For Less involves glueing cotton balls onto a paper plate and adding cut up black construction paper for its legs and face. The addition of googly eyes is not required, but it's always silly and makes the craft more life-like!
Speaking of cotton balls, check out our post of 10 fun and easy cotton ball crafts for kids.
9. Paper Plate Goat Craft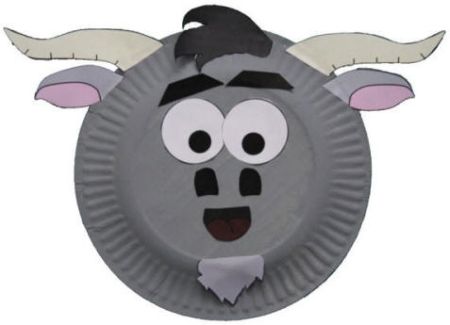 What's sillier than a goat? A paper plate goat mask!
DLTK Sites for Kids gives you the freedom to choose between a colored template for kiddos who haven't quite mastered coloring yet and a black & white template for those who have. Add cotton balls to the goat's beard to add texture and make this farm animal craft even sillier.
10. Paper Plate Goose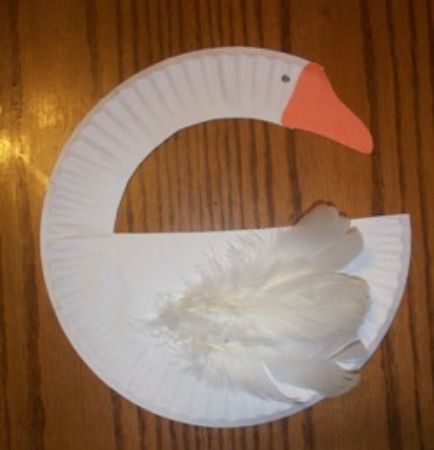 Keep your little ones busy by making this simple paper plate goose. It also resembles a letter G, reinforcing the alphabet in your kids. Talk about hitting two birds with one stone!
The materials needed for this goose craft from Free Kids Craft are a paper plate, craft feathers, and some other basic supplies you likely have in your home.
20 Preschool Farm Crafts
11. Cow Corner Bookmarks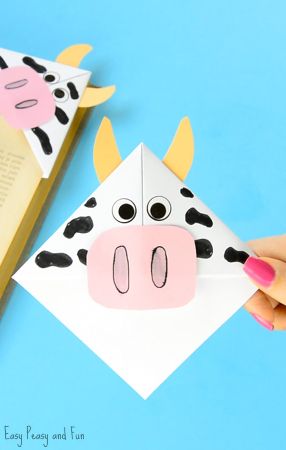 Photo credit: Easy, Peasy and Fun
Enhance your kid's folding and cutting skills by making this Cow Corner Bookmark. Easy, Peasy and Fun provides easy-to-follow instructions to make this bookmark with origami paper (but any paper will do).
12. Farm Animal Cups Craft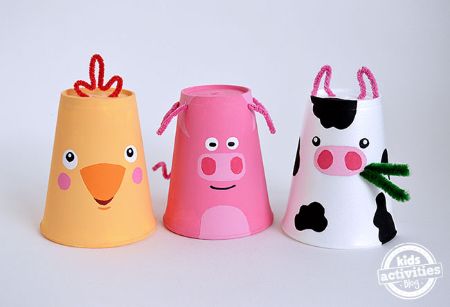 Create these cute little farm animal crafts by following Kids Activities's guide. Transform paper cups into a chicken, pig, or cow with just a few materials.
What I love about this paper cup craft is that my kids can make as many of whatever farm animal they want. This gives them the freedom to choose the animal they want to make, the colors they want to use, and how many they want to put together..
13. Doily Sheep Craft
Enhance your toddlers' glueing and cutting skills by creating this simple but ornate doily sheep craft brought to you by Easy, Peasy and Fun. For this small project, you just need paper doilies and black paper.
14. Bubble Wrap Sheep Craft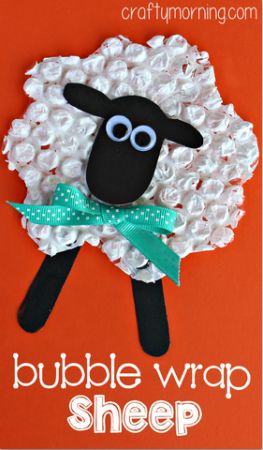 Let's be honest: most of us use bubble wrap just to pop the bubbles for fun. Well now you can also use that leftover wrap that's been taking up space in your garage to make this sheep craft from Crafty Morning.
This tutorial asks kids to cut a flower shape from the bubble wrap, but if they're too young to handle scissors, take care of the cutting while they paint the bubble wrap.
15. Paper Craft Swinging Horse
Your kid won't be able to say nay to this swinging horse craft that you can make with just paper.
Follow the 3-minute video tutorial by Paper Magic to put together this awesome and dynamic horse craft.
16. Letter H Horse Craft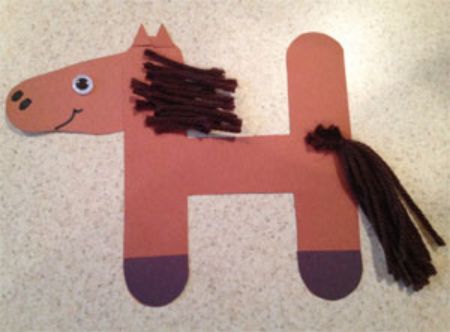 Teach your toddlers all about the letter H" and farm animals with this letter "H" horse craft.
This kids craft is easy to make because All Kids Network provides a free printable template. Turn this simple craft into a sensory activity by adding yarn for the horse's mane.
If you're looking for other letter 'H' crafts, check out these 20 fun letter "H" crafts.
17. Unicorn Hobby Horse Craft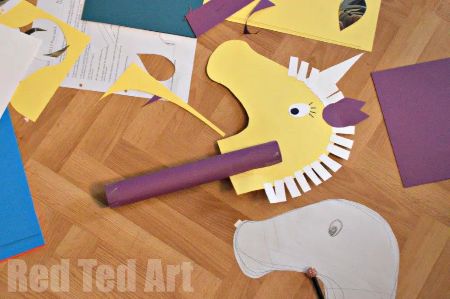 If your kids love to play pretend, they can play pretend cowboy with this unicorn hobby horse craft by Red Ted Art.
While the unicorn is not strictly a barn animal, there's no harm in letting your toddler or preschooler's imagination run wild.
18. Goat Toilet Paper Roll Craft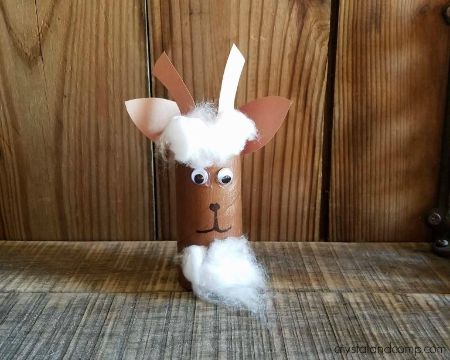 Recycle an empty toilet paper roll into this goat paper roll craft by Crystal & Co.. All you need is a toilet paper roll, some cotton balls, a marker, brown construction paper, and brown paint.
This craft requires cutting, so adult supervision is necessary. It's a great activity to bond with your kids!
19. Origami Goat Corner Bookmark Craft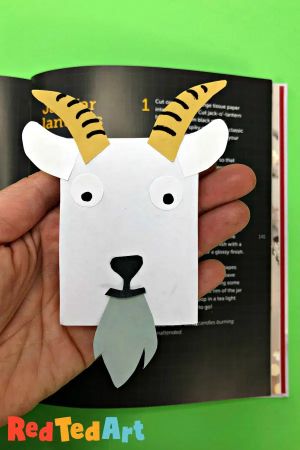 Develop your kids' folding and cutting skills by introducing them to the art of origami so they can make this goat corner bookmark that's perfect for children's books!
Red Ted Art requires you to first make their origami bookmark. Then, they provide instructions on how to turn it into a goat bookmark.
20. Goat Paper Bag Puppet Craft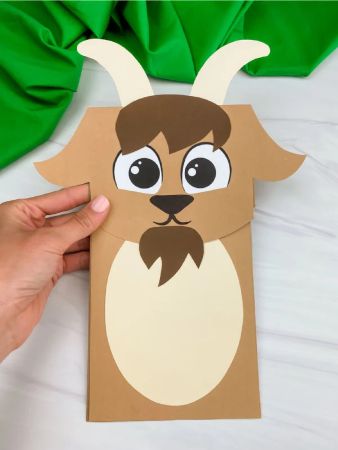 Here's another chance to play pretend with a barnyard animal! Make this goat puppet craft from Simple Everyday Mom with basic materials such as a brown paper bag, construction paper, glue, and scissors.
21. Geometric Chicken Paper Craft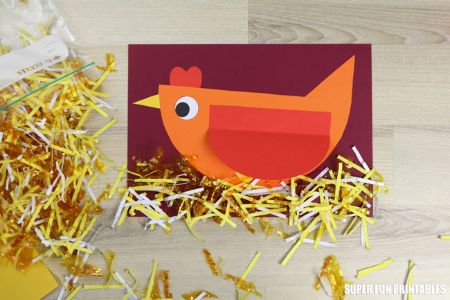 The Craft Train provides us with a simple and fun chicken craft that will help to develop your toddlers' visual skills and help them recognize shapes.
On top of easy-to-follow instructions, The Craft Train provides a printable template for a small fee.
22. Pom Pom Chicks Craft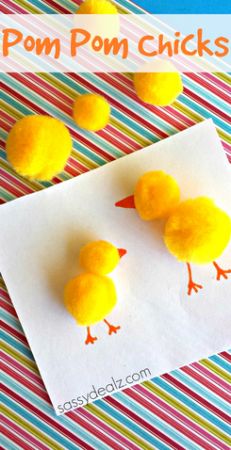 These cute little pom pom chicks shared by Crafty Morning are adorable and very easy to make! Collaborate with your kids by sticking yellow pom poms onto a piece of white paper and letting them design the bird's beak and feet.
23. "D Is For Duck" Craft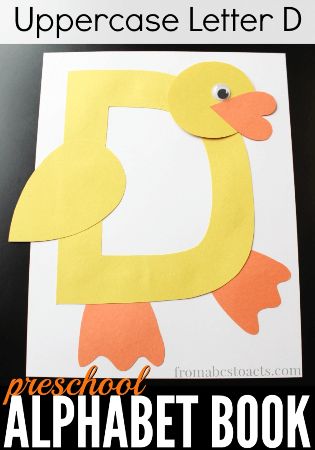 Prepare your toddlers' alphabet skills with this "D Is For Duck" Craft by From ABCs to ACTs. This is a very cute and fun project for you and your kids to do together.
Simply cut a letter D and a circle out of yellow construction paper. Then, cut a heart shape and some duck feet from orange construction paper, glue all the pieces together, and voila – you have a duckling!
24. Styrofoam or Paper Cup Duckling Craft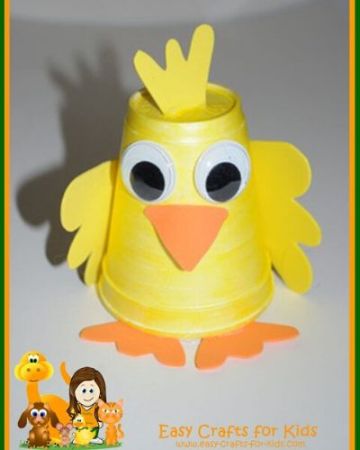 Easy Crafts for Kids shows us how to make an adorable duck from a paper or styrofoam cup. Paper cup crafts are convenient to make because you almost always have some at home leftover from a party.
Other materials for this craft are also readily available in your home, including glue and scissors. If you prefer, make the bird's wings with craft foam, but you can easily make them with construction paper, too.
25. Cute Paper Bag Duck Craft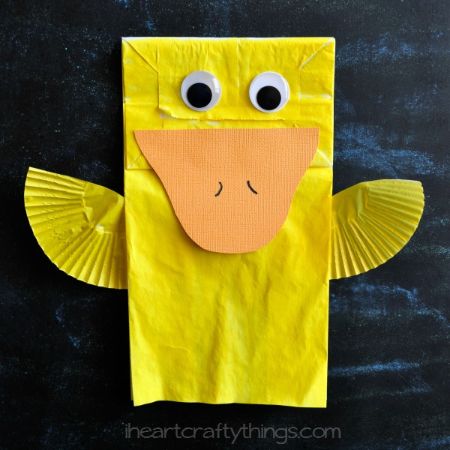 Repurpose paper bags and cupcake liners with this adorable paper bag duck craft from I Heart Crafty Things! This is an easy project that you and your kid will enjoy doing together.
Start by painting the paper bag and the cupcake paper yellow. Then, cut out the bird's beak from orange construction paper.
26. Popsicle Stick Bunny Craft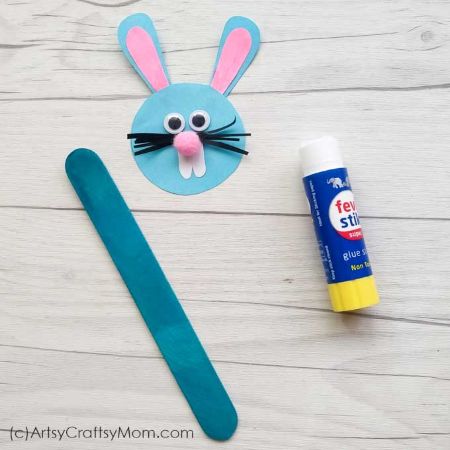 This Popsicle Stick Bunny craft is perfect for when Easter comes around again!
All you need is construction paper, popsicle sticks, and quilling strip (or paper filigree).
Follow the full guide for this cute farm animal craft on Artsy Craftsy Mom.
27. Brussels Sprouts Stamped Bunny Craft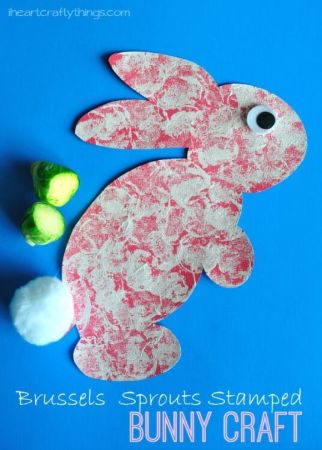 Enjoy creating this brussels sprout stamped bunny craft shared by I Heart Crafty Things with your toddlers that uses brussel sprouts as the stamp to paint your bunny with.
This tutorial even provides you with a free printable template which you or your child can use to cut and design your bunnies! Add a little cotton ball to give this bunny craft extra texture of fluffiness your toddler will enjoy.
28. Watercolor Turkey Craft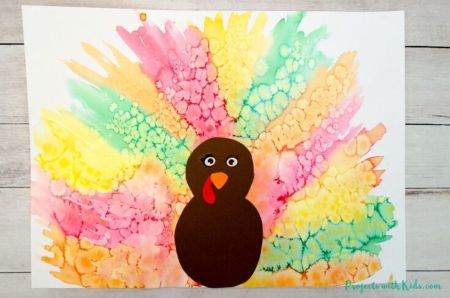 The turkey isn't necessarily a traditional farm animal, but it's still very enjoyable to craft because of how much creativity kids can apply to their projects.
This watercolor turkey craft is one of my favorites! For this one, you will need watercolor paint, white paper, and (interestingly) coarse salt! That's right – after you've used watercolor to paint for your turkey's feathers, apply coarse salt to create a wonderful pattern!
Project with Kids even shares a turkey template that you can download for free.
29. Paper Doily Turkey Craft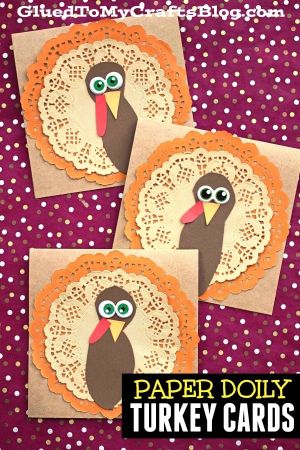 Again, while turkeys are not typically considered farm animals, they're still a common animal to craft because they're the center of one of the most iconic holidays in The United States: Thanksgiving!
This turkey craft uses colored paper doilies, glue, scissors, and cardstock paper. Full instructions are provided by Glued to My Crafts.
30. Piggy Bank Craft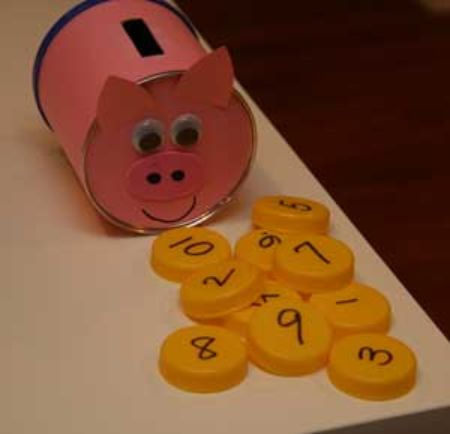 Teach your little ones how to count from one to ten by helping them assemble this piggy bank craft by Farm Animals made from an empty snack container (like a Pringles can).
Other than that you'll need plastic bottle caps to serve as "coins," pink craft foam, and a pink pipe cleaner. Split the tasks for this project, with the adults taking care of the cutting and poking holes and the children taking charge of the design and glueing.
Old MacDonald Had a lot of Farm Animals
These 30 amazing farm animal crafts will definitely hook you and your children on crafts! Not only are they fun to make, they are also educational,, will help improve kids' crafting skills, and will help develop kids' recall skills!
If you need inspiration for more animal crafts, check out these other craft lists on the site: