These adorable yellow creatures found their way into our hearts. They're adventurous, innovative, and a whole lot of fun. If you're not over the minion craze (like we are), these minion perler beads will be a great activity for you.
The Despicable Me movies are made even better by the minions. There's Stuart, Kevin, and of course, we won't forget about the adorable Bob. With these minions, an enjoyable and educational experience is guaranteed.
You'll find the best minion perler bead patterns below so get ready for an unforgettable crafts time.
The Materials
Here are the things that you'll be needing in making these crafts:
17 Minion Perler Beads
1. Classic Minion Perler Bead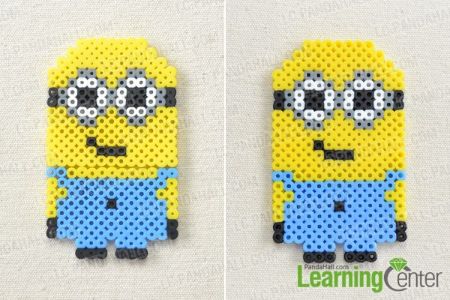 Did you know that there are over 800 minions? That's a lot of banana-loving creatures! According to the director Pierre Coffin, they needed to voice 899 minions for the film.
Although all of them have different personalities, one thing they all have in common is their yellowness and cuteness. Here's an example of a classic minion to add to your list.
2. Girl Minion Perler Bead Pattern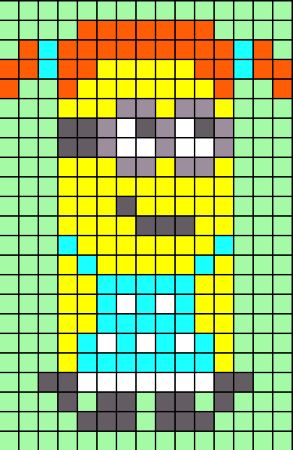 Minions love to dress up. Whether it's for a mission or self-expression, they're known to be fashionistas.
Here's an example of a minion wearing a wig and dress. It will be perfect to spice up your minion collection.
3. Evil Minion Perler Beads
Even the minions have a dark and evil side. The mutagen PX-41 may cause them to turn purple but that won't stop them from being incredibly squishy and fluffy.
HatalmasCsalad shares how you can make your very own purple minion through this video.
4. Hulk Minion Perler Bead Pattern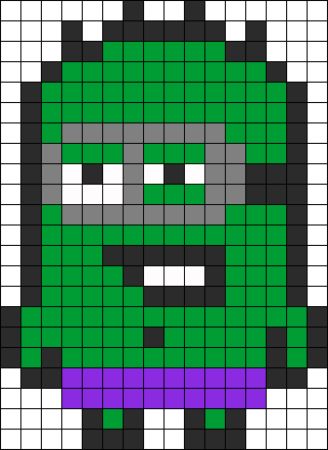 Who would've thought that a mash-up between a minion and Hulk would work? This pattern will be perfect for those who love minions and superheroes.
Feel like Peter Parker through these Spider Man perler bead patterns.
5. Dancing Minion Perler Bead Pattern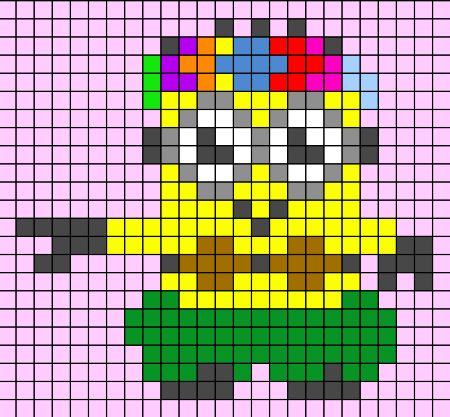 This minion will impress you with his incredible dance moves. Minions have a lot of talents that include dancing and singing. They're the ideal companion for everyone (especially Gru).
6. Banana Bead Pattern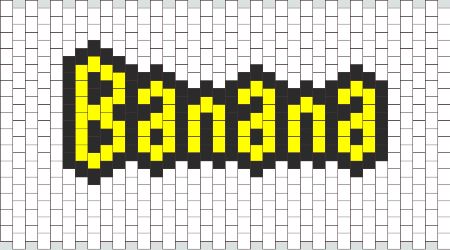 Minions LOVE bananas. The proof? They made a song all about it. Create banana perler beads in honor of the nutritious fruit with this pattern.
7. Minion Duo Perler Beads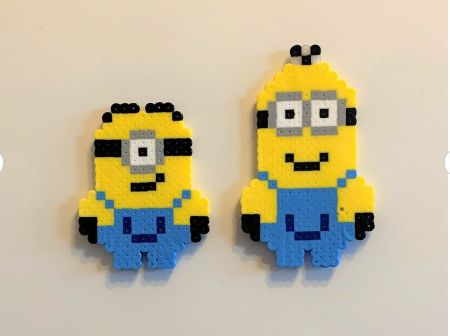 If there's one thing you can be sure of about minions, is that they're loyal and ready to stick with you until the end. Don't let your minion be lonely by making him a companion through this pattern.
Learn how to make friendship bracelets for your BFF through this post.
8. Santa Minion Perler Pattern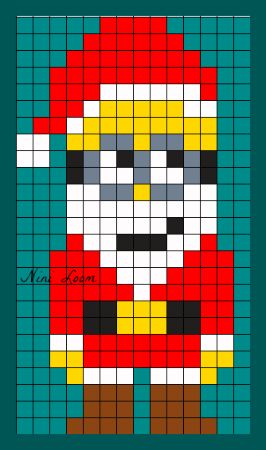 Ho ho ho it's Minion Santa ready to spread some cheers all year round!
It will be Christmas again before you know it. This will be a decor for your home. Plus, knowing that you make it together with your kid will make it all the more special.
9. 3D Minion Kevin Perler Beads
You may not be a scientist like Gru but now you can also have a minion at your command through this Wolleplanet tutorial. Having a 3D perler bead minion will make it feel more authentic and realistic.
Level up your next projects by making these 3D perler bead patterns.
10. Unicorn Perler Beads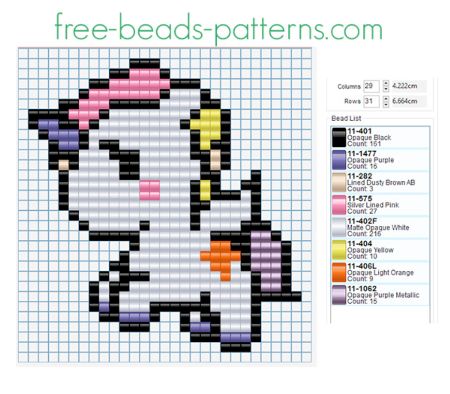 It's so fluffy I'm going to die!
We all like unicorns but Agnes' love for these magical creatures is on a whole other level. Create unicorn perler beads so your kid too can have a cute pal.
11. Sighing Minion Pattern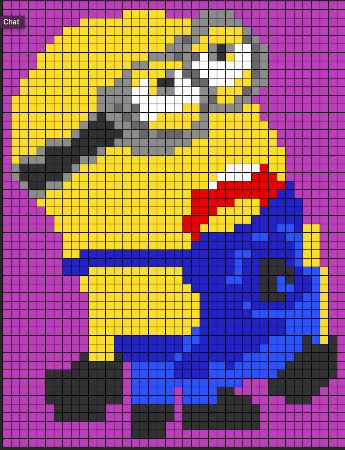 We totally get you, Minion. If only we can make all the minion perler bead patterns ever created. You'll be one step closer to that goal by making this pattern.
Food always makes everything better. Here are some of the yummiest perler bead food.
12. Karate Choppin' Minion Perler Bead Pattern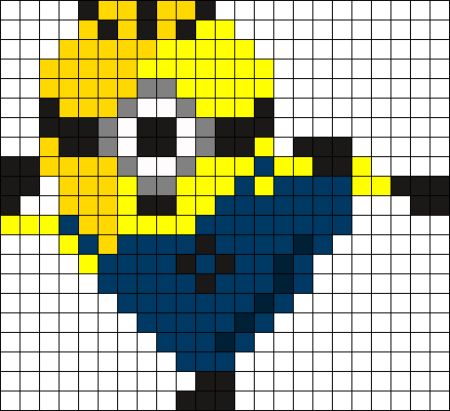 Do you know what makes these minions the best companion ever? They're cute, loyal, and always ready for some butt-kicking action.
Are you acting sus? Feel the thrill of making these among us perler bead patterns.
13. Minion Perler Coasters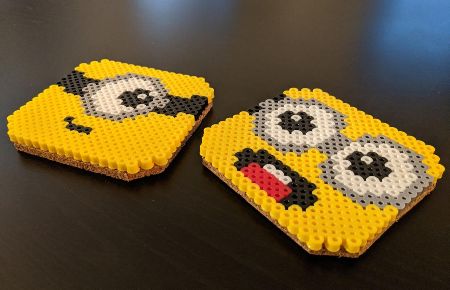 You'll need these cute minion coasters to have a minion-themed room. Making these won't be just a fun activity for you and your kids but the finished products will be functional as well.
14. Captain America Minion Perler Bead Pattern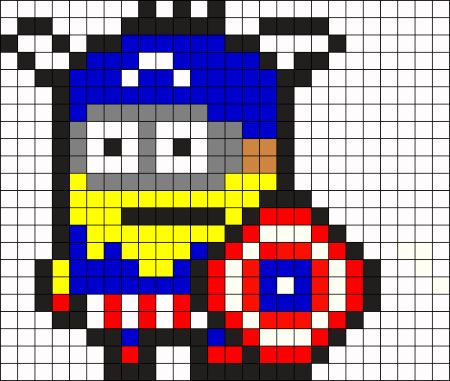 Minions are tiny superheroes. They may not be as strong as the Hulk or have a batmobile like Batman but they will make sure to save the day no matter what.
Create more superhero crafts by starting with these Marvel perler bead patterns.
15. Minion with a Weapon Pattern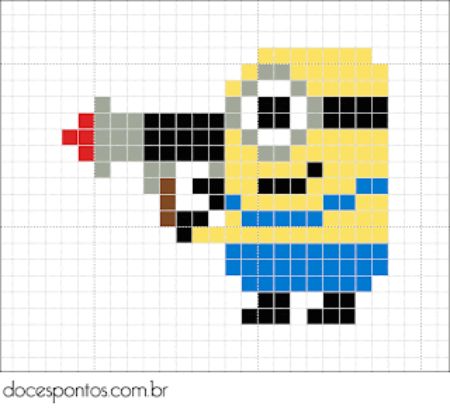 Together, minions are unstoppable. Throw in some weapons and they'll be invincible. Your kids will enjoy this pattern because not only will they be making their favorite character but a cool weapon as well.
16. Tongue Out Minion Perler Beads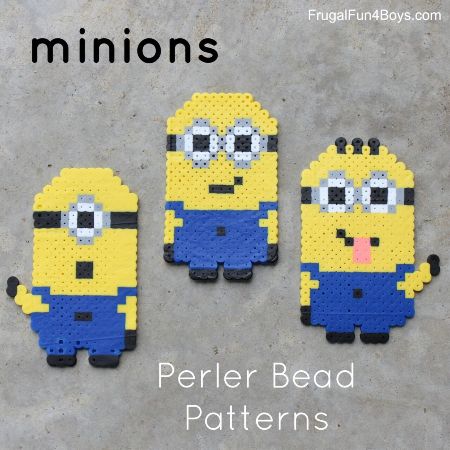 Minions are expressive. They show when they're happy, excited, or mad. This pattern shows a surprised, happy, and wacky minion.
Stitch is another unique creature that we love and adore. Show your love for Experiment 626 with these Stitch perler beads patterns.
17. Minion with a Megaphone Perler Bead Pattern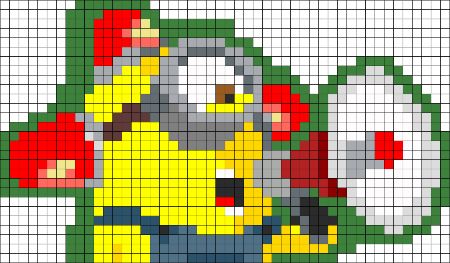 Let me be loud and clear: Minions are the best!
Show your love for these adorable yellow creatures by making this pattern. Adding the megaphone will be a nice touch to get others' attention.
Bonus: The Gru Family
18. Felonius Gru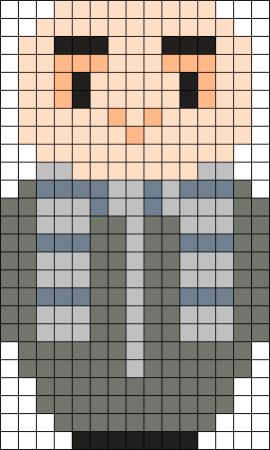 Gru may look like the typical evil scientist but we all know that's far from the truth. He cares for the minions and his adoptive daughters. Gru is important in the minions' lives because without him there won't even be minions.
19. Margo Gru Perler Bead Pattern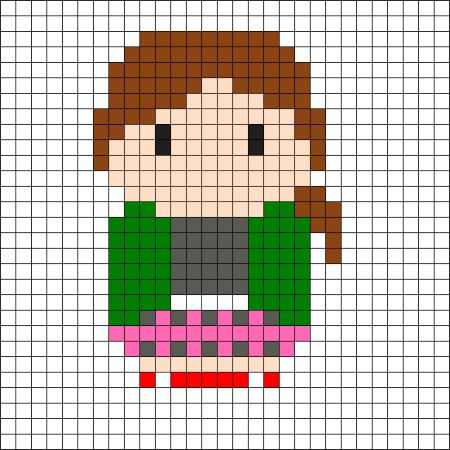 The eldest and most responsible sister, Margo. She always takes care of her sisters without taking out all the fun. This is a cute pattern for all the big sisters out there.
20. Edith Gru Perler Bead Pattern

The most adventurous and daredevil of the family, Edith. She's fearless, adventurous, and ready to take on a different challenge every day.
Feeling adventurous, yourself? Take on the challenge and make this Legend of Zelda perler beads.
21. Agnes Gru Perler Bead Pattern

Agnes is the youngest and (arguably) the cutest of them all. She may be small but she knows how to stand up for herself.
Agnes has big eyes like an owl. You'll find some of the coolest owl perler beads here.
Minions Rock!
They're yellow, cute, and ready to rock your world. These minion perler beads will be so much fun to do. Make sure to complete them all before the next antagonist comes into existence.
Make some more perler beads patterns based on your kids' favorite movies through the lists below: