Fortnite is one of the most popular shooter games of this generation, and it has been phenomenal in garnering millions of fans worldwide.
Even though almost four years have passed since its initial release, Fortnite's fan base continues to grow. There were over 350 million registered players in 2020 and Fortnite shows no signs of decline any time soon.
If you've noticed that your little ones are spending a little too much time playing Fortnite on their iPad or laptop, these 19 peatterns for Fortnite perler beads will have them putting down their devices and making crafts that still match their interests.
8 Fortnite Battle Royale Perler Bead Patterns
These first eight battle royale Perler bead patterns include elements from the most popular game mode in Fortnite, Battle Royale.
Battle Royale is a game mode that consists of up to a hundred players dropping from the Battle Bus in a wide map, and the goal is to eliminate the other players until there's only one remaining player, who gets the Victory Royale.
1. Fortnite Letter Logo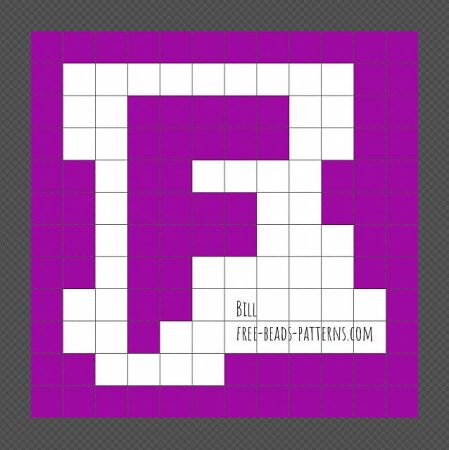 Here's a letter "F" for Fortnite to symbolize the awesomeness that is the game Fortnite.
Perler beads, first and foremost, are a fun activity to engage your children in developing their fine motor skills.
They pick up plenty of new experiences and lessons from these crafts.
That's why if your toddlers aren't too experienced with Perler bead activities, you should introduce them to a simple pattern such as this one from Free Beads Patterns.
2. Fortnite Battle Bus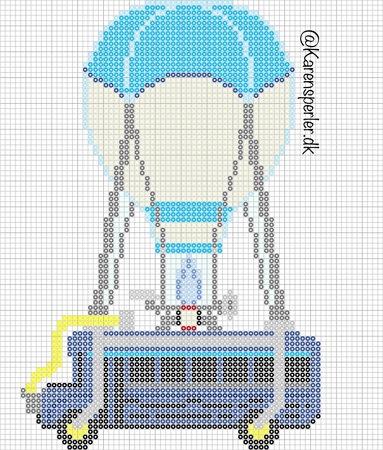 It's only fitting that we start with the Battle Bus from Karen's Perler because this is the vehicle where players drop from at the start of the game.
The appearance of this ordinary-looking bus attached to a hot air balloon is very deceiving. It looks a lot smaller than it seems.
After all, it's amazing how one hundred players can fit on one single, magical bus.
3. DIY Fortnite Potion with Keychain
Any game that involves eliminating enemies will inevitably have a way to restore health and turn the tables around in hopes of a miraculous comeback.
In Fortnite, that comes in the form of bandages, which heals up their health, and shield potions, which fill up their shields.
Tite Kasu has an amazing video tutorial on how to make a DIY potion, which comes with a keychain so your kids always have a chance to fight back in the heat of battle.
4. Midas Legendary Skin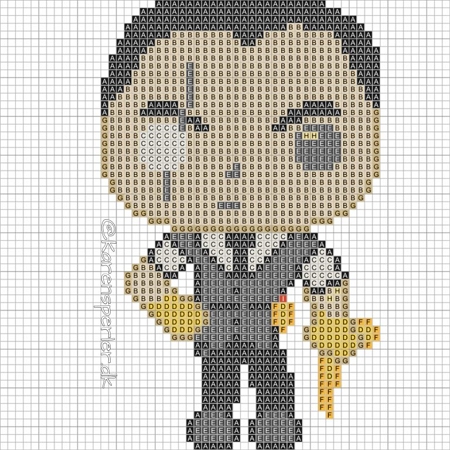 Midas is one of the most interesting characters in the game, being able to turn anything he touches into gold, whether he touches weapons or vehicles!
He's a very prominent character within Fortnite's lore and has been featured in many seasons because of his popularity.
Create Midas from this tutorial by Karen's Perler to give your kids the magical ability to turn things into gold.
5. Easy Cuddle Team Leader Skin from Fortnite
Cuddle Team Leader is a unique skin purchasable in Fortnite's in-game store.
For those unfamiliar with skins, they refer to cosmetic items that you can obtain through the game's Battle Pass or be purchased through the in-game store.
They don't change your gameplay or character's strength or abilities, they simply change your appearance.
Despite that, however, the majority of the players are still enticed by these sometimes expensive microtransactions.
With these Fortnite Perler beads, however, you don't have to spend a lot to create this much-beloved character provided by Mawebgeek's channel.
6. Another Cuddle Team Leader Perler Bead Pattern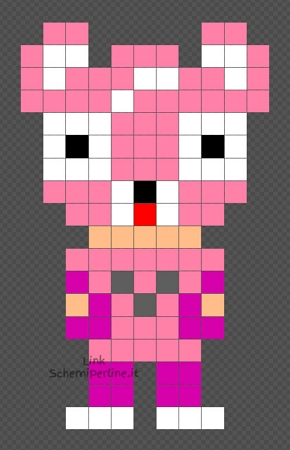 Here's another cute version of Cuddle Team Leader with a pixelated design from Schemi Perline.
Since Perler beads are easy to understand, even toddlers and preschoolers will benefit from making such an easy design.
7. Easy Meowscles Fortnite Skin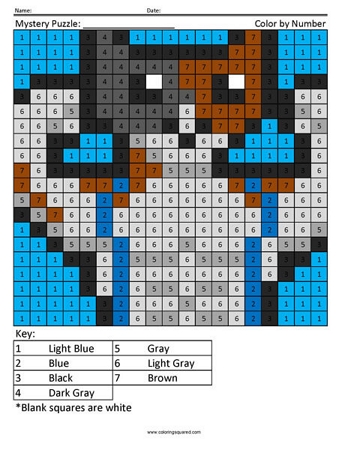 Even if you're not a Fortnite fan, if your kids are a cat person, they'll still enjoy assembling this buff cat named Meowscles.
There are a lot of variations of Meowscles in the game, but Coloring Squared decided to create this wonderful calico version of him.
Cat people will enjoy these cat crafts for kids!
8. More Sophisticated Meowscles Design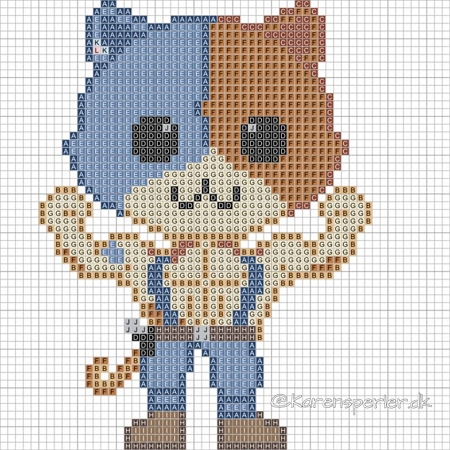 Some people dislike, or even fear adorable little housecats.
Meowscles is anything but adorable. This is an anthropomorphic, muscular cat with a weapon, who's charging at you at lightning speeds.
Try recreating Meowscles from Karen's Perler's site, which does an awesome job at imitating a cute-looking cat while at the same time, it's equal parts horrifying.
7 Unique Fortnite Skins Made with Fuse Beads
The next 8 Fortnite Perler beads will astound you with their unique designs!
Some of them will look normal for Fortnite players, but other designs will seem completely bizarre to beginners.
9. Peely Fortnite Skin Perler Bead for Toddlers
Gamers, in general, will also recognize this iconic banana character, Peely, even if they're not the biggest Fortnite players. He's just too famous.
Even your preschool children won't have a difficult time with this basic Peely pattern from Easy Crafts Paso a Paso's channel.
Note that they use a pair of tweezers to aid their Perler bead assembling, but your children's little fingers will act in the same way and train their fine motor hand movements in the process.
10. Dancing Peely Perler Beads
One of the aspects that made Fortnite such a cultural phenomenon is its ability to take real-life trends and incorporate them within the game.
In addition, the developers of the game have also collaborated plenty of times with big brands in popular media, such as Marvel and DC comics, and even pop music artists, like Marshmello.
It's not surprising to see viral dances from various social media platforms, such as TikTok or FaceBook, make it into the game, kind of like this Peely Perler bead pattern found on juan Hernandez's channel.
They've had a couple of collaborations with the Star Wars franchise, including one with The Mandalorian. If you're a fan, you'll enjoy these baby Yoda crafts!
11. Pixelated Beef Boss Perler Pattern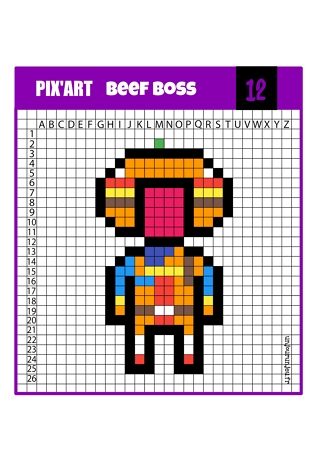 Ever wanted to play as a human hamburger and start whacking your enemies with your Fortnite weapons? Well, thanks to Un Jour Un Jeu, you now can!
The characteristic of Beef Boss is exactly how the name sounds like, he's a hamburger and he's a boss because he makes eliminating other players look easy.
This is a simplistic version of the Beef Boss, but you can still count on his awesome ability to make your children laugh while making this.
12. Easy Beef Boss Head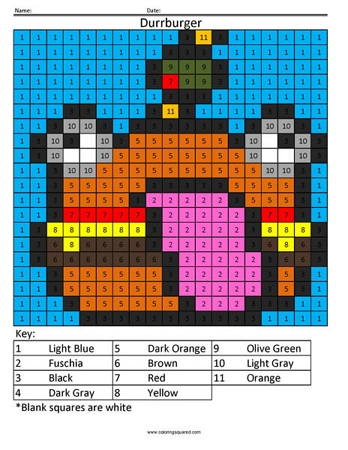 Anthropomorphic characters have a tendency to look derpy, if that makes sense.
If you want to have a good laugh with your little ones, then you'll enjoy making this silly Beef Boss head from Coloring Squared.
13. Sophisticated Beef Boss Head Design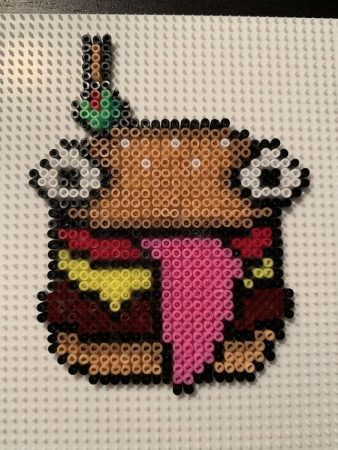 As these patterns get more complex, they get equally bizarre. This quarter-pounder cheeseburger looks almost appetizing, except for the fact that it has a complete set of human facial features on it.
This Beef Boss pattern from Pinterest will make your children salivate, but also be disgusted at the thought of eating such a menacing burger.
Apart from the fact that a burger like this looks weird for people who don't play Fortnite, this design of Beef Boss's head actually looks incredible and detailed, all the way down to the sesame seeds on the bun.
14. Gingerbread Man Skin Pattern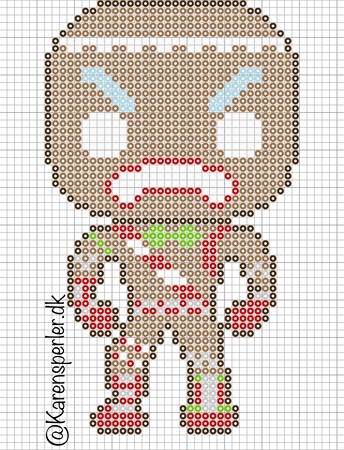 The gingerbread man or biscuit is ubiquitous, especially during seasonal festivities, such as Christmas, Easter, or Halloween.
Gingerbread men are even featured on popular media like Shrek, and even the recently popular game Cookie Run: Kingdom.
It's not surprising to see this familiar face even in a popular game such as Fortnite. So try making this Fortnite Perler bead pattern from Karen's Perler.
If you love to make seasonal crafts then you shouldn't miss out on these paper mache pumpkins or these winter sensory bins.
15. Omega Skin from Fortnite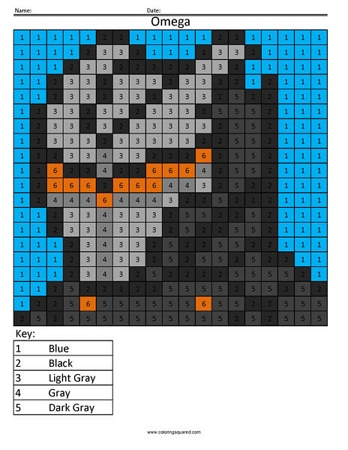 Here's one of the coolest Legendary skins within the game, Omega. He's an android in a black metal suit who looks similar to RoboCop.
While this Omega Perler pattern from Coloring Squared only includes the head of Omega, it doesn't erase the fact that he's still a badass that can destroy you at any moment.
2 Fortnite Llama Perler Beads
These next 2 Fortnite Perler beads are considered to be the face, or mascot, of the game, the ever-popular Llama.
16. Fortnite Loot Llama for Young Kids
Also called loot llamas or llama pinatas, these llamas provide the player with goodies in the form of ammunition or shield potions, which are always essential in a Battle Royale where your resources are constantly depleted.
This is a fairly easy design that young kids should be able to replicate with minimal supervision.
If you find the video tutorial from Perls of Wisdom's channel too fast, you can decrease the pace through the playback speed option.
17. Intermediate Llama from Fortnite Pattern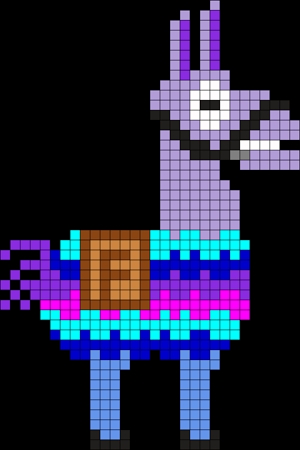 Here's an intermediate-level loot llama for older kids taken from Kandi Patterns.
These llamas are a sight for sore eyes, especially during crucial moments when you've run out of ammunition or crafting materials to shield yourself from the enemy barrage.
2 Fortnite "Save The World" Perler Bead Ideas
While Fortnite's Battle Royale is the game mode that propelled it to its overwhelming popularity, the "Save The World" was the first game mode where it all began.
It consists of different heroes trying to survive by scavenging, building forts, and saving other innocent lives.
This mode doesn't pit you against other real-world players, but rather against a team of AI.
18. Simple Black Knight Garridan from Fortnite
Take the role of the hero with medieval values and characteristics with Black Knight Garridan.
He is part of the Constructor class, which specializes in building forts effectively and efficiently, and he wields a mighty warhammer.
19. Pixel Art Raven Perler Bead Pattern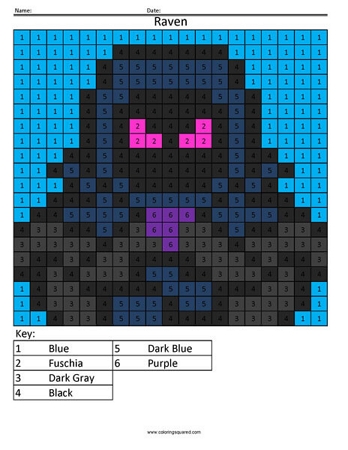 Raven is another hero who has a mythical aura around him, due in part to his blue hood that hides his face but shows his violet eyes.
Coloring Squared gives us a glimpse of his mysteriousness with this pixelated but cool art.
Being a soldier class, Raven has one of the most popular kits in the game as they are characterized by their ability to deal with enemies quickly and efficiently.
Awesome Fortnite Perler Bead Patterns For Kids
These patterns should give your kids a short, but welcomed, break from the drain of excessive screen time.
By combining arts and crafts with their other interests, you can keep them engaged while using their imagination.
Which of these Fortnite Perler beads did you enjoy making? Comment down below!
For other crafts check these out: